It couldn't be easier to make this No-churn Salted Caramel Rolo Ice Cream. You just need five ingredients and 10 minutes of your time! No ice cream maker required.  
This easy ice cream is rippled with salted caramel swirls and studded with Rolos! The perfect Summer treat!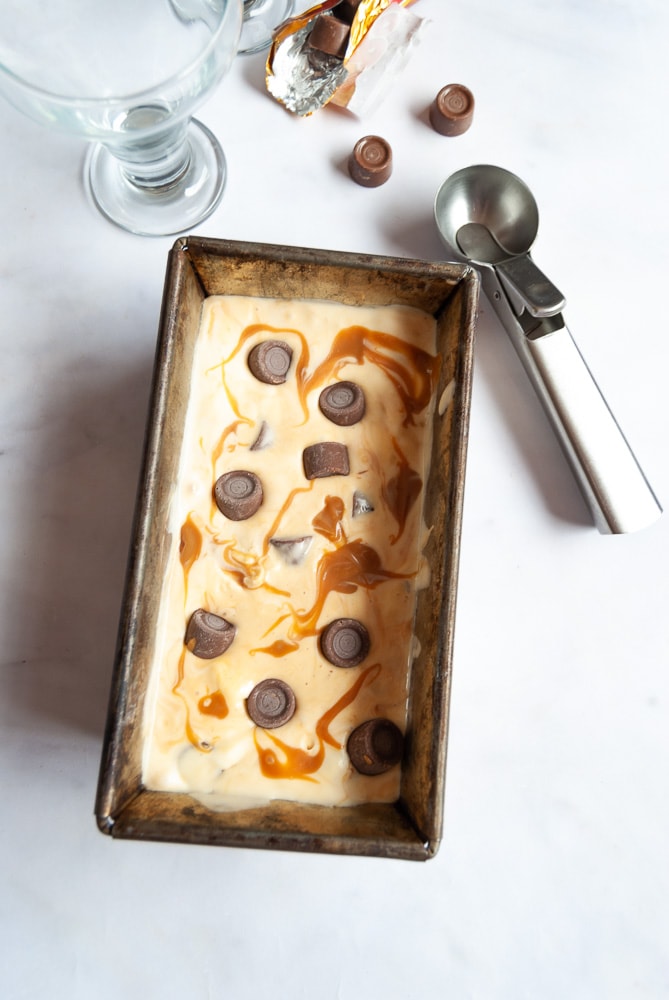 An ice cream maker was on my wish list for the longest time. My kitchen cupboards were already stuffed to capacity though – there was no way I could justify it.
When I discovered the sheer joy of no churn ice cream, I knew there was just no need to try and find space for another heavy appliance in my kitchen.
With traditional home made ice cream, you have to cook cream, sugar and eggs together to make a custard – which needs to be cooled, then churned in an ice cream maker.
If you're making it without machinery, the ice cream has to be vigorously beaten several times during the freezing stage to prevent ice crystals from forming.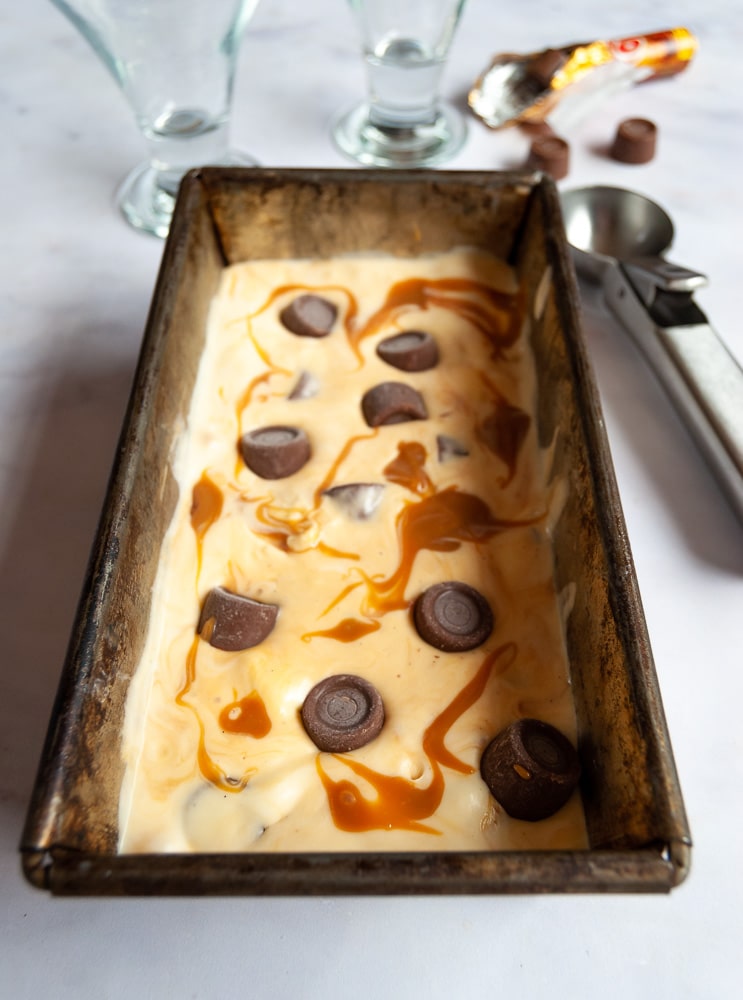 I had no idea that by combining condensed milk (not to be confused with evaporated milk!) and lightly whipped double cream and freezing it for a few hours, you will end up with the most divinely textured soft scoop ice cream without all the hard work!
The magic ingredient here is the condensed milk. It takes the place of the custard base – and when combined with whipped cream, does an amazing job of replicating the texture of the creamiest, sweetest, softest ice cream you've ever had.
All in less than 1/4 of the time it takes to make ice cream the traditional way.
You can add whatever flavourings you wish to your ice cream – the sky's the limit!
For this recipe I've opted for vanilla extract, salted caramel swirls and Rolo sweets. It really is a heavenly combination!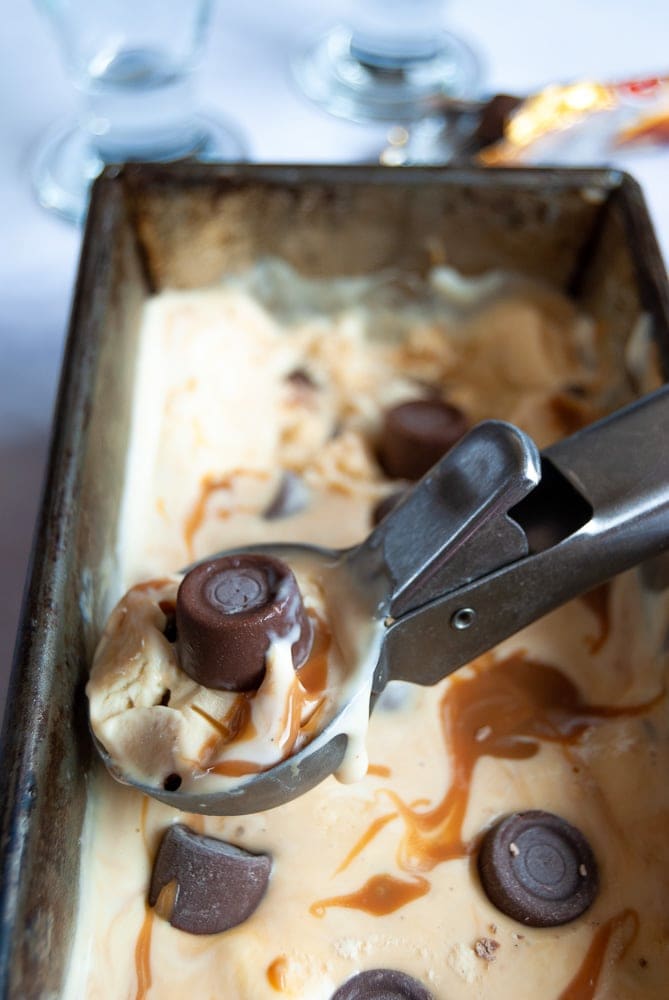 no churn salted caramel rolo ice cream instructions
(keep scrolling to find printable recipe card with ingredient amounts!)
Step one:
Pour 400ml double cream into a large bowl. In another bowl, combine the condensed milk and vanilla extract.
step two:
Lightly whip the double cream just until it holds soft peaks – don't overwhip it. Fold a spoonful of the whipped cream into the condensed milk.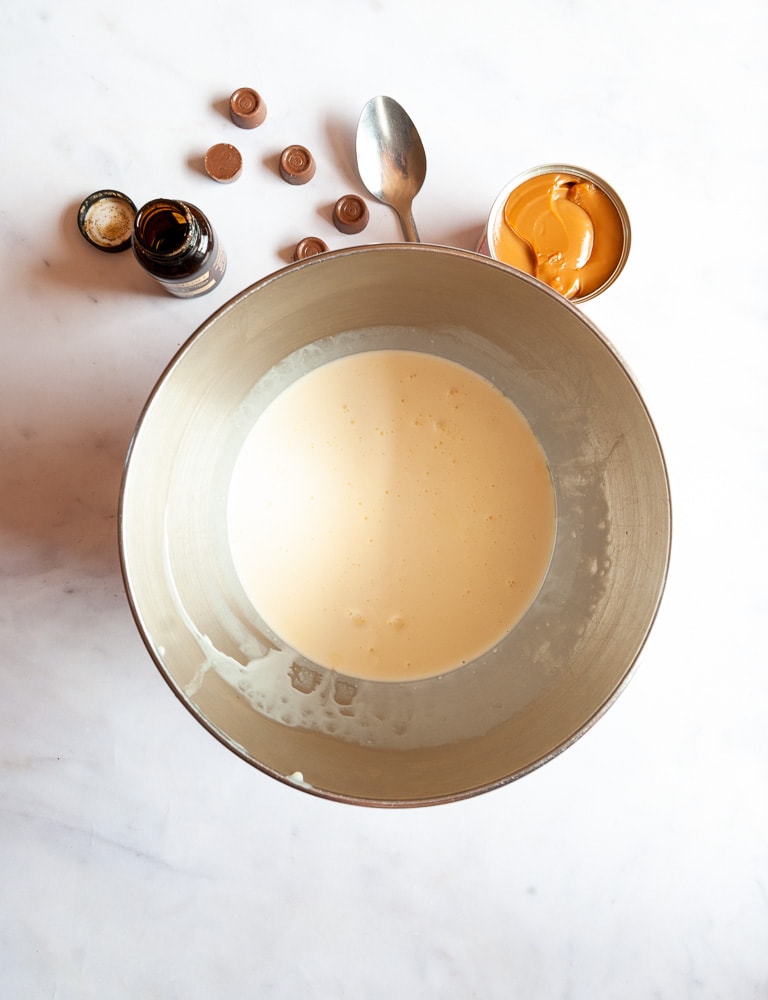 This lightens up the condensed milk and is easier than attempting to fold the cream in all at once. Fold the remaining cream into the milk.
There will be a few lumps, but keep gently folding until the mixture is mostly smooth. Take take not to overmix – a few small lumps are nothing to worry about.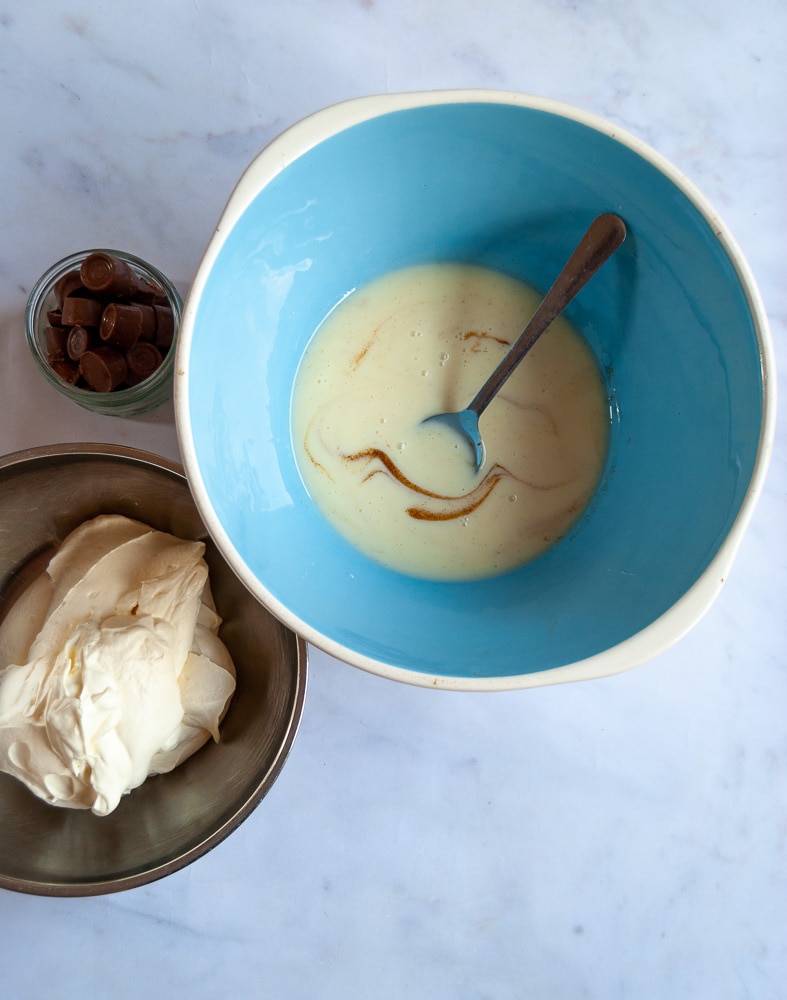 step three:
Give the salted caramel a good stir in case it's a little thick. Fold the salted caramel into the ice cream mixture, reserving a tablespoon for the top.
You're trying to achieve ripples of caramel here so don't be too methodical about the folding. Finally, fold in the chopped Rolos (or other candy of your choosing.)
Then all you need to do is pour into a container, top with a few more Rolos and a drizzle of the remaining salted caramel, freeze for a few hours and you'll have an absolutely stunning ice cream that's quite unlike anything you can buy in the shops.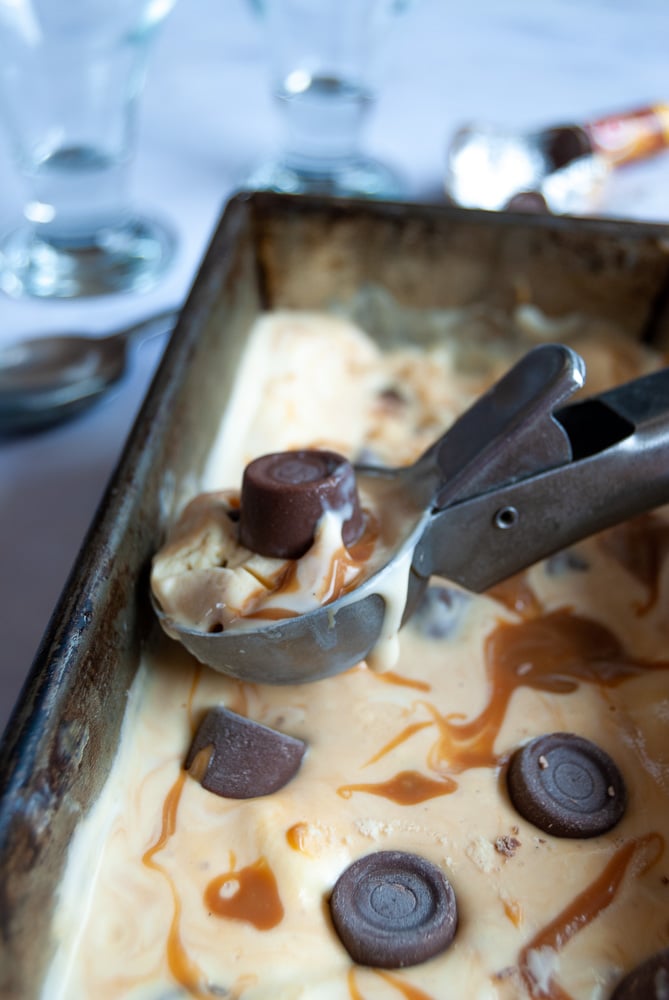 playing around….
If you don't want to use Rolos, feel free to use any of your favourite sweets – crushed Daim bars would be perfect, as would Cadbury caramel buttons or a chopped up bar of Galaxy caramel.  Experiment with your favourite sweets! 
love rolos?
You might also enjoy my easy Rolo fudge recipe!
handy tips….
The ice cream will keep in the freezer for up to two weeks.
Due to the condensed milk, the ice cream does soften pretty quickly after around 15 minutes of taking it out the freezer, so don't leave it hanging around! Although I can't see that being a problem…
want to see more easy dessert recipes? Check these out….
Baileys Chocolate Brioche Pudding
No Bake Chocolate Orange Cheesecake
Guinness Brownies with Salted Caramel Baileys Glaze
Chocolate Brownie Berry Trifle
Did you make this no-churn Rolo ice cream?
Let me know what you thought of the recipe by leaving a comment below and leave a rating out of 5 by clicking on the stars.
If you want to share a picture of your ice cream, tag me #sweetsavouryblog on Instagram and I'll post it on my stories!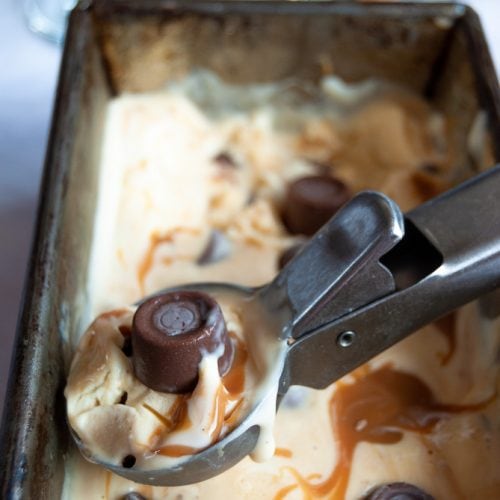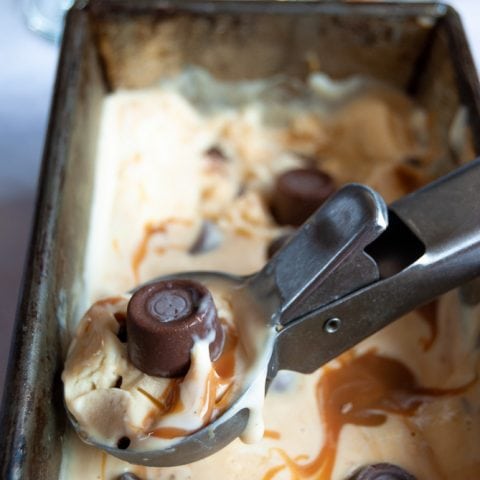 No-churn Salted Caramel Rolo Ice Cream
Yield:
Makes one litre of ice cream
This no-churn ice cream with salted caramel swirls and Rolo sweets is incredibly easy to make - the hardest part is waiting for it to freeze!
Ingredients
One 397g Tin Condensed Milk
400ml Double Cream
1 Tsp pure vanilla extract
50g Salted Caramel
2 packets of Rolos
Instructions
Place the condensed milk and vanilla extract in a large mixing bowl and whisk together.
In a separate bowl, whip the double cream until it forms soft peaks.
Gently fold a spoonful of the whipped cream into the condensed milk. This will lighten the condensed milk, making it easier to fold in the rest of the cream.
Fold the rest of the whipped cream into the condensed milk. It will look quite lumpy, but keep folding gently until the mixture is smooth. Be careful not to overmix - a few small lumps here and there is ok.
Gently fold the salted caramel through the mixture (give the caramel a good stir before doing this in case it's a little thick)
Finally, fold most of the rolos in to the ice cream mixture (keep a few back for placing on top)
Pour into a one litre freezer container or loaf tin lined with a double layer of cling film. Spoon a little more salted caramel sauce on top and decorate with the remaining Rolos. If you're using a loaf tin, place a piece of baking parchment on top and cover the tin with another layer of foil or freezer bag to prevent freezer burn.
Freeze the ice cream for at least six hours before serving.
Notes
The ice cream will keep in the freezer for up to two weeks.
If you aren't a fan of Rolos, crushed Daim bars or Cadbury caramel also work very well. Experiment with your favourite sweets!
Nutrition Information:
Yield:

6
Serving Size:

1
Amount Per Serving:
Calories:

410
Total Fat:

24g
Saturated Fat:

16g
Trans Fat:

1g
Unsaturated Fat:

7g
Cholesterol:

80mg
Sodium:

125mg
Carbohydrates:

43g
Net Carbohydrates:

0g
Fiber:

0g
Sugar:

43g
Sugar Alcohols:

0g
Protein:

7g