This easy Rolo fudge recipe is the easiest fudge recipe you could ever make. It takes just a few minutes to make with ingredients you can buy at most corner shops and you don't even need a sugar thermometer!
If you know someone who loves Rolos, surprise them with a batch of this super sweet treat – they'll love you for it!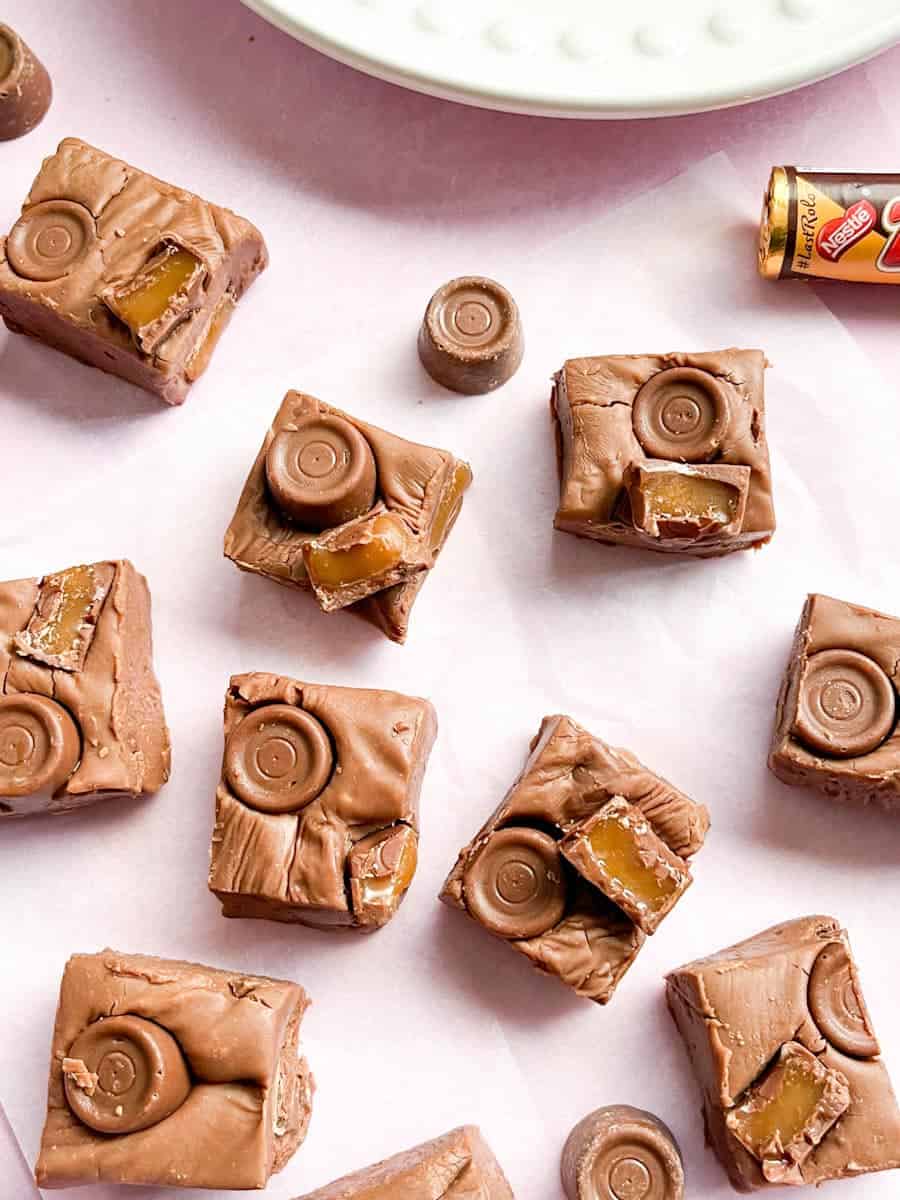 It's been a while since I've shared a sweet treat with you and with Valentine's Day coming up, I thought an easy no bake fudge recipe would be perfect!
Now I do recognise that this isn't proper fudge, but it's such a simple, handy recipe to have up your sleeve and much, much easier to make than the proper stuff. You don't need a sugar thermometer and no giving yourself arm ache by beating the mixture for ages. This is a stress free melt and mix recipe.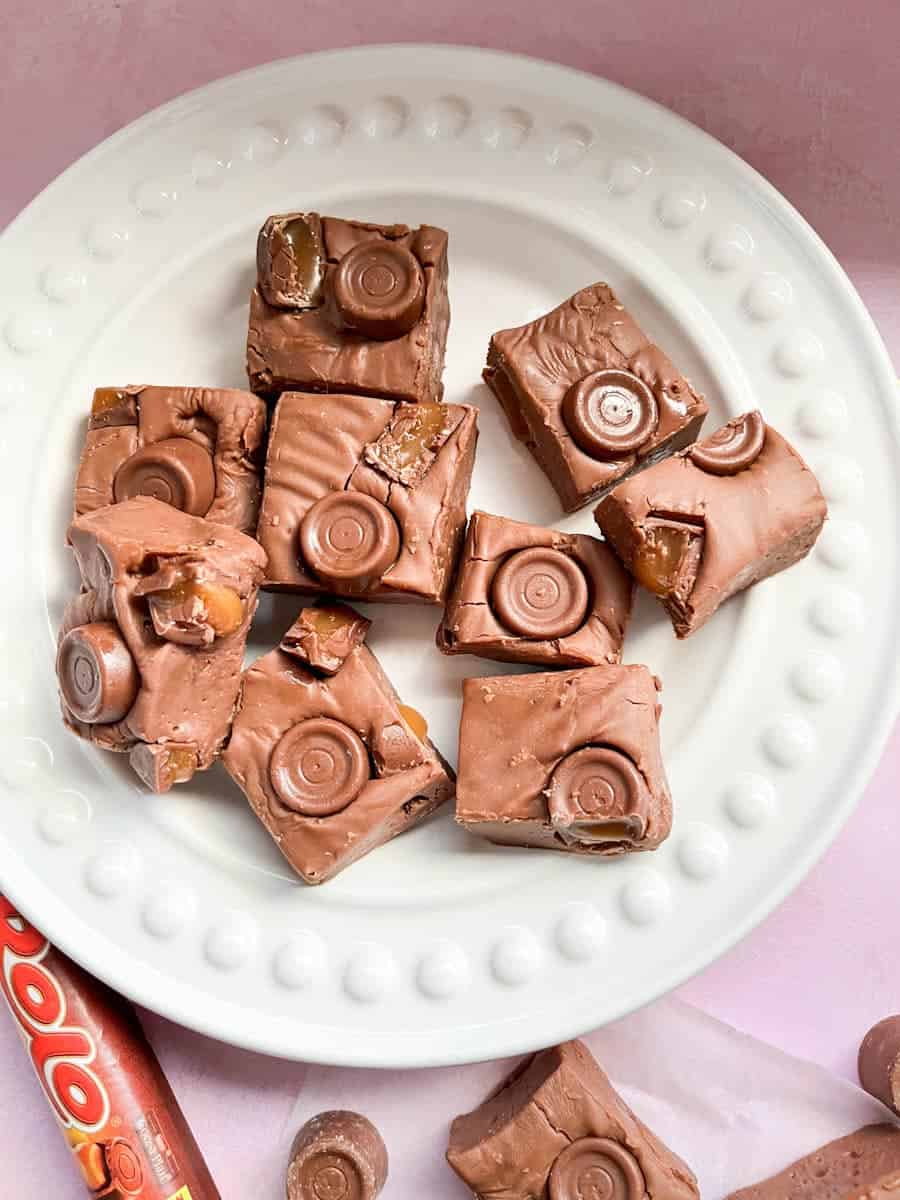 I used to love a packet of Rolos when I was little – readers of my generation are bound to remember the TVadvert in the 80's with the tagline "Do you love anyone enough to give them your last Rolo?" I can't look at a packet without thinking of that!
If you're a Rolo fan, then you might want to take a look at my no churn salted caramel Rolo ice cream recipe – it's unbelievably good and so worth keeping aside – or in my house, hiding – a few packets of Rolos to make.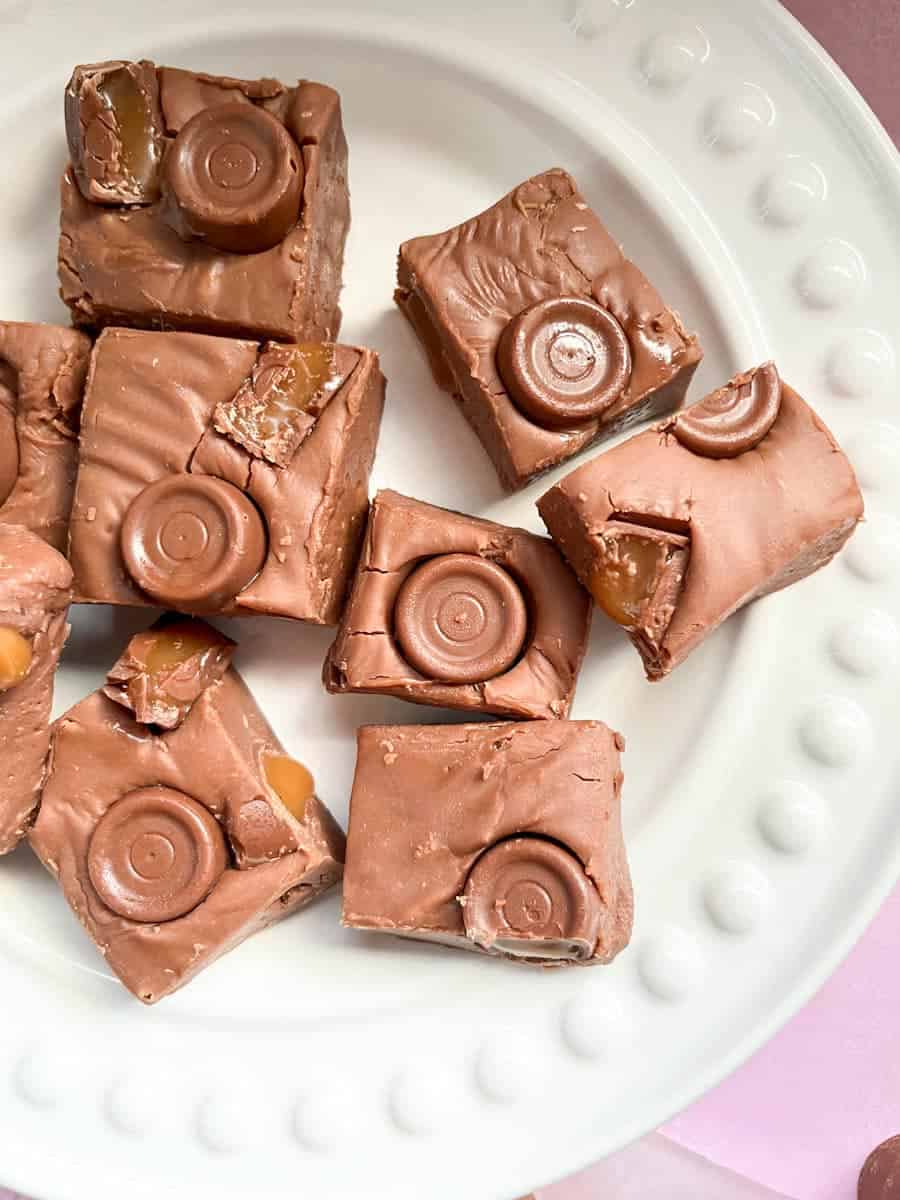 easy rolo fudge recipe
This chocolate Rolo fudge is super easy to make and all you need is six ingredients – although two are entirely optional.
You really do need to have a sweet tooth to appreciate this! Having said that, even though I much prefer dark chocolate, I can still quite happily wolf down a square or two of this fudge.
If you're a fan of Rolos, then you will LOVE it. If you don't have the ingredients in to make this, I highly recommend you rush down to the local shop and get them! You won't regret it.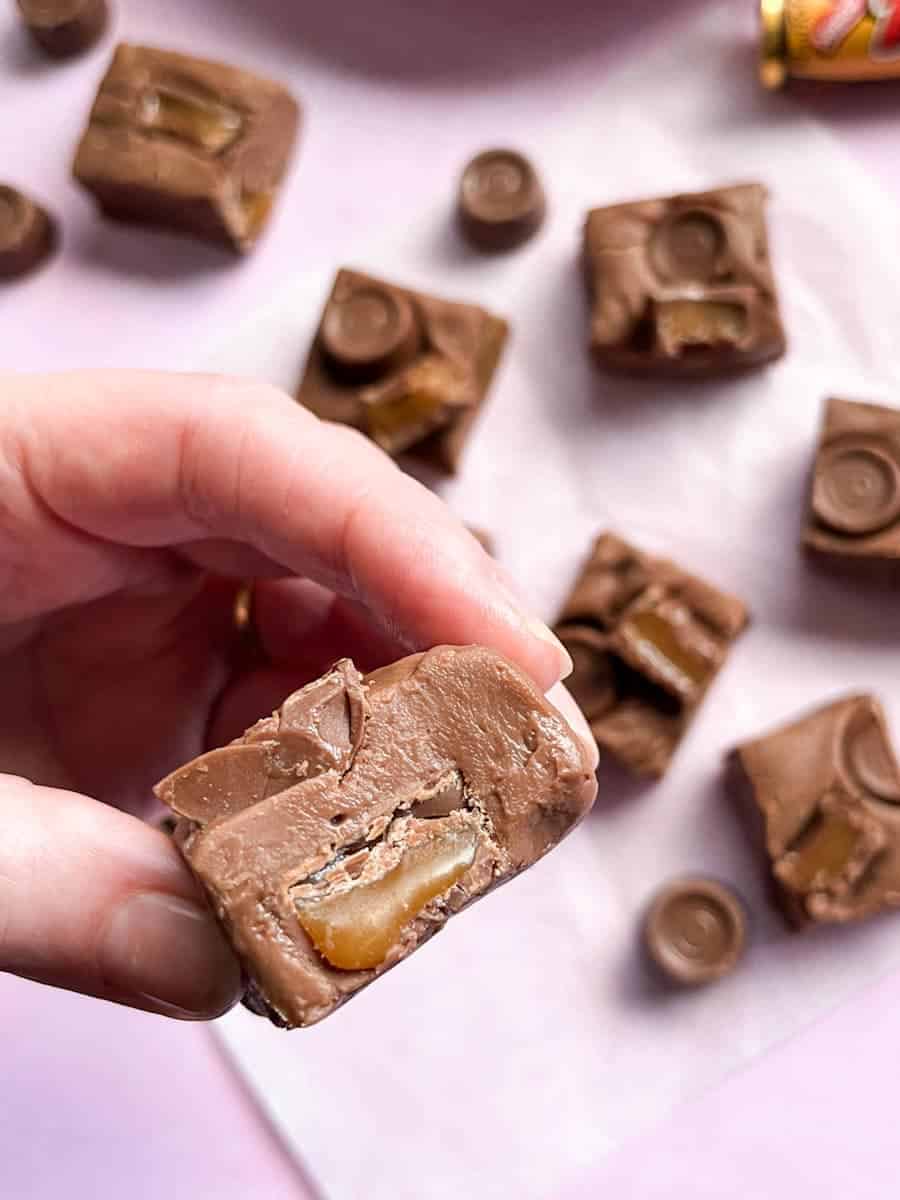 ingredient list
(this is just a quick run down of the ingredients you'll make to make the fudge. Detailed instructions are in the printable recipe card at the bottom of the post)
Milk chocolate. I order Callebaut chocolate in bulk for recipes, but I've made this fudge with £1 supermarket chocolate bars (the 30p bars seem to have disappeared lately) and it's still delicious.
condensed milk – not to be confused with evaporated milk! If you use the latter, the fudge will not set!
vanilla extract. If you don't have any, don't worry. The recipe still works without it. It does add a lovely flavour though.
Rolos, of course! You'll need five or six packets, depending on how many Rolos you want to add on the top.
optional ingredients
butter. Adding 30g of butter to the chocolate will give you a slightly smooth result, but it does make the fudge softer and a little trickier to cut. Not impossible, just slightly more difficult. If you want a slightly firmer set fudge, skip the butter.
a pinch of salt. Again you don't have to add this, but a little bit of salt balances the flavours.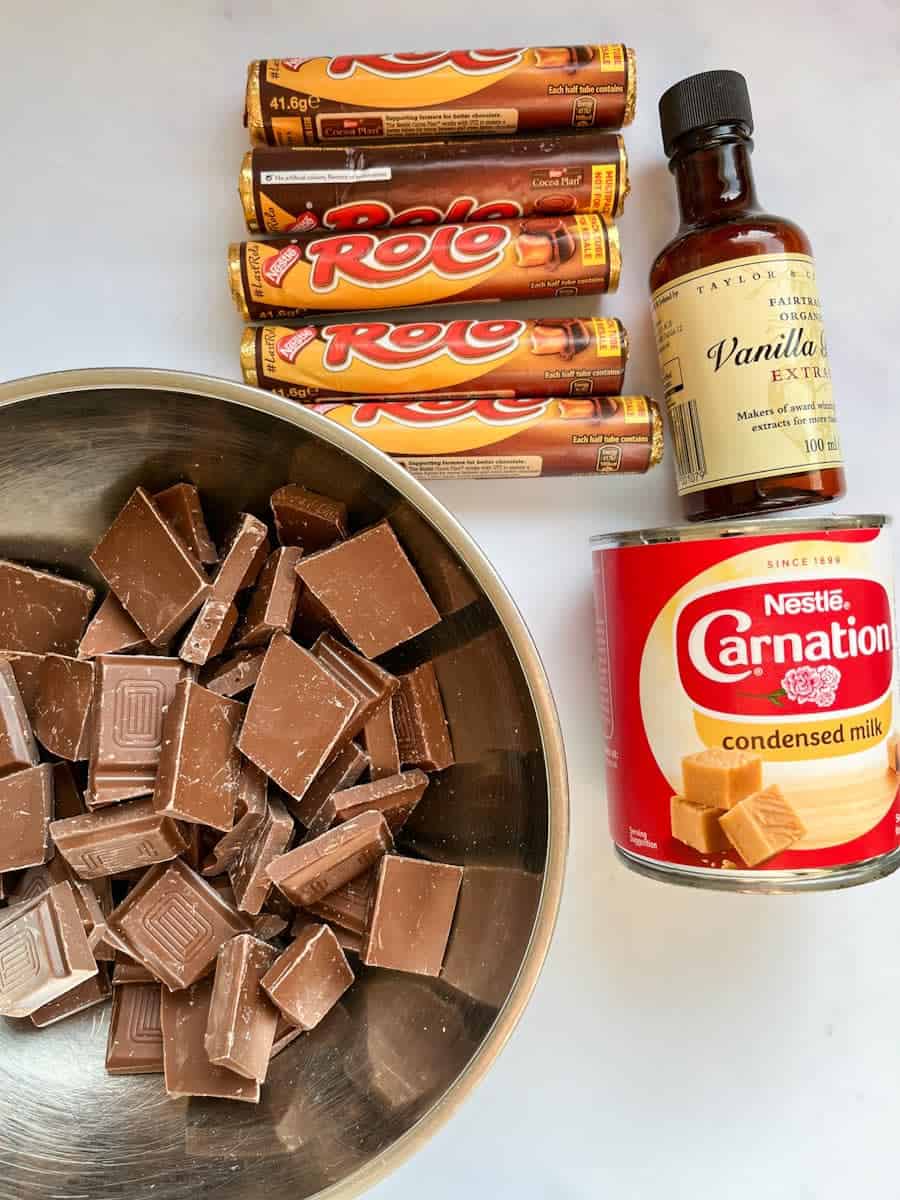 equipment list
To make this recipe you will need:
baking parchment to line the tin.
a sturdy wooden spoon to stir the mixture.
a plastic/silicone scraper to scrape the fudge into the tin.
how to make rolo fudge
Place the chopped chocolate, condensed milk, vanilla extract, butter and pinch of salt (if using) in a large heavy bottomed saucepan. Slowly melt over a low heat, stirring occasionally. When the mixture is nice and smooth, remove from the heat.
Open a couple of packets of the rolos and stir into to the chocolate mixture. Some of them might melt a little and others will stay whole, but that's fine.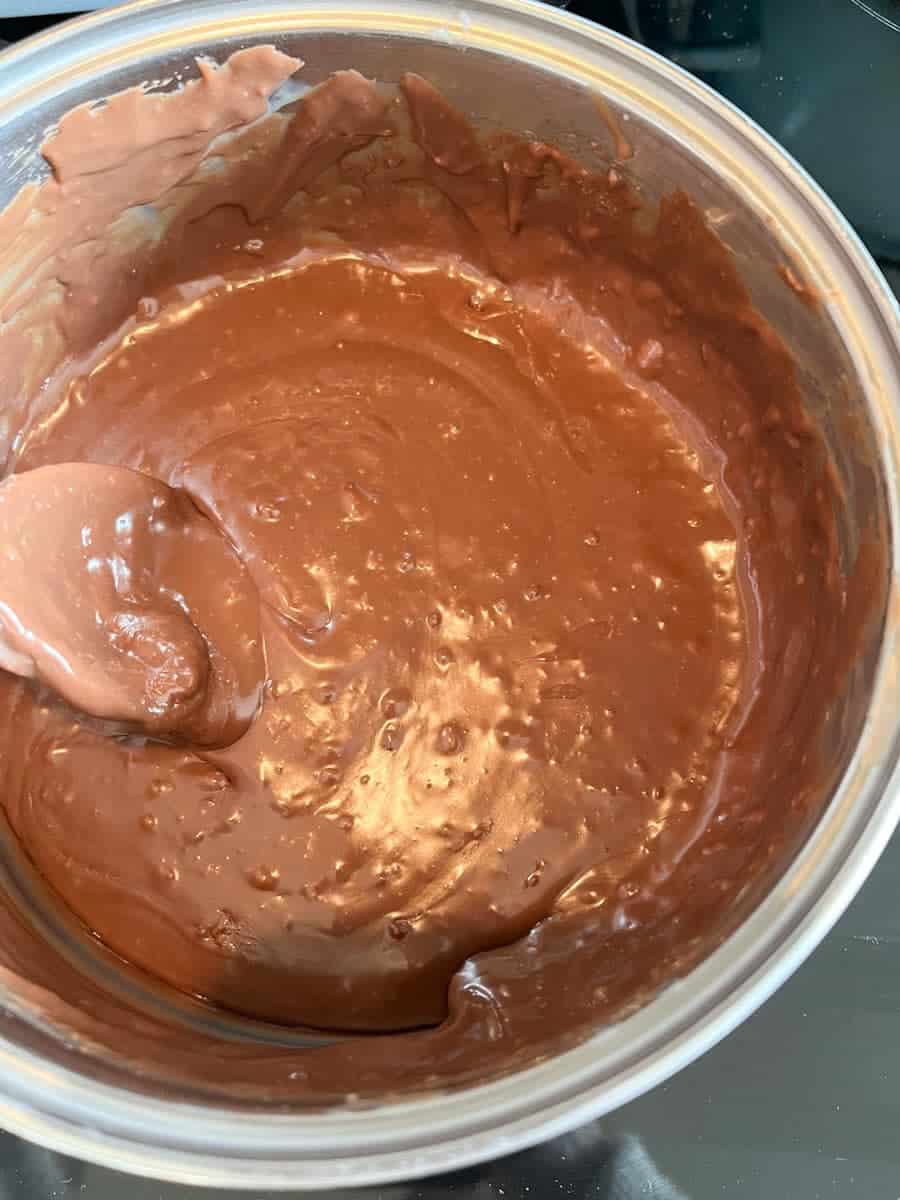 Scrape the melted chocolate mixture into a greased and lined 20cm tin, smoothing the top with a silicone spatula. You'll start to see it thickening already.
Decorate the top with the remaining Rolos – add as many as you feel like! I like to leave some whole and cut some in half, so you can see the caramel oozing out!
chill to set
Place the tin in the fridge and chill for at least 8 hours or overnight.
When the fudge has set, cut into small squares (it is rich!) with a large, sharp knife.
my fudge is difficult to cut!
If you're having trouble cutting the fudge because it's too sticky, my advice would be to chill it in the fridge for a little longer.
Lightly oiling your knife with a little flavourless oil, such as sunflower or vegetable will also help.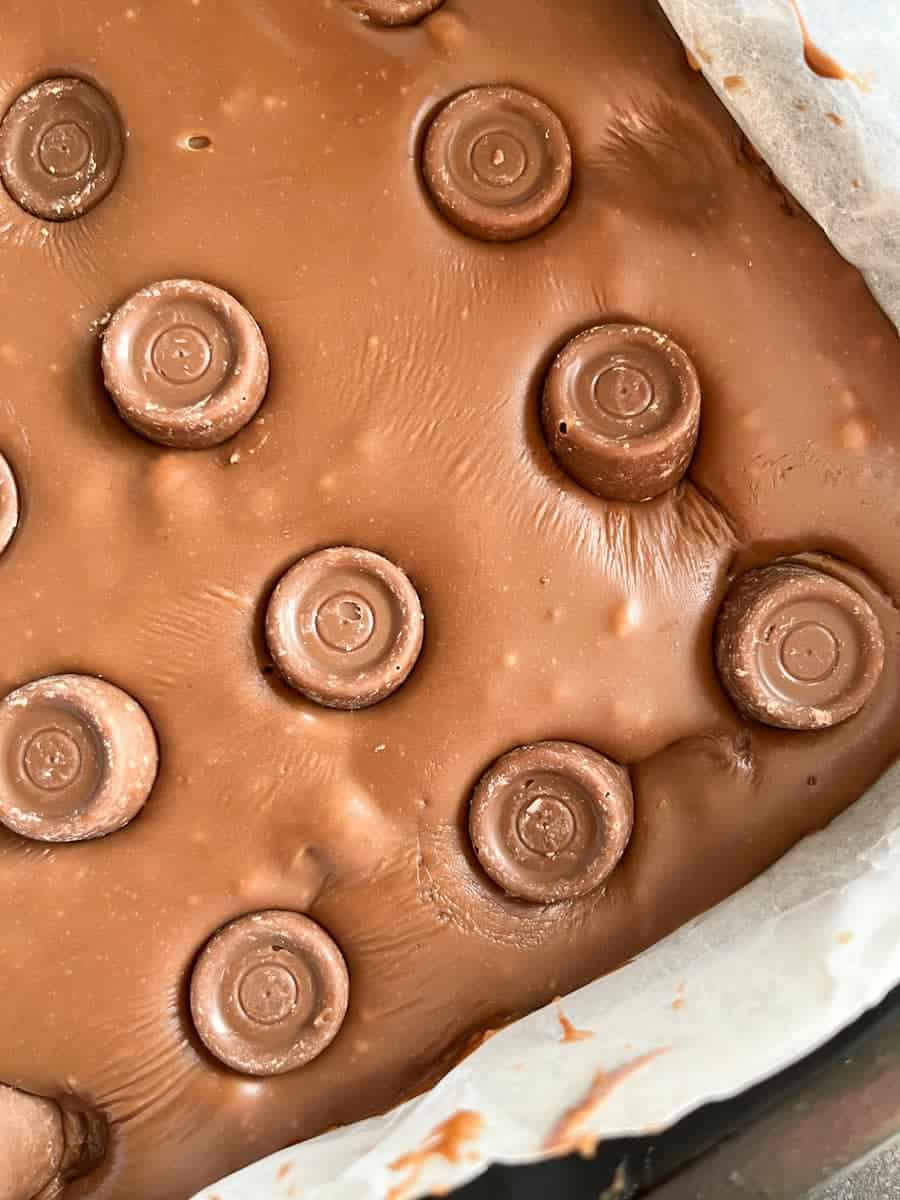 recipe tips
When melting the chocolate and condensed milk together, keep the heat nice and low. It burns very quickly as there's nothing more frustrating than wasting ingredients (I seriously hate it!)
Alternatively, you can make this fudge in the microwave. Place the chocolate and condensed milk in a microwave safe bowl. Heat on high for about 1 minute or until the mixture has melted. Depending on your microwave, you might have to give the mixture a stir after 30 seconds.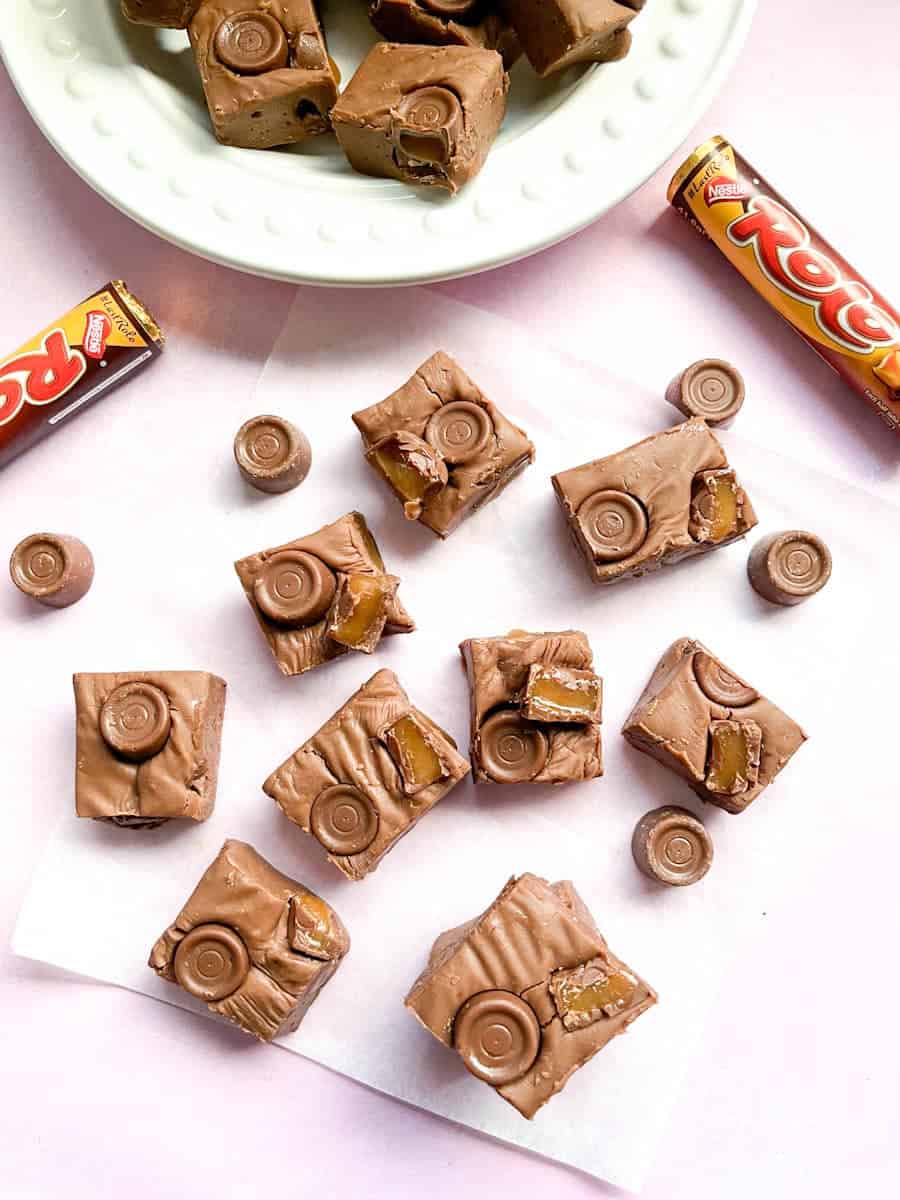 can i freeze Rolo fudge?
Absolutely. It actually freezes really well. Wrap the entire block or pieces of fudge in baking paper or cling film, then a double layer of tin foil. It will keep well frozen for up to three months. You can eat it straight from the freezer (if you have strong teeth!) but I let it sit out for about 30 minutes or so before eating.
storage
This fudge is quite soft set, so it's best kept in an airtight box in the fridge. It will last for at least a week, but let's be realistic here…..it won't!!!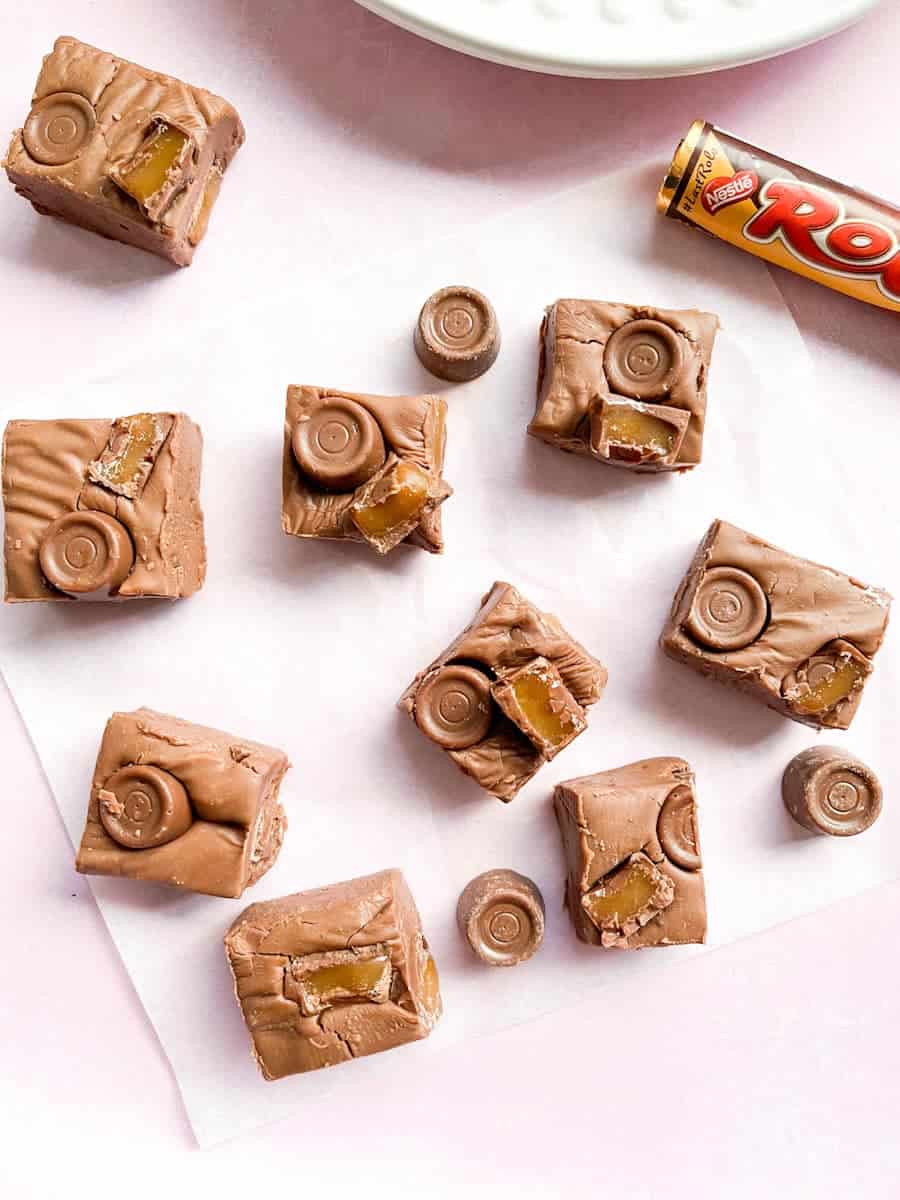 did you make this recipe?
I hope you loved it! Let me know what you thought by leaving a comment below or if you need any help with the recipe, please do let me know and I'll try my best to help.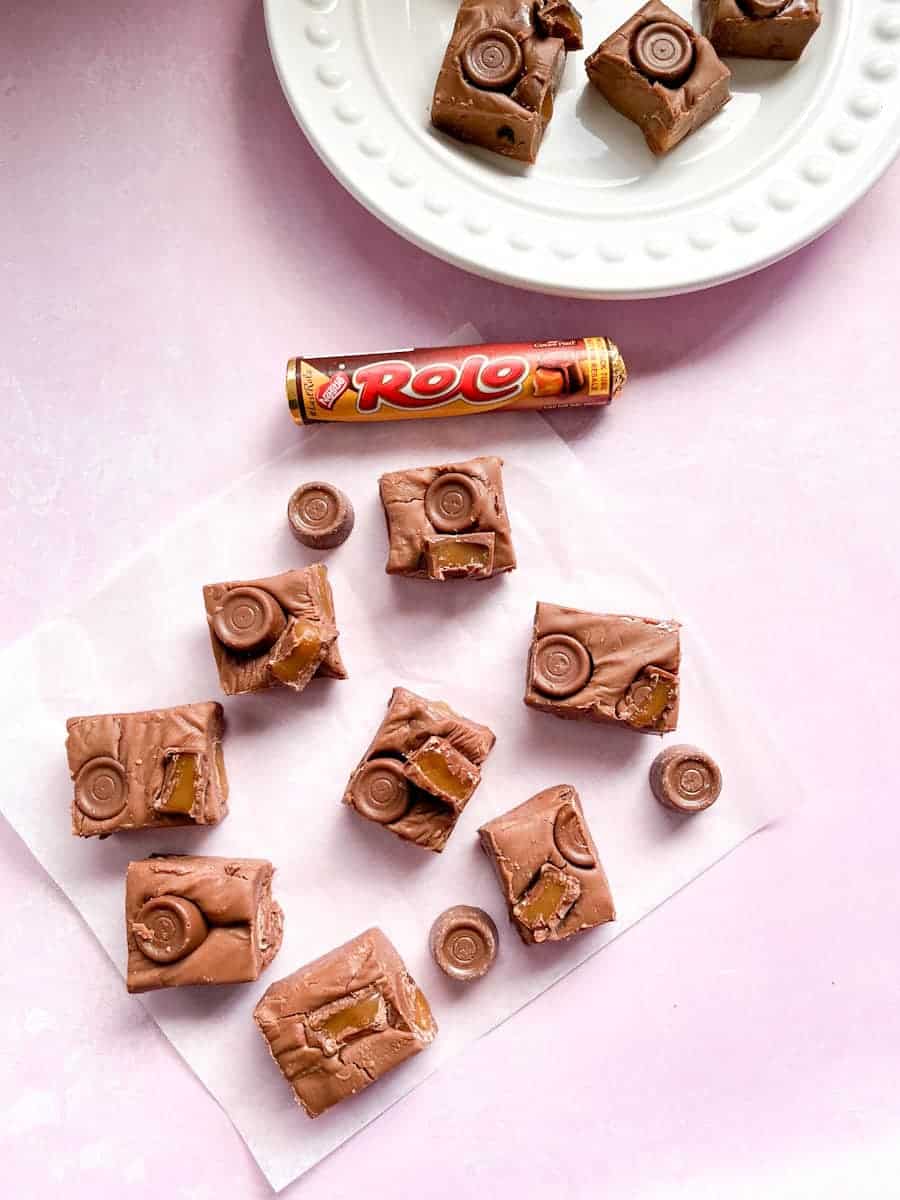 more easy no bake recipes to try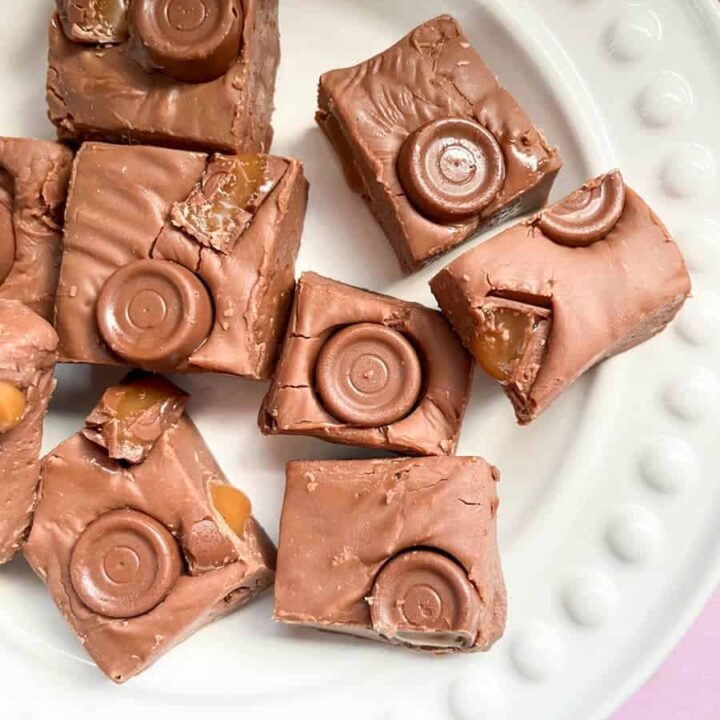 Easy Rolo Fudge
Total Time:
8 hours
15 minutes
This no bake Rolo fudge is the perfect sweet treat for someone you love - and of course that includes you! It's much easier to make than regular fudge and just requires a few ingredients. Go on, treat yourself!
Ingredients
397g tin condensed milk
350g milk chocolate, chopped into small pieces
2 teaspoons good quality vanilla extract
30g butter (optional)
pinch of salt (optional)
6 packets of Rolos (about 200g)
Instructions
Grease and line a 20cm square baking tin. Place the condensed milk, chopped chocolate, vanilla extract, butter and salt (if using) in a large heavy bottomed saucepan. Melt the mixture over a low heat, stirring occasionally with a wooden spoon.
When the mixture is nice and smooth, remove from the heat and immediately stir in a couple of packets of Rolos. Some will begin to melt and some will stay whole.
Quickly scrape the fudge into the lined baking tin and smooth the top. You should be able to see it thickening a little already. Arrange the remaining Rolos all over the top. I leave some whole and cut some in half so the caramel oozes out, just to make the top look a little more enticing!
Place the tin in the fridge to set for around 8 hours or overnight. Once the fudge has set, remove from the fridge, carefully peel back the baking paper and cut into small squares using a large, sharp knife. If the fudge is quite sticky and is difficult to cut, try oiling the knife very lightly with a flavourless oil, such as vegetable or sunflower oil.
Notes
To make the fudge in the microwave, place the ingredients in a large microwavable bowl. Heat for about one minute or until the chocolate has melted, stirring every 30 seconds. Stir in the Rolos and scrape into the tin. Finally, decorate the top with the Rolos.
Nutrition Information:
Yield:

26
Serving Size:

1
Amount Per Serving:
Calories:

137
Total Fat:

7g
Saturated Fat:

4g
Trans Fat:

0g
Unsaturated Fat:

2g
Cholesterol:

11mg
Sodium:

45mg
Carbohydrates:

17g
Fiber:

0g
Sugar:

16g
Protein:

2g
Calories and nutritional information are provided by a third party application and should be viewed as indicative figures only.