This Air Fryer cheesy bean and pickle toastie is quick, easy and will satisfy those hunger cravings at lunchtime!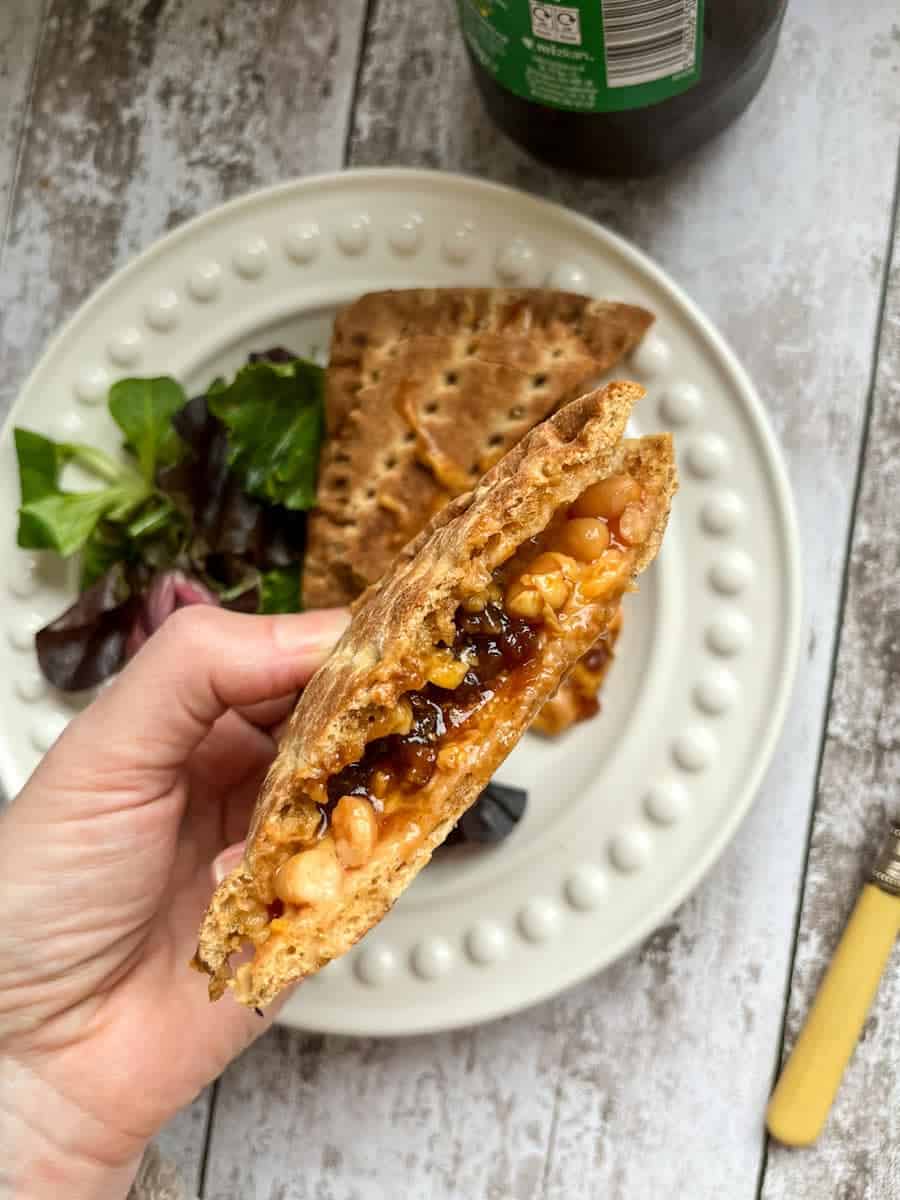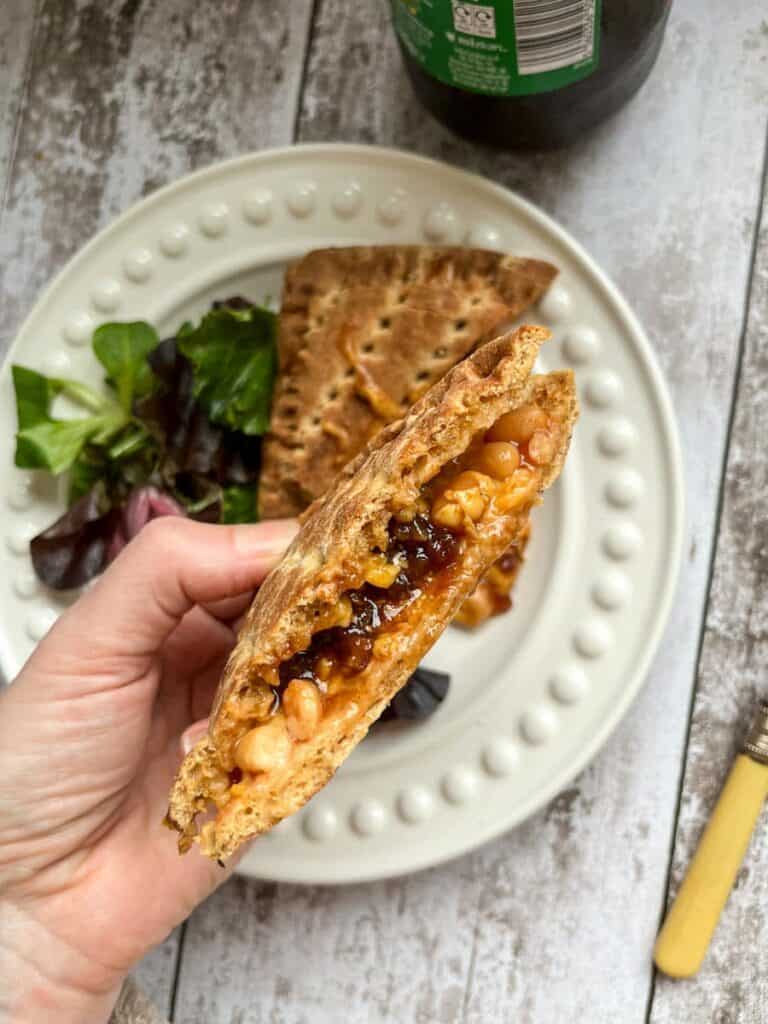 My air fryer obsession continues….I think I use it more than my oven now! I've been experimenting with lots of different recipes recently, some have been roaring successes, others not so much….but I'm having lots of fun with it.
I can't claim the idea for this recipe as my own. I was heavily inspired by Karen at Lavender and Lovage. Karen shared her cheesy bean bake on Instagram a couple of weeks ago and as soon as I saw it I knew it was exactly what I wanted for lunch.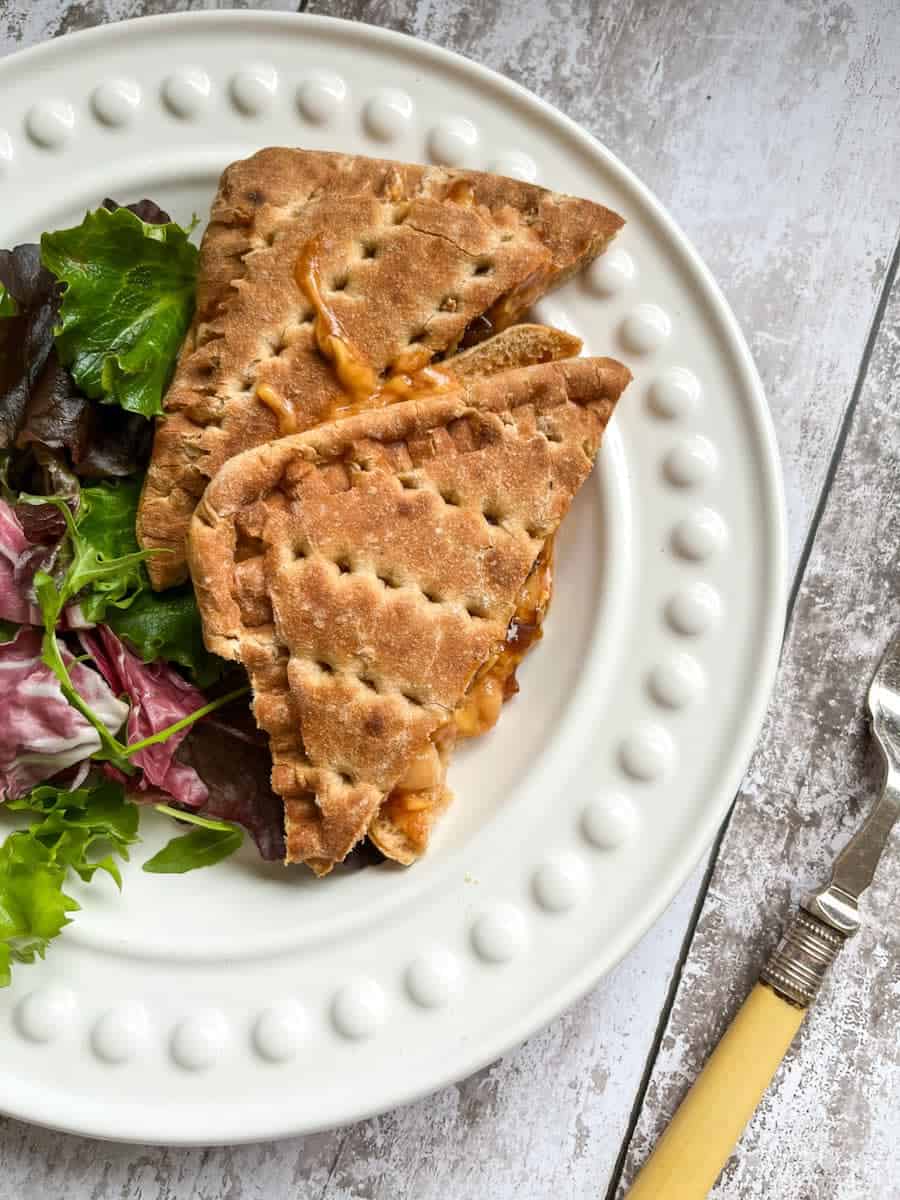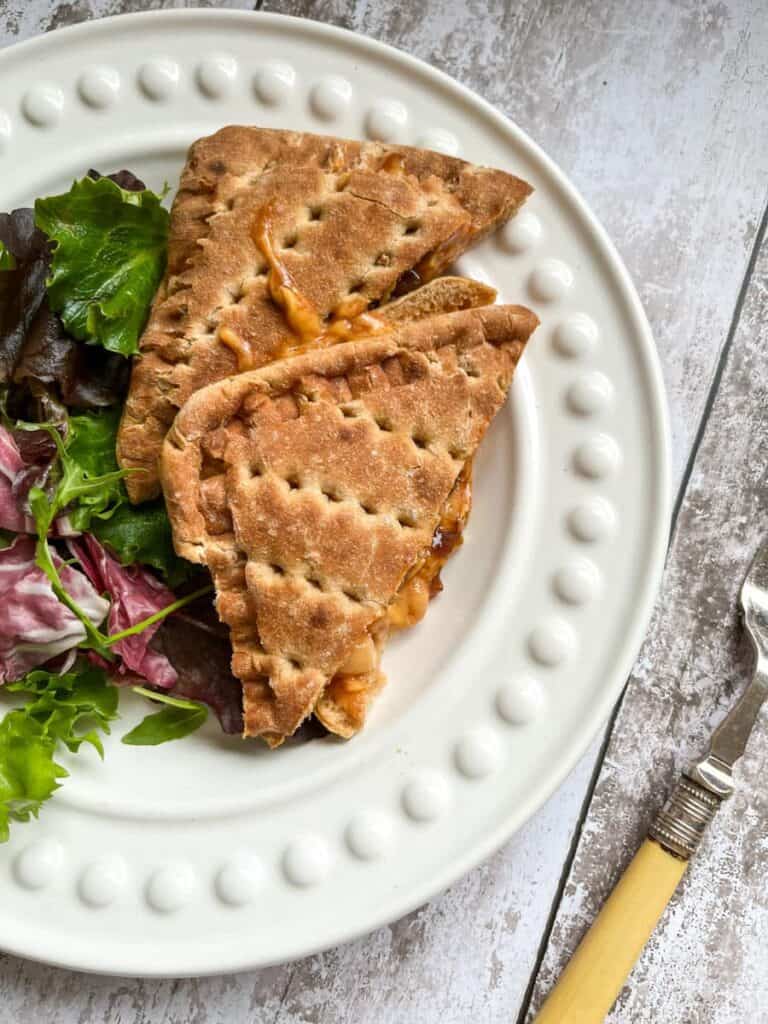 Luckily I had all the ingredients in, so I made it immediately and loved it. It's one of those recipes that is so very simple, but so satisfying and too good not to share. Since this is a very quick "recipe", this post will be shorter in length than usual.
I've been meaning to share more quick and easy lunch ideas because I'm actually very bad at skipping lunch, feeling ravenous when I come home from the school run at 3.30 and heading straight for the biscuit tin. Please tell me I'm not the only one!
air fryer cheesy bean and pickle toastie
ingredient list
You just need four ingredients to make this simple recipe. They are….
supermarket "sandwich thins." I used the brown variety since I had them in my cupboard (my eldest son loves them so I keep a packet in at all times.
a small can of baked beans.
grated cheddar cheese
Pickle – I used Branston
step by step
Place your sandwich thins on a board. If you like, you can spread a little butter on them. I tried this on one sandwich and to be honest, once it was toasted I really couldn't tell the difference between the buttered and unbuttered.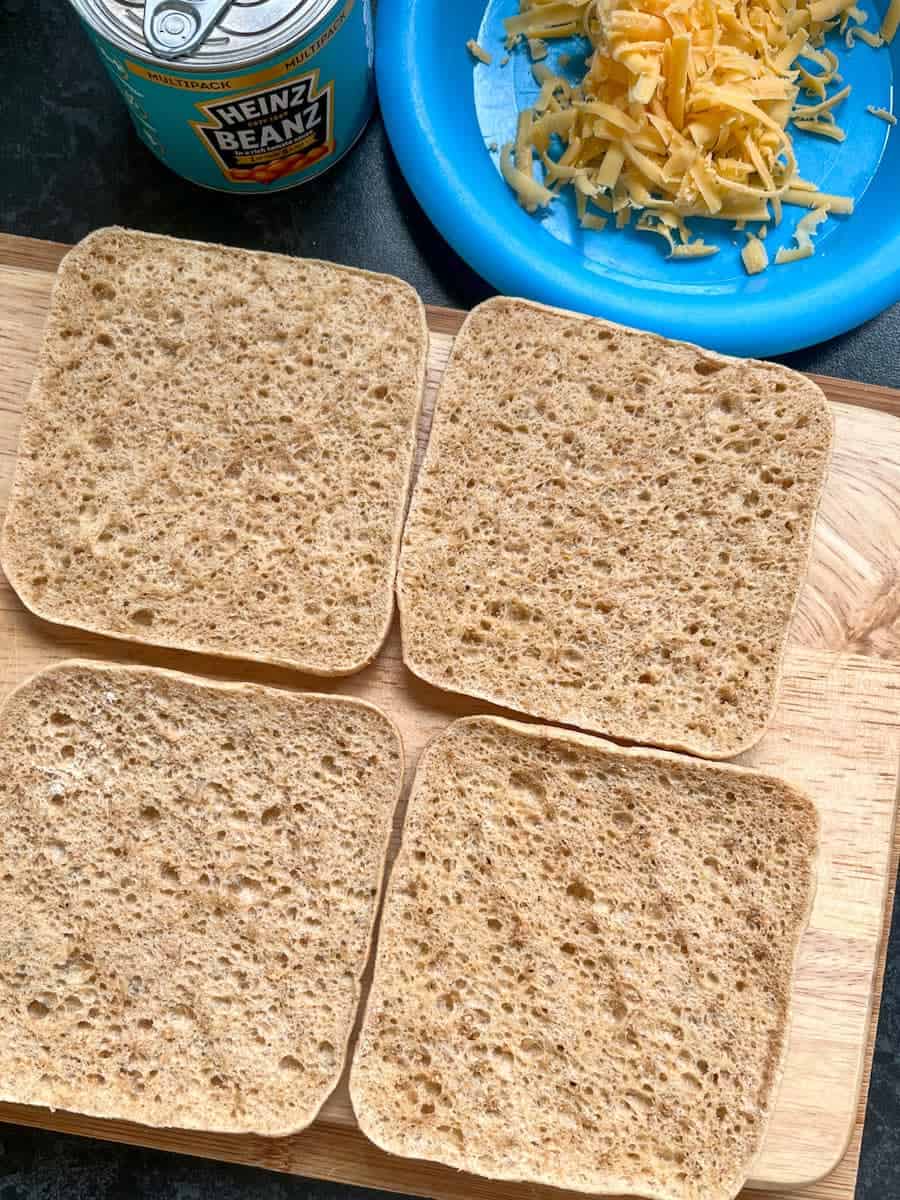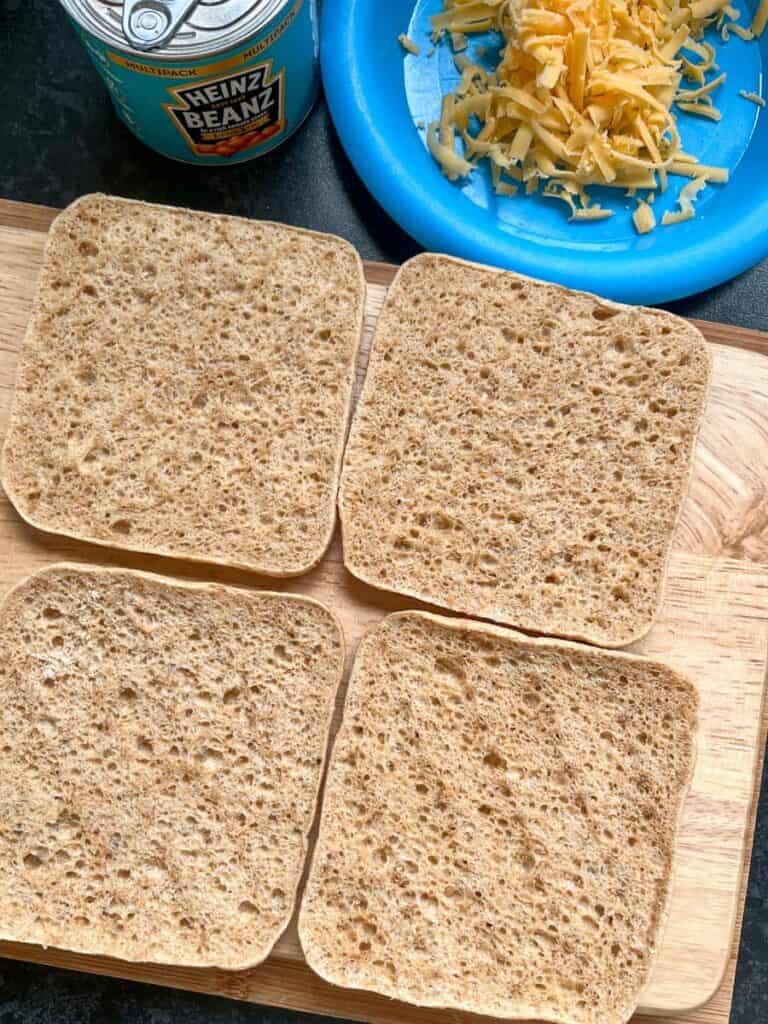 place a spoonful of the beans (straight from the tin) on one half of the sandwich thin. You won't need much – just a couple of teaspoonfuls is enough.
If you look at the photo below you can see I slightly added too much filling on the sandwich on the right! So you don't need to be as generous as I was.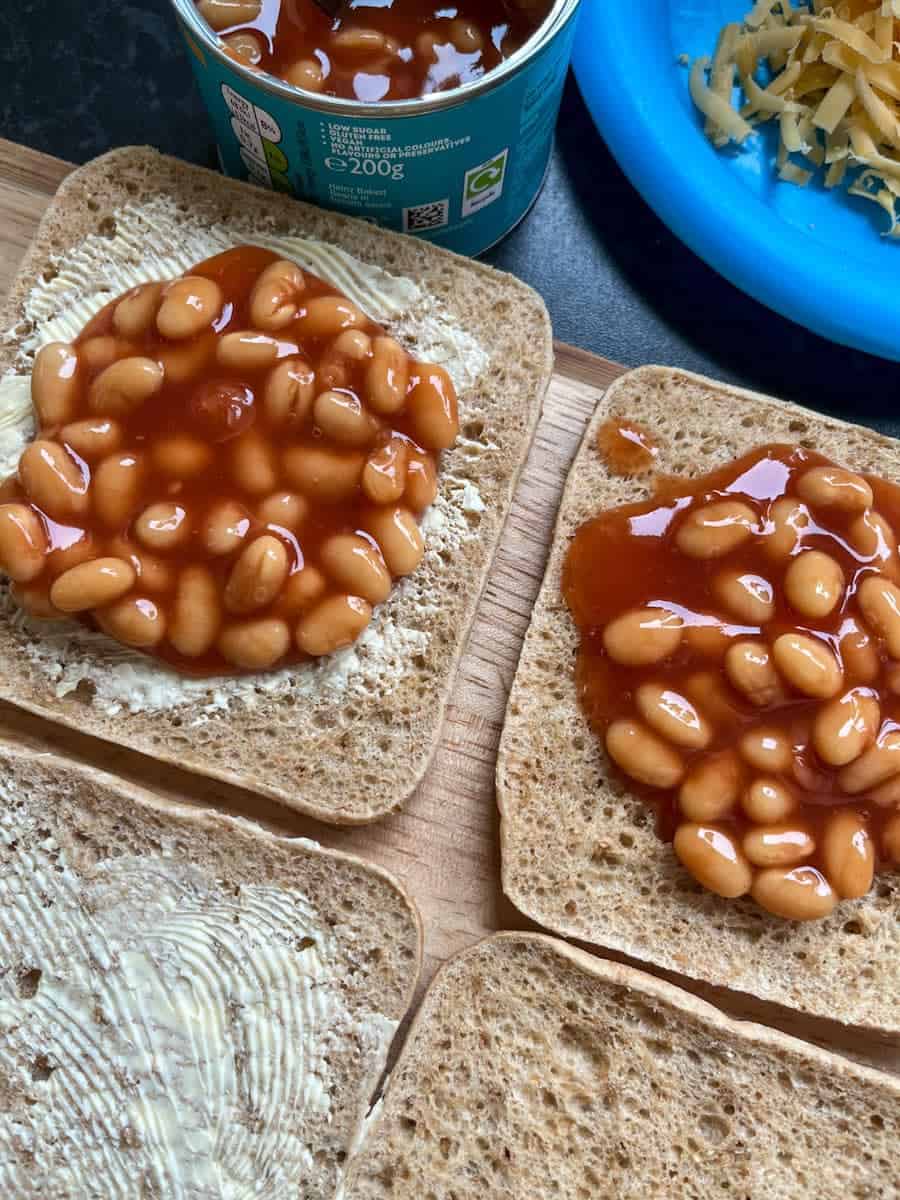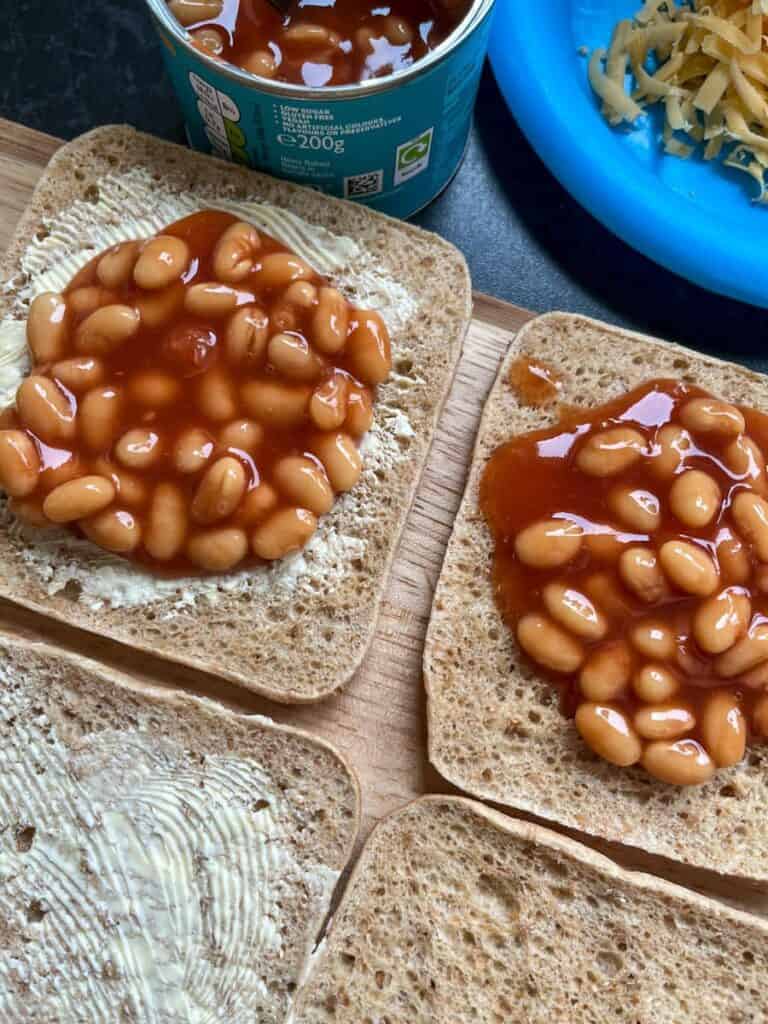 Top with around a tablespoon of grated cheese and the same amount of pickle.
It's very important not to overfill the sandwich thins so they don't burst in the air fryer.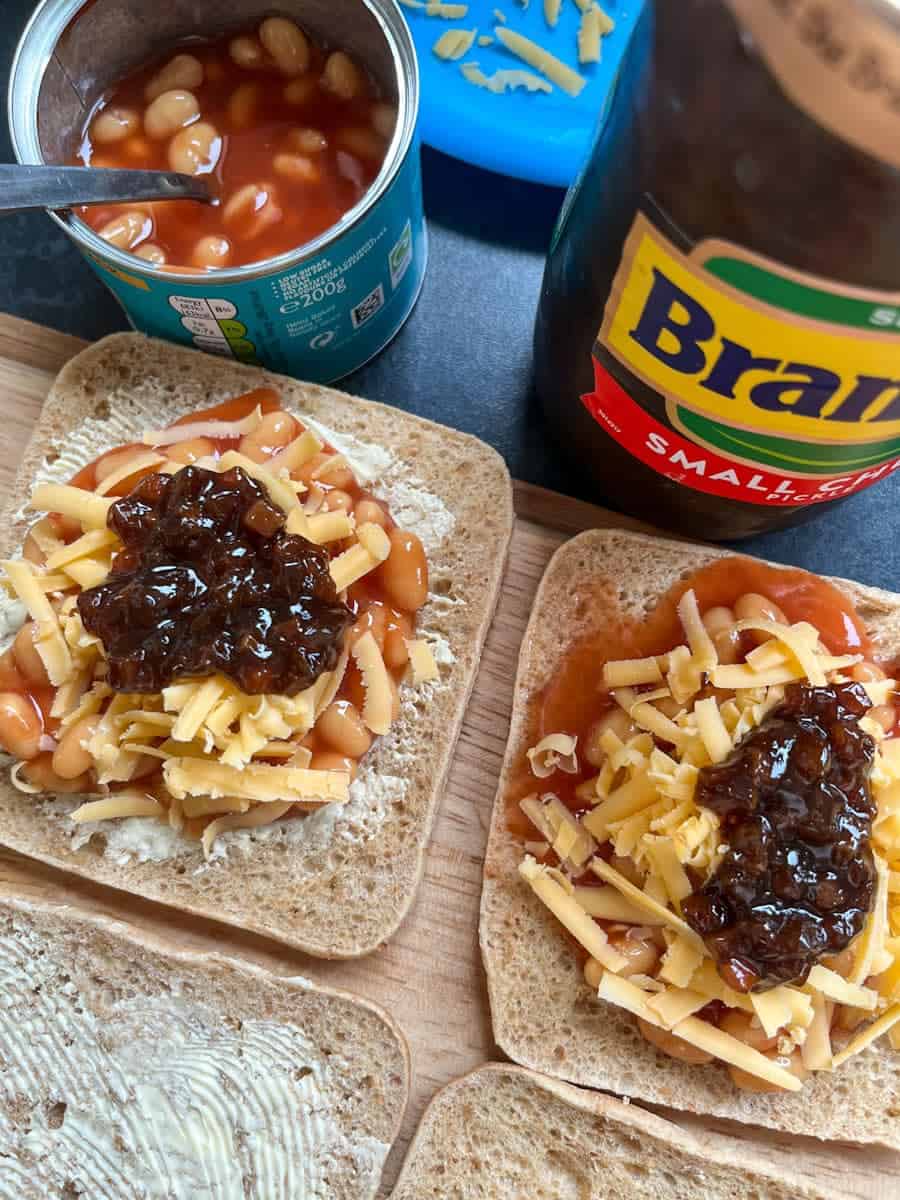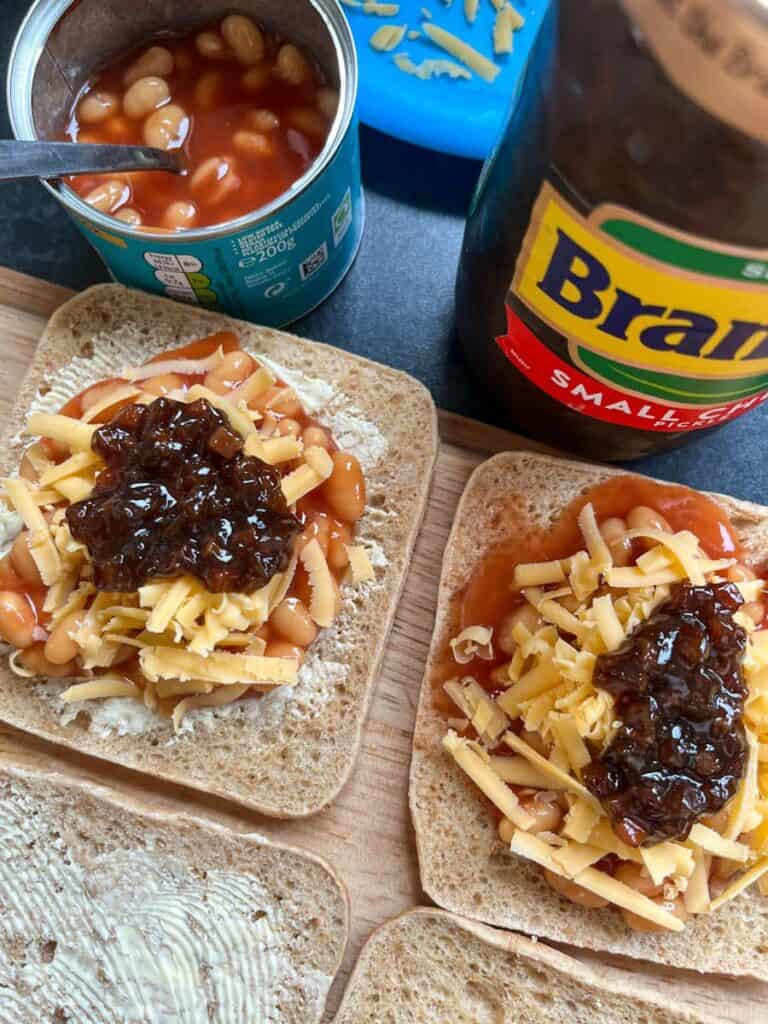 Place another sandwich thin on top. Take a fork and gently press down on the edges to "seal" the sandwich.
don't overfill the sandwich
As you can see in the photos, mine did burst slightly but thankfully there was only very minimal leakage once the sandwich was cooked.
If you have a crimpet then this will seal your sandwich perfectly and leakage won't be a concern! I do own one and while it's a handy kitchen tool to have, I really wanted to test the recipe without one for those of you who don't have a Crimpet.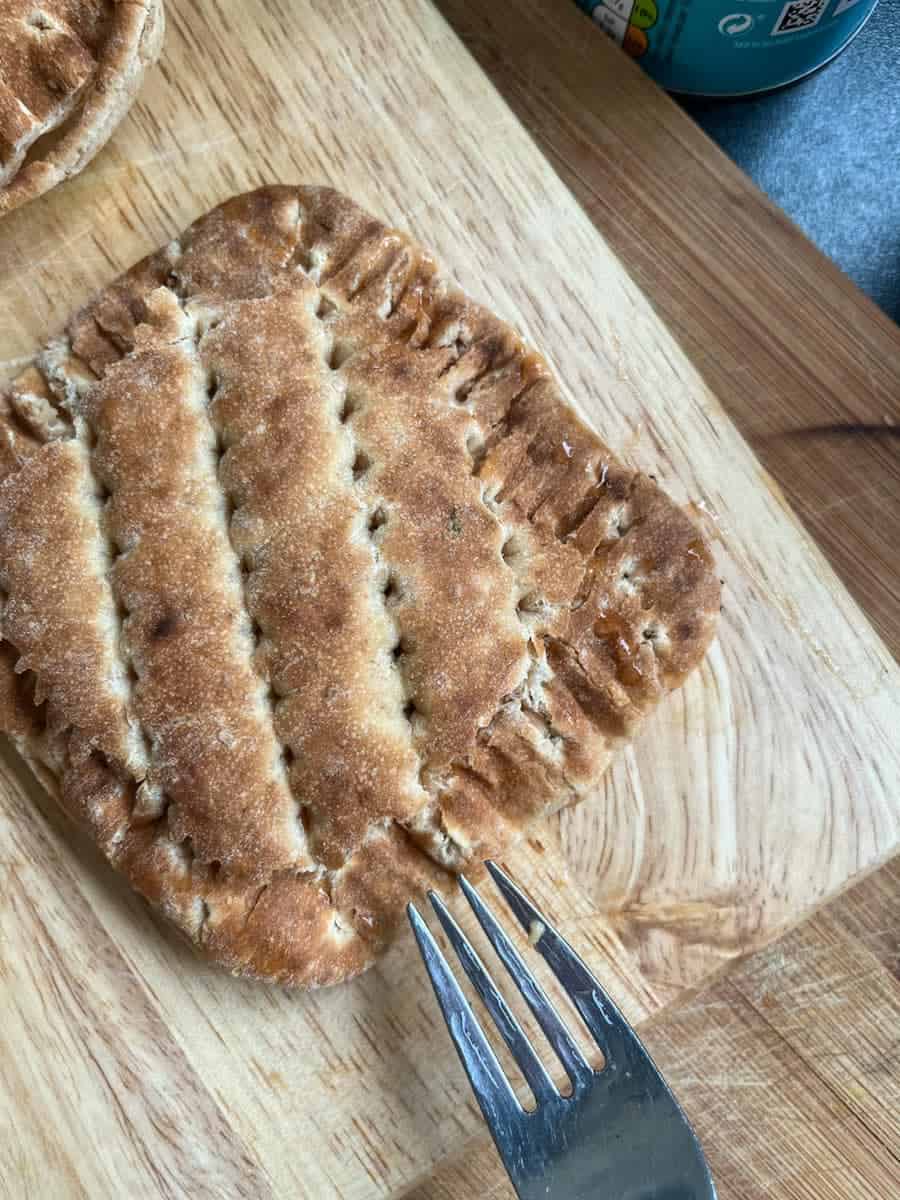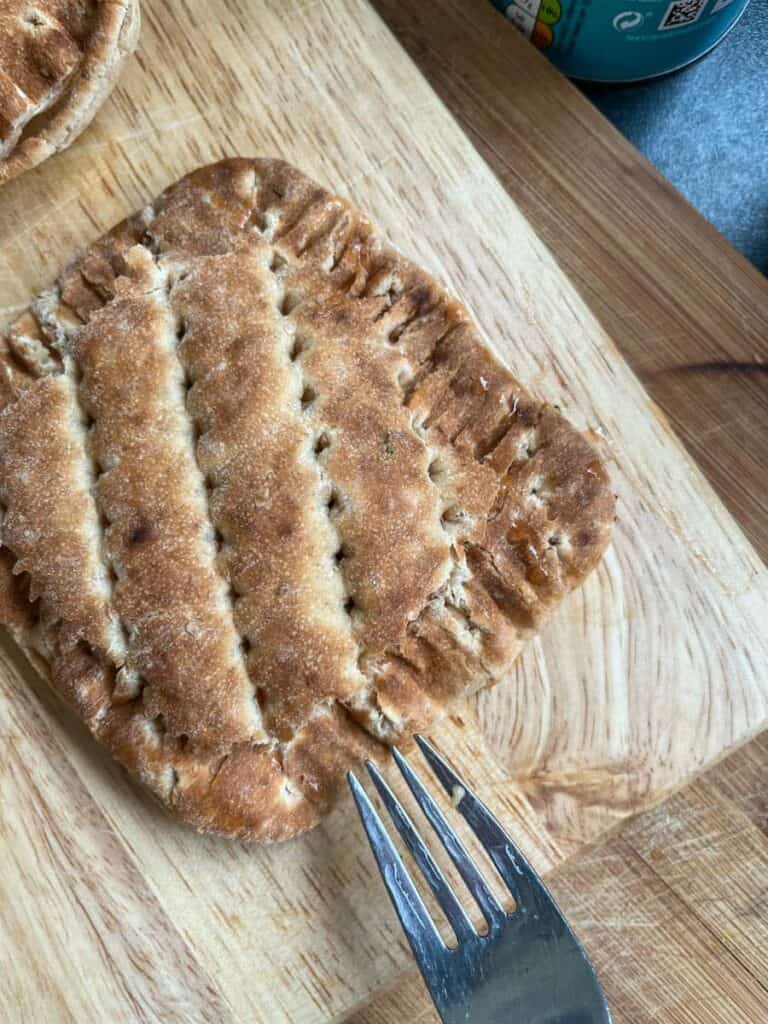 This is a side by side photo for comparison. The sandwich on the left is made with a Crimpet and the one on the right is simply sealed by pressing the edges down with a fork.
As I mentioned above, the sandwich made without the Crimpet did leak a little bit, but only a little and there was no mess in the air fryer. As long as you don't overfill the sandwich, you should be fine. A little filling goes a long way!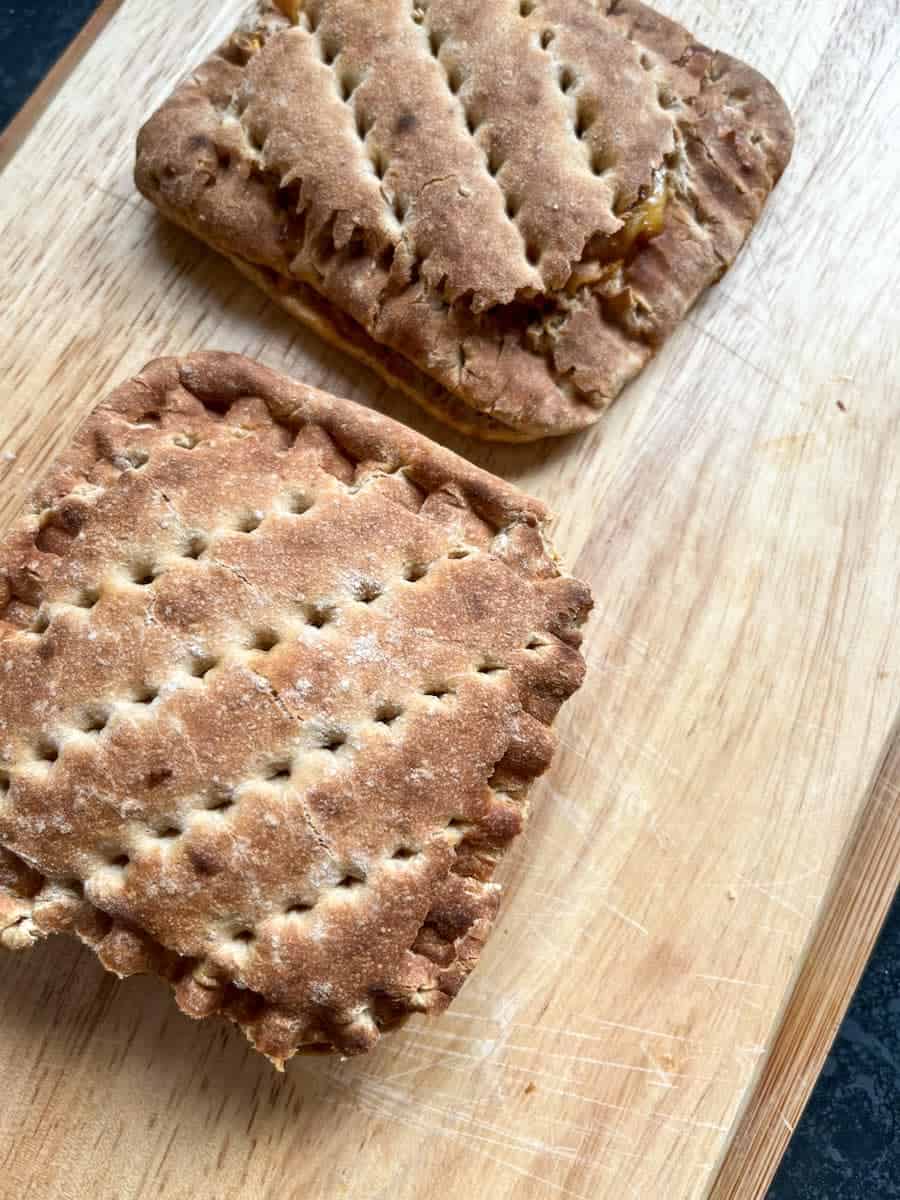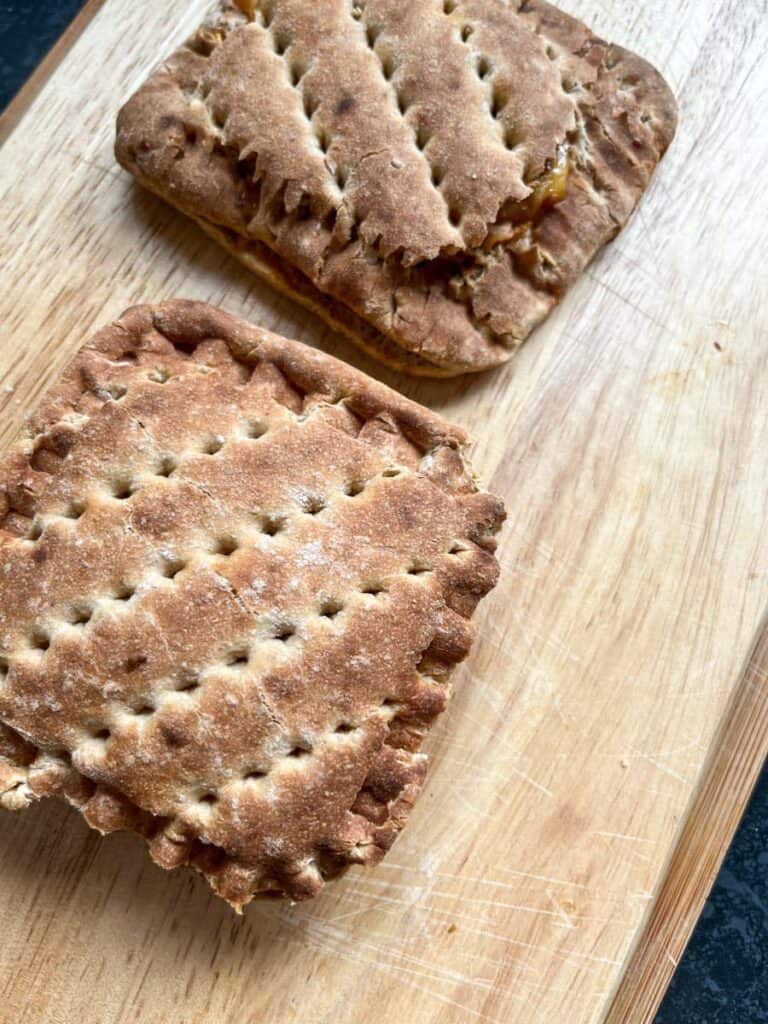 more air fryer recipes
If you liked this recipe, why not try……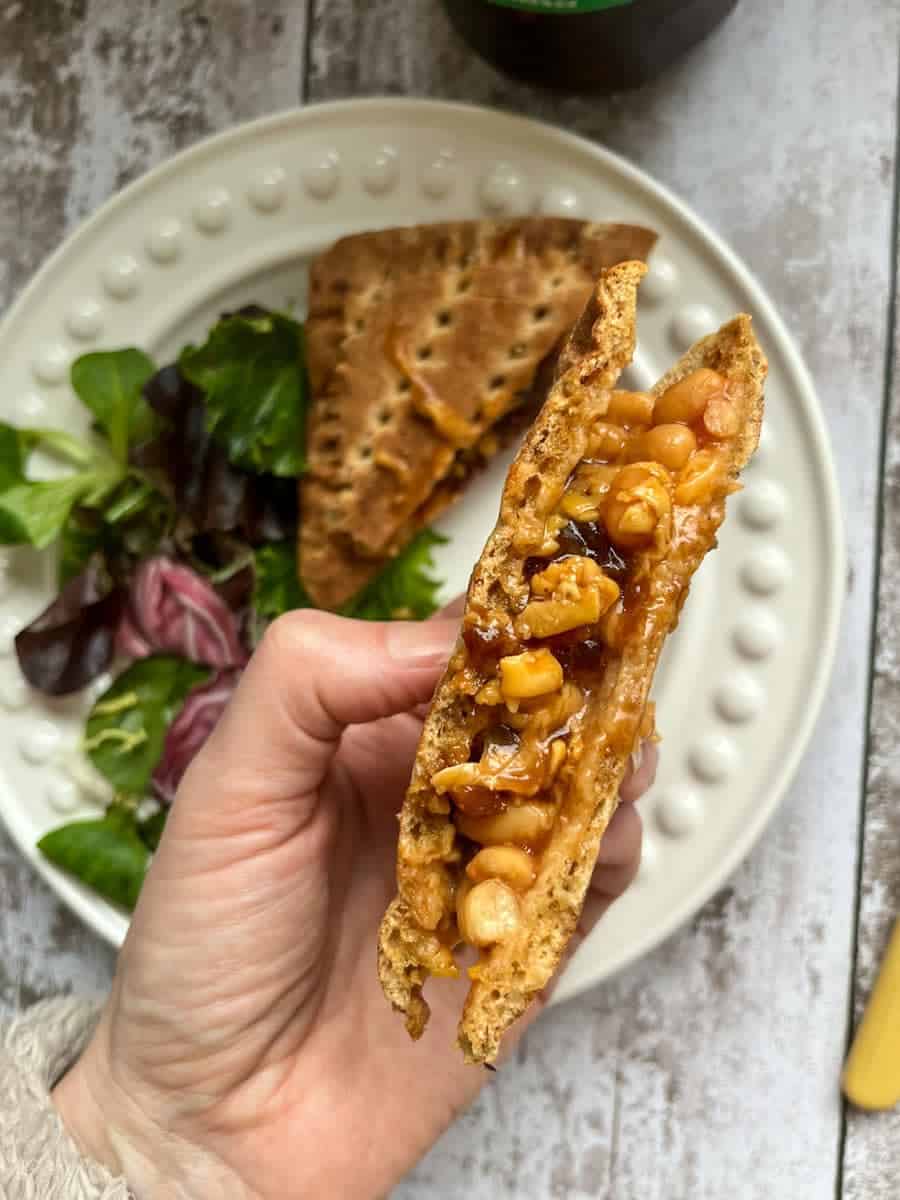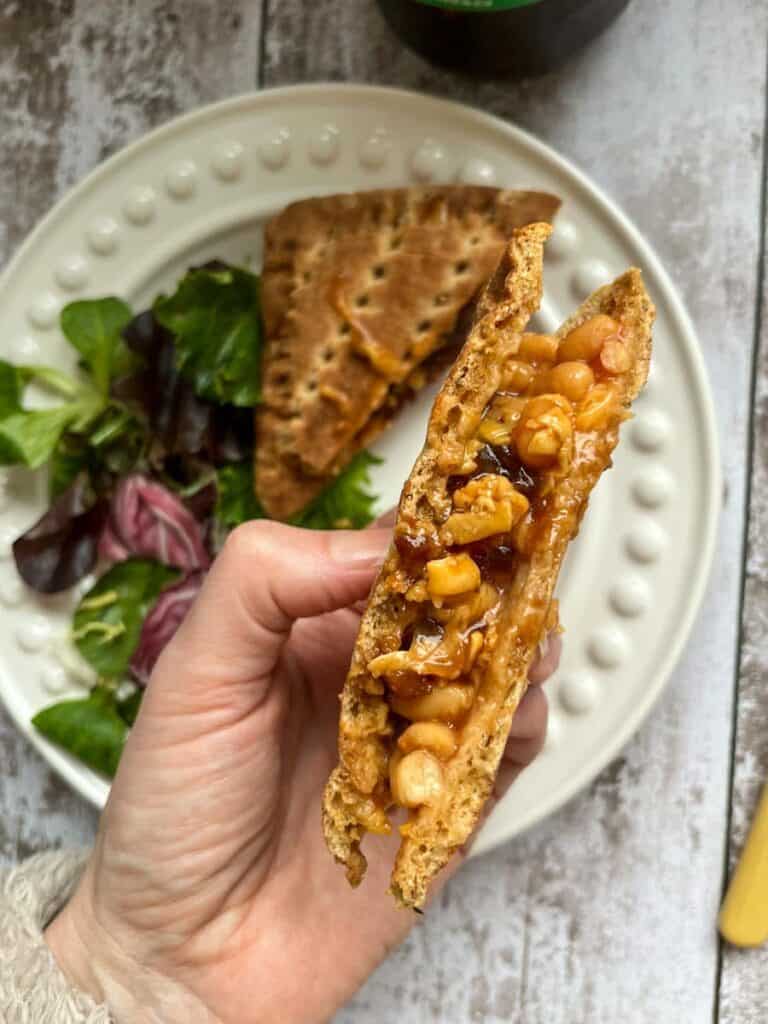 did you make this recipe?
I hope you loved it! Let me know how you got on by leaving a comment below. Please consider leaving a rating – any feedback is greatly appreciated.
subscribe for weekly updates
Want weekly recipes delivered to your inbox for free? Subscribe by adding your email to the box on my home page (no spam email, EVER – only delicious recipes and inspiration!)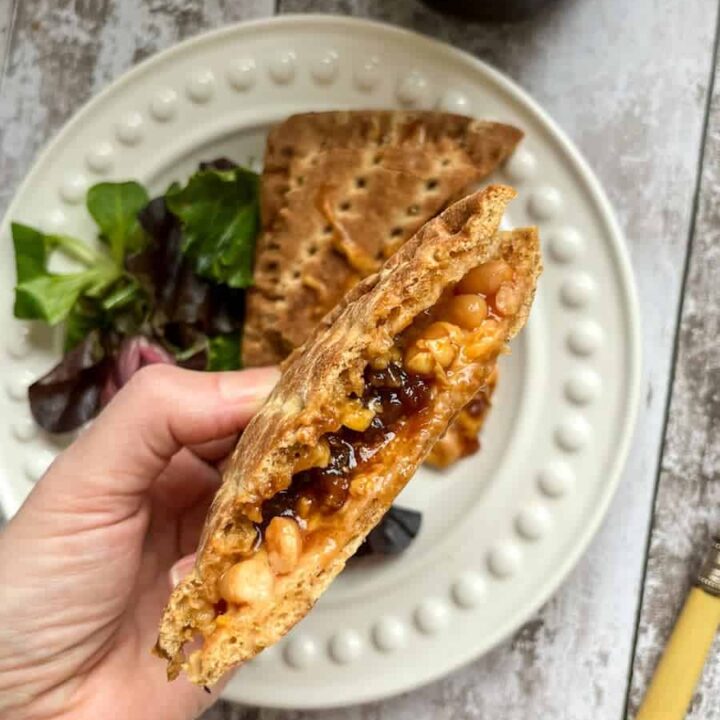 Air Fryer Cheesy Bean and Pickle Toastie
A super quick and easy cheesy bean and pickle toastie made in the air fryer! Perfect for lunch or hungry children in need of an afternoon snack!
Ingredients
4 slices of "sandwich thins" - I use Warbuton's brown sandwich thins
4 tablespoons tinned baked beans
2 tablespoons grated cheddar cheese
1 tablespoon pickle - I use Branston's pickle
Instructions
Place the sandwich thins on a board. Place two tablespoons of baked beans in the middle of two halves of the bread.
Place one tablespoon of grated cheese on top of the beans, followed by a small spoonful of pickle.
Place the other half of the bread on top to make sandwiches. Using a fork, press down the edges to seal the bread. Don't use too much force in case the sandwich bursts. Of course if you own a Crimpet (see my notes in the post), it's easier to use that instead.
Place in the air fryer basket and cook on 190C for 5-8 minutes until very hot and the cheese has melted. It takes 7 minutes in my air fryer but it might take a minute more or less in yours. Allow to cool slightly beofre tucking in!
Nutrition Information:
Yield:

2
Serving Size:

1
Amount Per Serving:
Calories:

201
Total Fat:

4g
Saturated Fat:

2g
Trans Fat:

0g
Unsaturated Fat:

2g
Cholesterol:

7mg
Sodium:

548mg
Carbohydrates:

35g
Fiber:

9g
Sugar:

5g
Protein:

12g
Calories and nutritional information are provided by a third party application and should be viewed as indicative figures only.