An incredibly easy no bake mint Aero traybake with crushed biscuits, mint Aero bar, and mint Aero bubbles!
A quick and simple recipe perfect for parties, bake sales or a weekend treat.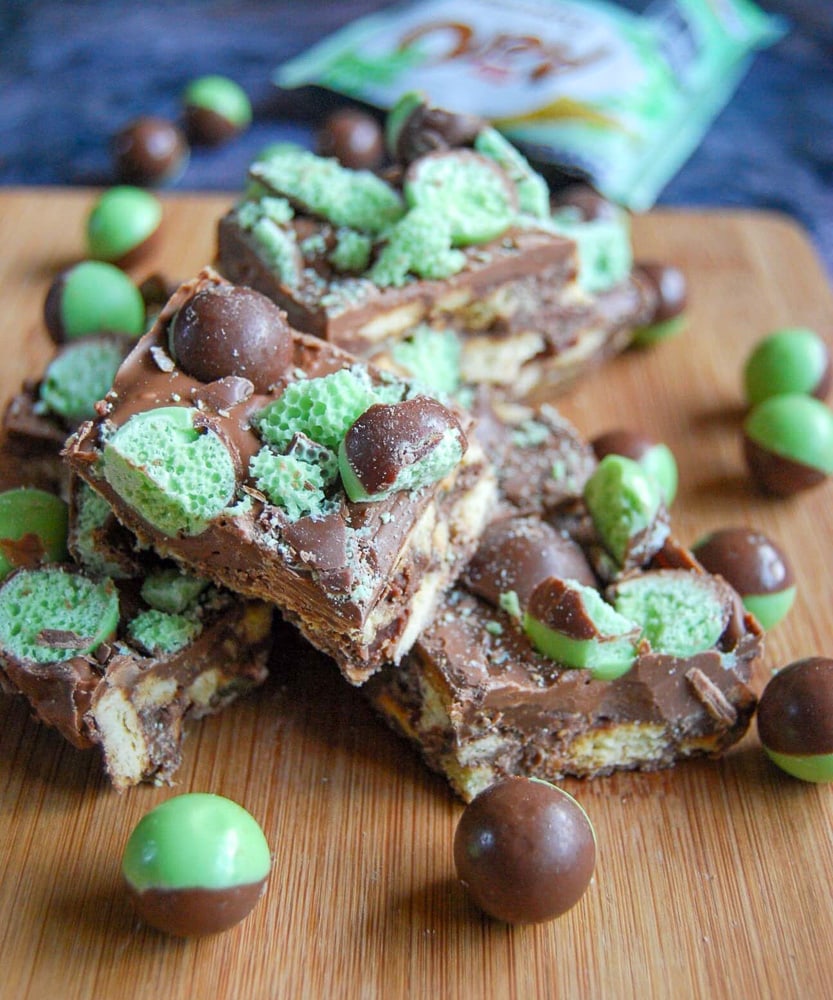 I feel that I should introduce this recipe with a health warning…it's highly addictive! Even more dangerously, it's very quick and easy to make.
The trouble is, it tends to disappear extremely quickly! No-one can seem to resist it.
I usually make this as a Malteser traybake but one day I decided to give it a try with my favourite chocolate – mint Aero and mint Aero Bubbles.
To say this went down well with everyone would be an understatement. I only got one small piece! My boys loved it.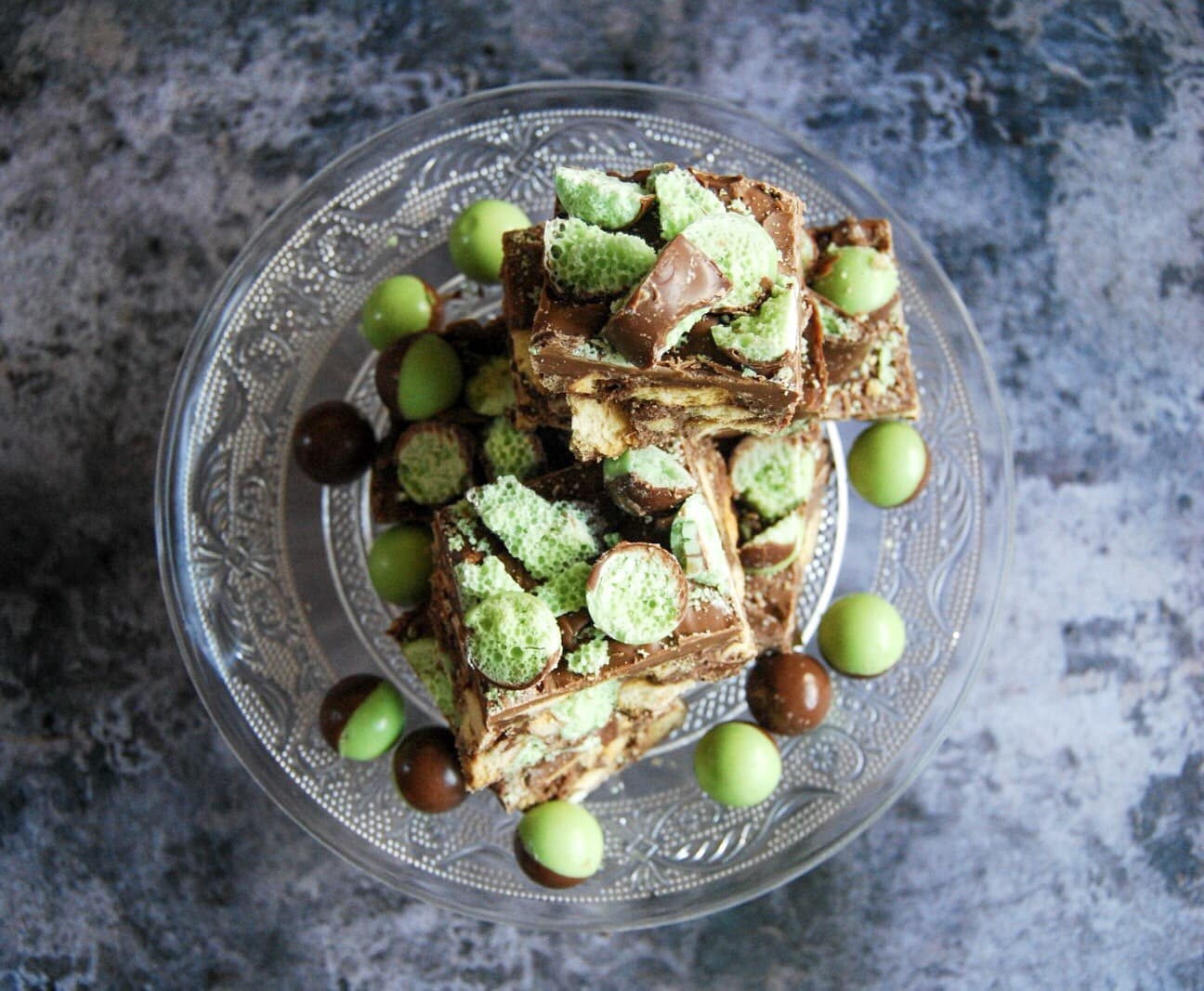 Whenever I make this, it doesn't last five minutes. You are going to LOVE it. Just don't say I didn't warn you about how addictive it is! 😉
how to make mint aero traybake
Melt the chocolate, butter and golden syrup together…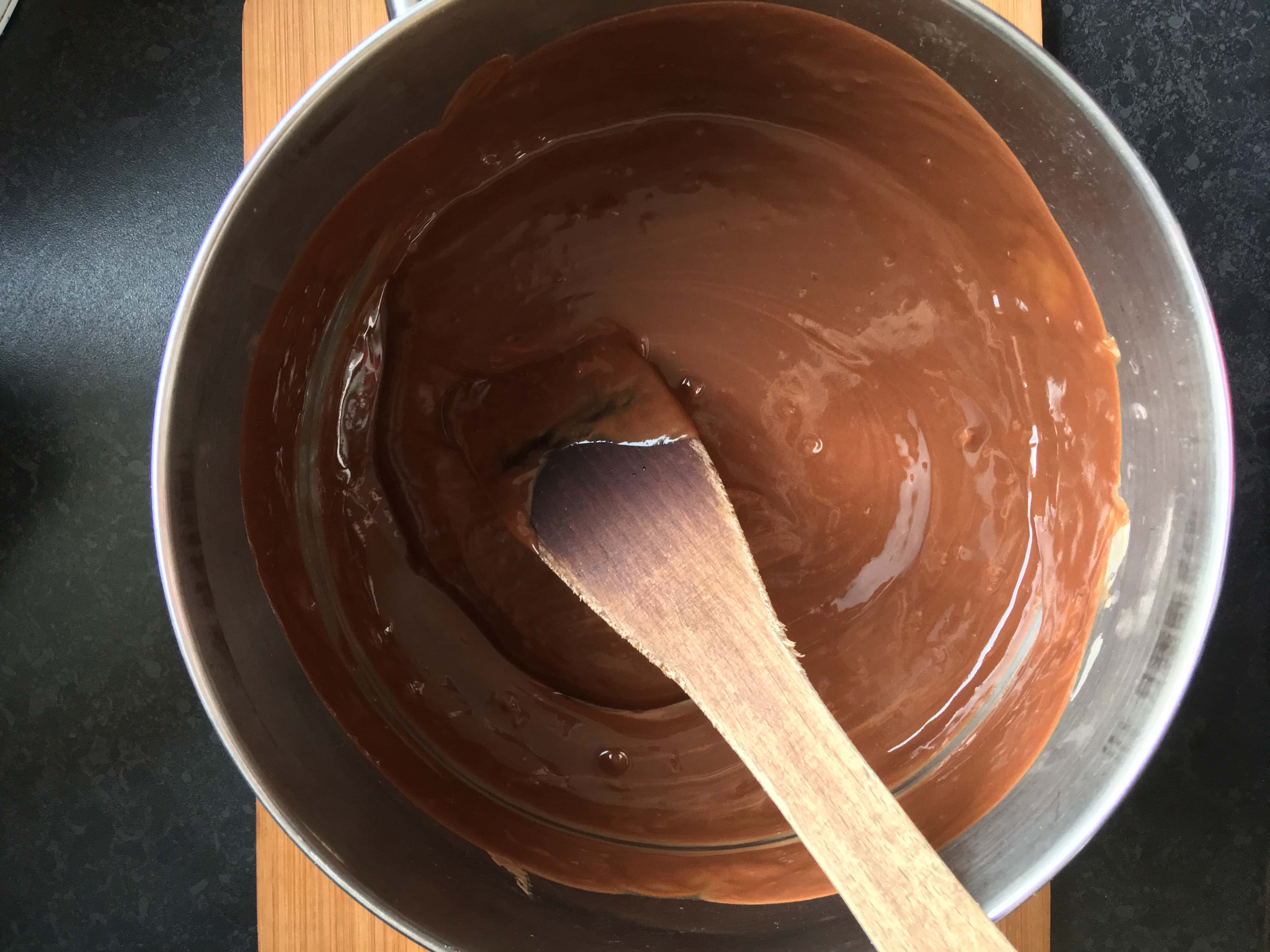 Add crushed biscuits, chopped Aero bar and Aero bubbles to the melted chocolate and stir…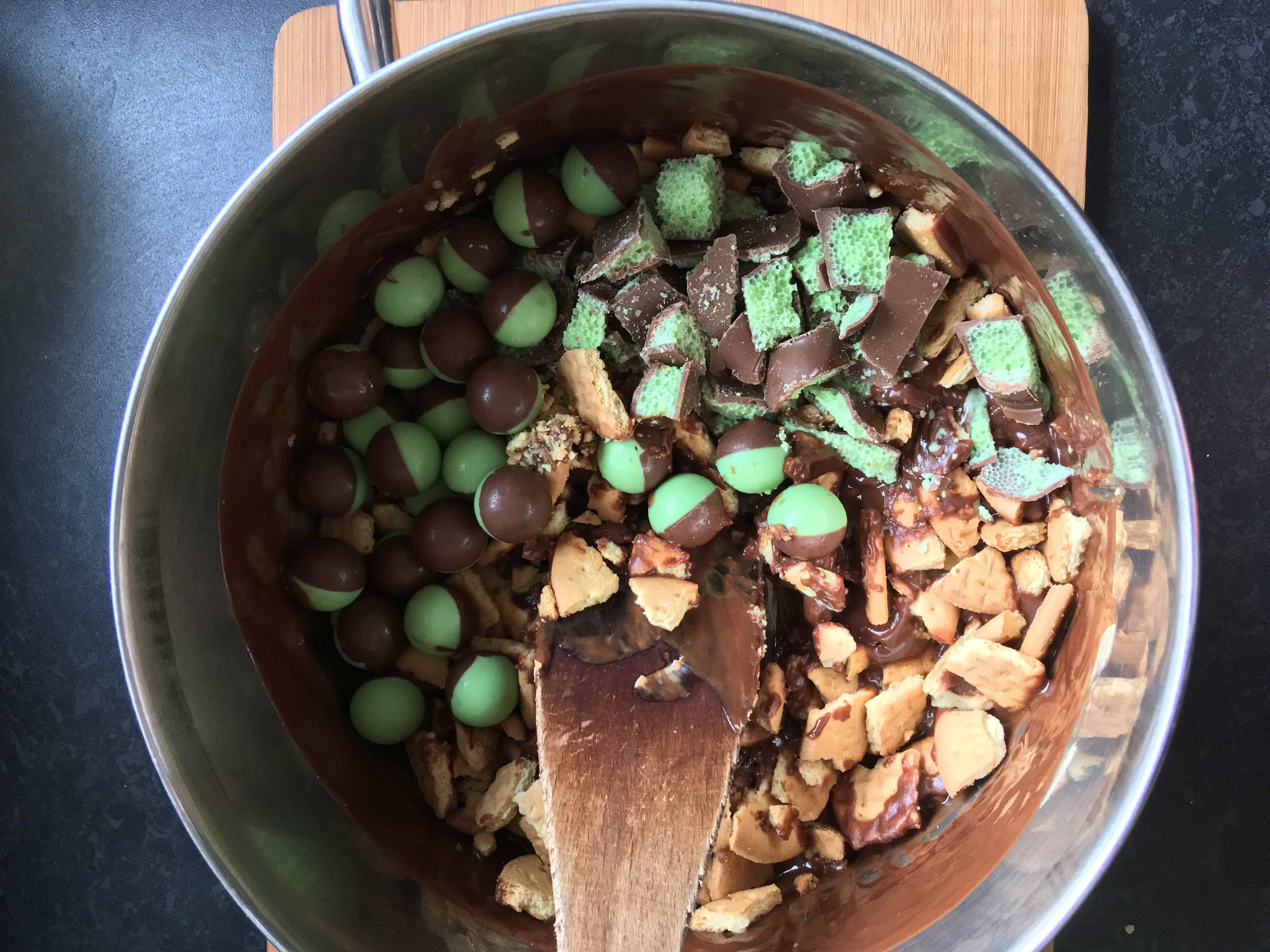 Pour into a lined tin and smooth the surface with the back of a spoon.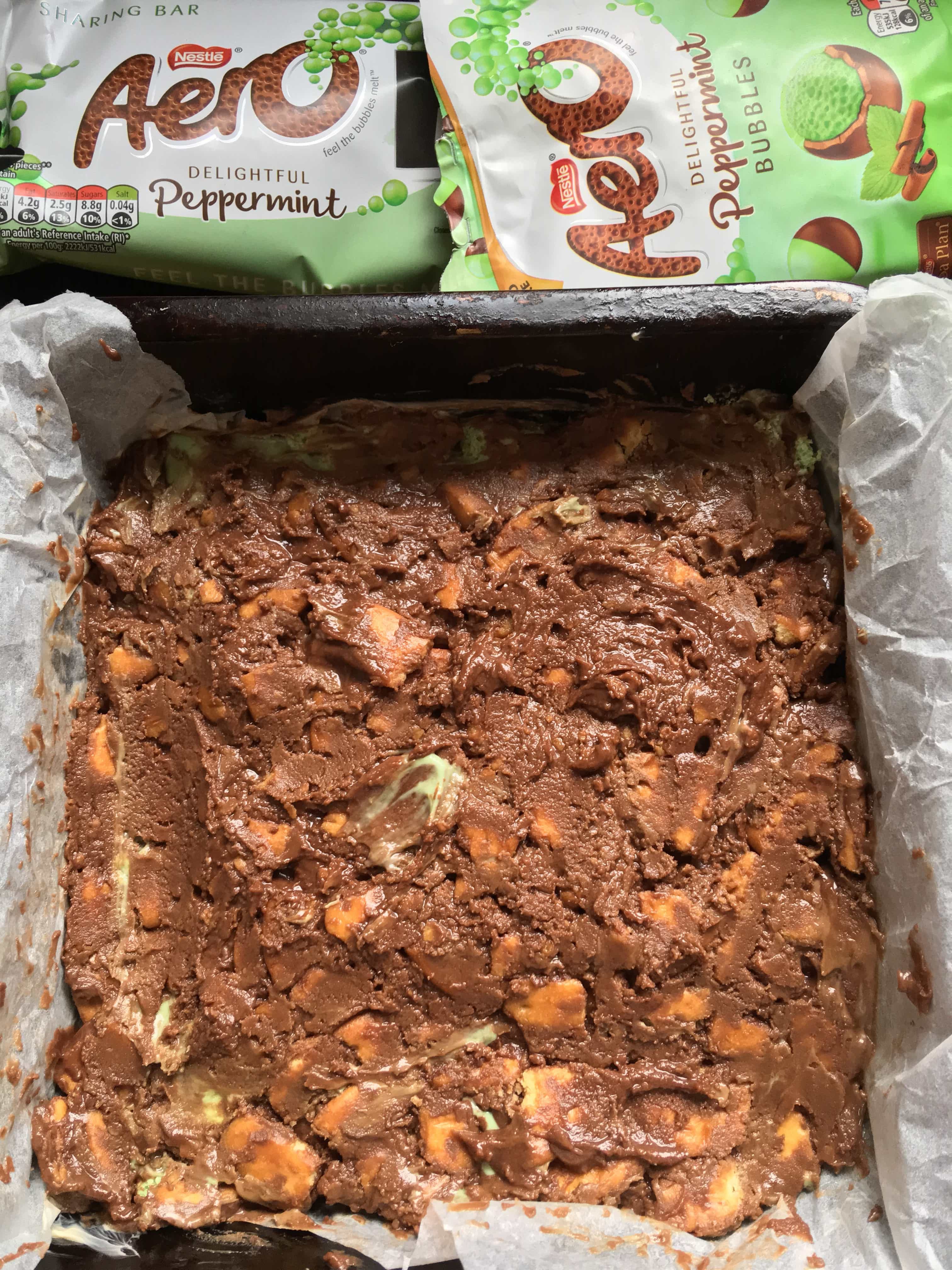 Then all you need to do is pour over more melted chocolate and decorate with Aero bubbles.
Couldn't be easier!
Then it's time for the hard part…leaving it to set in the fridge for a minimum of 2 hours – sorry! It is worth the wait though, trust me.
Handy tips….
I wait to let the chocolate, butter and syrup mixture cool a little before stirring in the Aero Bubbles – if the chocolate is too warm the bubbles will melt!
I tend to use milk chocolate in this recipe because my family prefer it, but if you wanted to you could all dark chocolate or a mixture of half milk and half dark.
I haven't tried this yet, but I can imagine an all dark version would make a good "grown up" version. If you try it, let me know what you think!
If you make this, I would love to see it! Take a picture and tag me on my Facebook page, Twitter, or Instagram.
Let me know what you thought of this recipe by leaving a comment and star rating below!
Want to see more easy no bake recipes?
No bake chocolate Easter fridge cake
no bake chocolate orange traybake
no bake Terry's chocolate orange cheesecake
no bake white chocolate and raspberry cheesecake
Pin this recipe for later….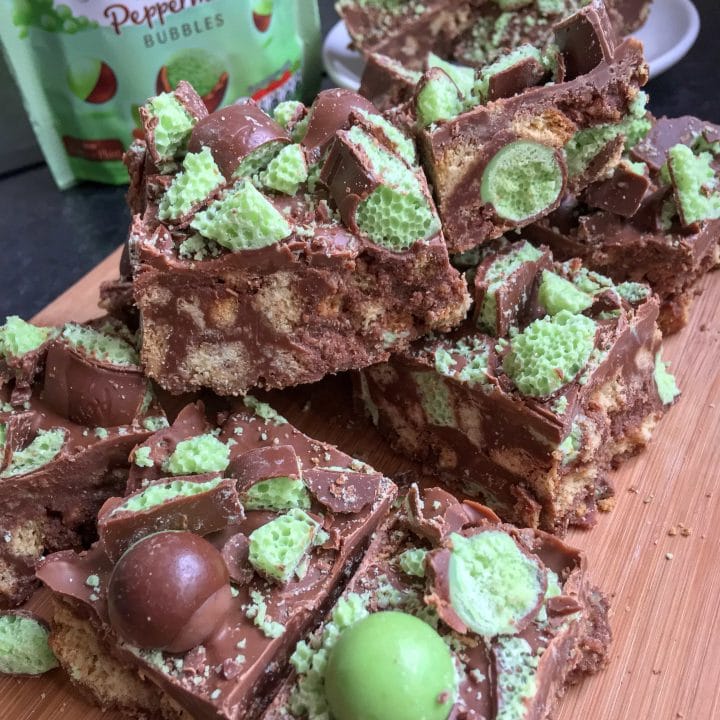 No Bake Mint Aero Traybake
Yield:
Makes 10 Large Bars
An easy no bake chocolate traybake loaded with Mint Aero bubbles and chunks of Mint Aero bar! A mint chocolate lover's dream come true!
Ingredients
125 g Butter
400 g Milk chocolate, or a mixture of both dark and milk
3 tbsp golden syrup
280 g digestive or rich tea biscuits
100 g mint Aero bubbles
100 g bar Mint Aero
For the topping:
150 g milk or dark chocolate
100 g bar Mint Aero, roughly chopped OR Mint Aero bubbles, for decoration
Instructions
Melt the butter, chocolate and syrup together in a large saucepan, stirring occasionally.
Once everything has melted and is smooth, remove from the heat.
Leave for a minute before stirring in the crushed biscuits, chopped mint Aero bar and the Aero bubbles.
Tip into a lined 22cm square tin and level out the top as best as you can. Pop in the fridge while you melt the chocolate for the topping.
For the chocolate topping:
Melt the 150g chocolate in a heatproof bowl set over a pan of simmering water.
Remove the traybake from the fridge and pour the melted chocolate all over the top, smoothing it out with a spatula to get the chocolate into the corners.
Top with the chopped Aero and Aero bubbles. Place back in the fridge for a minimum of 2 hours or until set.
Once the traybake is set, cut into bars and watch it disappear!
Nutrition Information:
Yield:

14
Serving Size:

1
Amount Per Serving:
Calories:

440
Total Fat:

22g
Saturated Fat:

13g
Trans Fat:

0g
Unsaturated Fat:

7g
Cholesterol:

30mg
Sodium:

163mg
Carbohydrates:

58g
Fiber:

2g
Sugar:

39g
Protein:

5g
Any nutritional information shown is the estimated nutritional information per serving.