I love an easy traybake and this no bake peppermint slice is one of my most requested and most loved recipes. A crumbly biscuit base, creamy peppermint filling and a rich chocolate topping. It's not surprising it's so popular!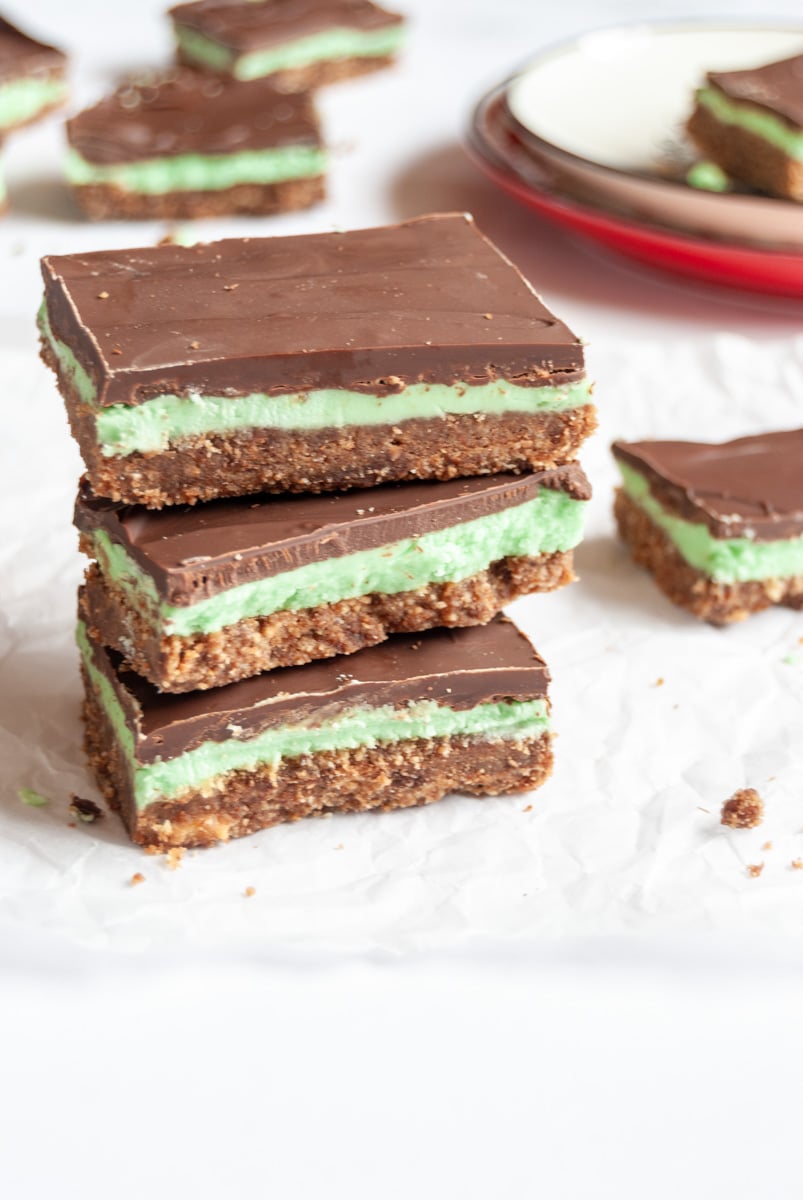 I really love a traybake recipe. They are so easy to prepare, making them ideal for bake sales, parties or just when you fancy a treat but don't have loads of time to spend making something.
If they happen to be no bake, then that's even better!
My no bake chocolate orange traybake and Biscoff rocky road are just a couple of my most popular traybake recipes. They don't last five minutes in my house!
A peppermint slice is one of my childhood favourites. They sold it in school and it was always my first choice, closely followed by the fabulous School dinner cake, Mars Bar slice and chocolate concrete! Those were the days!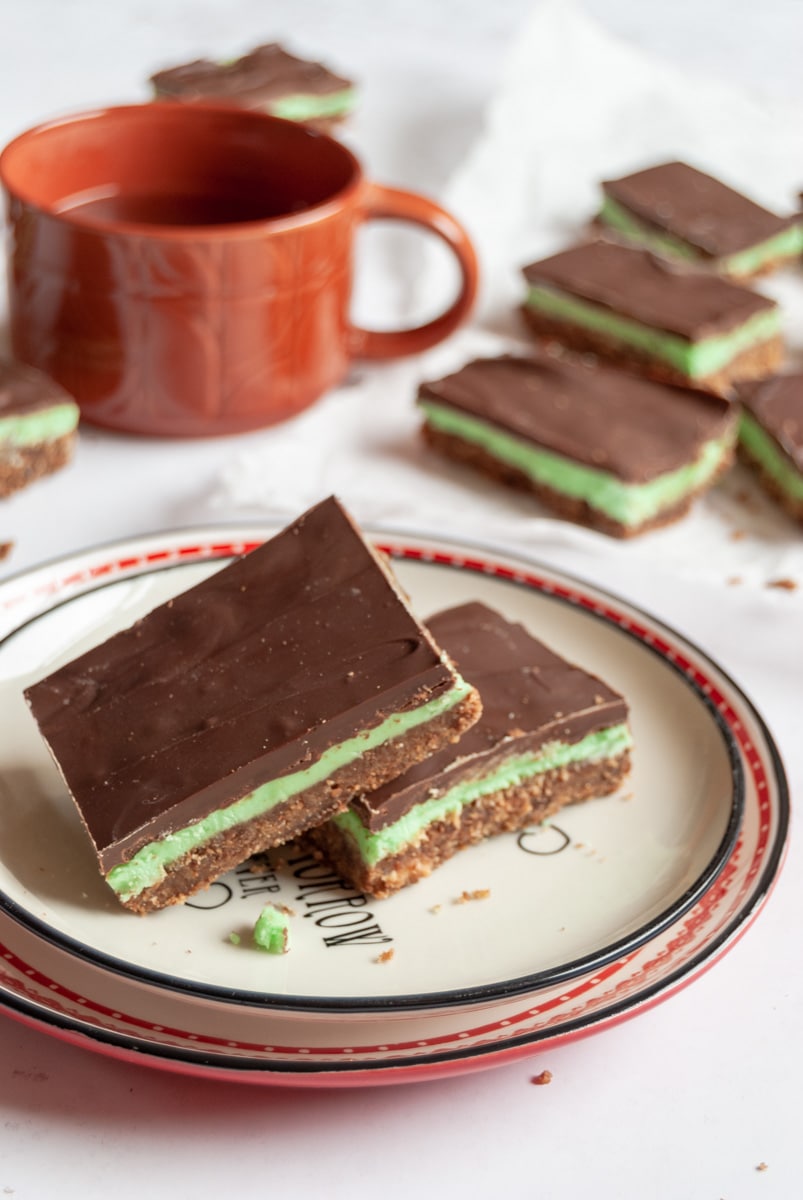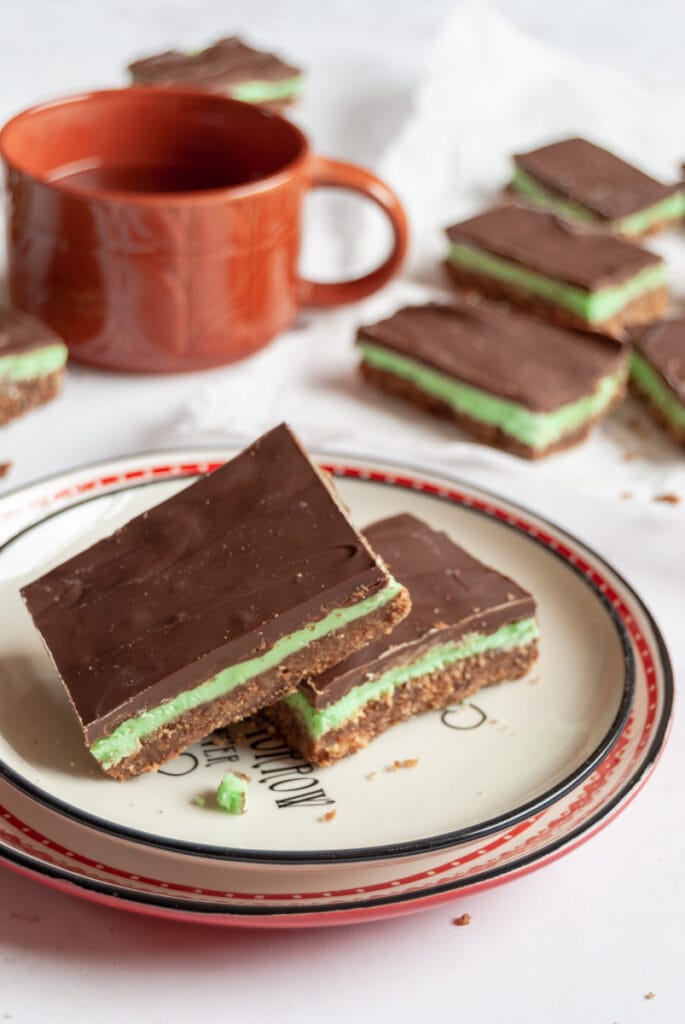 I LOVE mint chocolate of all kind – especially Bendick's bittermints or a peppermint crisp bar. Do you remember the Terry's Pyramint way back in the early 80's? My idea of heaven!!
My no bake mint Aero traybake is one of my oldest and most loved recipes on here, so it seems like I'm definitely not alone in my love of mint chocolate. If the idea of a fudgy mint chocolate cake appeals, you might want to take a look at my easy mint chocolate cake recipe.
I've wanted to post this no bake peppermint slice recipe for such a long time, but whenever I make it I don't get a change to take any photographs – it disappears FAST. The sign of a great recipe.
So I made this over the weekend and made my boys promise they wouldn't dive in until I actually got some photos done. I took them on Sunday afternoon and it was half gone by the evening. I suspect it might be the same story in your house, especially if you have teenagers….
ingredient list
(This is a quick list of the ingredients you'll need to make this traybake – keep scrolling to find printable recipe card with ingredient amounts and detailed instructions)
for the base
butter
golden syrup
caster sugar
cocoa powder
digestive biscuits
for the peppermint filling
icing sugar
peppermint extract
milk
melted butter
green food colouring
for the topping
dark or milk chocolate. Unlike myself, my boys aren't keen on very dark chocolate, so I use half milk and half dark.
vegetable or sunflower oil (see my notes below on why I add this to the chocolate)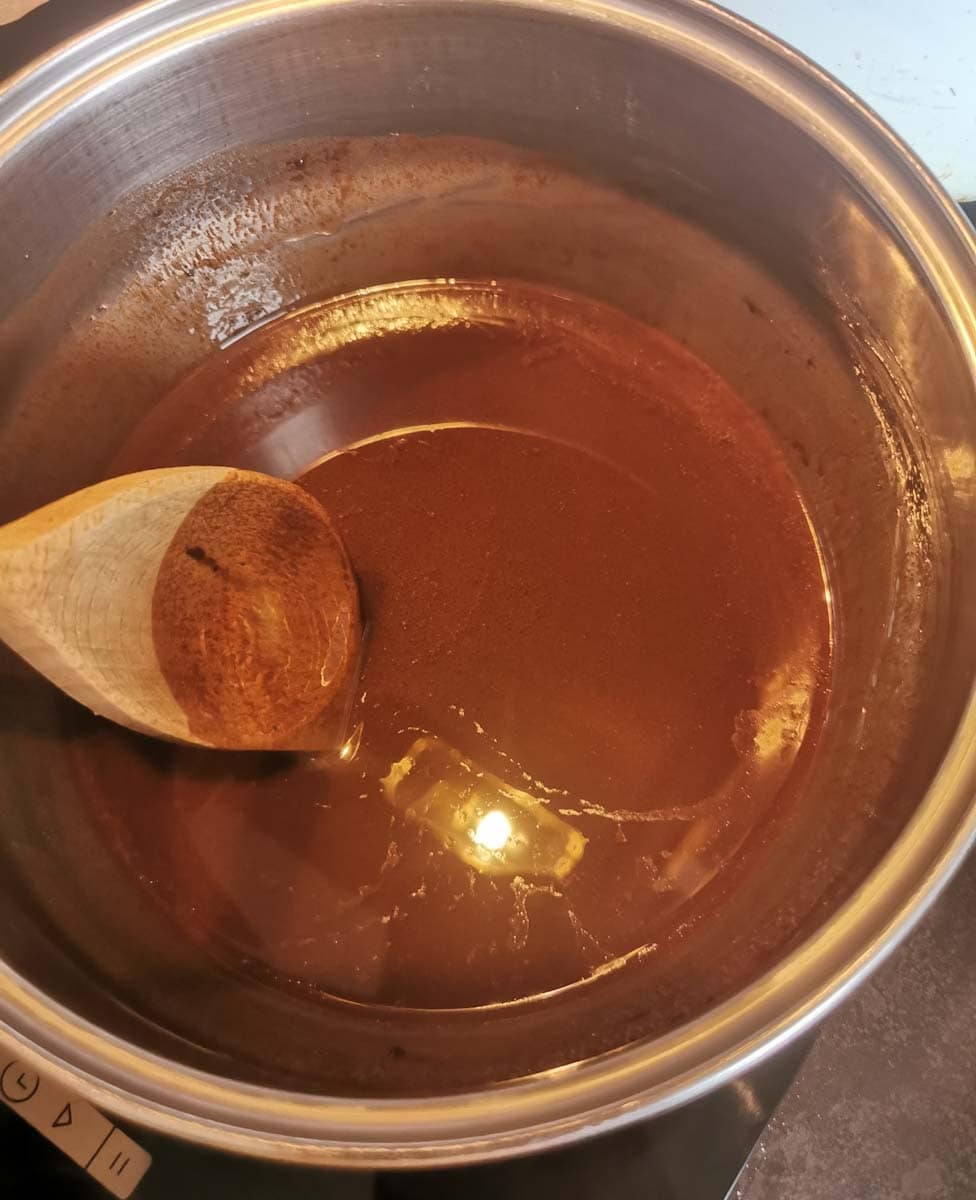 recipe notes
the biscuit base
The base is made up of crushed digestive biscuits, butter, cocoa powder and golden syrup. I also add a little bit of caster sugar to make up for the bitterness of the cocoa. You can omit the cocoa if you wish – it's not essential.
When I first tested this recipe I made the base with condensed milk. It tasted good, but it was just too soft and gooey for my taste. My taste testers agreed with me – the crumbly biscuit base was much better.
You'll need to chill the base for at least 30 minutes before adding the peppermint layer.
the peppermint filling
This is super easy – you just need to mix icing sugar, melted butter, milk, peppermint extract and green food colouring paste together until you have a smooth, spreadable filling. You might need to add a tiny bit of hot water to reach the right consistency.
The food colouring is entirely optional – you don't have to add it. But I wanted this peppermint slice to be reminiscent of the one I remember from my childhood. Plus I'm a child of the eighties, so I'm not against a tiny amount of food colouring every now and then.
the chocolate topping
To keep the young people happy, I use half milk and half dark chocolate for the topping. If the recipe was just for me, I would use all dark chocolate. But sadly, I have to share so I must take other people's feelings into consideration.
TOP TIP – When melting the chocolate, add about half a tablespoon of vegetable or sunflower oil. This will prevent the chocolate from cracking when you cut it later.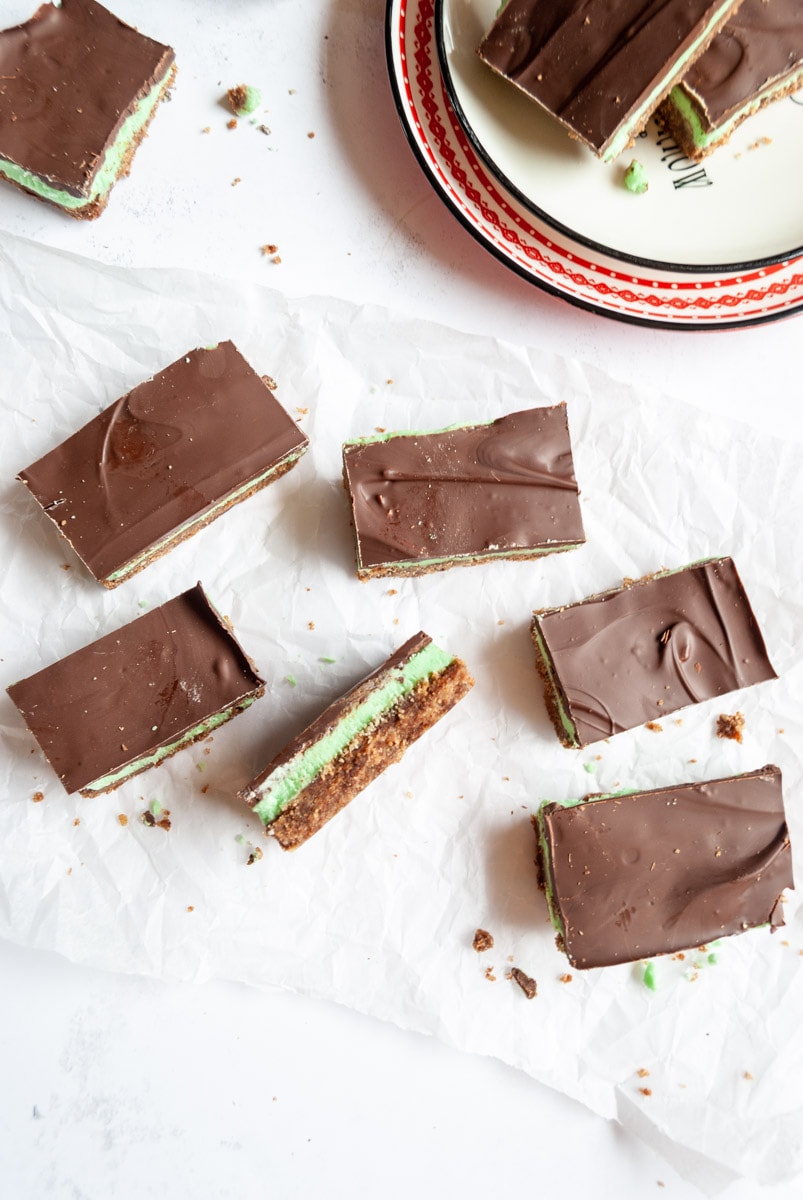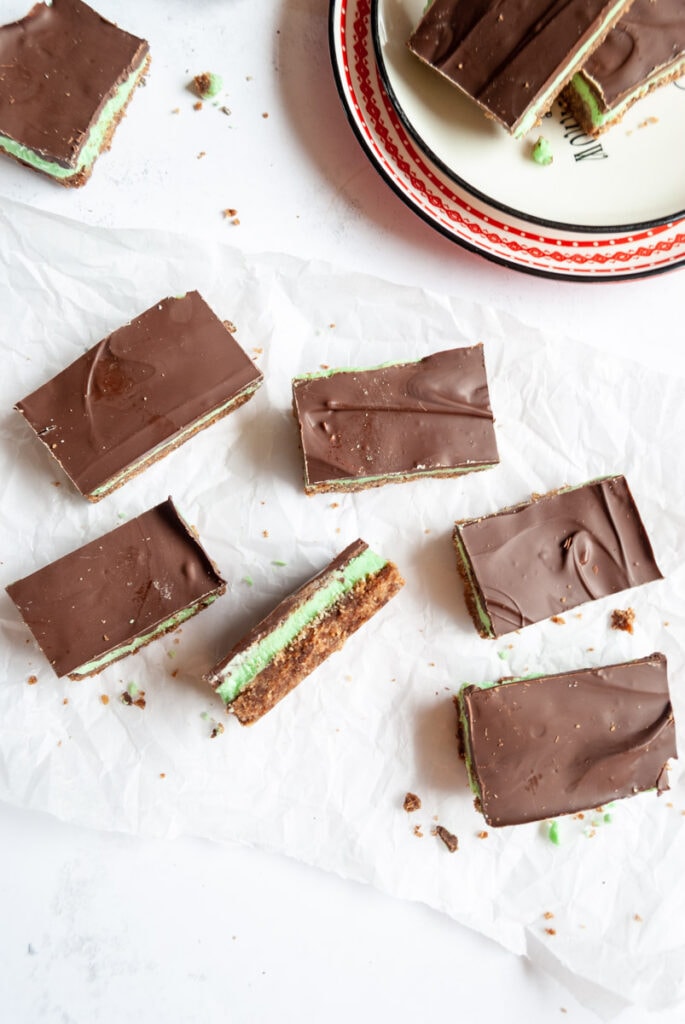 did you make this recipe?
I hope you enjoyed it! Please let me know your thoughts by leaving a comment below and rate the recipe by clicking on the stars in the recipe card.
more no bake recipes to try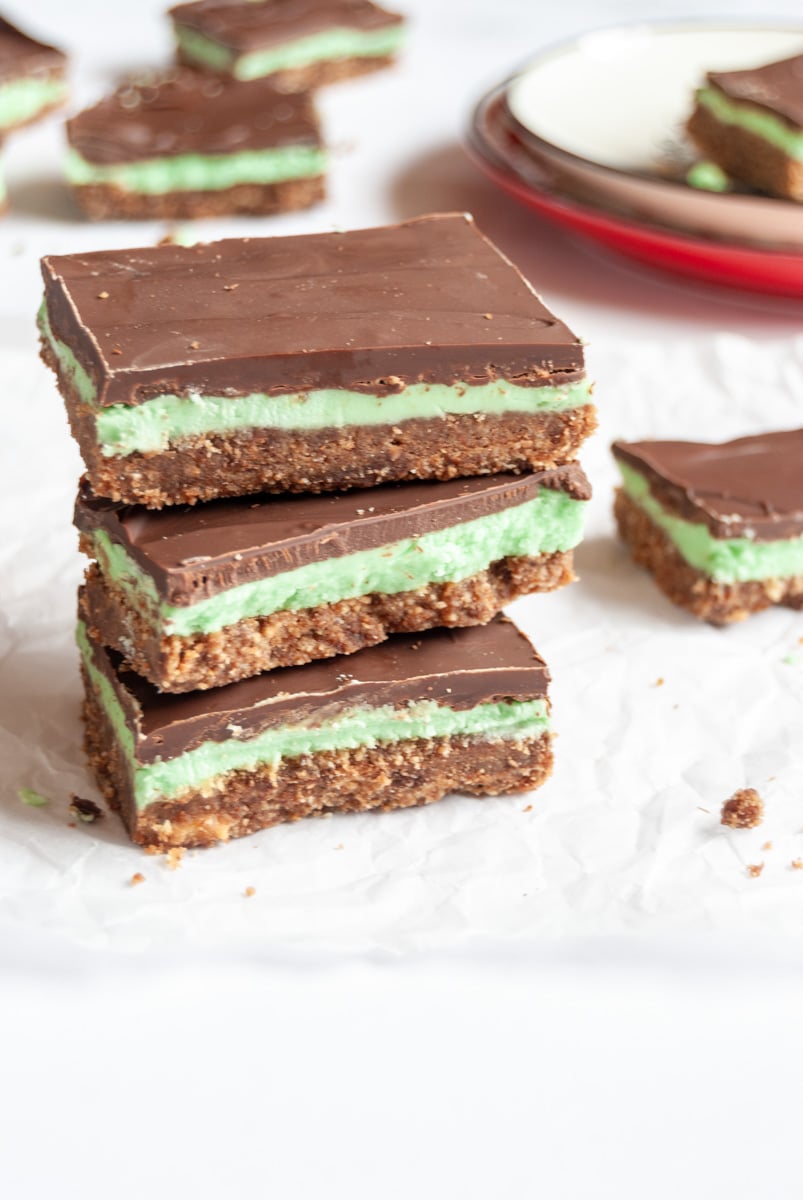 No Bake Peppermint Slice
Total Time:
1 hour
20 minutes
This easy no bake Peppermint slice is one of my all time favourite reto recipes. A crunchy biscuit base topped with a creamy peppermint filling and a rich chocolate topping. It's pretty impossible to resist!
Ingredients
140g butter
2 tablespoons cocoa powder
1 tablespoon golden syrup
1/2 tablespoon caster sugar
350g digestive biscuits, cushed (I blitz them in a food processor)
300g icing sugar
2 tablespoons melted cooled butter
2 tablespoons milk
1 1/2 or 2 teaspoons peppermint extract (or add more to taste)
1/8 teaspoon green food colouring paste, optional (I literally dipped a knife into the pot and added the tiniest amount - you don't need much at all)
1 teaspoon boiled water to reach a spreadable consistency (you might not need this)
200g dark or milk chocolate (or a mixture of the two)
1/2 tablespoon vegetable or sunflower oil
Instructions
Grease and line a shallow 18x30cm/7x12 baking tin.
Melt the butter, cocoa powder, golden syrup and sugar together in a large saucepan over a low heat, stirring occasionally. Don't allow the mixture to become too hot. Once everything has melted and is smooth, tip in the crushed biscuits and stir well.
Tip the mixture into the lined tin. Take a large spoon and press the base firmly into the tin as evenly as possible. Place in the fridge and leave for at least 30 minutes.
To make the peppermint filling sift the icing sugar (I'll be totally honest and admit I don't do this as I find my stand mixer blitzes any small lumps) into a bowl or place in the bowl of a free standing mixer. Add the melted butter, milk, peppermint extract and green food colouring, if using. Beat until the mixture is smooth. You should have a nice spreadable filling. If it seems too thick to spread, stir in a little boiling water, a teaspoon at a time, until spreadable. Have a taste to check if you want to add a little more mint extract (different brands vary in strength.)
Remove the tin from the fridge and using a small palette knife, spread the pepermint filling over the base. Place in the fridge to set for around 30 minutes,
Melt the chocolate and oil in a heatproof bowl set over a pan of barely simmering water. Pour the melted chocolate on top of the peppermint filling, tilting the pan to get an even covering. Allow to sit at room temperature for about 30 minutes before chilling for around one hour. Remove from the fridge and leave it for about 15-20 minutes for slicing into bars. This is to prevent the chocolate from cracking when you cut it.
Notes
This recipe will make about 14 bars, but if you want it to go further you could cut it into smaller squares (it's quite rich!)
Nutrition Information:
Yield:

14
Serving Size:

1
Amount Per Serving:
Calories:

389
Total Fat:

21g
Saturated Fat:

12g
Trans Fat:

0g
Unsaturated Fat:

7g
Cholesterol:

32mg
Sodium:

158mg
Carbohydrates:

49g
Fiber:

1g
Sugar:

40g
Protein:

3g
Calories and nutritional information are provided by a third party application and should be viewed as indicative figures only.