Do you have fond memories of school dinner cake? This simple vanilla sponge traybake topped with icing and sprinkles is a retro classic in the UK that's loved by so many!
School cake couldn't be easier to make and it's a crowdpleaser – the whole family will love it.
For most people, the mention of school dinners can conjure up both good and bad memories, depending on your own personal experience.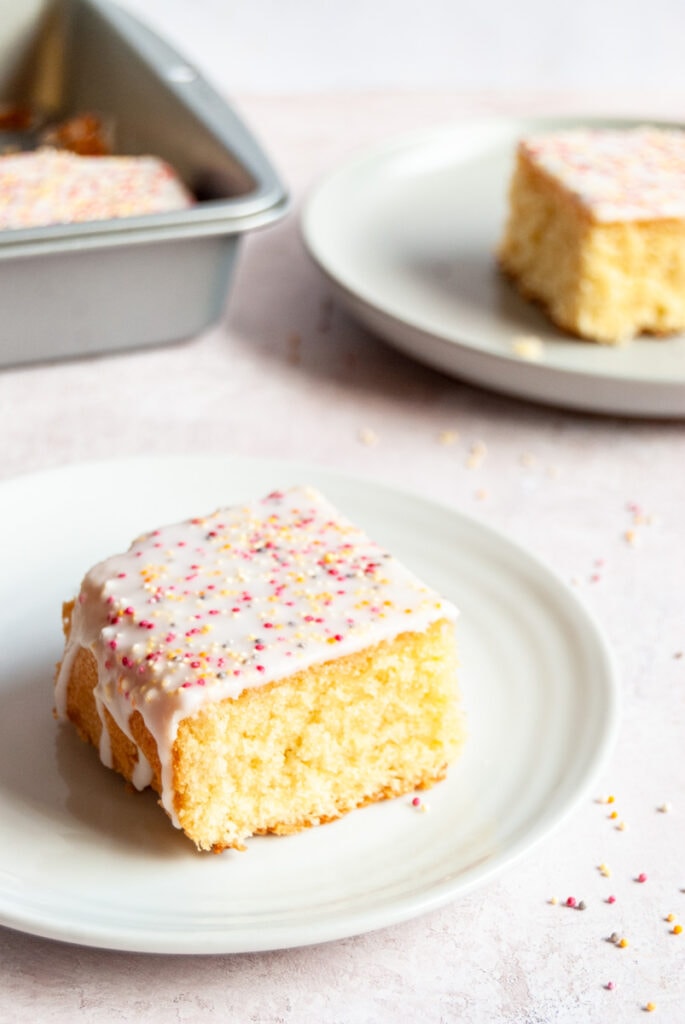 I didn't have school dinners very often – my primary school was just a 5 minute walk away from my house – but on the odd occasion I had to stay at school for lunch, I have memories of meat pies and chips, mince and tatties, apple sponge pudding and baked rice pudding with a thick layer of skin on top.
And let's not forget lukewarm, thick custard and semolina. In fact, maybe they are best left forgotten (shudder!)
Most people I know have fond memories of the baking at school – like chocolate concrete and this super simple school cake.
what is school dinner cake?
School dinner cake is basically a vanilla sponge cake topped with white glace icing and coloured sprinkles.
Just like this chocolate mint cake, it's baked as a traybake style cake – making it very easy to cut into squares.
The sponge is incredibly fluffy and soft. It was often served with custard in school (yes, even with the icing and sprinkles!) and sometimes the basic vanilla sponge with topped with jam and sprinkled with coconut that was served with custard.
It was the BEST dessert on a cold Winter's Day! My coconut and raspberry jam loaf cake is based on that pudding.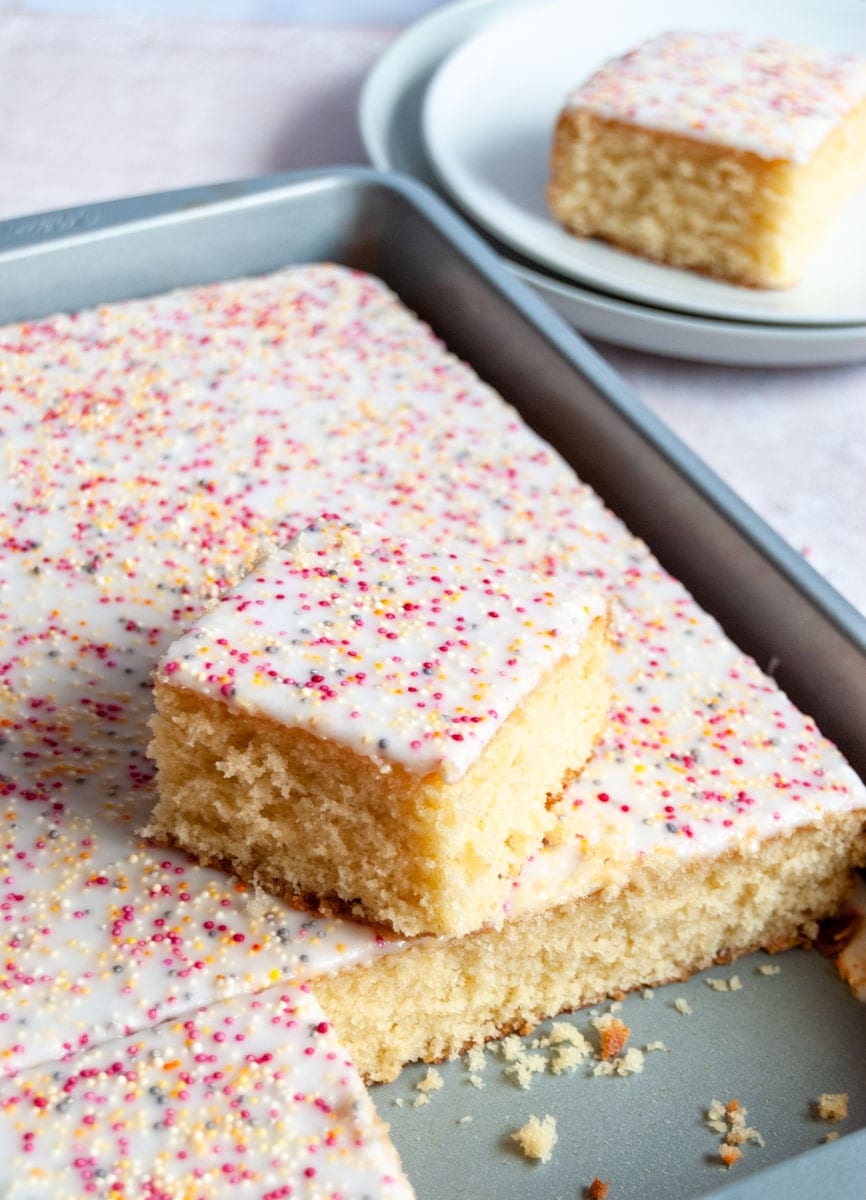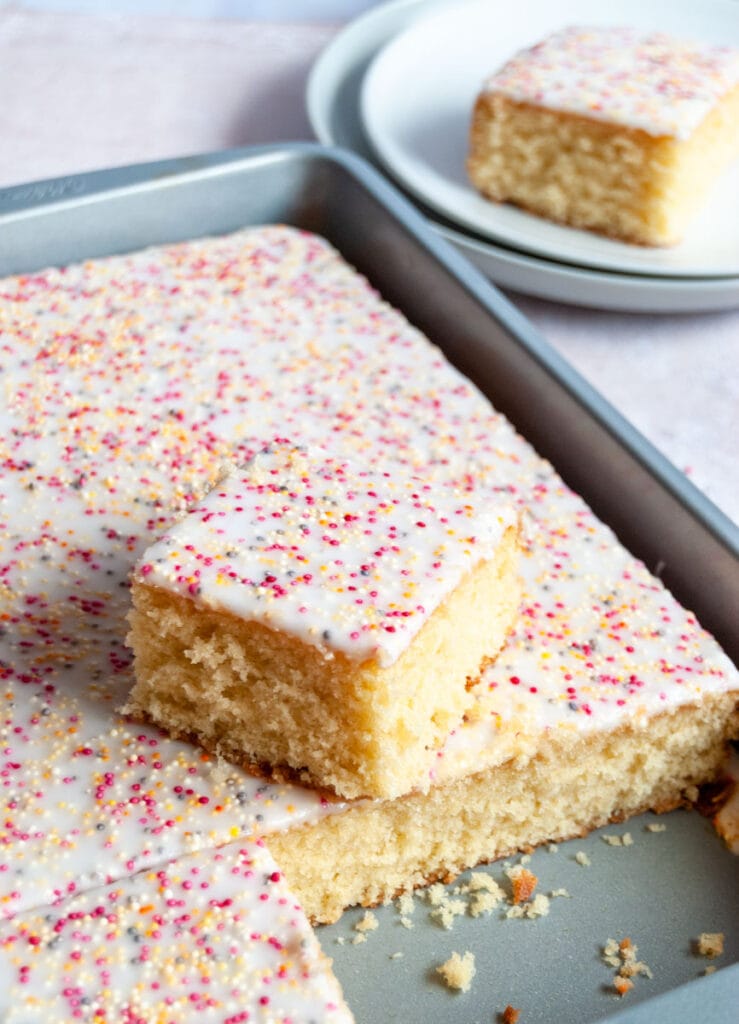 the perfect cake for birthday parties
This retro vanilla sponge traybake is the perfect easy bake for parties and celebrations – it uses basic store cupboard ingredients, doesn't take long to bake and is so easy to decorate you could leave the kids to do it. I let my toddler go nuts with the sprinkles for these photos – and why not?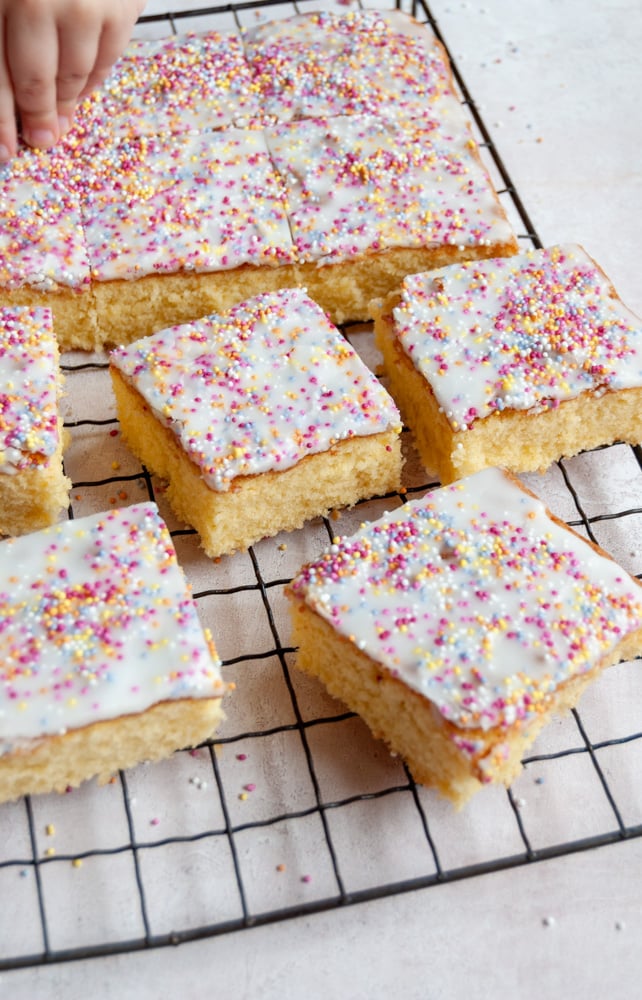 ingredients for school dinner cake
Baking margarine. I know I go on about using proper butter all the time, but for sponge cake there really is nothing wrong with using a baking margarine such as Stork. It makes the lightest, fluffiest sponge! I always use margarine in my all in one Victoria sponge cake.
Caster Sugar will give you a better texture and rise than normal granulated sugar. The finer grains of caster sugar dissolve much quicker into the butter, which is why it's always a much better choice for baking.
Eggs – you will need 5 large eggs (not extra large)
Self raising flour. You won't need any extra raising agents for this recipe. If you only have plain flour in your cupboard, you could make your own self raising flour by adding 2 1/2 teaspoons of baking powder. Make sure you sift the flour and baking powder together before using.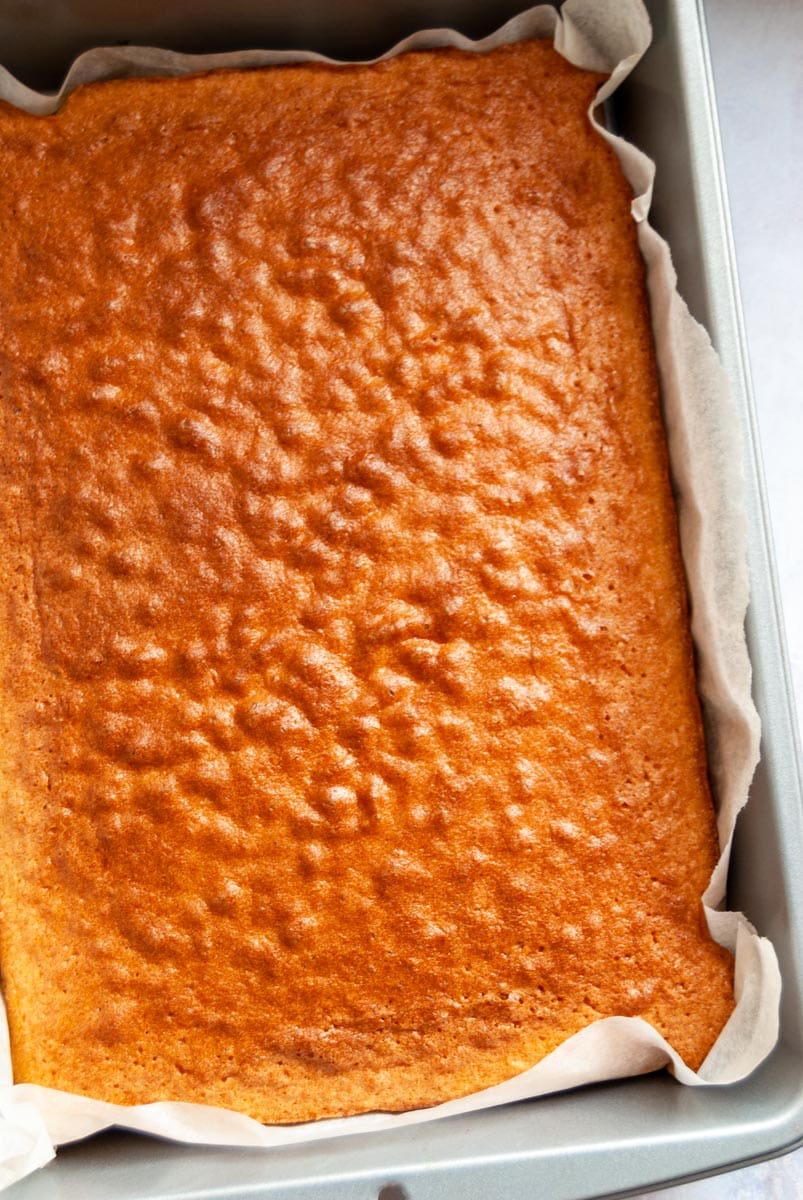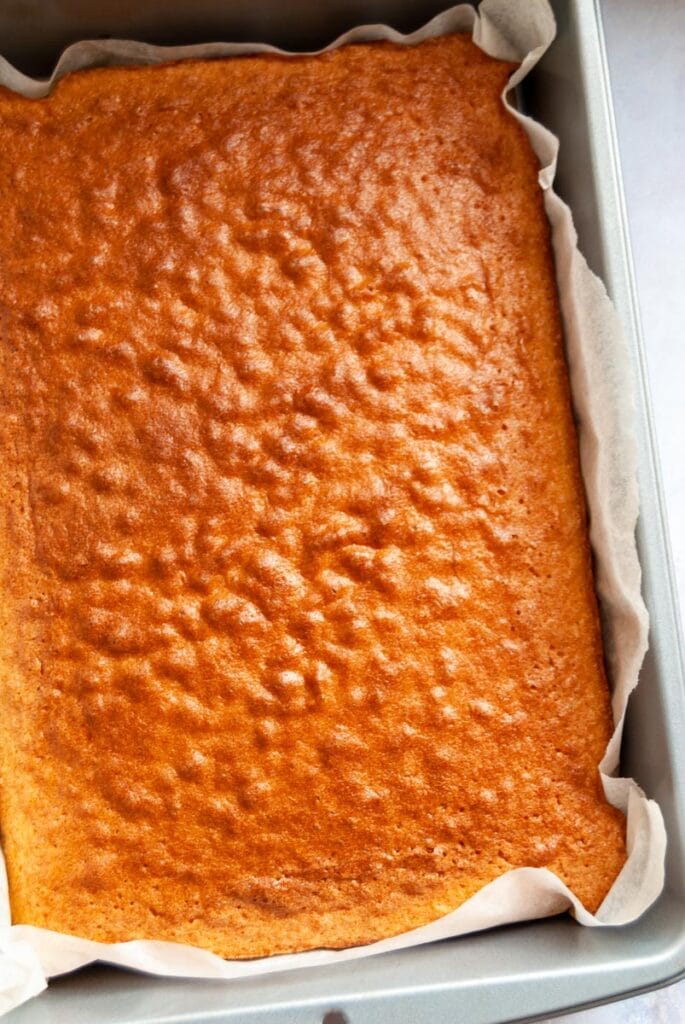 recipe notes and tips
This recipe uses the creamed method – you cream the butter and sugar together until very soft and light, then you beat in the eggs and vanilla before folding in the flour.
When creaming the butter and sugar together, make sure the butter is nice and soft – I use Stork since that's exactly what the dinner ladies would have used! I know some people aren't crazy about baking margarine, but it really does make a lovely light and fluffy sponge cake. I also use Stork in this Victoria Sponge Cake.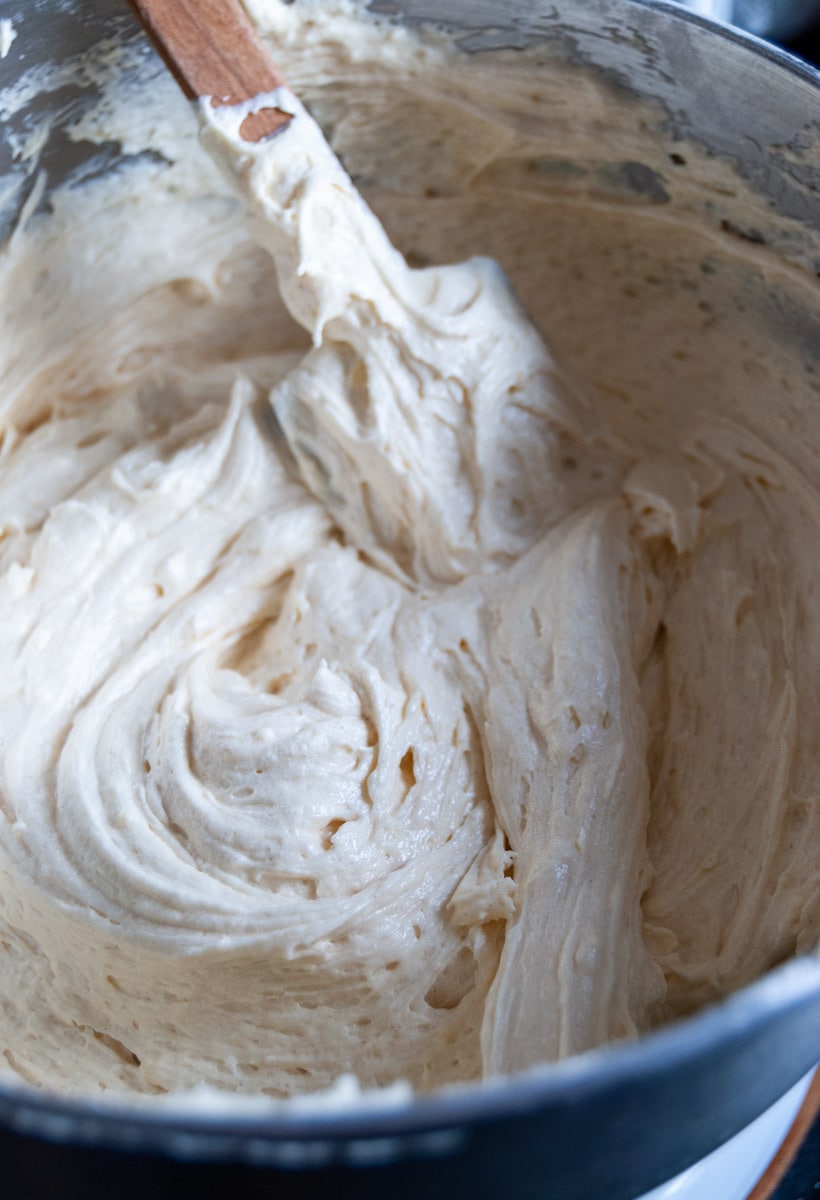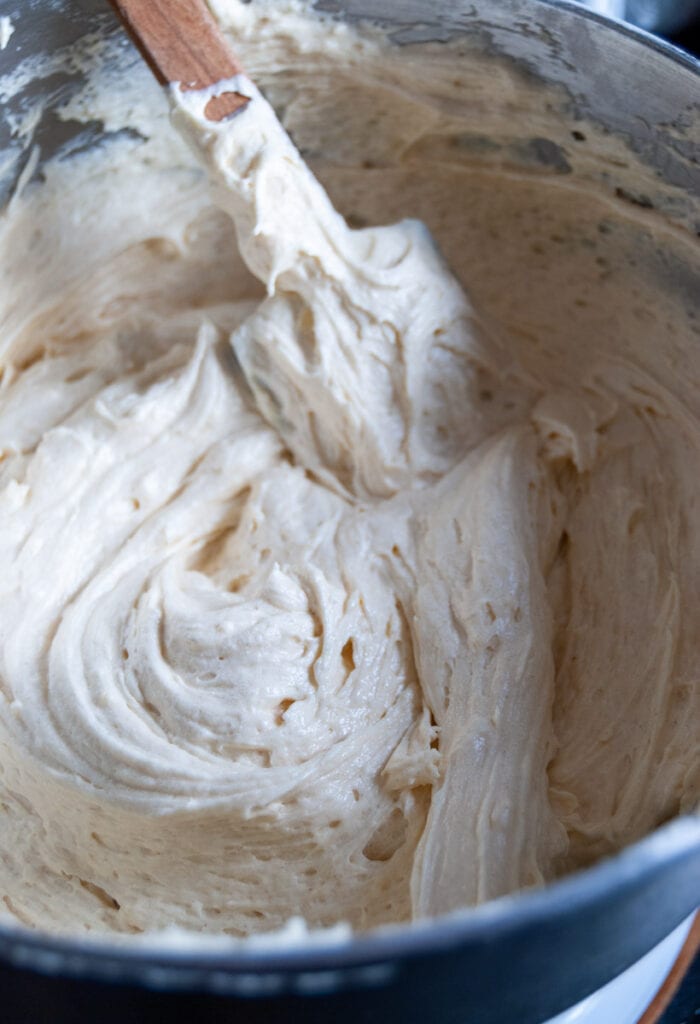 Take your time when creaming the butter and sugar – this is key to achieving a lovely light sponge cake. I mix on high speed for a good 5 minutes in my free standing mixer.
It also helps if your butter and eggs are at room temperature. I always remove them from the fridge about 30 minutes or so before baking – although if you're using a baking margarine such as Stork, you can use that straight from the fridge.
Take care when mixing in the rest of the ingredients – if you overbeat the batter, the cake won't be as soft and fluffy.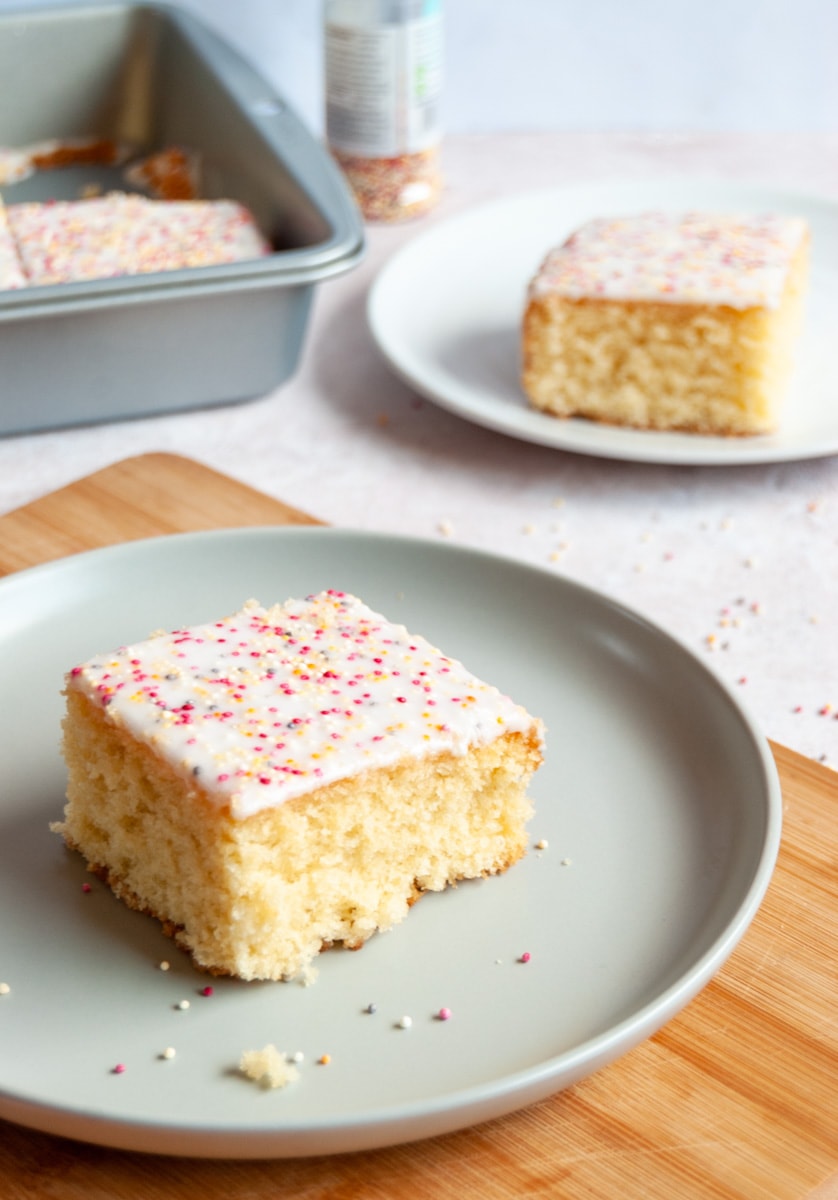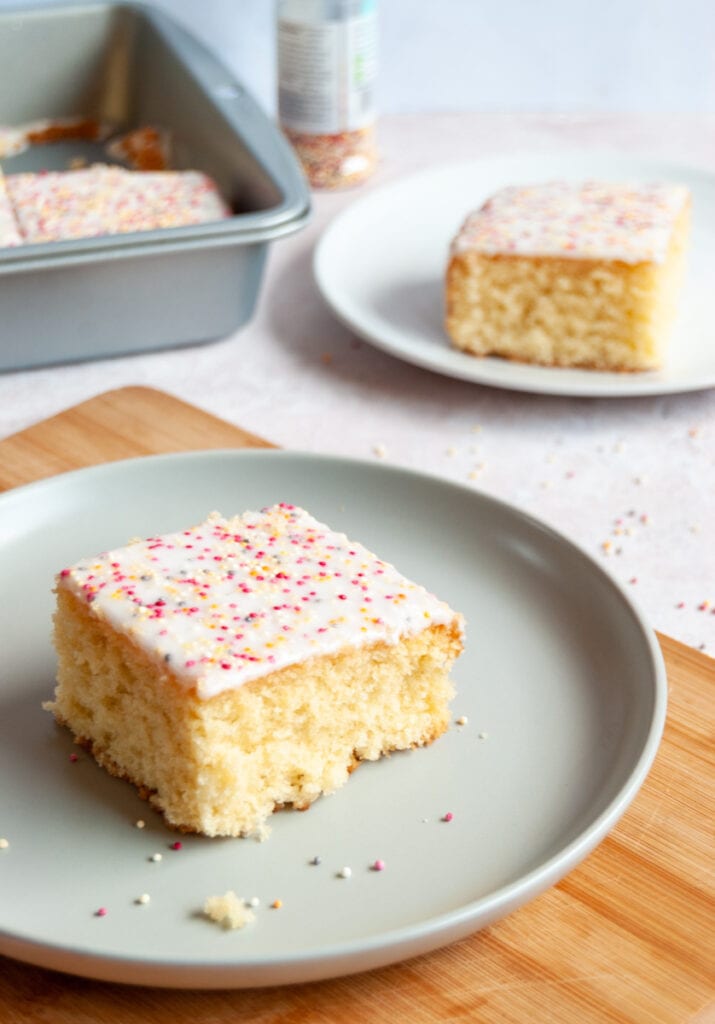 did you make this recipe?
I really hope you loved it! I would love to hear your thoughts – please a comment below and rate the recipe out of five by clicking on the stars in the recipe card.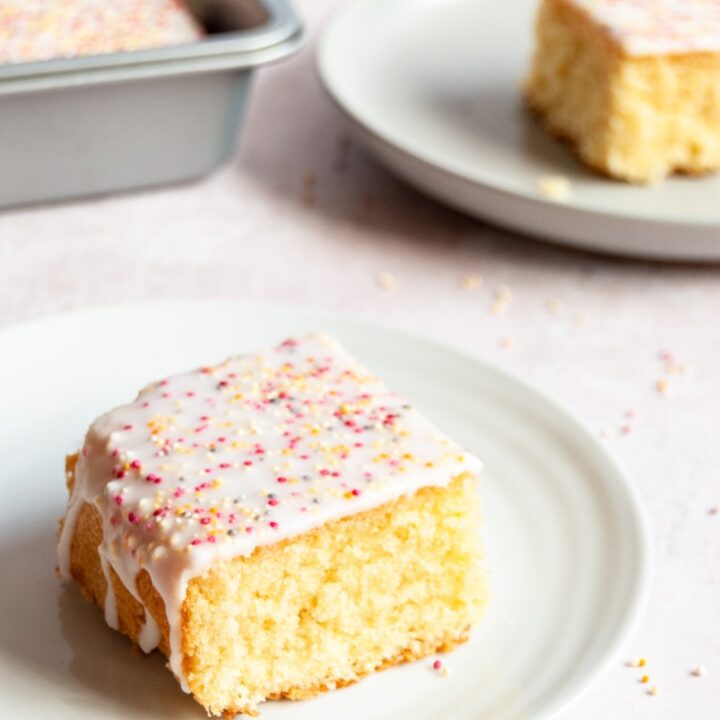 School Dinner Cake
Let's make a School Dinner Cake! This retro vanilla sponge traybake topped with white icing and coloured sprinkles is so easy to make. It's a real slice of nostalgia.
Ingredients
300g soft butter or baking spread (like Stork)
300g caster sugar
5 large eggs, at room temperature
1 teaspoon vanilla extract
300g self raising flour, sifted
350g icing sugar, sifted
3-4 tablespoons water (or enough to make a thick but pourable icing)
multicoloured sprinkles, to decorate
Instructions
Preheat the oven to 180C/160Fan/Gas mark 4. Butter and line a 9x13inch (with a 2 inch depth) traybake tin with baking parchment.
Using a free standing electric mixer, hand whisk or a wooden spoon and large bowl, beat the butter and sugar together until very light and fluffy, at least 5 minutes. Using a rubber spatula, scrape down the mixture that's sticking to the sides of the bowl.
Beat in the eggs, one at a time, making sure each one is well incorporated before adding the next. Stir in the vanilla extract. Using a large metal spoon, lightly fold in the flour, taking care not to overbeat the mixture.
Spoon the mixture into the prepared tin, smooth the top and bake for 40-45 minutes or until the cake is springy to touch and golden. A skewer inserted in the middle of the cake should emerge clean. Transfer the cake to a wire rack and leave to cool completely in the tin.
Mix the sieved icing sugar with enough water to make a thick but pourable icing glaze. Pour over the cold cake (I leave the cake in the tin - it's much easier) and decorate with sprinkles. Leave to set before cutting into squares and serving.
Nutrition Information:
Yield:

20
Serving Size:

1
Amount Per Serving:
Calories:

306
Total Fat:

14g
Saturated Fat:

8g
Trans Fat:

1g
Unsaturated Fat:

4g
Cholesterol:

79mg
Sodium:

294mg
Carbohydrates:

44g
Fiber:

0g
Sugar:

32g
Protein:

3g
Calories and nutritional information are provided by a third party application and should be viewed as indicative figures only.