Burnt Basque cheesecake is quite possibly one of the easiest cheesecake recipes you could ever make – and it's so incredibly delicious!
For a different kind of baked cheesecake with a fruity twist, try my blood orange baked cheesecake!
The burnt Basque cheesecake is having a bit of a moment right now…the Internet is awash with recipes for this delectable dessert.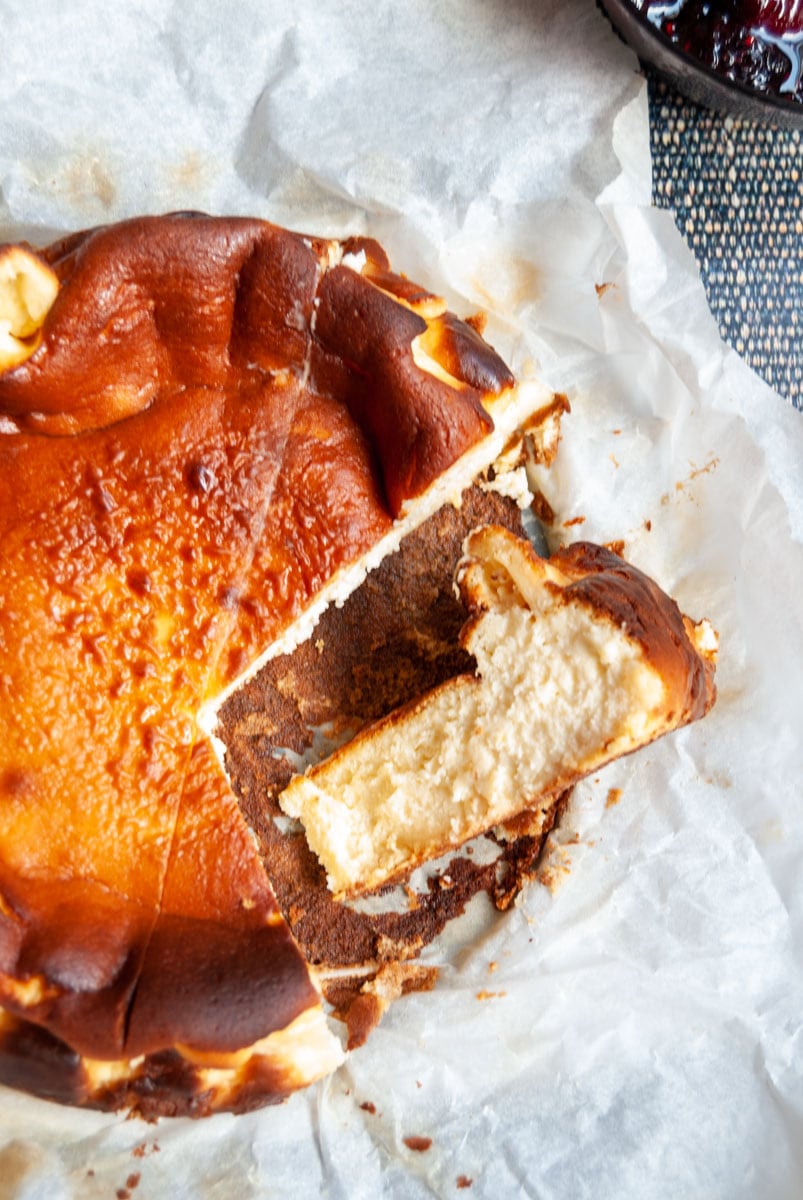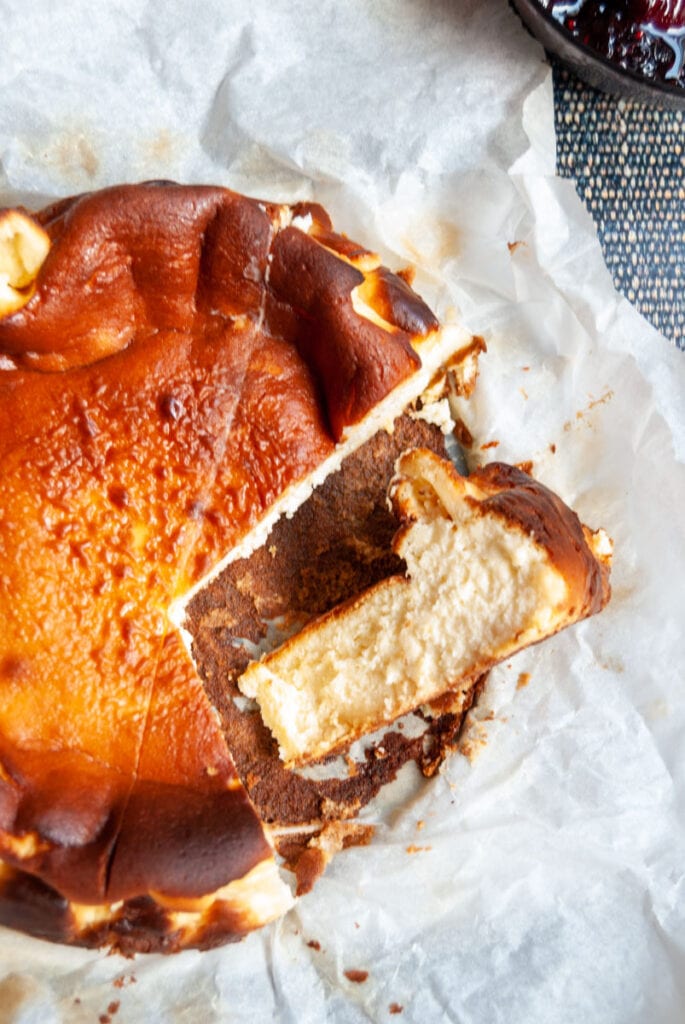 It's been on my list to make for a long time. I'm not sure why I resisted trying it for so long, because it's basically my dream dessert.
It's SO easy – even easier than a chilled no bake cheesecake. For a start, there is no crust – so that's one less step to do. You don't even need to whip the cream – you just pour it into the mixture and whisk until everything is nice and smooth. And there's no messing around with water baths!
No fuss, no need for any special equipment, if you can stir, you can make this cheesecake. Am I convincing you yet?…….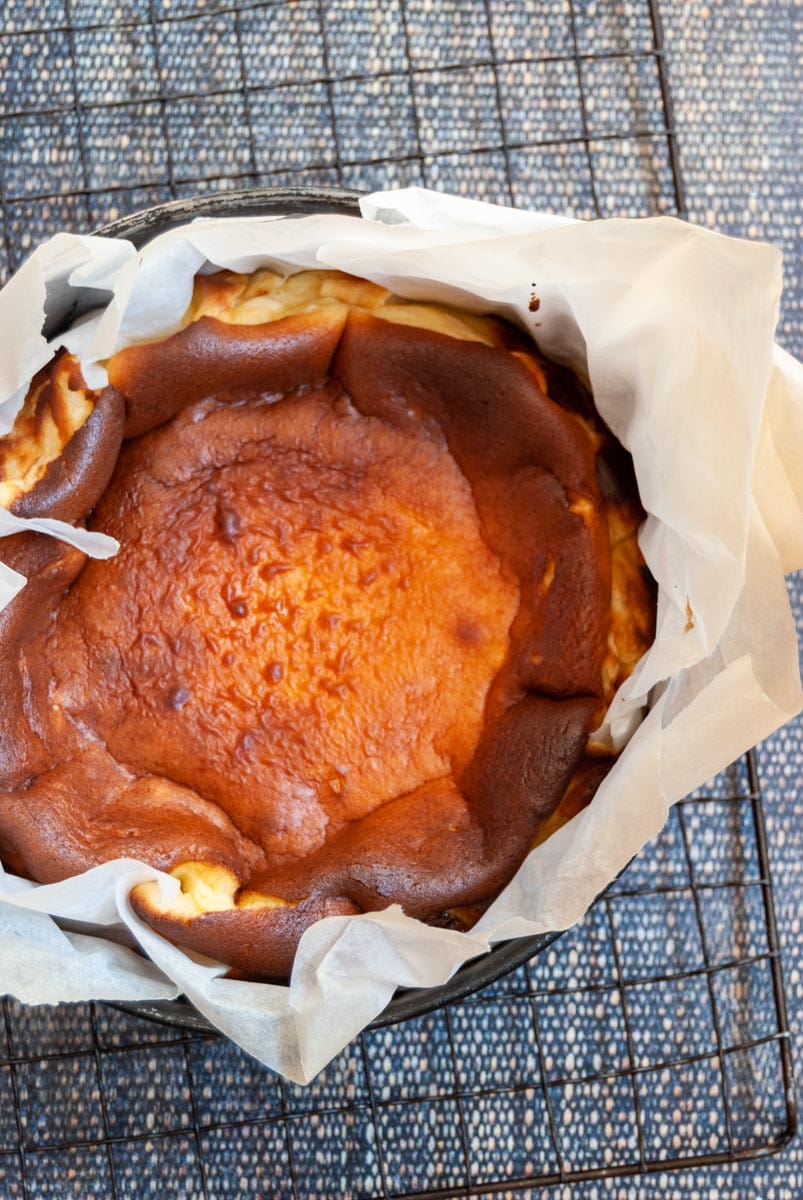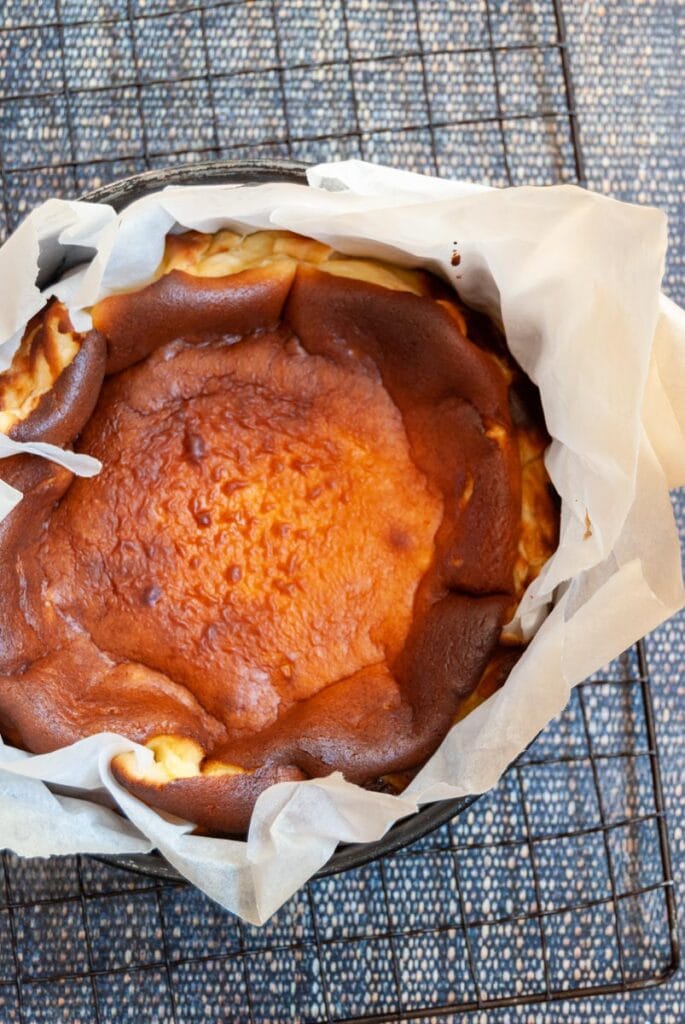 It's an ideal recipe to make when you're pressed for time but need a dessert that's both elegant and delicious.
The berry compote is a stunning accompaniment to the light, creamy cheesecake – trust me, you're going to love it.
I also like to serve the compote for breakfast with Greek yoghurt and my stovetop granola.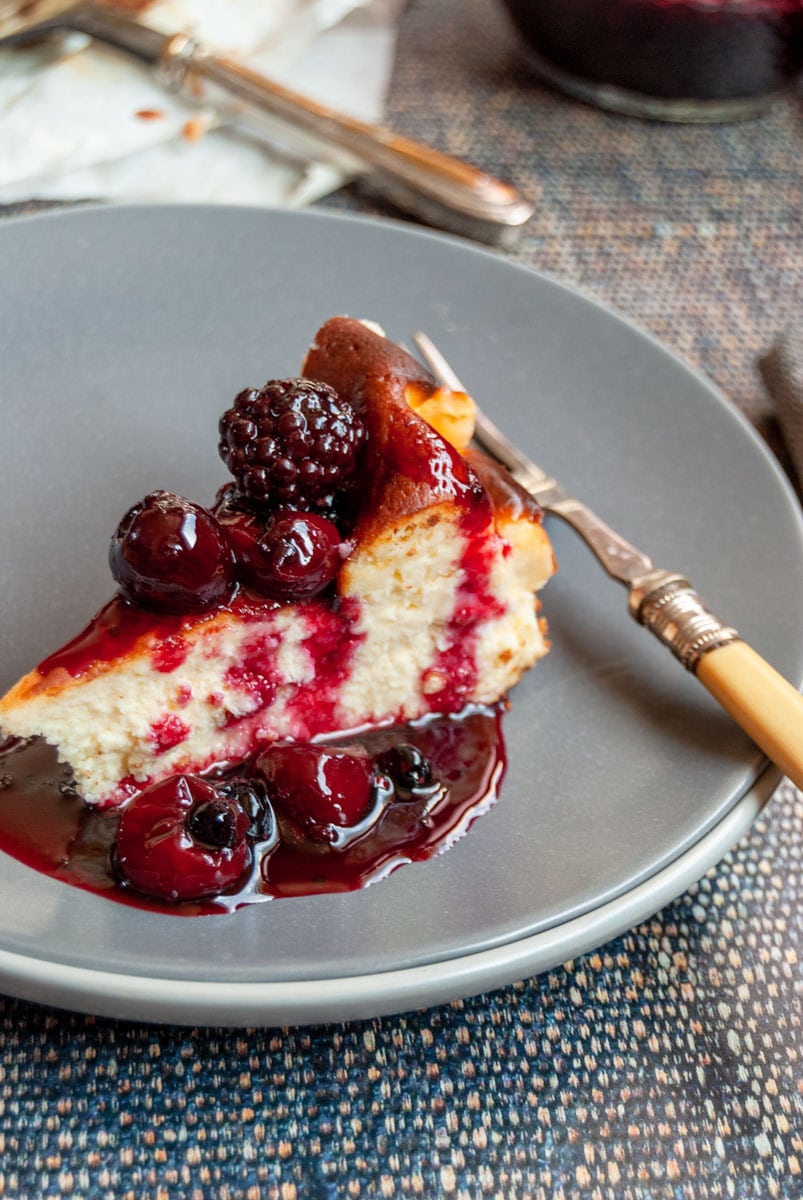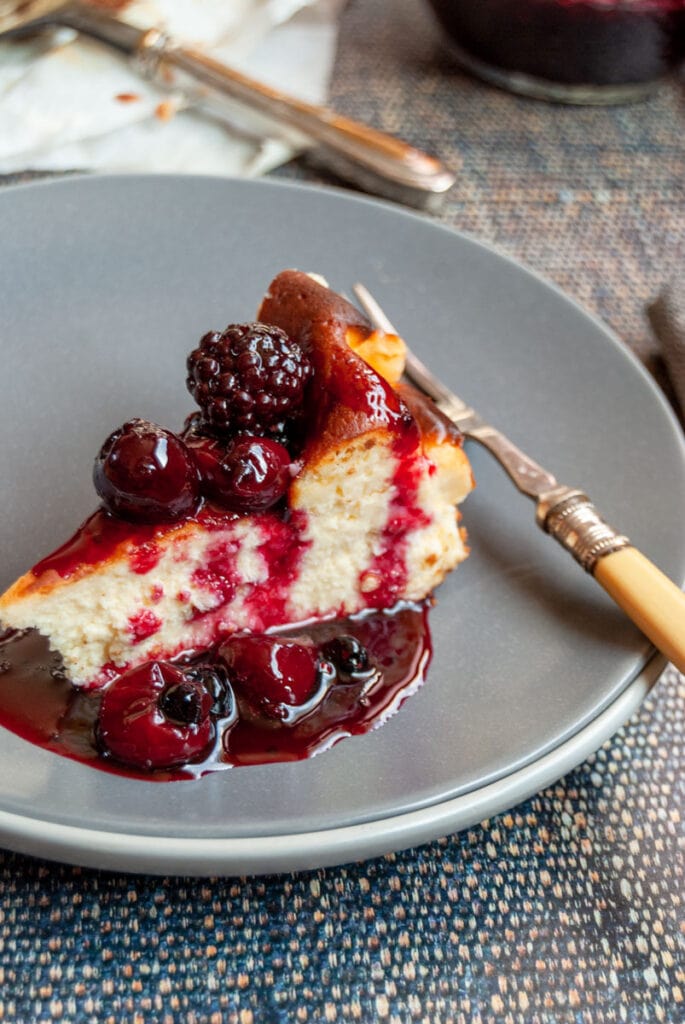 what's the difference between a normal baked cheesecake and a Basque cheesecake?
A Spanish Basque cheesecake is much lighter in texture than your typical baked cheesecake. It's also baked at a higher temperature – you really want the top to be scorched! If that doesn't sound appealing, please stick with me and I'll explain.
The caramelised, golden top is one of the best parts – once you've tried it, you won't even miss the crust, believe me! The texture is almost like a cross between a softly set custard/flan and a Japanese cotton cheesecake.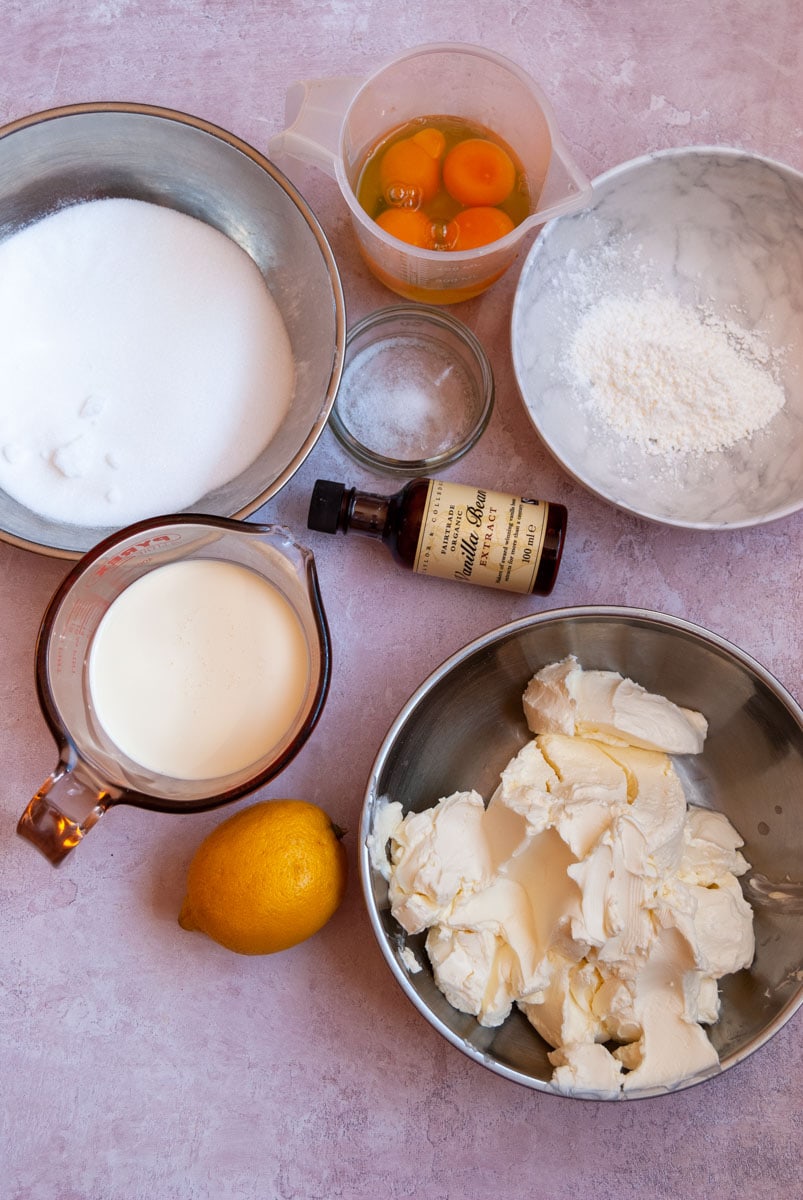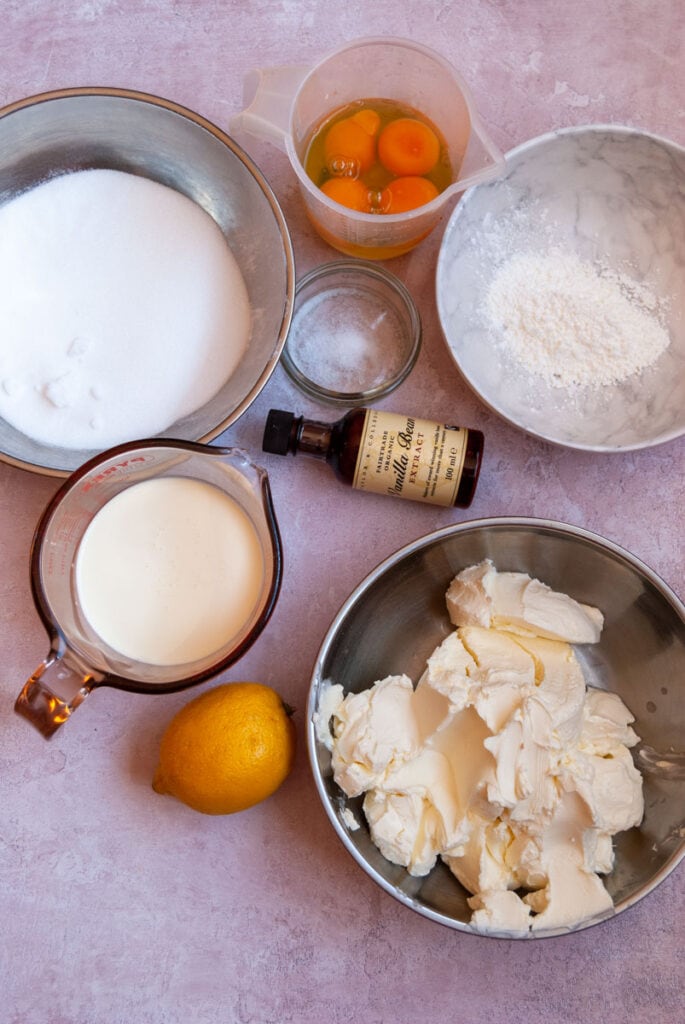 ingredient list
(please scroll to the bottom of the post to find printable recipe card with full instructions)
To make a Burnt Basque cheesecake you will need –
Full fat cream cheese. Please don't be tempted by lower fat cheese – the recipe won't work! You'll need to remove the soft cheese from the fridge before you start to make the cheesecake – a hour or so would do the trick.
Caster sugar. You can use regular granulated sugar instead, but the finer textured caster would always be my first choice.
A little grated lemon zest is a gorgeous addition – you don't have to add it, but if you're a fan of citrus, I definitely recommend it.
large eggs – of which you will need four.
Double (heavy) cream. If you like, you can substitute this for soured cream – it adds a lovely acidic tang.
vanilla extract. As always, the better quality extract, the better the flavour.
a little salt is an essential ingredient – it really helps to lift all the flavours of the cheesecake.
some cornflour (cornstarch) gives some structure to the cheesecake and gives a lighter, fluffier result than using regular plain flour.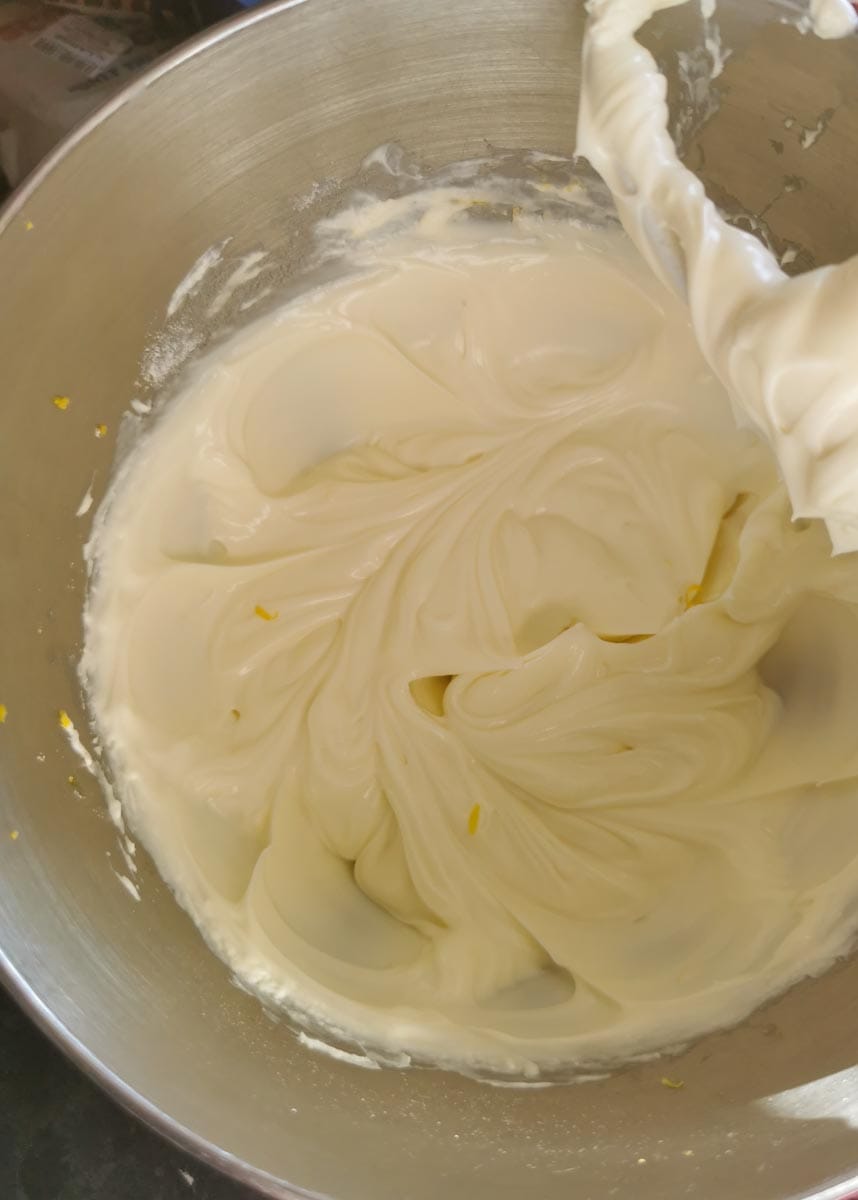 making the berry compote
You will need:
Frozen fruit – I use a berries and cherries mix, often called "Fruits of the Forest".
Caster sugar
Grated zest and juice of one orange (or water, if you don't have an orange handy)
This is just as easy as making the cheesecake. It's simply a case of simmering the berries with sugar and the grated zest and juice of an orange until the mixture has slightly thickened and is beginning to look syrupy (see recipe card below for full instructions.)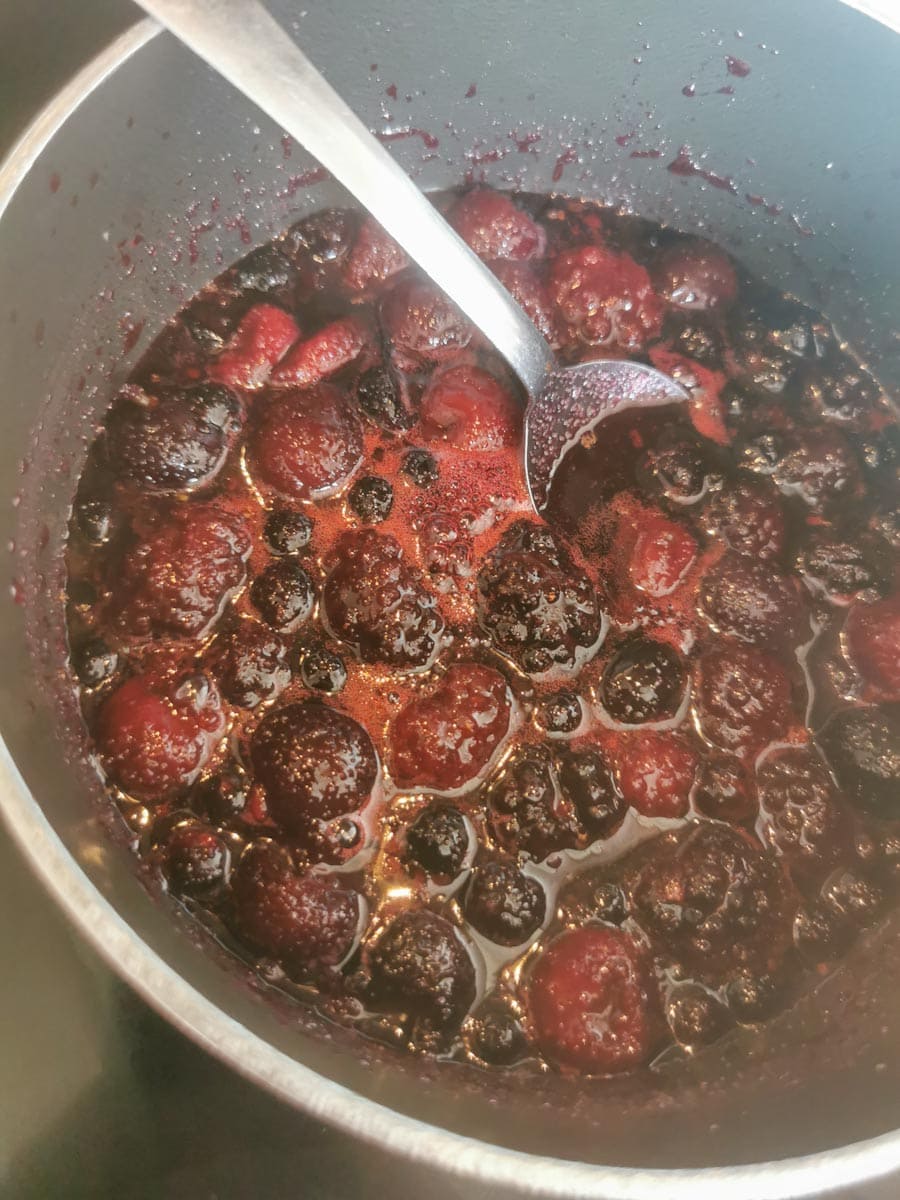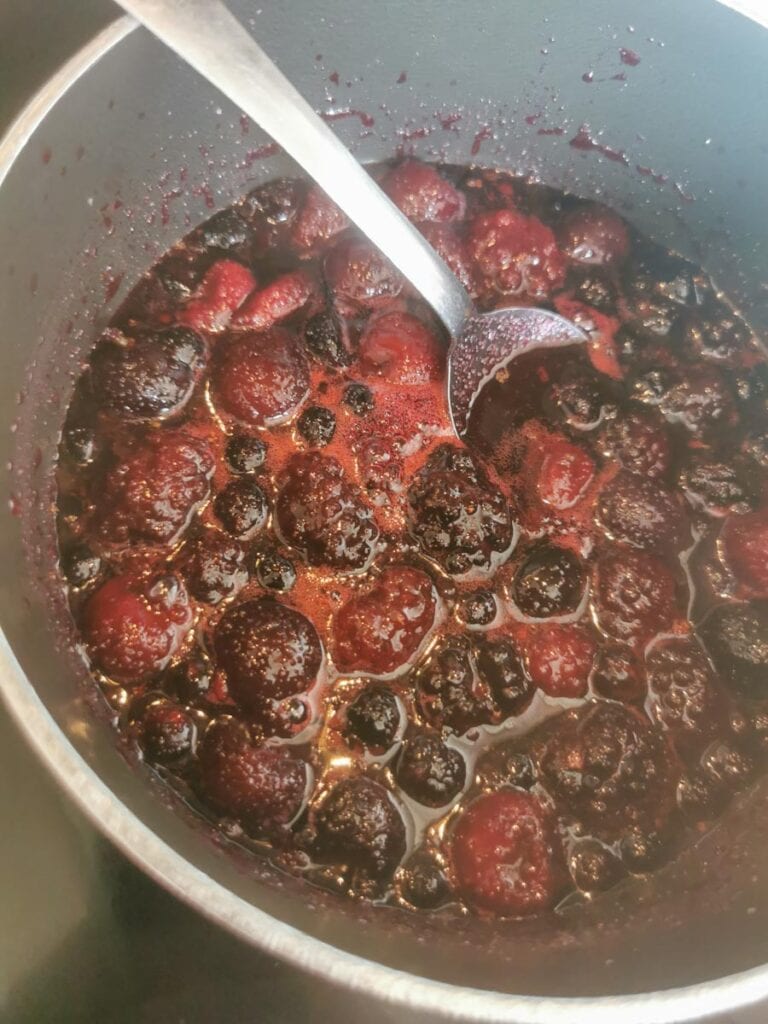 recipe notes 
Please don't be tempted to skip the salt. It really helps to lift the flavours. 
I do love a vanilla scented cheesecake, so I add a generous two teaspoons of top quality vanilla extract. Vanilla bean paste would also work just as well. 
When the cheesecake is ready, it will rise right to the top of the tin so we need to make sure the baking parchment extends over the top of the tin by a good 5-6cm. Just watch the paper doesn't catch on the top of your oven!
When the cheesecake has baked, it will have a lovely golden brown crust. It will be very wobbly in the middle and you will think it needs more time in the oven. I urge you to be brave and resist baking it for longer – if you bake the wobble out, the cheesecake will end up dry and horrible. A little jiggle is a good thing 😉 It's meant to be softly set.
Leave the Basque cheesecake to cool in the tin for a few hours before serving. This is a crucial step as it will allow the cheesecake to set as it cools. I try and give it about three hours, but you can get away with two at a push.
Cover any leftovers with tin foil in the fridge and store in the fridge. Eat within three days (which is definitely no hardship…)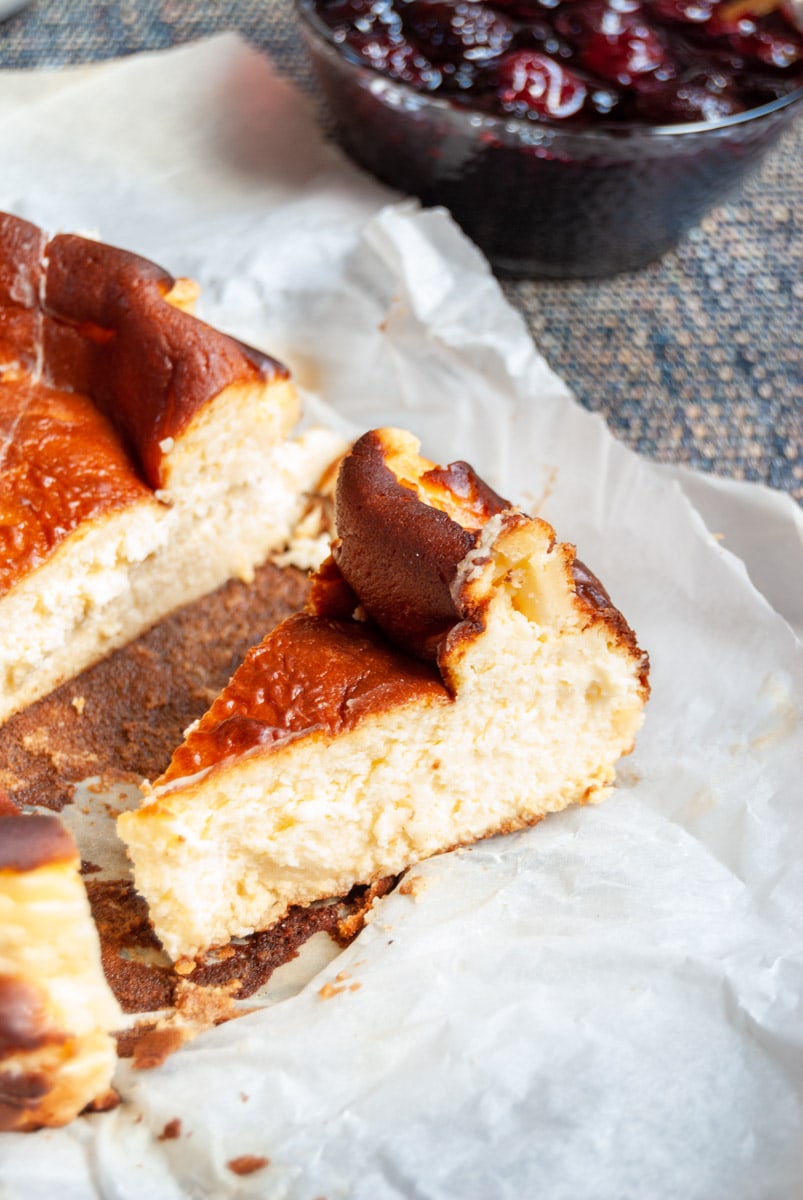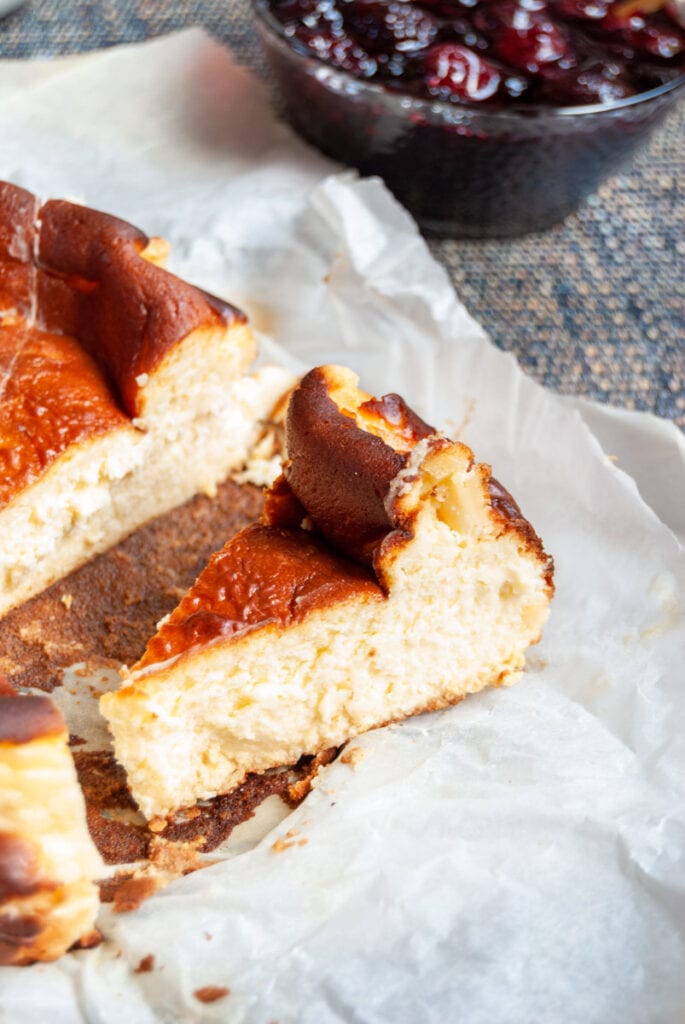 did you make this recipe?
I really hope you love it as much as I do! Let me know your thoughts by leaving a comment and if you would rate the recipe, it would be much appreciated. Need any help with the recipe? Don't hesitate to reach out. Happy baking 🙂
MORE EASY CHEESECAKE RECIPES TO TRY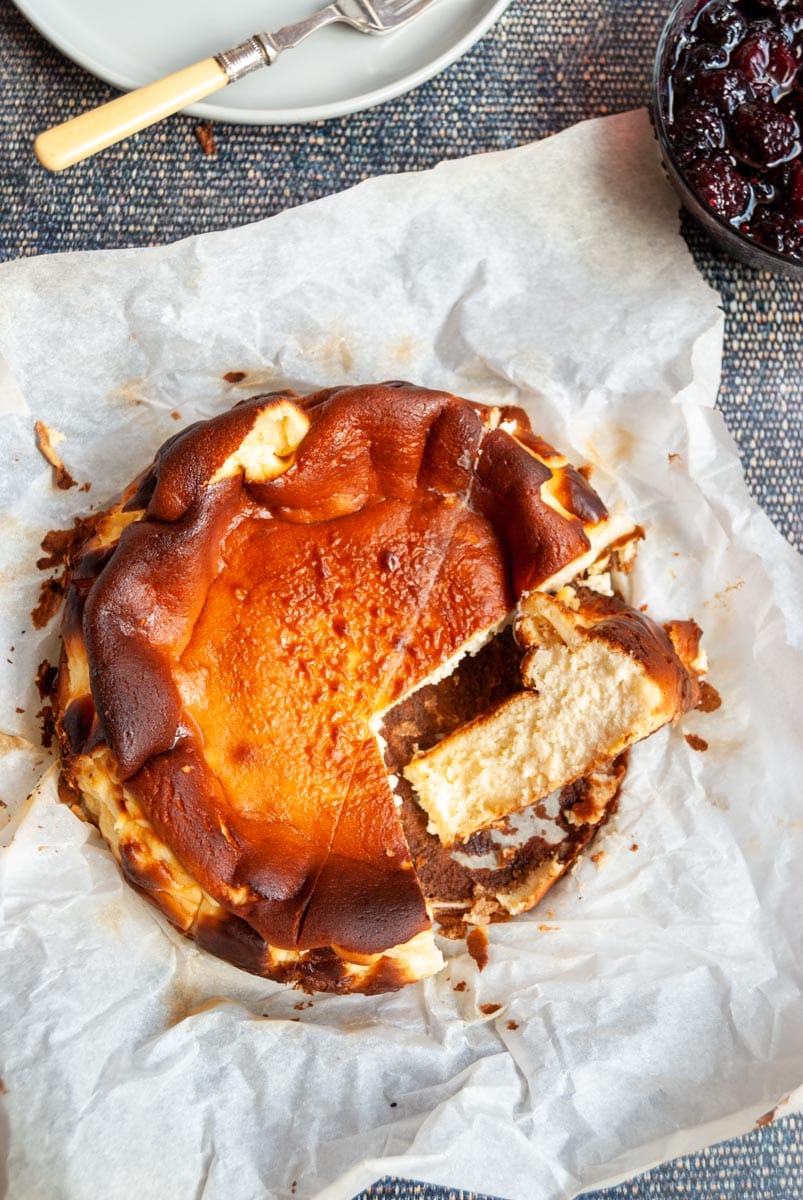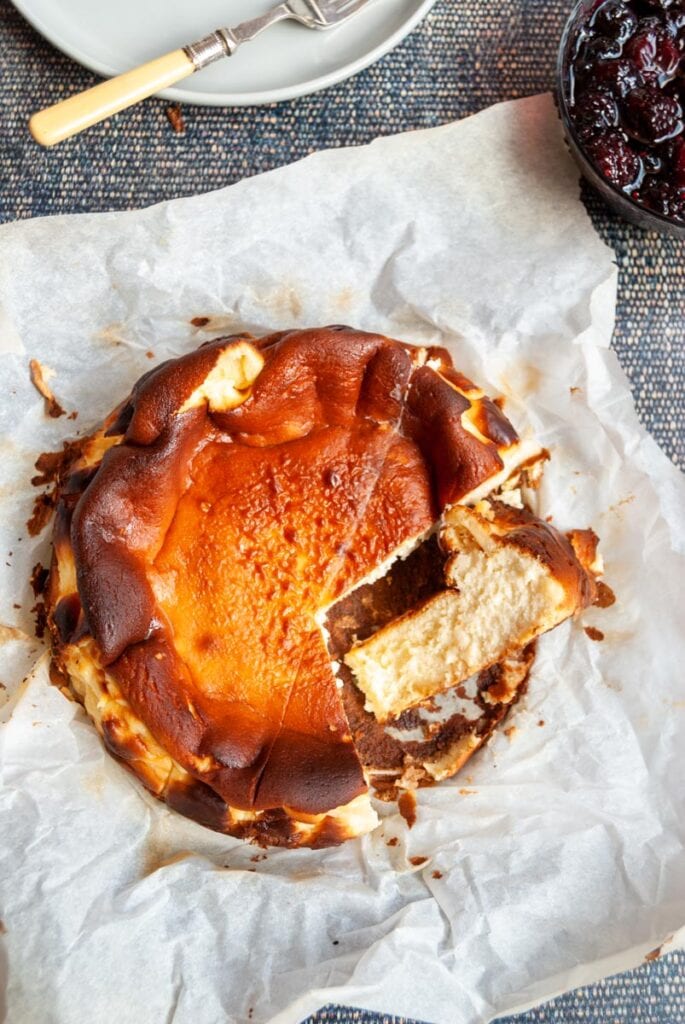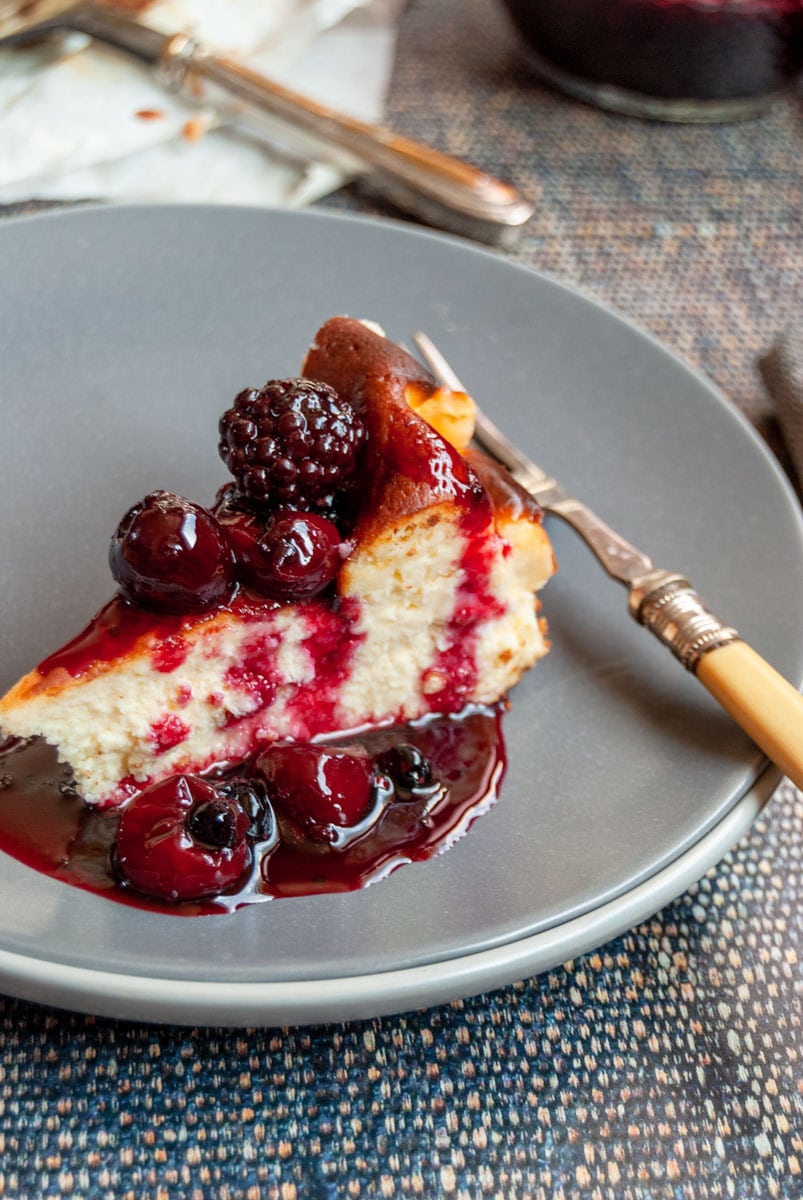 Burnt Basque Cheesecake
Total Time:
1 hour
10 minutes
A Spanish burnt Basque cheesecake is literally heaven to eat. It's incredibly light and creamy with a burnished, golden brown caramel topping. It's one of the simplest desserts you could ever make!
Ingredients
650g full fat cream cheese, at room temperature
200g caster sugar
finely grated zest of one lemon
4 large eggs, at room temperature
300ml double cream
2 teaspoons vanilla extract
25g cornflour
1/2 teaspoon fine salt
FOR THE BERRY COMPOTE
200g bag frozen fruits (i used "fruits of the forest")
160g caster sugar
finely grated zest and juice of one orange
Instructions
Preheat the oven to 200C/180F/Gas mark 6. Lightly grease a 20cm round springform tin. Cut two large pieces of baking parchment, each one slightly wider than the tin and long enough to cover the base and sides and an overhang of about 5-6cm. Place one piece inside the tin, then place the second piece in crossways. It will look messy, but that's the look. It doesn't have to be smooth and neat. Place something heavy inside the tin to secure the parchment while you make the cheesecake.
Using a stand mixer or hand held electric mixer, beat the cream cheese, caster sugar and lemon zest together for about 3 minutes or until smooth, lump free and the sugar has dissolved into the cream cheese.
Beat in the eggs, one at a time, mixing well beween each addition. Pour in the double cream and vanilla extract and continue to beat untll everything is well incorporated. Sprinkle over the cornflour and salt and stir for a final time until the mixture is very smooth.
Pour the mixture into the lined tin and bake for 50-60 minutes, or until well risen and the top is burnished and golden. The cheesecake will still be very wobbly in the middle. You would be forgiven for thinking it's not ready, but have faith - it will set and firm up as it cools. If the cheesecake is overbaked, it will lose its wonderfully light, soft texture.
Remove the cheesecake from the oven and place on a wire rack to cool down in the tin. I leave it alone for about 3 hours before slicing. It will collapse as it cools and may even crack - but don't worry, that's how it's meant to be.
While the cheesecake is cooling, make the berry compote. Place the frozen berries, sugar, orange zest and juice in a saucepan. Bring to the boil, then reduce the heat to medium and simmer the berries for about 7-8 minutes or until the liquid has reduced by half. Increase the heat again and cook for about 3-4 minutes, stirring often, until the mixture has thicked slightly (but bear in the mind it will thicken up further on cooling) and the berries are shiny. Remove from the heat and pour into a heatproof bowl or jug.
Notes
The cheesecake will keep for up to three days in the fridge. Cover with tin foil to prevent other flavours from food in the fridge tainting the cheesecake.
Nutrition Information:
Yield:

10
Serving Size:

1
Amount Per Serving:
Calories:

532
Total Fat:

35g
Saturated Fat:

21g
Trans Fat:

0g
Unsaturated Fat:

11g
Cholesterol:

174mg
Sodium:

362mg
Carbohydrates:

49g
Fiber:

1g
Sugar:

45g
Protein:

8g
Calories and nutritional information are provided by a third party application and should be viewed as indicative figures only.