This delicious No Bake Terry's chocolate orange cheesecake couldn't be simpler to make – the hardest part is waiting for it to set so you can dive in!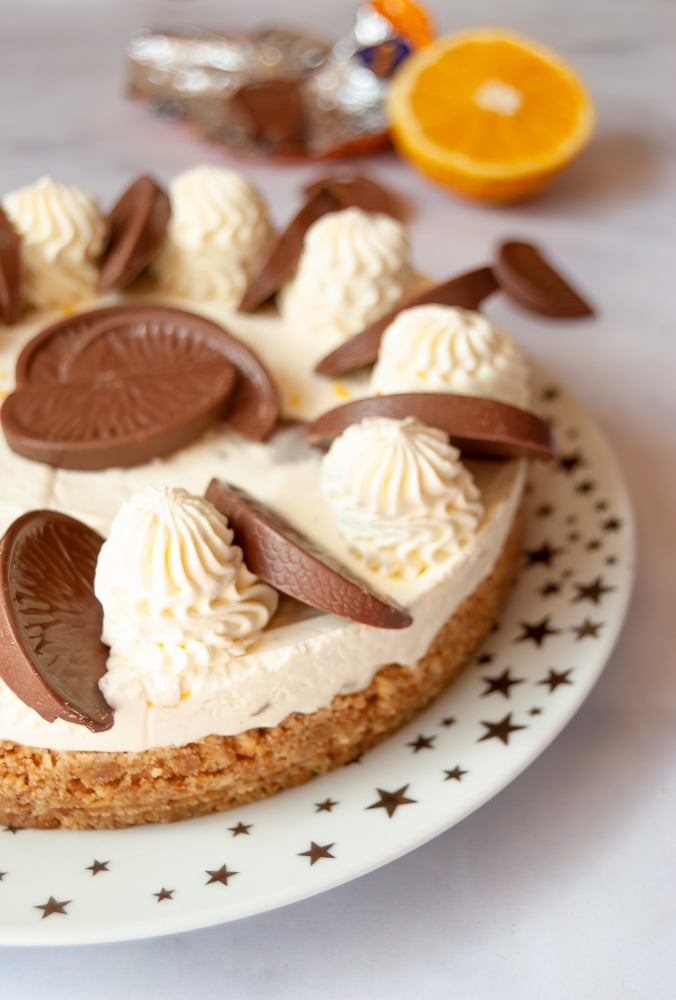 There is something about a no bake cheesecake that I find completely irresistible.  I know there are plenty of people who will disagree with me, but as much as I LOVE my baked blood orange cheesecake recipe, I actually prefer a no bake cheesecake to a baked one.
Why is that, I hear you ask?  Well let me tell you!
They are so much easier to make than a baked cheesecake. There's no worrying about whether you've underbaked or overbaked it, if the cheesecake will crack or if the pan will end up leaking raw cheesecake batter all over the bottom of your oven.  Yes, it happened to me once!
In the Summertime, a no bake recipe is your best friend! No need to switch on the oven in an already boiling hot kitchen.
They are so quick to put together. It takes no more than 5 minutes to make the base (probably even less if you use a food processor) and another 5 minutes to make the filling.
No bake cheesecakes have a gorgeous light, creamy, almost moussey texture that I just adore.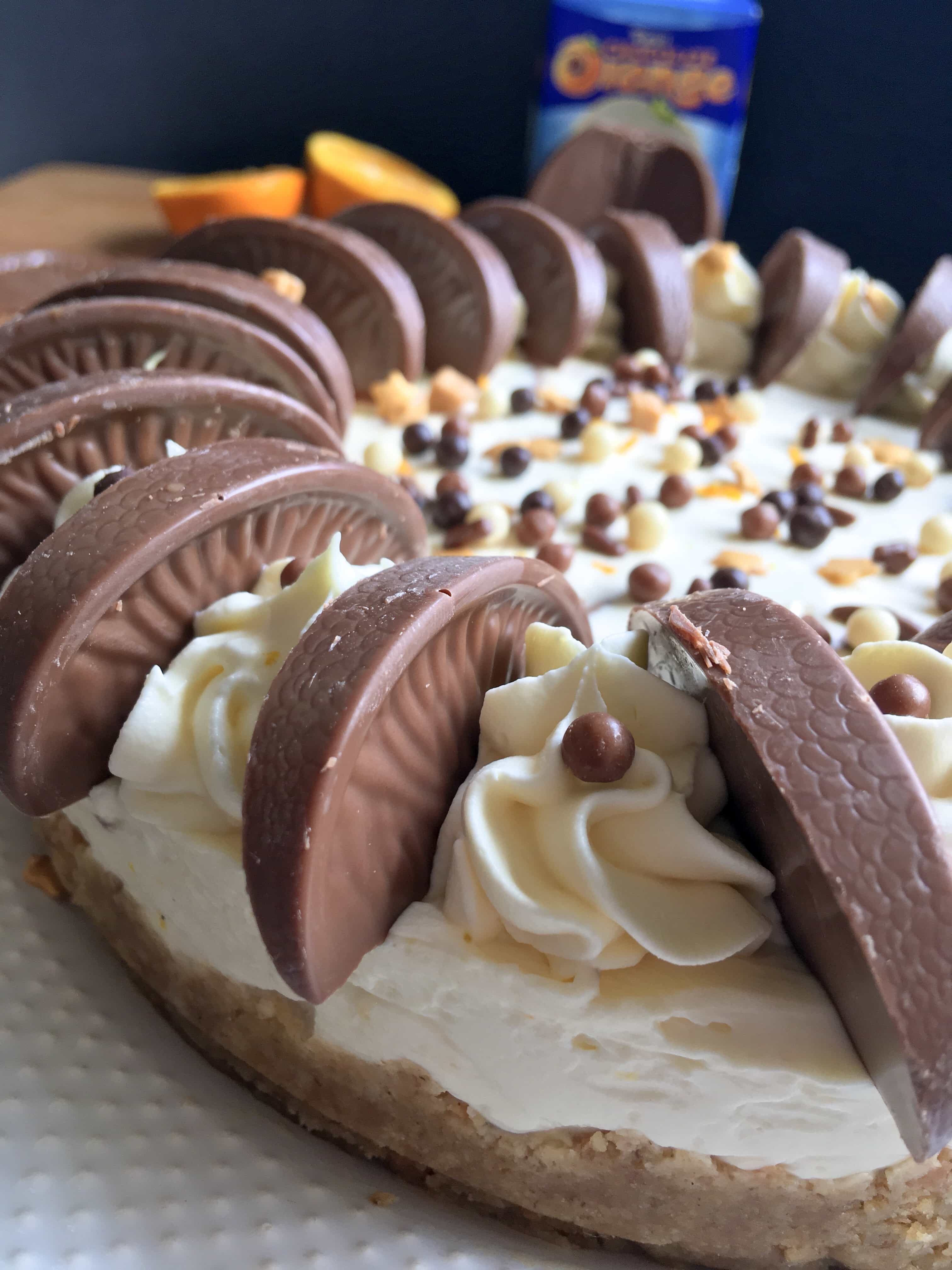 IngREDIENT LISt 
(Full ingredient list and detailed instructions can be found in the recipe card at the bottom of this post!)
Digestive Biscuits and butter for the base. If you live in America, I believe that Graham Crackers are the closest substitute.
Full Fat Cream Cheese.  I'm afraid it must be full fat, if you use a lower in fat type the cheesecake may not set!
Icing (Powdered) Sugar 
Double (Heavy) Cream
Finely grated zest of one orange
Vanilla Extract (not essence)
3 Terry's Chocolate orange bars and One Whole Terry's chocolate orange (keep a few segements back for decorating the cheesecake)
Whipped cream for the topping
equipment you'll need…
One round loose bottomed 20cm springform tin.  
A long handled palette knife to remove the cheesecake from the base of the tin.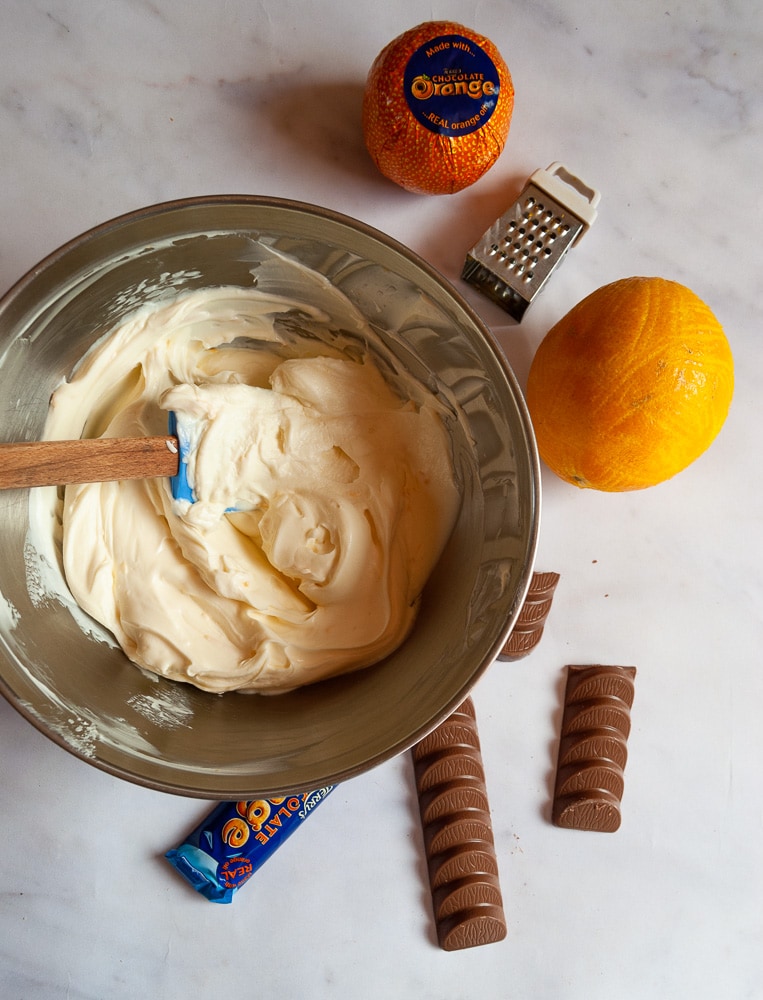 handy tips and tricks for making a no bake chocolate orange cheesecake
Whatever do you, please don't use low fat cream cheese for this recipe.  It simply doesn't work the same.  If you use reduced fat cream cheese, the cheesecake may not set.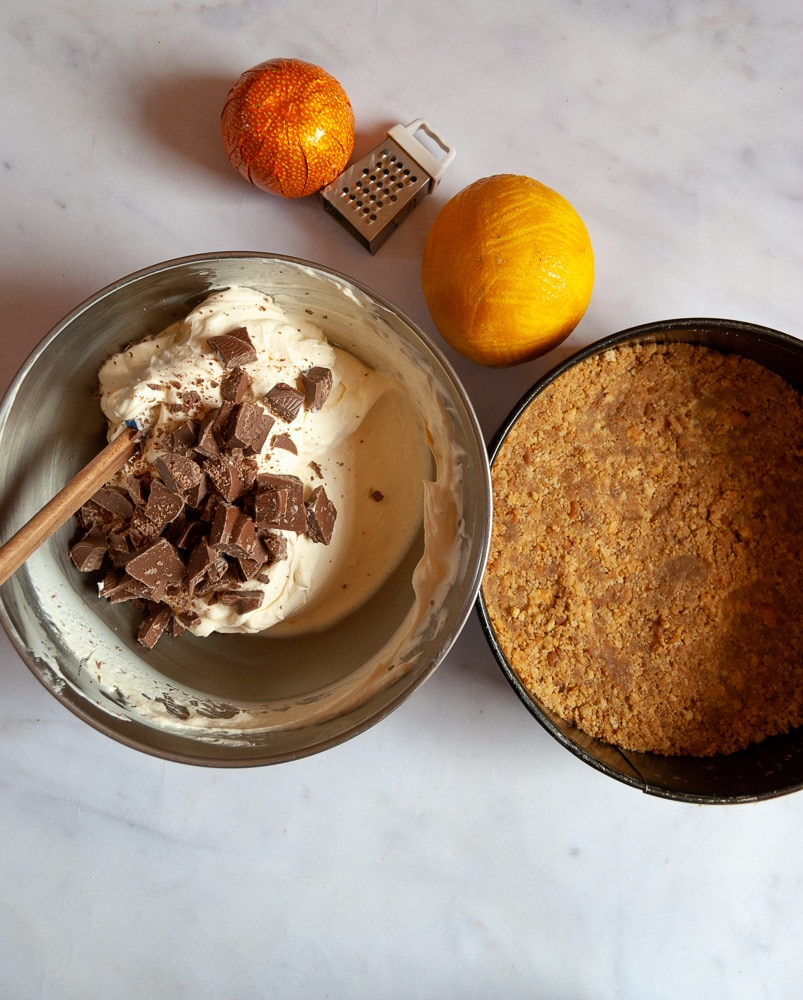 About one hour before making the cheesecake, remove the cream cheese from the fridge and allow to come to room temperature.  This will help prevent the cheesecake filling from becoming lumpy.
Make sure to whip the cream cheese well before adding the cream for the smoothest textured cheesecake.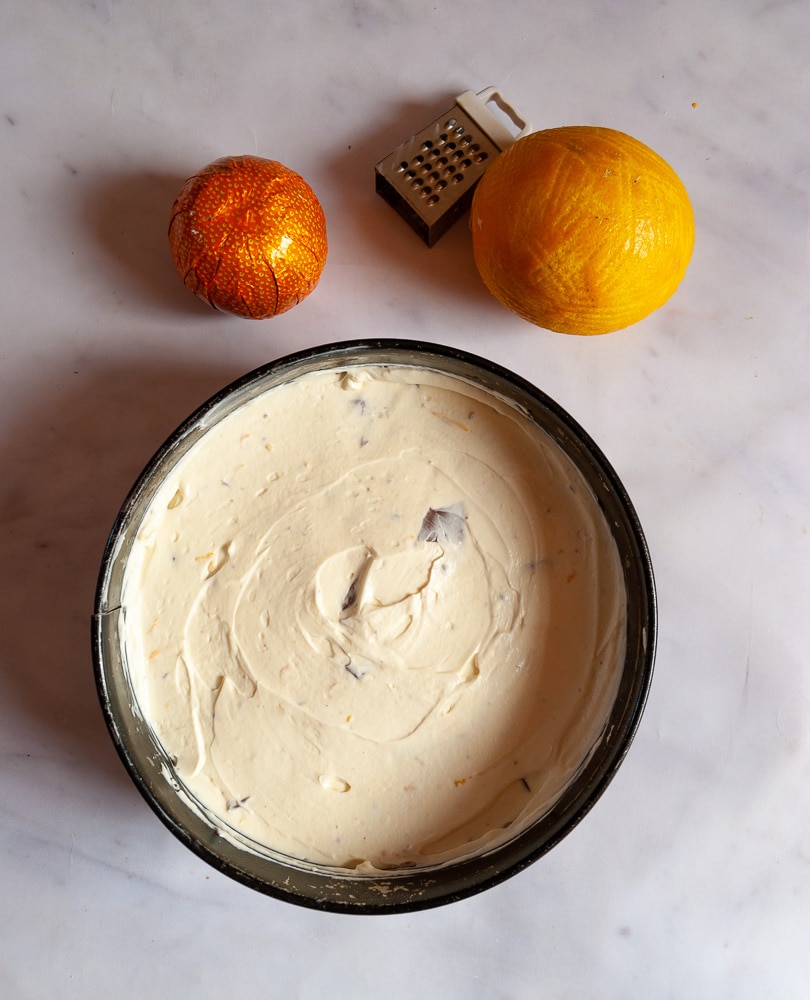 When whipping the double cream, be sure to just whip it until you have soft peaks – the cream should hold its shape on the whisk for a couple of seconds before falling back into the bowl.
If the cream is overwhipped, it won't fold into the cream cheese filling properly and will affect the texture of the cheesecake.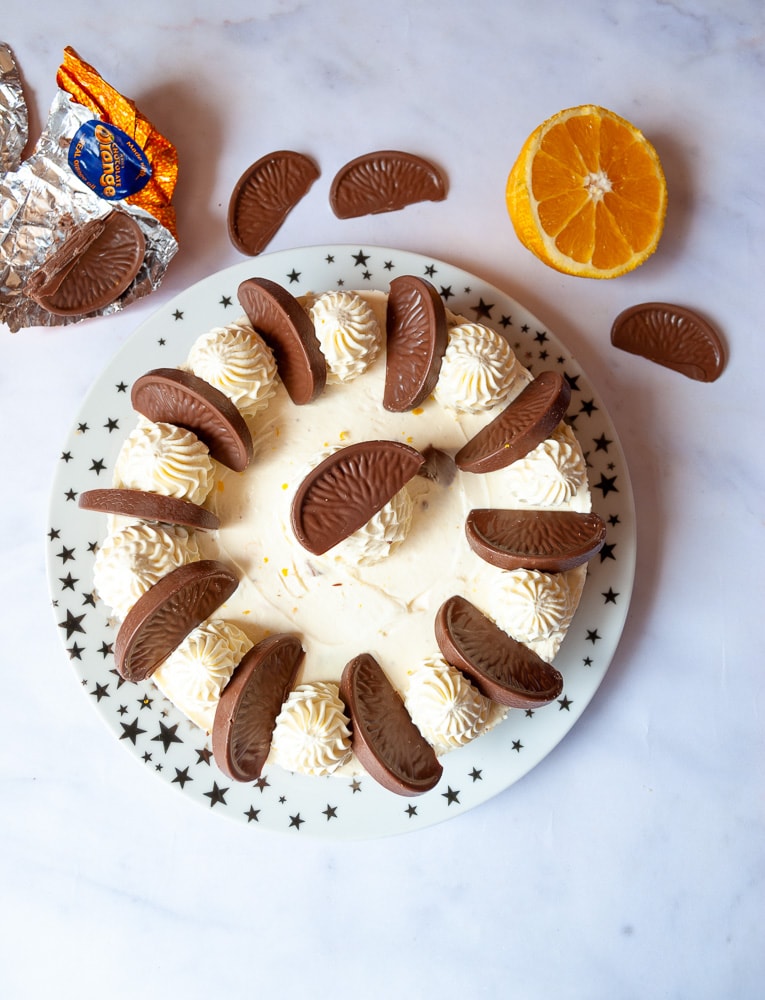 how far in advance can i make a no bake cheesecake?
You can prepare the cheesecake and keep it in the fridge (well covered) for no more than 2 days in advance.  The cheesecake should be eaten within 3 days.
 Don't like chocolate orange? No worries!
You can simply omit the orange zest and use whatever chocolate bar you like – it's gorgeous with Mars Bars, Snickers, Galaxy or Bounty bars to name a few – use your favourite chocolate and make the recipe your own!
If you have a browse around my blog you might be forgiven for thinking that I have a thing for chocolate orange…and you would be correct!
I also have recipes for chocolate orange muffins, chocolate orange millionaire's shortbread, no bake chocolate orange traybake, chocolate orange hot cross buns and chocolate orange panettone bread pudding.
want to check out more no bake recipes?
No bake jam jar strawberry cheesecakes
no bake mini Biscoff cheesecakes
No Bake White chocolate and raspberry cheesecake 
No Bake Chocolate Easter Fridge Cake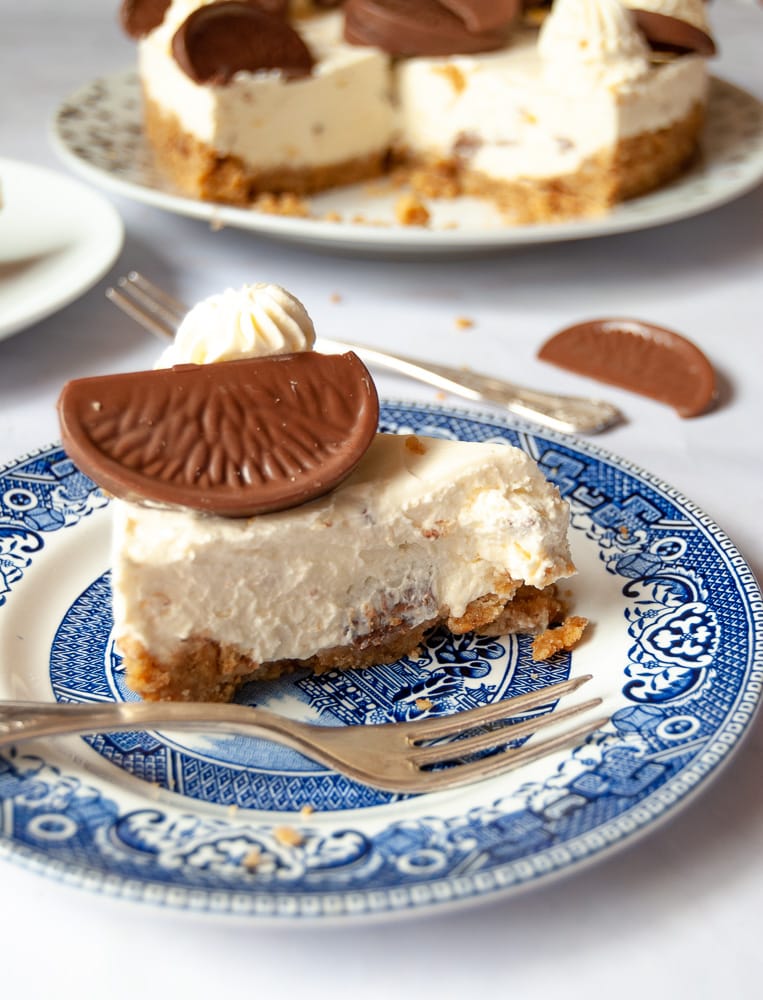 Sharing with Baking Crumbs hosted by Jo's Kitchen Larder
Did you make this chocolate orange cheesecake? 
Let me know what you thought of the recipe by leaving a comment and leaving a rating by clicking on the stars in the recipe card.  And if you have a picture, share it with me on Instagram or Facebook!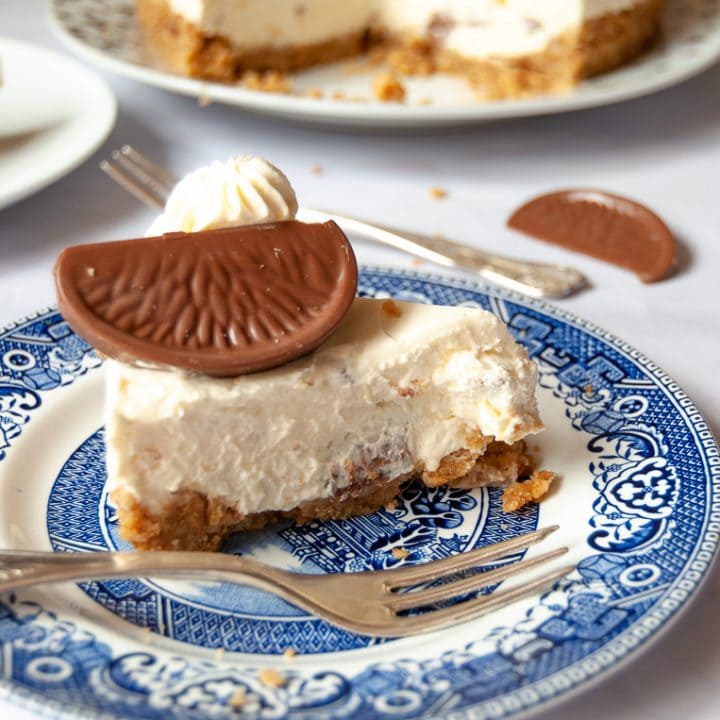 Terry's chocolate orange cheesecake
Total Time:
8 hours
20 minutes
An easy, no bake creamy cheesecake with Terry's chocolate orange! A must for chocolate orange lovers!
Ingredients
150 g soft butter
300 g digestive biscuits, crushed to fine crumbs
500 g full fat cream cheese, at room temperature
1 tsp vanilla extract
75 g icing sugar
Finely grated zest of one large orange
200 ml double cream
1 Terry's Chocolate Orange, chopped into small pieces
For the topping and decoration:
150 ml Double Cream
1 Terrys chocolate orange
Melted chocolate and/or sprinkles of your choice/orange zest for decoration, optional
Instructions
Melt the butter in a saucepan and tip in the crushed biscuits. Stir until the biscuits are completely coated in butter and resemble damp sand.
Tip into a 20cm loose bottomed cake tin and press down evenly. Place in the fridge to firm up while you get on with the filling.
Place the cream cheese in a large bowl and beat until smooth and lump free. Stir in the vanilla, icing sugar and orange zest and mix until smooth.
In a separate bowl, lightly whip the double cream to very soft peaks.
Fold the cream into the cream cheese mixture.
Chop one of the chocolate oranges into small pieces and fold into the cheesecake mixture.
Pour the cheesecake filling over the biscuit base. Pop back in the fridge to set for at least 8 hours or overnight.
The last time I made this I only lasted 3 hours before cutting...needless to say it wasn't set properly! It was still delicious but a little runny. Ideally you need to leave it in the fridge for at least 8 hours.
When the cheesecake is set and you are ready to serve it, decorate with the reserved chocolate orange segments, melted chocolate or any sprinkles that take your fancy!
Notes
You could use the mini Terry's chocolate orange segments instead of a whole chocolate orange, if you like.  
Nutrition Information:
Yield:

12
Serving Size:

12
Amount Per Serving:
Calories:

504
Total Fat:

41g
Saturated Fat:

25g
Trans Fat:

1g
Unsaturated Fat:

13g
Cholesterol:

105mg
Sodium:

288mg
Carbohydrates:

30g
Net Carbohydrates:

0g
Fiber:

1g
Sugar:

21g
Sugar Alcohols:

0g
Protein:

5g