These super decadent chocolate orange muffins have a gooey chocolate orange ganache middle! They are delicious, indulgent and a proper treat for chocolate orange fans!
I have to admit – when I make a chocolate bake, I don't mess about! These divine ganache filled chocolate orange muffins are surely a testament to that.
The base is a moist (I'm sorry, I also cringe at the mention of that word but there's really no other way to describe them!) chocolate muffin with a gooey molten chocolate orange ganache middle.
There was only one way to finish them off of course – a Terry's chocolate orange segment! 'Tis the season and all that jazz….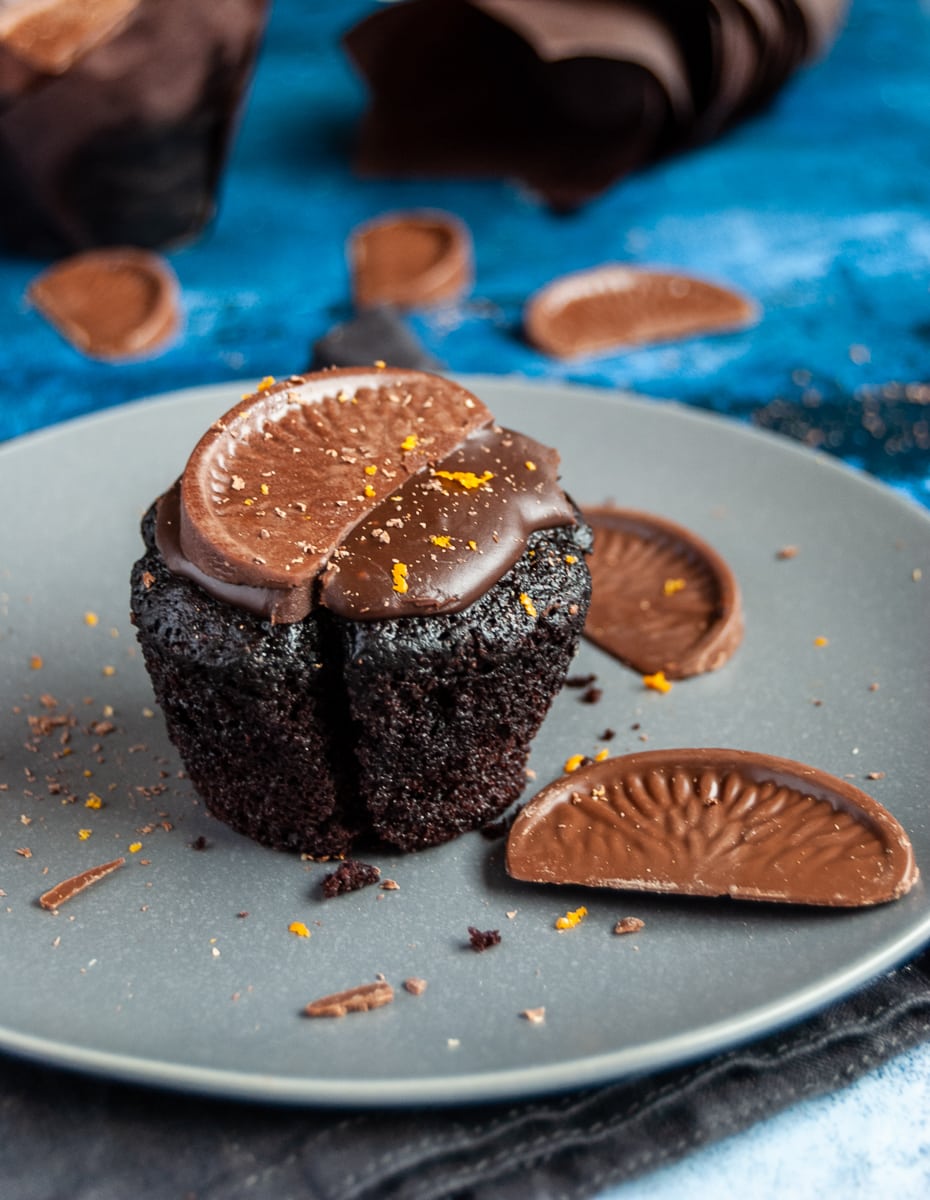 I think they are pretty perfect for this time of year – chocolate oranges seem to be on offer in all the supermarkets right now, so perfect excuse to make them!
Plus I've heard that Costa's chocolate orange muffins are very popular right now – so if you can't get to your local Costa coffee shop, you can now make them at home! Believe me, there is no better accompaniment to your latte or hot chocolate!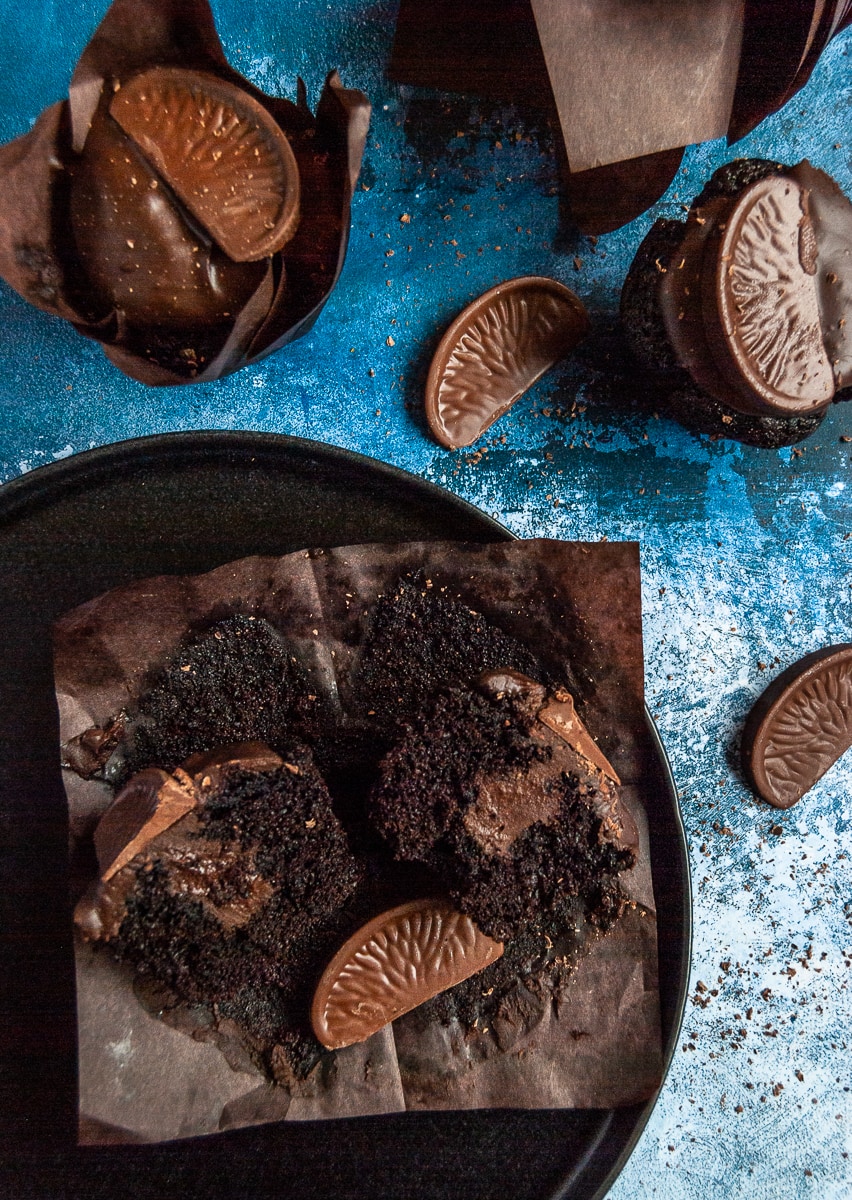 For more Costa copycat recipes, see my pigs in blankets macaroni cheese and my After Eight chocolate muffins!
These muffins are generally very easy to make – the hardest part is waiting for the chocolate ganache to firm up, but it's so worth it!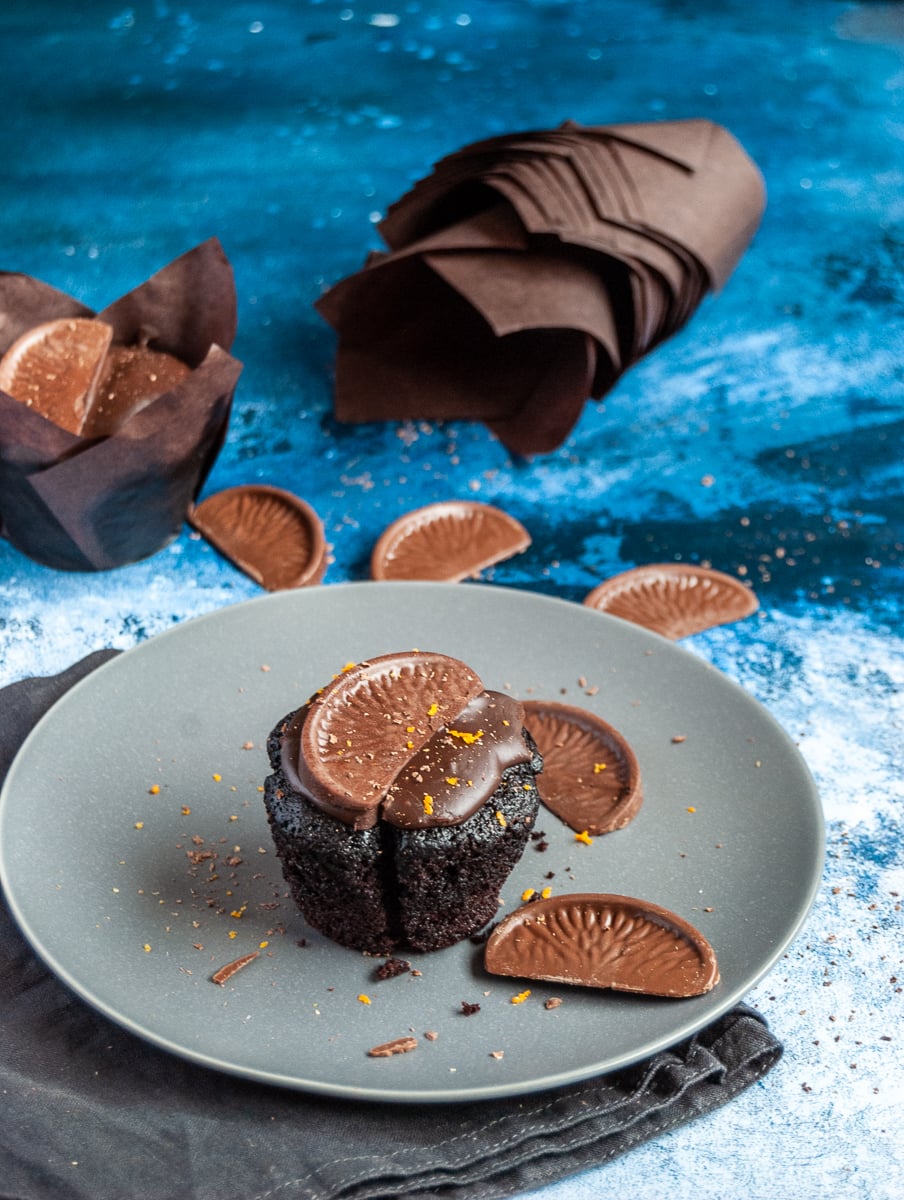 ingredient list
(I want you to feel confident and prepared when making this recipe for the first time, so here's a list of the ingredients. Keep scrolling to the bottom of the post to find printable recipe card!)
for the muffins
Plain (all purpose) flour
Bicarbonate of soda (baking soda) helps the muffins to rise and also makes them light and fluffy.
a little pinch of fine salt (enhances the flavour of the chocolate)
good quality cocoa powder (I use Callebaut cocoa powder)
eggs (two large)
vegetable or sunflower oil – see my notes below on why I prefer to use oil instead of butter in this recipe.
sour cream or full fat Greek yoghurt
orange extract – if you can't find any, use the finely grated zest of one large orange.
for the chocolate orange ganache
Milk chocolate, between 30-40% cocoa solids
Dark chocolate, between 50-70% cocoa solids
orange extract
soft unsalted butter
using oil vs butter in muffins
When making chocolate muffins, I prefer using a flavourless vegetable oil instead of butter. The oil will keep the muffins lovely and soft for a good few days after baking – that's if they hang around that long of course!
There are some recipes that work better with butter when you are going to taste it in the final bake – such as my white chocolate and strawberry muffins.
When a recipe calls for a very drying ingredient such as cocoa powder, I almost always prefer to use oil instead of butter because it prevents the cakes from drying out quickly.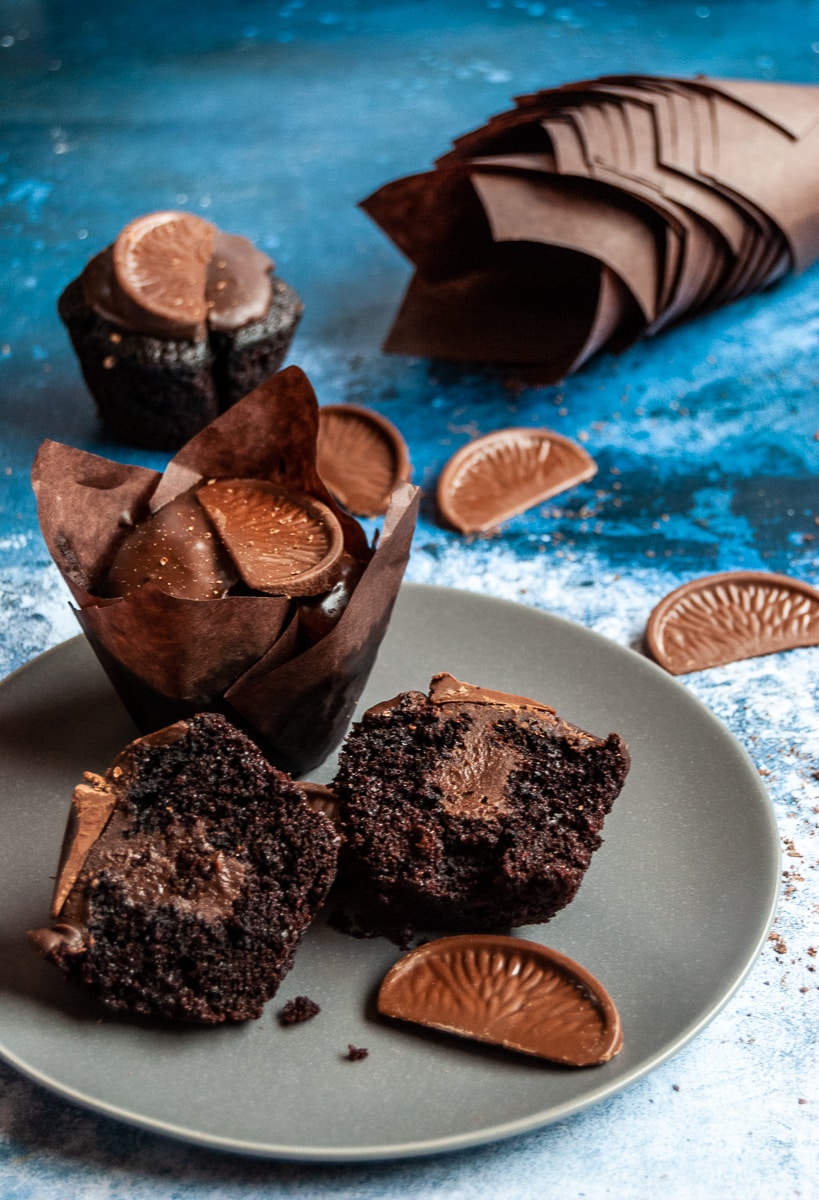 making the chocolate orange ganache filling
I came across an issue while making the ganache for these muffins, so I'll share it with you so you don't make the same mistake!
I originally had the idea of making the ganache with a melted Terry's chocolate orange – sounds delicious, right? But sadly, it did not work out for me.
I made the ganache with the chocolate orange, popped it in the fridge to chill for about one hour, then took it out and gave it a stir. It went all grainy on me!
It was at that moment I realised of course, that the cocoa solids in a Terry's chocolate orange are too low for making ganache. I tried to save it by adding a little warm milk and I even re-melted it and added more dark chocolate, but I was unsuccessful.
So I started again with a mixture of milk chocolate (40% cocoa solids) and a little dark chocolate (55% cocoa solids). I used a little orange extract to flavour the ganache. Thankfully, it did not turn grainy when I took it out of the fridge!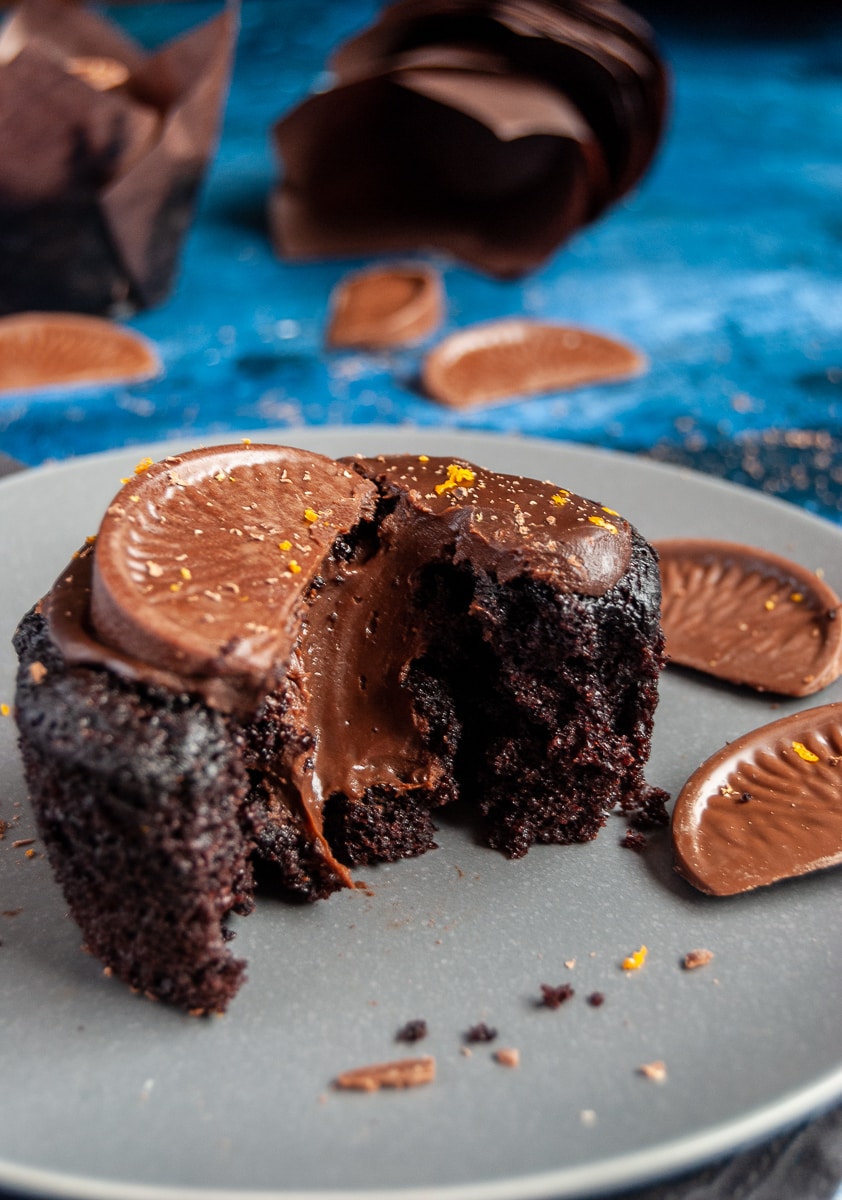 These chocolate orange muffins have the most unbelievable texture – they are deeply chocolately, rich and soft and the chocolate ganache filling is just sheer heaven.
I really hope you try them and love them as much as I do!
want to see more chocolate orange bakes?
Did you make this recipe?
I really hope you loved it! Let me know what you thought by leaving a comment below and please rate the recipe by clicking on the stars in the recipe card below.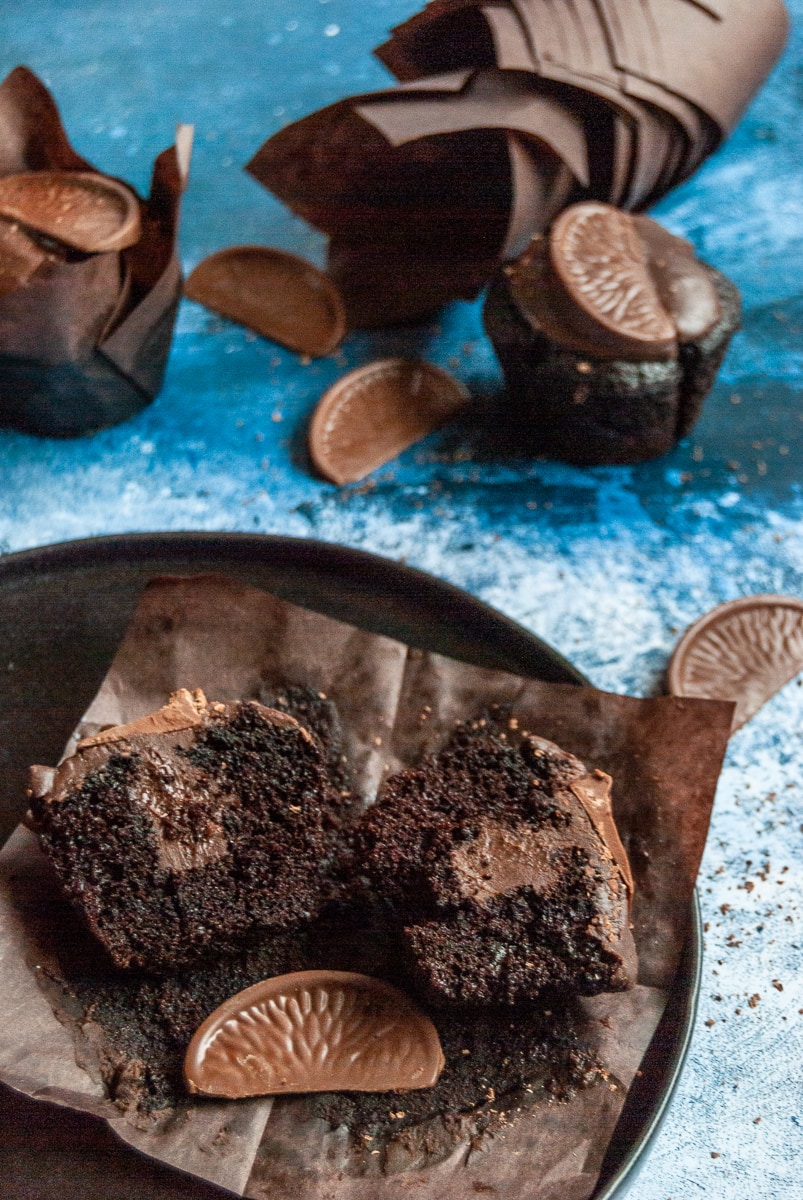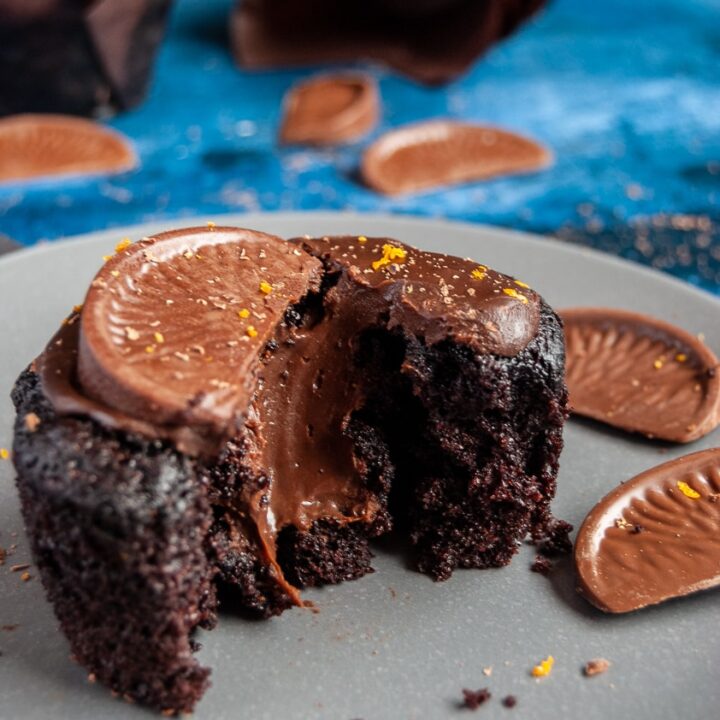 Chocolate Orange Muffins
Total Time:
1 hour
42 minutes
These super decadent chocolate orange muffins have a gooey chocolate orange ganache middle! They are delicious, indulgent and a proper treat for chocolate orange fans!
Ingredients
180g plain (all purpose) flour
1 1/2 teaspoons bicarbonate of soda (baking soda)
1/4 teaspoon salt
50g cocoa powder
300g caster (super fine) sugar
2 large eggs, at room temperature
1 teaspoon pure orange extract
125ml vegetable or sunflower oil
150g sour cream or full fat Greek yoghurt
150ml warm water
FOR THE GANACHE:
100g milk chocolate (30-40% cocoa solids), finely chopped
100g dark chocolate (60% cocoa solids), finely chopped
1/2 teaspoon pure orange extract
15g (1 tablespoon) soft unsalted butter
250ml double (heavy) cream
Instructions
Preheat the oven to 180C/160Fan/350F/Gas mark 4. Line a 12 hole muffin pan with paper liners.
Place the flour, bicarbonate of soda, salt and cocoa powder in a large bowl. Using a large fork or wooden spoon, stir to combine everything together.
Beat the sugar, eggs, orange extract, oil, sour cream or Greek yoghurt and water together until the mixture is smooth.
Make a well in the middle of the dry ingredients and pour in the wet mixture, stirring lightly until all the dry ingredients have been incorporated.
Pour the mixture into the liners (the batter will be quite runny so don't be alarmed) filling them no more than two thirds full. Bake in the preheated oven for 20-22 minutes or until risen, springy and a skewer inserted in the middle of the muffins emerges with no wet batter.
Transfer the muffins to a wire cooling rack and allow to cool completely while you make the chocolate orange ganache.
To make the ganache, place the chopped chocolate, orange extract and soft butter in a medium heatproof bowl. Place the cream in a small saucepan and bring to the boil. The second the cream comes to the boil, remove from the heat and pour over the chopped chocolate. Leave for a few minutes before gently stirring until the chocolate has completely melted and the mixture is lump free and shiny. Allow to come to room temperature before chilling in the fridge for around 60 minutes or until the ganache is the consistency of soft buttercream frosting. If your kitchen isn't too warm, you could probably get away with leaving the ganache sitting out on the counter.
Remove the cooled ganache from the fridge and using an electric mixer, whip the ganache for about a minute until smooth, shiny and lighter in colour. Do be careful not to overwhip it or the ganache can turn grainy. If you're worried about this, you can give it a good stir with a wooden spoon or sturdy spatula instead.
When the muffins have completely cooled, remove a piece from the middle of each muffin using an apple corer or something similar. Using a teaspoon, fill the core with the chocolate ganache, going slowly until you reach the top. Add another scant spoonful of the ganache on top and finish off by placing a Terry's chocolate orange segment on top.
Nutrition Information:
Yield:

12
Serving Size:

1
Amount Per Serving:
Calories:

375
Total Fat:

10g
Saturated Fat:

5g
Trans Fat:

0g
Unsaturated Fat:

4g
Cholesterol:

44mg
Sodium:

80mg
Carbohydrates:

12g
Fiber:

2g
Sugar:

8g
Protein:

4g
Calories and nutritional information are provided by a third party application and should be used as indicative figures only.