This Christmas Rocky Road is packed full of chocolate, cherries, cranberries, marshmallows and crushed Amaretti biscuits for a delicious festive treat!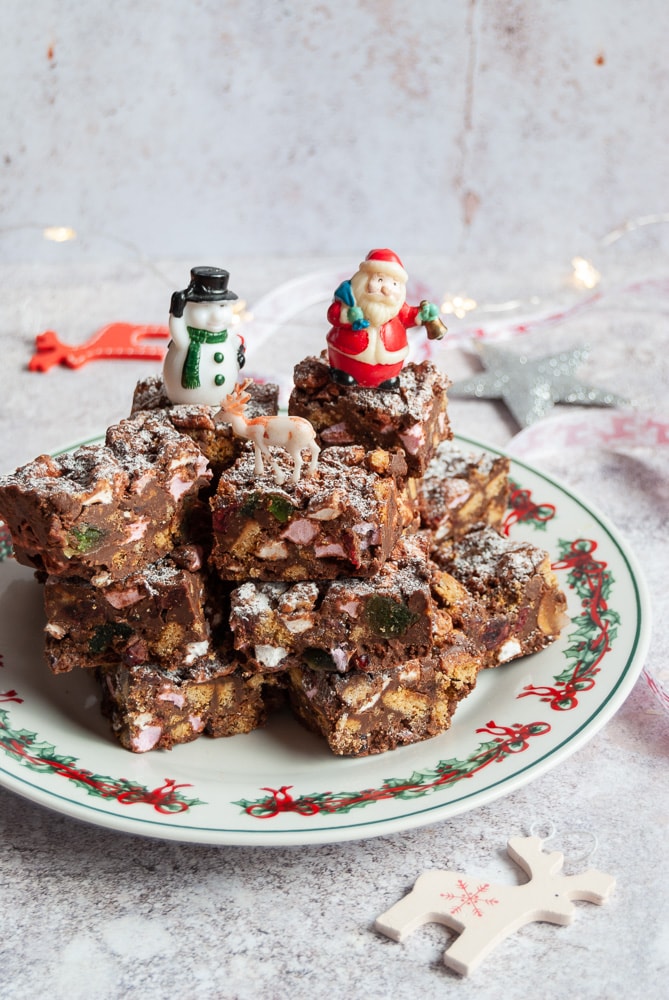 Hello! The big day is almost here….are you ready? I still have a few last minute bits to do today…then I can finally relax!!
I'm just popping in to squeeze in a couple more Christmas recipes before the big day….I meant to post them last week, but life got a bit crazy, as it always does around this time of year!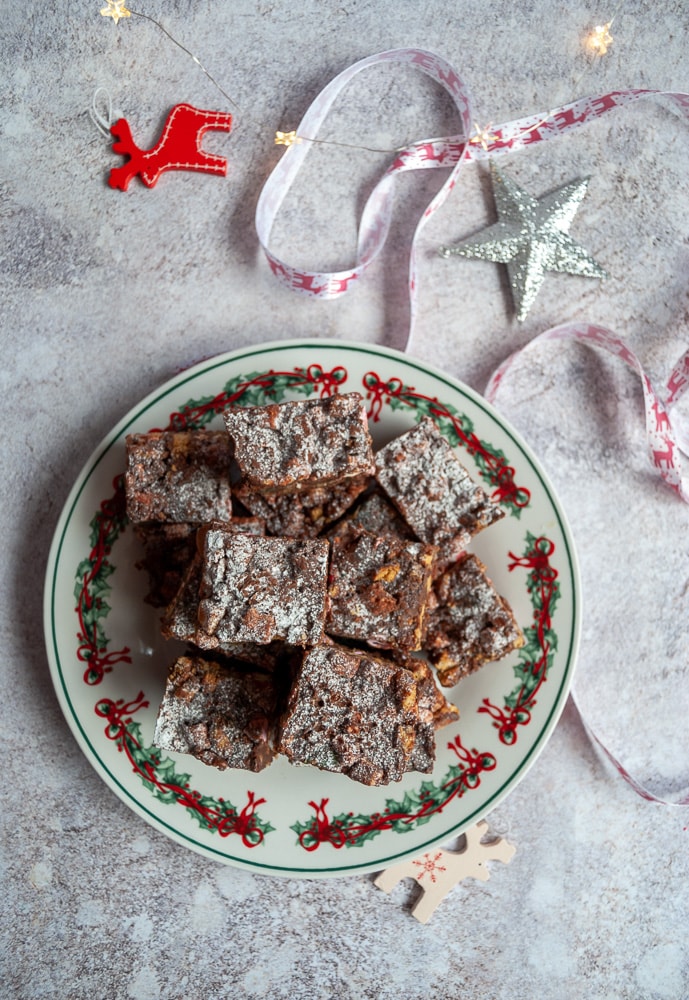 This Rocky Road recipe is based on a recipe from one of my favourite cookbooks, Nigella Christmas. I now make it every single year – it's become a tradition.
I make a big batch and give it away as gifts along with my Peanut butter rice krispie balls, Chocolate peppermint cookies, Chocolate Fudge crinkle cookies,Christmas Linzer Cookies, Candy Cane Hot Chocolate Mix, Stilton and Walnut Star Biscuits, Chocolate Rum Truffles and these Easy Iced Gingerbread Biscuits. Yes, I do practically live in my kitchen all through December (and have a very large family to feed!)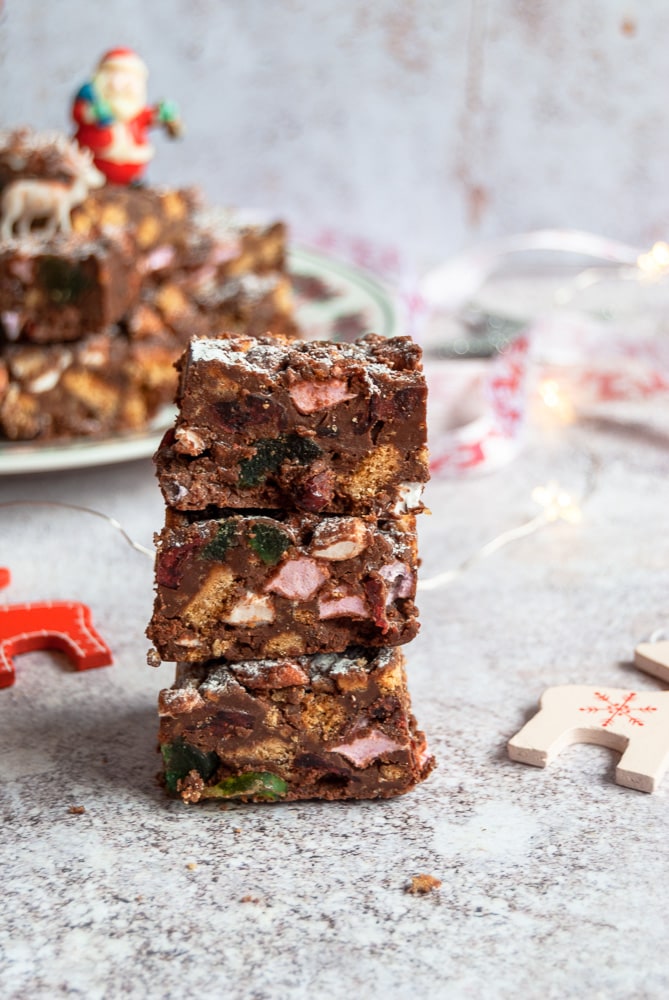 ingredients you'll need to make christmas rocky road
(Ingredient amounts and detailed instructions are in the recipe card at the bottom of the post!)
Chocolate. I use a mixture of dark and milk chocolate – personally I find the rocky road to be a little too sweet with 100% milk chocolate, but if you're making this for children they might love it!
Golden (corn) Syrup to bind the mixture together
Butter
Crushed Amaretti Biscuits. You can use digestives, rich teas or gingernuts if you prefer, but I love the flavour of Amaretti.
Glace cherries
Dried Cranberries
Mini Marshmallows
Christmas Sprinkles or icing sugar to decorate!
How to make Christmas Rocky Road
Melt the butter, golden syrup and chocolate together in a large saucepan.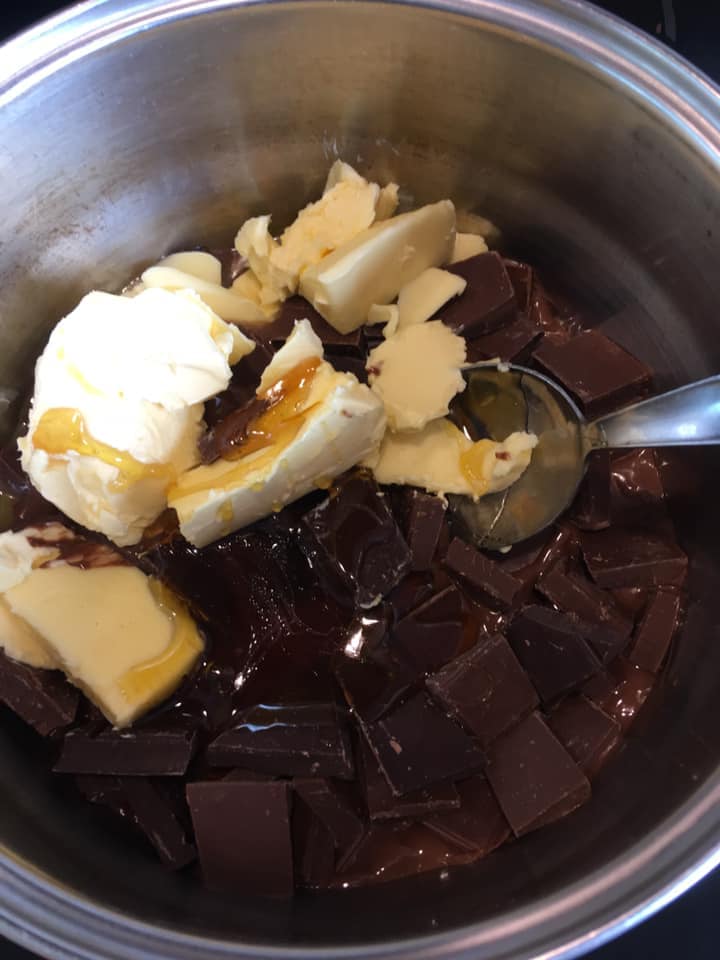 When the chocolate mixture is smooth, Tip in the crushed amaretti, dried cranberries, halved glace cherries and mini marshmallows.
Give the mixture a good stir to coat everything in the melted chocolate.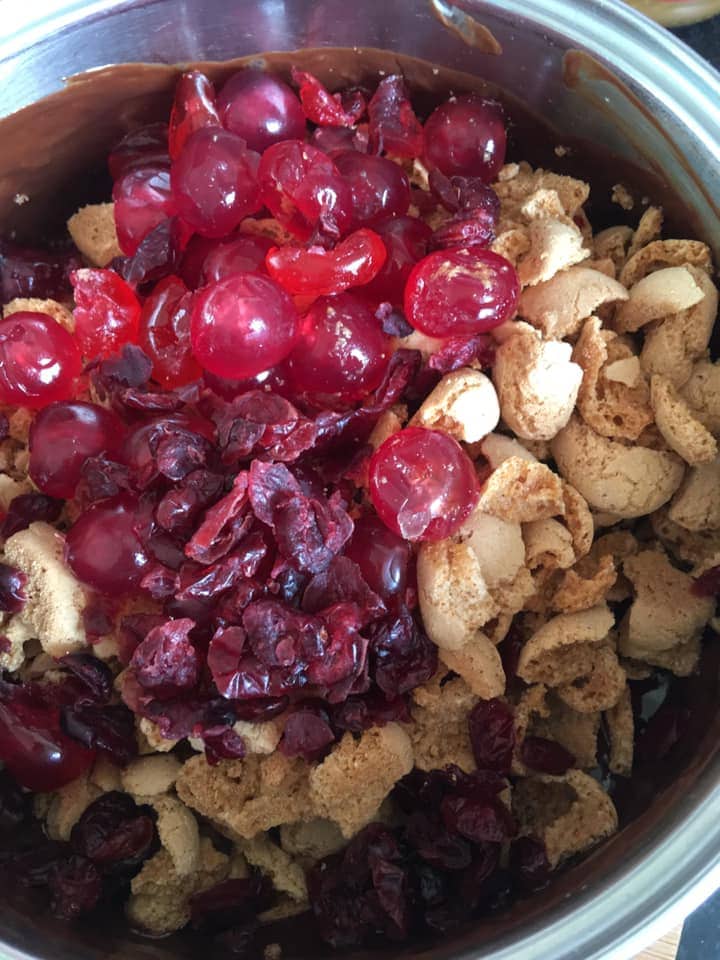 Tip the mixture into a greased and lined 9×12 baking tin. I've also made this in a 23cm square tin – it makes very thick bars, but still works well.
Lightly grease all around the outside of the jar with butter, then start spooning the rocky road mixture into the tin, pressing in down as you do to pack it in.
Smooth the top as best as you can (but don't worry, it a few lumps and bumps here and there are nothing to stress about) and place in the fridge while you get on with the topping.
Melt the chocolate for the topping over a pan of simmering water and once the chocolate is smooth, pour over the top of the rocky road and decorate with Christmas sprinkles.
Place in the fridge once again for 2- 3 hours to set before removing from the tin and serving.
recipe notes and commonly asked questions
When I first published this recipe in December 2019, I made the rocky road in the shape of the wreath. I'm not sure what came over me at the time – I had obviously completely lost it! But if you quite fancy the idea of making a rocky road wreath, I've left the instructions on how to do so in the recipe card!
how long does rocky road last?
Rocky road will keep in an airtight tin for ages – up to three weeks.
why is my rocky road not setting?
If you let the chocolate and butter become too hot while melting, it could take a long time to set. Try not to let the chocolate get too hot – keep the heat as low as possible.
I find it's best to leave it in the fridge for at least 8 hours before cutting.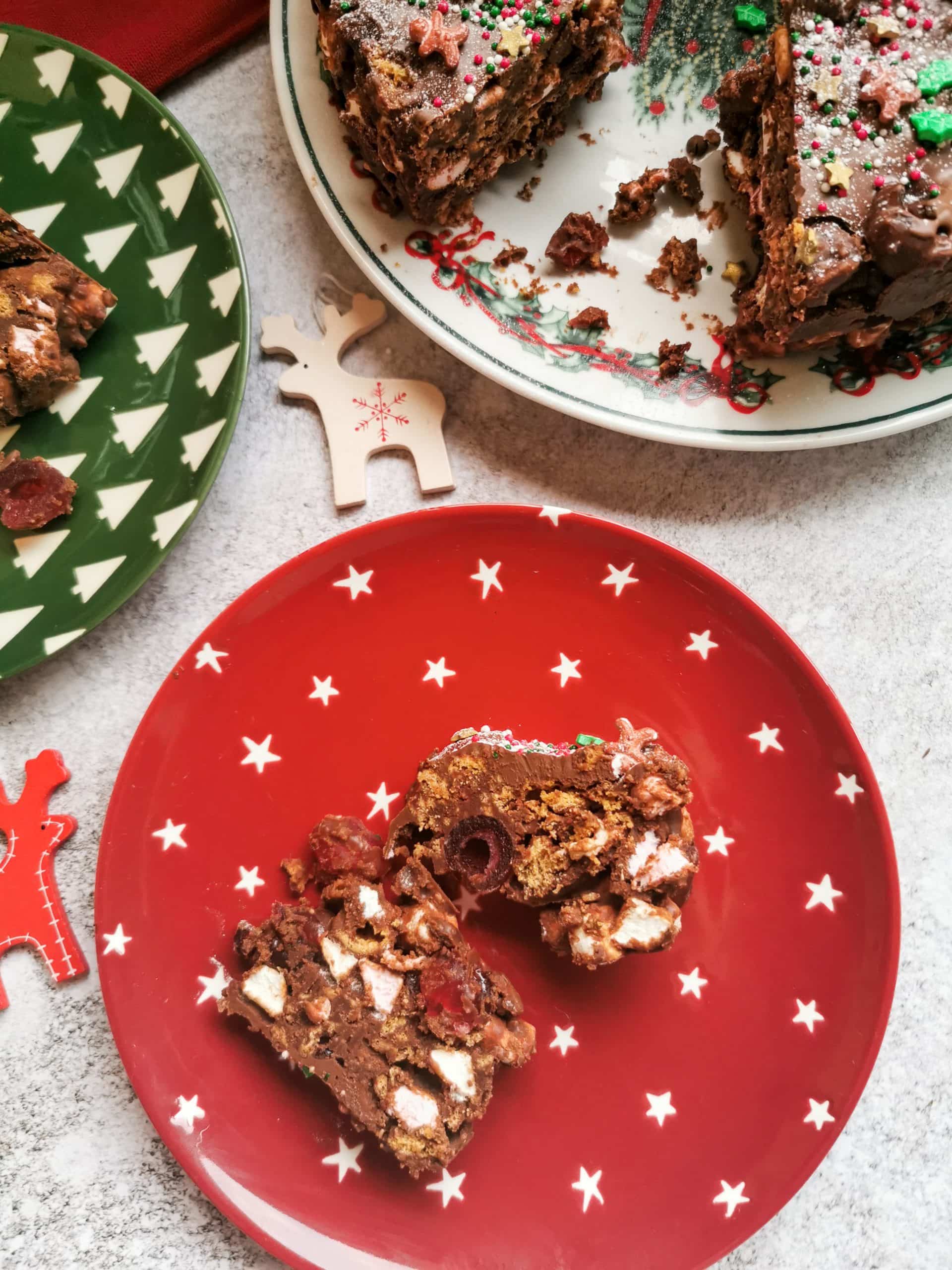 want to see more christmas recipes?
Triple ginger, cherry and pecan Christmas Pudding
White chocolate coconut snowball truffles
Orange, almond and ginger bars
more easy no bake recipes that would make a perfect last minute christmas dessert or gift!
No Bake Terry's Chocolate Orange Cheesecake
No Bake Chocolate Orange Traybake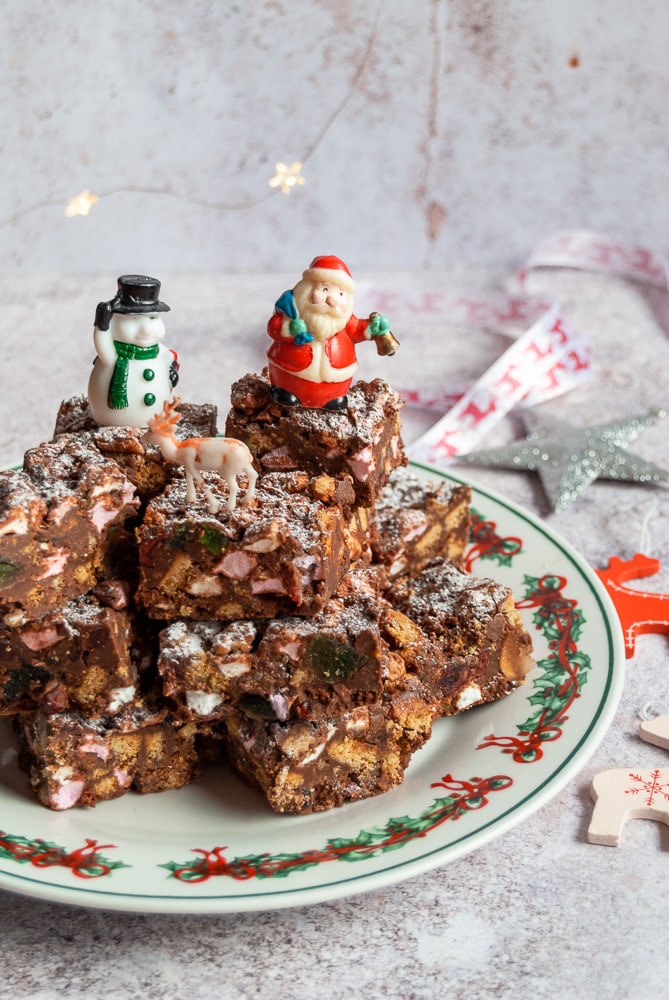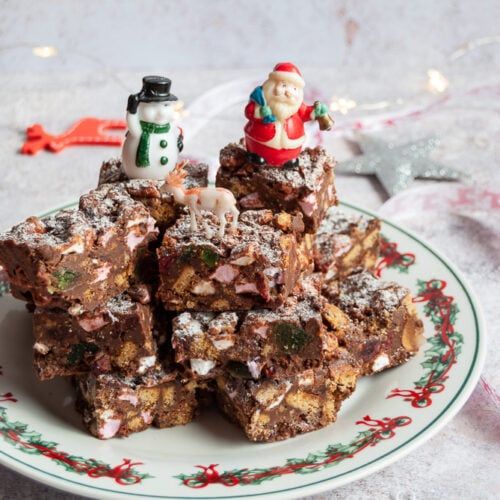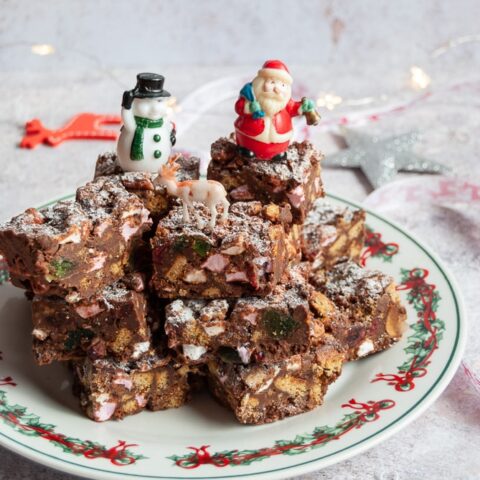 Christmas Rocky Road
Additional Time:
4 hours
3 seconds
Total Time:
4 hours
20 minutes
3 seconds
This Christmas Rocky Road would make a gorgeous centrepiece for a Christmas dessert table! It's packed full of festive treats such as Amaretti biscuits, glace cherries, dried cranberries and mini marshmallows.
Ingredients
350g Chocolate (I use half and half milk and dark chocolate) Broken into squares
175g Butter
50G Golden (Corn) Syrup
225G Crushed Amaretti Biscuits (or other biscuits of your choice)
160G Halved Glace Cherries
100G Dried Cranberries
150G Mini Marshmallows
150G Milk Chocolate for the topping
Christmas Sprinkles or icing sugar to decorate
Instructions
Grease a line a 23cm round cake tin with baking parchment.
Melt the chocolate, butter and golden syrup together in a large saucepan over a low heat until melted and smooth.
Remove from the heat and tip in the crushed biscuits, cherries, cranberries and marshmallows. Stir well to mix.
If you're making the rocky road wreath, Place a round jar in the middle of the baking tin and grease it lightly with butter. Spoon the rocky road mixture into the tin, pressing it down with a spoon as you go. Place in the fridge for 2-3 hours to set firm. At this stage, you can leave the rocky road in the fridge for up to a day or two. Alternatively, tip the mixture into a lined 9x12 inch baking tin and smooth the top as best as you can.
When you're ready, remove the rocky road from the fridge. Run around the side of the rocky road with a palette knife to loosen it from the tin (only if you've made the wreath), then invert the whole thing onto a serving plate. Release the rocky road from the tin and remove the base using a palette knife.
Melt the 150G chocolate over a pan of simmering water, then pour all over the top of the rocky road. Decorate with Christmas sprinkles and leave the rocky road to set for about an hour or so before serving.
Notes
You can use a bundt tin to make the wreath shape if you have one, or you can make the rocky road in a large baking tin instead.
Nutrition Information
Yield

28
Serving Size

1
Amount Per Serving
Calories

154
Total Fat

10g
Saturated Fat

5g
Trans Fat

0g
Unsaturated Fat

4g
Cholesterol

17mg
Sodium

69mg
Carbohydrates

17g
Net Carbohydrates

0g
Fiber

1g
Sugar

13g
Sugar Alcohols

0g
Protein

2g