There is something about the classic Empire biscuit that is hard to resist.
Soft, buttery biscuits sandwiched together with fruity jam, topped with icing and adorned with a jelly tot (or joob joob as they're commonly known as in Scotland) or glace cherry – what's not to love?
No wonder this biscuit is adored by both children and adults in equal measures!
Empire biscuits will always hold a certain retro charm for me. They take me back to the days when the local bakery van used to come round our street on a Saturday and I was allowed to choose a treat.
I remember being very indecisive – how could I possibly just choose one thing out of all these gorgeous looking sweet treats? More often than not I chose a cream cookie (a sweet bun filled with cream and dusted with icing sugar), a pink finger or an empire biscuit. If I was really lucky, I would be allowed a small bag of traditional Scottish tablet as well!
I just love the look of these biscuits, with their snow-white blanket of icing and the cute little red cherry or joob-joob sitting proudly on top. You could make smaller empires if you wanted to – just use whatever size of round cutter you have but do bear in mind that you will have to adjust the baking time if you make smaller/larger biscuits. Keep a good eye on the biscuits while they are baking – if they are very golden/starting to go brown, you've left them in for too long!
I also have a recipe for a giant empire biscuit if you fancy trying it – it's a different recipe because I wasn't very successful making a huge version of this one, not sure why but these things happen!
This post was originally posted September 2014. Updated on 28th August 2018 with a slightly amended recipe and new pictures.
I'm sharing these Empire biscuits with the following blog link ups:
#CookBlogShare hosted this week by Eb of Easy Peasy Foodie
#GBBBBakeOfTheWeek hosted by CasaCostello and Mummy Mishaps
Brilliant Blog Posts at HonestMum.com
Pin this Empire biscuit recipe for later….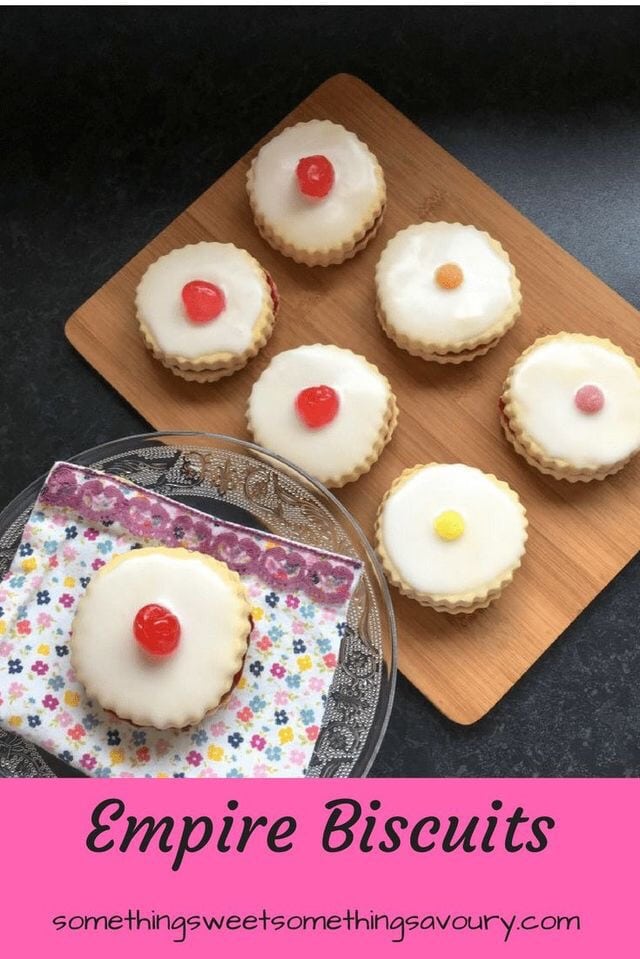 So what are you waiting for? Let's get going and make these classic Empire biscuits!
Empire Biscuits
Sweet, buttery biscuits sandwiched together with jam and topped with icing and a cherry or Jelly Tot - Empire biscuits are loved by both kids and adults alike!

Ingredients
225

g

Very Soft Salted Butter

325

g

Plain Flour

125

g

Caster Sugar

1

Medium

Egg, Beaten
For the Icing
200

g

Icing Sugar

Strawberry or Raspberry Jam for sandwiching the biscuits together

Cherries or Jelly Tots for decoration
Instructions
Preheat the oven to 180C. Grease and line a baking tray.

Cream together the butter and sugar until light and fluffy, then add the beaten egg. Gradually mix in the flour until you have a soft, pliable dough. I use my my mixer as it makes life easier, but it can be done by hand - it just takes a bit of muscle work!

Turn the dough out on a lightly floured work surface and very lightly give it a few turns to bring together. Roll out the dough (about 1/2 inch thick) and cut out rounds using circle cutters. If you don't have round cutters an upturned pint glass will work fine.

Place the biscuits on the lined baking tray and bake for 12-15 mins or until tinted very pale golden around the sides and bottom. Leave on the tray for 5 minutes, then using a palette knife transfer to a wire rack and cool completely.

When the biscuits are cold, spread with a thin layer of the jam and place another biscuit on top. Mix the icing sugar with a few drops of water - what you're looking for is a thick icing that won't drip off the sides of the biscuits.

Carefully dip a biscuit into the bowl of icing and scrape off the excess icing with your finger. Place back on the wire rack, top with a jelly tot, cherry or sweetie of your choice and leave to set.
Notes
If you like, you can add 1/4 tsp of vanilla extract to the dough.   I use salted butter in biscuits because I prefer the flavour, but you can use unsalted if you like. If you do, I would recommend adding a pinch of salt to the dough. This recipe makes 14 large Empire biscuits