Cranachan is a traditional Scottish dessert that's very quick and easy to make.
Fresh raspberries are folded into whisky and heather honey spiked whipped cream with crunchy toasted oats. This Scottish Cranachan recipe is simplicity at its finest!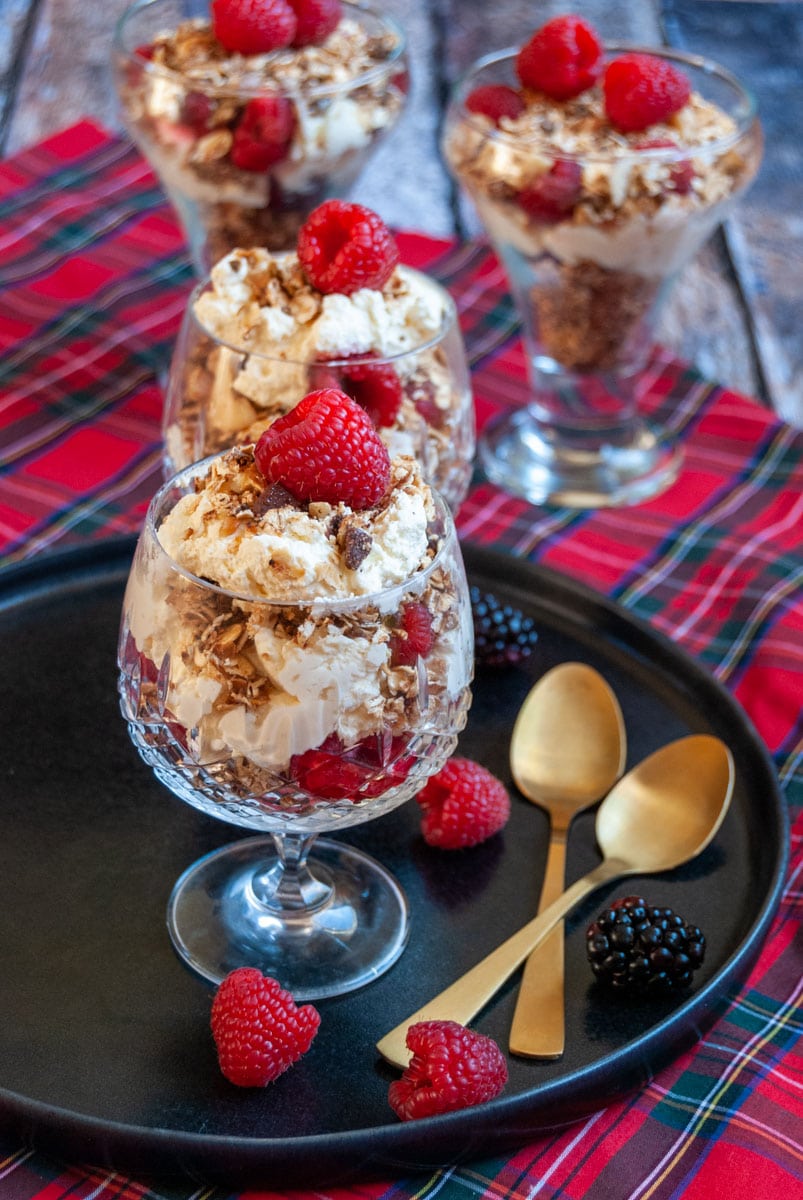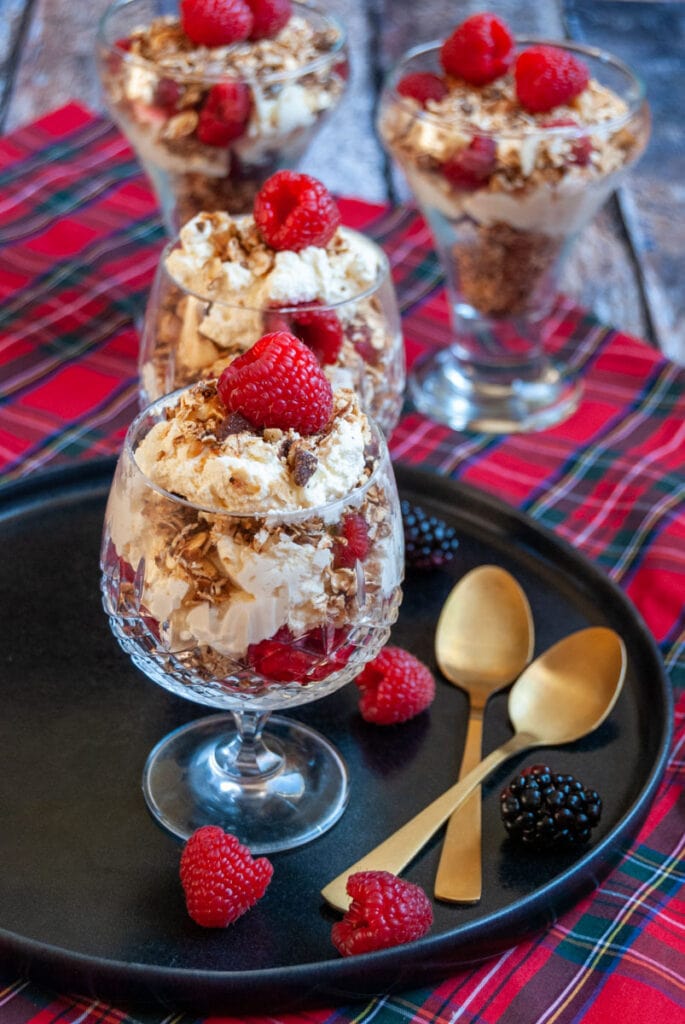 I have a confession to make. Up until quite recently, I have never made Cranachan before. I've certainly eaten my fair share in restaurants across Scotland in my life, but I had never made it at home.
This is slightly embarrassing for me to admit, considering I was born and bred in the Highlands of Scotland!
Goodness knows what took me so long, because it really is one of the most delicious and easy desserts around.
The most strenuous task is toasting the oats, which is hardly difficult – you just need to keep a close eye on them so they don't burn.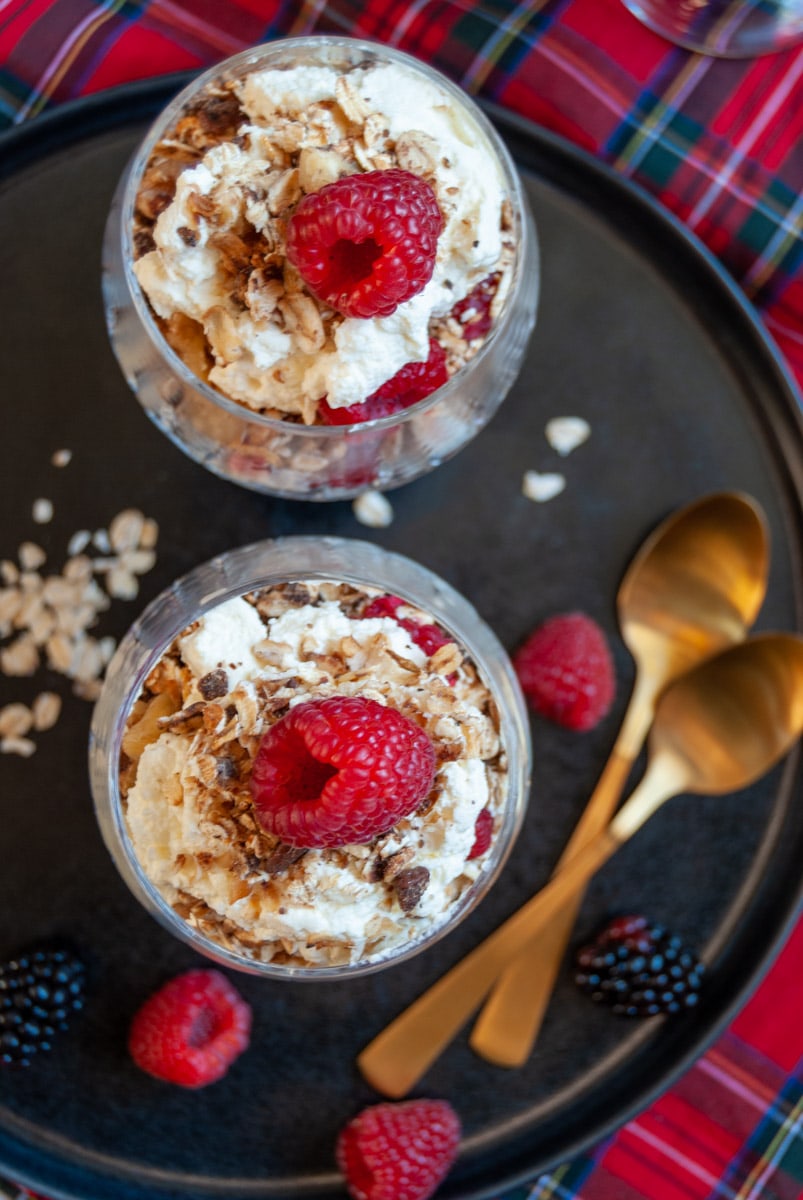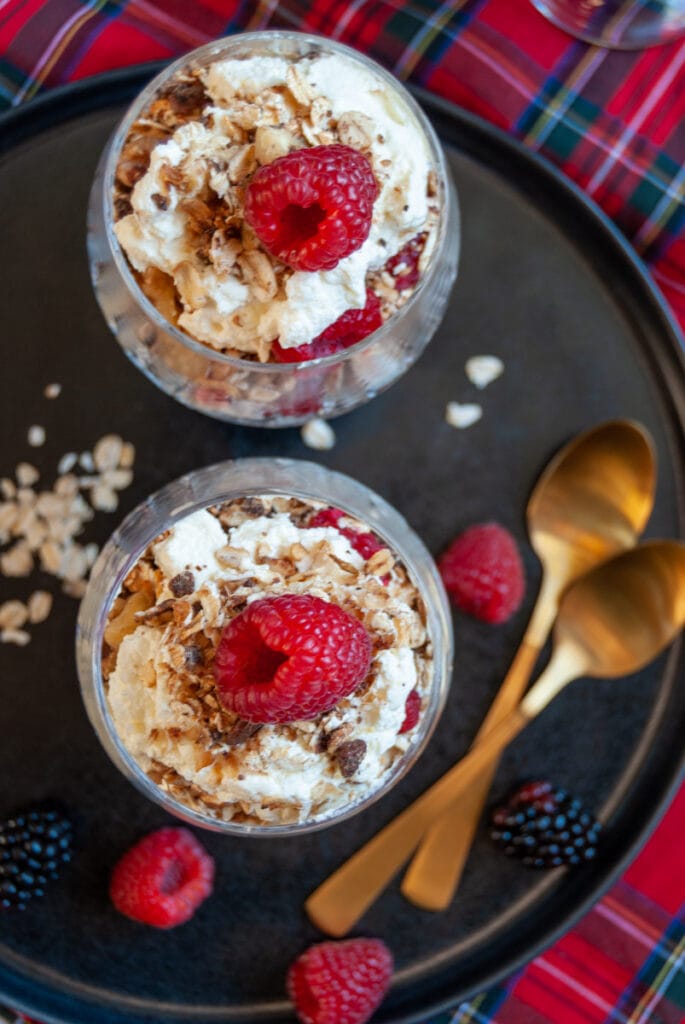 what is cranachan?
Cranachan is a traditional Scottish dessert made with Scottish berries, toasted oatmeal and whipped double cream flavoured with Whisky and heather honey.
In the old days, Crowdie (a soft Scottish cheese) would have been used instead of cream. There wasn't a strict recipe for Cranachan – bowls of freshly picked Summer raspberries, Crowdie and toasted oats were laid out on the table for everyone to help themselves.
Did you know it wasn't actually served as a dessert? Cranachan was originally served for breakfast!
However, as the years passed it evolved into the popular dessert we all know and love. No wonder it has been referred to as "The King of the Scottish dessert!"
England has Eton Mess, and Scotland has Cranachan. Both simple but fabulous desserts for any special occasion.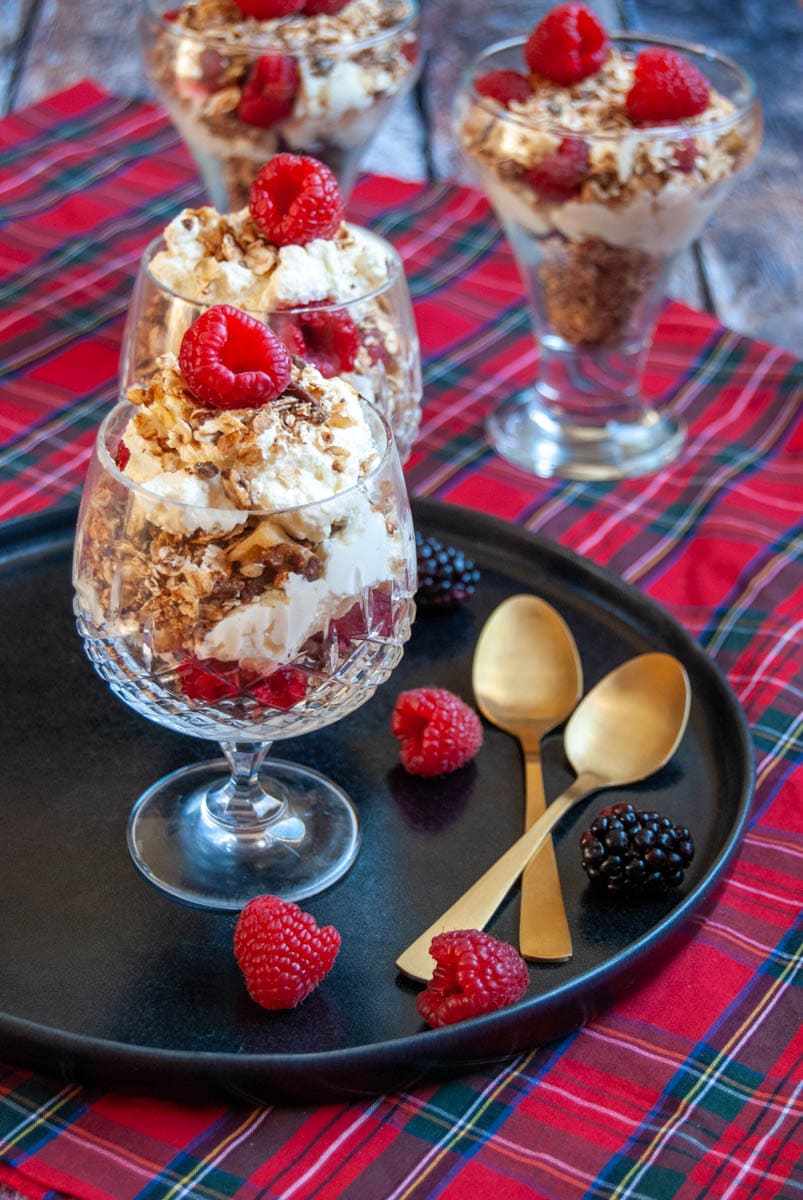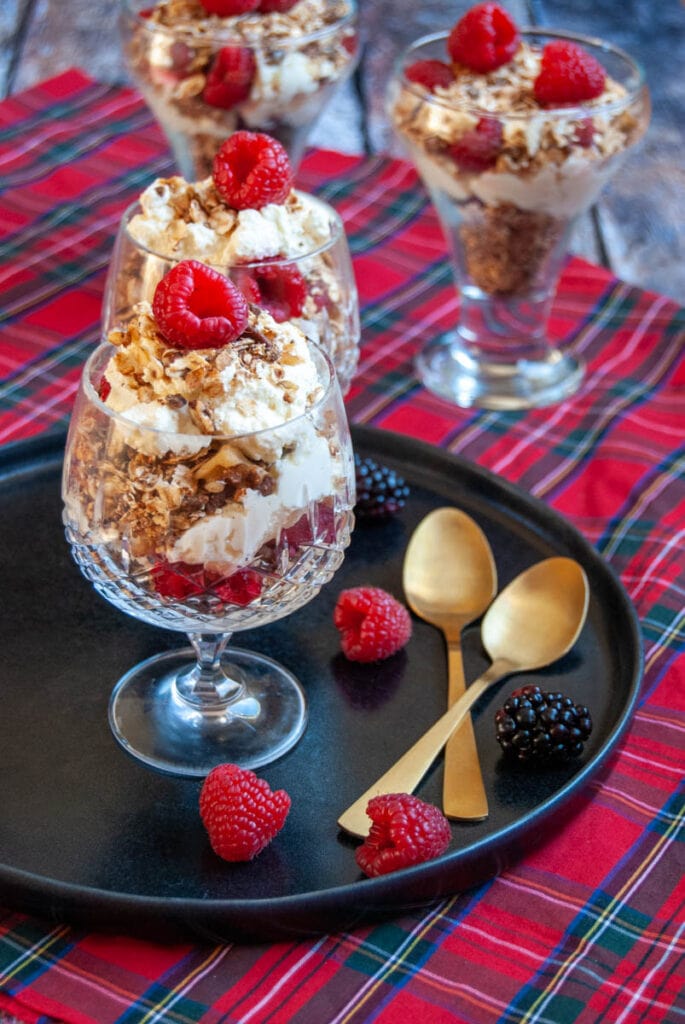 how to make SCOTTISH cranachan
toast the oats
Use a heavy bottomed pan for toasting the oats. It will take about 5-8 minutes for the oats to turn golden. Keep an eye on them – they can burn very, very quickly. When the oats are ready, transfer to a bowl and allow them to cool down.
As much as I usually like to stick to tradition, I couldn't resist trying the Scottish food writer and 1991 Masterchef winner Sue Lawrence's little twist of adding grated chocolate and finely chopped nuts to the hot oats. It was delicious – but then again, chocolate and raspberries are a match made in heaven, aren't they? My chocolate and raspberry brownies are proof of this! but of course if you prefer, you can absolutely leave out the chocolate.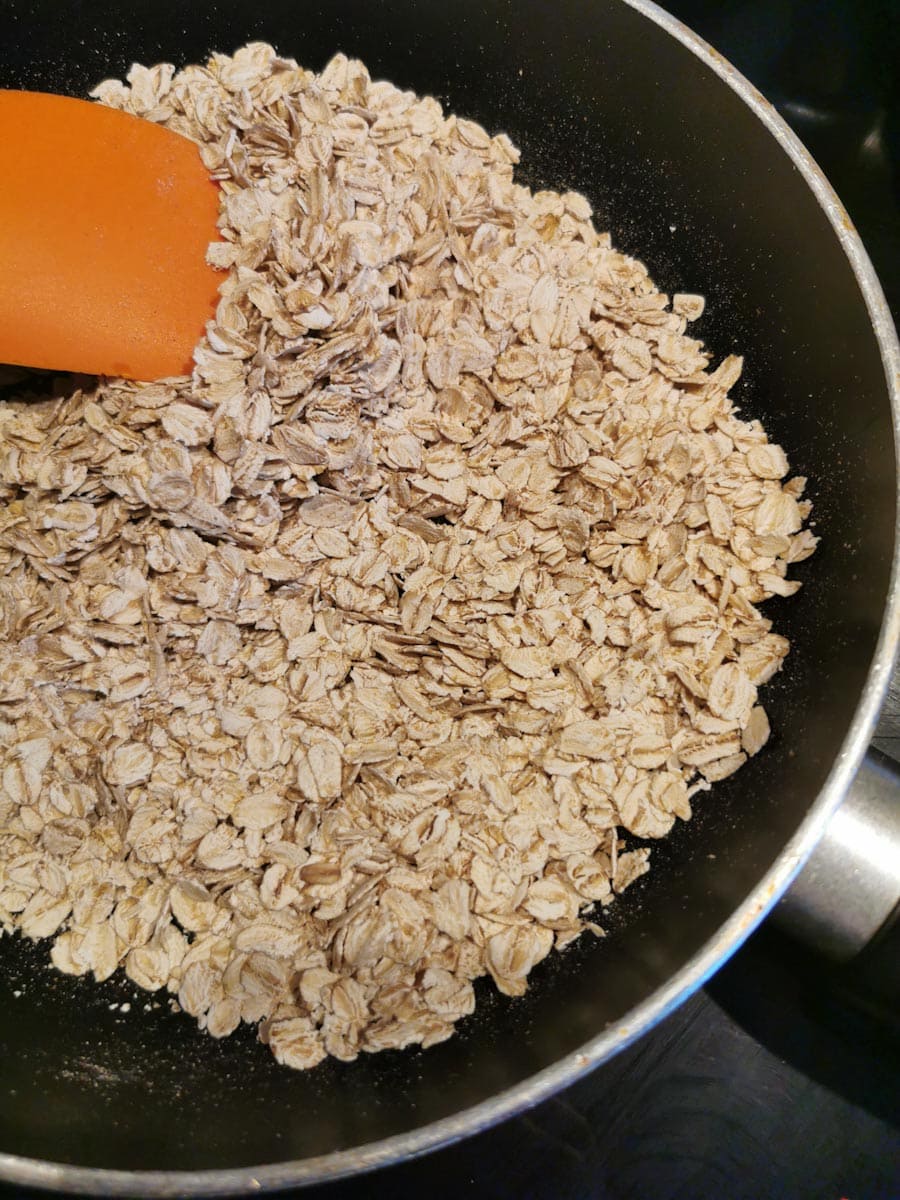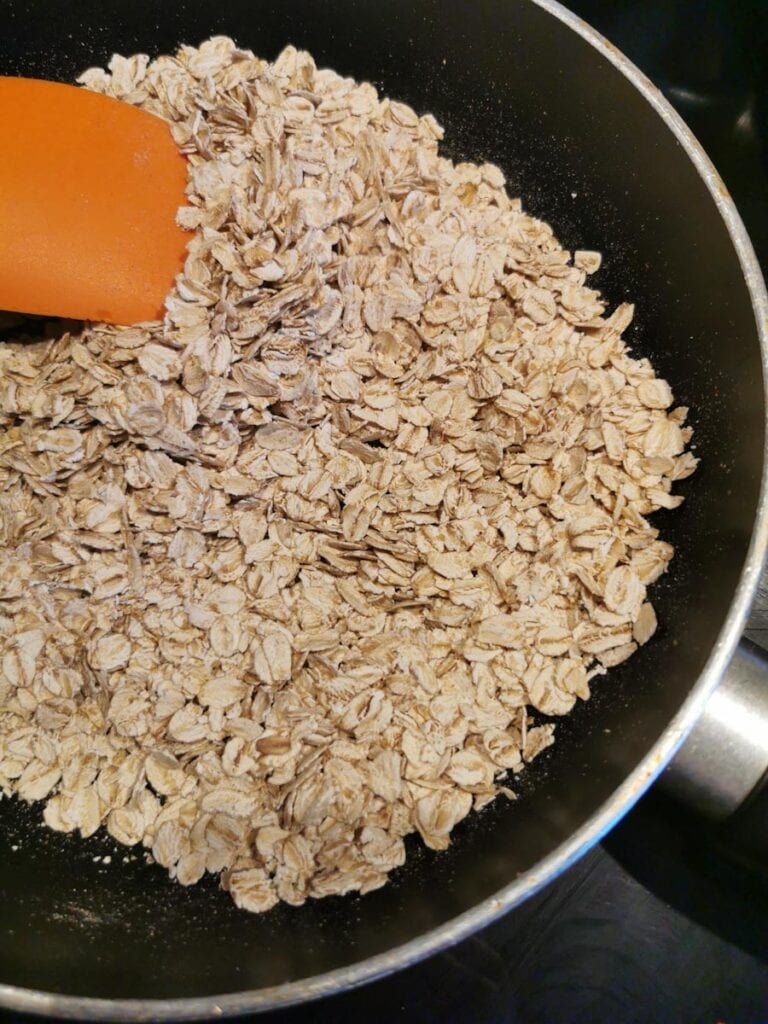 whip the cream
Whip the double cream to very soft peaks – don't overwhip, you need the cream to be nice and soft. If it holds a soft peak on the end of the whisk, perfect.
Using a metal spoon, gently fold in the honey and whisky. At this point, it's probably a good idea to taste the cream to see if you want to add more honey or whisky.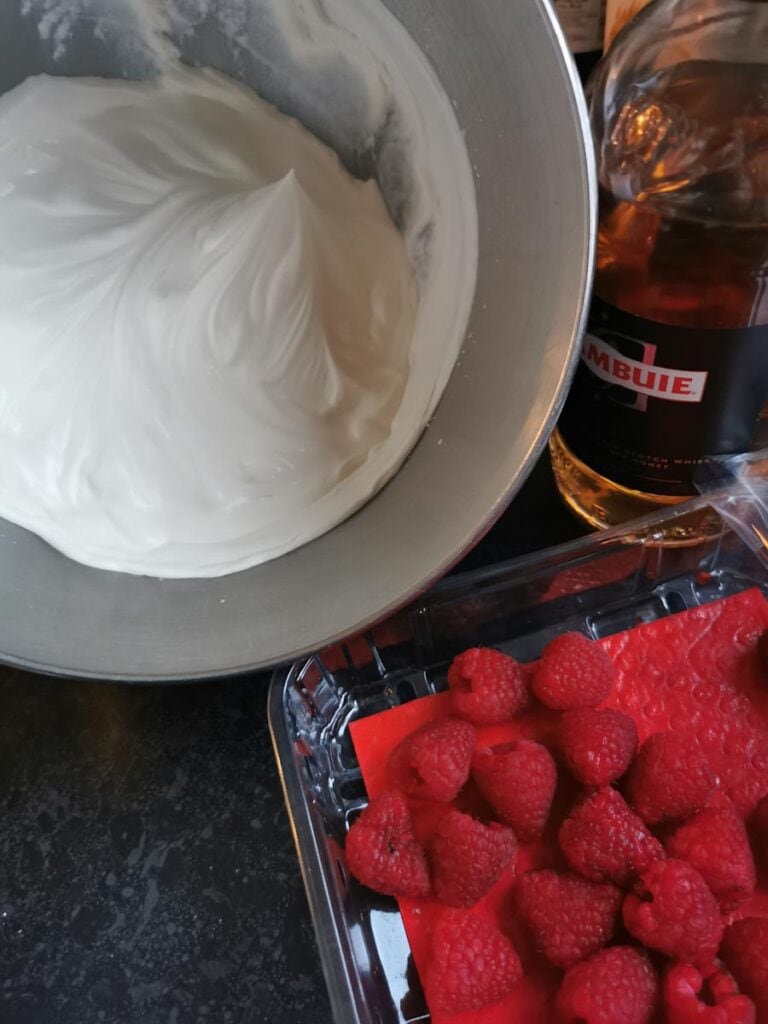 assembling the cranachan
Grab your serving bowls or glasses and start to layer up the dessert. Begin with a layer of the toasted nutty oats, followed by a few raspberries, then a spoonful of the honey whisky cream.
Repeat layering until you reach the top of the glasses, then finish off with a light sprinkling of toasted oats and a couple of raspberries. Serve immediately or place in the fridge if you're making in advance.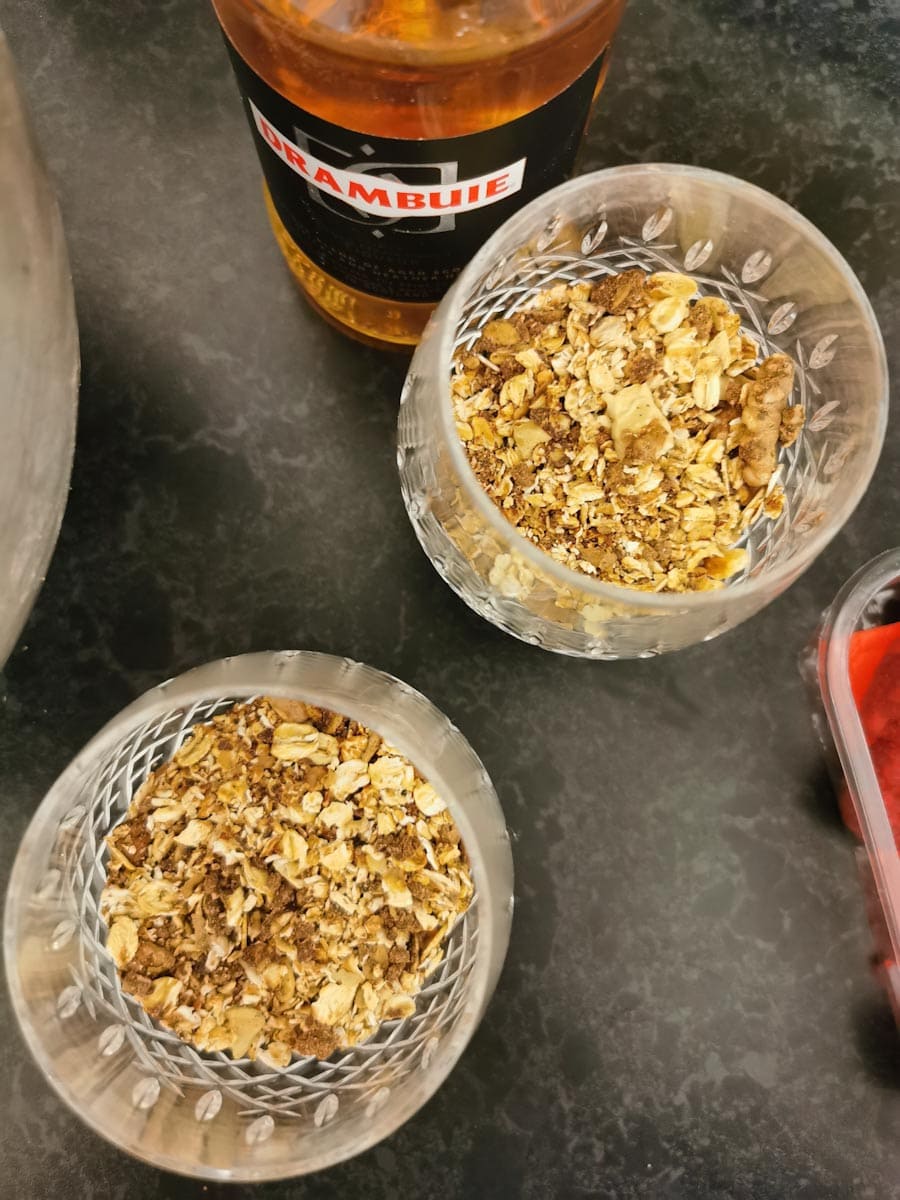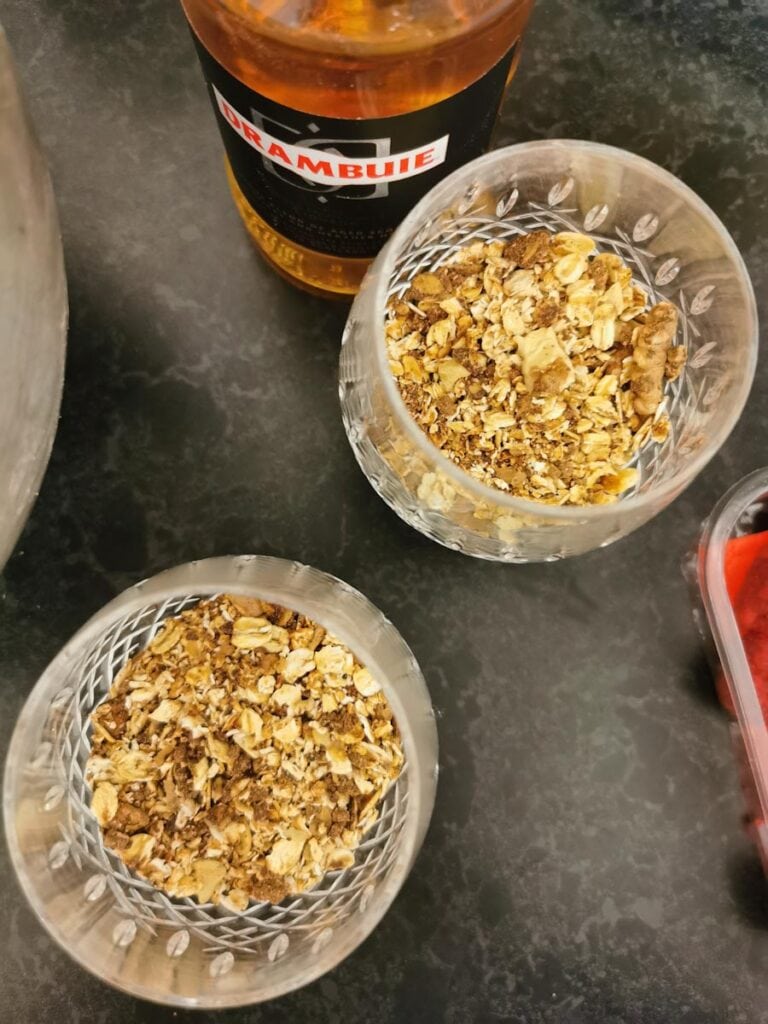 recipe tips
Using a good quality whisky will make all the difference here. I'm not much of a drinker so I don't tend to keep much alcohol in the house, but one drink I usually have in my cupboard is Drambuie. It's pretty fabulous folded into whipped cream – and I need to share my recipe for Drumbuie soaked oranges with you soon – so easy but SO good.
Cranachan was originally made to celebrate the arrival of the raspberry harvest in the Summer, but Cranachan has been served as part of Burns Night celebrations in Scotland for many years now – which of course is in January! If for whatever reason fresh raspberries aren't available, blackberries could be used instead.
can you make cranachan in advance?
Cranachan can be made a few hours in advance if you want to get ahead of the game, but it's also lovely to take all the individual ingredients to the table and let everyone make their own, just like they used to do all those years ago!
more scottish recipes to try
Looking for some savoury Scottish recipes?
Take a look at my Scottish recipes archive!
did you make this recipe?
Let me know what you thought by leaving a comment below – and don't forget to rate the recipe by clicking on the stars in the recipe card.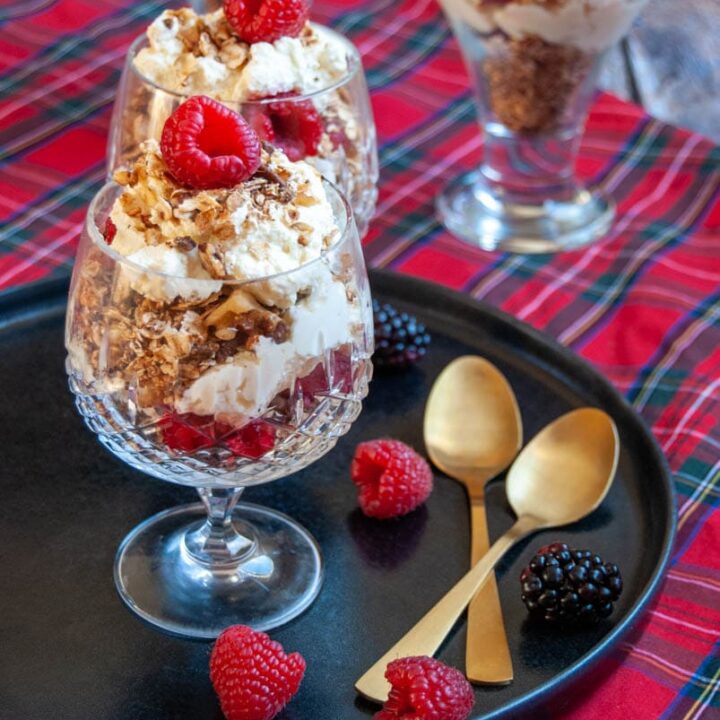 Scottish Cranachan
This Scottish Cranachan recipe is very quick and easy to make and tastes absolutely delicious. Softly whipped cream with honey, whisky, fresh raspberries and toasted oats with a nutty crunch are layered together to make a simple but spectacular dessert.
Ingredients
75g rolled jumbo oats
25g chopped walnuts (optional)
25g dark chocolate, grated (optional)
400ml double (heavy) cream
2 tablespoons Scottish heather honey
2 tablespoons Drambuie (or any good quality whisky)
200g fresh raspberries or blackberries
Instructions
Toast the oats and finely chopped walnuts, if using, in a heavy bottomed frying pan on a low-medium heat until lightly browned. This can take up to 5-10 minutes depending on your heat source. Just keep a close eye on them as they can turn from perfectly golden to burned and ruined in a matter of seconds. Transfer the nutty oats to a heatproof bowl, immediately add the grated chocolate and give the oats a good stir. The chocolate should melt pretty much straight away. Allow the oats to cool down.
Whip the double cream to soft peaks, then fold in the honey and whisky.
Get your serving glasses and begin to build the Cranachan in layers - start off with a thin layer of toasted oats, followed by a few raspberries, then some of the whisky cream. Repeat the layers until you reach the top of the serving glass. Finish off with a light sprinkling of toasted oats and a couple of raspberries. Serve immediately, or place in the fridge if you're making it ahead of time. It's best eaten within a few hours.
Nutrition Information:
Yield:

4
Serving Size:

1
Amount Per Serving:
Calories:

172
Total Fat:

7g
Saturated Fat:

2g
Trans Fat:

0g
Unsaturated Fat:

5g
Cholesterol:

1mg
Sodium:

3mg
Carbohydrates:

26g
Fiber:

5g
Sugar:

14g
Protein:

3g
Calories and nutritional information are provided by a third party application and should be viewed as indicative figures only.