If you're looking for a low effort, easy dessert for Valentine's Day then I have just the thing. This Gooey Chocolate Raspberry Brownie Cake has a crispy top and a molten middle. Delicious served with vanilla ice cream or pouring cream!

If you're looking for a decadent but easy dessert for a romantic evening in, this gooey chocolate brownie cake is perfect.
The top of the cake has a slightly crisp, cracked top and when you delve a spoon underneath you find a rich, gooey chocolate goo inside. This is not a chocolate sponge. It's like the gooiest brownie you've ever had.
When you crack through the shiny top with a spoon, you would be forgiven for thinking it's raw. It's not. Just like those gorgeous molten chocolate cakes, it's supposed to be that way. It's glorious.
It's just perfect for sharing straight out of the baking tin. Don't make extra dishes for yourself!
In the spirit of St. Valentine's Day, I thought it would be fitting to bake it in my very underused heart tin, but you can use an 18cm or a 20cm cake tin if you don't own a ridiculous amount of novelty cake tins like I do.
Bake this and share it with the one(s) you love! ❤️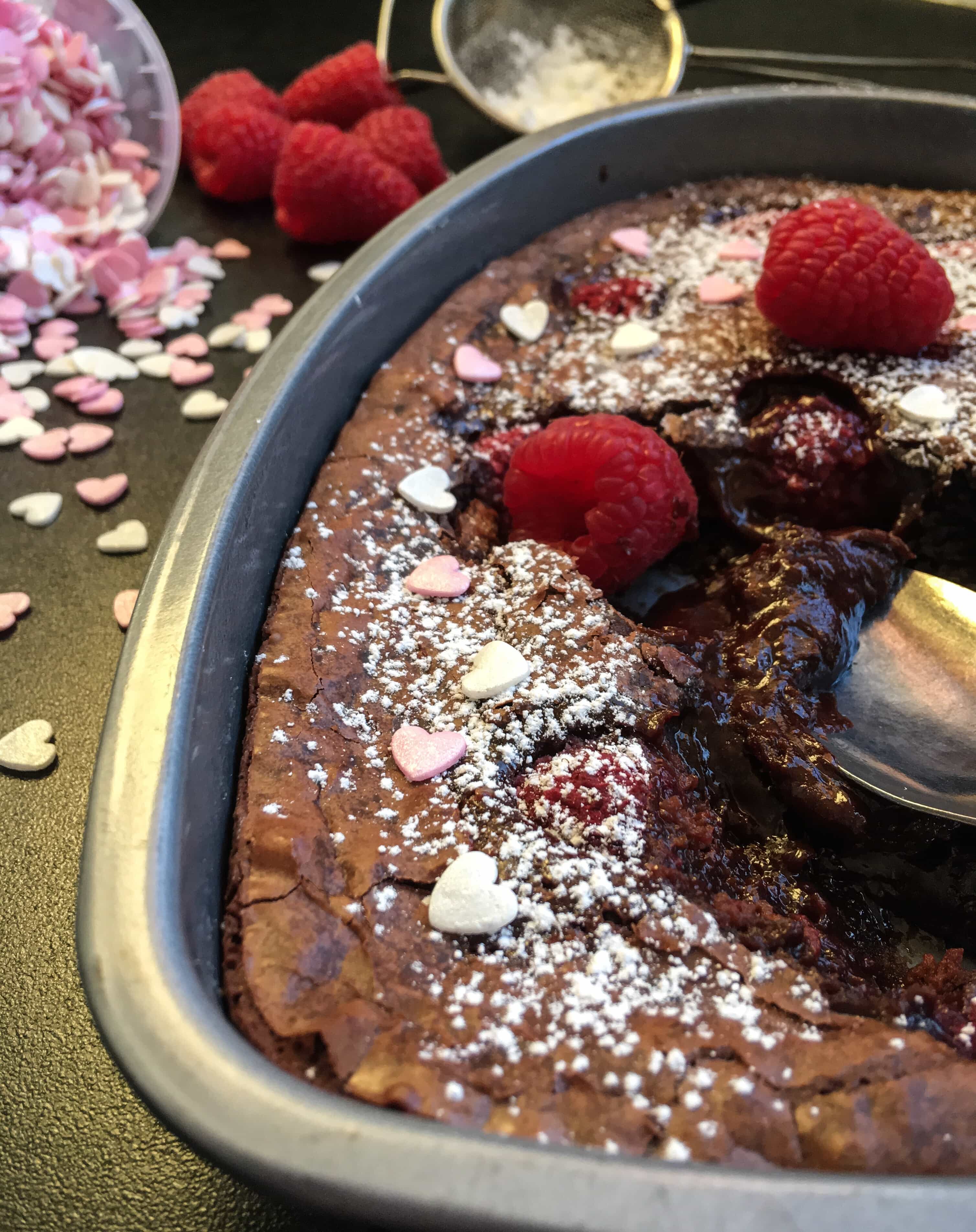 This melting chocolate brownie cake is really, really good with ice cream – and if you happen to have any leftover, I highly recommend you pop it in the fridge for the next day. It has an amazing fudgy texture when chilled. It's so good with double cream when cold – a really indulgent treat!
want to see more indulgent chocolate desserts?
No Bake White Chocolate and Raspberry Cheesecake
Chocolate Brownie Berry Trifle
Raspberry and White Chocolate Brownies
Gooey Chocolate Cakes with Nutella and Raspberries
Baileys Chocolate Brioche Pudding
Chocolate Magija Mousse with Blackberries
Chocolate Orange Panettone Pudding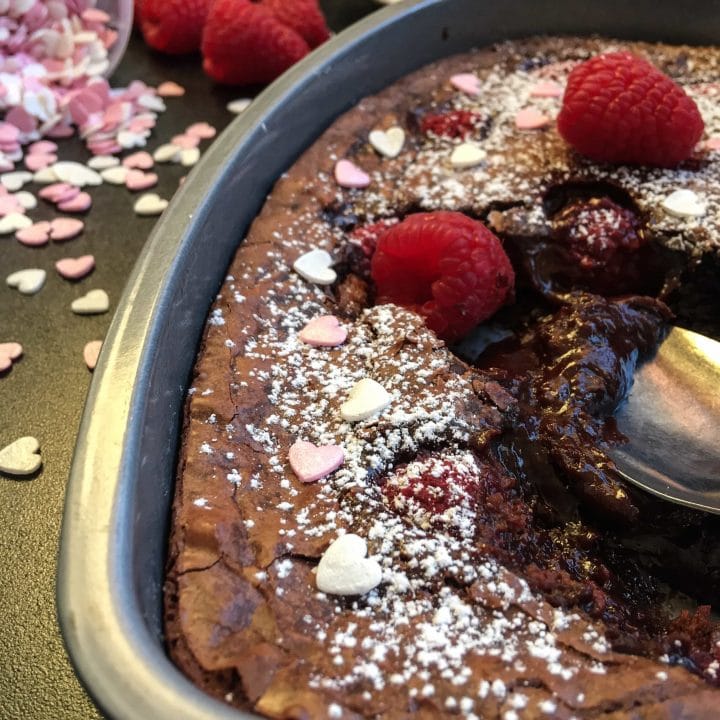 Gooey Chocolate Raspberry Brownie Cake
A rich chocolate brownie cake studded with fresh raspberries with a crispy top and a gooey, melting middle chocolate centre!
Ingredients
100 g Butter
200 g Dark Chocolate, chopped into small pieces
2 Medium Eggs
140 g Caster Sugar
1/2 tsp Vanilla Extract
85 g Plain Flour
1/2 tsp Espresso Powder
50 g Fresh Raspberries
Instructions
Preheat the oven to 180C/160F.
Grease an 18cm non stick heart shaped cake tin. If you don't have a heart cake tin, you could use a 18 or 20cm round tin instead.
In a small pan over a low heat, melt the chocolate and butter. Once melted and smooth, remove from the heat and set aside for a few minutes to cool slightly.
Beat in the eggs, one at a time, then stir in the sugar. The mixture should be smooth and shiny. Stir in the vanilla extract, flour and espresso powder.
Pour the brownie mixture into the tin and lightly press the raspberries into the batter, taking care not to crush them.
Bake for about 25-30 minutes or until the top and sides look set.
The middle should wobble slightly. If you want it a little less gooey, I would go for the 30 minutes.
Leave to cool for about 15-20 minutes before diving in!
Nutrition Information:
Yield:

4
Serving Size:

1
Amount Per Serving:
Calories:

505
Total Fat:

28g
Saturated Fat:

23g
Trans Fat:

1g
Unsaturated Fat:

13g
Cholesterol:

140mg
Sodium:

205mg
Carbohydrates:

84g
Net Carbohydrates:

0g
Fiber:

5g
Sugar:

60g
Sugar Alcohols:

0g
Protein:

8g