Pink grapefruit drizzle cake – a light and fluffy cake with a zesty pink grapefruit drizzle!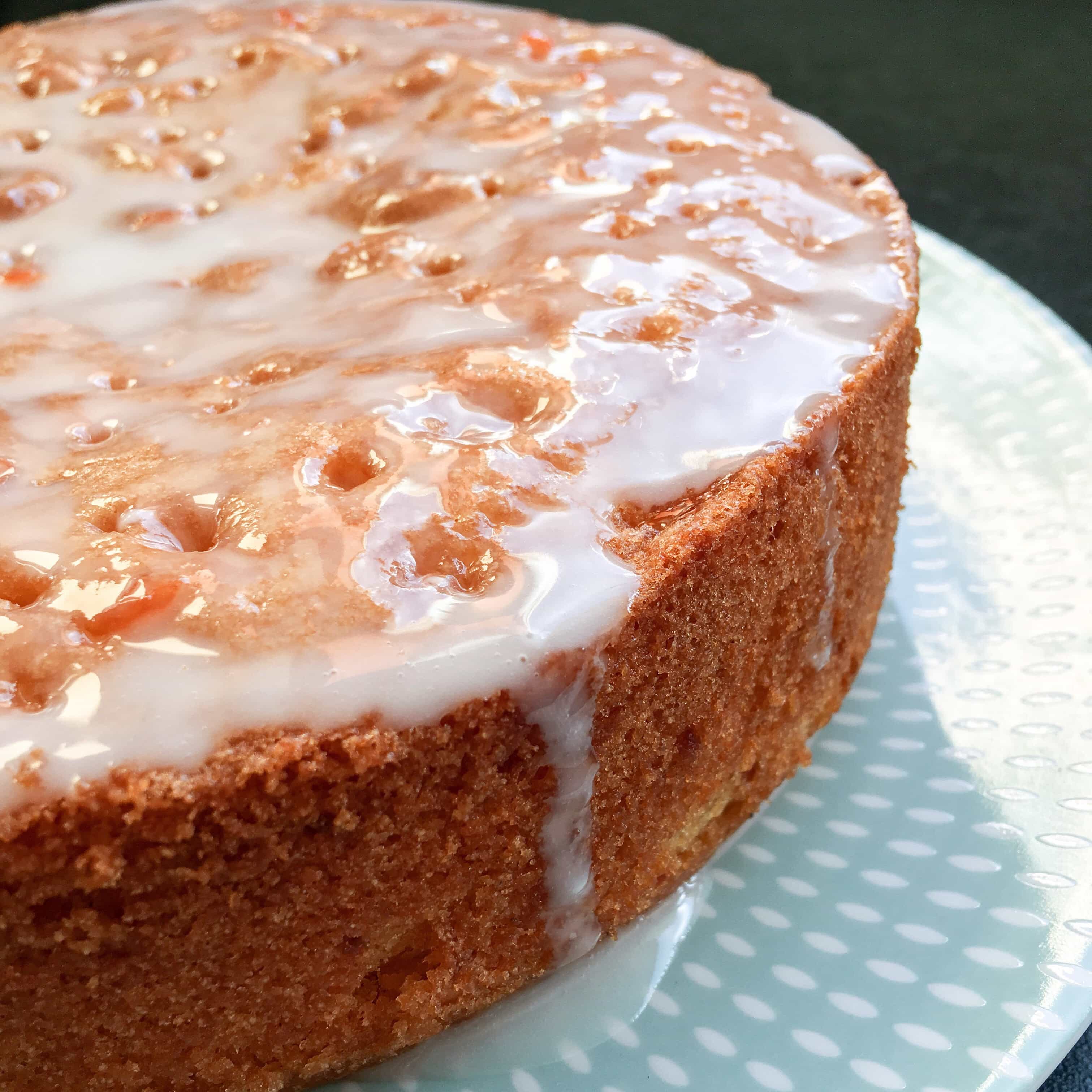 The dreaded lurgy came into our lives last week.
We have all been affected in one way or another, but for some reason it has attached itself to me and will not let go. The sniffly cold I've had since New Year seemed to turn into a God awful flu like virus which left me unable to move from my bed for 3 days.
Luckily I'm on holiday this week, so I have the option of hibernating from the outside world. I've not done that much apart from drinking lots of honey lemon and ginger tea, reading (by which I mean questionable hours scrolling through Instagram and Pinterest) and cuddling my little boy. He's had a snuffly cold for weeks now, poor baby. I'm really starting to tire of Winter now. I never thought I'd say that. I usually embrace the Winter months – I've never really been a Summer person – but this one seems to have gone on forever.
Maybe my subconscious need for a little sunshine was the reason behind my decision to bake with citrus. I usually reach for lemons or oranges, but when I was out shopping a couple of weeks ago I spotted some pretty pink grapefruits. 50p for 4. At that bargain price, I couldn't resist them.
I was dreaming of either a pink grapefruit curd filled, fluffy meringue topped tart or a zesty, syrup drenched drizzle cake. The drizzle won this time only because it was the easier option. But that tart is so on my bake list…
Back to the drizzle though. This cake is delicious. Light, fluffy and sticky with syrup. A little semolina lightens up the texture a little and brings a slight yellow sunshine colour. It's a nice addition but by no means essential, so if you don't have any semolina in your cupboard you could just add another 50g of flour.
It's crucial that the syrup is cool when your pour it over the cake. If it's hot, it will pour right through your cake and make it soggy. Not a huge disaster, but you won't get that gorgeous sticky, sugary top that is so desirable.
I shared this cake with #CookBlogShare, the weekly link party for bloggers hosted this week by everyday healthy recipes
Bake of the week, hosted by Helen of Casa Costello and Jenny of Mummy mishaps
want to see more simple cake recipes? Check these out…
Lemon, Elderflower and Strawberry Cake
Pin this recipe for later….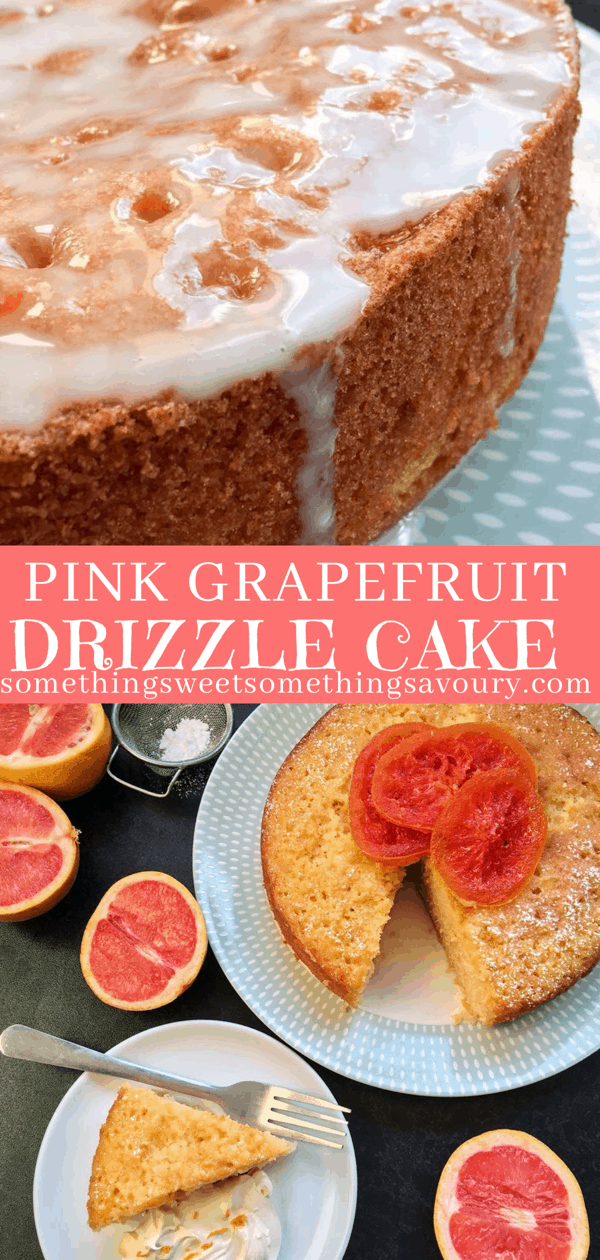 Pink Grapefruit drizzle cake
Zesty pink grapefruit replaces lemons in a variation of a classic drizzle cake. The perfect balance of sweet and sharp.

Ingredients
200

g

caster sugar

Finely grated zest of 2 pink grapefruits

200

g

soft butter

4

medium eggs

beaten

150

g

self raising flour

1

tsp

baking powder

50

g

fine semolina
For the syrup:
80

g

granulated sugar

Juice of one pink grapefruit
Instructions
Place the sugar and grapefruit zest in a large bowl. Using your fingers, rub the zest into the sugar until the sugar is damp and fragrant from the zest oils. Add the butter and cream the mixture until very light and fluffy.
Add the eggs, beating well after each addition. Sieve the flour, baking powder and fine semolina together and fold into the mixture. Pour into your tin and bake for 40-45 minutes or until the cake is golden and springs back when the top is lightly pressed.* A skewer inserted into the middle of the cake should come out clean. Leave to cool in the tin for 10 minutes before turning out onto a wire rack with a plate underneath to catch any drips.
While the cake is in the oven you need to make the syrup. The syrup should be cold when you pour it over the warm cake. Place the granulated sugar and grapefruit juice in a small pan and heat gently. Let it bubble gently for a few minutes until it reduces slightly and looks syrupy. Remove from the heat and set aside for now.
When the cake has been out of the oven for about 10 minutes, it's time to pour the syrup over. Using a skewer or piece of spaghetti, poke holes all over the surface of the cake. Then evenly pour the syrup over the top, letting the cake absorb all that sticky sweetness.
For the glaze, I simply mixed icing sugar and pink grapefruit juice together until I had a runny icing that coats the back of a spoon. Pour over the top of the cake and using a spoon, gently coax it over the sides.
Notes
You could of course omit the glaze and serve the cake as it is. I got a little fancy here and decorated it with a dusting of icing sugar and candied grapefruit slices. Absolutely non-essential, but pretty to look at.