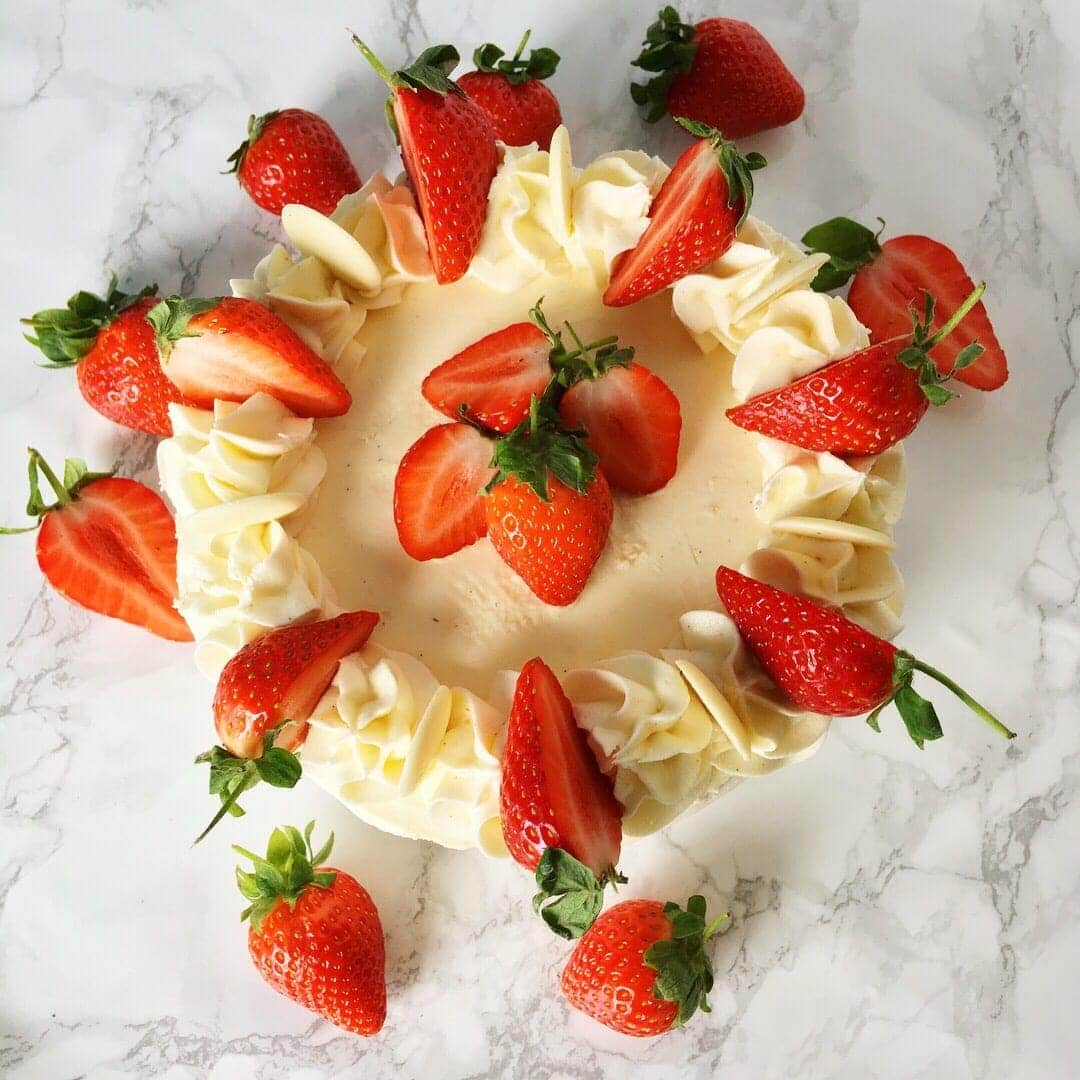 2 layers of vanilla and lemon sponge, filled with sliced strawberries and a vanilla, lemon and elderflower buttercream. Topped with buttercream swirls and decorated with fresh strawberries and white chocolate buttons, this is a perfect, easy to make cake for a Summer celebration!
I absolutely love this time of year, but it isn't the sunshine I look forward to (I do live in Scotland, let's be real although today just so happens to be an total scorcher) – it's strawberry season I get really excited about. I tend to eat so many strawberries that by the time August comes, I'm actually sick of the sight of them. But they do say that absence makes the heart grow fonder, and sure enough by the time Spring has sprung I find myself craving my favourite seasonal fruit once more.
I came up with this cake on a pure whim. It was the morning of The Royal Wedding and all this talk of lemon and elderflower cake made me want to make my own version. If you wanted you could use raspberries instead of strawberries, but the strawberry/elderflower/lemon combination is just delicious. I'm actually dreaming of a Swiss roll combining those flavours…but that's for another post!
This is the cake you want to sit and enjoy in the garden on a beautiful sunny day!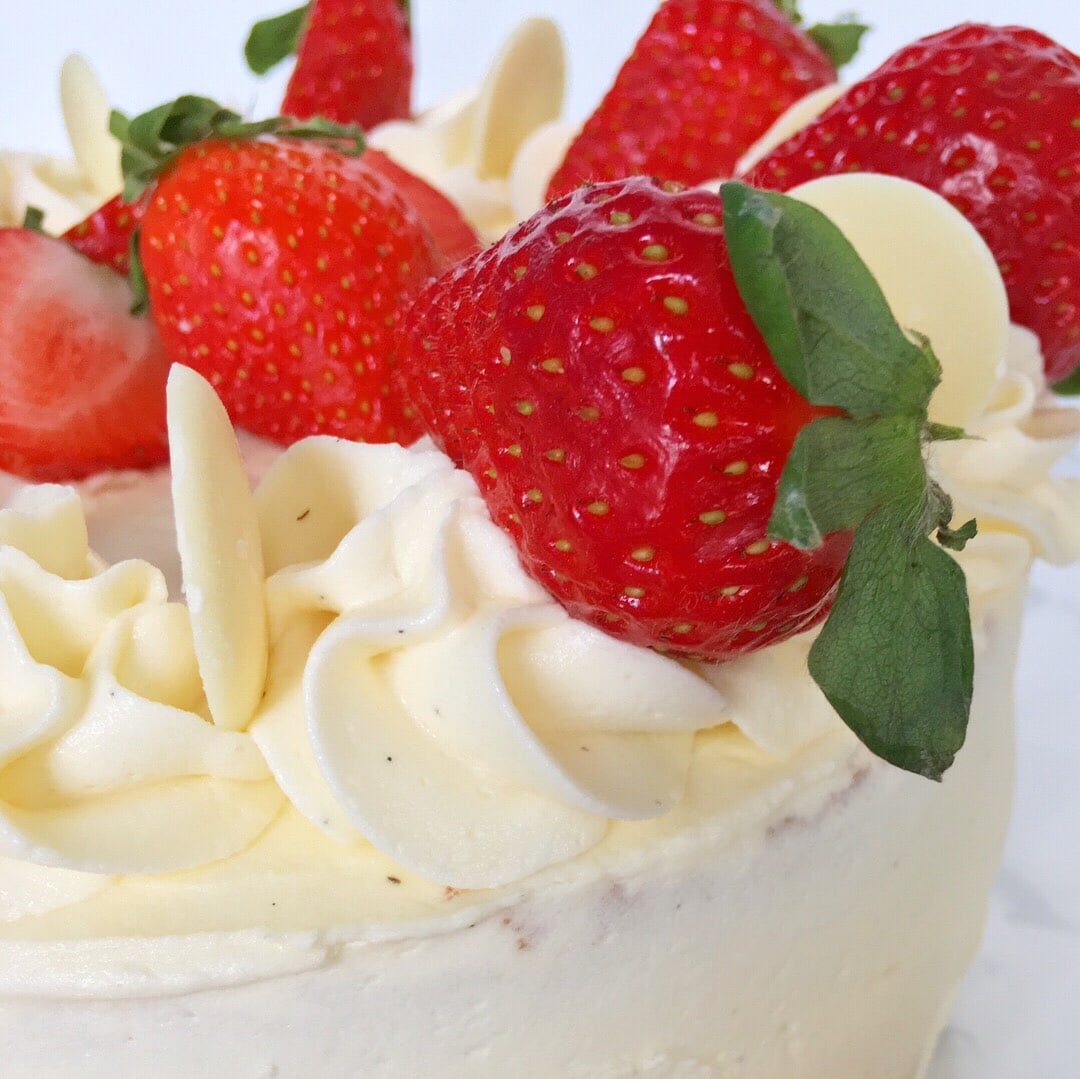 Pin me for later!….


I linked this post up to recipe of the week over at A Mummy Too and Bake of the week, hosted by Jenny at Mummy Mishaps
#CookBlogShare, hosted by Kirsty at Hijacked by Twins
Baking Crumbs, hosted by Angela of Only crumbs remain
Lemon, Strawberry And Elderflower Cake
A gorgeous Summery cake combining the classic flavours of lemon and elderflower with fresh strawberries.
Ingredients
170

g

Soft Butter

170

g

Caster Sugar

Finely grated zest of one Lemon

3

Large

Eggs, beaten

1

tsp

Vanilla Bean Paste or Extract

170

g

Self Raising Flour

250

g

Fresh Strawberries
Lemon and Elderflower Buttercream
500

g

Icing Sugar (Confectioner's Sugar)

250

g

Soft Unsalted Butter

3

tbsp

Elderflower Cordial

I used Belvoir Farm

1/2

tsp

Vanilla Bean Paste or Extract

1

tsp

Finely Grated Lemon Zest

2

tbsp

Fresh Lemon Juice

lemon juice can have a tendency to curdle buttercream, but I've found that if you add it slowly and beat really well it reduces the risk of it happening)
White Chocolate Buttons For Decoration (optional)
Instructions
You will need an 18cm round cake tin, greased and base lined with baking parchment.
Preheat the oven to 180C/160Fan/350F.
Place the butter, sugar and lemon zest in a large bowl. Cream the mixture until very light and fluffy. Gradually add the beaten eggs a little at a time, beating well after each addition. Add the vanilla bean paste.
Sift the flour over the mixture and fold in gently with a large metal spoon, taking care not to knock the air out. Pour into the tin and bake for 40-45 minutes or until risen, golden and a skewer inserted into the middle of the cake comes out clean. Leave in the tin for 5-10 minutes before turning out on a wire rack to cool completely.
Using a stand mixer or hand held mixer, beat the butter and icing sugar together for at least 7 minutes until very light and fluffy (this is where my Kitchenaid proves it was worth every penny!) Add the elderflower cordial and lemon juice, scrape down the bowl and beat for another 3 minutes or so. I'm afraid using a stand mixer for so long has made me pretty lazy. I don't sieve icing sugar – I don't find it necessary when I use the KA. High speed for 10 minutes gives you the silkiest, smoothest buttercream ever.
When the cakes are completely cold, split in half (I use one of those wire cake levellers – so much easier and much less chance of ending up with a wonky cake)
Place a good dollop of buttercream on one half of the sponge and smooth out with a spatula. Place some sliced strawberries on top of the buttercream, then place the other cake half on top. Spread the cake with an even layer of buttercream then using the remaining buttercream, pipe swirls on the top and decorate with strawberries and white chocolate buttons.