Chocolate cherry drip cake – Fudgy chocolate cake layers with cherry conserve, vanilla cherry buttercream and a delicious chocolate ganache drip! A showstopper of a cake!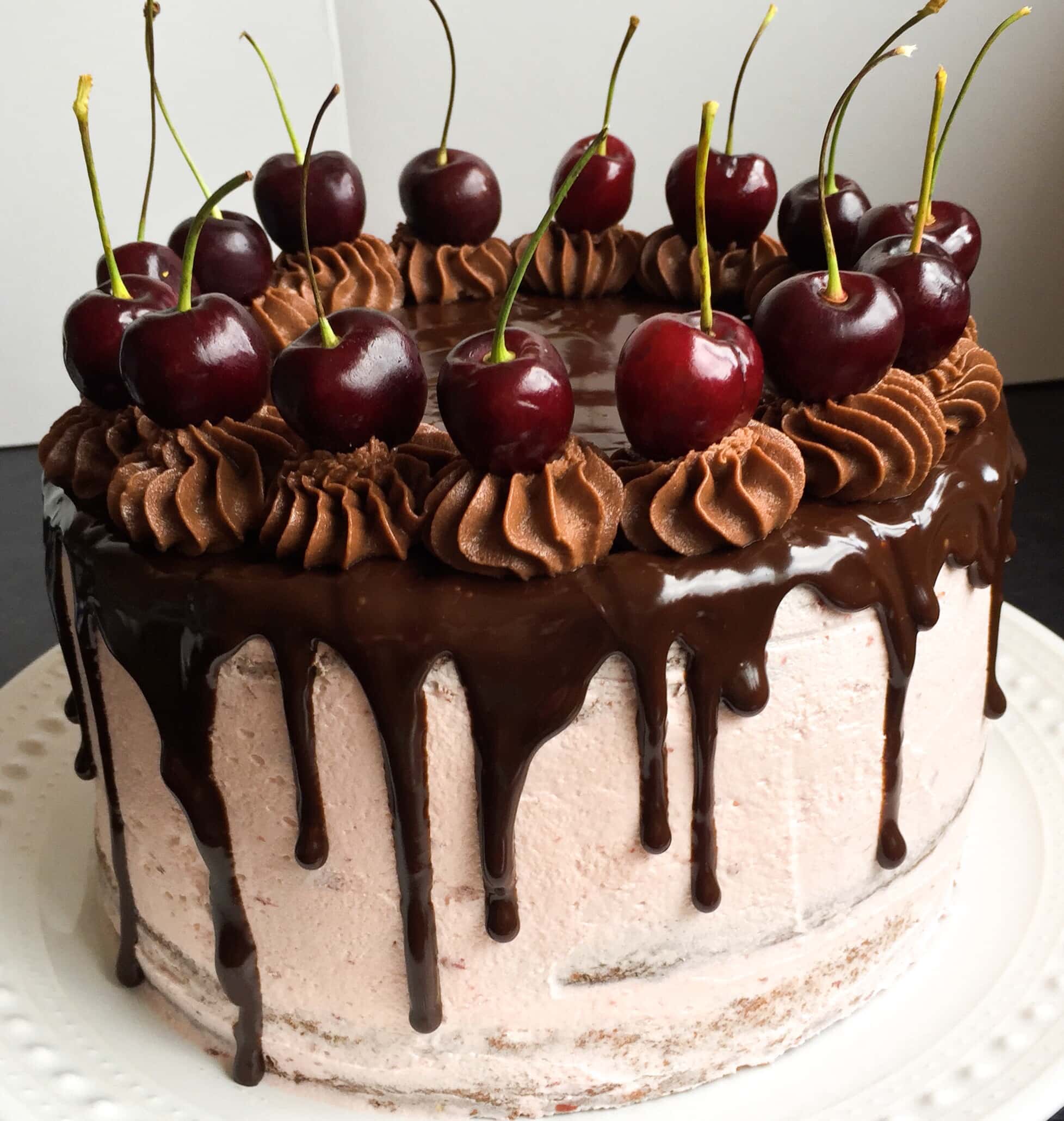 Do you love chocolate and cherries together? If you do, then you are going to go crazy for this chocolate cherry cake!
If like myself, you are a fan of the chocolate cherry combo, this cake ticks all the right boxes!
You have:
4 layers of soft, fudgy chocolate cake
Cherry conserve
Cherry vanilla buttercream
Chocolate ganache
Fresh juicy cherries
I'm salivating just typing this. It's honestly SO GOOD!
I mean…just look.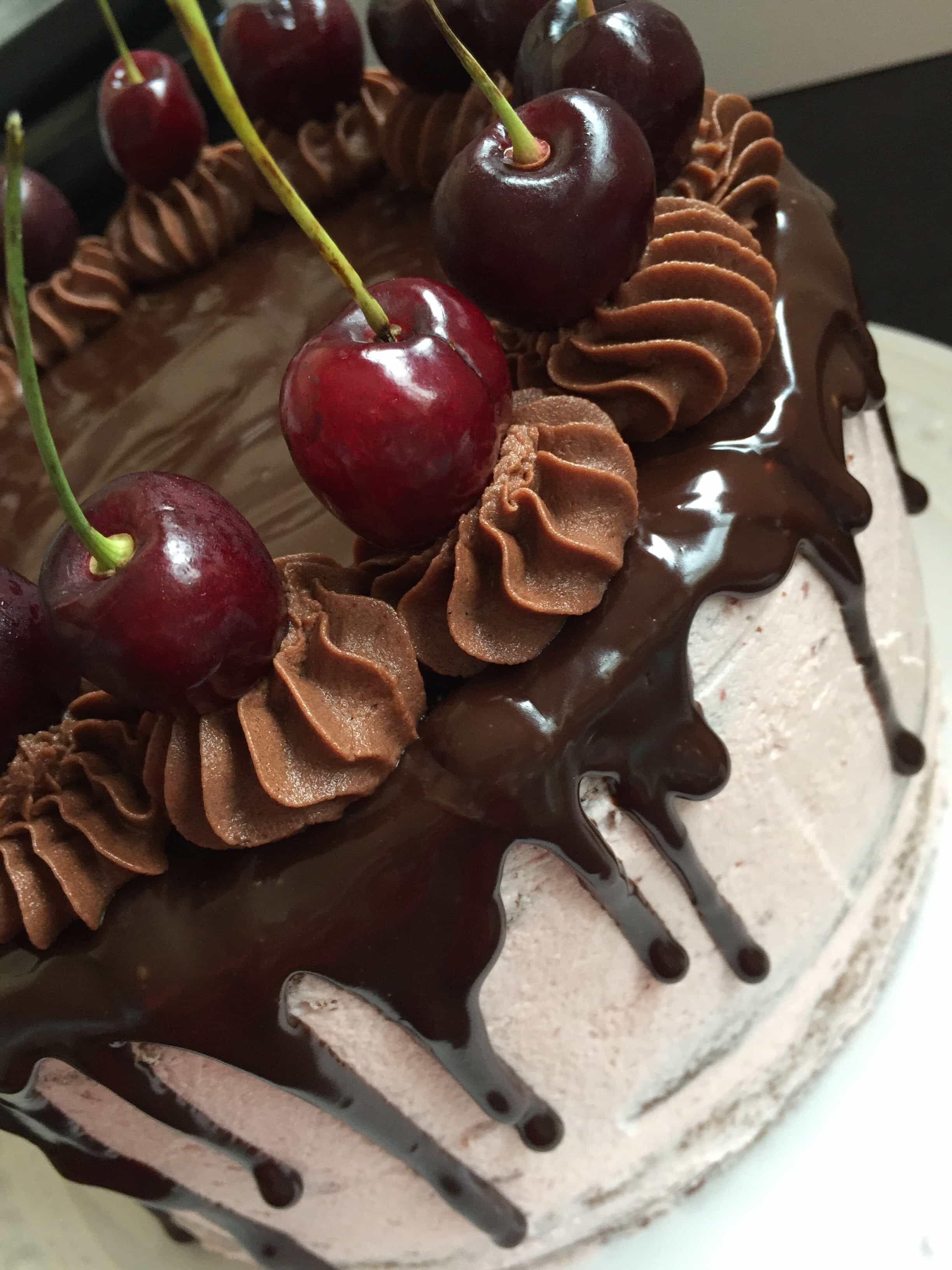 Was I a little crazy for switching on my oven and baking a cake during the biggest heatwave the UK has seen in years?
Probably.
Was it worth it?
Definitely!!
Want to see more cakes? Check these out…
Lemon, elderflower and strawberry cake
Double apple caramel bundt cake
Gooey chocolate raspberry brownie cake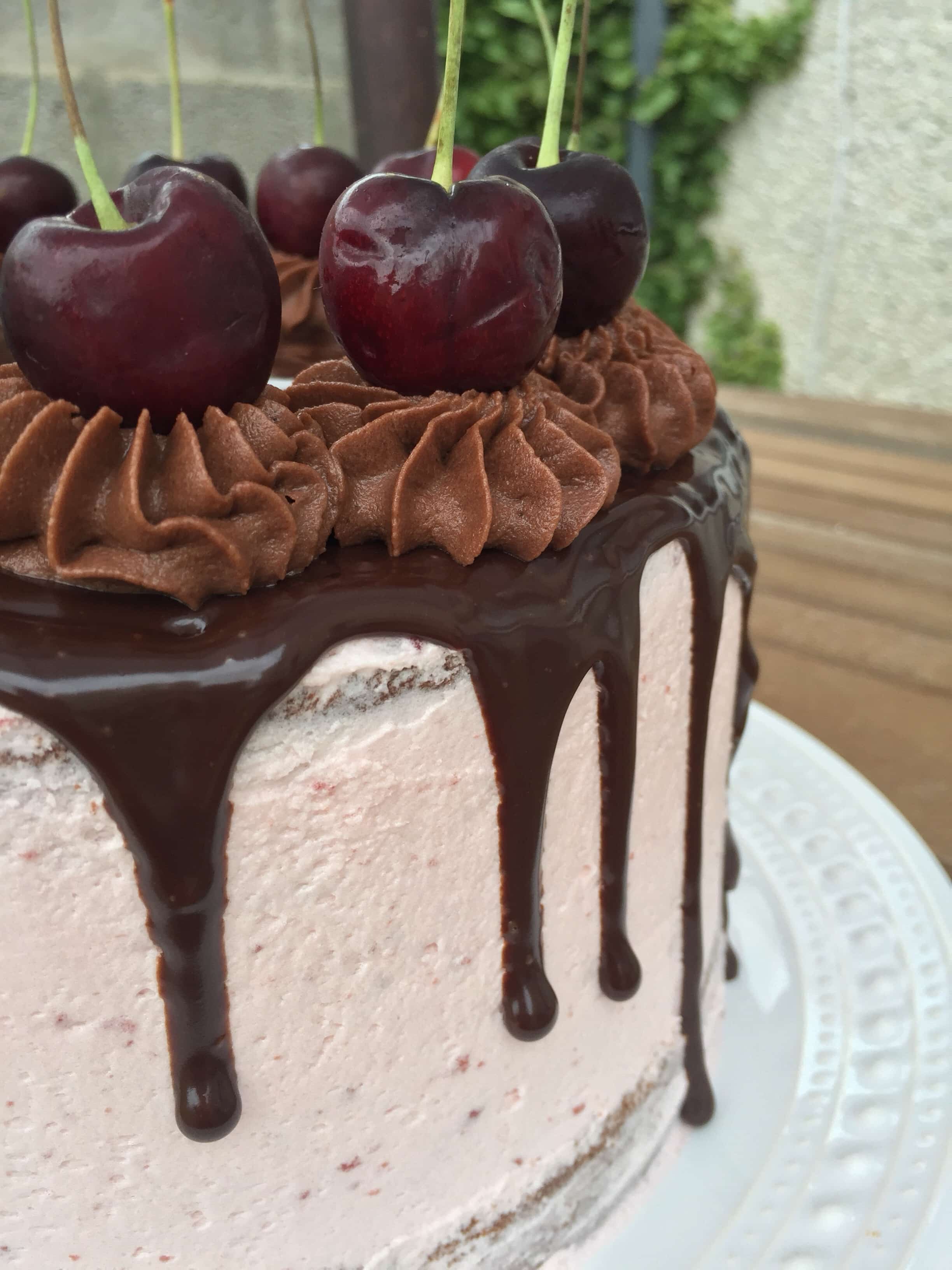 Pin this recipe for later…

I'm sharing this cake with the following blog link ups:
Recipe of the week at A Mummy Too
#CookBlogShare hosted by Easy Peasy Foodie
Chocolate Cherry Drip Cake
Chocolate cherry drip cake - Fudgy chocolate cake layers with cherry conserve, vanilla cherry buttercream and a delicious chocolate ganache drip! A showstopper of a cake! **To make this cake I use 2x20cm sandwich tins. Please note I divide the mixture in half and bake two cakes at a time. If you have 4 tins and a huge oven, you could bake them all at once to save time!**
Ingredients
400

g

Plain Flour

400

g

Caster Sugar

2

tsp

Baking Powder

1

tsp

Bicarbonate of soda

80

g

Cocoa Powder

350

g

Soft Butter

4

Large

Eggs, at room temperature

2

Tsp

Vanilla Extract

300

ml

Sour Cream, at room temperature
For the Filling:
1

Jar

Cherry Preserves

I used St Dalfour black cherry fruit spread
FOR THE VANILLA CHERRY BUTTERCREAM
500

G

Icing (Powdered) Sugar, Sifted

250

G

Soft Unsalted Butter

1

Teaspoon

Vanilla Extract

2-3

Tablespoons

Cherry Preserves

1

Tablespoon

Milk
FOR THE CHOCOLATE BUTTERCREAM TOPPING:
1/2

quantity

Chocolate Buttercream

See my notes for the recipe I use
For the Chocolate Ganache:
100

g

Dark Chocolate

100

ml

Double Cream

2

tbsp

liquid glucose

Optional, but makes the ganache really shiny
Instructions
Preheat the oven to 180C/160fan/350F. Butter and line your cake tins with a circle of baking parchment.

In a large bowl, mix together the flour, sugar, baking powder and bicarbonate of soda. Beat in the soft butter until the mixture is well combined.

Whisk together the cocoa, sour cream, vanilla extract and eggs. Beat this into the butter and flour mixture, stopping when you have a well combined, smooth batter.

Pour the batter into your tins and bake for 20-25 minutes or until a cake tester comes out clean. Remove the cakes from the oven and let them cool in the tins for 10 minutes before turning them out onto a wire rack to cool completely.

For the buttercream, beat the sieved icing sugar and butter together using an electric mixer until well combined. Add the cherry preserves, milk and vanilla and beat on high speed until very soft and fluffy.

When the cakes are completely cold, pipe a "dam" of buttercream around the edge of each sponge. By piping a "dam" all I mean is pipe a ring of buttercream all around the outside edge of the cake using a piping bag fitted with a round nozzle. This prevents the filling from oozing out of the cake. You can find tutorials on YouTube if you aren't sure but it's very simple. So once you've piped the "dam" of buttercream, spoon about half of the jar of cherry conserve in the middle. Repeat with the other two layers of sponge before topping with the final sponge, making sure they are as level as possible, then using a spatula, apply a layer of buttercream all over the top and sides of the cake. I achieve a smooth finish by using a bench scraper/plastic scraper. They really are a cake decorator's secret weapon!

Once you've crumb coated the cake and are happy with the finish, pop the cake in the fridge for 10 minutes to set before applying another layer of buttercream if you wish. Put the cake back in the fridge while you make the ganache.
Chocolate Ganache Drip:
This is very simple. All you need to do is microwave 100g of dark chocolate and 100ml double cream in very short bursts, (no more than 5 seconds at a time) stirring well each time. When the chocolate has almost melted, keep stirring until very smooth. Add the 2 tablespoons liquid glucose and stiruntil smooth and shiny.

Remove the cake from the fridge. Pour the chocolate ganache into a small plastic bag or piping bag. Using a pair of scissors, snip off the tip of the bag (being careful as the chocolate will run everywhere if you don't control it!) Keeping a good control on the piping bag, pipe the chocolate all around the sides of the cake, allowing the chocolate to drip down the sides of the cake naturally. If you want more drips, simply pipe more chocolate over the side. Then pipe the remaining chocolate over the top of the cake, smoothing it out gently using an off set spatula.

Then all that's left to do is adorn the cake with fresh cherries and you have a cake worthy of any celebration!
Notes
I had a small amount of chocolate buttercream in the freezer from the wedding cake I made a few weeks ago, so I used it to decorate the top of the cake once the chocolate drip was set. I used my new Wilton 6B open star piping tip which I'm in love with! I used this chocolate buttercream recipe from Sally's Baking Addiction.
if you don't want to go to the trouble of making chocolate buttercream for the top of the cake, you could keep a small amount of the cherry buttercream and use that instead.  Freshly whipped cream would also be good.