Simnel Cake is a delicious, light marzipan topped fruit cake that's perfect for an Easter celebration!

Had your fill of chocolate Easter eggs already? Then this fruit cake might just be a welcome change!
So much emphasis is placed on chocolate during the Easter holiday I think it's nice to have something a little bit lighter on offer.
Much lighter in texture than the dark, rich Christmas cake, the Simnel cake has been around since at least Medieval times.
The 11 marzipan balls represent the Apostles, minus Judas.
This Simnel cake recipe differs slightly from tradition – instead of a layer of marzipan running through the middle of the cake, I've taken inspiration from Delia Smith and added little cubes of marzipan to the cake batter.
I like finding random little pieces of marzipan throughout the cake, but if you would rather do it the traditional way (a thin layer of marzipan in the middle of the cake) please feel free to do so.
I haven't used mixed peel because I'm not a fan of the stuff, but if you are feel free to add some – 25g would be perfect.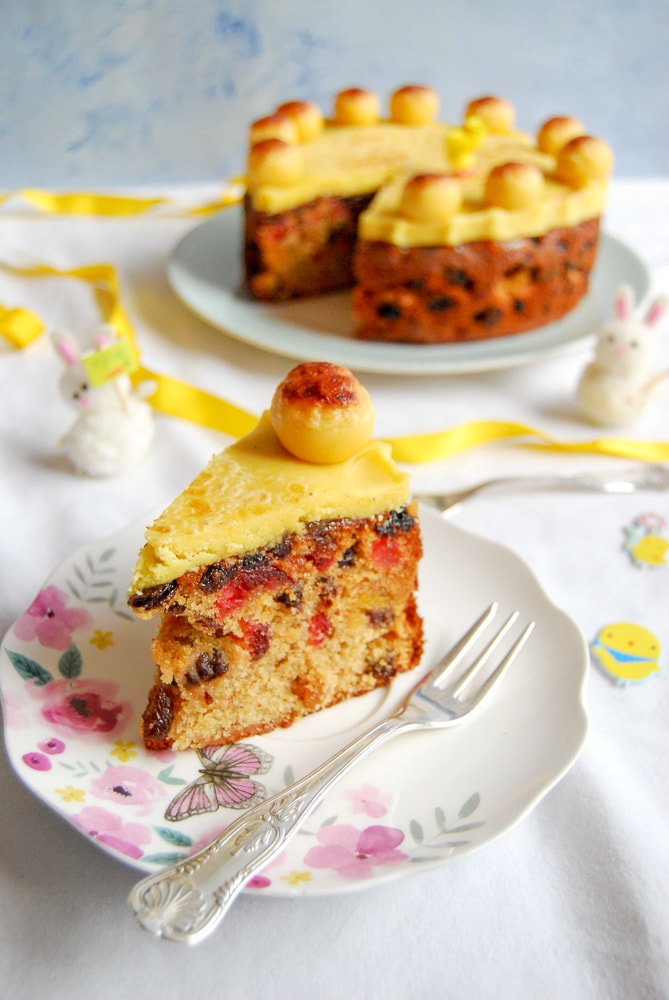 How long will Simnel Cake keep for?
This Simnel Cake won't last as long as fruit cakes laced with alcohol. It will keep for up to 5 days in an airtight container. Wrap the cake in a layer of baking parchment, then a layer of foil to keep the cake fresh.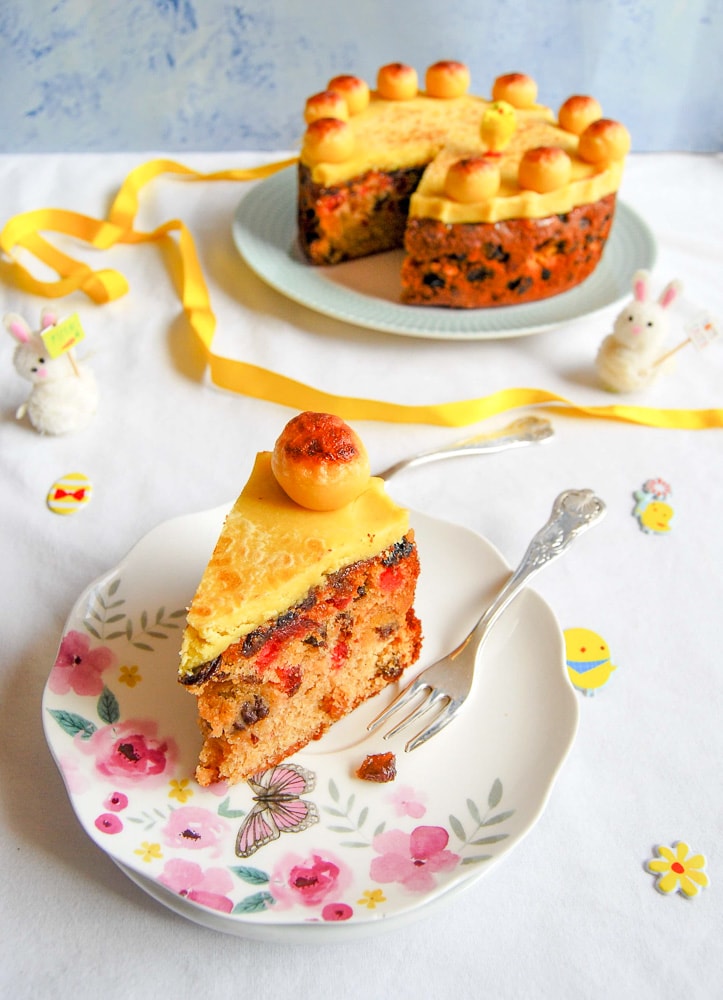 More Easter recipes…
Cadbury Creme Egg chocolate brownie cookies
Giant chocolate chunk cookie cake with Galaxy golden eggs
No bake chocolate Easter fridge cake
Leftover Easter chocolate cookies
Orange, cranberry and white chocolate hot cross buns
Chocolate orange hot cross buns
pin this recipe for later….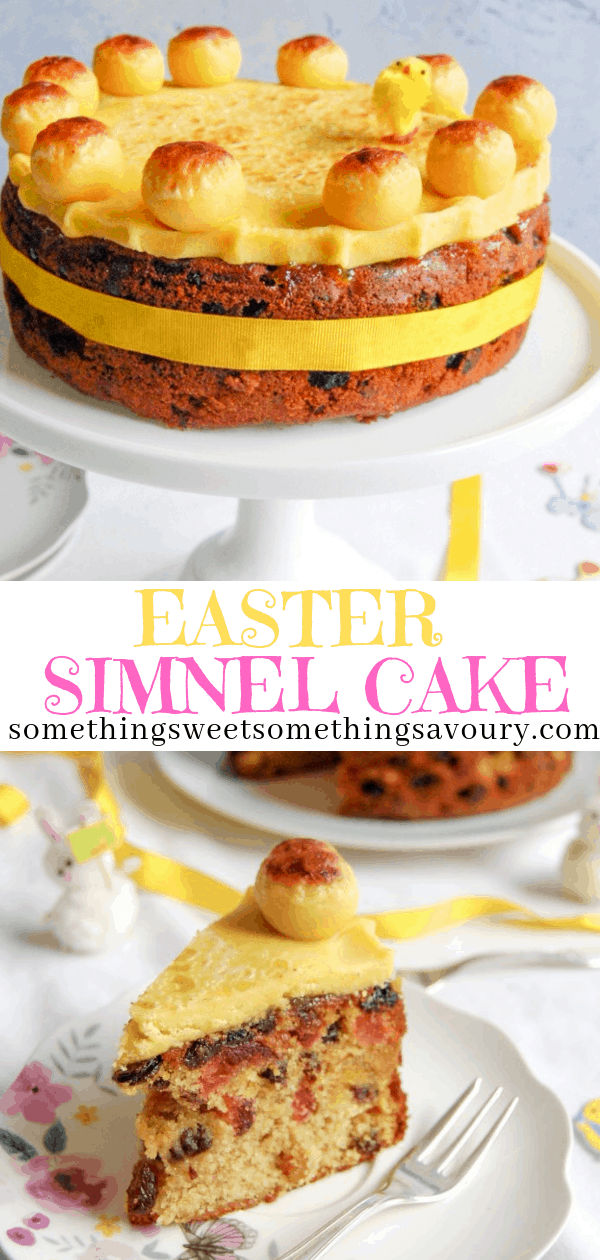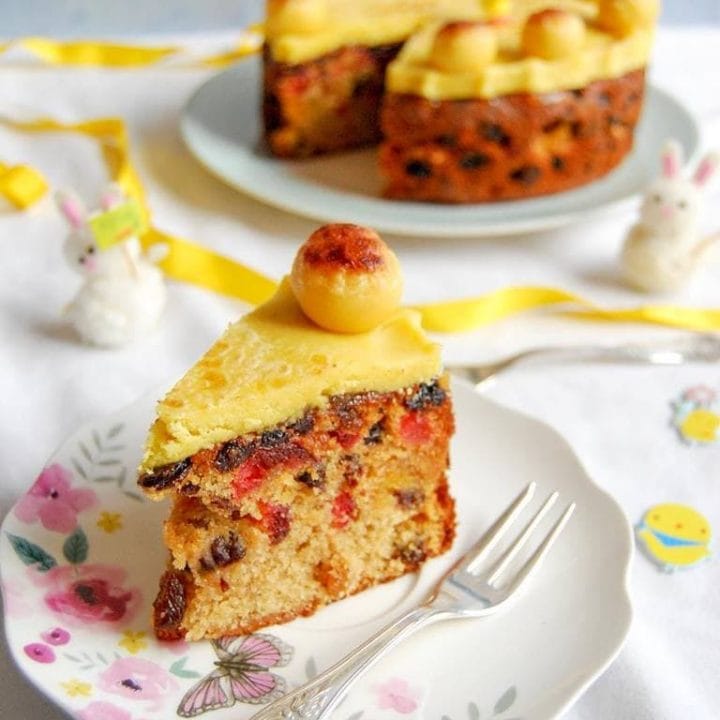 Simnel Cake
Total Time:
2 hours
20 minutes
Simnel Cake is a light fruit cake covered in marzipan, traditionally eaten at Easter. It's absolutely perfect with a cup of tea.
Ingredients
150 g Marzipan, cut into 1cm cubes
400 g mixed dried fruit
100 g Glace cherries
Zest and juice of one large lemon
Zest and juice of one large orange
225 g soft butter225g caster sugar, or light brown sugar
4 large eggs, beaten
225 g self raising flour
2 tsp mixed spice
25 g ground almonds
For the topping:
2 tbsp Apricot jam
500 g Marzipan
Instructions
Toss the marzipan cubes in 2 tablespoons of flour (taken from the measured amount) and set aside.
Place the dried fruit in a medium saucepan. Add the orange and lemon zest and juice. Bring to a simmer over a medium heat and let it cook for 2 minutes until the liquid has absorbed. Remove from the heat and leave to cool.
Combine the self raising flour, mixed spice and ground almonds in a large bowl. Set aside.
Cream the butter and sugar together until very light and fluffy. Slowly add the beaten eggs, a little at a time, beating well after each addition. If the mixture looks like it's beginning to curdle, add in one tablespoon of the flour mixture.
Fold in the dry ingredients, mixing gently until there are no pockets of flour and the batter looks smooth.


Tip in the cooled dried fruit and marzipan cubes, folding gently until well combined.
Spoon the cake mixture into the lined tin and bake for 1 1/2-2 hours or until the cake is well risen and a skewer inserted into the middle of the cake emerges clean.
Remove the cake from the oven and cool for at least 30 minutes before turning out onto a wire rack.
When the cake is completely cold, roll 400g of the marzipan out to a round the same size as the cake.
Brush the top of the cake with warmed apricot jam, top with the marzipan and crimp the edges.
Form the remaining marzipan into 11 balls to represent all the Apostles, minus Judus. Using some apricot jam, stick the marzipan balls around the edge of the cake.
Place the cake under a pre-heated grill to lightly caramelise and brown the marzipan - whatever you do, don't walk away from it! It can go from perfectly toasted to burned in seconds. Leave to cool before transferring the cake to a serving plate.
Nutrition Information
Yield

20
Serving Size

1
Amount Per Serving
Calories

312
Total Fat

6g
Saturated Fat

1g
Trans Fat

0g
Unsaturated Fat

5g
Cholesterol

37mg
Sodium

179mg
Carbohydrates

64g
Fiber

3g
Sugar

49g
Protein

5g