You only need a handful of ingredients and a few minutes of your time to make this delicious and versatile Wild Garlic Pesto.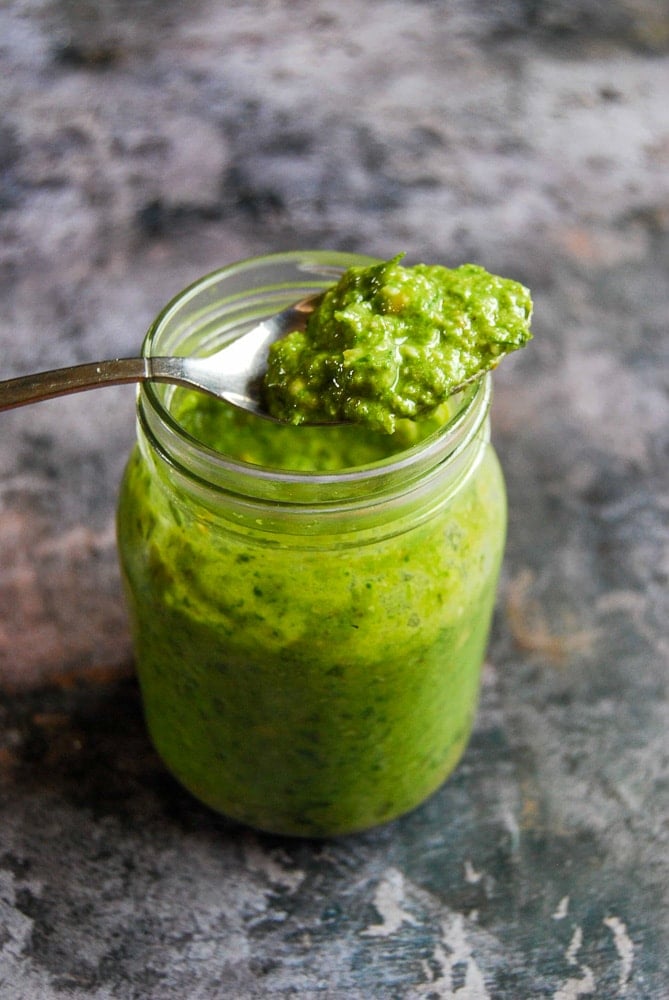 Wild garlic is in abundance right now and making a batch of wild garlic pesto is a fabulous way of making the most of the all too brief season.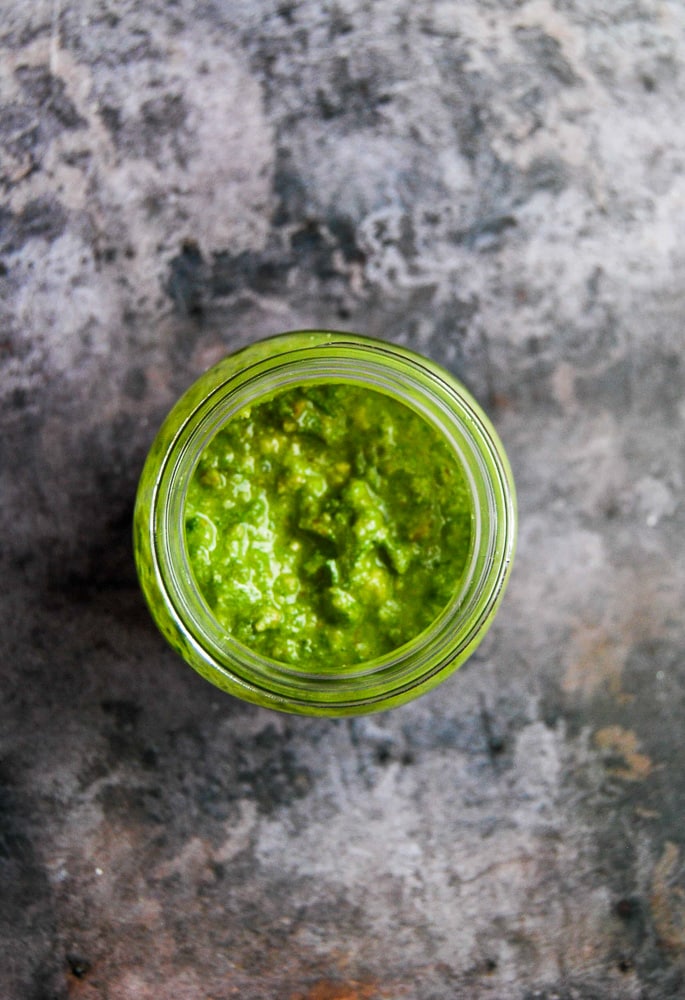 Wild garlic grows in woods and riverbanks all over the UK between March and June.
Wild garlic has long, bright green leaves, pretty little white flower buds and in my eyes, looks like giant chives.
You might also be able to buy wild garlic in Farmer's Markets across the country right now and possibly the "posher" supermarkets.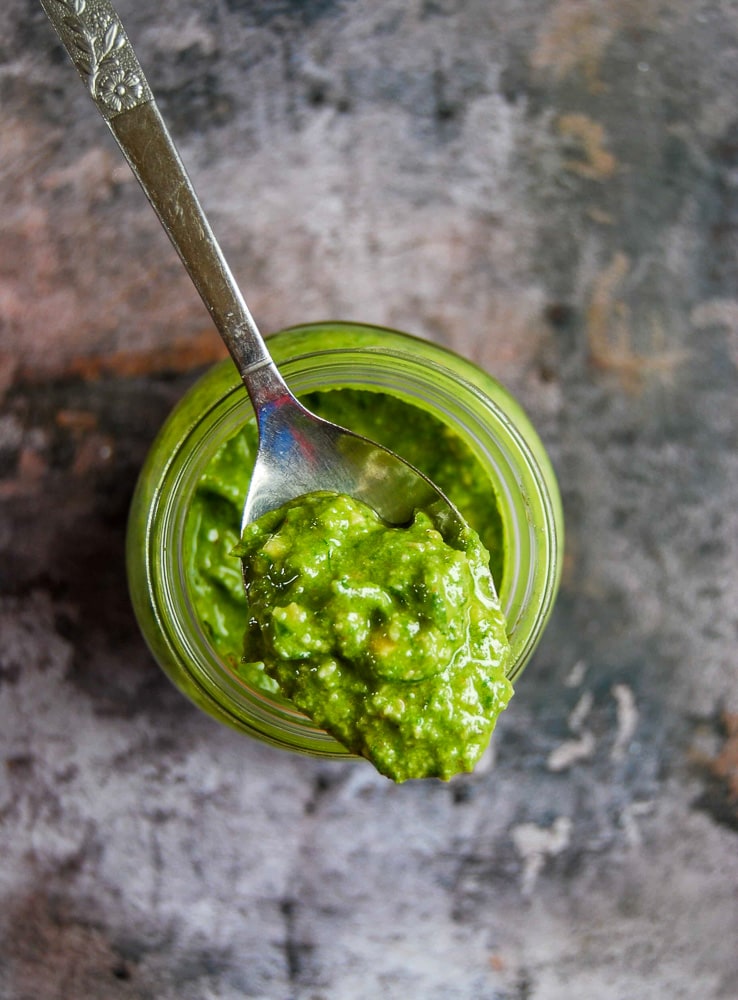 How do you know if you've found wild garlic while foraging?
One giant clue – you will probably SMELL it beore you actually see it! It has quite a pungent, strong, garlic smell but is actually quite mild in taste.
However, if you're in doubt, NEVER pick anything you're unsure of. For more information on foraging for wild garlic, please visit the National Trust website.
How to make wild garlic pesto
Making pesto couldn't be easier. It's simply a case of combining greens, grated parmesan or other hard cheese, nuts, lemon juice, olive oil and salt and pepper.
If you have a pestle and mortar it will make your life easier, but it's not essential.
You can make it in a food processor, but I'm not the biggest fan of doing it this way because it's so easy to over mix and lose that nubbly, grainy texture. If you do want to make it by machine, make sure you just use the pulse button and only for a few seconds at a time. The last thing you want is a purée!
What kind of nuts can I use to make wild garlic pesto?
I used walnuts, but you could also use hazelnuts, blanched almonds, pine nuts or cashews.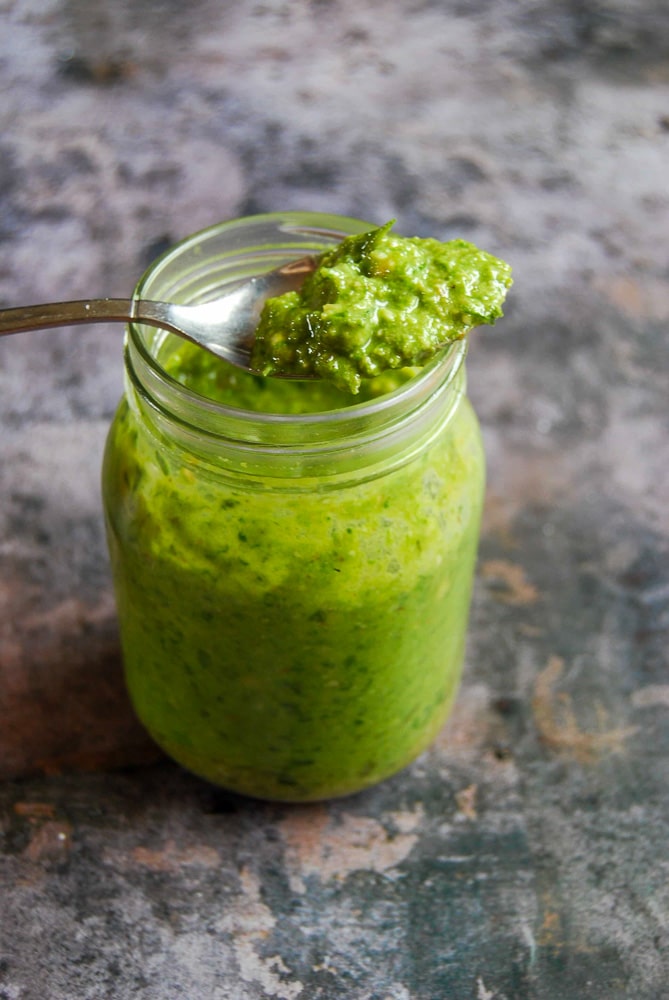 How can i use wild garlic pesto?
You can use it in so many things. The most obvious answer is of course with pasta, but you can also serve the pesto with grilled meat or fish, serve alongside lamb, spread it on a pizza base and top with asparagus, rocket and parmesan, stir through these spring greens instead of the lemon and mustard dressing or make a bruschetta – grill pieces of good bread and spread with the pesto, mix with greek yoghurt for a delicious dip, swirl a spoonful through soup. The possibilities are endless really!
My favourite way to eat it? Spooned directly into my mouth. It's THAT good.
If you're lucky enough to find some wild garlic, I highly recommend you also try this wild garlic butter – super simple but absolutely divine and has so many uses.
how long will wild garlic pesto keep for?
It will keep for up to 7 days in the fridge. I store my wild garlic pesto in a Kilner jar. Cover the top of the pesto with a layer of olive oil to prevent the top from drying out.
can you freeze wild garlic pesto?
Yes you can. I often freeze pesto in ice cube trays – one cube will give you a perfect portion for one serving of pasta. Spoon the pesto in the trays and once they are frozen, pop the cubes out of the tray and place in a freezer bag. They will keep well for up to 3 months. Defrost the frozen pesto in the fridge overnight before using and use within 24 hours.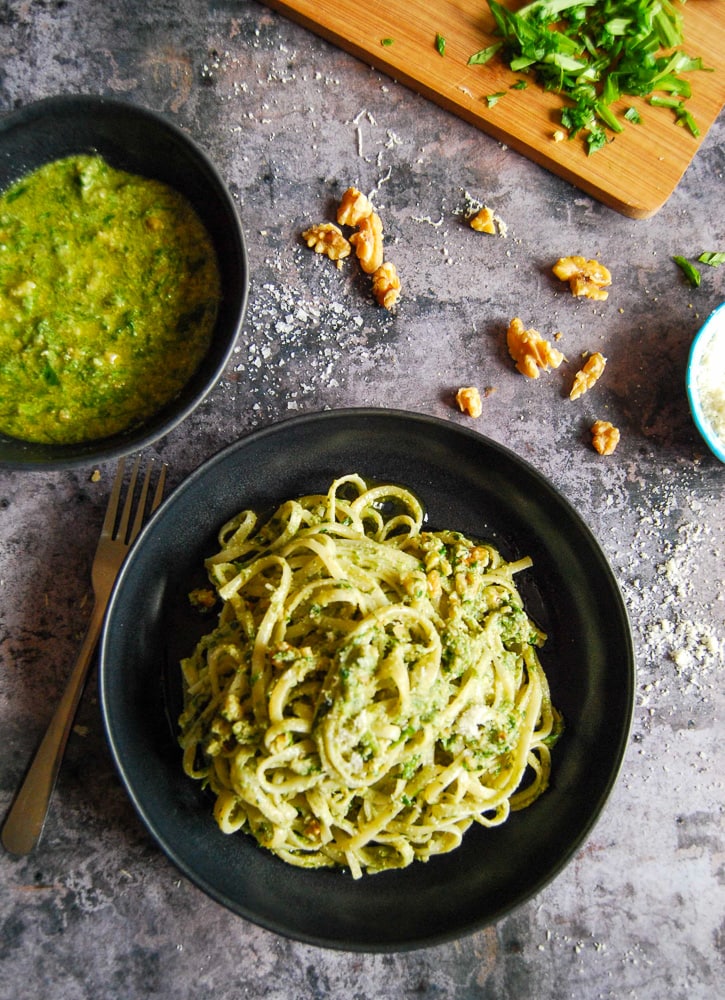 PIN THIS WILD GARLIC PESTO RECIPE FOR LATER….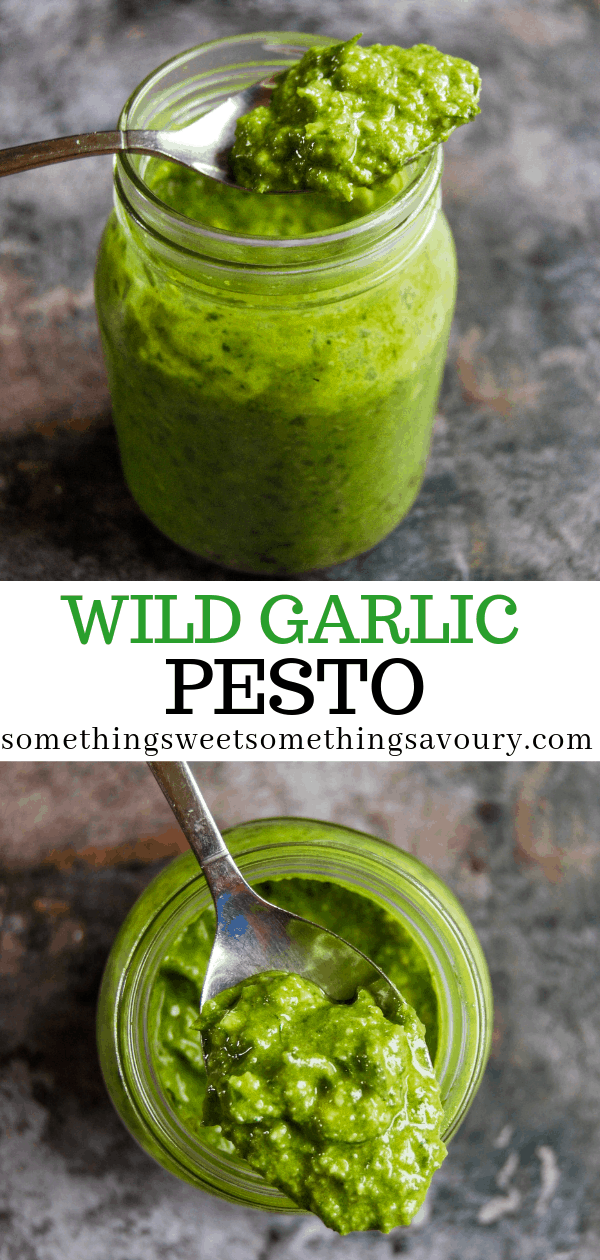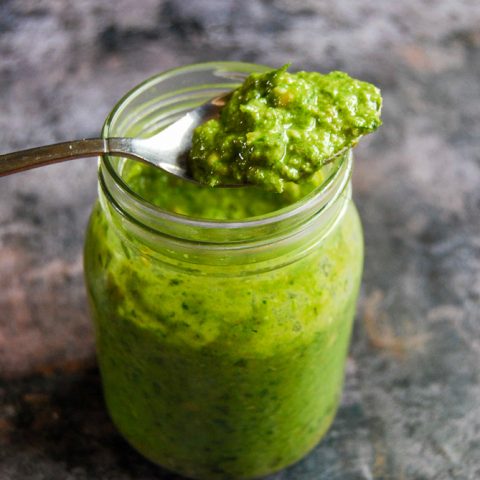 Wild Garlic Pesto
Make the most of wild garlic season by making this delicious wild garlic pesto - spoon it over grilled meat or fish, stir through pasta or use as a pizza topping.
Ingredients
100 g Wild Garlic, roughly chopped
25 g Fresh Basil Leaves
120 g Walnuts, roughly chopped
Juice of 1/2-1 Lemon
60 g hard cheese such as Parmesan, grated
About 200ml Olive Oil
Sea Salt Flakes and Freshly ground black pepper
Instructions
Pestle and Mortar Method:
Finely chop the wild garlic and basil leaves. Place the herbs in the Pestle and Mortar, add the nuts and lemon juice and grind to a nubbly mixture. A coarser texture is best, so don't go overboard. Stir in the Parmesan and oil. Taste to see if you want to add more lemon and salt and pepper.
Food Processor Method:
This is the simplest and quickest way of making pesto. However, it's very easy to overprocess everything and end up with a smooth green "paste" instead of the coarse, nubbly texture you want so go easy!
Place all of the ingredients expect the oil, salt and pepper in the bowl of the food processor and pulse for just a few seconds. Slowly add the olive oil through the funnel while pulsing for another couple of seconds. Taste to see if you want to add more lemon and salt and pepper.
Nutrition Information:
Yield:

12
Serving Size:

1
Amount Per Serving:
Calories:

248
Total Fat:

24g
Saturated Fat:

4g
Trans Fat:

0g
Unsaturated Fat:

19g
Cholesterol:

5mg
Sodium:

103mg
Carbohydrates:

8g
Net Carbohydrates:

0g
Fiber:

1g
Sugar:

3g
Sugar Alcohols:

0g
Protein:

4g