Making a batch of Wild Garlic Butter is one of the best ways of making the most of the short wild Garlic season.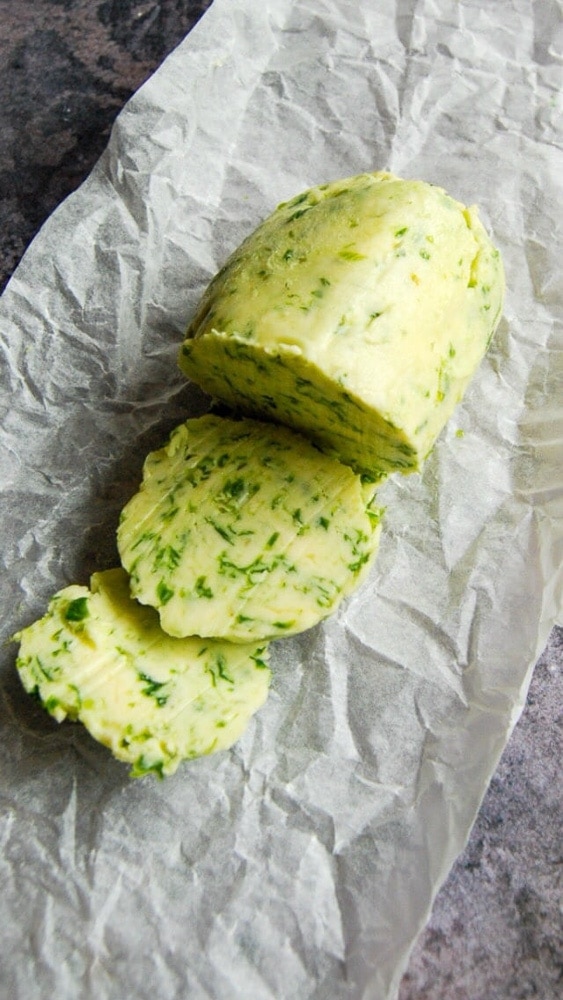 This might just be one of the easiest "recipes" I've ever written, but I'm on such a wild garlic kick right now I had to share it.
In the past week I've melted this garlicky butter over warm Jersey Royals and asparagus spears, stirred through wilted spinach, spread it thickly on top of cheese scones, and stirred through hot pasta. It's becoming quite addictive.
If you're lucky enough to find yourself with some freshly picked wild garlic, please do yourself a favour and make this butter and my wild garlic pesto – they may be simple recipes but I can't think of a better way to capture and enjoy the beautiful flavour of wild garlic.

How to make wild garlic butter
It's embarrassingly simple. Finely chop the wild garlic, beat into soft butter and add salt, pepper and a little lemon zest if you like. Minimum effort, maximum flavour.
We also love this butter melted over grilled steak, pork chops, fish or potatoes.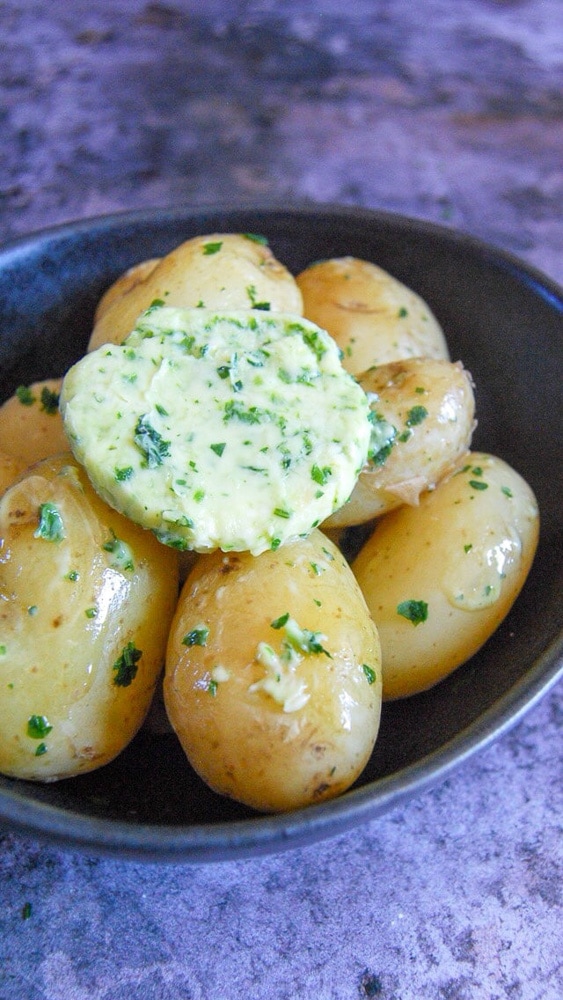 You could also make garlic mushrooms – or stuff mini portabello mushrooms with the butter, sprinkle over Parmesan cheese and heat in the oven for 10 minutes or until the mushrooms have cooked and the butter has melted.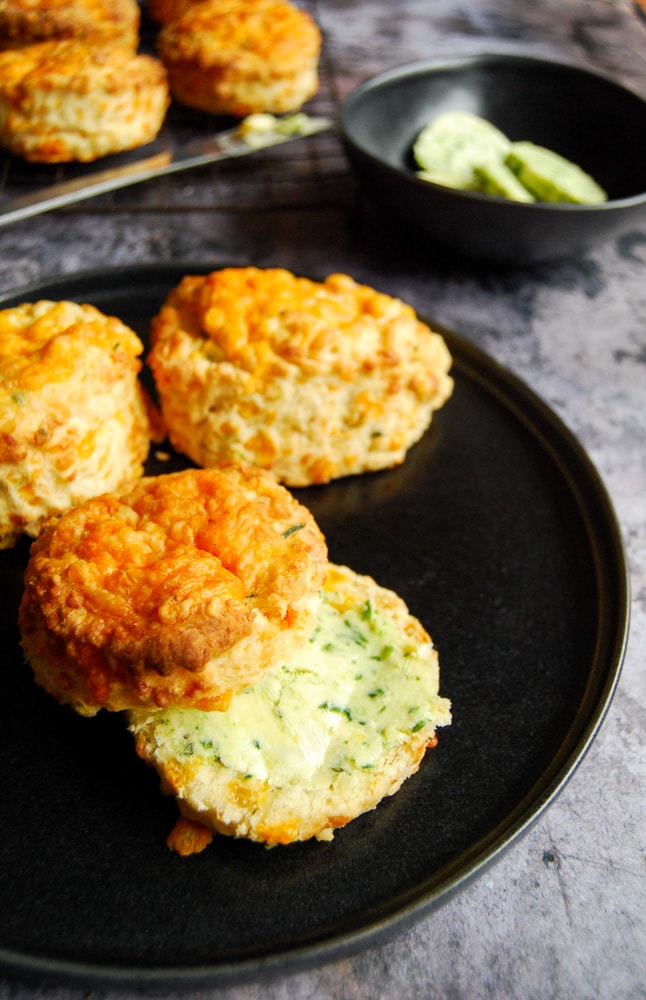 Wild garlic butter and cheese scones – match made in HEAVEN.
how long will wild garlic butter keep?
It will keep happily in the fridge for up to 2 weeks, but I seriously doubt it will last that long! You can also freeze it for up to 3 months.
Sometimes the simplest recipes are the best!
Pin this recipe for later…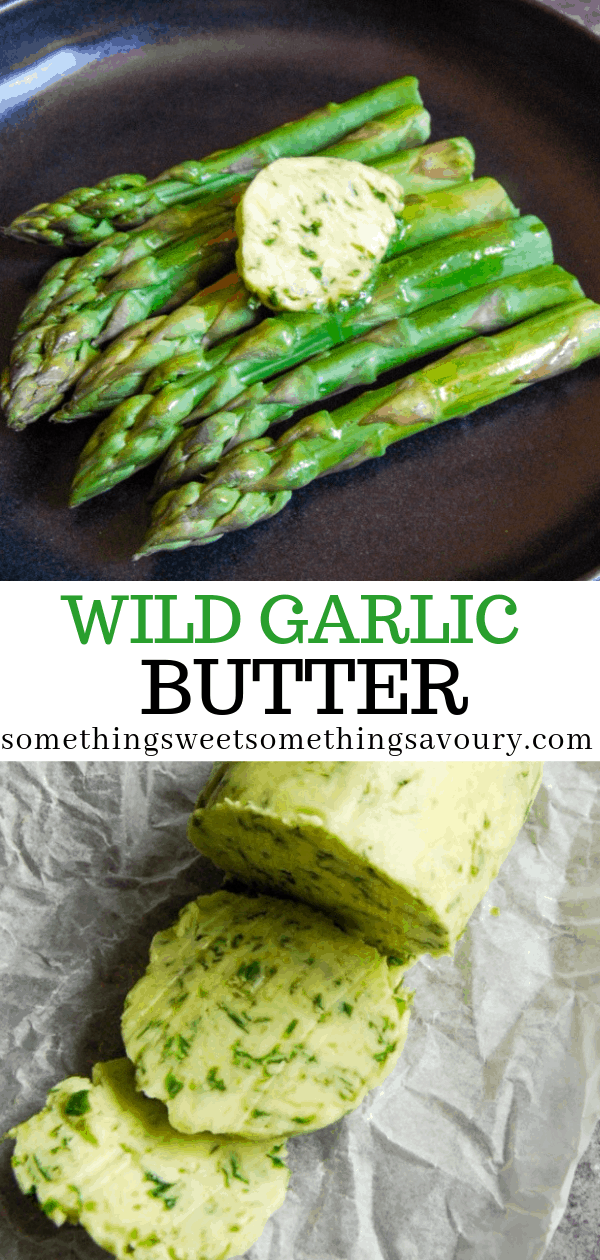 Did you make this recipe? Leave a comment/rating and let me know what you thought! Or follow me on Instagram and leave me a comment. I love to see what you've been making!
Wild Garlic Butter
This Wild Garlic Butter is absolutely divine with grilled chops, melted on potatoes or steamed vegetables, or serve with cheese scones.
Ingredients
250

g

Unsalted Butter, Softened

50-75

g

Wild Garlic, finely chopped

1

tsp

Sea Salt Flakes

1/4-1/2

tsp

Freshly ground black pepper
Instructions
Place the butter and wild garlic in a large bowl and beat until well combined and creamy. Add the sea salt flakes and pepper.

Place the butter on a sheet of greaseproof paper. Shape into a log and wrap the paper around the butter, twisting the ends so it looks like a cracker. Place in the fridge or freezer immediately.
Notes
For a zesty twist, add the finely grated zest of 1/2 a lemon.
For a little heat, add 1/4 tsp red chili flakes.