Tender, soft vanilla cupcakes filled with white chocolate chips and topped with an indulgent white chocolate buttercream frosting, white chocolate shards and a fresh strawberry!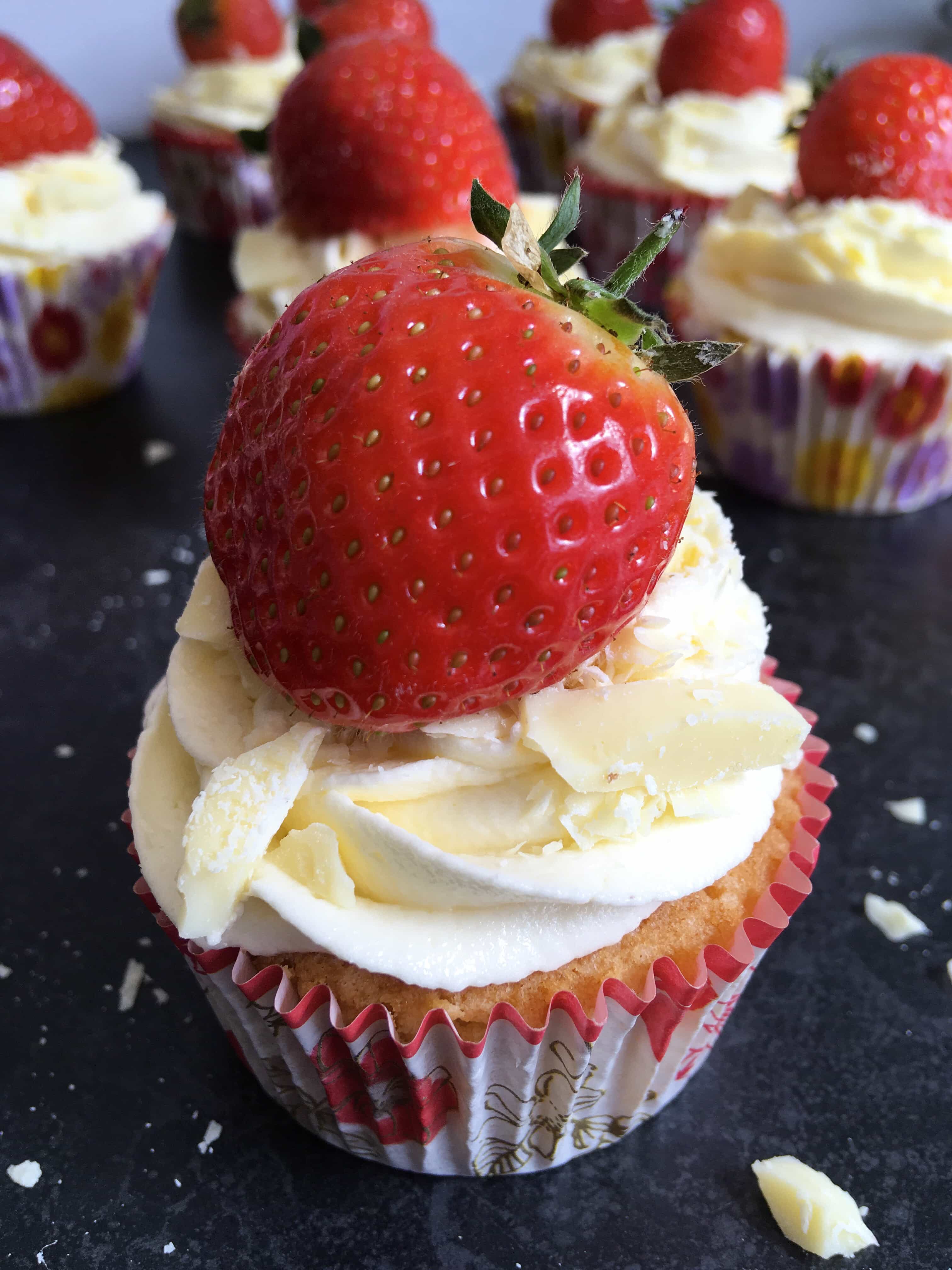 As far as cupcakes go, these are pretty simple. Simple is good right now. I'm a little bit exhausted at the moment. The wee man has just got over a nasty virus, his first molars are coming through and he appears to be going through the separation anxiety that can happen around his age. It's almost like he can't get close enough to me. ALL day.
If I dare to leave the room and leave him with anyone else for 30 seconds he screams his little heart out. I've done this enough times now to know it's just a phase and will pass, so I'm just enjoying the extra cuddle time and ignoring the destruction around us that is my untidy home.
My older boys were complaining about the lack of baked goods in the house last week, so I rustled up these white chocolate and strawberry cupcakes to keep them happy.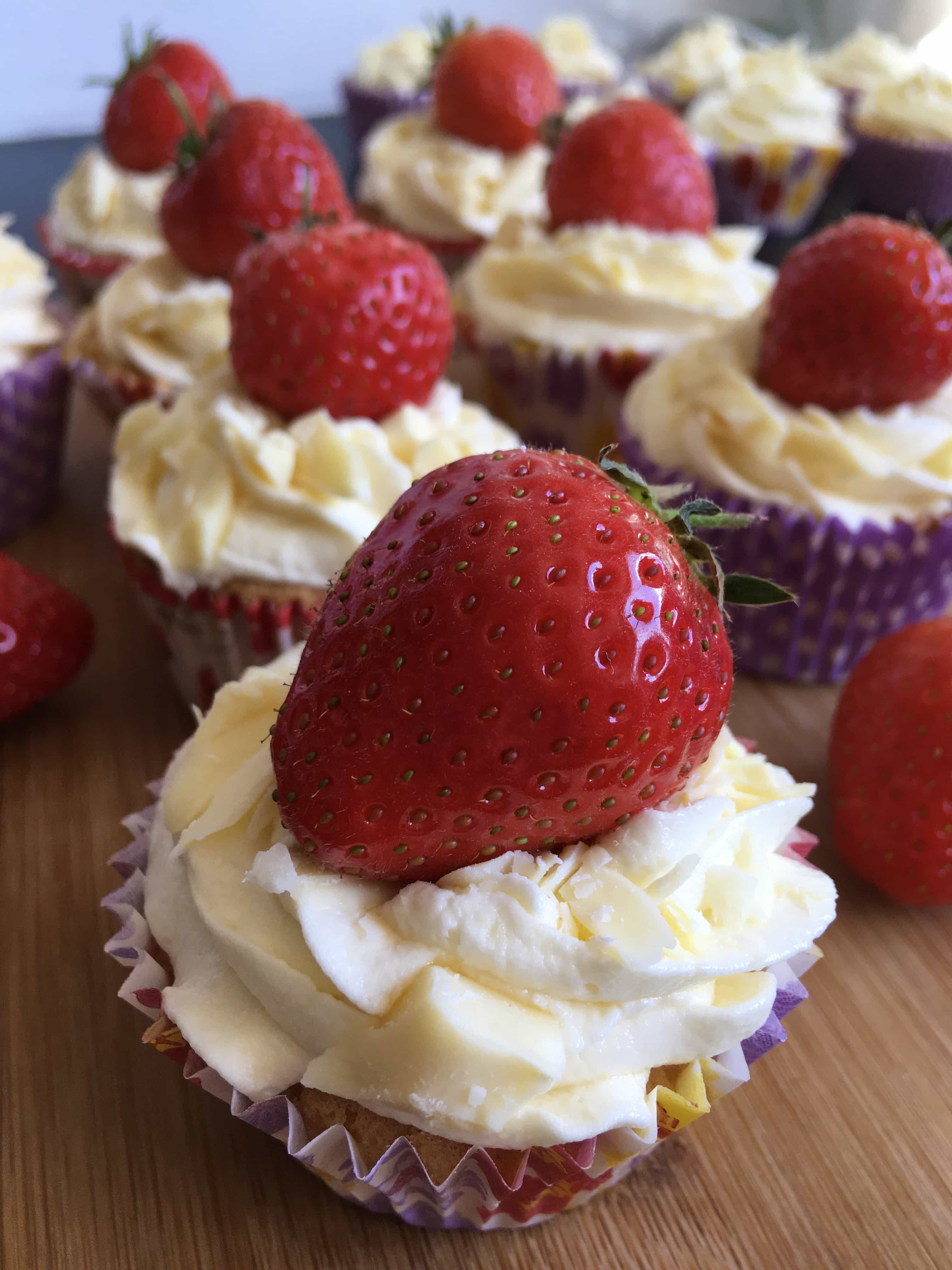 This vanilla cupcake recipe is a tried and tested one I blogged about a long time ago. It makes the best vanilla cupcakes I've ever tried so far. I only say so far because I've never been one to claim that recipes are "the best ever" purely because there are thousands of recipes out there and there are plenty of times when I've thought I've finally found "the best cupcake" or "the best chocolate brownie" recipe, only to find another recipe that beats it in terms of texture, flavour and taste. BUT whenever I need a good vanilla cupcake recipe, this is the recipe I turn to.
They are soft yet sturdy enough to hold up to decorating and adding sour cream to the batter ensures that the cakes stay moist and spongy for a good few days after baking.
It's pretty adaptable – you can add lemon/orange zest, chocolate chips just like I have done or if you want to make chocolate cupcakes, simply substitute 25g of the flour for cocoa powder.
If you want to make these cupcakes even more indulgent, you could cut out the middle of each cake and fill them with a spoonful of strawberry jam…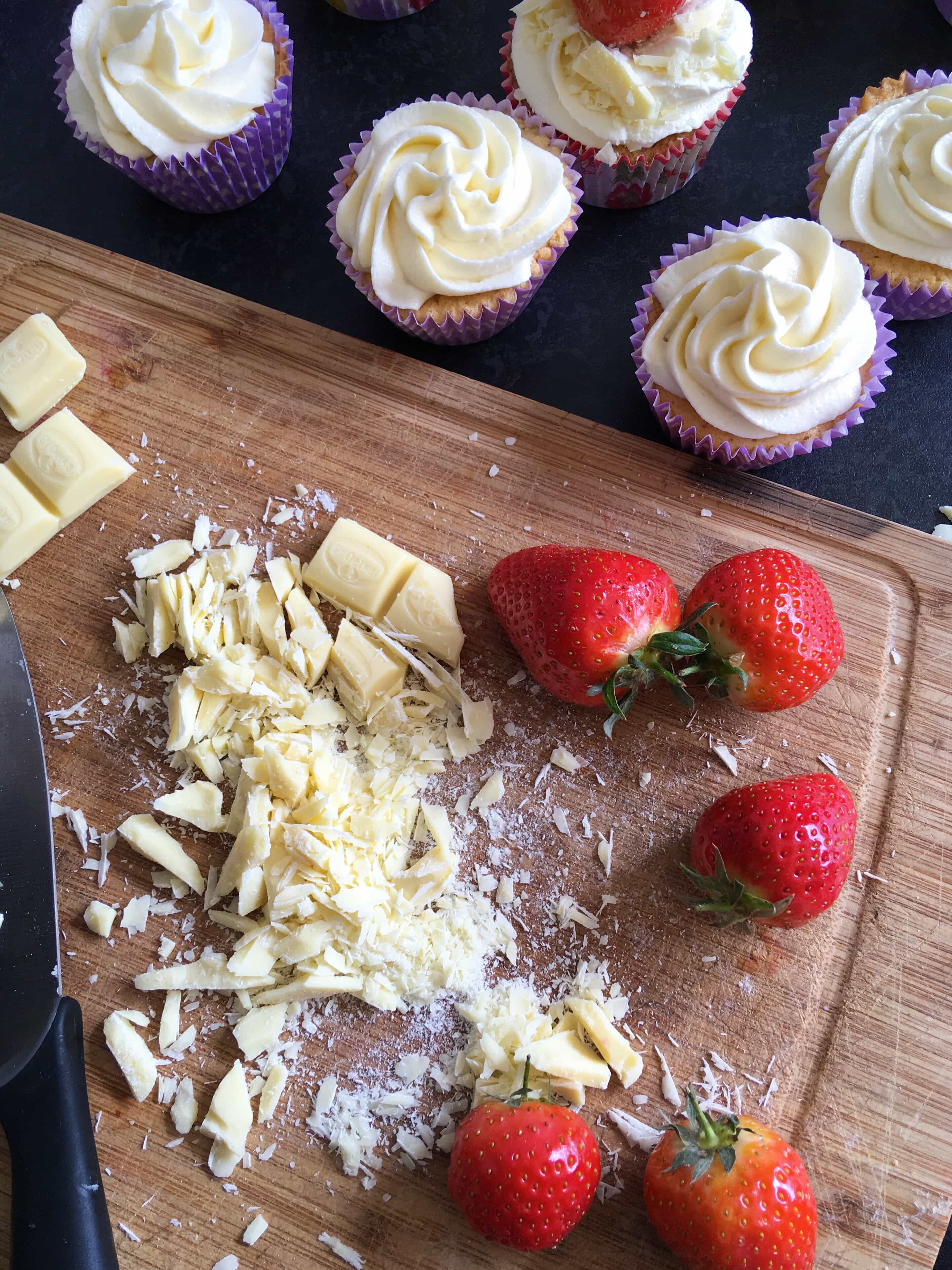 I used a Wilton 1m piping tip (open star) to pipe swirls on the cupcakes, then topped with white chocolate shards which I made by popping a block of white chocolate in the fridge until cold and firm, then I took a large knife and cut very thin shavings of chocolate from the block. Finish the cupcakes off with a fresh strawberry and enjoy!
More cupcake recipes…
Chocolate Guinness cupcakes with Baileys buttercream
If you make this recipe, let me know by leaving a comment below or tagging me on Instagram – #somethingsweetsomethingsavoury
Pin me for later!…..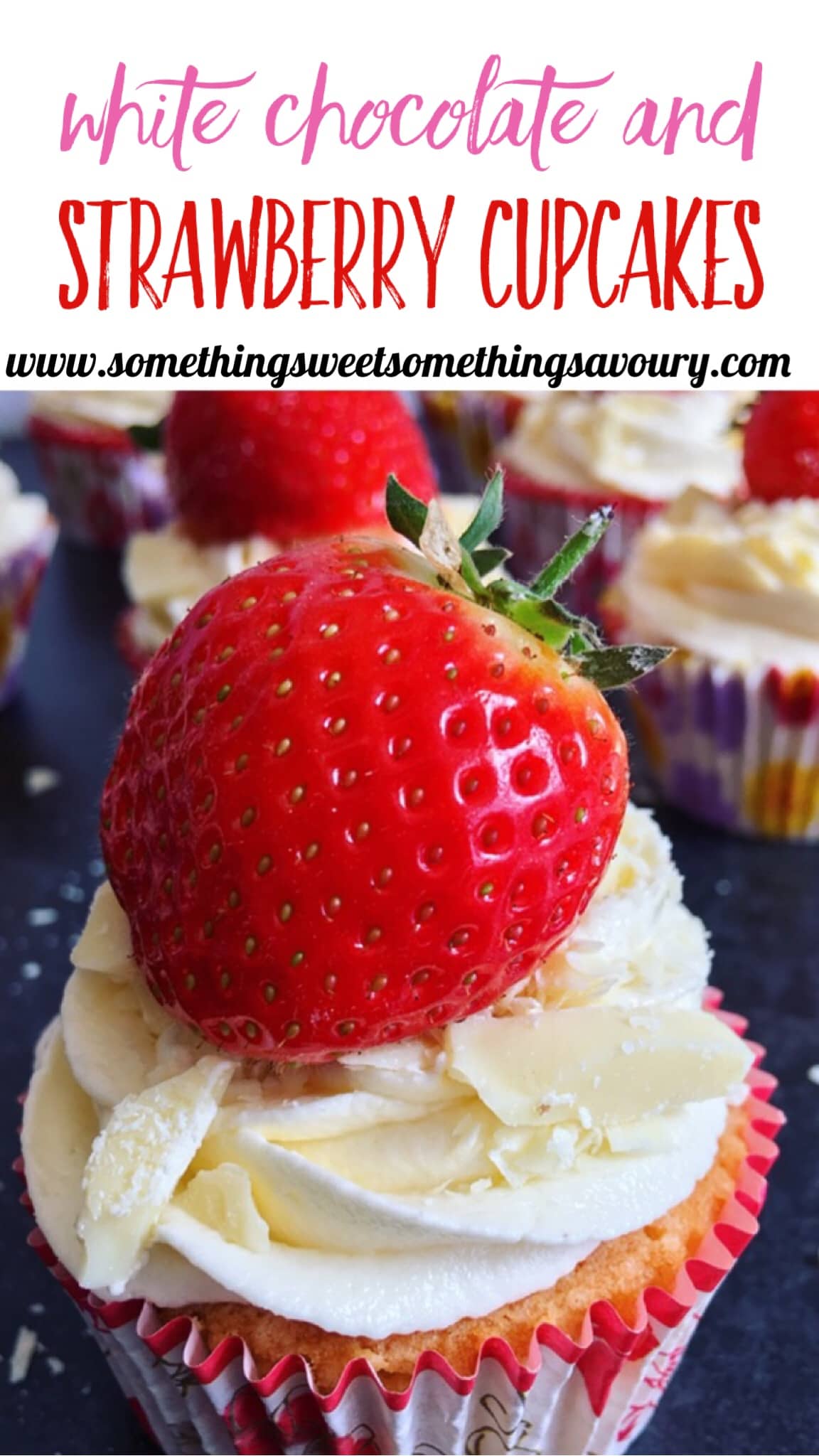 I shared these cupcakes with #CookBlogShare, hosted this week by Easy Peasy Foodie
White Chocolate and Strawberry Cupcakes
Delicious vanilla cupcakes with white chocolate buttercream, topped with a juicy fresh strawberry. Simple but so good!
Ingredients
250

g

Caster Sugar

200

g

soft Butter

3

Eggs

beaten

2

tsp

vanilla extract

60

ml

Milk

120

ml

sour cream

250

g

Self raising flour

100

g

packet white chocolate chips
White Chocolate Buttercream
350

g

Icing

Confectioners Sugar

125

g

soft unsalted butter

100

g

white chocolate

chopped into small pieces

1

tsp

vanilla extract

2-3

tablespoons

double

heavy cream
Instructions
In a large mixing bowl, beat together the butter and sugar until very light and fluffy. Gradually add the beaten eggs, beating well after each addition. In a measuring jug or bowl, stir together the vanilla extract, milk and sour cream. Sift half of the flour over the creamed butter mixture and lightly fold in using a large metal spoon. Fold in half the sour cream mixture, taking care not to over mix. Repeat with the remaining flour and sour cream mixture, again being careful not to over mix. Spoon the batter into your cupcake liners (no more than two thirds full) and bake for 20-25 minutes or until light golden and spring back when lightly pressed. Leave in the tin for 5 minutes, then turn out to cool completely on a wire rack.

Using a medium bowl set over a pan of simmering water, (making sure the base of the bowl does not touch the water) melt the white chocolate. As soon as the chocolate has melted, remove from the heat and stir until smooth. Set aside to cool a little.

In a large bowl (preferably with an electric mixer) beat the butter until creamy. Gradually add the icing sugar, about 100g at a time. When the icing sugar is all incorporated, beat on high speed until very light and smooth. Lower the speed and add the cooled melted white chocolate, vanilla extract and 2 tablespoons of double (heavy) cream and beat on medium until nice and smooth.
Notes
Makes 12-16 cupcakes, depending on the size of your cupcake liners (if you're using the large American style ones, you should get 12 cupcakes, but my cases were a little smaller.) In any case, you should fill the cases no more than two thirds full.