Jammie Dodger blondies – your favourite childhood biscuit in a delicious, gooey white chocolate blondie with lots of jam swirls!
Hands up if you love Jammie Dodger biscuits!
I certainly do! That childhood classic biscuit close to many of our hearts (in the UK at least) has stood the test of time and quite rightly so.
If you aren't from the uk and are wondering what on earth a jammie dodger is, let me fill you in. It's a crumbly biscuit (cookie) with a jam filled middle.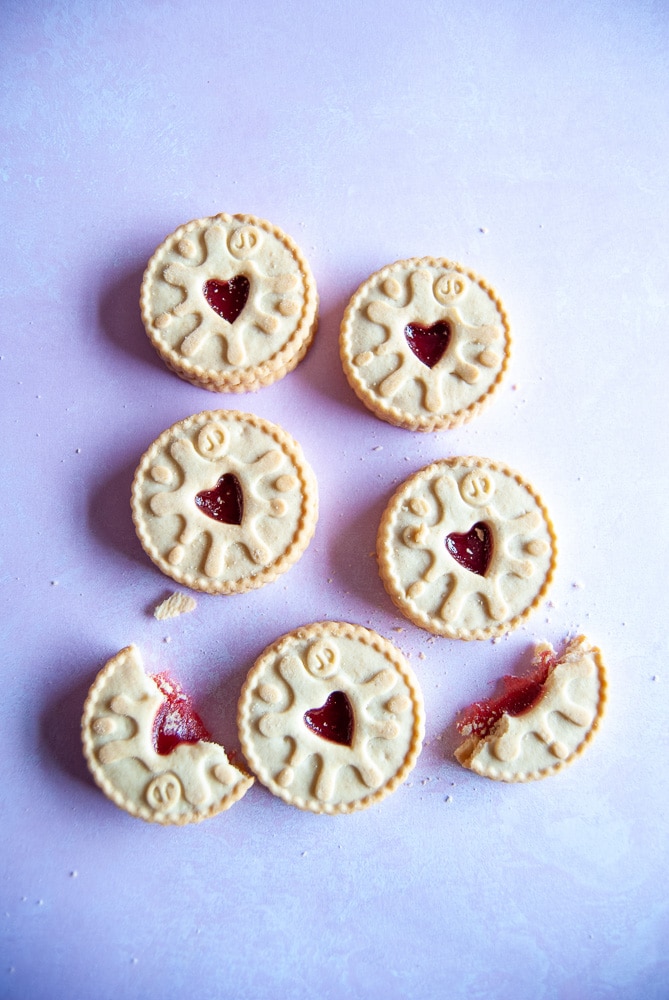 They are instantly recognisable with their pretty trademark heart in the middle. The flavours available are strawberry, raspberry and now lemon.
There have been a few limited edition flavours, but in my opinion, they weren't that great really. I haven't come across the lemon ones yet, but I'm on the lookout for them!
So what can I say about these jammie dodger blondies, apart from the fact that they are even more delicious than you could possibly believe?
I've seen a few versions of these Jammie Dodger blondies on the internet and they all look fabulous. I've been meaning to make them for so long.
I finally chose a recipe from Olive magazine, but as usual I had to change it up a little – I can never leave a recipe alone!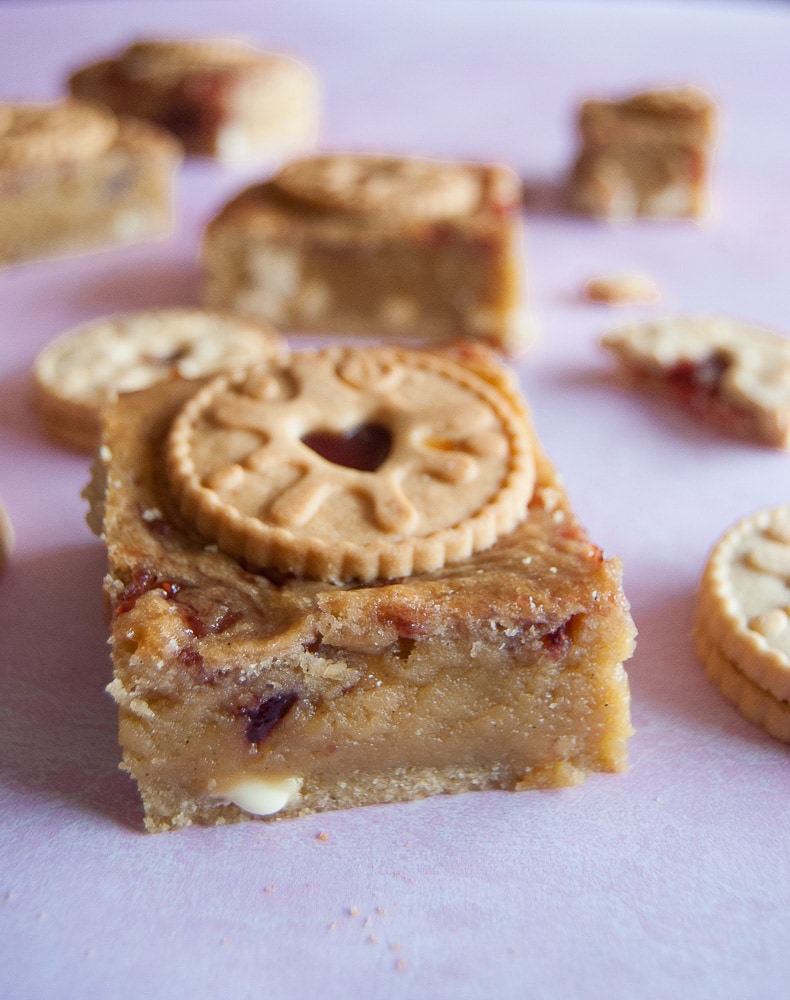 How to make Jammie Dodger blondies
You start off by making a basic brown sugar blondie base. This melt and mix recipe is very easy to make plus all the ingredients are mixed together in one saucepan. I'm all for less washing up!
Here's a list of ingredients you will need to make the base:
Butter
Soft Light brown Sugar
Vanilla extract or vanilla bean paste
Plain (all purpose) flour
Eggs
White Chocolate
I do recommend using a bar of good white chocolate or chunks for this recipe instead of the smaller chocolate chips, which tend to melt and disappear into the blondie base.
What is the best white chocolate for baking?
I love Callabeut chocolate chunks for baking, but I also use any premium supermarket brand.
It is worth spending a little more on a decent bar of white chocolate for your blondies – the flavour will definitely come through in the finished bake.
I wouldn't use the super sweet confectionary such as Milkybar here – they don't hold up well in baked goods. And steer well clear of anything branded "cooking" chocolate!
My tips for making the best Jammie Dodger Blondies
The blondie base is chewy around the sides and a little gooey in the middle, just like a good blondie should be.
They are not meant to have a cake like texture.
If you want them less gooey in the middle, you'll need increase the baking time by 5-10 minutes. But if you do this, you will end up with something more like a cookie bar than a blondie.
Here's a close up to show you what kind of texture you're looking for…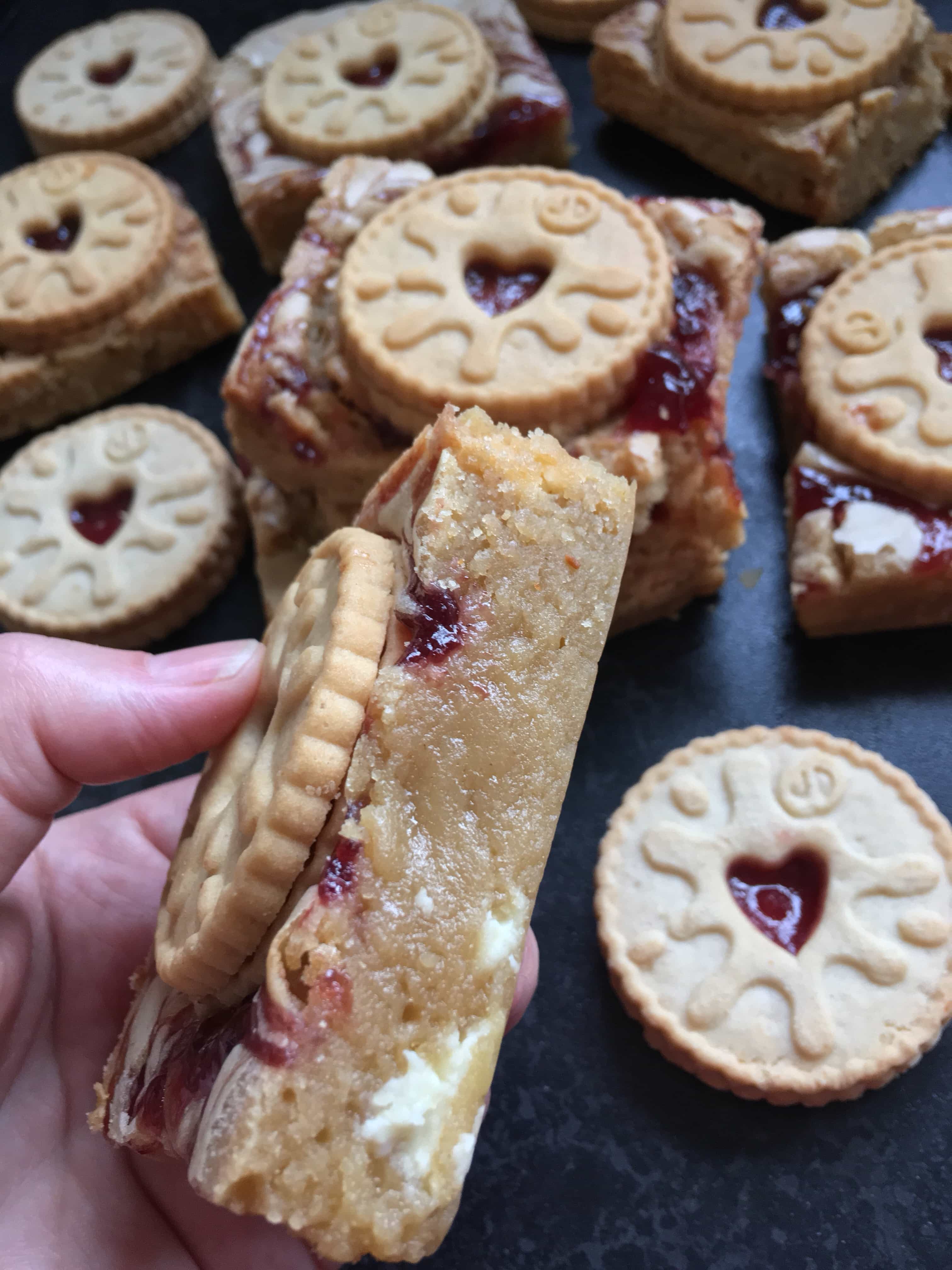 See how the blondie is still slightly soft and fudgy in the middle? That's the dream..
Be generous with the jammie swirls – I use 6 heaped tablespoons of jam.
Don't attempt to remove the blondies from the pan until they are completely cold – if you try to cut them while they are still warm they will collapse.
I often leave them overnight to ensure they cut into perfect squares. If you are less bothered about this, I would recommend leaving them to set for at least 2-3 hours before cutting.
If you wanted to, you could use mini jammie dodgers instead – how cute would those be dotted around the top?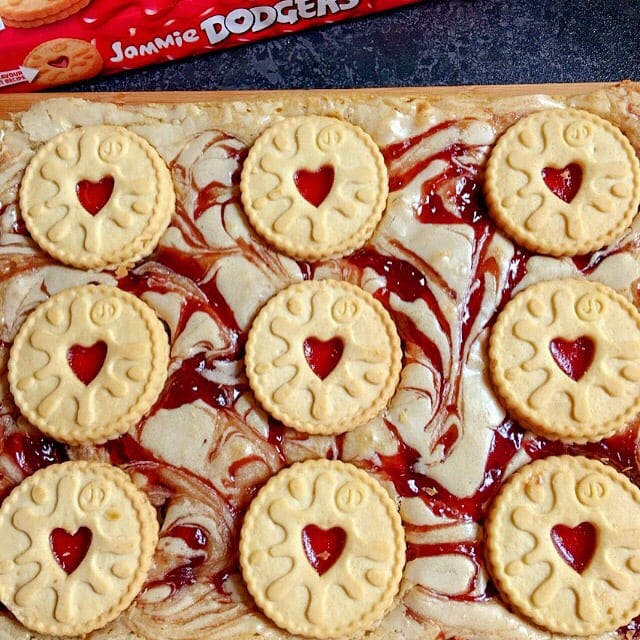 Don't they bake so pretty?
Look at those jammie swirls!
Make these for the jammie dodger lover in your life and I guarantee they will love you forever!
Did you make these jammie dodger blondies? Let me know what you thought by leaving a star rating and a comment.
If you have a picture, I would love to see! Tag me on Instagram #sweetsavouryblog
Looking for more easy blondie/brownie recipes?
Cherry Brandy and Pecan Brownies
Raspberry and White Chocolate Brownies
Terry's chocolate orange brownies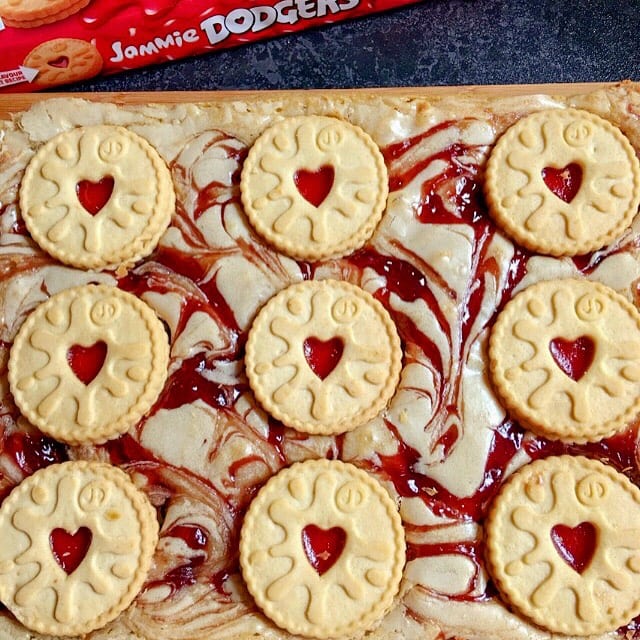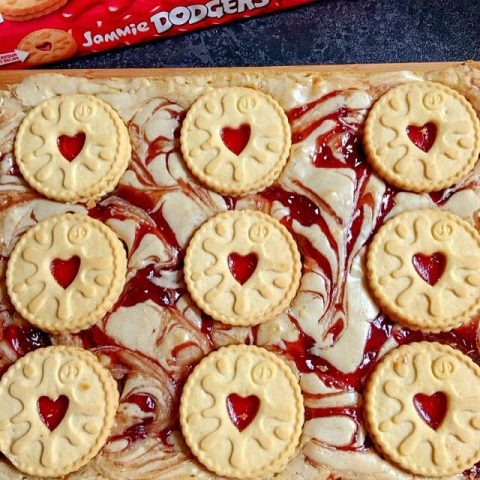 Jammie Dodger Blondies
Delicious white chocolate blondies with lots of jam swirls and a whole Jammie Dodger biscuit! 
Ingredients
200 g Soft Butter
250 g Soft Light Brown Sugar
200 g White Chocolate, Chopped into small chunks
3 Large Eggs
275 g Plain Flour
1 tsp Vanilla Extract
6 tbsp Raspberry or Strawberry Jam
9 Jammie Dodger Biscuits
Instructions
Preheat the oven to180C/160Fan/350F and grease and line a square 20x30cm baking tin.
Melt the butter and sugar together in a large pan.
Take off the heat and leave to cool a little before beating in the eggs one at a time.
When all the eggs are fully incorporated. Stir in the vanilla, then fold in the flour and the white chocolate chunks.
Drop spoonfuls of the jam all over the top, then using a butter knife or skewer make swirly patterns.
Gently press the jammie dodgers on top.
Bake in the oven for 35-40 minutes or until risen and golden. The blondie should be golden brown and look set around the edges.
The blondies will still be quite soft in the middle, so cool in the tin for at least two-3 hours before turning out and cutting into squares. If you cut into them before they are fully set, they will be far too soft to cut! I often leave them to set overnight.
Notes
I used raspberry jam, but you could of course use strawberry if you prefer.
When you line the baking tin, make sure the baking paper is above the edge of the tin by at least 2cm. This makes your life much easier when removing the blondies from the tin - you'll be able to lift them right out of the pan.
If you leave the blondies until they are completely cold before cutting into them they'll be much easier to cut into neat squares.
This recipe makes 9 large blondies. However, if you wanted to you could cut them smaller!
You could also use mini Jammie Dodgers to decorate the top
.If you can find the lemon Jammie Dodgers that are on sale in the supermarkets right now, you could try a lemon version of these blondies - just use lemon curd in place of the jam. Yum!
Nutrition Information
Yield

9
Serving Size

1
Amount Per Serving
Calories

542
Total Fat

37g
Saturated Fat

19g
Trans Fat

1g
Unsaturated Fat

15g
Cholesterol

116mg
Sodium

544mg
Carbohydrates

93g
Fiber

2g
Sugar

43g
Protein

11g