This new potato salad with asparagus and radishes is a fresh new take on the classic potato salad recipe – and no mayo in sight! New potatoes, fresh grilled asparagus spears and pretty radishes are tossed in a zingy mustard-lemon buttermilk dressing – light, fresh and delicious!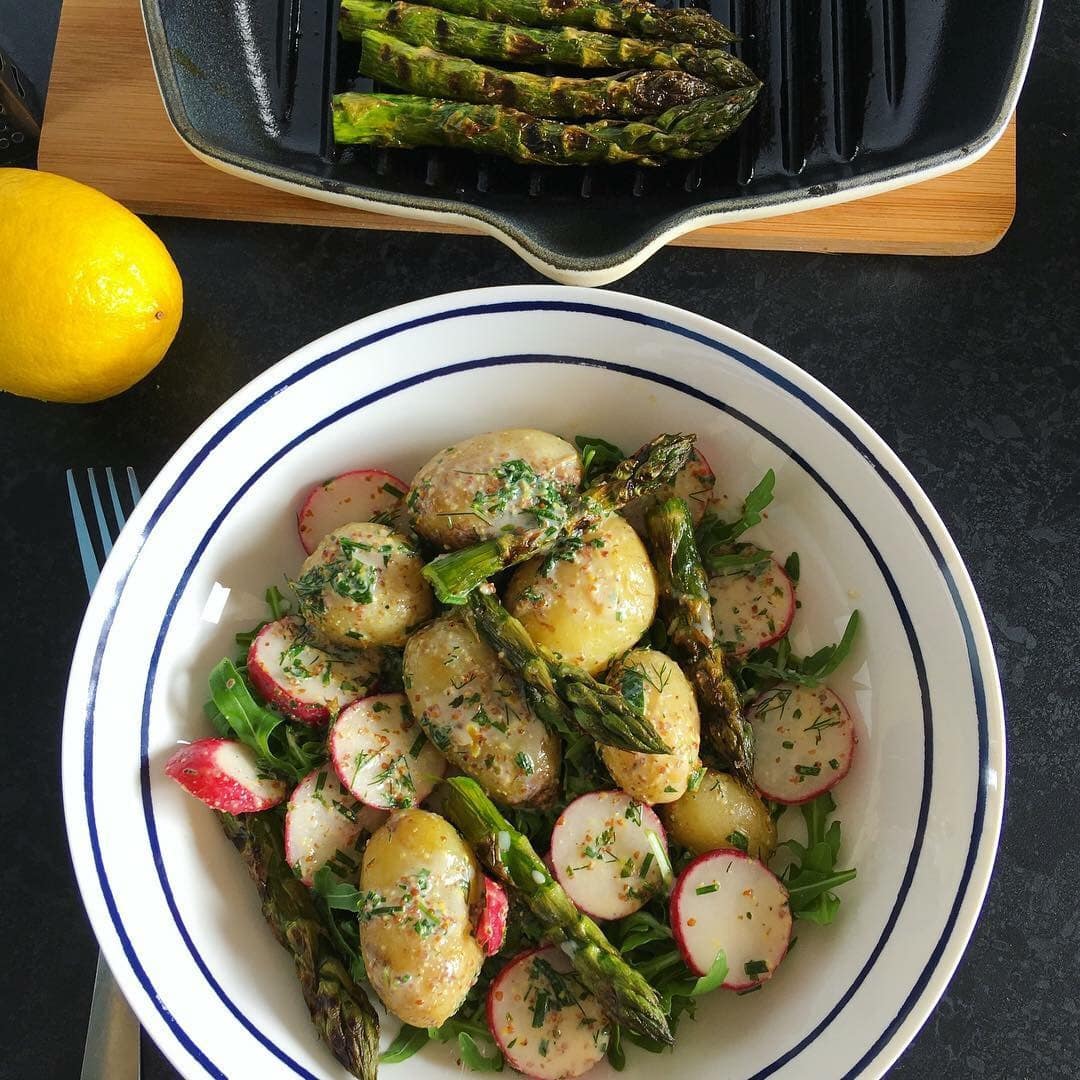 Yesterday marked the beginning of National Vegetarian week (14-20th May)
I'm not a vegetarian, but I'm a big fan of vegetables and quite often find myself happily going meat free a few days a week.
I actually spent a considerable sized chunk of my pre-teen/early teen years as a vegetarian. At the impressionable age of 10, I decided I wasn't going to eat meat anymore. I actually lasted almost 5 years, surprisingly.
In hindsight I think I think my commitment to sticking with it was a lot to do with the fact with wanting to prove the people who said "it's just a fad" wrong – I could be a stubborn little brat at times!
I ate a lot of nut roasts, bean burgers and pasta. Looking back, I definitely didn't have a varied diet. To be honest, I don't think I ate much veg at all. I actually became quite severely anemic after a period of basically living on nothing but Batchelor's pasta n sauce and chips. Not the healthiest diet and I would never get away with that now! I gradually started eating meat again – starting off with chicken before building up to red meat.
As much as I still enjoy eating meat, in the last few years I've really started to properly appreciate vegetables and make them the *star* of a meal, rather than thinking something is lacking because there is no meat.
A perfect example being my aubergine, mushroom and lentil chilli which is so hearty and full of flavour I'm pretty sure even the most hardcore meat lovers wouldn't feel short changed!
I found the inspiration for this gorgeous potato, asparagus and radish salad on the Nigella.com website. I fiddled with the recipe a little (as usual, I can't help myself)
ingredients you'll need to make this potato salad….
New Potatoes
Fresh Asparagus Spears
Fresh Radishes
A bag of assorted fresh salad leaves – I used rocket, spinach and watercress
Lemon zest
A bunch of fresh mint
Ingredients for the Dressing…..
Buttermilk
Wholegrain Mustard
Lemon juice
Freshly chopped dill, mint and chive
Nigella's recipe calls for boiling potatoes in water with pared lemon zest and mint sprigs. But I had cold boiled jersey royal potatoes from the day before, that needed using up so I drizzled them with olive oil, grated some zest over them and popped them in the oven for 5-10 minutes just to warm them up.
I sprinkled the potatoes with freshly chopped mint and griddled some asparagus,sliced some radishes and made the buttermilk dressing which is the work of minutes really if you count chopping the herbs.
So easy and delicious!
want to see more easy vegetarian salad recipes? Check these out….
Watermelon, Feta and Mint Salad
PIN THIS RECIPE FOR LATER….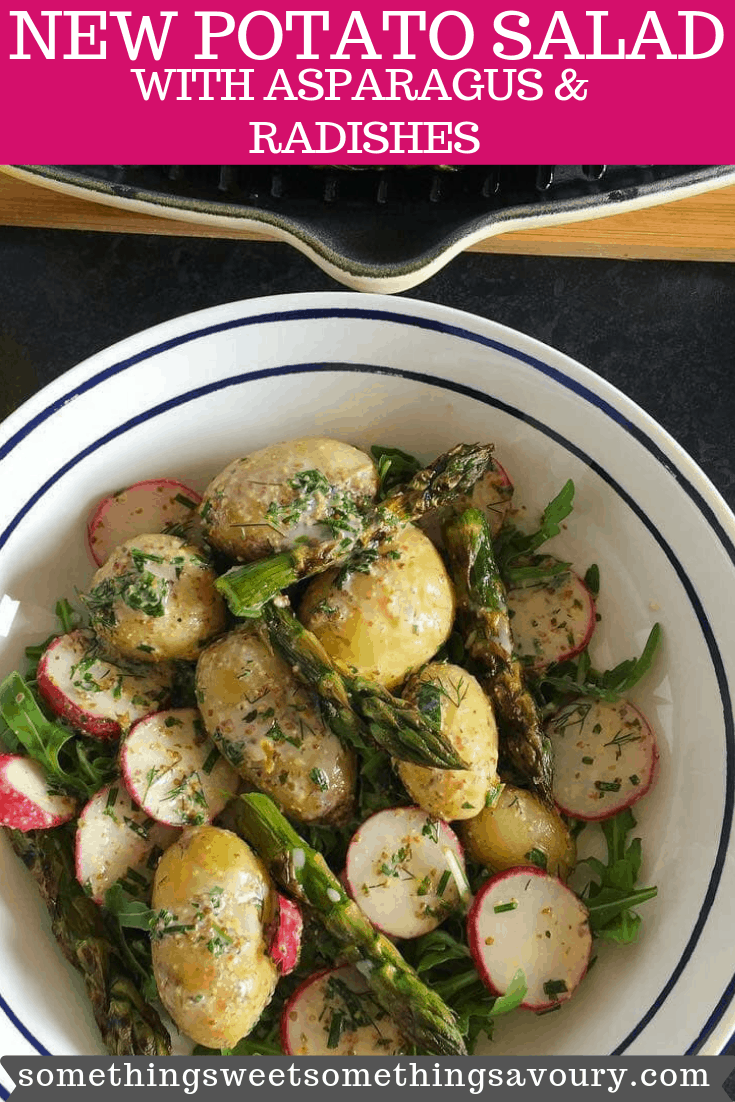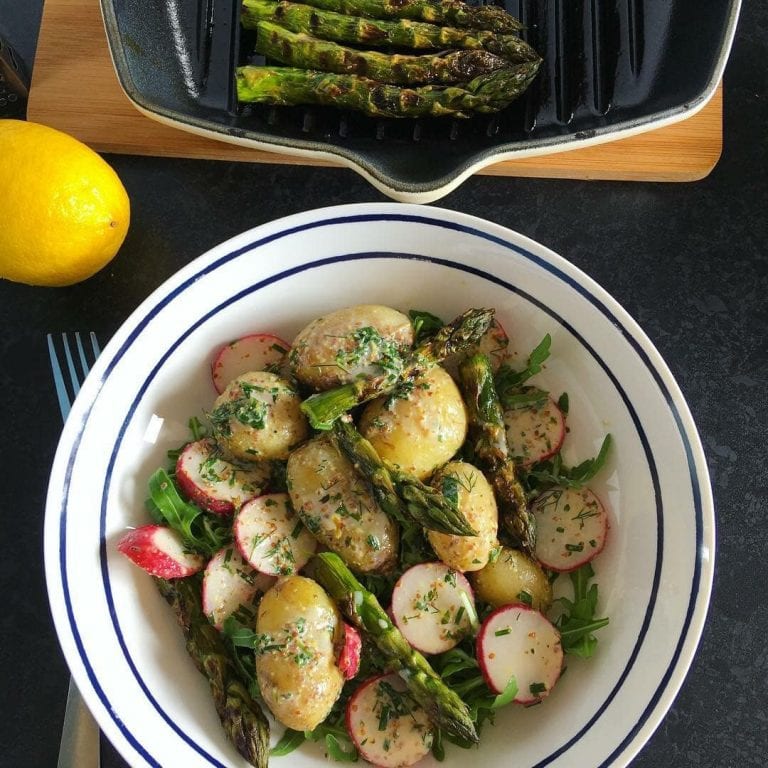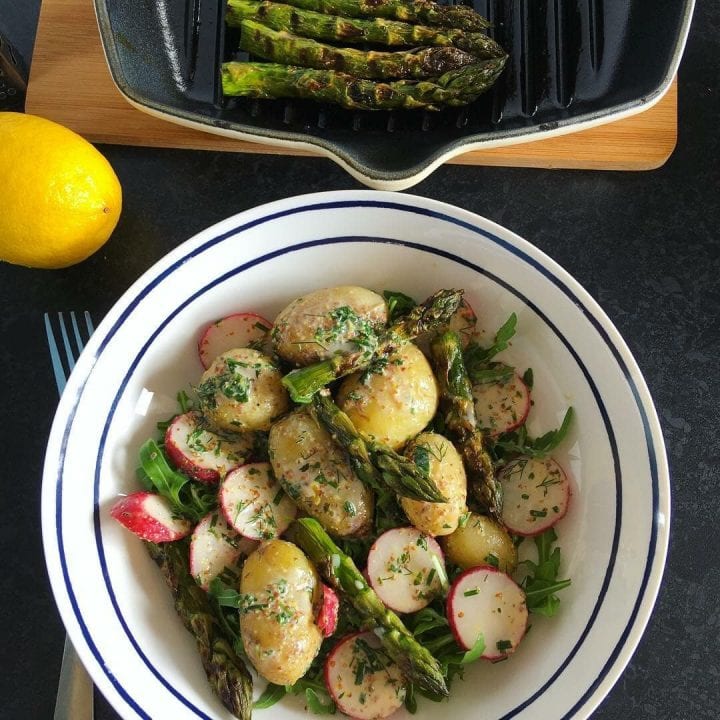 New potato salad with asparagus and radishes
Tangy buttermilk replaces mayo in a fresh new take on potato salad with asparagus spears, crunchy radishes, lots of fresh herbs and a zingy buttermilk dressing.  
Ingredients
400g boiled new potatoes
About 2 tsp olive oil for the potatoes
1 tsp lemon zest
About 1 tablespoon chopped fresh mint, optional
1 bunch Asparagus
Garlic infused olive oil or regular olive oil for the asparagus
Salt and pepper
Juice of about half a lemon
100 g radishes, sliced
100 g bag of rocket or other salad leaves
For the dressing:
4 tablespoons Buttermilk or runny plain yoghurt
1/2 tablespoon wholegrain mustard
1 teaspoon honey
1 tablespoon lemon juice
2 tablespoons freshly chopped mint
1 tablespoon freshly chopped dill
2 tablespoons freshly chopped chives
Salt and pepper
Instructions
f you're using potatoes that have already been cooked, pop them in a bowl, drizzle over the 2 teaspoons of oil and grate about 1 tsp of lemon zest over them. You can now pop them in the oven (200c) for about 10 minutes to warm them up or you can leave them cold. Sprinkle them with the chopped mint (when you take them out of the oven) if using.
Place a non stick pan on a medium heat for the asparagus. When the pan is hot, tumble in the asparagus and immediately drizzle with olive oil. Cook on a medium heat for about 5-7 minutes or until the asparagus is slightly charred. Take off the heat, transfer to a plate and sprinkle with salt and a squeeze of lemon.
To make the dressing, simply stir the buttermilk, mustard, honey, lemon juice and herbs together in a medium bowl until smooth. Add salt and pepper to taste.
Add the potatoes, radishes and asparagus to the bowl of dressing, stirring gently to mix. Arrange the rocket on a serving plate, then add the asparagus, potatoes, radishes and dressing.
Notes
Adapted from "Spring potato salad with asparagus and radish" by Nigella Lawson
Nutrition Information:
Yield:

3
Serving Size:

1
Amount Per Serving:
Calories:

320
Total Fat:

13g
Saturated Fat:

2g
Trans Fat:

0g
Unsaturated Fat:

11g
Cholesterol:

4mg
Sodium:

393mg
Carbohydrates:

45g
Fiber:

4g
Sugar:

25g
Protein:

7g
Calories and nutritional information are provided by a third party application and should be viewed as indicative figures only.