This stunning Chocolate Fudge Cake is a crowd pleasing showstopper! Four layers of fudgy chocolate sponge covered in a silky smooth chocolate buttercream. It's a chocoholic's dream come true!
Sometimes you come across a recipe that is just so perfect, you make it again and again.  This chocolate Fudge cake is one of those recipes. 
I've made this cake for Birthdays, parties and weddings. It's never let me down, and once you've tried it I'm sure you will feel the same!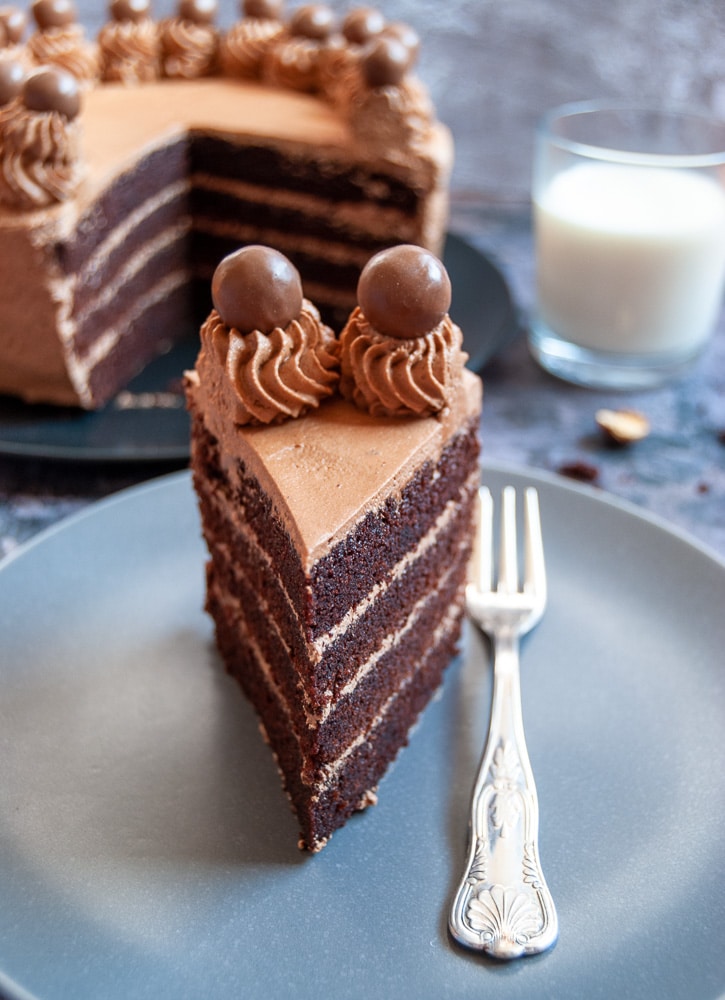 This is my go to chocolate cake recipe. To give you an idea of the texture, it's very close to a boxed cake mix. BUT wait, I don't mean that in a bad way! 
FAR from it! The cake layers are incredibly moist and fudgy. The not too rich chocolate buttercream is light, fluffy and melts in your mouth. 
If you love chocolate cake as much as I do, you might also be interested in my recipes for Chocolate Caramel Mars Bar Cake, Chocolate Cherry Drip Cake and this indulgent Chocolate Sour Cream Banana Cake.
Mint chocolate fans will go crazy for this Easy Mint Chocolate Cake!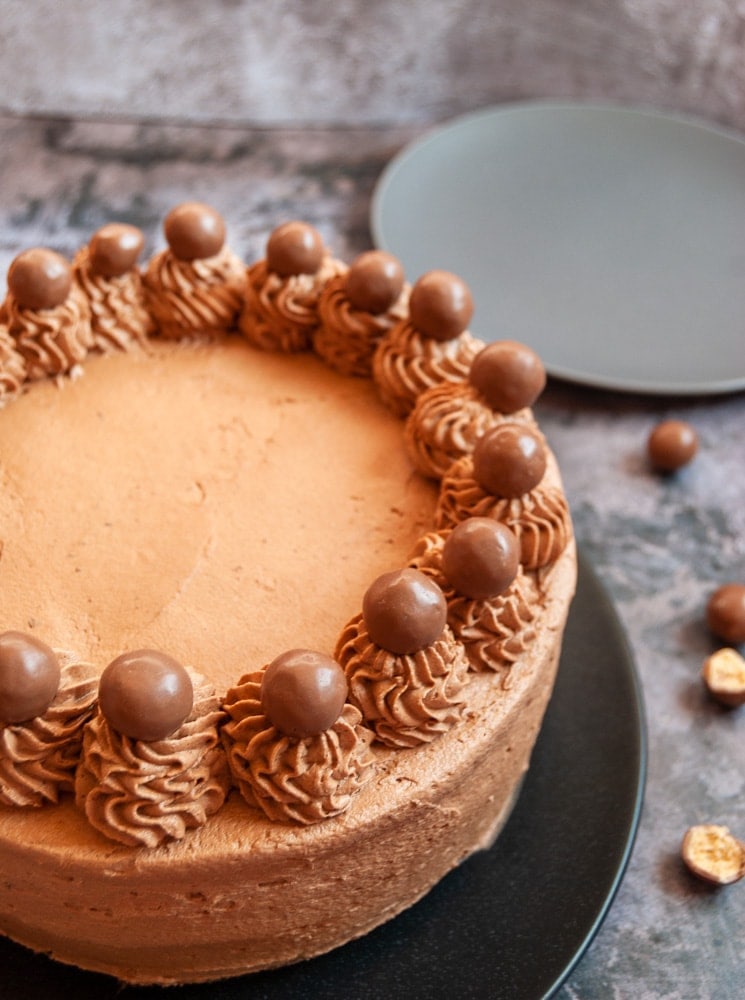 If you're having a bad day at work, been dumped or are generally feeling down in the dumps, this chocolate cake will make you feel better. I promise. Chocolate always makes everything better, right?
While making this recipe, you would almost be forgiven for thinking you were making a batch of brownies instead of cake – the method is quite similar to this salted caramel brownie recipe!
what's the difference between chocolate cake and chocolate fudge cake?
Generally speaking, chocolate fudge cake is richer and denser and a normal chocolate cake is lighter and less rich. For example, if you were making a chocolate Victoria sponge cake, you would beat butter and sugar together for quite a long time then gently fold in the dry ingredients for a light, airy sponge.
For a chocolate fudge cake, the ingredients are usually melted together for a fudgy, moist sponge. Due to the high volume of liquid in the recipe, the batter will look very thin – but don't worry – it's meant to be like that!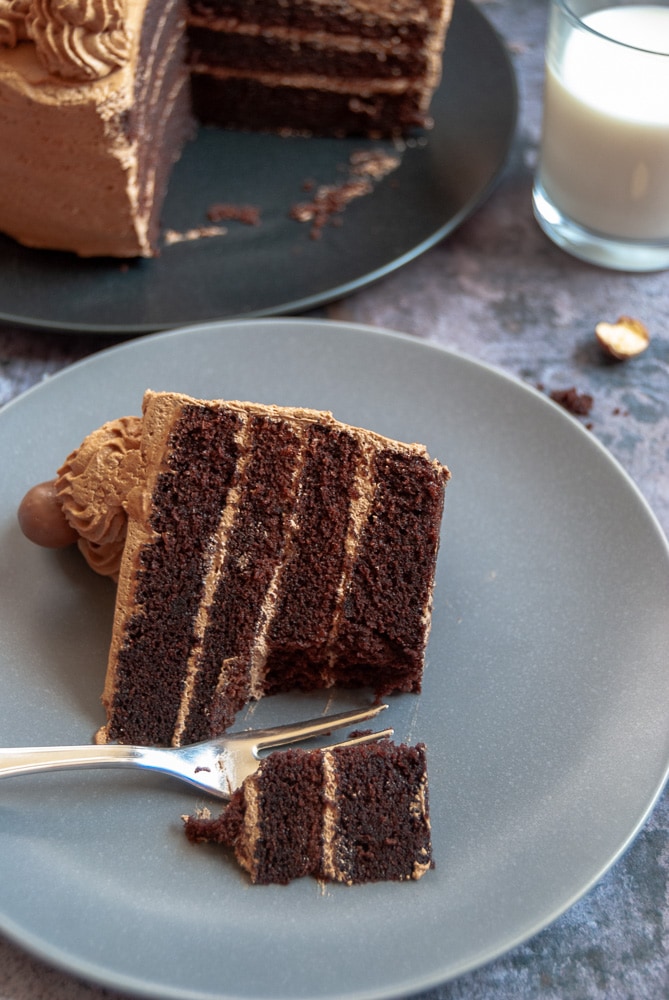 Ingredient list
Water
Cocoa Powder
Plain Flour
Baking powder
Bicarbonate of Soda
Salt
Espresso Powder
Caster (Superfine or "Bakers") Sugar
Flavourless oil, such as sunflower or vegetable
4 Large Eggs
Vanilla Extract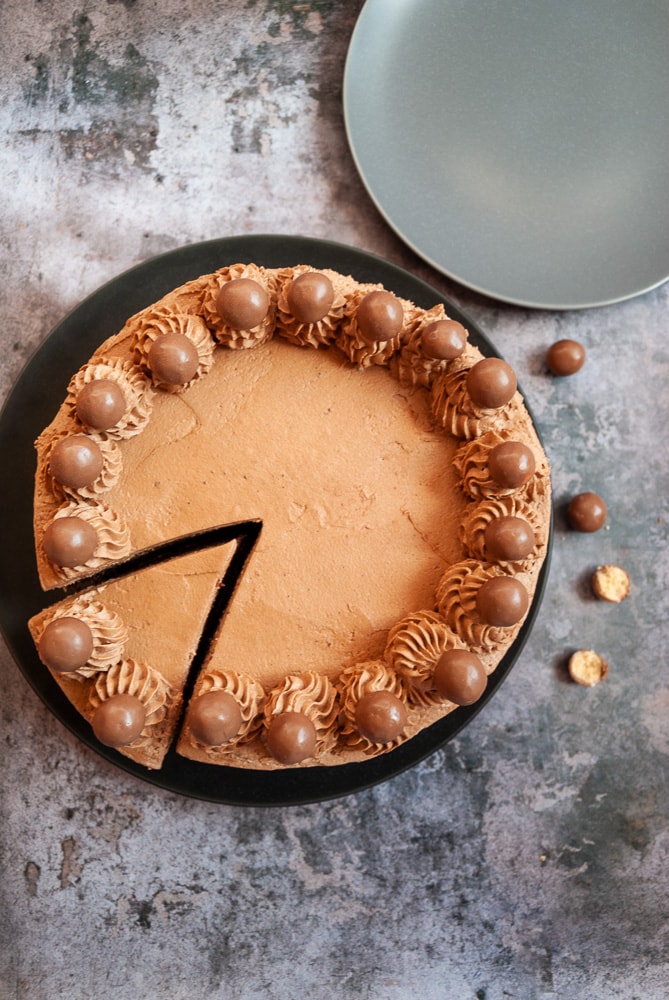 for the chocolate fudge icing:
Icing (Confectioner's) sugar
Soft unsalted butter
Good quality dark chocolate
Vanilla Extract
step by step instructions
(Scroll to the end of the post to find detailed instructions and ingredient amounts in the recipe card)
Whisk together the water and cocoa powder in a saucepan over a low to medium heat. Bring to a simmer, whisking all the time until the mixture is smooth. Take off the heat and set aside.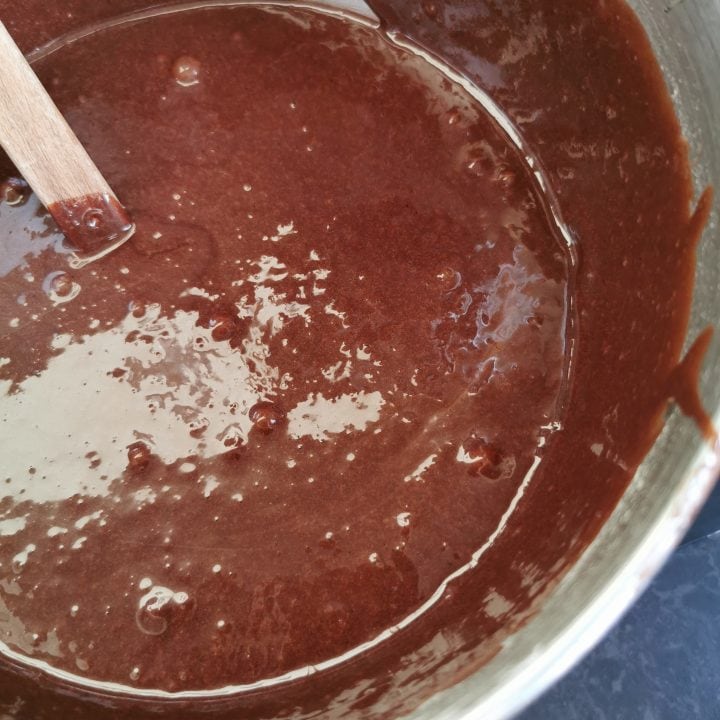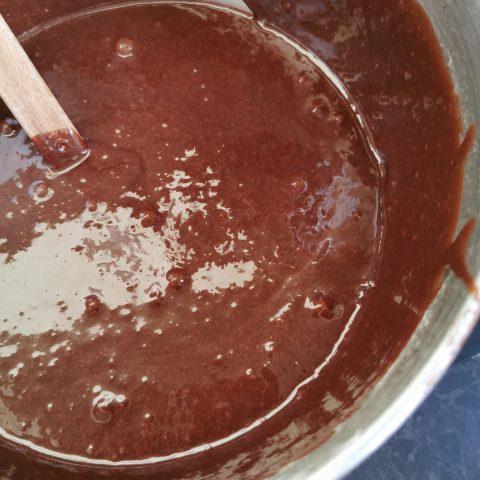 Whisk together the dry ingredients – flour, baking powder, salt and espresso powder.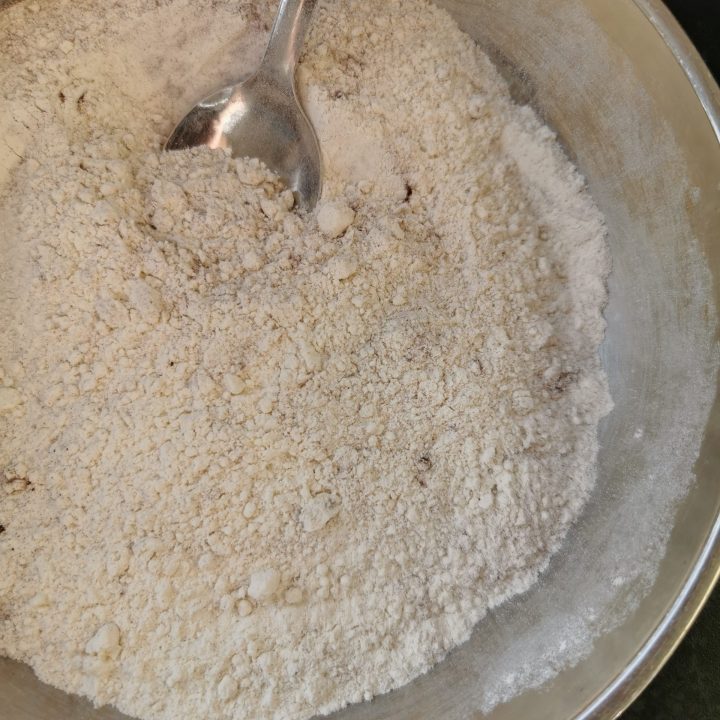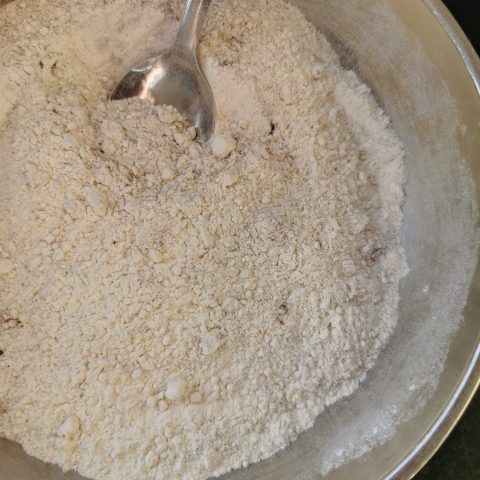 Using a stand mixer or an electric hand whisk, beat the sugar, oil, eggs and vanilla together until the mixture is pale and thick. This will take about 5 minutes.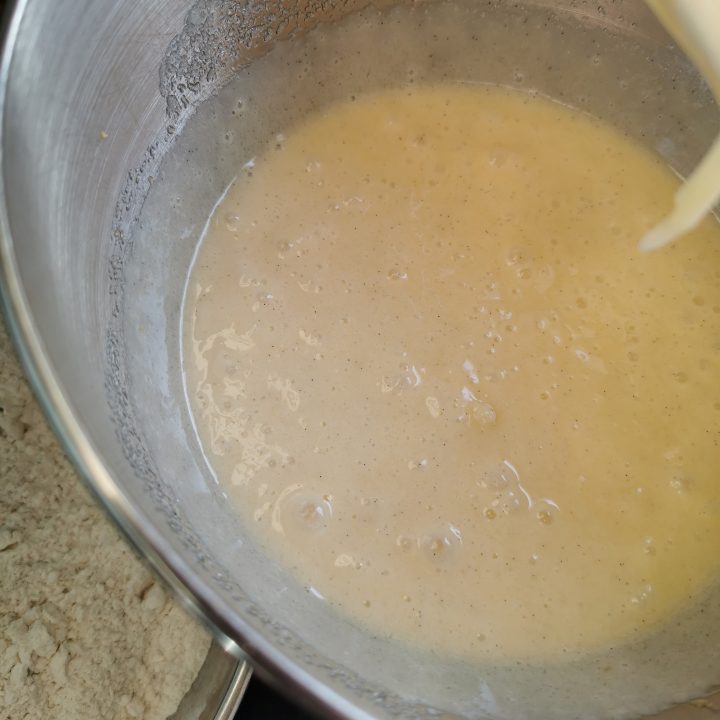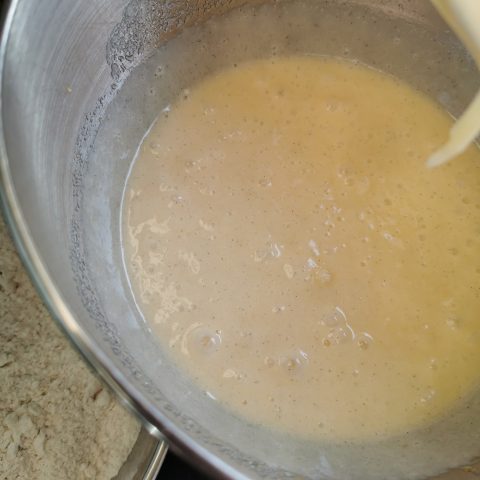 Alternately add the flour and chocolate mixtures to the beaten sugar and eggs, beating each addition until just combined.
The batter will be very thin but don't worry – that's exactly how it's meant to be.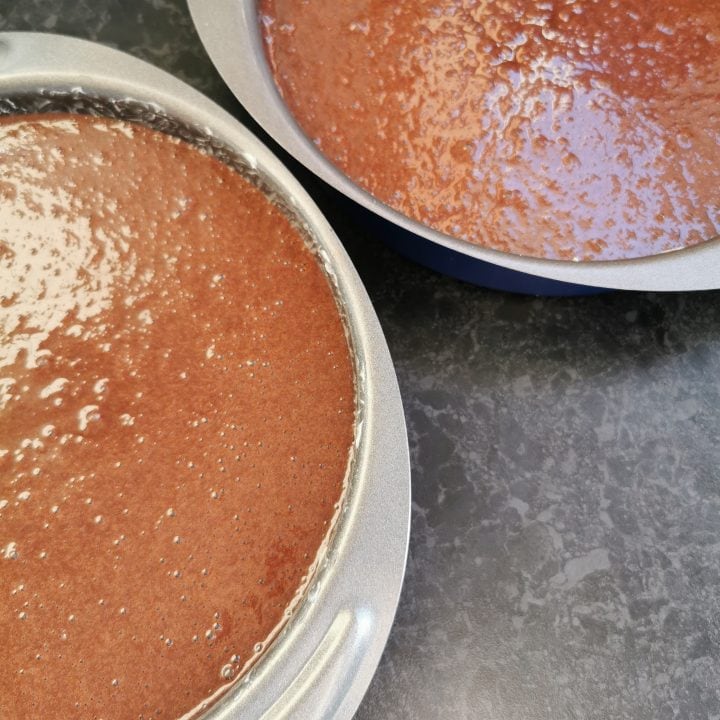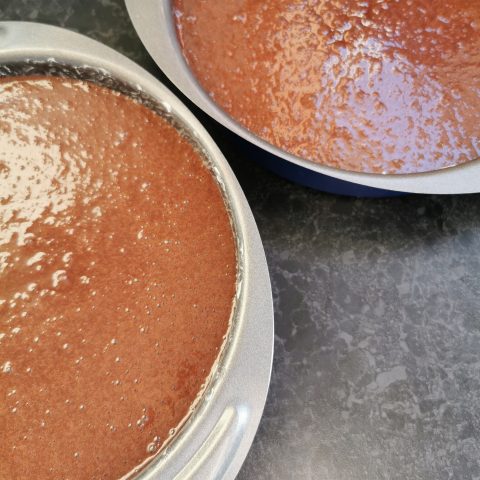 Pour this chocolate batter into two greased and lined 20cm (5 Inch deep) cake tins.
Bake at 180C/160Fan/350F for 45-50 minutes or until the cakes spring back when lightly pressed and a skewer or toothpick inserted in the centre of the sponges emerges clean.
Make the icing by melting the chocolate in a heatproof bowl over a pan of simmering water. Set aside to cool.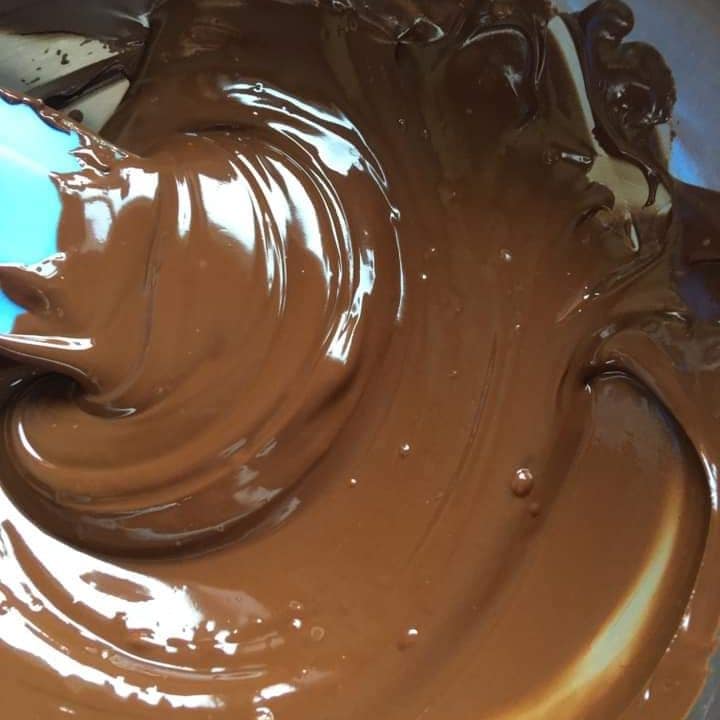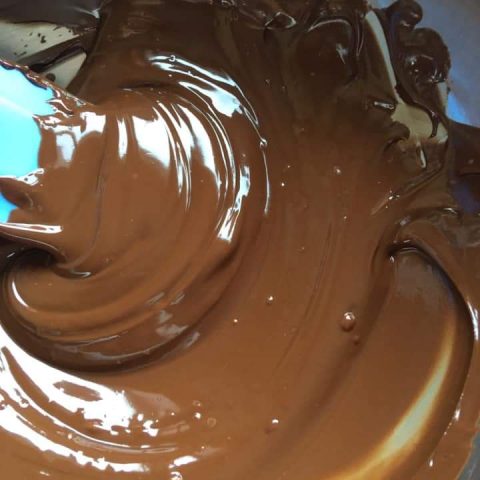 Using a stand mixer or an electric hand whisk, beat sifted icing sugar, vanilla extract and soft butter together until very light and fluffy.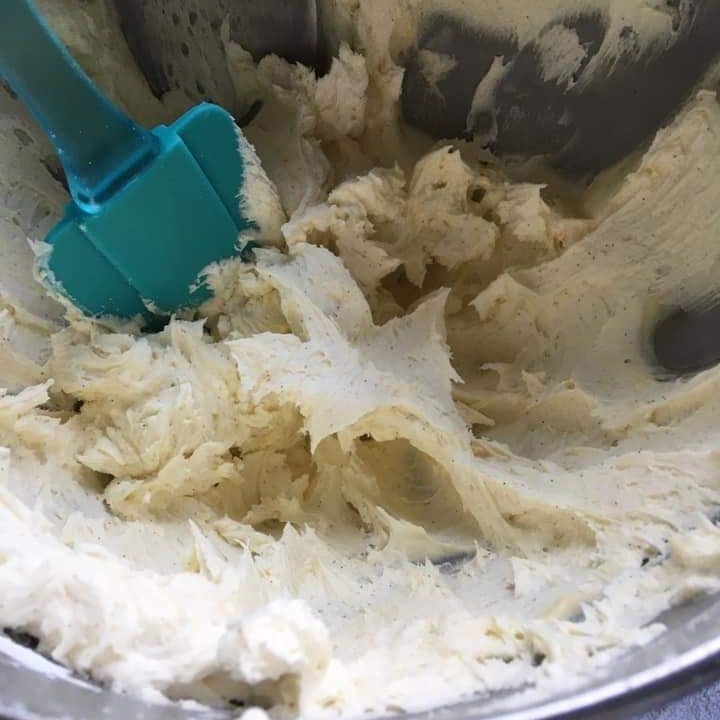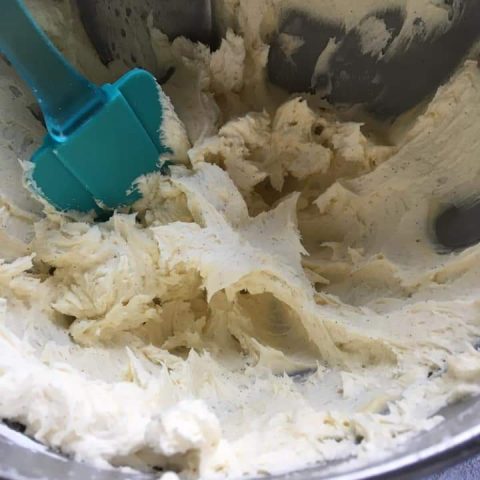 Add the melted cooled chocolate and continue to beat until you have a smooth, light icing.
time to assemble the cake!
When the cakes are completely cold, split each half in two so you have four layers. You can use a sharp serrated knife or or cake cutting wire.
I love mine because I am useless at cutting cakes with a knife! This simple little tool makes it much easier.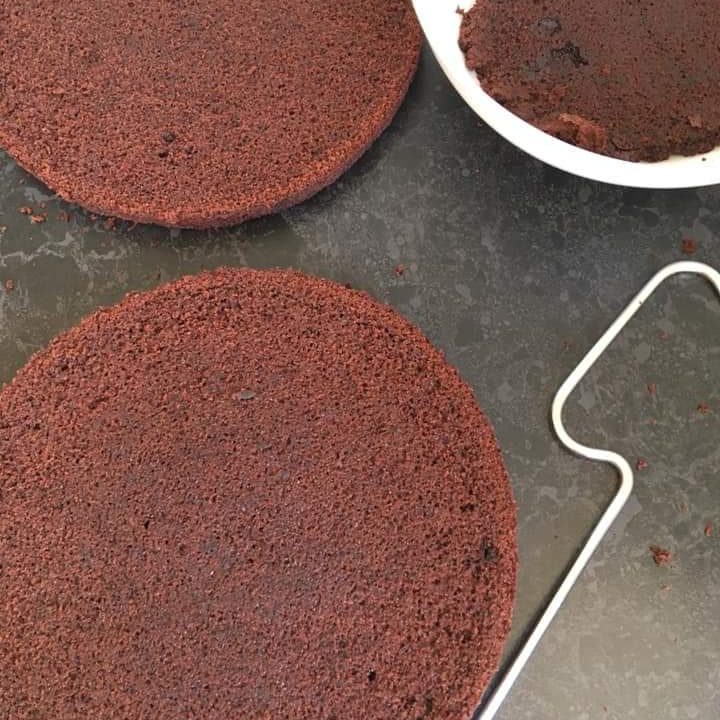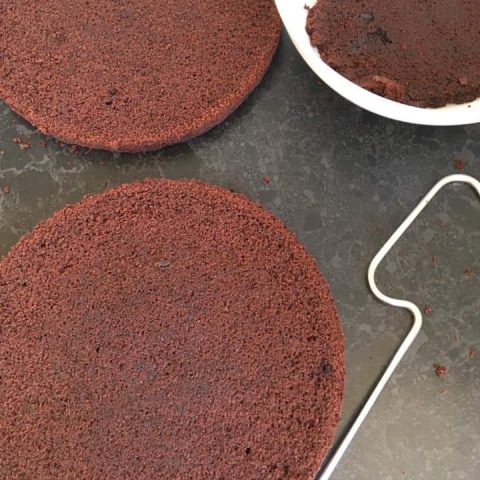 Place one of the cake layers on a plate or a cake turntable and top with some of the chocolate icing.
Repeat with all of the layers, making sure the layers are nice and straight when you stack them.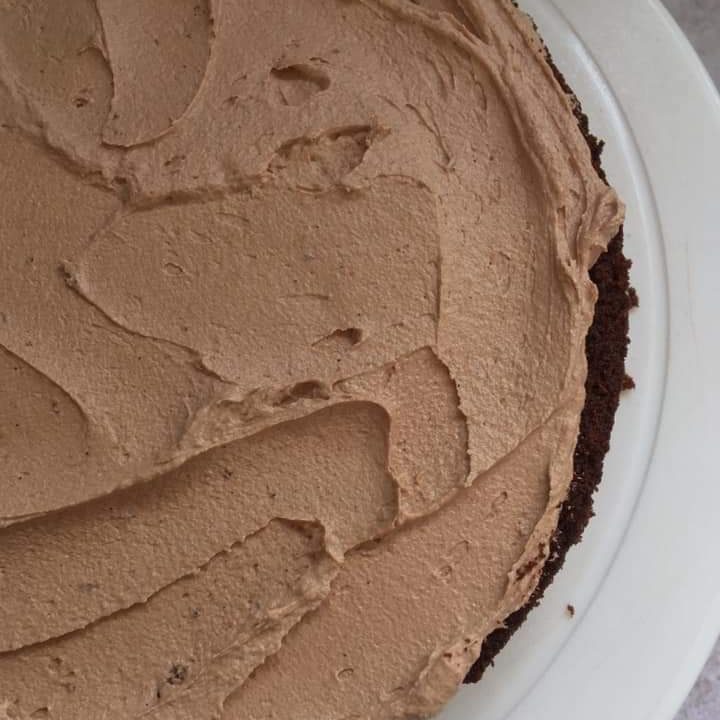 Cover the top and sides of the cake with the chocolate fudge icing.
Decorate the cake however you like – I piped little rosettes all around the edge of the cake with the rest of the buttercream and decorated with Maltesers, but obviously use whatever you like!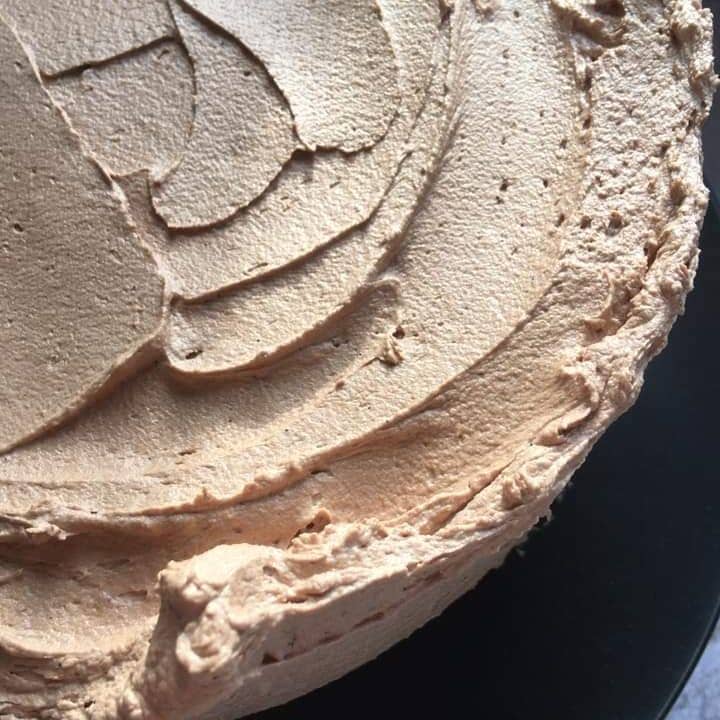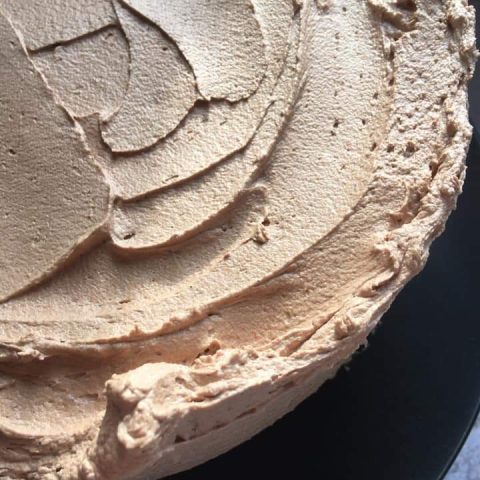 can you make this chocolate cake in advance?
Yes! This cake keeps extremely well for 2-3 days after baking – the oil helps to keep it nice and soft. I often make the sponges a couple of days before I know I'll be serving the cake.
 Once the cakes have cooled, I wrap them really well in cling film and tin foil.  This will keep them nice and fresh until you're ready to frost the cake. 
how long does chocolate fudge cake last?
Because this cake contains oil, it will last longer than a sponge cake that is made with the creamed method, such as a Victoria Sponge. You can expect this chocolate cake to keep well for up to 3-4 days. Store in an airtight container to keep it fresh.

Did you make this recipe?
I really hope you loved it! Let me know what you thought by leaving a comment below and rate the recipe out of 5 by clicking on the stars in the recipe card. Need any help with the recipe? Please reach out and I'll do my best to help!
MORE decadent CHOCOLATE DESSERT recipes
Mini chocolate truffle puddings
Chocolate chip courgette (zucchini) muffins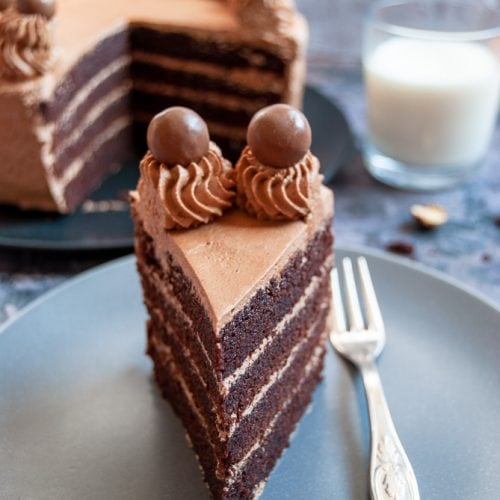 Chocolate Fudge Cake
Total Time:
1 hour
20 minutes
This is the perfect chocolate fudge cake for a celebration! 4 Layers of fudgy chocolate sponge covered in a light and fluffy chocolate frosting.
Ingredients
300ml Water
75g Cocoa Powder, sifted
280g Plain Flour
1 1/2 teaspoons Baking Powder
1/2 teaspoon Bicarbonate of Soda
1/2 teaspoon Fine Salt
1 teaspoon Espresso Powder
400g Caster (superfine) Sugar
240ml Vegetable or Sunflower Oil
4 Large Eggs,
1 tablespoon Vanilla Extract
FOR THE CHOCOLATE FUDGE ICING
180g good quality dark chocolate, chopped into small pieces
250g soft unsalted butter
500g icing sugar, sifted
1 tsp vanilla extract
Instructions
Preheat the oven to 180C/160Fan/350F. Grease and line two 20cm 5 inch deep cake tins.
in a medium pan, whisk together the water and the cocoa powder. When the mixture has melted, smooth and lump free, remove from the heat and set aside to cool.
In a medium sized bowl, whisk together the flour, baking powder, bicarbonate of soda, salt and espresso powder.
Using a stand mixer or a hand held electric hand whisk, beat the sugar, oil, eggs and vanilla until the mixture is pale and thick. This will take about 4-5 minutes.
Add one third of the flour mixture to the eggs and sugar, followed by the melted chocolate/water. Repeat until all of the flour and chocolate mixture have been added, beating until the ingredients are just combined and you have a smooth, glossy cake batter.
The batter will be much thinner than a normal cake batter - don't worry! Pour the batter into the lined tins. Bake for 45-50 minutes or until a cake skewer or toothpick comes out clean. Leave the cake to cool in their tins for 5 minutes before turning out onto a wire rack. Leave to cool completely.
To make the chocolate icing, beat the beat in a stand mixer (or use an electric hand whisk) until soft and creamy. Add half of the sieved icing sugar and beat on high speed. When the butter and sugar are incorporated, add the rest of the icing sugar and vanilla and continue to beat until very light and fluffy.
Add the cooled melted chocolate and beat until the icing is smooth and fluffy.
When the cakes are cold, split each one in two using a sharp knife or a cake cutting wire. Frost the cakes with the icing and decorate with sweets/candy of your choice.
Nutrition Information:
Yield:

12
Serving Size:

1
Amount Per Serving:
Calories:

477
Total Fat:

25g
Saturated Fat:

14g
Trans Fat:

0g
Unsaturated Fat:

9g
Cholesterol:

108mg
Sodium:

185mg
Carbohydrates:

55g
Net Carbohydrates:

0g
Fiber:

3g
Sugar:

31g
Sugar Alcohols:

0g
Protein:

7g