The Southern American classic Red Velvet Cake is the perfect cake for celebrating a special occasion – it's a true showstopper. Three layers of light, fluffy sponge with a dreamy white chocolate buttercream frosting.
Red Velvet Cake is undoubtedly the Dolly Parton of the cake world – a true showstopper!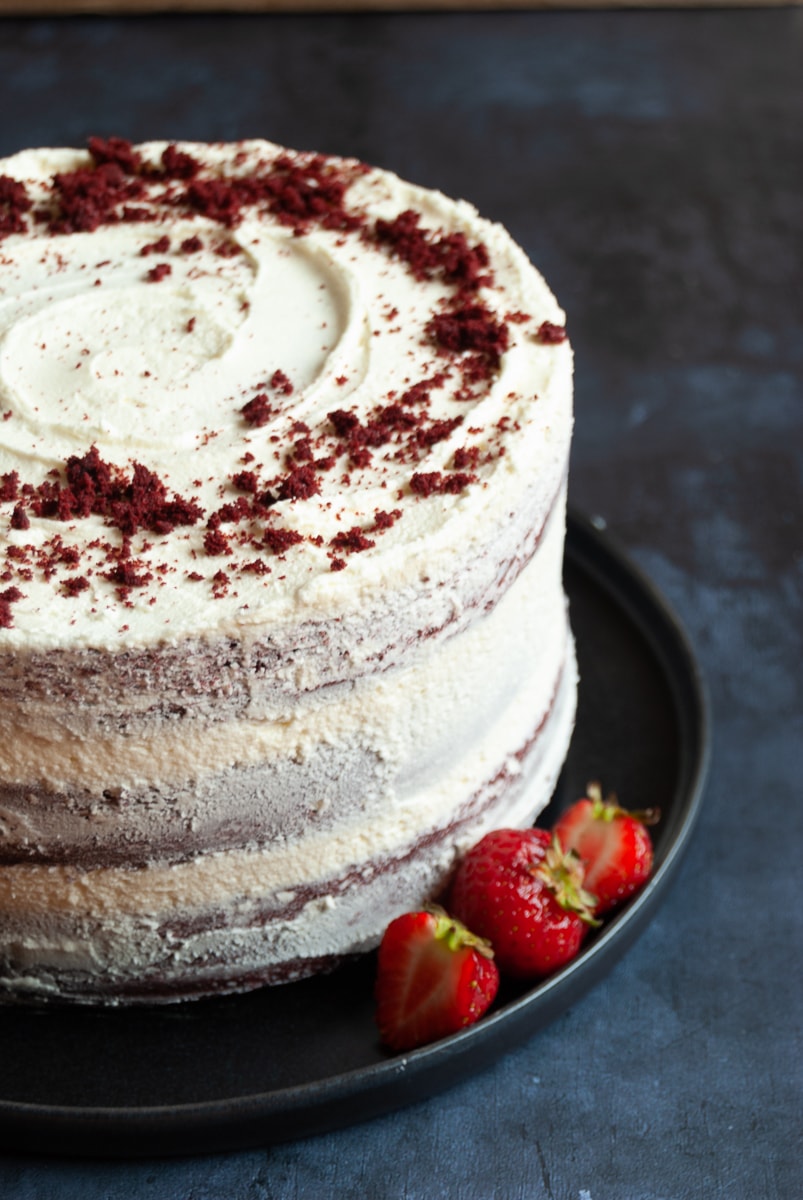 This is my tried and tested recipe for the Southern American classic cake. It's moist, light and quite frankly, dreamy to eat.
I first heard of red velvet cake many years ago in the movie "Steel Magnolias", where Shirley Mclaine's feisty character cuts herself a slice of a red velvet armadillo cake at a wedding.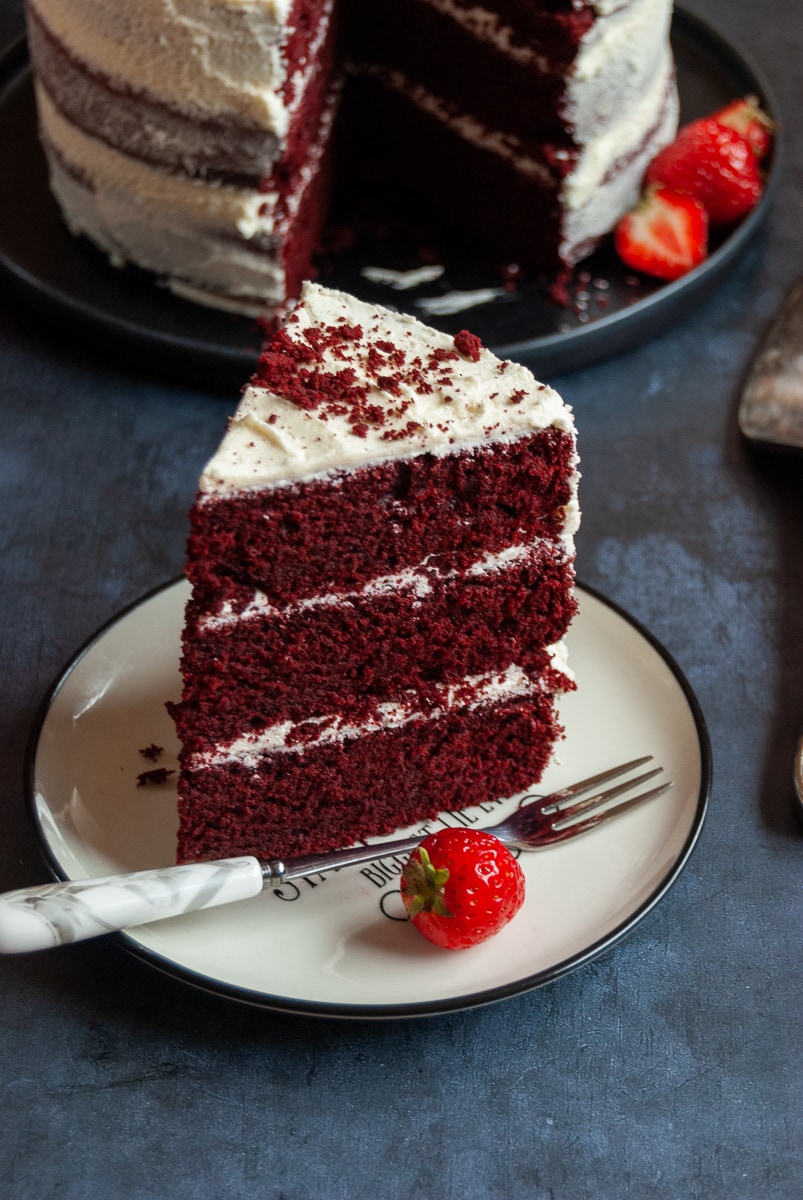 I have to admit it didn't appeal to me at all at the time. I didn't even taste red velvet cake until many years later when my children begged me to make one.
After experimenting with a couple of recipes and failing miserably, I almost gave up on finding a great red velvet recipe until I found Nigella Lawson's red velvet cupcakes – they were perfect and my kids went crazy for them.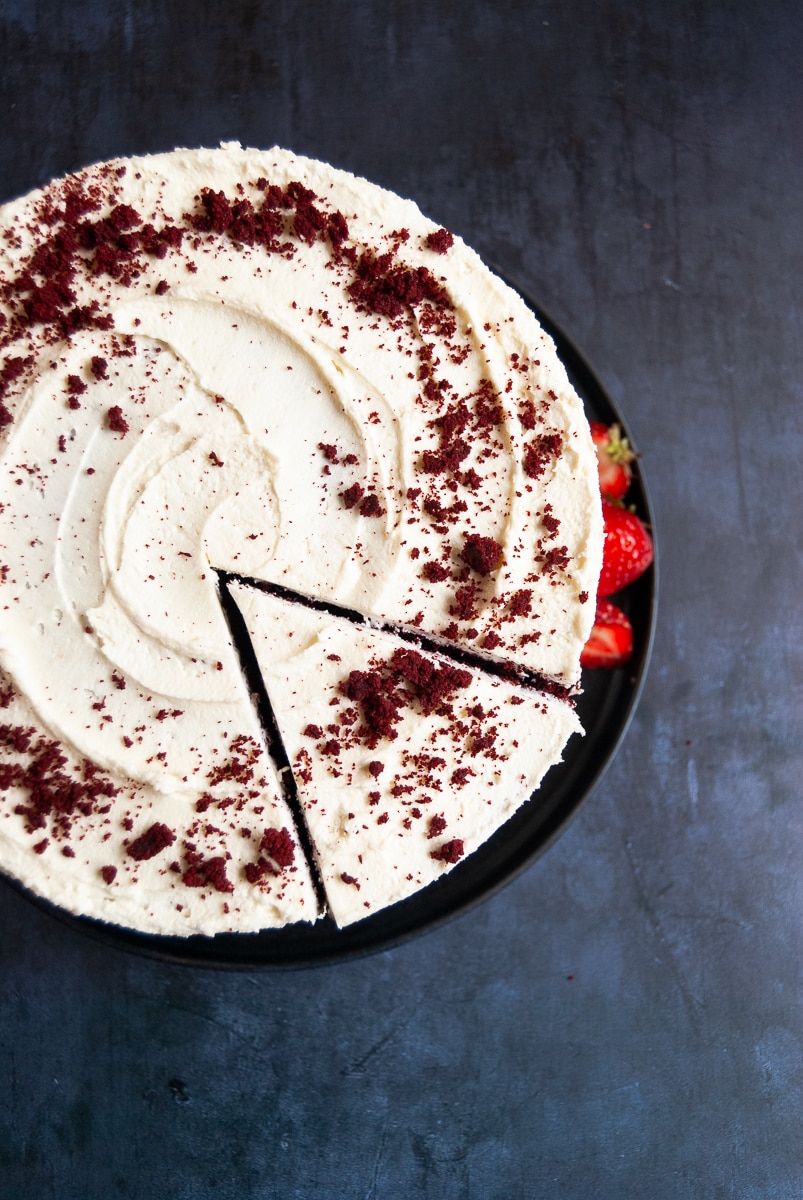 But this particular recipe is a game changer! It was given to me by a lovely American lady who used to live next door to me. I've slightly tweaked the recipe over the years and it's now one of my most requested cakes.
Red velvet cake is traditionally frosted with a tangy cream cheese icing, but I break from tradition and use a gorgeous white chocolate buttercream frosting.
I've given you recipes for both options, so I'll leave it up to you to decide which frosting to use.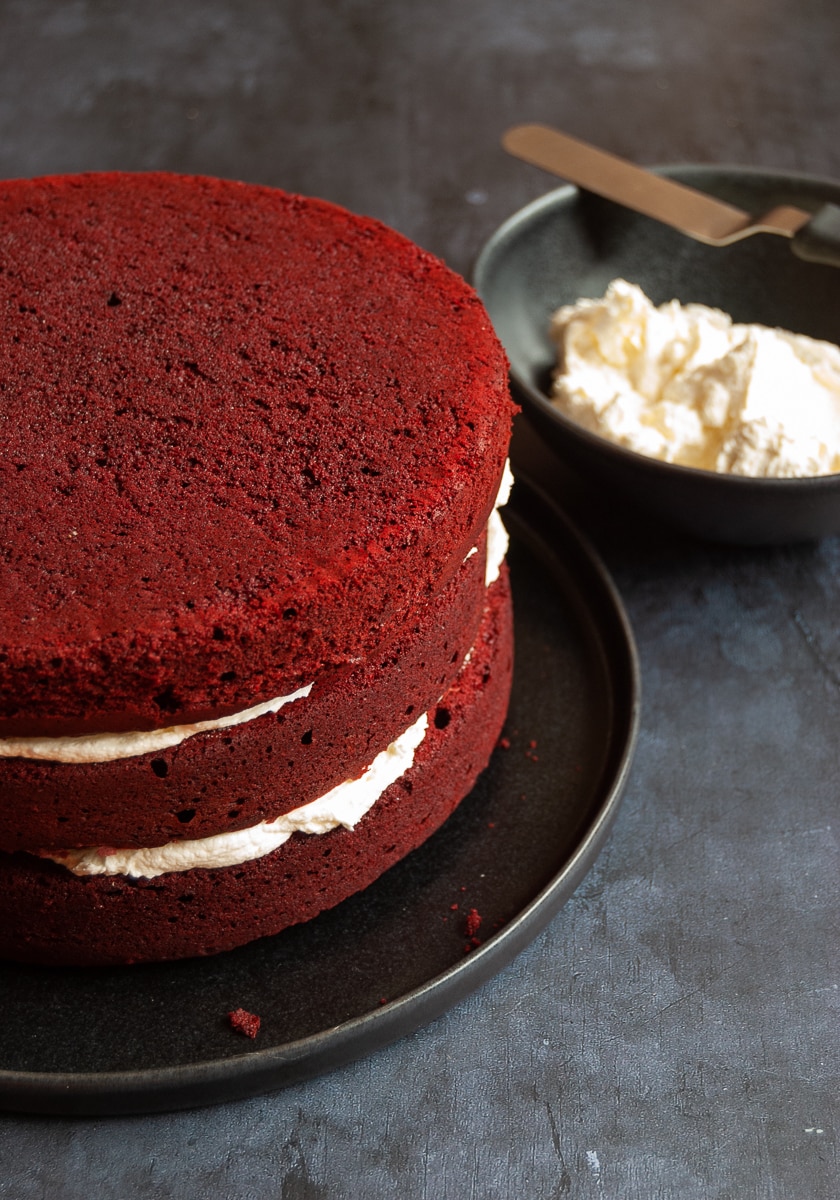 what does red velvet cake taste like?
Red Velvet is basically a very light, moist chocolate cake. It's not a strong chocolate flavour at all – in fact Red Velvet cake has a flavour quite unlike any other cake.
It's the perfect cake for people who aren't a fan of rich, heavy chocolate cakes – like my husband! 

If you're a red velvet fan, you might want to take a look at my red velvet cookies recipe!
Ingredients you will need:
(You'll find ingredient amounts and detailed instructions in the recipe card at the bottom of the post but this section contains important information!)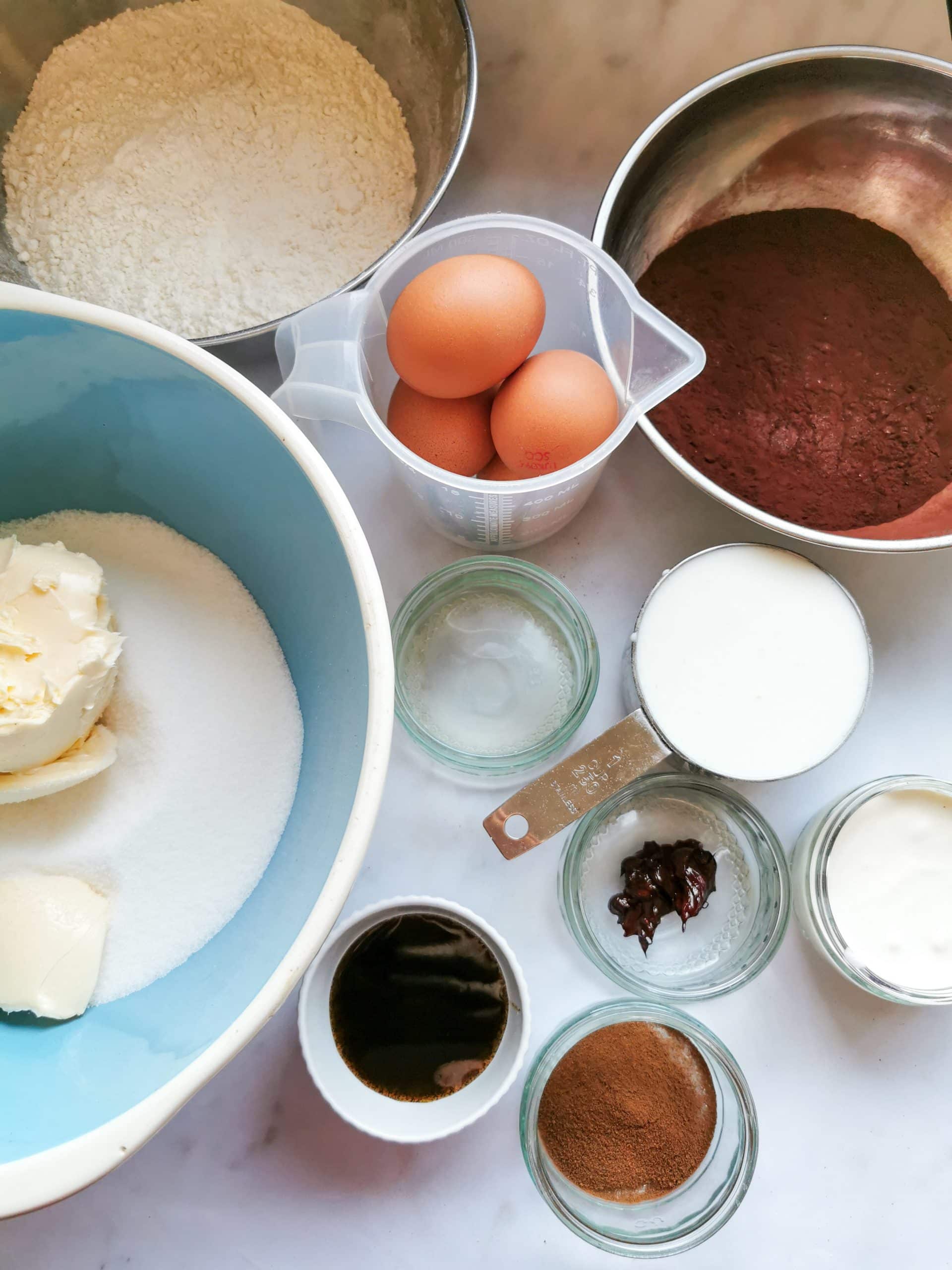 Plain (all purpose) Flour
Caster Sugar – plain old granulated sugar will also work fine but you will have to cream the butter and sugar for a bit longer to dissolve the sugar granules. If you have a food processor, you could whizz the sugar for a few seconds to make your own caster sugar.
Bicarbonate of soda
Fine Salt
Cocoa Powder – not drinking chocolate. A good quality cocoa powder will make all the difference to this cake. I've tried many brands, but my favourite at the moment is Van Houten.
Espresso Powder – not a traditional ingredient in red velvet, but I like to add it because it enhances the chocolate flavour. You won't taste coffee at all! But if you don't want to use it, the recipe will work fine without it.
Soft Unsalted Butter
Medium Eggs
Buttermilk
Sour Cream
Vanilla extract
Distilled white vinegar or cider vinegar
Red food colouring paste – NOT liquid. I used Squires Food Colour paste "Christmas Red"
for the white chocolate buttercream frosting:
White chocolate (not cooking chocolate) I use Callebeut chocolate – it melts beautifully and I have never had a problem with it splitting.
Icing Sugar
Soft unsalted butter
vanilla extract
For the cream cheese frosting:
Full Fat Cream Cheese – I use Philadelphia
Soft Unsalted butter
Icing Sugar
Vanilla Extract
Milk
How to make a red velvet cake from scratch
Mix together the flour, bicarbonate of sofa, salt and cocoa powder in a large mixing bowl.
Cream the butter and sugar together until the mixture is very soft and light.
Gradually add beaten eggs to the creamed butter and sugar, beating until well combined.
Stir in the sour cream and vanilla extract. Don't worry if the mixture looks a little curdled.
Using a large metal spoon, fold in half the dry ingredients, followed by half the buttermilk, then repeat until everything is just incorporated.
Fold in the vinegar and red food colouring paste. Just look at that colour!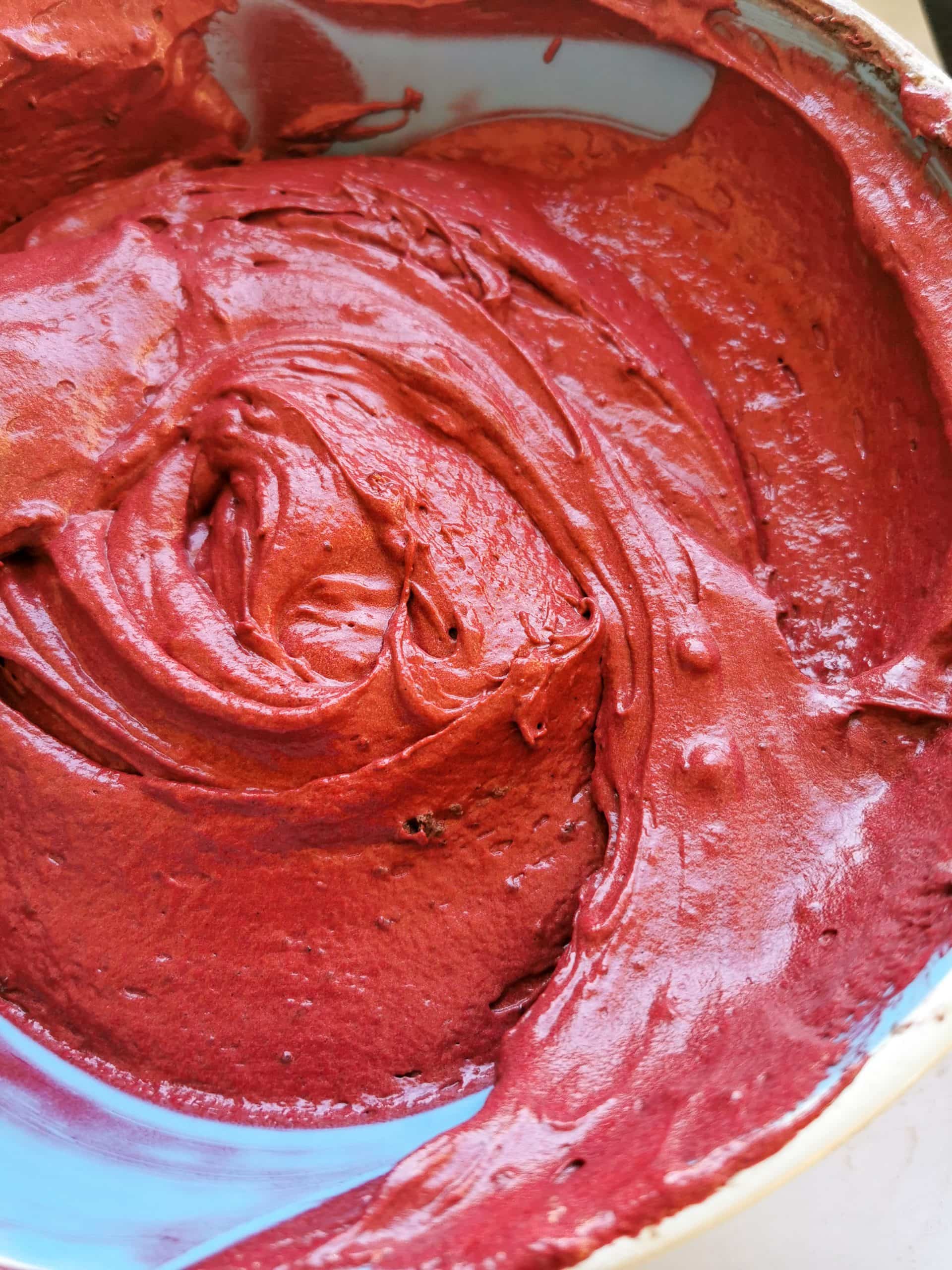 Pour this vivid coloured batter into three greased and lined 20cm round (5cm deep) cake tins.
Bake the sponges for 35-40 minutes until a cake tester inserted in middle of the cakes comes out clean and the sponges spring back to the touch.
How to make white chocolate buttercream frosting
Beat sieved icing sugar and soft unsalted butter together for a few minutes until light and fluffy.
Add vanilla extract and milk and continue to beat until very smooth and light.
Add the melted cooled white chocolate and stir until well combined.
how to make the cream cheese frosting
Make the cream cheese frosting by mixing sieved icing sugar with very soft butter, room temperature full fat cream cheese and vanilla extract. The mixture will be quite thick, so add a little milk, just 1 teaspoon at a time until you have a soft and spreadable frosting.
Don't overbeat or the mixture could become too runny.
When the cakes have completely cooled, place one of the sponges on a plate and spread with half of the frosting.
Place the other cake on top (carefully – the sponges are rather fragile) and cover with frosting. Repeat with the third layer then frost the top and sides of the cake.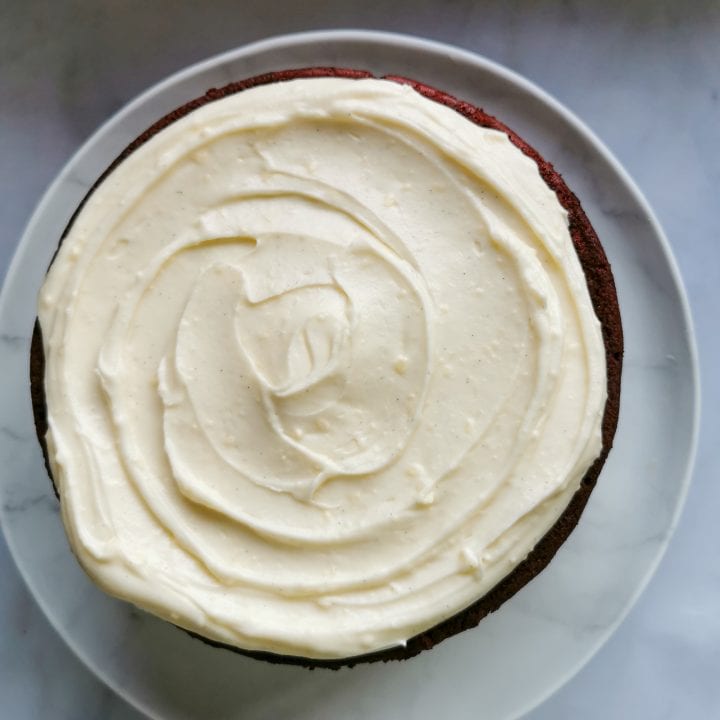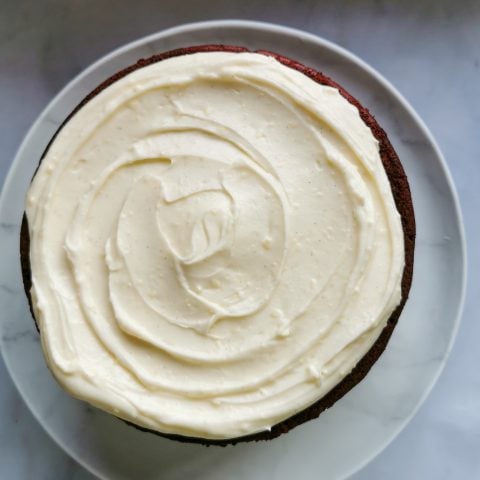 recipe Tips
I highly recommend using food colouring paste or gel, not liquid. The gels/pastes are concentrated and you would need to use an awful lot of the liquid coloring to achieve the same result, which would actually affect the recipe.
Make sure all your ingredients are at room temperature before you start baking – it really does make a massive difference to your cake.
Which food colouring gel is best for red velvet cake?
For a really vibrant red velvet cake I use Wilton Christmas Red or ProGel concentrated food colour in Red.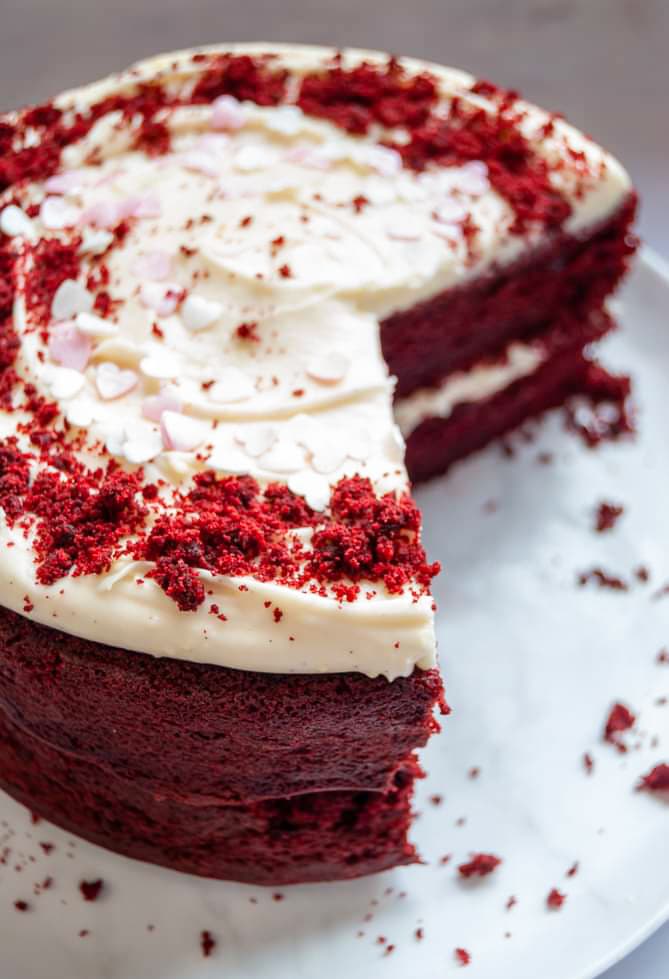 Can i make this cake without the food Colouring?
Yes you can! You will just end up with a light brown cake instead – not as striking, but still delicious.
Does red velvet cake need to be Refrigerated?
If you are icing the cake with the cream cheese frosting, then yes it should be kept in the fridge. It will keep for up to 3 days.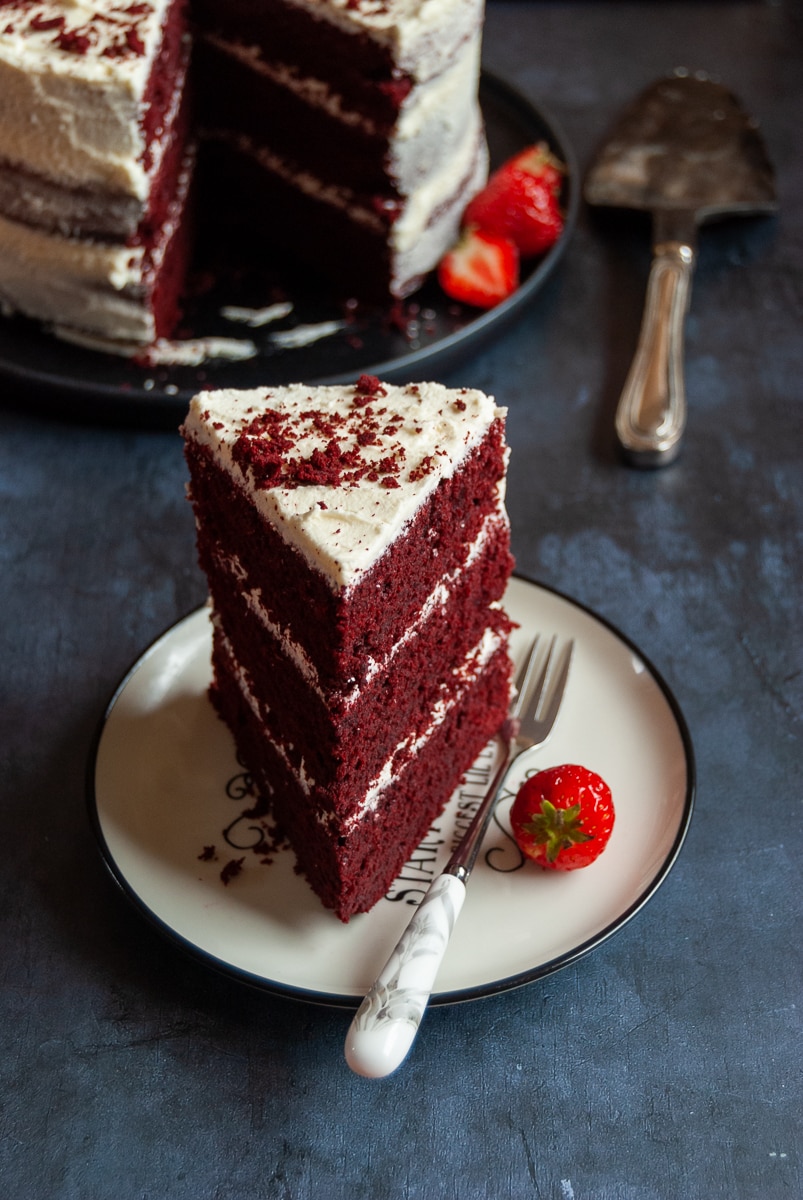 Can red velvet cake be Frozen?
The sponges can be frozen for up to 3 months. Double wrap in plastic wrap and a layer of tin foil before freezing.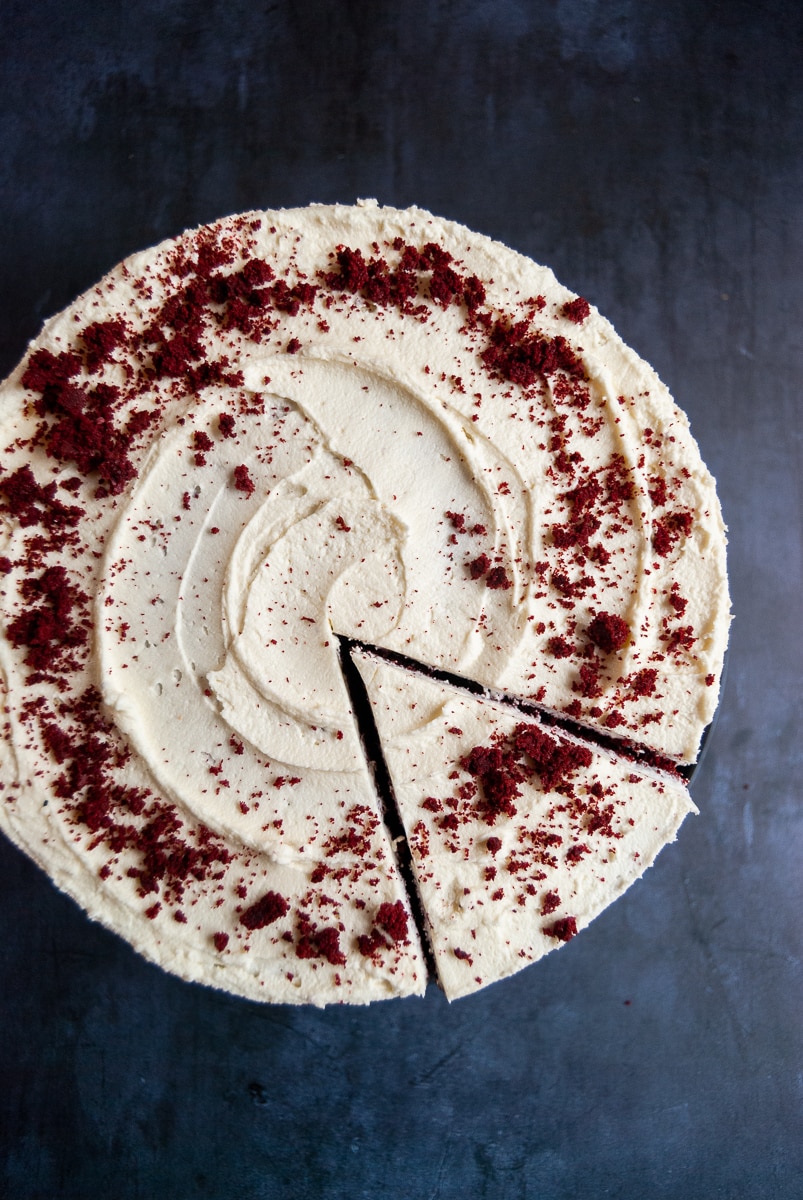 can I make this cake as cupcakes?
If you would prefer to make cupcakes, try this easy Red Velvet Cupcakes recipe.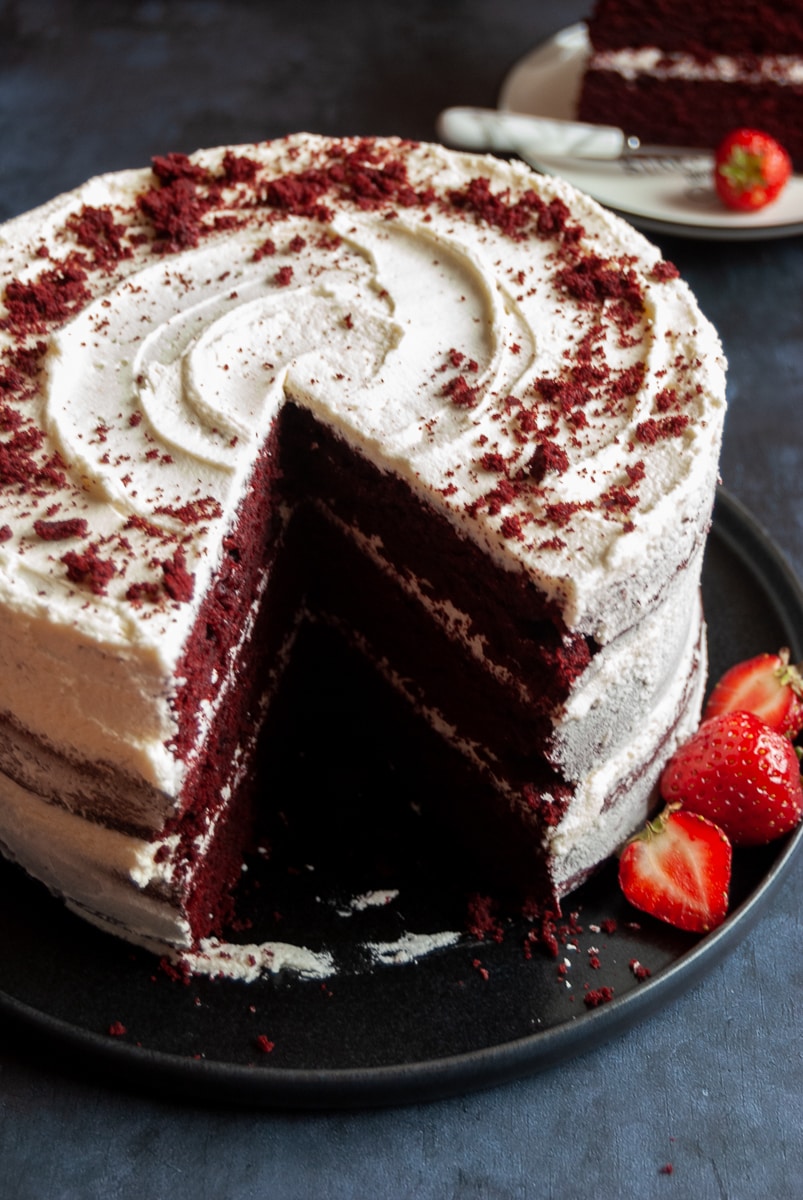 did you make this recipe?
I really hope you love it too! I would love to hear what you thought of it – leave a comment/review below and please rate the recipe by clicking on the stars in the recipe card below.
have any questions?
If you have any questions or need any help regarding this recipe, please don't hesitate to message me.
want to see more classic cake recipes?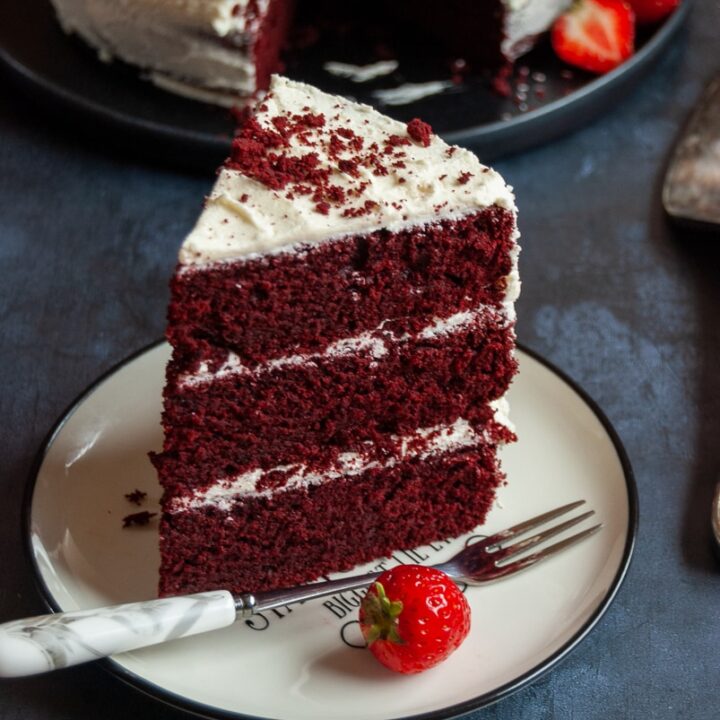 Red Velvet Cake
The Southern American classic Red Velvet Cake is light, moist and totally delicious. The perfect cake for a Birthday party or special occasion.
Ingredients
380G Plain Flour
75G Cocoa Powder
1 Teaspoon Bicarbonate of Soda
1/4 Teaspoon Fine Salt
1/2 Tablespoon Espresso Powder
225G Soft Unsalted butter
350G Caster Sugar
4 Medium Beaten Eggs, at room temperature
120ml Sour Cream
200ml Buttermilk
1 Tablespoon Vanilla Extract
1 Tablespoon distilled white vinegar or white wine vinegar
2 Tablespoons Red Food Colour paste - I used Squires paste in Christmas Red
FOR THE WHITE CHOCOLATE BUTTERCREAM FROSTING:
300g Icing Sugar
150g Soft Unsalted Butter
1 tsp vanilla extract
1 tbsp whole milk
150g white chocolate, melted and cooled
FOR THE CREAM CHEESE FROSTING:
500g Icing Sugar
125G Full Fat Cream Cheese (Remove from the fridge for at least 30 minutes before using)
125G Soft Butter
1 Tsp Vanilla Extract
1-2 Tbsp Milk
Instructions
Preheat the oven to 180C/160Fan/350F. Grease and line 3x 20cm/5cm deep round cake tins.
Combine the plain flour, cocoa powder, baking soda, salt and espresso powder in a large bowl.
Cream the butter and sugar together for about 5 minutes or until very light and fluffy. Gradually add the beaten eggs, beating all the time until the mixture is well incorporated. Stir in the vanilla extract and sour cream.
Fold in half of the dry ingredients, followed by half of the buttermilk, then repeat until you have a smooth batter. Stir in the vinegar and red food colour paste.
Divide the mixture evenly between the cake tins.
Bake the cakes for 35-40 minutes or until they are risen, spring back when pressed and a cake skewer inserted in the middle of the cake comes out clean.
Transfer the cake tins to a wire rack and leave the sponges in the tins for 10 minutes before turning out of the tins and leave to cool completely.
If you are making the white chocolate buttercream, sieve the icing sugar into a large bowl and add the soft butter. Beat on high speed for 4-5 minutes before adding the vanilla extract and milk. Beat for another few minutes until very soft and fluffy. Pour in the melted and cooled white chocolate and continue mixing for another couple of minutes until you have a very smooth buttercream.
For the Cream Cheese Frosting, Sieve the icing sugar into a large bowl. Beat in the soft butter, cream cheese and vanila extract. The mixture will be quite thick, so start to add the milk, just 1 teaspoon at a time until you are happy with the consistency. Try not to overbeat it or the mixture could become too thin.
When the cakes are completely cold, place one sponge on a plate or cake card. Spread with half of the frosting of your choice and place the other sponge on top. Cover the top and sides of the cake with the remaining frosting. I like to keep any crumbs that have fallen off the sponges to sprinkle over the top of the finished cake - it makes a very simple but lovely decoration.
Notes
It's very important that all of your cake and frosting ingredients are at room temperature before you start making the cake.
I used Squires food colouring paste in Christmas Red.
Take care not to overbeat the cream cheese when making the frosting or it could separate, making the frosting runny and unusable.
Nutrition Information:
Yield:

14
Serving Size:

1
Amount Per Serving:
Calories:

605
Total Fat:

27g
Saturated Fat:

16g
Trans Fat:

0g
Unsaturated Fat:

9g
Cholesterol:

114mg
Sodium:

148mg
Carbohydrates:

86g
Net Carbohydrates:

0g
Fiber:

2g
Sugar:

61g
Sugar Alcohols:

0g
Protein:

6g