These mini chocolate truffle puddings have a hidden molten chocolate truffle centre. They take just 15 minutes to make and are a chocolate lover's dream come true!
Chocolate fondant puddings, or otherwise known as chocolate lava cakes, have a reputation for being tricky to make, but these are actually very simple. I place a chocolate truffle in the centre of each pudding before baking for a molten, gooey chocolate centre.
Is this cheating? Possibly, but when something is this heavenly to eat, who cares?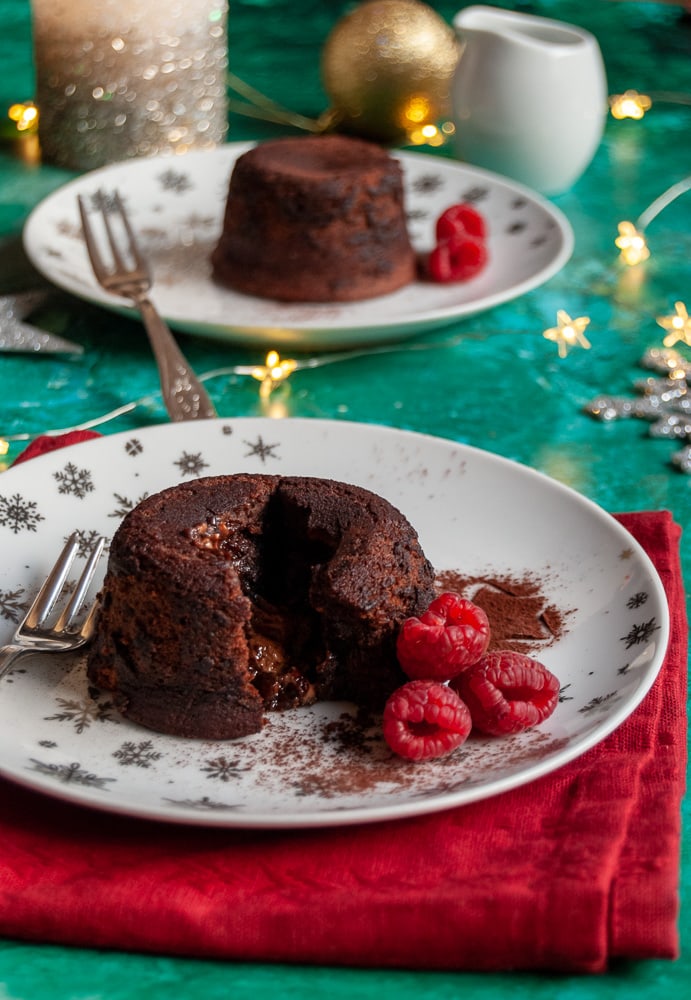 These gooey little chocolate puddings would make the perfect individual Christmas dessert!  I have tested these molten chocolate truffle puddings five times over the past week – much to my childrens delight!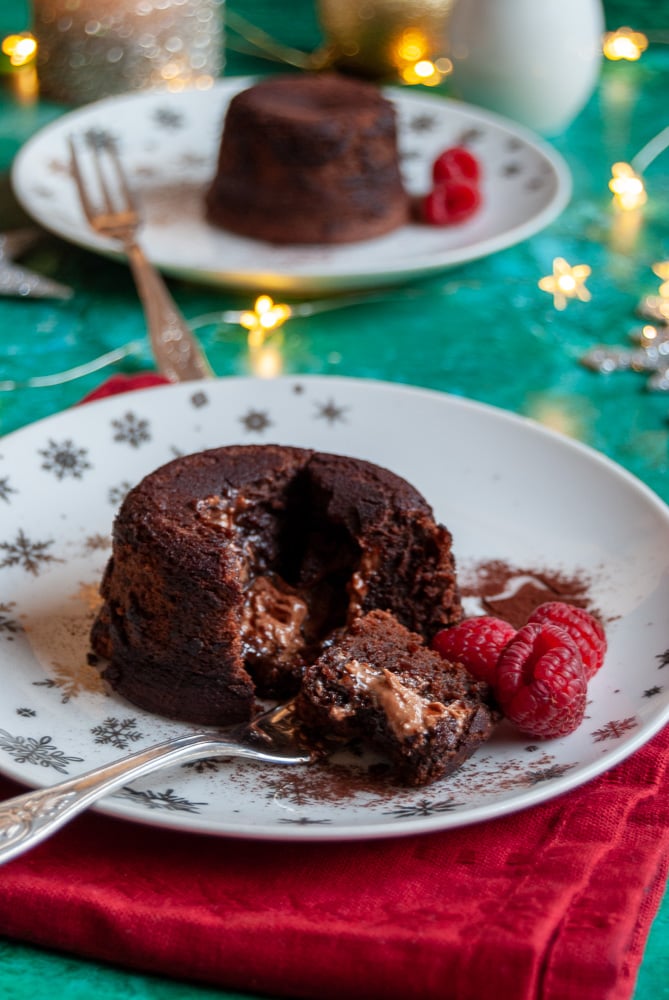 why you should try this recipe
They are hassle free to make
They take just 13 minutes to bake
They are a chocolate lover's idea of heaven!
ingredients
unsalted butter. You could also use salted butter – it won't make much difference. But please don't use spreads or margarine – it must be proper block butter.
dark chocolate
milk
eggs – 3, large
caster sugar
plain flour
vanilla extract
pinch of salt and espresso powder – this will enhance the flavour of the chocolate
chocolate truffles – ideally ones with a melting centre. I used Lindor truffles, but Baileys or salted caramel truffles would also be perfect.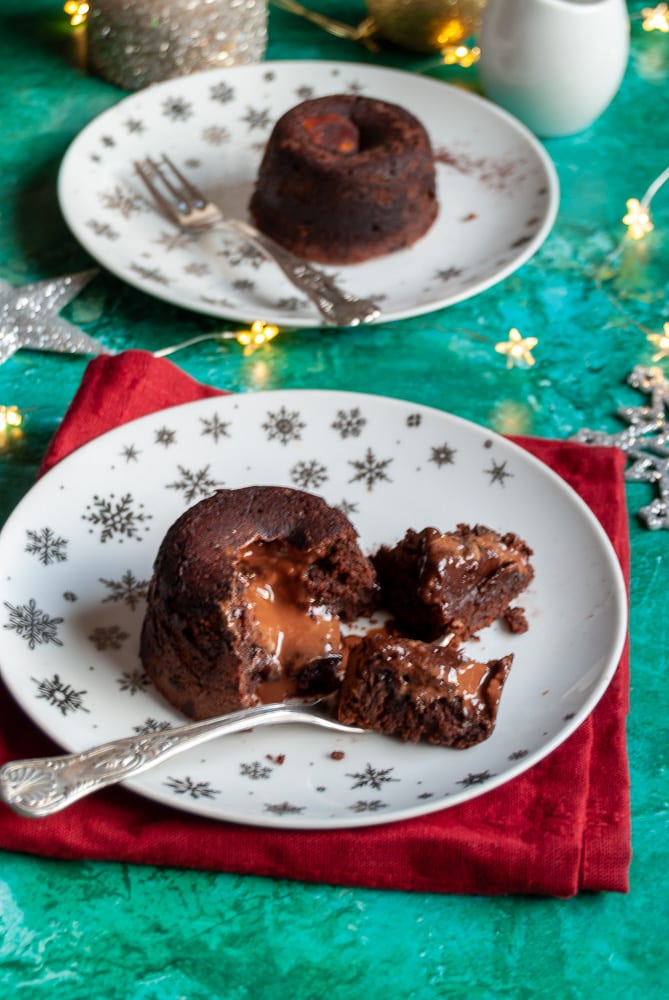 equipment
You will need six metal mini pudding moulds/Dariole moulds to make this recipe. Please note that I tested the recipe in glass and ceramic ramekins and the puddings would not turn out properly – they just completely collapsed. This isn't a problem if you are happy to serve the puddings straight out of the ramekins, but if you want to turn the puddings out, I would 100% recommend using metal pudding basins.
tips for making this recipe
Whisk the eggs and sugar together until they are really thick, pale and almost mousse like. This will ensure your chocolate puddings will rise!
Fold in the melted chocolate and flour mixture gently so you don't knock out all that air you created.
Make sure you grease your pudding tins well – I also like to dust them with cocoa powder.
These little chocolate puddings take just 13 minutes to bake, but they might take a minute or two more or less in your oven.
Don't try and remove the puddings from the tins straight away or they may collapse – leave them for a few minutes before turning out.
did you make this recipe?
I really hope you loved them! Let me know what you thought of the recipe by leaving a comment below and please rate the recipe by clicking on the stars in the recipe card.
looking for more indulgent chocolate desserts?
chocolate caramel Mars Bar cake
Baileys chocolate brioche pudding
chocolate orange Panettone pudding
chocolate brownie berry trifle with Chambord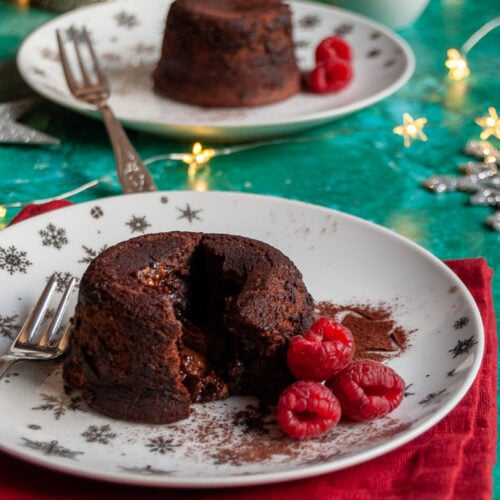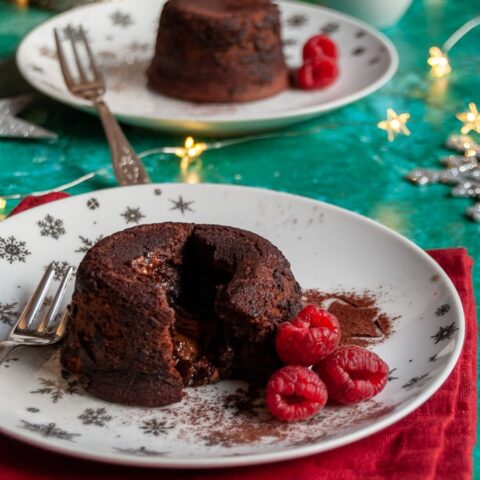 Molten Chocolate Truffle Puddings
Yield:
Makes six individual puddings
These mini chocolate truffle puddings have a hidden chocolate truffle centre.  They take just 15 minutes to make and are a chocolate lover's dream come true!
Ingredients
1 tbsp melted butter
1 tsp cocoa powder
150g dark chocolate, chopped into small pieces
125g unsalted butter
1 tbsp cocoa powder, sifted
60ml milk
3 large eggs
150g caster sugar
75g plain flour
pinch of salt
pinch of espresso powder (optional)
6 chocolate truffles (I used Lindor truffles)
Instructions
Preheat the oven to 180C/160Fan/Gas mark 4 and pop in a baking tray. Brush 6 metal ramekins (dariole moulds) with melted butter and dust with th cocoa powder.
Place the butter and chocolate in a small saucepan over a low heat and allow to melt, stirring occasionally until smooth. Remove from the heat, add the cocoa and milk and stir to combine. Allow to cool slightly.
In an electric mixer, whisk together the eggs and sugar until the mixture is very pale and thick (almost moussy). Pour in the melted chocolate mixture, folding in only until just combined. Sift the flour, salt and espresso powder together and fold in until just combined, taking care not to knock the air out of the mixture.
Pour the mixture into the buttered ramekins and pop a chocolate truffle in the middle. Place on the hot tray in the oven and bake for 12-15 minutes or until set. The puddings will be risen, a little firm to touch and will look like they are starting to shrink away from the sides of the moulds.
Leave the puddings to cool for a few minutes - and this is an important step so please don't skip it - before turning out onto a plate. To release the puddings from the moulds, I very gently run a blunt knife around the edges, then place a plate on top and invert. Give the moulds a couple of sharp taps with your hand and the puddings should release.
Serve on their own or with double cream, ice cream or creme fraiche and raspberries to counteract all that (delicious!) sweetness.
Nutrition Information:
Yield:

6
Serving Size:

1
Amount Per Serving:
Calories:

552
Total Fat:

34g
Saturated Fat:

20g
Trans Fat:

0g
Unsaturated Fat:

12g
Cholesterol:

152mg
Sodium:

95mg
Carbohydrates:

57g
Fiber:

3g
Sugar:

42g
Protein:

7g
Calories and nutritional information are provided by a third party application and should be viewed as indicative figures only.