Do you, or does anyone in your family love Nutella on your pancakes? How about Nutella in your pancakes instead? These Nutella stuffed pancakes are an indulgent breakfast treat that Nutella fans will go crazy for!
If your home is filled with Nutella fans, this recipe is for you! You will be loved for making these, I promise you!
Whenever I buy a jar of Nutella specifically for recipes, I have to hide it from my teenagers otherwise you can guarantee I'll be buying another jar in a day or two.
If you also have a family full of Nutella addicts, I also have recipes for these ridiculously easy 3 ingredient Nutella cookies, soft and fluffy banana Nutella muffins, browned butter Nutella blondiesand these fabulous gooey chocolate cakes with raspberries and Nutella.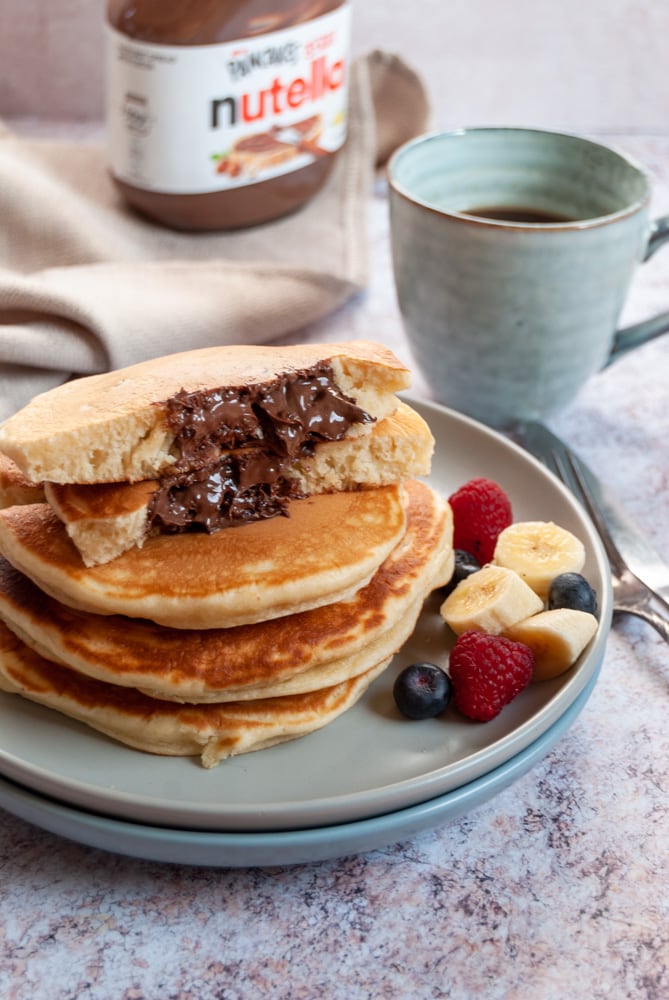 I've seen tons of Nutella stuffed pancakes on Pinterest over the past couple of years. I'm afraid I have no idea where the original idea from, so unfortunately I can't give any credit. If you know who came up with these, please let me know!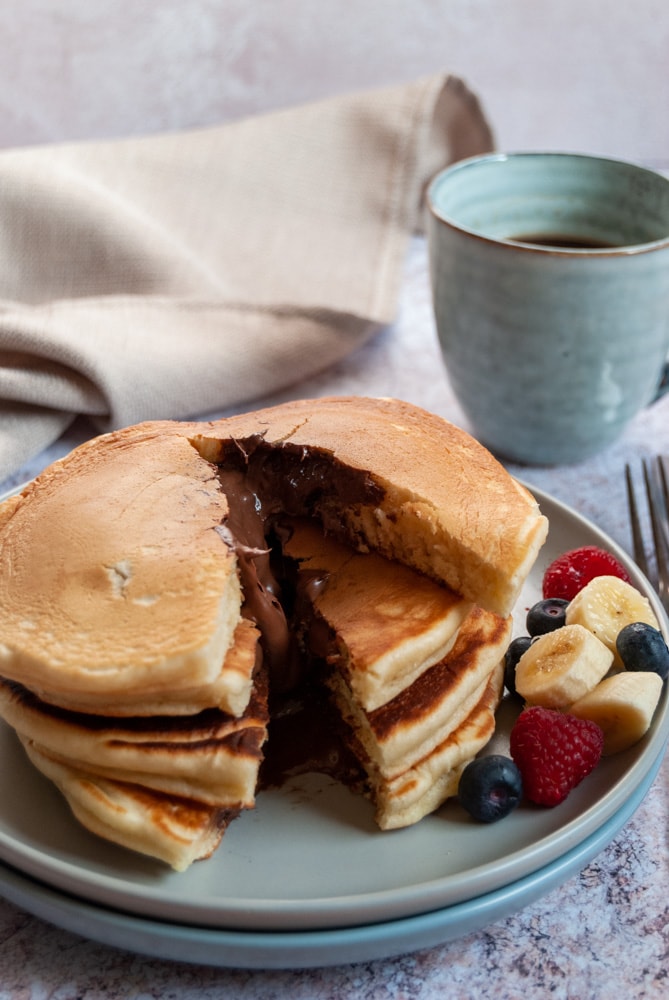 This would be a really fun recipe to make for Pancake Day (also known as Shrove Tuesday.)
I used my fool proof go-to pancake recipe (my favourite pancake recipe which I also used for these EPIC sticky toffee pudding pancakes)
You do need to be a little bit ahead of the game to make these – you need to freeze the Nutella.
All I did was place several heaped teaspoons of Nutella on a sheet of baking parchment and popped in the freezer. They take roughly 30 minutes to become firm but you always do this well in advance.
I kept some extra frozen Nutella discs in my freezer for the next time we make these!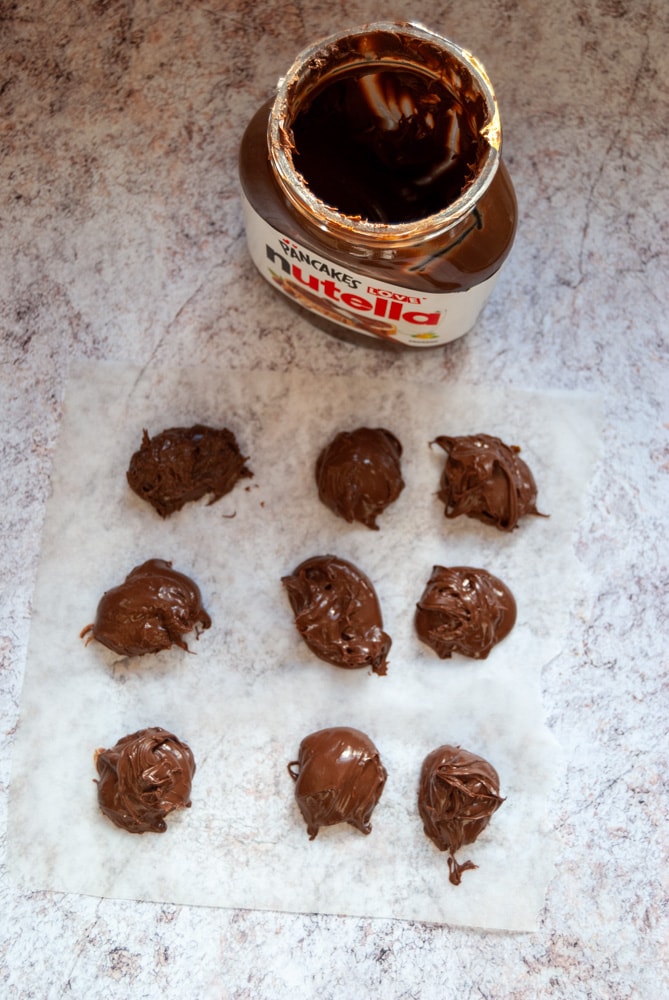 tips for making this recipe
You have to work pretty quickly here – so make sure you have everything to hand. Get your frozen Nutella out of the freezer and arm yourself with a spatula!
When you pour the pancake batter into your pan, quickly place a frozen disc of Nutella on top like below. Place the rest of the frozen Nutella pieces back in the freezer between making each pancake – they melt pretty quickly and become difficult to handle.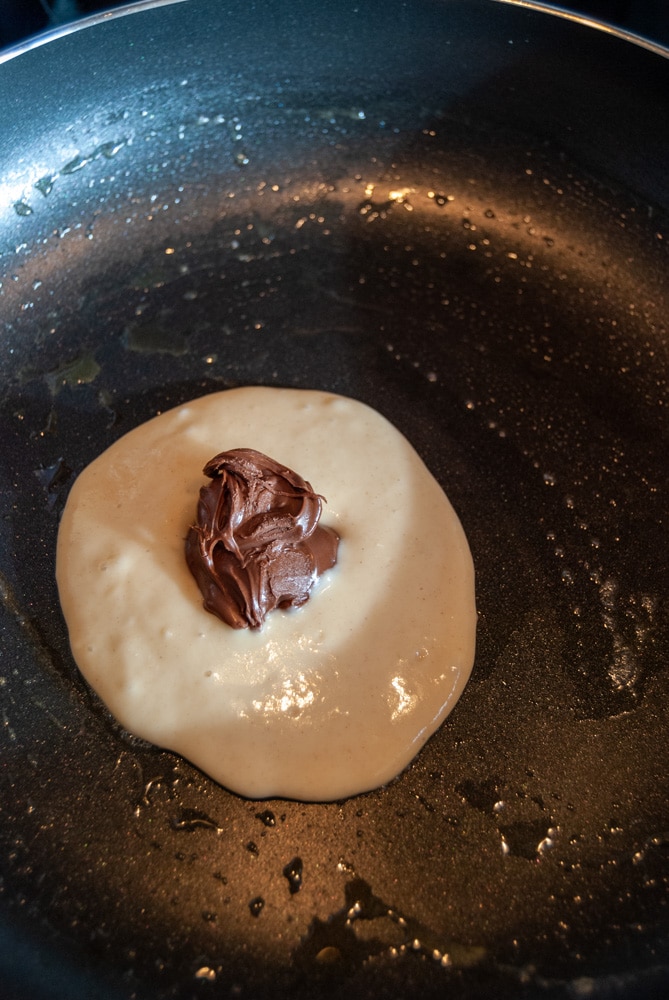 Then quickly pour a little more pancake batter over the Nutella, trying to make sure the spread is completely covered in batter. Then all you do is proceed how you always would when make pancakes – wait for bubbles to appear on the surface, then flip!
When your pancakes are ready, the Nutella should be warm and molten inside – yum!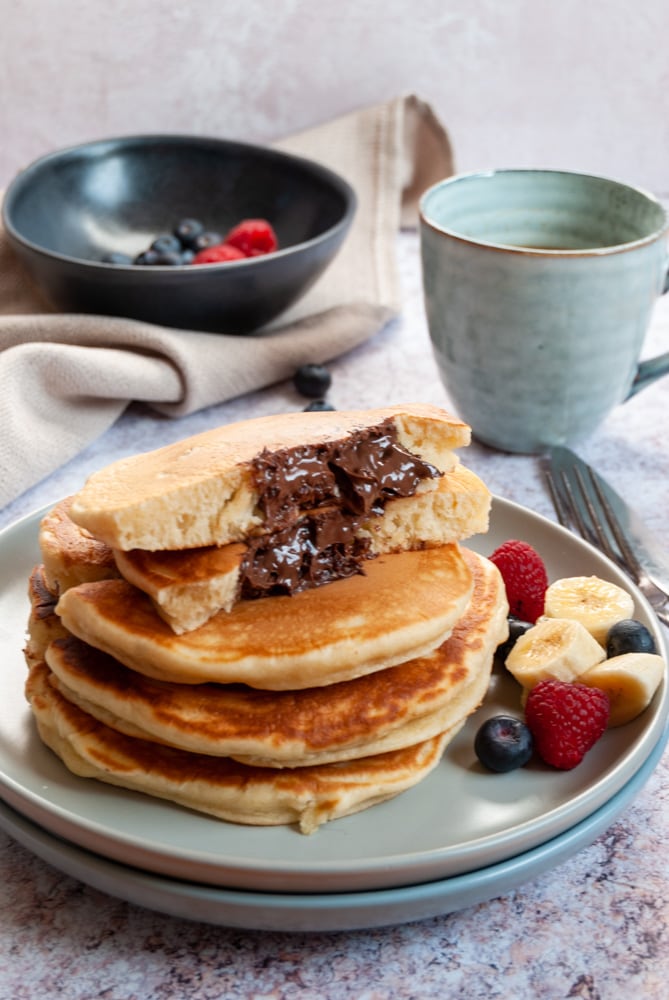 how long do these nutella stuffed pancakes keep for?
These pancakes are at their very best eaten as soon as possible. The experience of the warm, molten Nutella middle is quite something!
Any leftovers can be warmed through in the oven for 5 minutes or so – they won't be quite as good reheated but will still be delicious.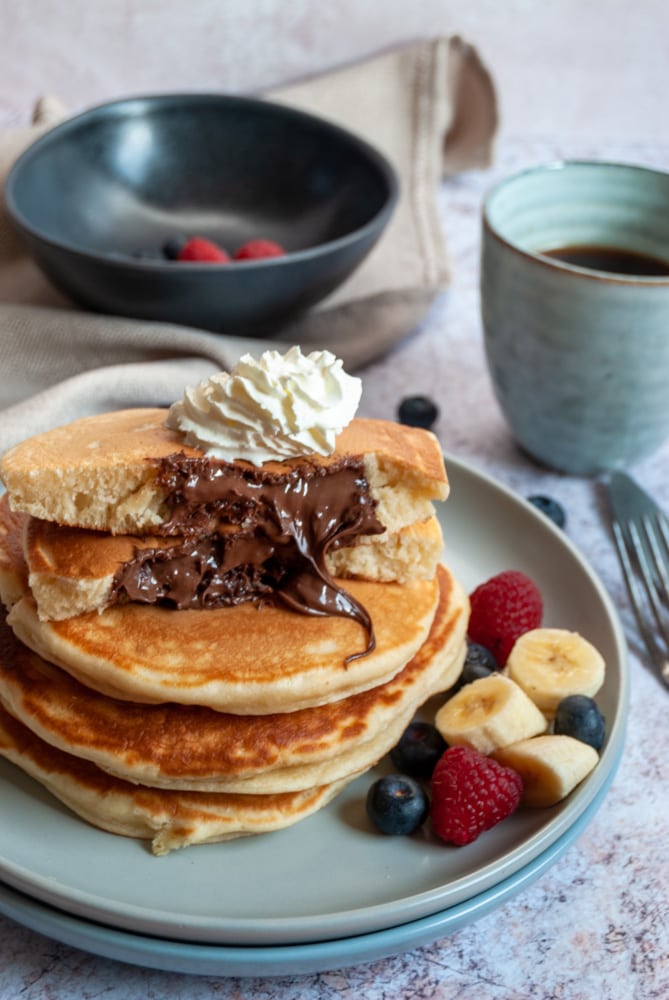 This recipe was originally published 12th February 2018. Republished 16th February 2021 with updated text and new photographs.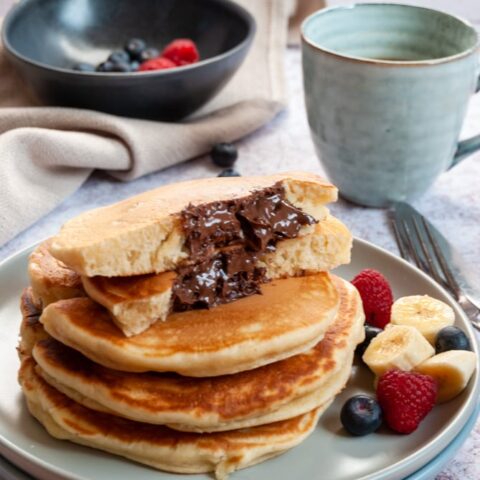 Nutella stuffed pancakes
Yield:
makes 9 large pancakes (obivously you can make them smaller!)
Total Time:
1 hour
10 minutes
You may have tried Nutella on pancakes, but how about putting Nutella inside your pancakes instead? These Nutella stuffed pancakes are an amazing treat!
Ingredients
9 heaped teaspoons of Nutella
250g Self Raising Flour
1/2 teaspoon baking powder
pinch of salt
50ml vegetable or sunflower oil (you can use melted butter if preferred)
2 large eggs
75g caster sugar
approximately 200ml semi skimmed milk (you can use whole milk if that's all you have)
Warmed Nutella and whipped cream to serve, if you like
Instructions
Place the heaped teaspoons of Nutella on a large plate lined with a piece of baking paper. Freeze for at least 30 minutes or until firm.
To make the pancake batter, place the flour, baking powder and a pinch of salt in a large mixing bowl and stir to combine.
In a large measuring jug, whisk together the oil, eggs and sugar until well combined. Make a well in the flour and pour in the egg mixture. Using the same measuring jug, measure out 200ml milk and pour this into the bowl with the flour.
Whisk everthing together very well until you have a smooth, bubbly batter with no streaks of flour. You might need to add a little more milk if the mixture seems too thick.
Heat your pan up to a nice medium heat (if it's too hot the pancakes will burn before they have a chance to cook on the inside.) I like to pour the pancake batter into a jug for easy pouring. Lightly grease the pan and pour in a little of the pancake batter. Quickly place a piece of frozen Nutella on top, then pour a little more batter on top to cover the Nutella. Watch for the bubbles to appear on top, then flip the pancake for another 1-2 minutes or until cooked through. Repeat until all the batter is used up.
Serve the pancakes warm with whipped cream, more melted Nutella and fresh fruit.
Nutrition Information:
Yield:

4
Serving Size:

1
Amount Per Serving:
Calories:

500
Total Fat:

14g
Saturated Fat:

8g
Trans Fat:

0g
Unsaturated Fat:

5g
Cholesterol:

98mg
Sodium:

910mg
Carbohydrates:

81g
Fiber:

3g
Sugar:

33g
Protein:

12g
Calories and nutritional information are provided by a third party application and should be viewed as indicative figures only.