It's easy to make American diner style waffles at home – treat yourself to these buttermilk cinnamon waffles with vanilla apples! Serve with Greek yoghurt and lots of maple syrup for a gorgeous weekend breakfast treat.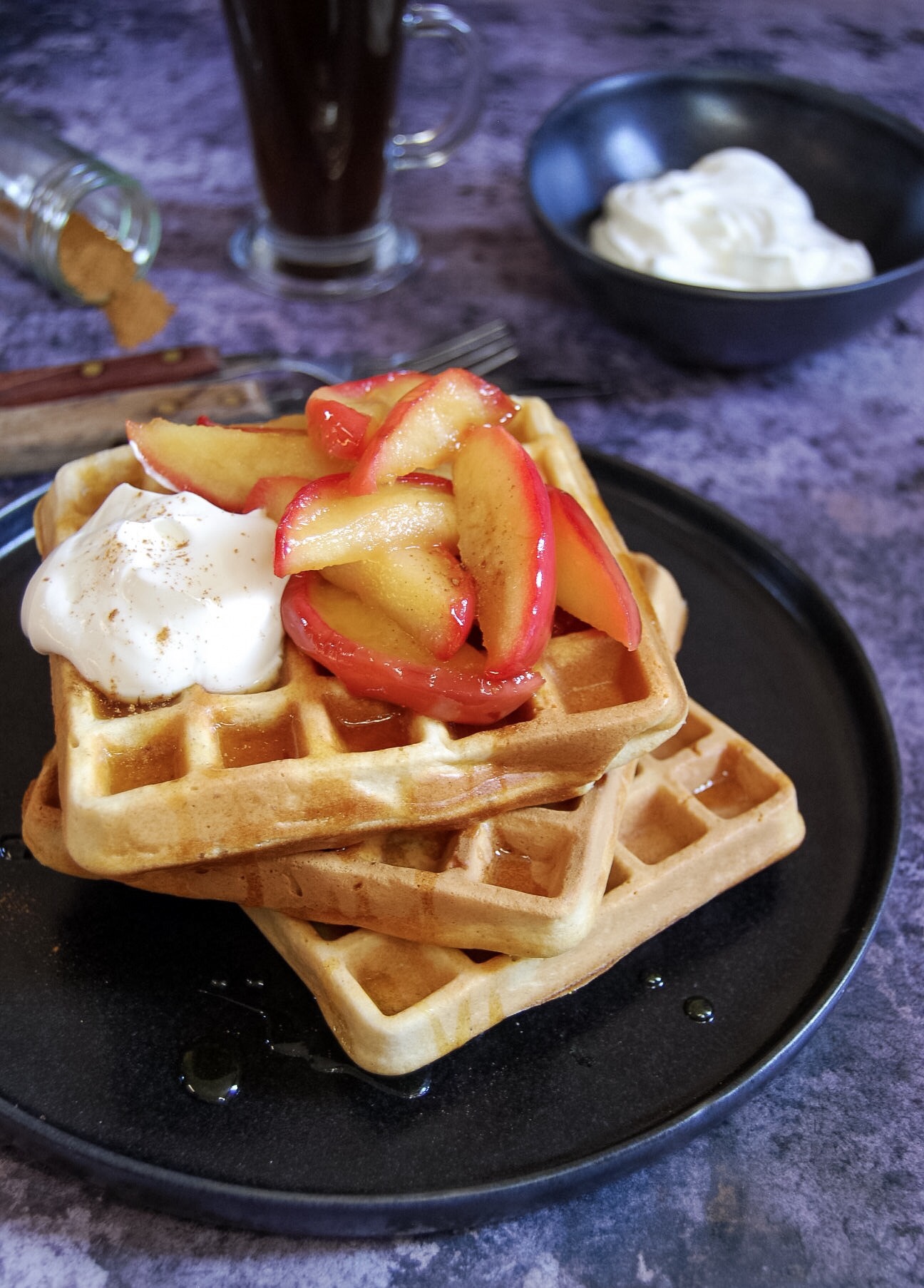 When I was growing up in the 80's and early 90's, waffles weren't on my radar.
As far as I knew, waffles were something only American people ate. Pilled high with lots of maple syrup and whipped cream from a can.
Weekend breakfasts were all about fluffy American pancakes in my family. They still are. But last year, after much umming and aaahing, I decided to treat myself to a waffle maker.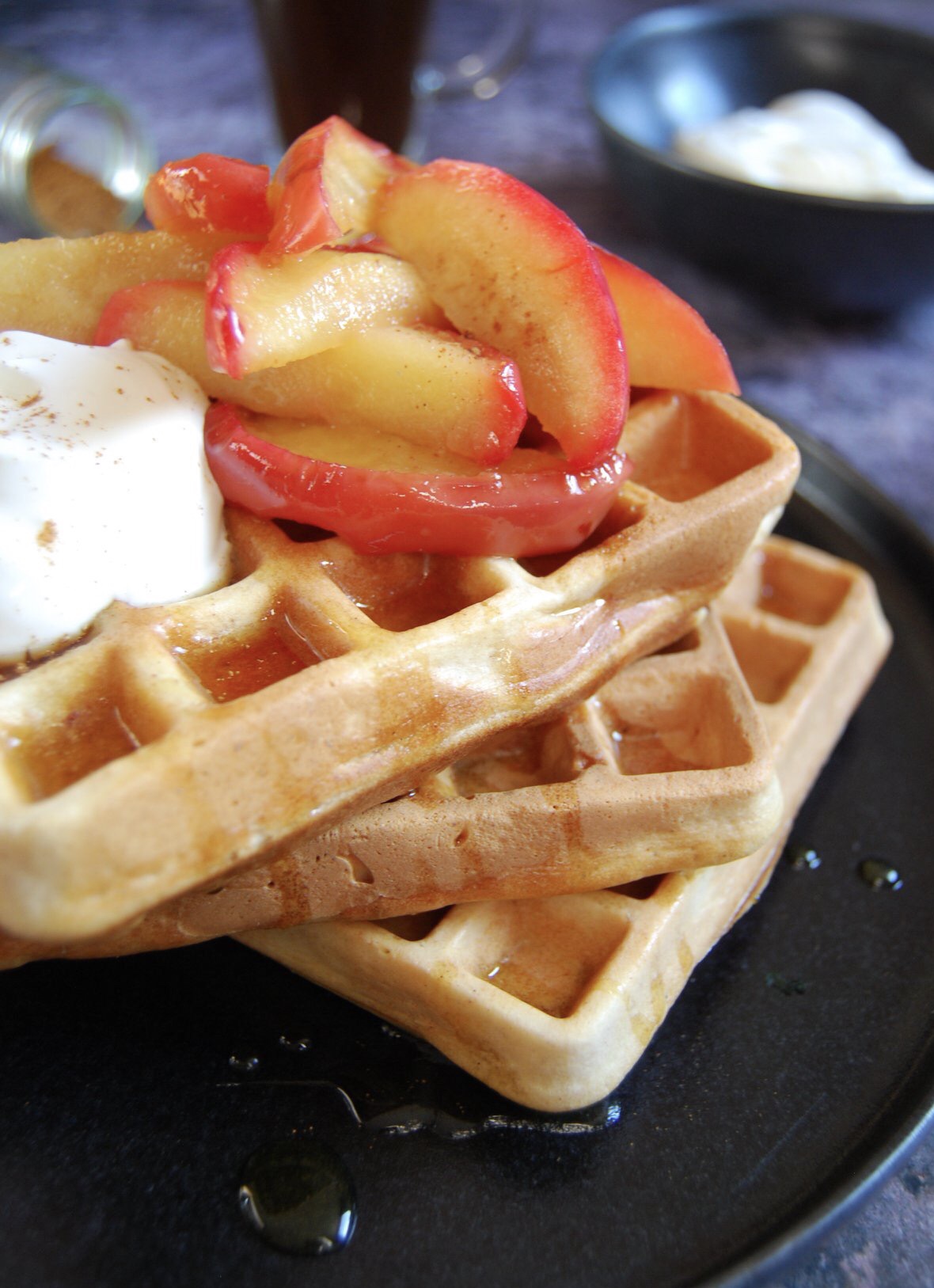 The teenagers were extremely excited. "We're having waffles for breakfast every weekend!" they proclaimed.
That didn't end up happening of course (they are too fond of their beloved bacon rolls to push them out out the top spot for Number one breakfast) but I do like to make waffles every now and then for a special breakfast treat.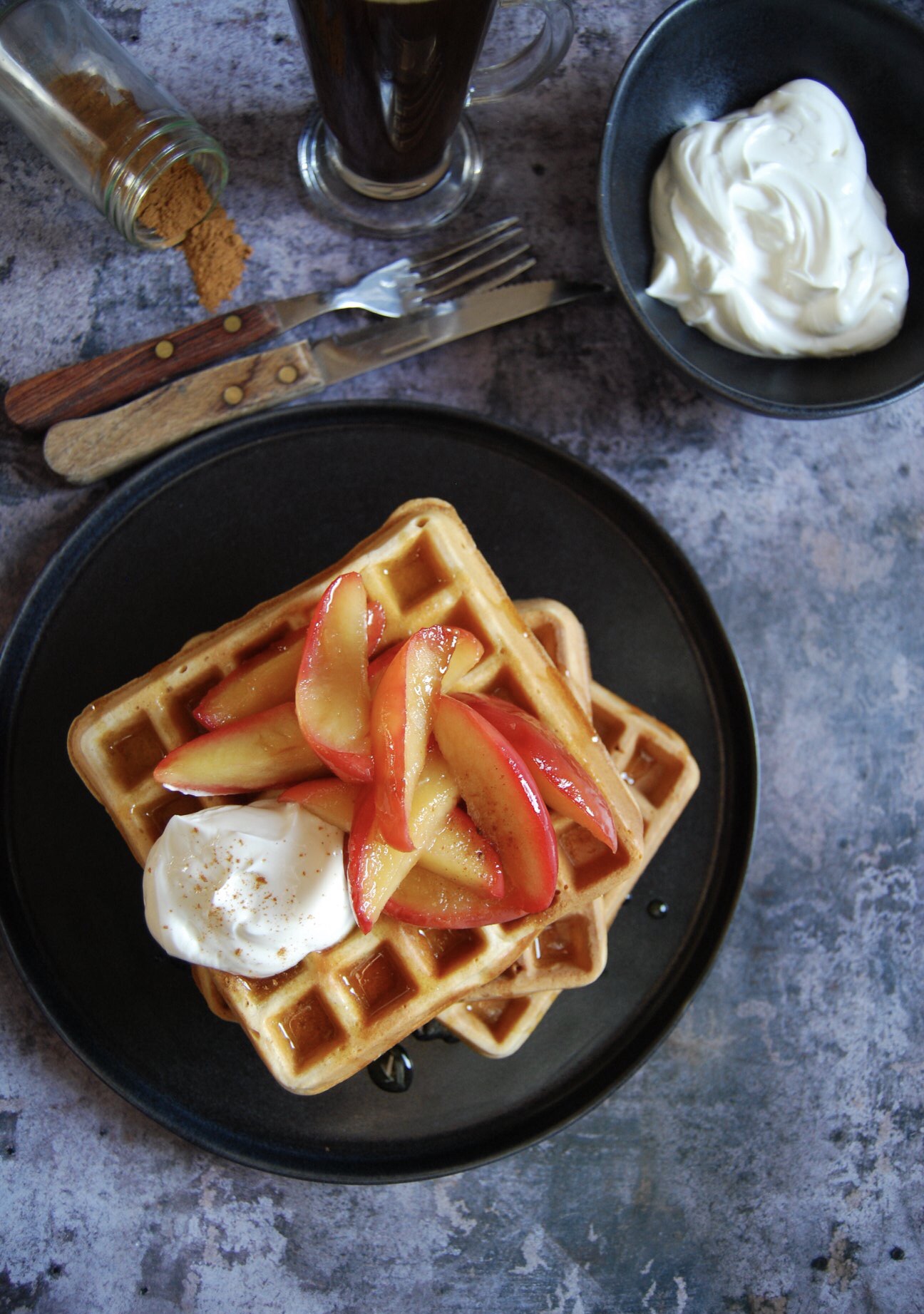 how to make light and fluffy waffles
These waffles are the result of a little experimentation to achieve fluffy, tender waffles.
The secret to this is to separate the eggs – I know whisking the egg whites is a bit of a pain, but your effort will be rewarded with fluffy, gorgeous waffles!
Another tip is to fold the egg whites into the batter gently and slowly – it's worth taking your time over this, trust me!
The other secret weapon?
Buttermilk.
The acid in the buttermilk reacts with the rising agents, which produces a light, airy result.
Have you ever heard anyone claim that you can substitute milk for buttermilk in baking? While they are factually correct, you'll end up with a pretty different result. Never underestimate the power of buttermilk!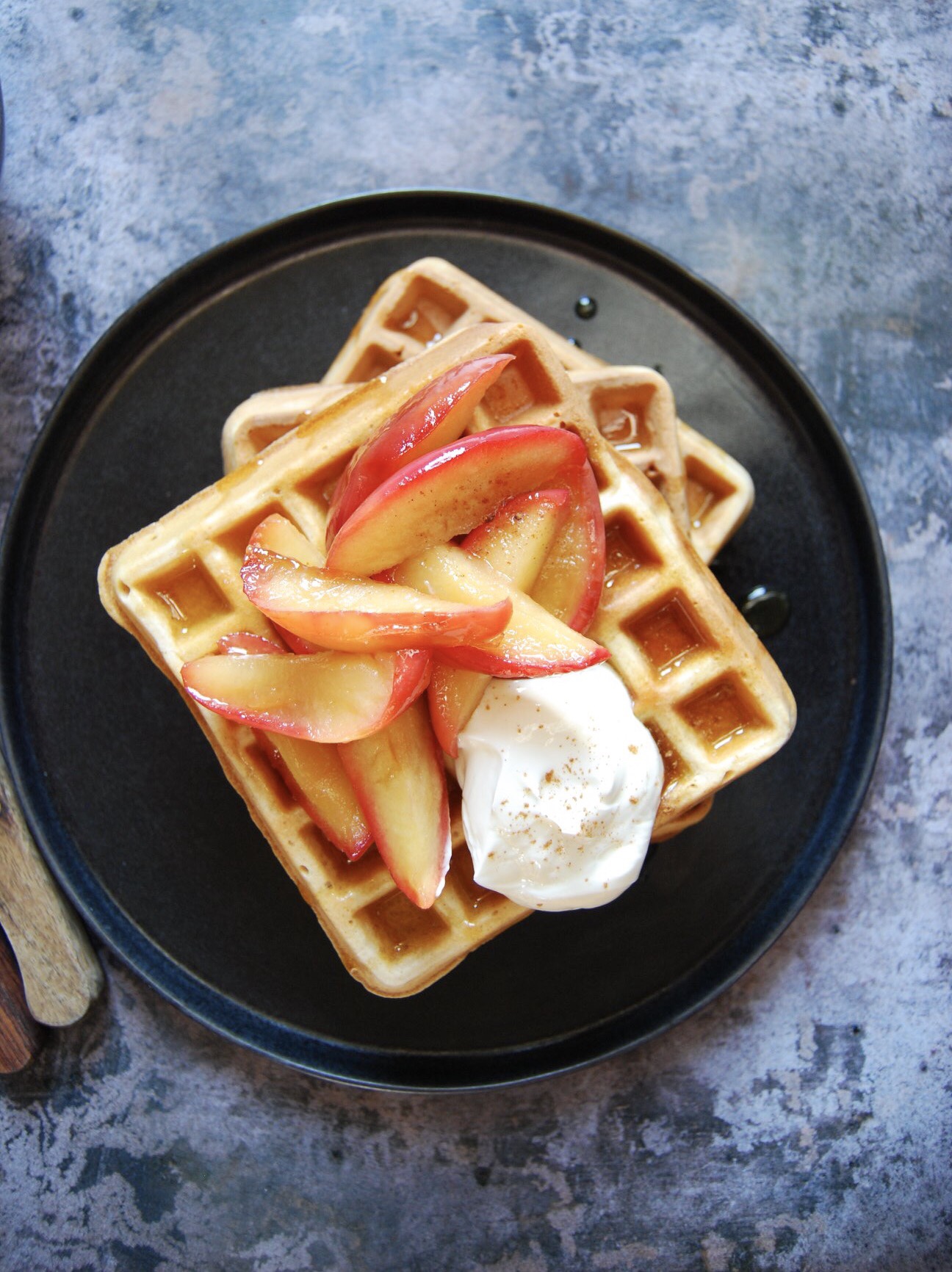 I've topped these waffles with delicious, buttery, slightly caramelised vanilla apples, Greek yoghurt and a drizzle of maple syrup. It's heaven on a plate, believe me.
Give me a plate of these waffles topped with warm, buttery vanilla apples, a jug of maple syrup and a huge mug of strong coffee on a Saturday or Sunday morning and you would make me a very happy girl indeed.
The way to my heart is most definitely through my stomach.
If you make this recipe, I would love it if you would share a picture with me on Facebook or Instagram – or if you have any questions, leave a comment/recipe rating below.
Want to see more brunch recipes? Check these out…
Peaches and Cream Brioche French Toast
Sticky Toffee Pudding Pancakes
sugar free banana blueberry pancakes
orange blossom roasted rhubarb with Greek yoghurt and pistachios
I'm linking this recipe up with #CookBlogShare, hosted this week by Easy Peasy Foodie.
Why not pin this recipe for later?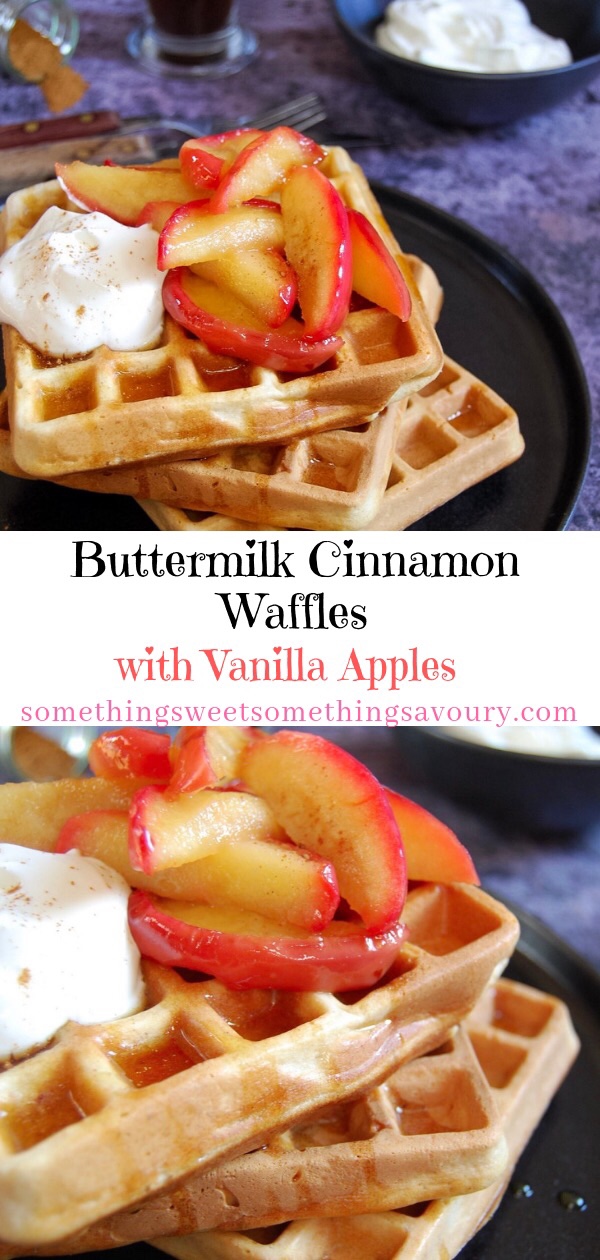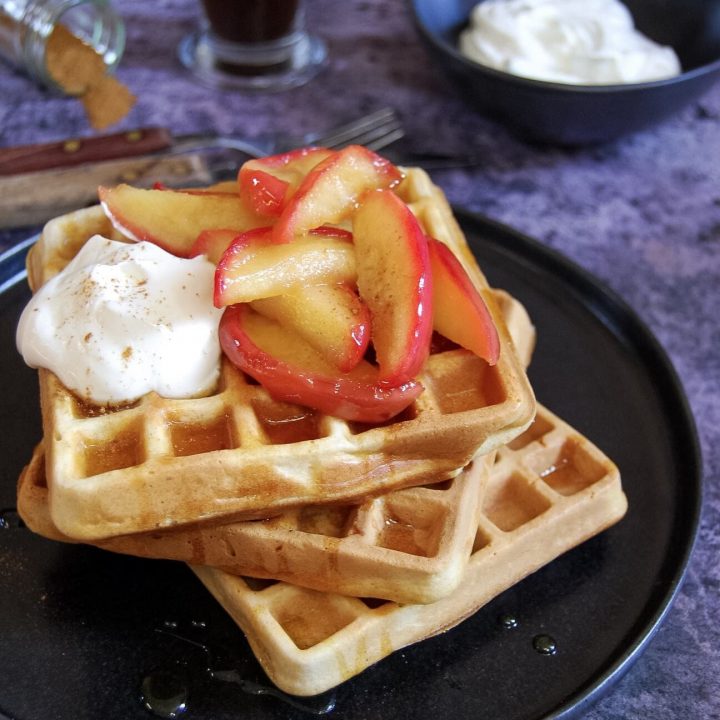 Buttermilk Cinnamon Waffles with Vanilla Apples
It's easy to make American diner style waffles at home - treat yourself to these buttermilk cinnamon waffles with caramelised apples! Serve with Greek yoghurt and lots of maple syrup for a gorgeous weekend breakfast treat.
Ingredients
240 g plain flour
1 1/2 teaspoons baking powder
1/2 teaspoon bicarbonate of soda, baking soda
1 teaspoon ground Cinnamon
3 tablespoons white sugar
1/4 teaspoon fine salt
2 large eggs, separated
1 teaspoon vanilla extract
80ml vegetable, sunflower or corn oil
300ml buttermilk
For the vanilla apples
25g butter
2 large eating apples, such as Braeburn, Pink Lady or Royal Gala, cored and cut into thin wedges
1 teaspoon vanilla extract
Splash of water or apple juice
1 tablespoon white sugar
Instructions
To make the vanilla apples, melt the butter in a medium frying pan. When the butter is sizzling, add the apple wedges and cook on a medium heat for about 5 minutes per side. When the apples have started to soften but are still holding their shape, add the vanilla, water or apple juice and sugar to the pan and cook for a further few minutes or until the apples are soft and are coated in a sticky glaze. Remove from the heat and place in a low oven to keep warm while you make the waffles.
Combine the flour, baking powder, bicarbonate of soda, cinnamon, sugar and salt in a large mixing bowl. Place the egg yolks, vanilla extract, oil and buttermilk in another large bowl and mix to combine.
Pour the wet mixture over the dry ingredients and whisk well, making sure there are no lumps. Whisk the egg whites to firm peaks in a clean bowl.
Gently and slowly fold the egg whites into the batter, a little at a time until you have a light, smooth, airy batter.
Preheat your waffle maker according to the manufacturer's instructions. Pour the batter into the waffle maker. My waffles took about 12 minutes to cook all the way through, but yours may need more or less depending on your waffle maker. Mine is a deep fill waffle maker so they do take a little longer.
When the waffles are ready, you can either transfer to a plate or place them in a low oven to keep warm. Serve the waffles with the vanilla apples, Greek yoghurt or whipped cream.
Nutrition Information:
Yield:

4
Serving Size:

1
Amount Per Serving:
Calories:

563
Total Fat:

13g
Saturated Fat:

5g
Trans Fat:

0g
Unsaturated Fat:

6g
Cholesterol:

110mg
Sodium:

864mg
Carbohydrates:

100g
Fiber:

8g
Sugar:

44g
Protein:

13g
Calories and Nutritional information are calculated by a third party application and should be used as an indicative guide only.