This Christmas spiced granola is a delicious way to start Christmas morning! Crunchy oats with Christmas spice, orange zest and packed with mixed nuts, dried cranberries and crystallised ginger.
Bake a large batch and pack in glass jars tied with Christmas ribbon for a lovely Christmas gift that's just a little bit different.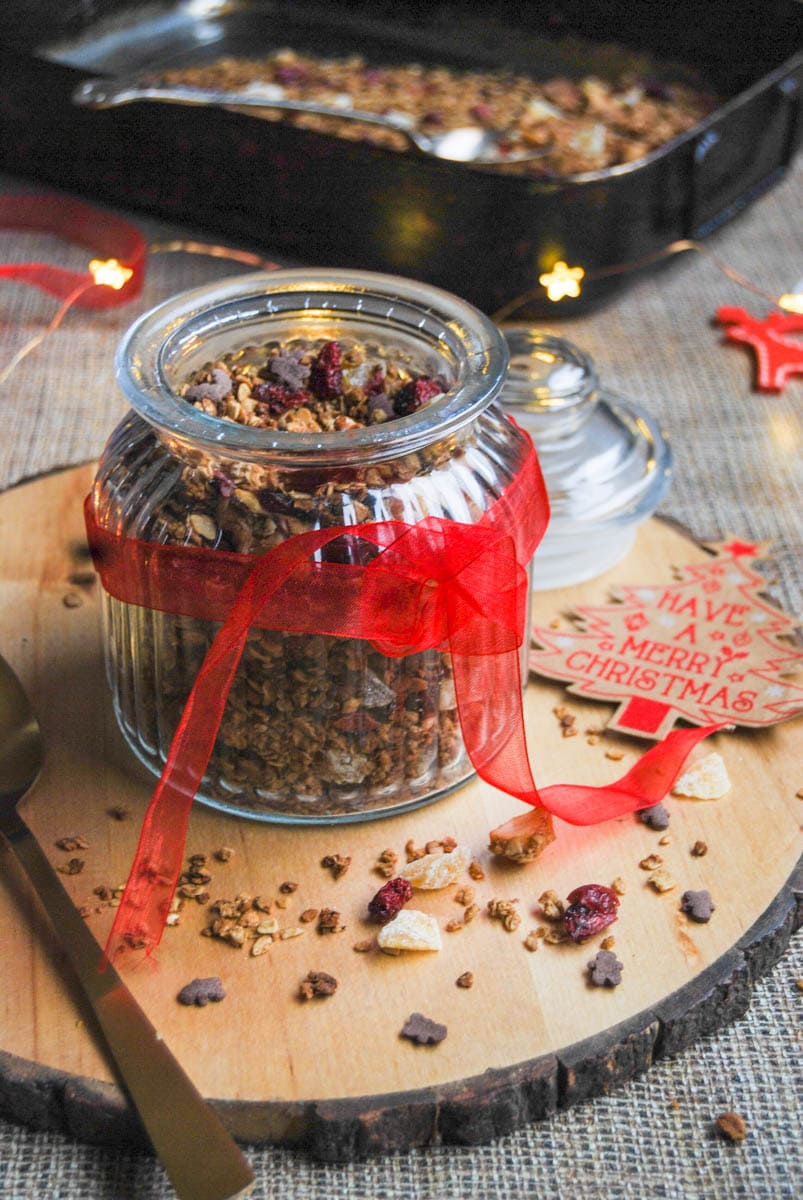 I can't get enough of granola at any time of year, but this Christmas spiced version is one of my very favourite things to make in December. I developed this recipe last year, but I ran out of time to post it. It's far too good not to share with you.
I would be more than happy to eat this warmly spiced granola with nuts, cranberries and crystallised ginger all Winter long. If you're making homemade Christmas gifts this year, a pretty jar of this festive granola would make such a lovely present.
ingredients
I really wanted to make this granola as festive as possible and I think I've achieved that. It certainly smells like Christmas! I've added all the warming spices that everyone associates with Christmas – ginger, cinnamon, nutmeg and a touch of cloves.
There's lots of crunchy mixed nuts and seeds – I used brazils, walnuts, macadamias, pumpkin seeds and linseeds because that's what I had in my cupboard when I made a batch this morning for photos. You can use whatever combination of nuts you like.
A little grated orange zest pairs so well with the warming spices.
A Christmas granola simply wouldn't be complete without a generous handful of dried cranberries. If you aren't a fan, you can swap them for raisins or sultanas. Chopped dried apricots would also be nice.
Crystallised (candied) ginger is probably one of my favourite ingredients, so I couldn't resist adding some. It adds a great pop of flavour. If you love ginger, you need to try it!
Rolled oats. I used medium rolled oats for this recipe.
honey or maple syrup (or a mixture of both) binds the granola together and adds a lovely subtle sweetness.
flavourless oil such as vegetable or sunflower oil. You could also use a mild olive oil.
I don't usually add extra sugar to granola recipes, but a small amount of brown sugar adds an extra touch of sweetness and what the heck – it's Christmas! This is not the time for restraint.
Vanilla extract is lovely in granola – you don't need much but it really makes a difference.
Salt helps lift all of the flavours
Optional – a whisked egg white. Adding a little protein in the form of egg white makes your granola stick together for clusters and turns oats extra crunchy. Deb from Smitten Kitchen told me to try it! I highly recommend it.
While tidying my cupboards, I found some really cute mini gingerbread men sprinkles I bought for making my gingerbread cupcakes so guess what I did……yep, I added them to the granola! I mean why wouldn't you though? They are so sweet I just couldn't resist.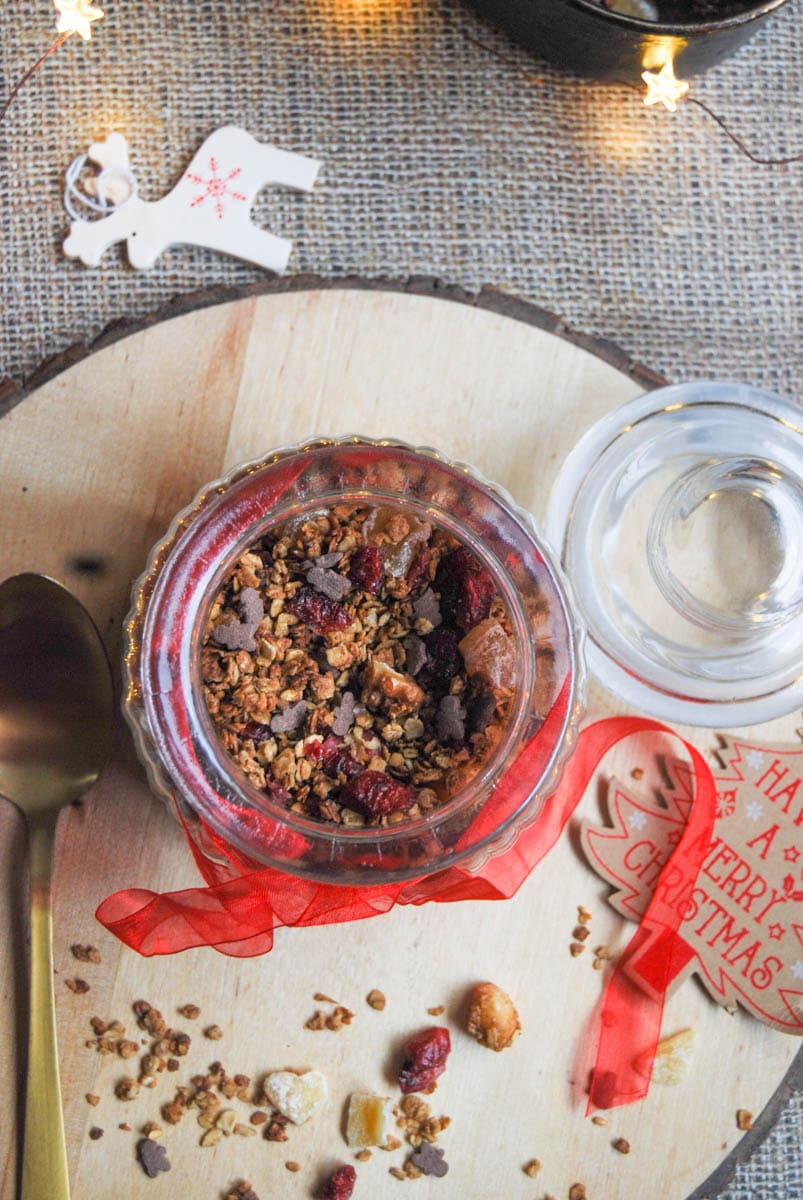 step by step instructions
(scroll to the bottom of the post to find printable recipe card with ingredient amounts and detailed instructions!)
Mix the oats, spices, orange zest, mixed nuts and salt together in a large mixing bowl.
Melt the maple syrup or honey, oil and brown sugar together in a small bowl until the sugar has dissolved.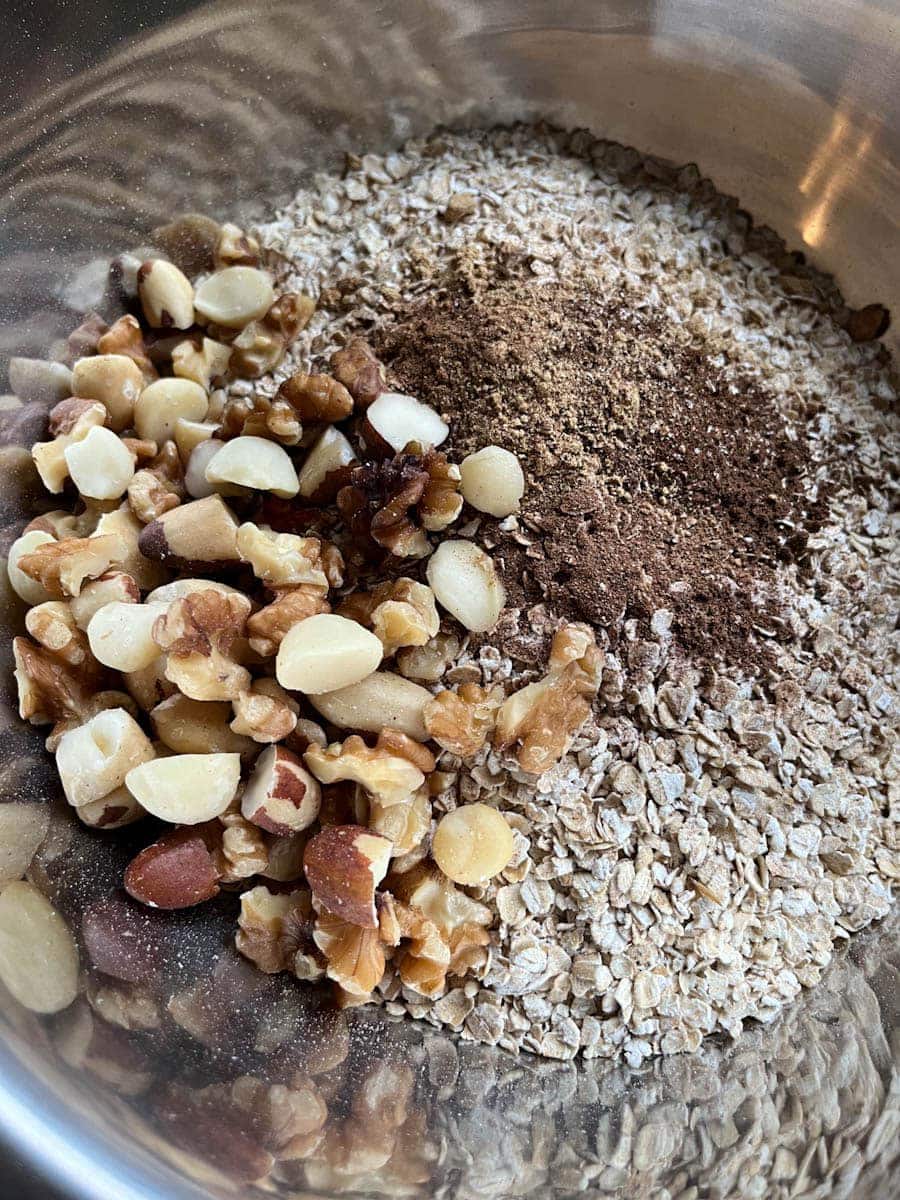 Pour the melted sugar and syrup or honey over the bowl of oats and nuts. Using a wooden spoon, stir well to mix everything together, making sure the oats are completely coated in syrup.
If you're adding the egg white, whisk until foamy, then pour over the oats and mix well once again.
Tip everything into a large roasting tin. Bake in a preheated oven 180C/160Fan/350F for 45-60 minutes, until the granola is crisp. Check it every 20 minutes and give it a stir to make sure it's cooking evenly.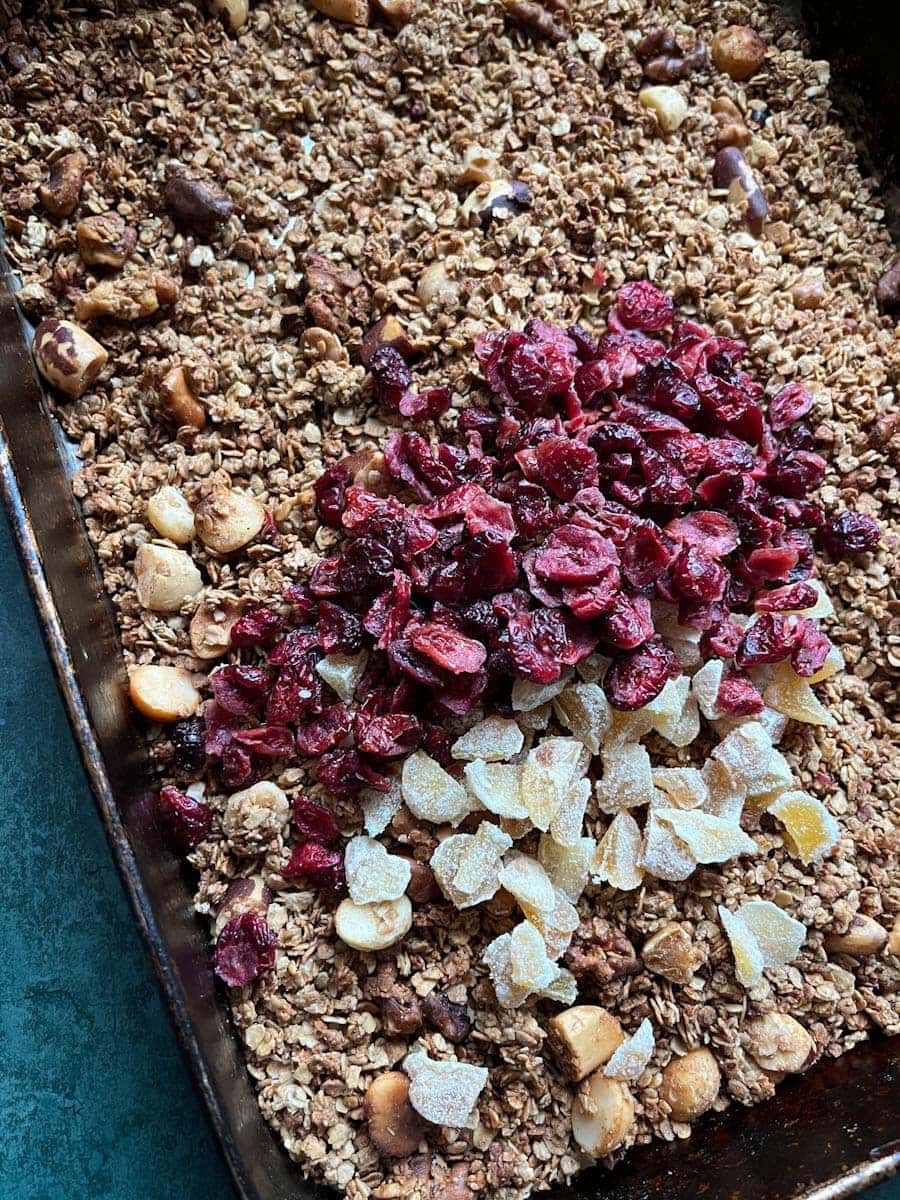 When the granola is crisp and golden all over, remove from the oven. Allow to cool down for 10 minutes then stir in the dried cranberries, crystallised ginger and mini gingerbread sprinkles, if using.
making in advance
|If you're planning on making this granola for Christmas gifts, you can make it up to one week in advance. Store it in an airtight container in a cool, dry place until you're ready to package it up. And in case you're wondering, I buy the jars and ribbon for around £1 each in Home Bargains.
how to serve granola
Granola is best served with Greek yoghurt and fresh fruit. I also like to serve it alongside a fruit compote in the Wintertime when fresh berries cost an absolute fortune.
Granola also makes a great afternoon snack, just as it is!
more homemade christmas gift ideas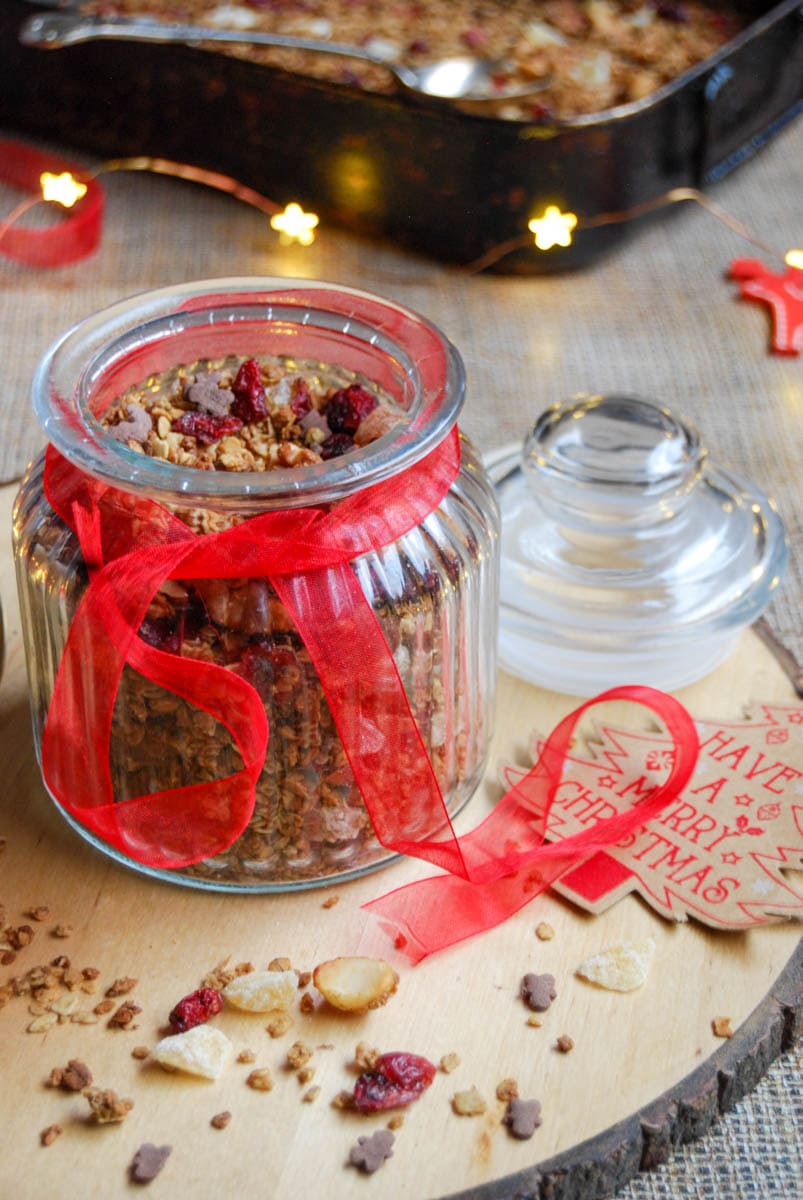 more granola recipes to try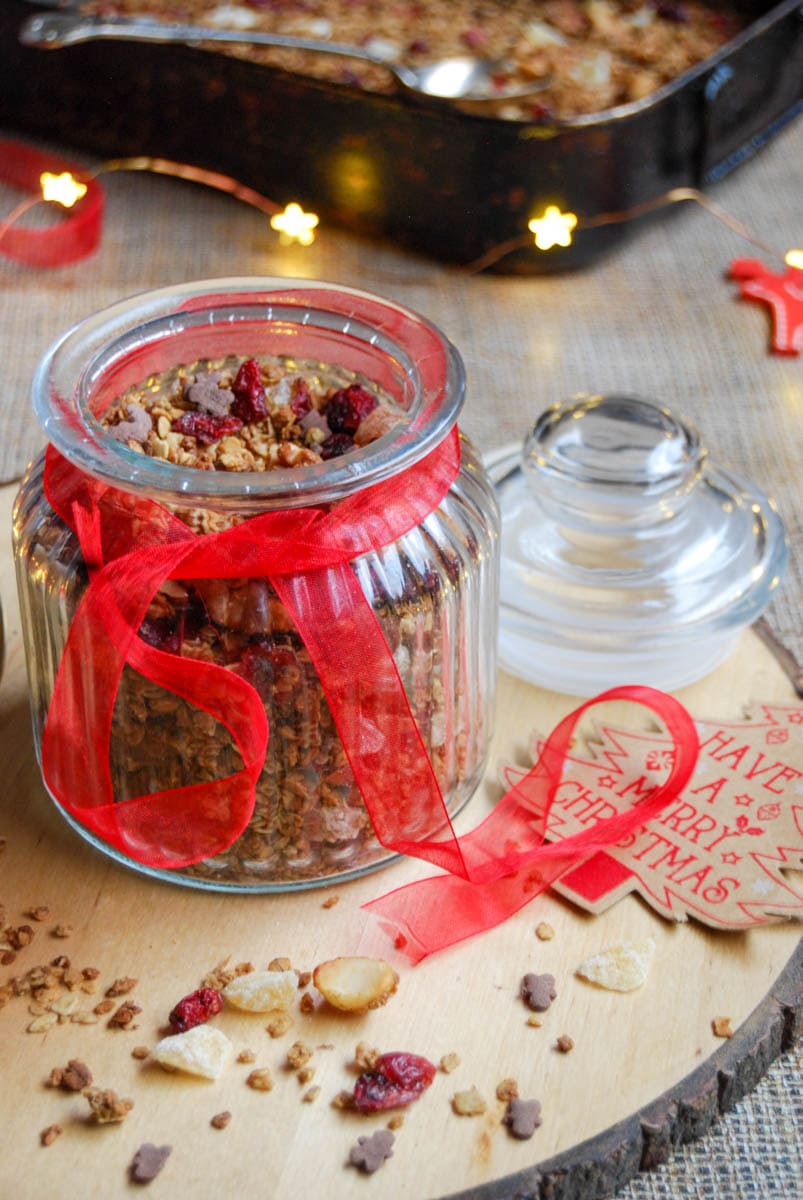 did you make this recipe?
Let me know what you thought by leaving a comment below – or if you have any questions, don't hesitate to ask. Hope you enjoy!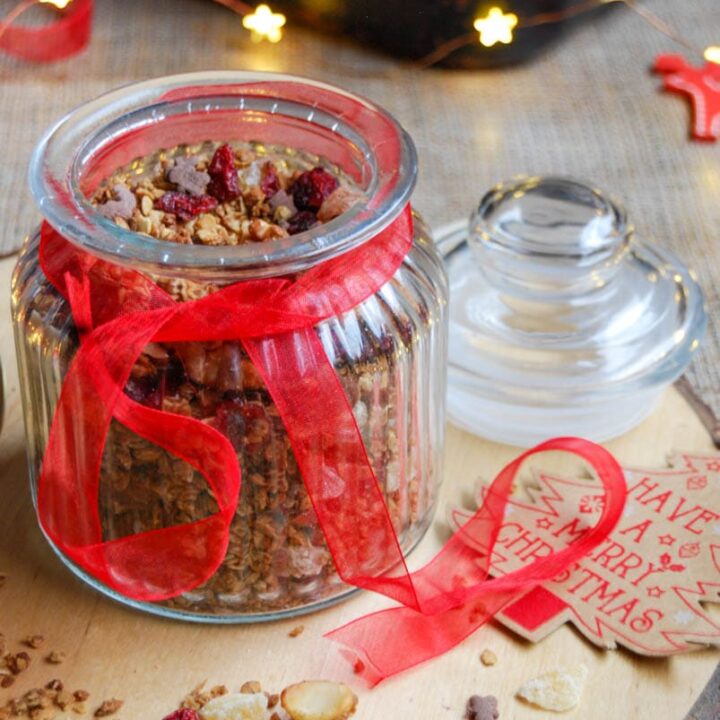 Christmas Spiced Granola
Yield:
Fills a 1 litre jar
Total Time:
1 hour
5 minutes
This crunchy Christmas spiced granola with dried cranberries, mixed nuts and crystallised ginger makes a gorgeous Christmas gift, or make a batch for yourself and enjoy a festive breakfast all through December!
Ingredients
400g medium rolled oats
2 teaspoons ground ginger
2 teaspoons ground cinnamon
1/4 teaspoon ground cloves
1/4 teaspoon freshly grated nutmeg
1/2 teaspoon fine salt
finely grated zest of one orange (optional)
75g pumpkin seeds
50g golden linseeds, sunflower or sesame seeds
200g mixed unsalted nuts (I used a mixture of brazil nuts, hazelnuts, cashews, pecans and walnuts)
50g light or dark soft brown sugar
5 tablespoons flavourless oil, such as vegetable or sunflower
125ml maple syrup or honey
1 teaspoon vanilla extract
1 egg white (gives the granola a super crunchy texture, but it's optional)
75g dried cranberries
50g chopped crystallised ginger
25g gingerbread men sprinkles (optional)
Instructions
Preheat the oven to 180C/160Fan/Gas mark 4. Place the oats in a large roasting dish or oven proof dish. Sprinkle over the ground cinnamon, ginger, cloves, nutmeg, salt and grated orange zest. Using your hands or a wooden spoon, stir well to mix the ingredients together. Stir in all of the seeds and the nuts.
Mix the oil, sugar, maple syrup or honey and vanilla extract together until the sugar has dissolved, stirring occasionally. Pour over the oat mixture. Using a large spoon, stir very well until all of the oats are coated in syrup.
If you're using the egg white, beat it in a small bowl until very foamy, then pour over the oats, giving everything a good stir once again.
Bake the granola for 45-60 minutes, giving it a good stir every 20 minutes to make sure it's cooking evenly. Allow the granola to cool a little before adding the dried cranberries, crystallised ginger and mini gingerbread men sprinkles if using.
Nutrition Information:
Yield:

12
Serving Size:

1
Amount Per Serving:
Calories:

409
Total Fat:

20g
Saturated Fat:

3g
Trans Fat:

0g
Unsaturated Fat:

16g
Cholesterol:

0mg
Sodium:

147mg
Carbohydrates:

50g
Fiber:

8g
Sugar:

17g
Protein:

10g
Calories and nutritional information are provided by a third party application and should be viewed as indicative figures only.