These quick and simple Oat Biscuits are made with golden syrup for a delicious, sweet flavour that will have you reaching for "just one more!"
Leave them plain or dress them up by drizzling with melted chocolate!
These tasty oat biscuits are very quick and easy to throw together. Made from basic store cupboard ingredients, they are the perfect snack for hungry tummies!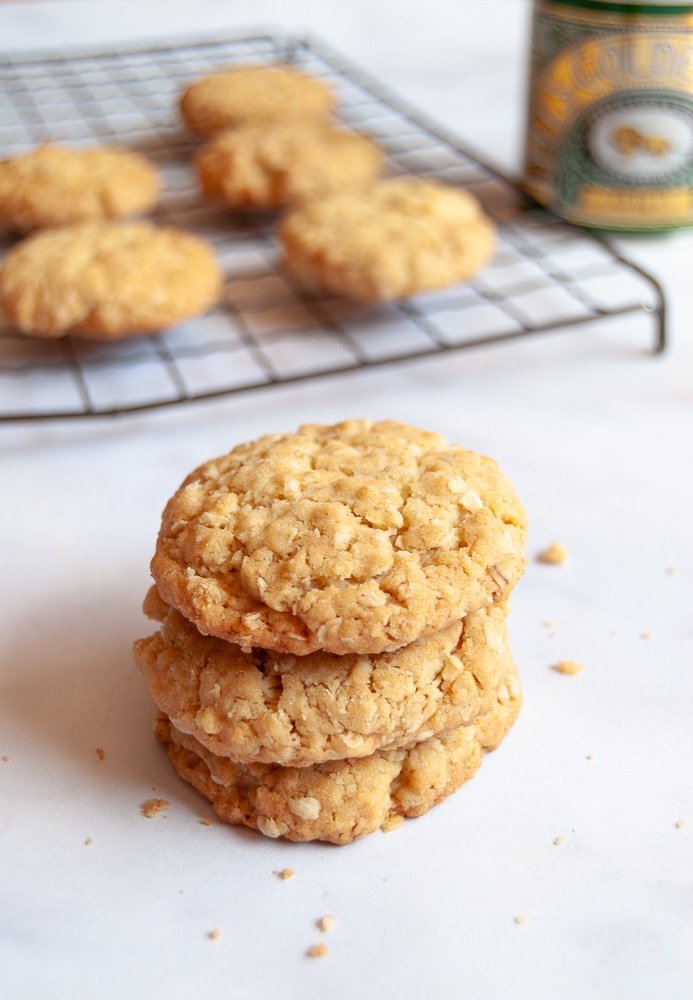 egg free recipe
These biscuits are also egg free (the golden syrup binds the mixture together) so they are the perfect thing to make if you or anyone in your family can't eat eggs.
more recipes using golden syrup
Golden syrup really is the most wonderful ingredient for baking with – try my insanely delicious golden syrup cake recipe, Scotch pancakes with golden syrup, sticky gingerbread cupcakes, ginger crunch bars and not forgetting of course flapjacks.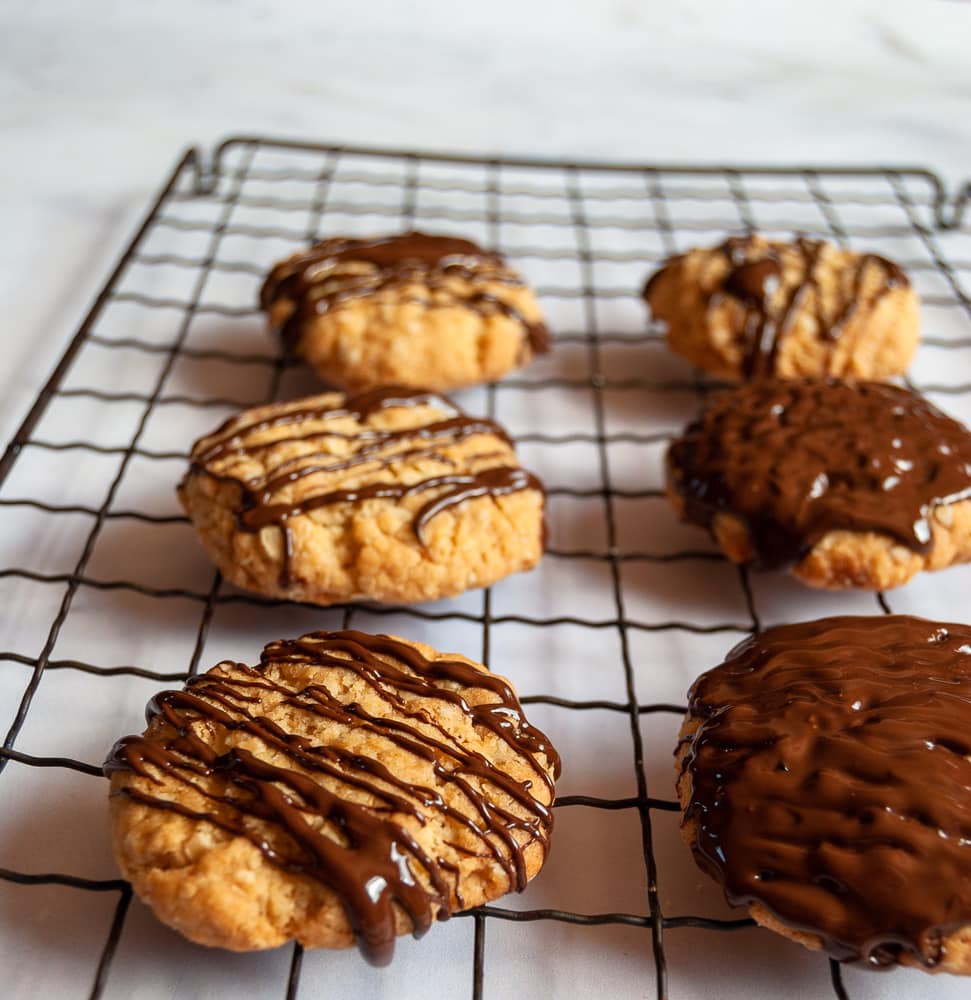 ingredient list
Rolled Oats (NOT jumbo oats – if you use jumbo the biscuit dough won't cohere together properly)
Butter (real butter, not margarine or baking spread for the best flavour)
Caster (super fine) sugar
recipe instructions
Place the rolled oats, caster sugar and self raising flour in a mixing bowl and stir to mix everything together.  
Slowly melt the butter and golden syrup together in a saucepan over a low heat.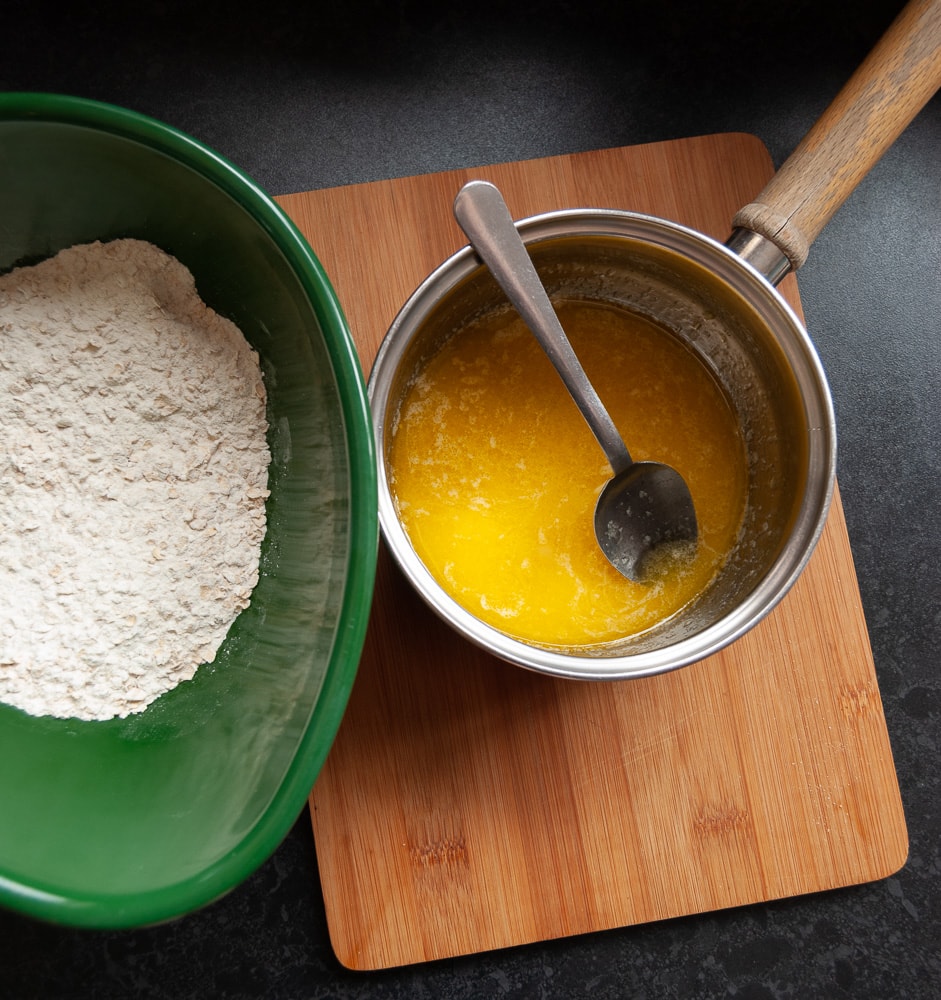 Allow the mixture to cool a little. Pour the melted butter and syrup over the oats and flour.
Using a wooden spoon, mix well until you have a dough. You can use a wooden spoon, but I find it easier to mix the dough with my hands.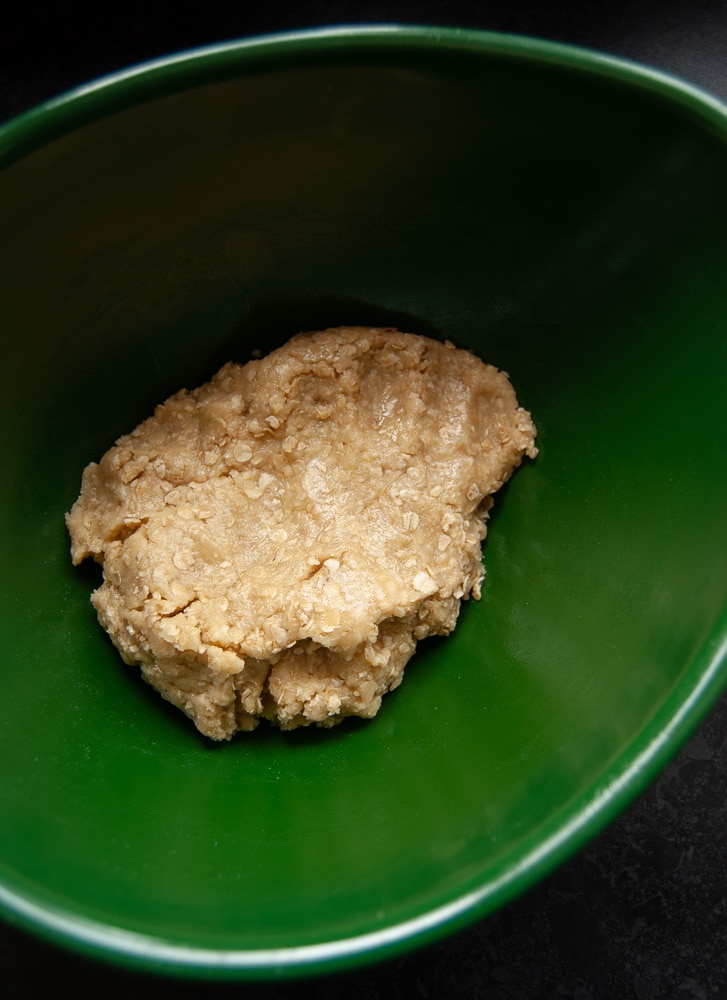 Roll walnut sized pieces of dough beween your hands. Place on a greased and lined baking tray.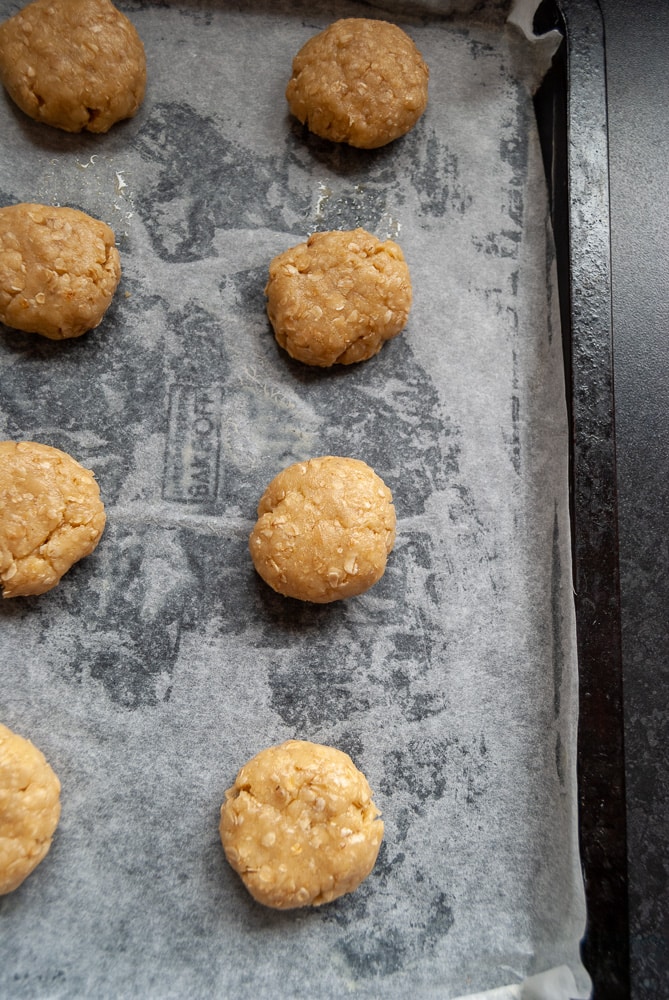 Bake for 12-15 minutes or until the biscuits have set around the edges and are a light golden colour.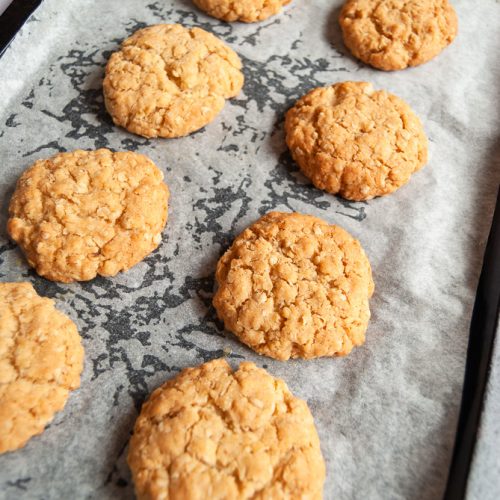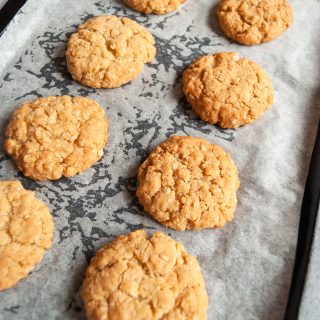 Playing around….
If you love the flavour of vanilla, add 1/4 teaspoon of vanilla extract to the dough.
Drizzle the biscuits with melted milk or dark chocolate for a homemade take on a chocolate hobnob!
You could also add 25g of dried fruit such as raisins or cranberries.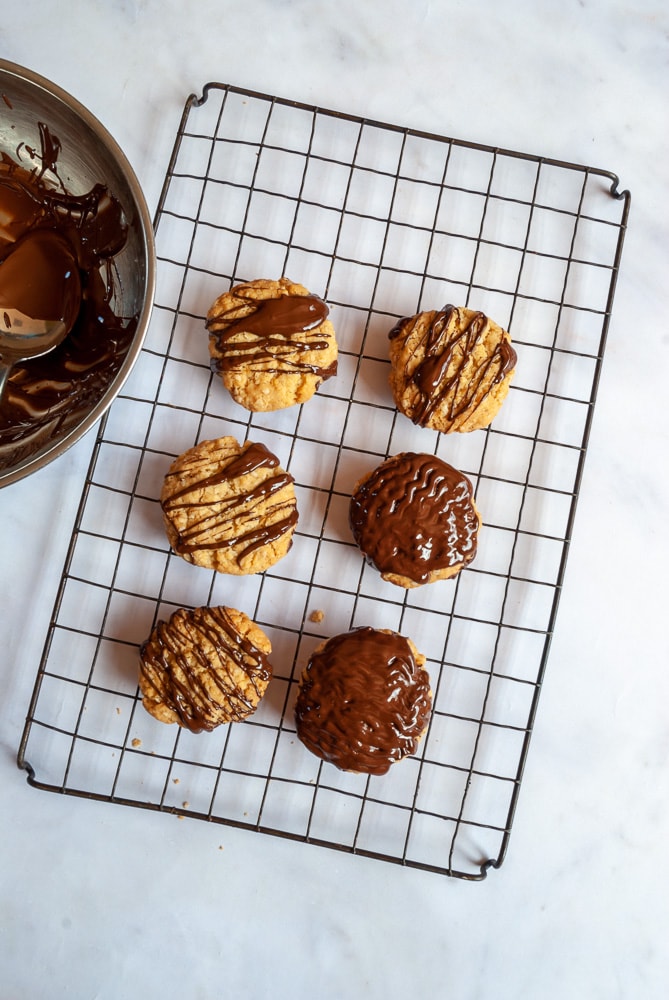 These simple biscuits are just perfect with a cup of tea for an afternoon treat!
want to see more biscuit/cookie recipes?
If you loved this recipe, you might like my homemade jammie dodgers, oat and raisin cookies, cornflake biscuits, vanilla custard biscuits, easy shortbread, chocolate smartie cookies and Biscoff stuffed cookies.
For lots more biscuit and cookie recipes, take a look at my cookies and biscuits archive.
did you make these easy oat biscuits?
I hope you enjoyed them! Let me know what you thought of it by leaving a comment below and rate the recipe out of 5 by clicking on the stars in the recipe card.
Don't forget you can also share pictures of what you've been making on my Instagram or Facebook pages – I love to see what you've been making and I share every picture I'm tagged in!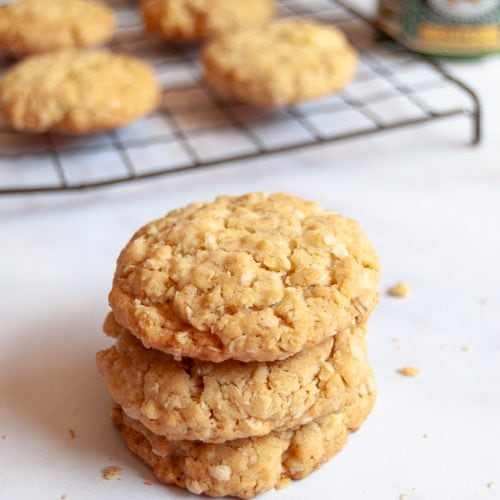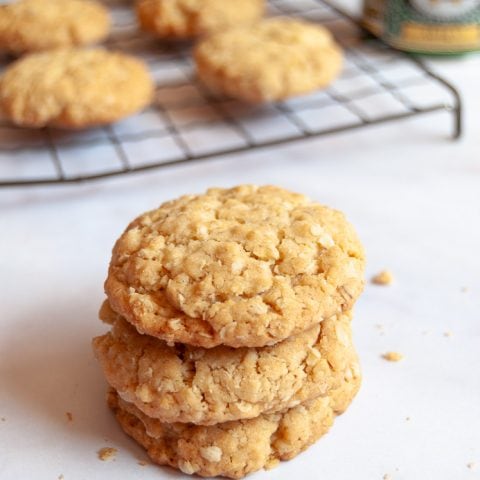 Oat Biscuits
Yield:
Makes 20 small biscuits
These simple oat biscuits are made with golden sryup for a delicious sweet flavour. Leave them plain or drizzle with melted chocolate for a real treat!
Ingredients
150g Self Raising Flour
150g Caster (super fine) Sugar
150g Rolled Oats
150g Soft Butter
4 Tablespoons Golden Syrup 
2 Tablespoons Milk
Instructions
Preheat the oven to 180C/160Fan/350F. Grease and line a large baking tray.
Place the self raising flour in a large bowl. Stir in the sugar and oats.
Melt the butter, golden syrup and milk together in a medium saucepan.
Once the mixture has melted, remove from the heat and pour over the oat and flour mixture. Mix well with a wooden spoon.
Using your hands, roll walnut sized pieces of the dough and place them on the baking tray, allowing 1 inch of space between each biscuit to allow for spreading.
Bake the biscuits for 12-15 minutes or until they are beginning to turn light golden. The biscuits will still be quite soft in the middle so leave them on the trays for 5-10 minutes before transferring to a wire rack.
Notes
For Chocolate Oat Biscuits, Melt 100g dark or milk chocolate in the microwave or in a heatproof bowl set over a pan of barely simmering water. Drizzle the melted chocolate over the cold biscuits or dip the biscuits right in the chocolate for a thicker coating!