If you've been searching for the best soft flapjack recipe ever, you've come to the right place! A perfect flapjack recipe with the magical combination of condensed milk and golden syrup for the most delicious, soft baked flapjack bars you will ever taste.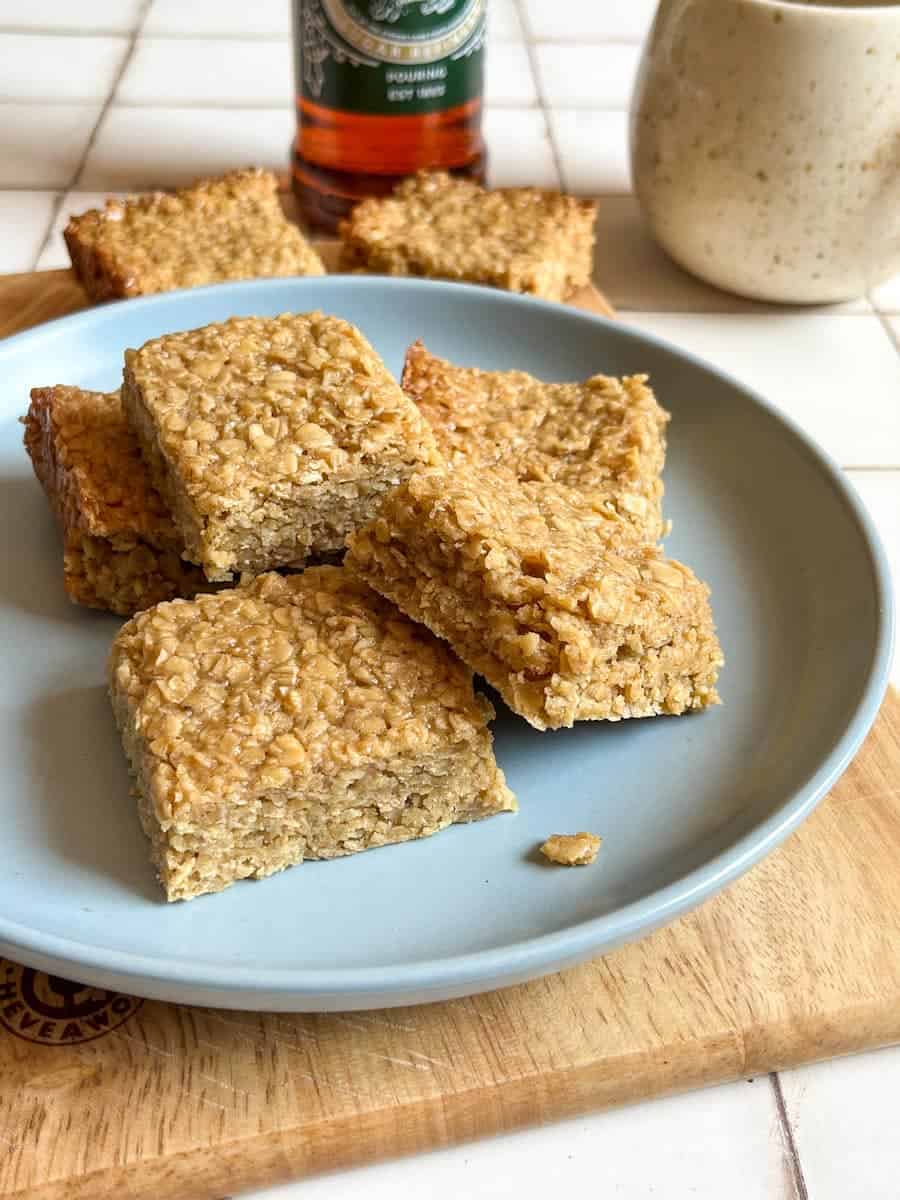 best soft flapjack recipe
The search is over. When I state that a recipe is "the best" I really do mean it. I've been making flapjacks for years. My fruity flapjack recipe is a great, solid recipe for chewy flapjacks with crunchy edges. Some people prefer that in a flapjack.
But if you prefer a soft baked flapjack, then I beg you to try this recipe. It really is "the best" I've ever tried. I made two batches last week and it's an understatement to say they didn't last five minutes. My son is currently begging me to make another batch for his work. He's been raving about them to everyone.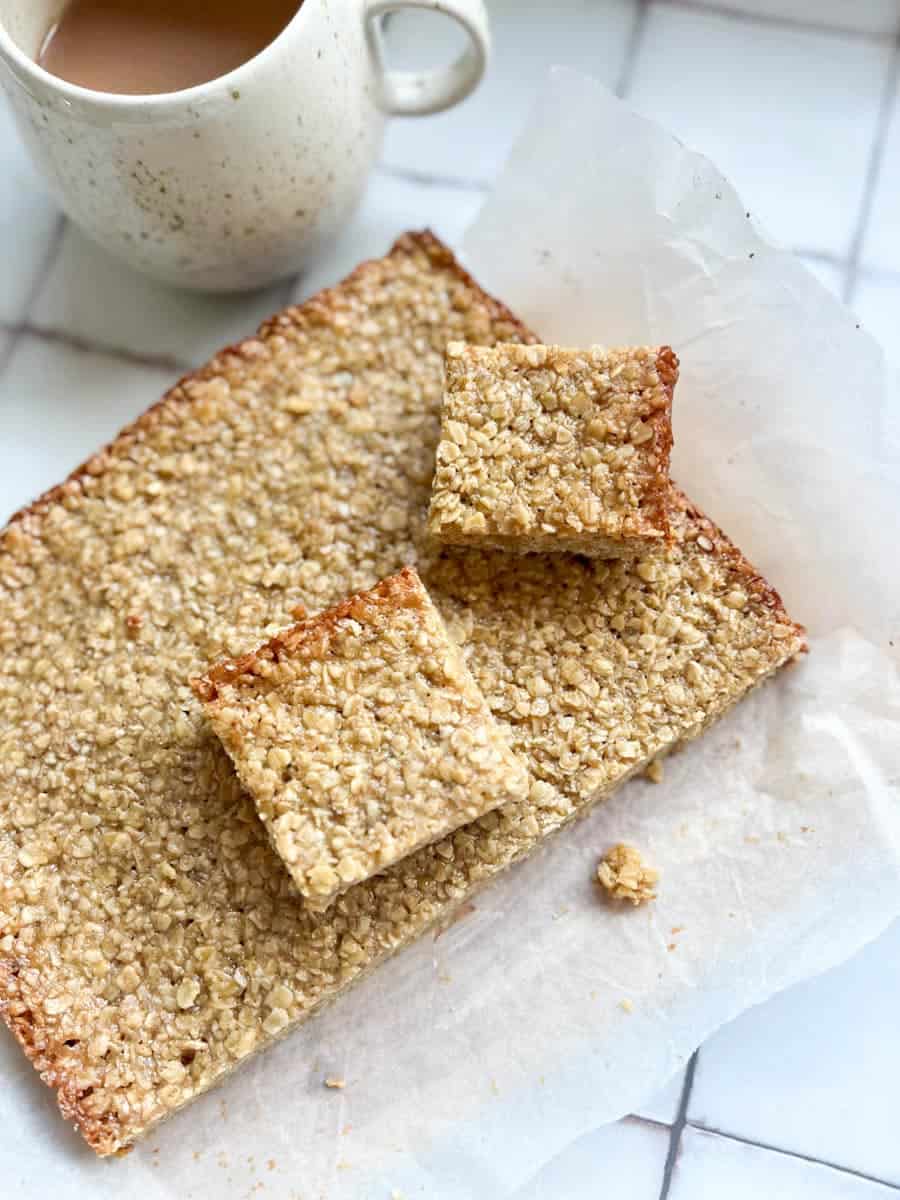 isn't a flapjack a pancake?
Since I have quite a few American readers, I thought it would be helpful to answer this question. In certain parts of the USA, I'm told a "flapjack" is a large pancake you would eat with syrup for breakfast.
In Britain, a flapjack is an oat bar made from butter, sugar, golden syrup and rolled oats. They are typically made in a square or rectangular traybake style tin.
If you've never tried a flapjack bar, then you're missing out on a sweet, simple bake that's more delicious than you could imagine.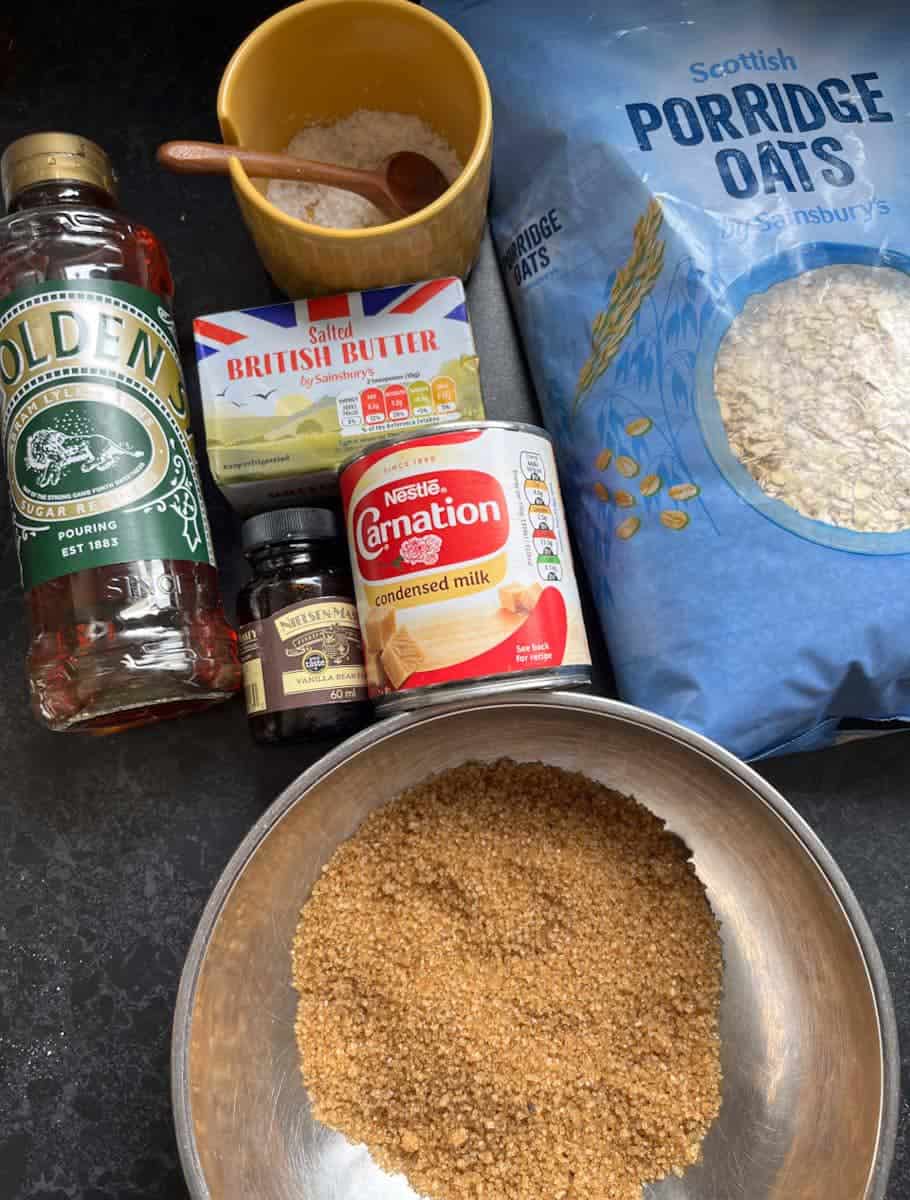 flapjack ingredients
Flapjacks are a great, old fashioned home bake made from store cupboard ingredients that are easy to find. Here's what you need:
butter.
For the best tasting flapjacks, use proper block butter. You could use a baking spread such as Stork for biscuits or Flora buttery, but the flavour won't be quite as good as using real butter.
Demerara sugar
I love using demerara in flapjacks, but you can swap it for soft light brown sugar instead. If your brown sugar is lumpy, make sure you remove the lumps before melting.
condensed milk
The magic ingredient. Condensed milk adds not only incredible texture to these flapjacks, but a gorgeous creamy sweetness that is honestly a taste of heaven. You will need 150g of condensed milk for this recipe.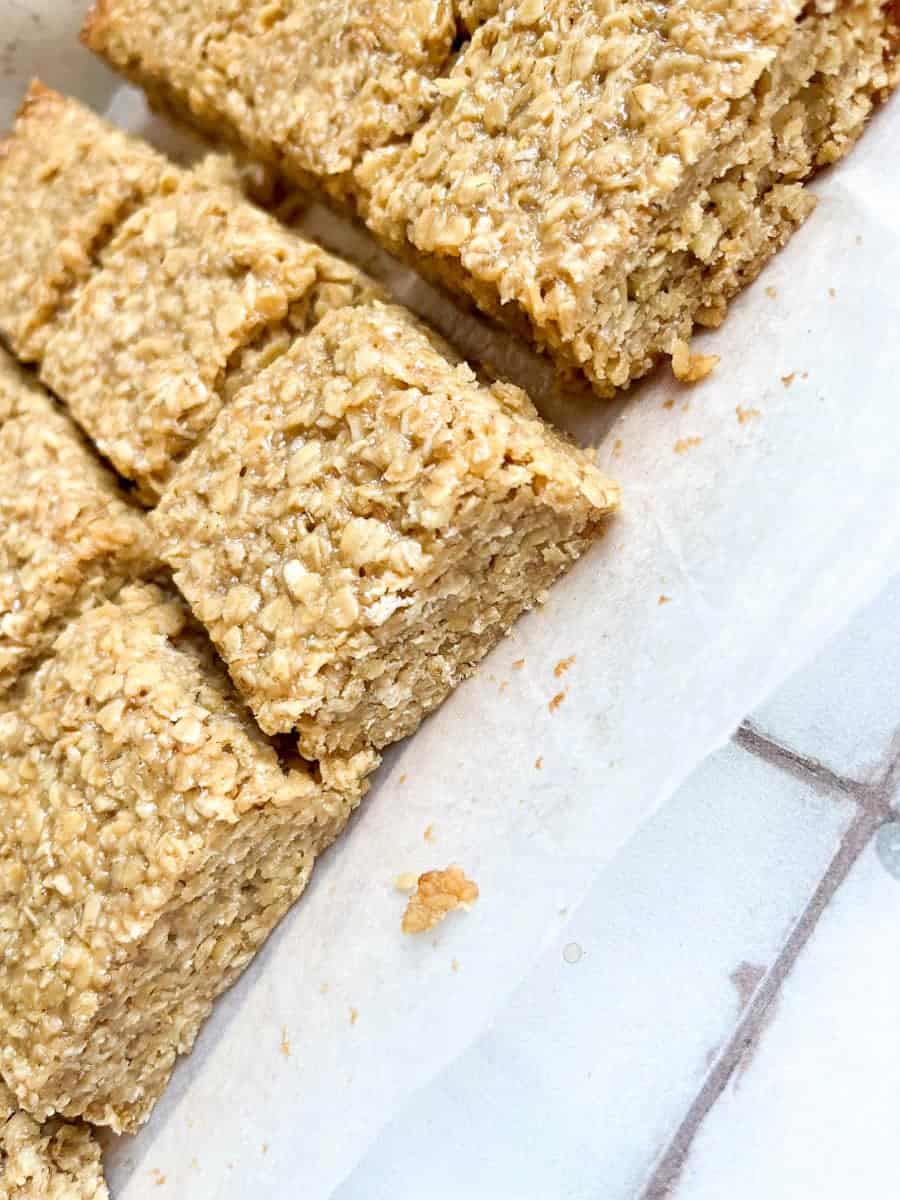 golden syrup
Another essential ingredient for perfect flapjacks. You could swap it for honey or maple syrup, but the flavour would be different. In my opinion, it's 100% worth seeking out proper golden syrup. There is nothing else like it in terms of flavour and quality. I only use the classic Lyle's brand. It's one of my favourite ingredients EVER.
I use golden syrup in my sticky golden syrup cake, slow cooker golden syrup sponge pudding and these simple oat cookies.
porridge oats
Medium rolled oats is the best for this recipe. I use Hamlyns Scottish porridge oats. Jumbo oats will be a firmer, crunchier texure.
vanilla extract
A teaspoon of vanilla extract (not essence) isn't essential in flapack, but it adds a lovely flavour. A nice optional extra that really elevates the bake.
salt
I like to add a little bit of salt to balance out the sweetness. I don't use fancy flaky salt for this – good old fine table salt will do.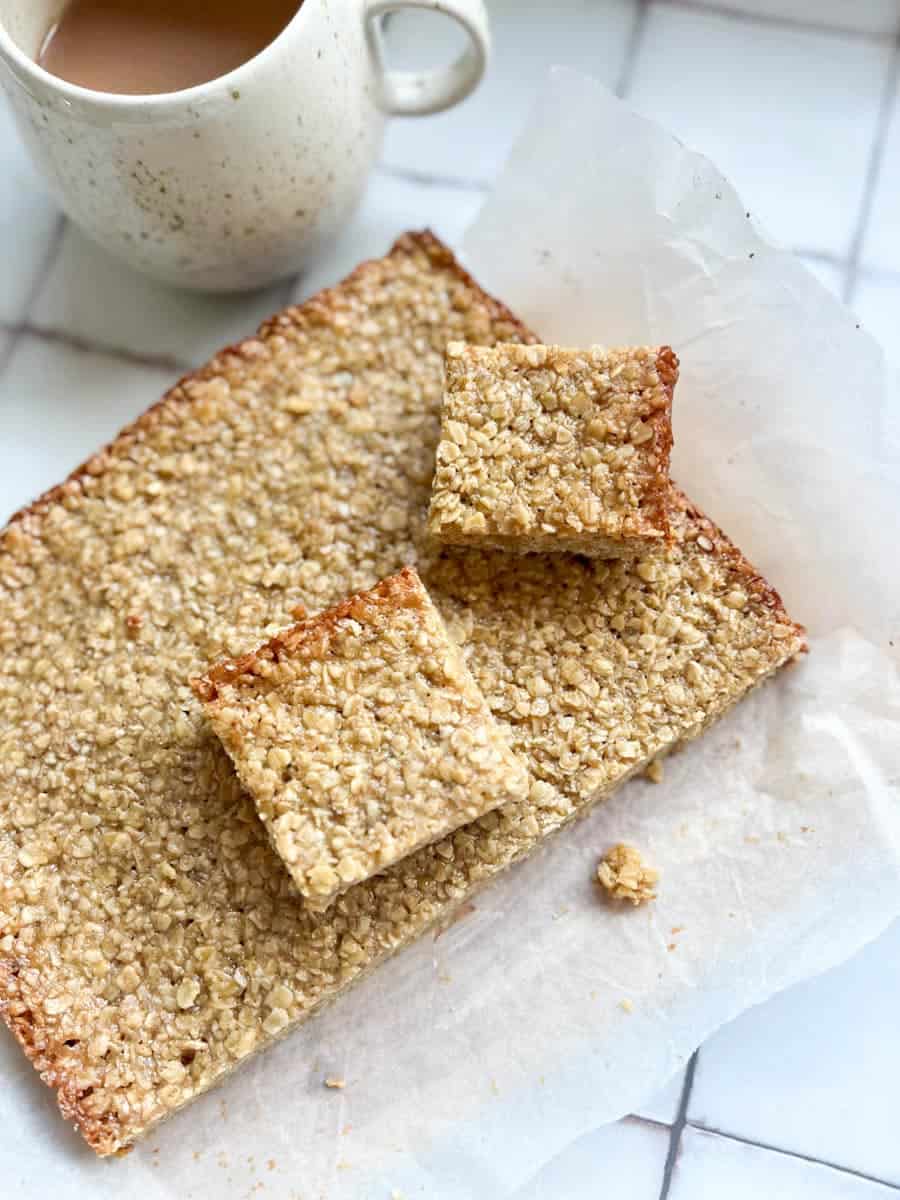 what size tin do i need?
You'll need a 20x20cm baking tin to make this recipe. I recommend greasing and lining the baking tin with butter and a large piece of baking parchment.
Make sure the parchment is higher than the sides of the tin, so you can easily lift the flapjack out when it is cold.
how to make soft flapjacks
(scroll to the end of the post to find printable recipe card with ingredient amounts and detailed instructions)
Step one – weigh out the rolled oats and add a 1/4 teaspoon of salt to balance out all that sweetness. If you would rather not add salt, then that's ok.
Step two – melt the butter, sugar, condensed milk, golden syrup and vanilla extract in a large saucepan over a low heat, stirring often to make sure the condensed milk doesn't catch on the bottom of the pan.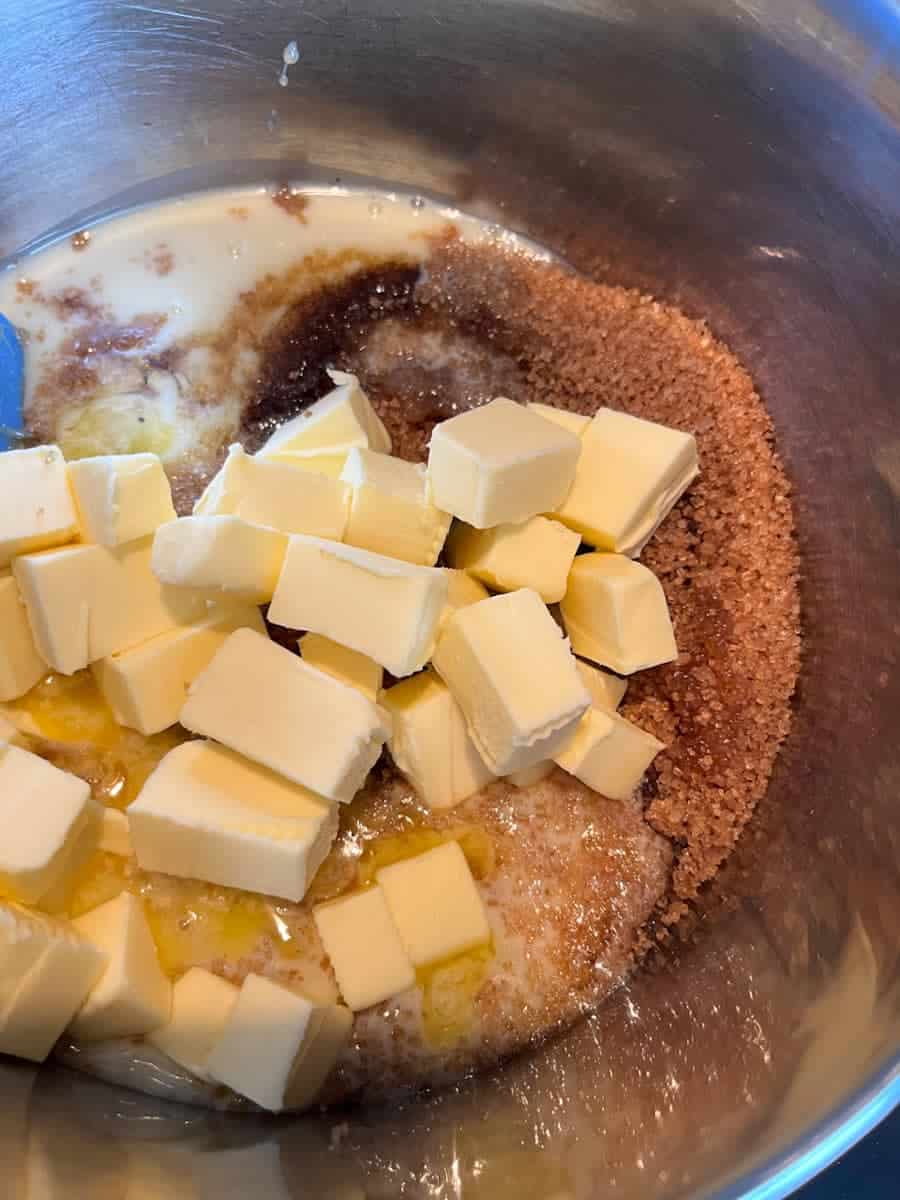 Step three – Once the sugar has dissolved and the mixture is completely smooth, remove from the heat.
Step four – Stir the oats into the melted mixture, stirring well until well combined.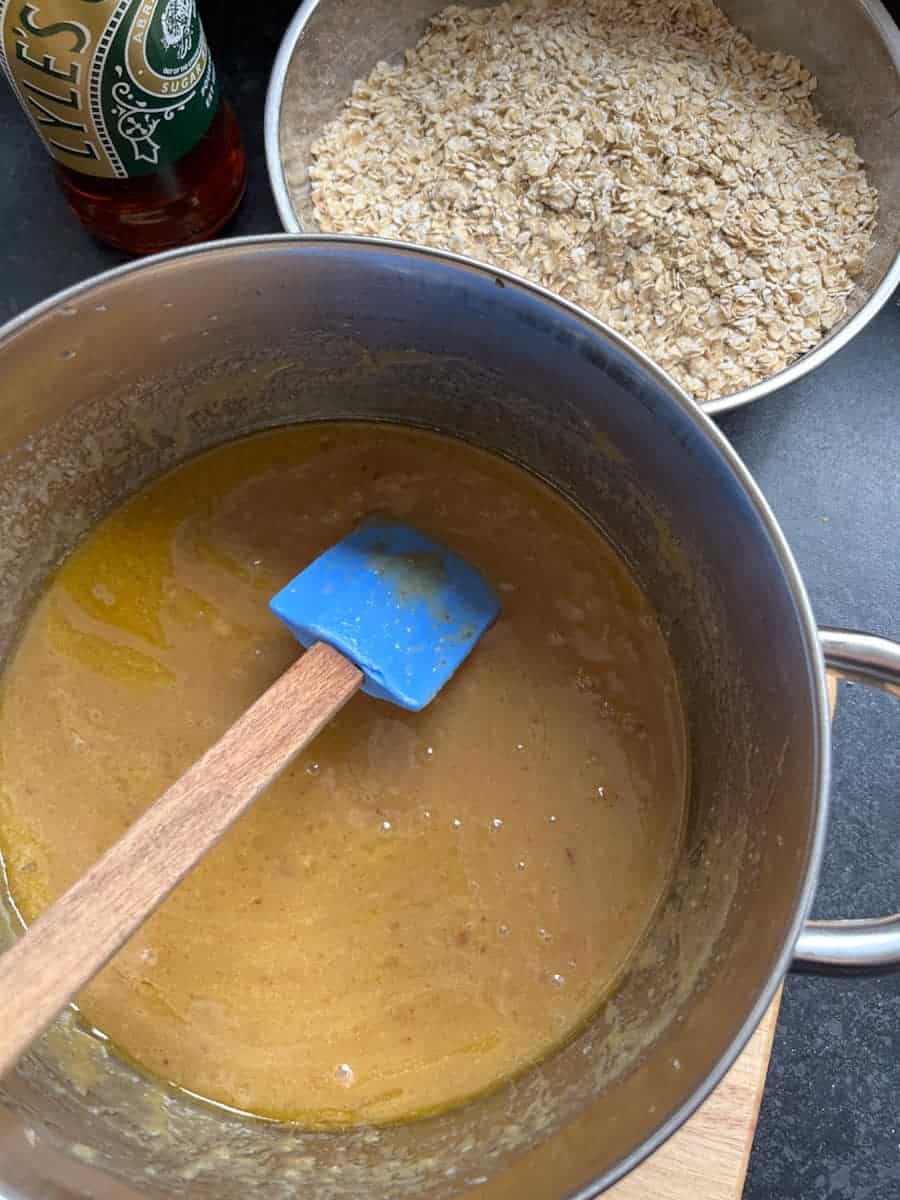 Step five – Spoon the oat mixture into the lined tin. Using the back of a large spoon, press the oats into the tin as evenly as you can, making sure you press down well into the corners.
Step six – Place the tin in the oven and bake for 20-22 minutes at 170C/150Fan. As soon as the flapjack is beginning to turn light golden around the edges, remove from the oven.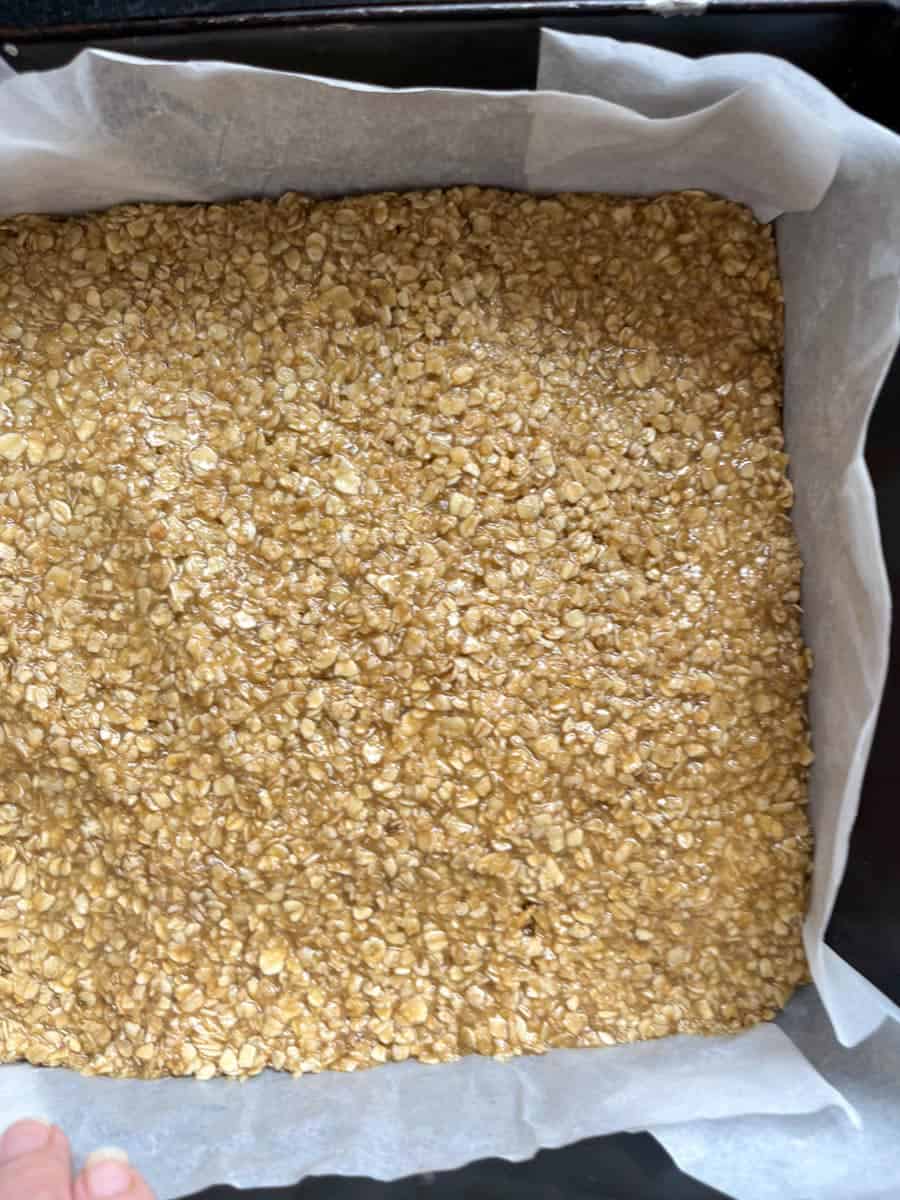 how to tell when flapjack is ready?
It can be tricky to tell when flapjack is fully baked, but here's a few tips to look out for:
The flapjack will be tinged golden around the edges.
Flapjack will still be quite soft in the middle, but this is fine. Please don't bake it until it turns crunchy. Once set, it will be tooth breakingly hard. You need to remove it from the oven while it is still soft. It will firm and set as it cools down.
recipe notes
After a lot of testing, I found the best temperature for baking flapacks is 170C. They turned out too brown at 180C. However, only you will know how hot your oven runs, so you might need to drop or increase the temperature by 10C to hit that sweet spot.
cool fully in the tin
Don't remove the flapjacks from the tin until the are completely cold. If you attempt to cut them while they are still warm, they will crumble.
As this is a soft baked flapjack recipe, I recommend chilling the flapjack in the fridge for at least a couple of hours. They will be much easier to slice into neat squares.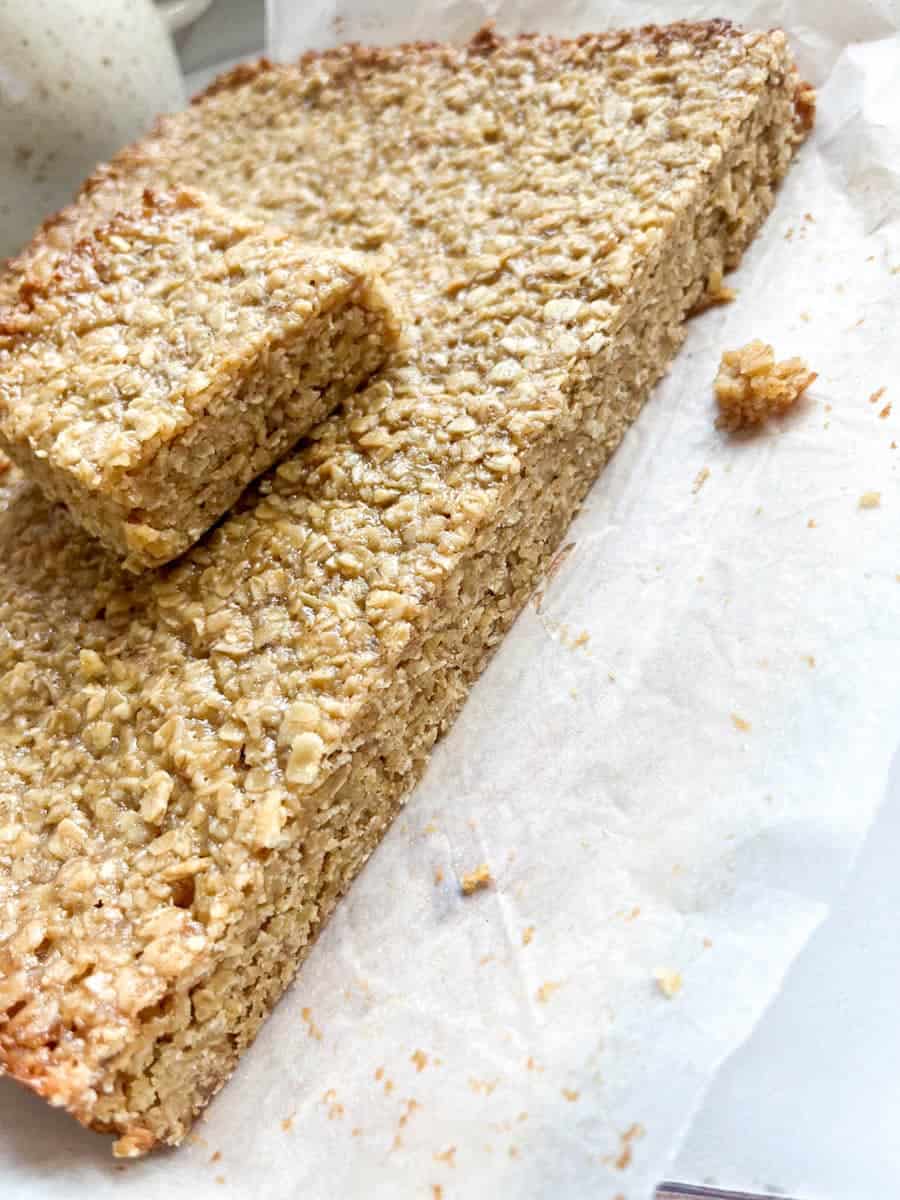 storing flapjacks
Flapjacks can be stored at room temperature in an airtight tin or container for up to a week. They won't last that long though!
can you freeze flapjacks?
Yes, you can freeze leftover flapjacks for another time. They will keep in the freezer for up to three months in a freezer bag or airtight container. Do make sure you defrost them at room temperature before eating.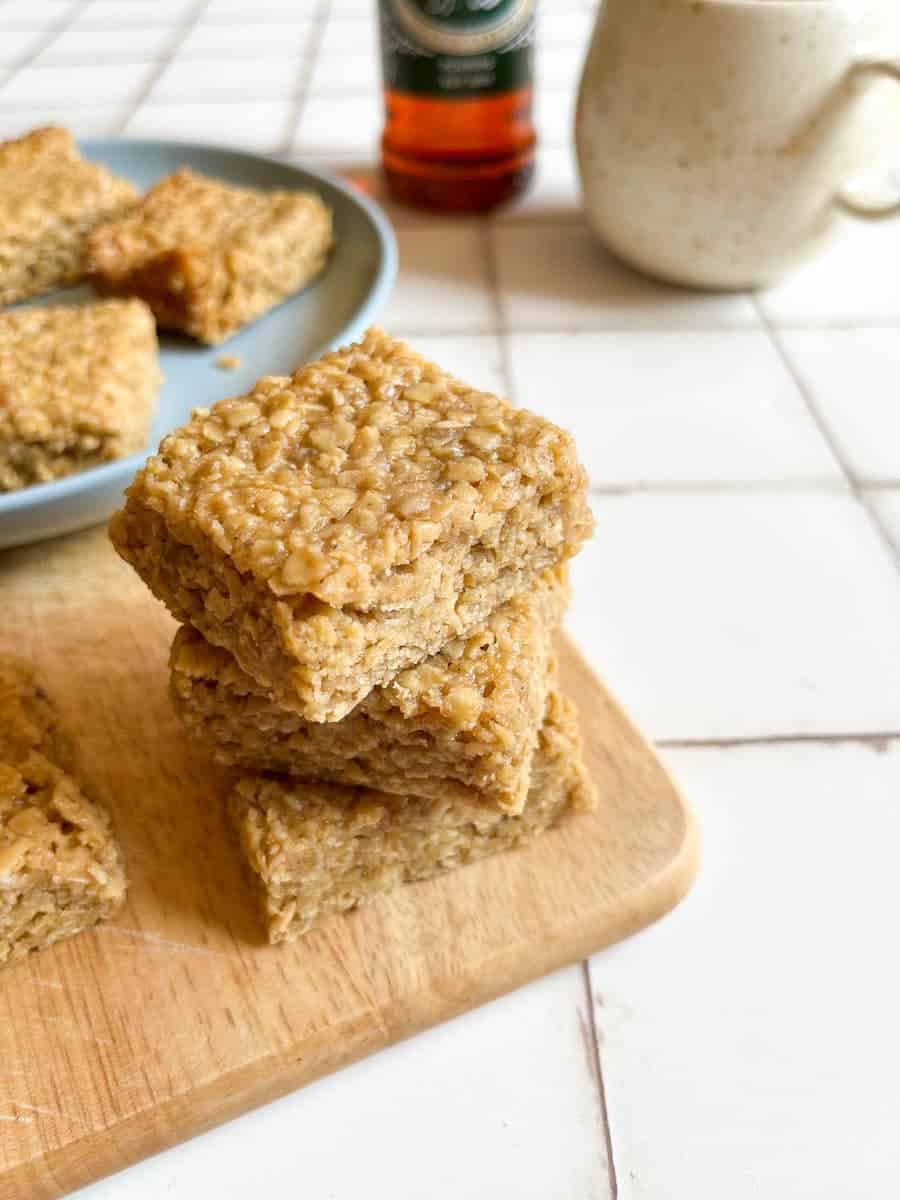 how to make vegan flapjacks
To make this recipe suitable for vegans, swap the butter for a plant based alternative and use vegan condensed milk. Please note that I have not tested a vegan alternative for this flapjack recipe.
can i add extra flavours?
Absolutely! While these flapjacks are delicious as they are, they would be lovely with some dried fruit such as chopped apricots, dried cranberries or raisins. Chocolate chips would also be very good.
more classic bakes to try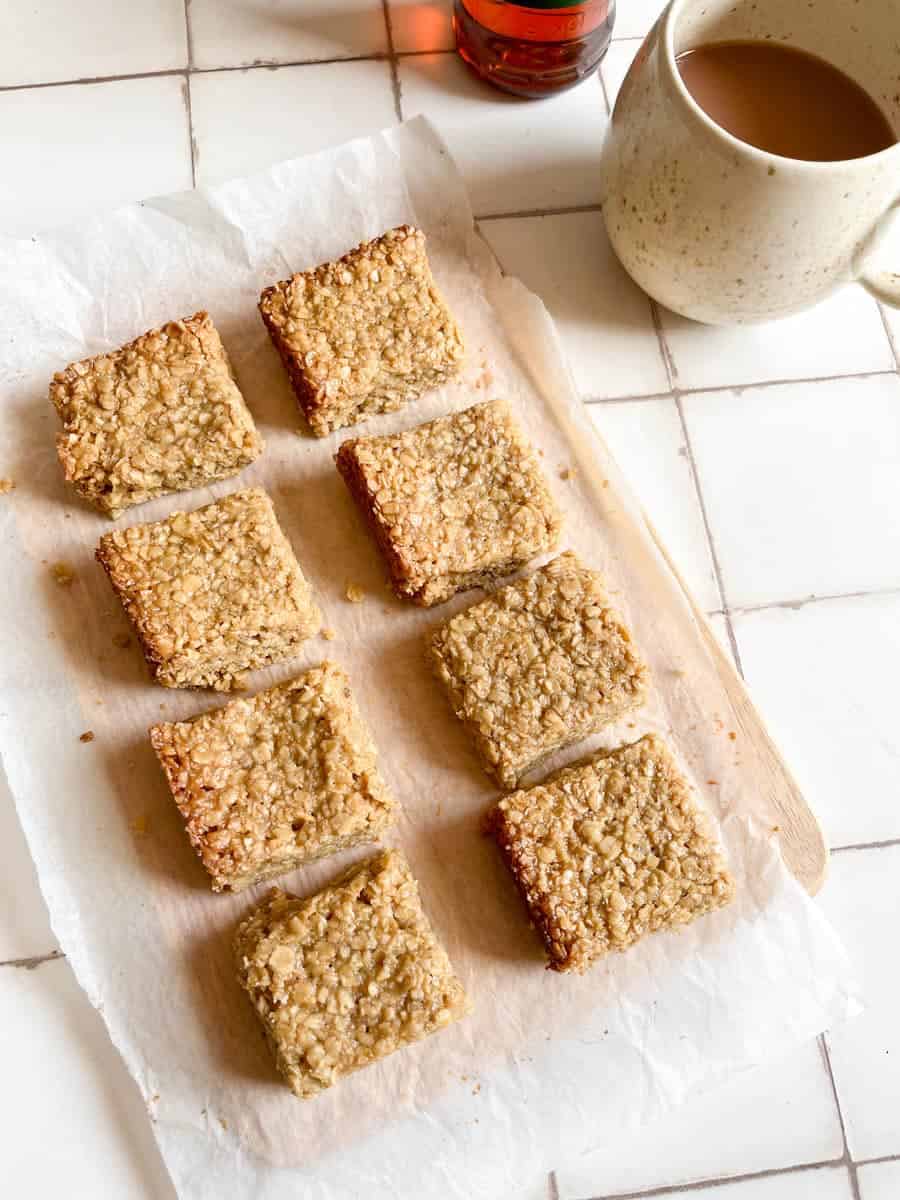 did you make this recipe?
I really hope you love it as much as we do! Do let me know how you got on by leaving a comment below, or if you have any questions about the recipe please just ask and I'll get back to you as soon as I can. If you enjoyed the recipe, please consider leaving a star rating!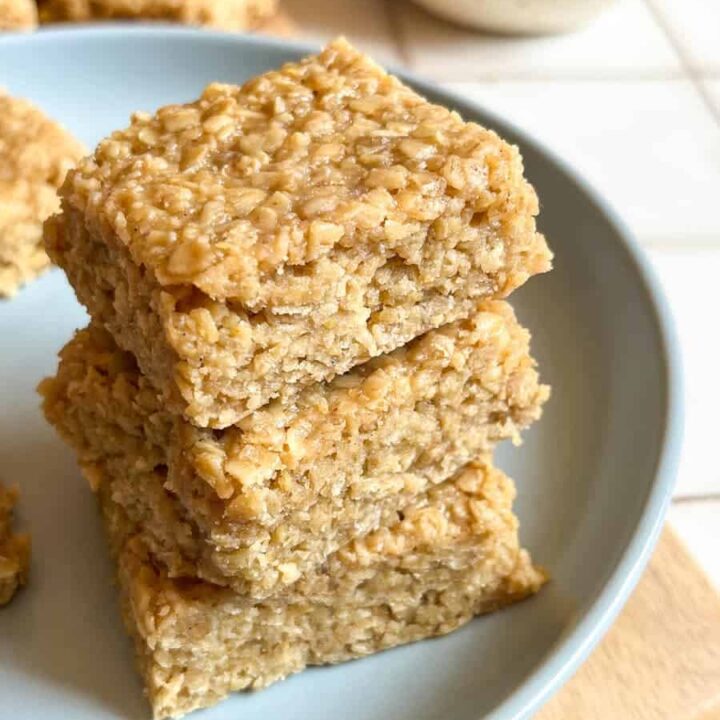 Best Soft Flapjack Recipe
Yield:
Makes 15 flapjack bars
This is the best soft flapjack recipe you will ever try thanks to a special ingredient - condensed milk! These oat bars also contain golden syrup, vanilla extract for the most comforting, easy bake to enjoy with a cup of tea.
Ingredients
380g medium rolled oats
1/4 teaspoon fine salt
225g Butter
150g Demerara sugar
70g Golden Syrup
150g condensed milk
1 teaspoon vanilla extract
Instructions
Grease and line a 20x20cm baking tin with baking parchment, making sure the paper is a little higher than the sides of the tin so you can easily lift the flapjack out later.
Preheat the oven to 170C/150Fan.
Weigh the rolled oats and stir in the salt. Set aside
In a large saucepan, slowly melt the butter, sugar, golden sryup, condensed milk and vanilla extract over a very low heat, stirring often until the sugar has completely melted. Remove from the heat.
Stir in the rolled oats, mixing well until everything is well combined.
Spoon the mixture into the lined tin. Using the back of a spoon, flatten the mixture into the tin evenly, making sure you press down well and get into all of the corners.
Bake the flapjack for 20-22 minutes or until the edges of the flapjack are beginning to turn golden. The middle of the flapjack will still be pale and soft. It will harden and set as it cools.
Leave to cool completely in the tin before cutting into squares or fingers. I find it best to leave the flapjack for at least five hours before cutting or preferably overnight. It will be easier to cut into neat squares if you chill in the fridge for a few hours.
Notes
Don't worry if the flajack still looks very soft in the middle after 20-22 minutes. It will firm up on cooling. If you overbake it, you'll end up with hard, crunchy flapjacks.
Since this is a soft set flapjack recipe, I recommend chilling it in the fridge for a few hours before slicing.
Nutrition Information:
Yield:

15
Serving Size:

1
Amount Per Serving:
Calories:

288
Total Fat:

15g
Saturated Fat:

9g
Trans Fat:

0g
Unsaturated Fat:

5g
Cholesterol:

36mg
Sodium:

149mg
Carbohydrates:

36g
Fiber:

3g
Sugar:

18g
Protein:

4g
Calories and nutritional information are provided by a third party application and should be viewed as indicative figures only.