These perfect Yorkshire puddings will be the highlight of your roast dinner! This is the BEST Yorkshire pudding recipe I've ever tried – want well risen, crispy edged, fluffy on the inside Yorkshire puds to be proud of? This is the only recipe you need!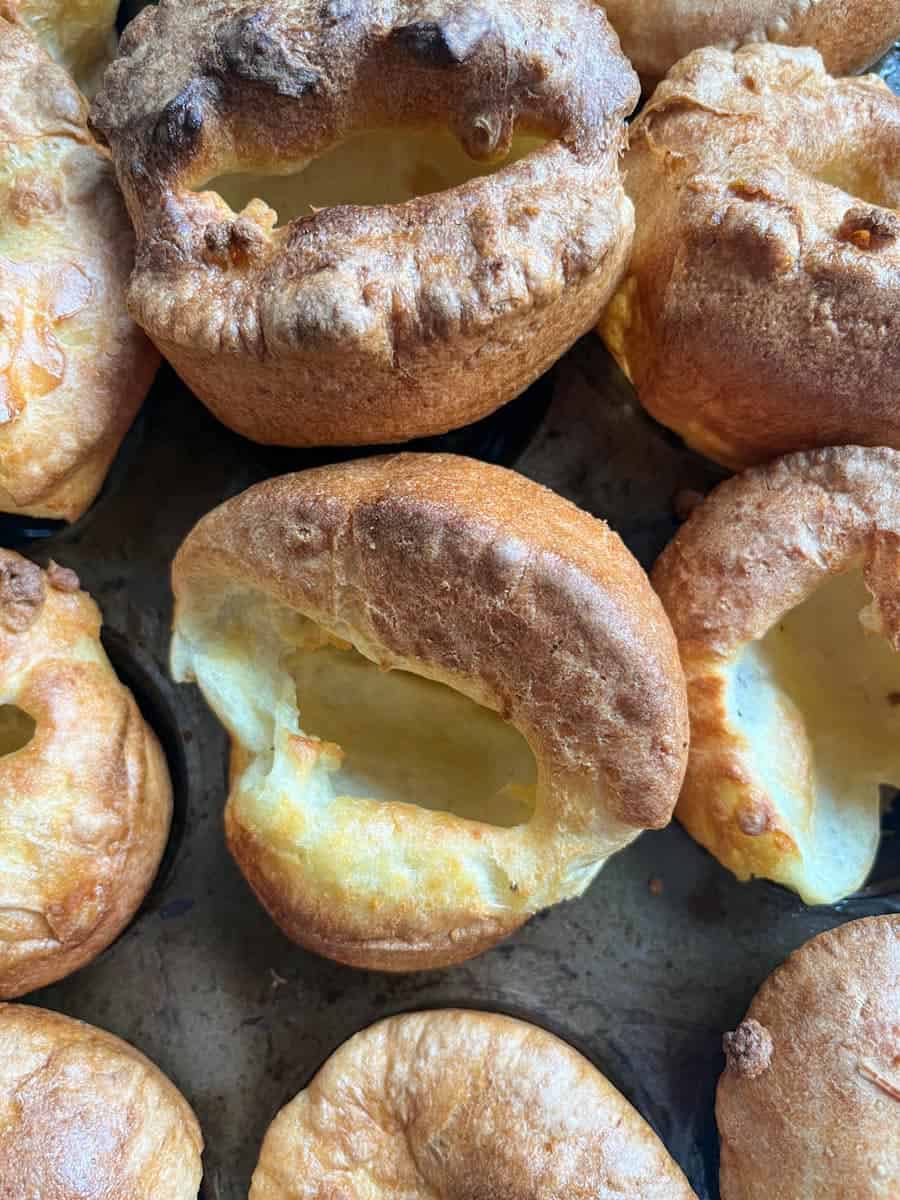 the best yorkshire pudding recipe
It took me a long time and lots of testing to find THE perfect Yorkshire Pudding recipe. I tried lots of recipes over the years that were OK, but they just weren't spot on.
I like my Yorkshire puddings on the large side, crispy in the middle and soft and fluffy in the middle. This recipe delivers all of these wonderful things every single time.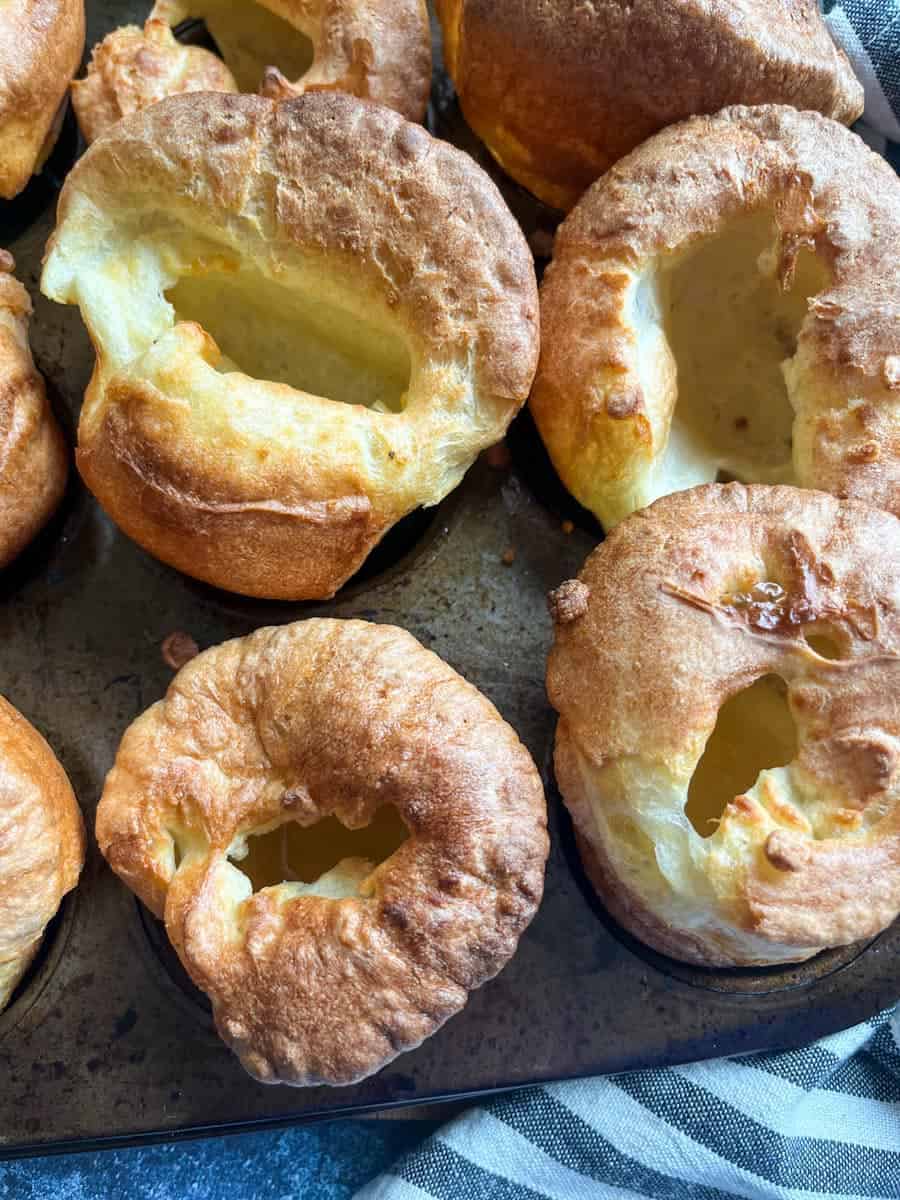 what are yorkshire puddings made of?
Yorkshire puddings are made from a very simple batter of eggs, flour and milk. When done right, they are incredible. It's a simple method that top chefs such as Jamie Oliver and James Martin use.
Light, Crispy, fluffy on the inside and incredibly tall, this really is a foolproof Yorkshire Pudding recipe.
yorkshire pudding history
Yorkshire puddings came from Northern England in the 17th Century. Made from leftover meat drippings, they were aptly named "dripping puddings." They were served as an accompaniment to a roast to make the meal stretch further.
Are Yorkshire puddings and popovers the same thing?
Technically, yes. They are made exactly the same way apart from one thing – while Yorkshire Puddings are made in a tin greased with beef fat or oil, American "popover" tins are greased with butter. In America, popovers are often served as part of a breakfast/Brunch feast with butter and jam or honey.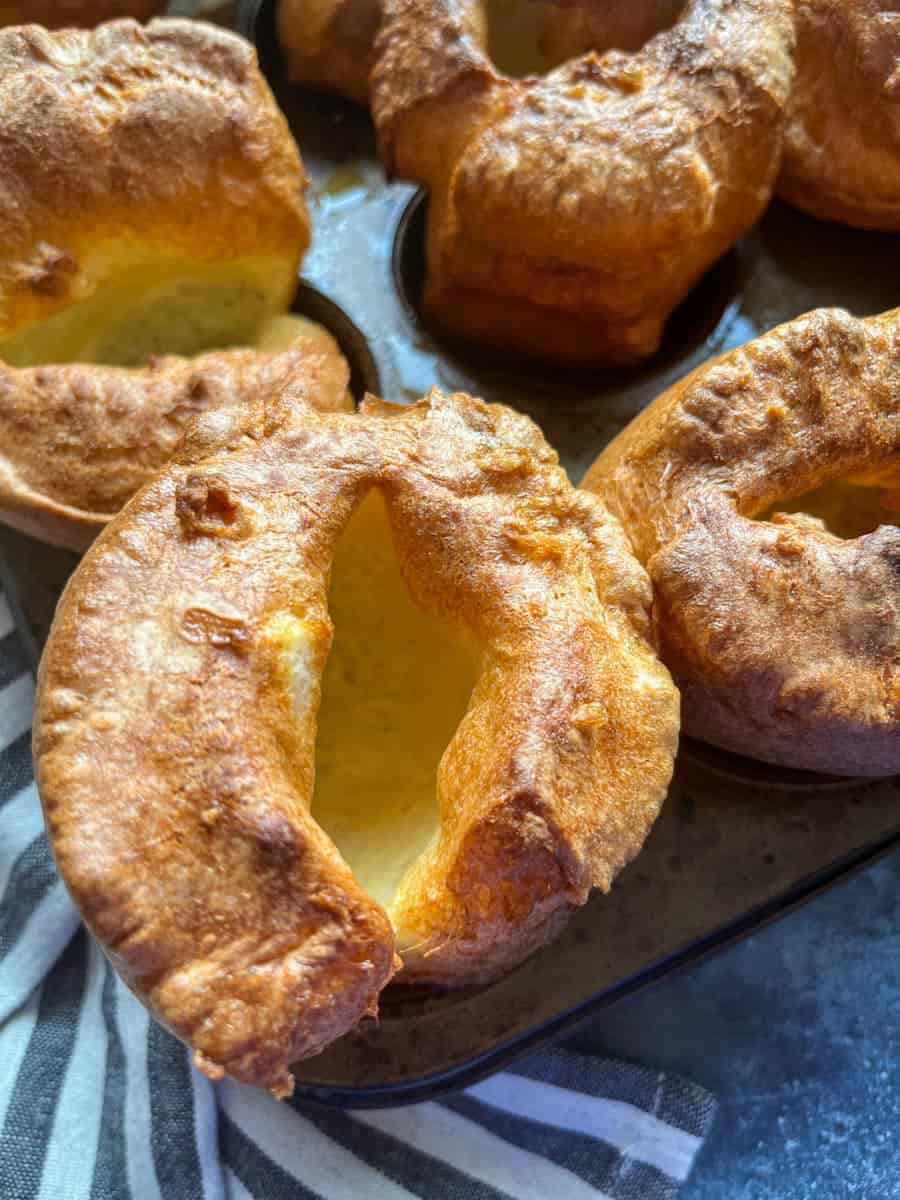 ingredient list
You just need 3 basic ingredients to make Yorkshire pudding batter –
200g plain (all purpose) flour
For the best results, please use only plain flour, not self raising. Self raising flour will give you flat, dense Yorkshire puddings.
I use medium eggs for this recipe. In the UK, a medium egg (without the shell) typically weighs between 53-63g.
You can use either whole or sem skimmed milk. My preference is semi skimmed – it could be all in my head, but I'm convinced Yorkshires turn out a little lighter and crispier when you use semi skimmed! Some people prefer to use a half-and-half ratio of milk and water.
salt and pepper to season
You can skip the pepper if you wish, but salt is an absolute must for adding flavour. I don't use fancy sea salt flakes – good old table salt will do the job nicely.
12 teaspoons vegetable oil or beef dripping for the muffin tray
You need a little fat in the tin so the batter doesn't stick to the tray. It's traditional to use beef dripping, but vegetable oil works perfectly.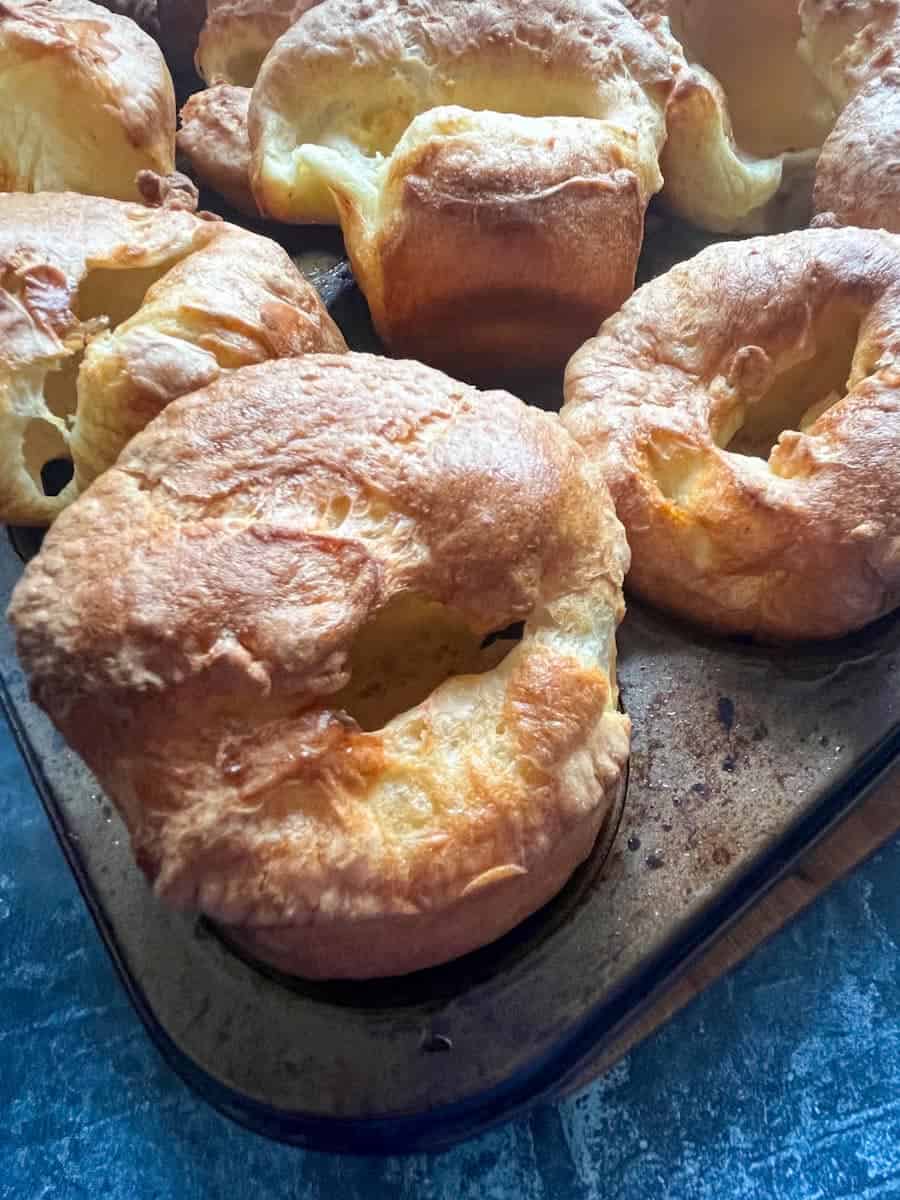 equipment list
a large mixing bowl
A metal whisk, hand held electric mixer or stand mixer
plastic or pyrex measuring jug to pour the batter into the tin (I find this so much easier than spooning batter into the tin directly from the bowl – I make such a mess this way.)
how to make yorkshire puddings
Ingredient amounts and detailed instructions are in the printable recipe card at the bottom of the post. Please have a read of the notes before attempting this recipe!
make the batter
Place the flour and salt in a large mixing bowl and stir to combine. You could also add a little pepper if you like.
Make a well in the center of the flour and crack in the eggs.
Measure the milk out and pour it into the mixing bowl with the flour and eggs.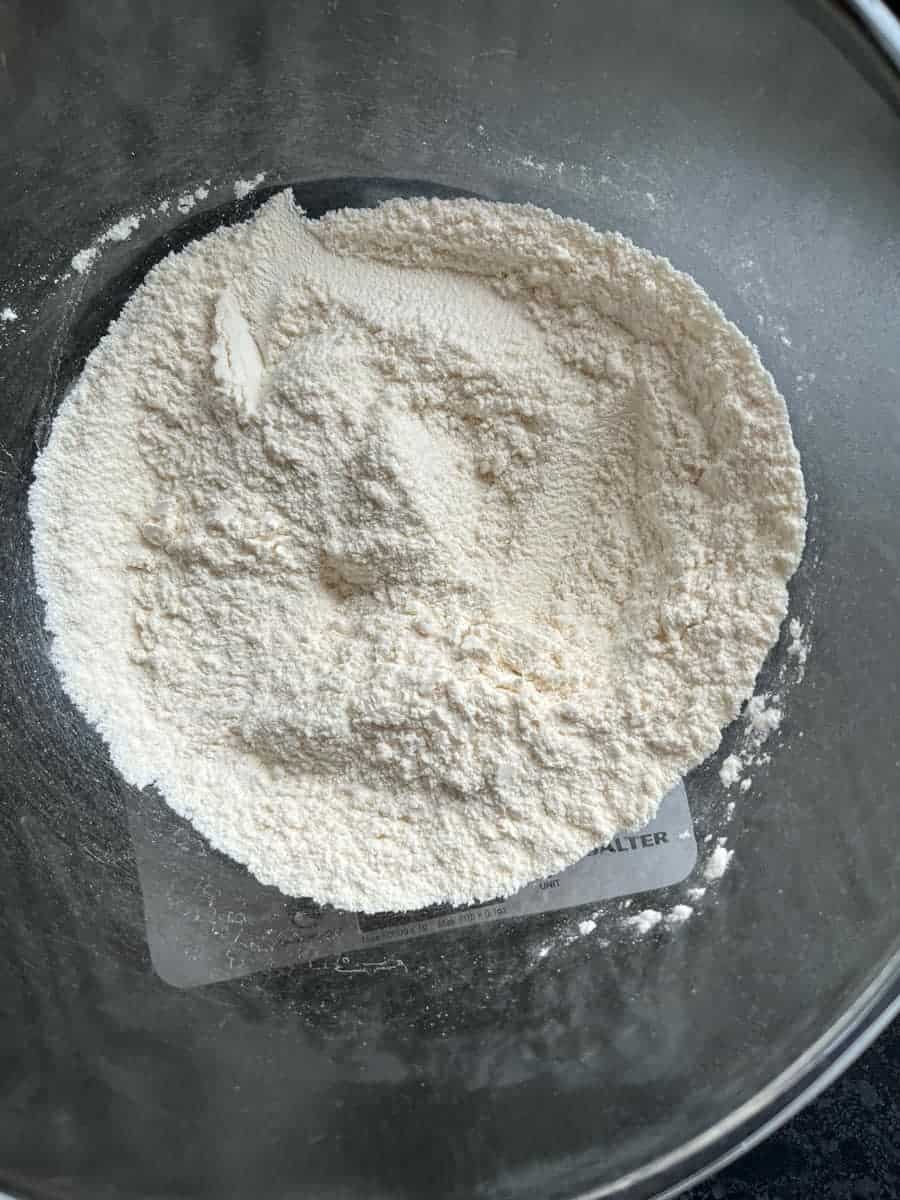 Using a balloon whisk, hand held electric mixer or stand mixer, whisk the mixture very well until smooth, lump free and bubbly.
should Yorkshire pudding batter be thick or runny?
Yorkshire pudding batter should be fairly thin – similar to the consistency of single cream. This allows it to rise and create light, crispy puddings. If the batter is too thick, the puddings may turn out heavy and stodgy.
rest the batter
Pour the batter into a jug (for easy pouring later) and leave to rest for at least 30 minutes if you can. If you don't have 30 minutes, 10 minutes is better than nothing. Resting the batter will allow the flavour to develop and the gluten to relax, giving you extra tall, sky high Yorkshire puddings.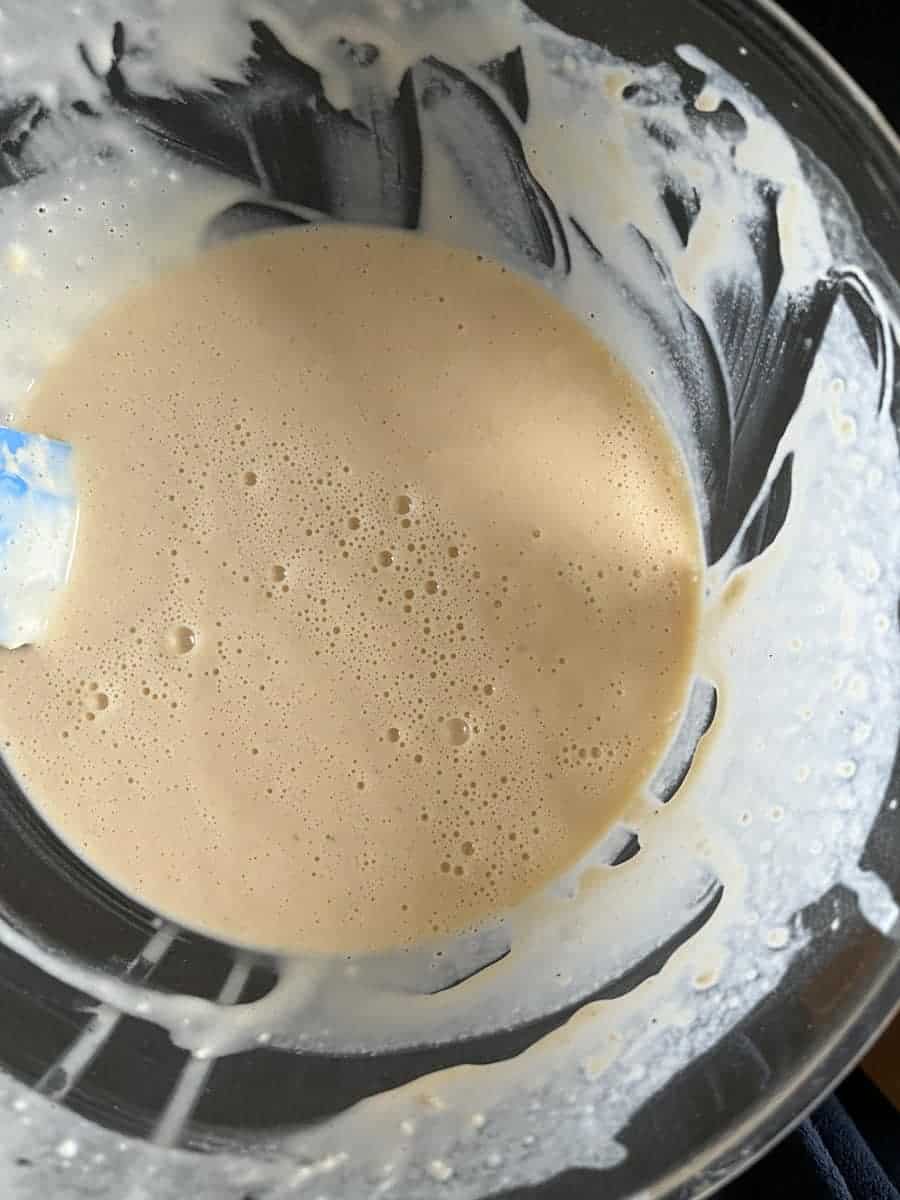 preheat the oven
The oven must be very hot for Yorkshire puddings – 220C/200Fan/425F.
Pour 1 teaspoon of sunflower or vegetable oil into each compartment of a 12 hole muffin tin.
Place the tin in the oven and heat for about 10 minutes or until very hot and smoking.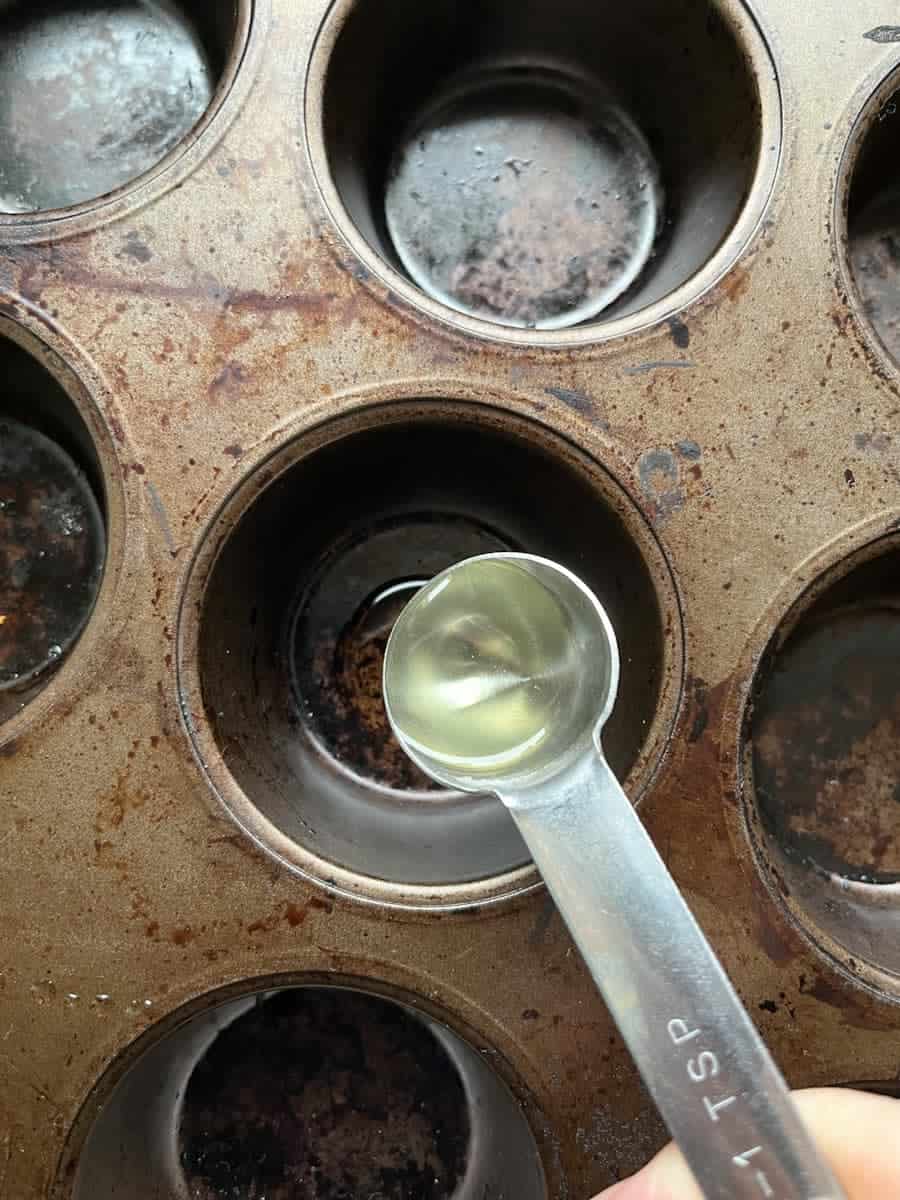 When the oil is ready – you can test to see if it is hot enough by placing a tiny bit of batter in the oil – if it sizzles like crazy and starts cooking straight away you're good to go – carefully pour the batter into each hole, trying not to spill the batter between the holes.
Close the oven door carefully and cook the puddings for 20-25 minutes until very well risen, golden and crisp. Please resist the urge to open the door to check on them or they will go flat!
Remove the Yorkshire Puddings from the tin and transfer to a serving plate. Carry them to the table with pride!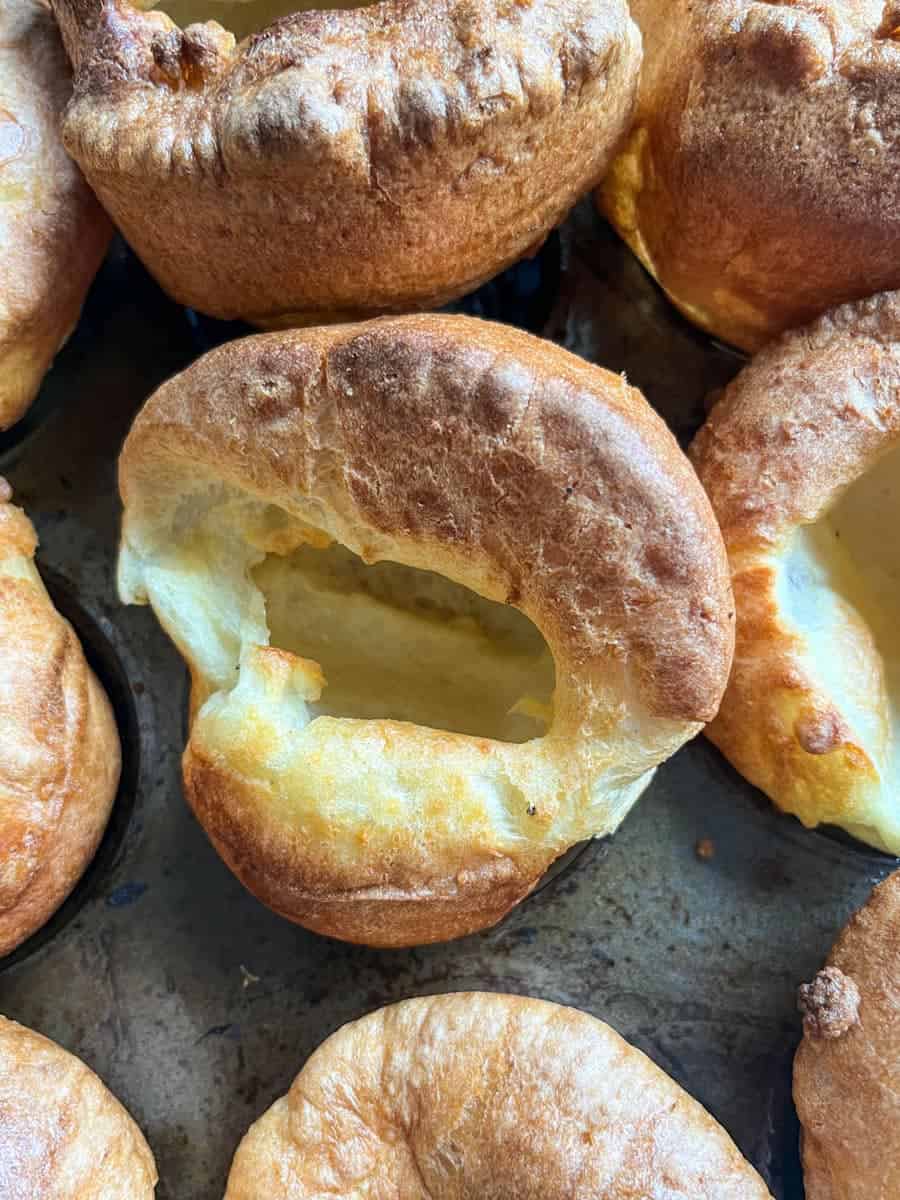 tips and tricks
I've been making this easy Yorkshire pudding recipe for many years. I've picked up a few tips along the way for recipe perfection! If you follow my tips below, you really can't go wrong.
The oil MUST be extremely hot
The oil must be ferociously hot before you pour the batter in – this will ensure the Yorkshires will rise tall and proud. I preheat the oil for a good 10 minutes before adding the batter. You must add the batter as quickly as possible and as soon as the batter and oil meet, it should make a satisfying "sizzle" noise. Working fast is key!
rest the batter
2. The batter needs to rest before you use it. This will allow the gluten to relax and your Yorkshires will taste all the better for it – I promise! You could even leave the batter in the fridge overnight if you wanted.
don't use a crowded oven
3. It's best to cook Yorkshire puddings in an otherwise empty oven on the middle shelf. If you have a couple of other dishes cooking simultaneously, you might not get perfect results. Cook the Yorkshires while your meat is resting.
keep the oven door closed
4. No peeking! Please try not to open the oven door when you're cooking the Yorkshires – at least not for 20-25 minutes. If you do, you'll let all the hot air escape and the Yorkshire puddings will sink and deflate. I've done this a few times in the past and it's maddening! Don't even think about opening the door until they are well risen and golden brown.
What to serve with Yorkshire Puddings
Many people in Britain think that Yorkshire Puddings should only be served with roast beef, but I see no reason to limit something so delicious!
My teenage son pretty much demanded them with our turkey Christmas dinner last year (I know there are some people who will be outraged at this, but I couldn't disappoint him!)
I don't think you can beat Yorkshires with Sausages and onion gravy and I've even been known to make giant ones and fill them with Sausage Casserole, Beef Casserole or Savoury Mince.
For an ultimate treat that tastes like it was sent from the heavens above, drizzle a warm Yorkshire Pudding with golden syrup and serve with a scoop of vanilla ice cream or thick double cream. Believe me, it's AMAZING.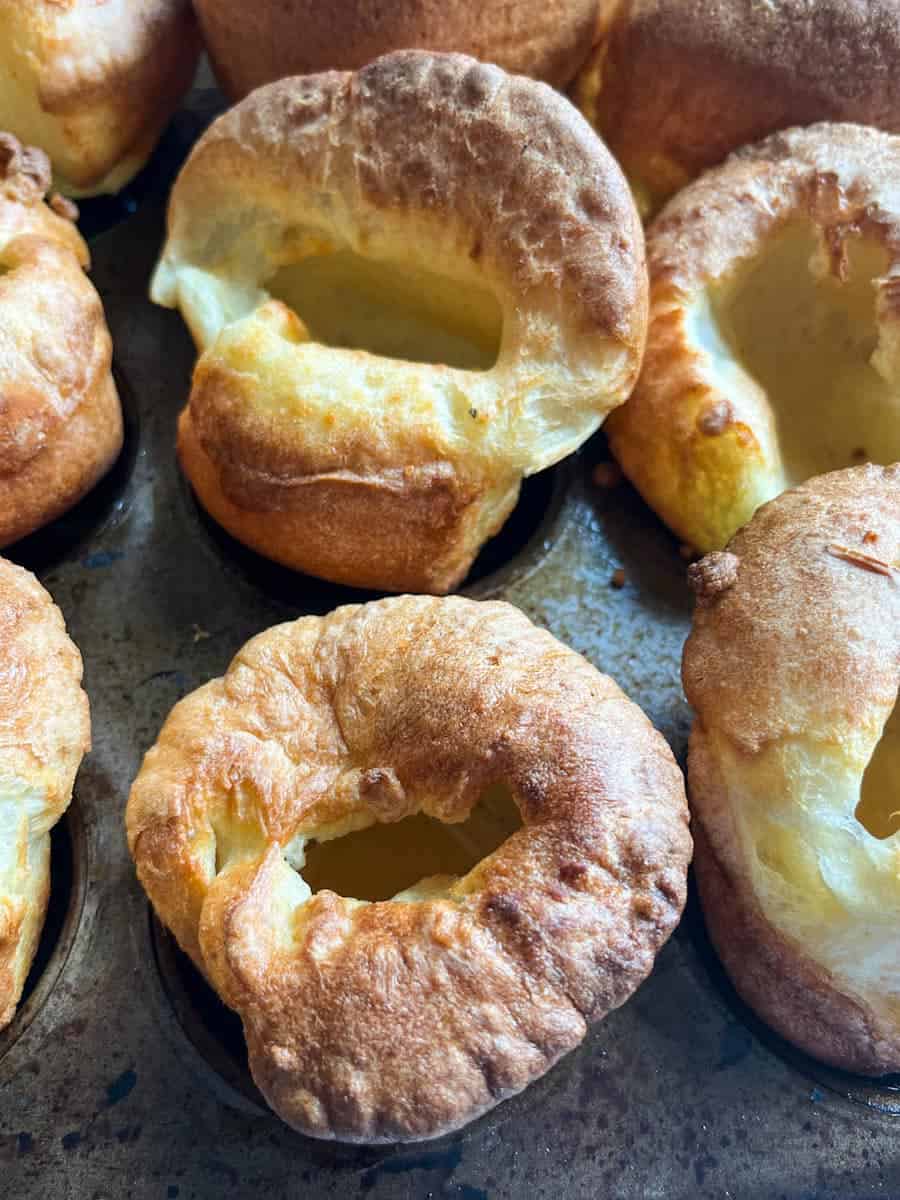 can you make yorkshire puddings in advance?
Yes! Yorkshire puddings don't suffer at all from being made ahead. I often make them in the morning and reheat in a hot oven (200C) for 5-6 minutes or in the air fryer at 180C for 3-4 minutes.
can you freeze yorkshire puddings?
Yes you can. When the puddings are completely cold, place in ziplock freezer bags or an airtight container and freeze for up to 1 month. Re-heat from frozen in a preheated oven (200C/180Fan) for 8-10 minutes until very hot and crisp.
Can this recipe be halved?
Sure! If you don't need 12 Yorkshire puddings, simply use half the ingredients. You can always freeze some for another time.
Looking for more side dishes?
So are you ready to make the best Yorkshire pudding recipe ever? Let's go!
did you make this recipe?
I hope you loved it as much as we do. Let me know how you got on by leaving a comment below and rate the recipe by clicking on the stars in the recipe card below. Taken a picture of your epic Yorkshire puds? Tag me #sweetsavouryblog on Instagram!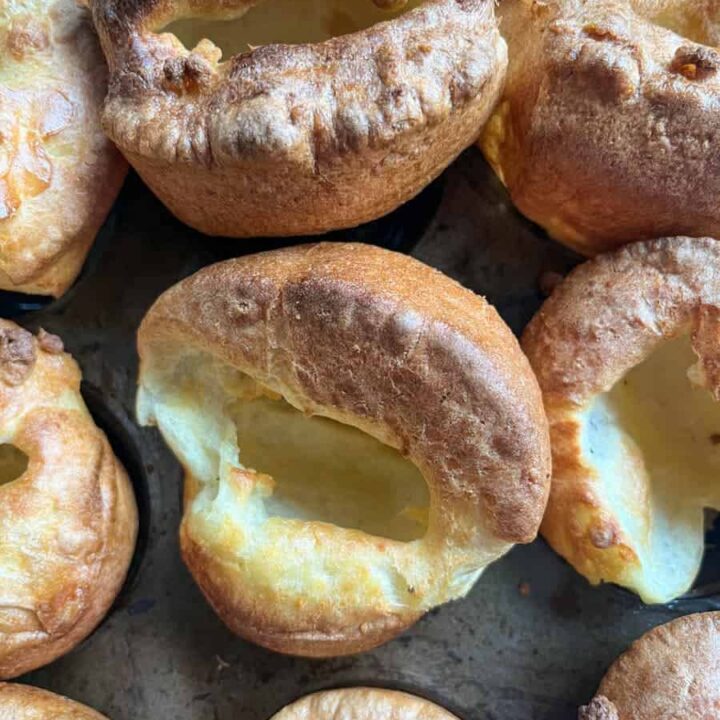 Best Yorkshire Pudding Recipe
Additional Time:
30 minutes
Total Time:
1 hour
5 minutes
The Best Yorkshire Pudding recipe ever! An essential part of a traditional British roast dinner. Follow my simple tips and step by step guide for homemade Yorkshire puddings to be proud of!
Ingredients
12 Teaspoons of Sunflower Oil
200G Plain (all purpose) Flour
1/2 Teaspoon fine salt
4 medium Eggs
200ml Whole or Semi-Skimmed  Milk
Instructions
Sieve the flour and salt into a large mixing bowl.
Make a well in the flour and crack in the eggs and milk. Using a balloon or hand held electric whisk, whisk the mixture very well until smooth, lump free and bubbly. The batter should be the consistency of single cream. Cover and place in the fridge for (ideally) at least 30 minutes while you preheat the oven and oil.
PREHEAT THE OVEN to 220C/200Fan/425F. Pour 1 teaspoon of oil into each compartment of a 12 hole muffin tin. I'm afraid you do need quite a bit oil - this is what makes the puddings rise so high!
Place the tin with the oil in the preheated oven for about 10 minutes or until smoking hot. Remove the Yorkshire Pudding batter from the fridge.
When the batter is sizzling and smoking hot, (carefully!!) open the oven door and working as quickly as you can, pour the batter into each hole They should start to sizzle immediately, so you really need to try and work fast here.
Cook for 20-25 minutes until the Yorkshires are tall, golden and crisp. Please don't open the oven door for at least 20 minutes or you'll undo all your hard work and your beautiful Yorkshires will deflate like a balloon! As soon as the puddings are ready, remove from the tin and place on a serving plate
Notes
A few key points for recipe success -
It's important to rest the batter for a while - at least 30 minutes and preferably in the fridge. As soon as the cold batter hits the smoking hot oil, it will rise beautifully. If you're really in a rush, then 10 minutes resting time is better than none.
The oil MUST be hot, hot, hot. If you aren't sure if the batter is hot enough, pour in a tiny bit of batter. It should furiously sizzle and start to cook immediately. If it doesn't, the oil isn't hot enough and will need to go back in the oven for 5 minutes or so.
Don't open the oven door for the first 25 minutes of cooking time or the Yorkshires puddings will sink and deflate. I've made this mistake before!
Yorkshires are traditionally served as part of a roast dinner, such as beef or chicken, but you can serve them as a pudding with a sweet filling, such as golden/maple syrup and ice cream!
Yorkshire puddings are best eaten while fresh, but they can be made ahead of time and reheated or frozen.
Reheating fresh: 3-4 minutes at 180C/160Fan
Reheating frozen - 8-10 minutes at 180C/160Fan
Nutrition Information:
Yield:

12
Serving Size:

1
Amount Per Serving:
Calories:

70
Total Fat:

6g
Saturated Fat:

1g
Trans Fat:

0g
Unsaturated Fat:

5g
Cholesterol:

56mg
Sodium:

117mg
Carbohydrates:

1g
Fiber:

0g
Sugar:

1g
Protein:

2g
Calories and nutritional information are provided by a third party application and should be viewed as indicative figures only.