This Instant Pot beef brisket recipe is a game changer! Meltingly tender, soft beef cooked with onions and carrots in a rich, flavoursome gravy.
Thinking of what side dishes to pair with your brisket? Try these creamy mashed potatoes or classic crispy roast potatoes and this delicious spiced red cabbage.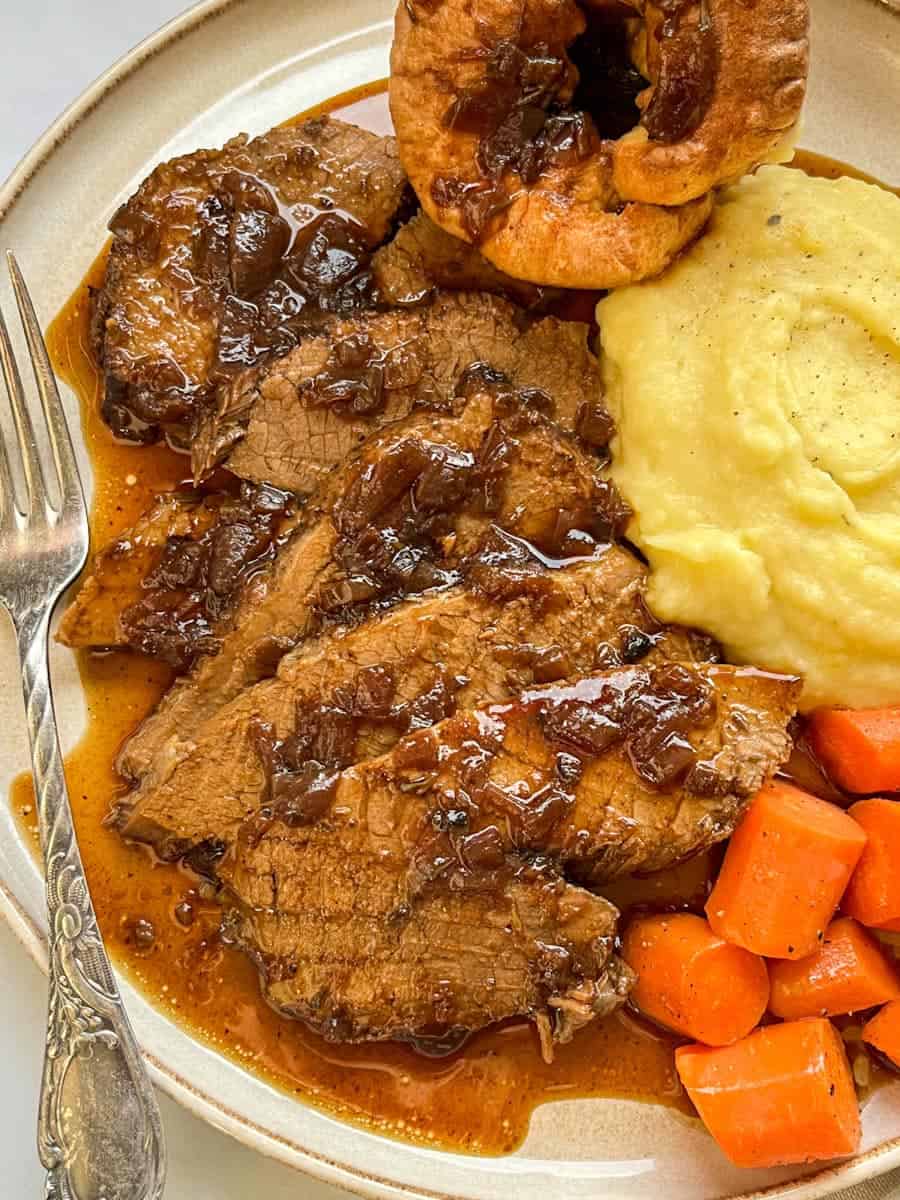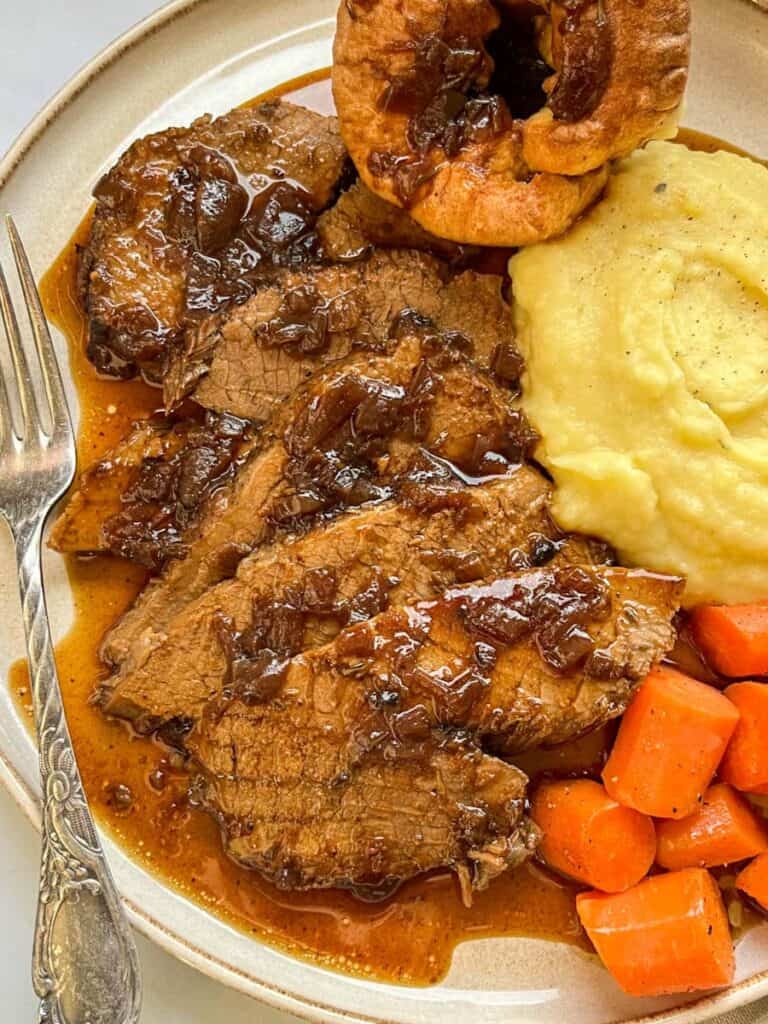 I love a good roast dinner on a Sunday. What's your favourite roast? Mine has to be roast chicken, but roast beef with potatoes and crispy Yorkshire puddings definitely comes a very close second. The only trouble is, it can be a little time consuming to make.
I've recently discovered the joys of cooking beef brisket in the Instant pot. I am converted! It's so easy and hassle free. I honestly don't think I will cook brisket another way again. The cooking time for a 1.5-1.8kg piece of brisket is about 45 minutes in an Instant pot. Amazing!
Of course this also means you have plenty of free oven space to cook your roast potatoes, vegetables and Yorkshire pudding.
what is beef brisket?
Beef brisket is a cut of meat from the breast of a cow. It's a fairly tough piece that requires long, slow cooking. Brisket is commonly used to make Pastrami (I love a NY Pastrami sandwich!) and corned beef. If you buy it in a supermarket or butcher, it typically comes boned and rolled.
It's a perfect cut of beef for long, slow cooking in gravy – which is called "pot roast" in America. Brisket also makes amazing chill con carne.
Brisket contains a lot of connective tissue that needs to break down during cooking, so it can take several hours to cook in a conventional oven. Using a pressure cooker dramatically reduces the cooking time – saving you a bit of money in energy bills.
I know an Instant pot isn't the cheapest piece of kitchen equipment, but if you don't have one already and have been thinking about taking the plunge and investing, it's worth keeping an eye out for any special deals.
I use the Instant pot Duo Crisp + air fryer. It was expensive, but I can honestly say I use it more than my oven now. It's very handy having the pressure cooker and air fryer in one – I wouldn't have kitchen space for two separate machines anyway!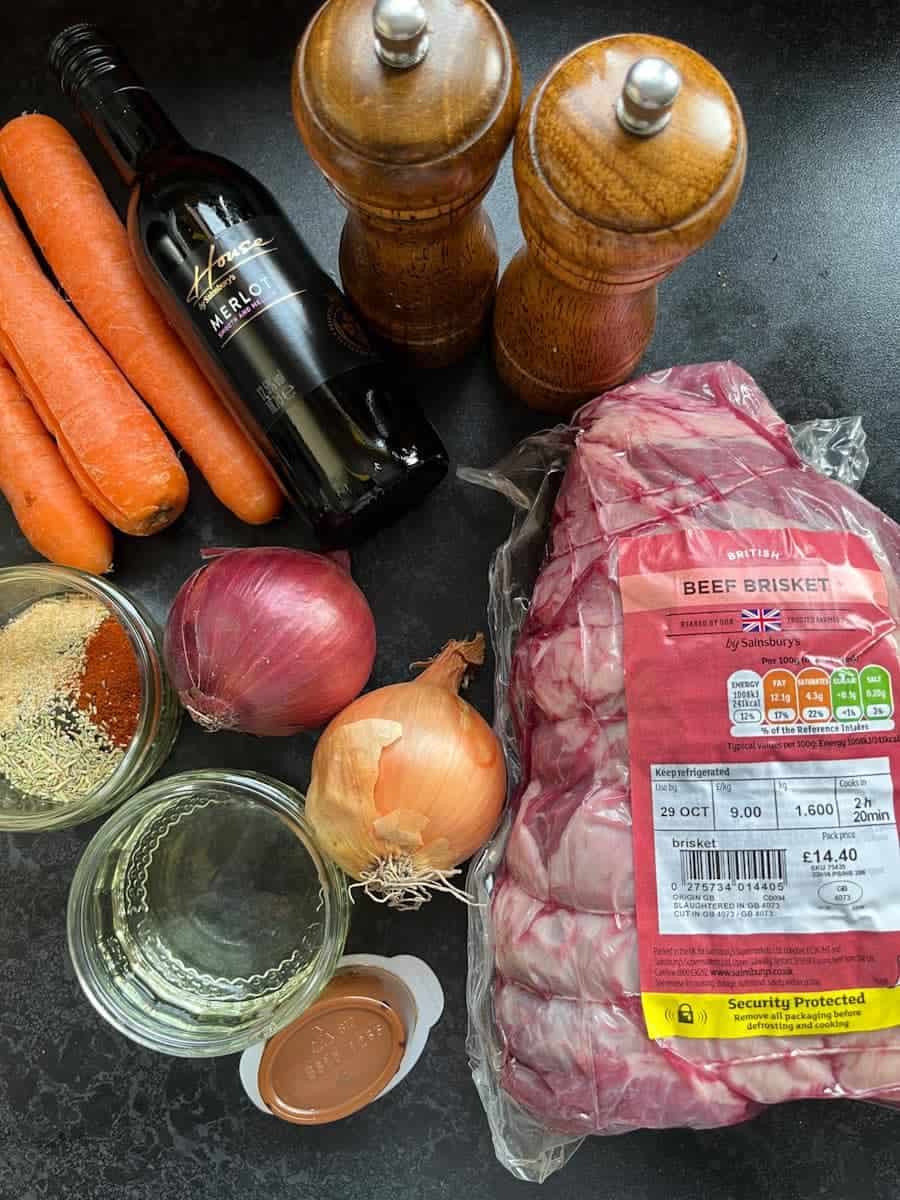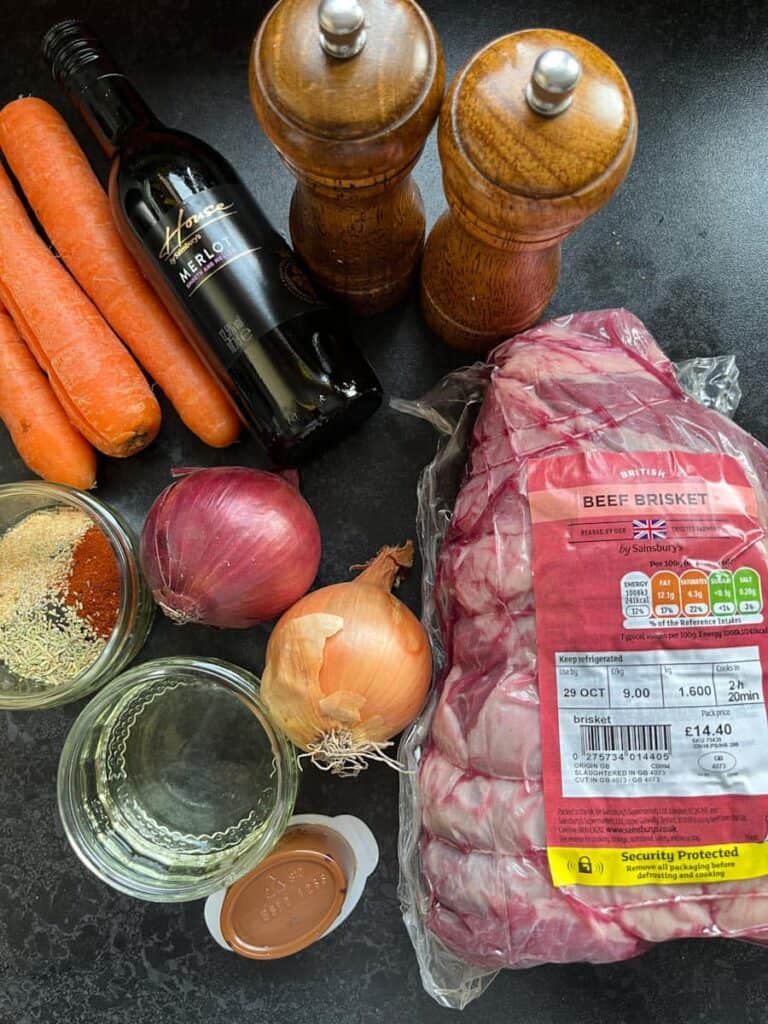 The recipe I'm sharing with you today is super simple and delicious. To get the very best flavour out of the brisket, I do the following two things:
HOW TO GET FLAVOURSOME BEEF BRISKET
season the brisket
Before browning the brisket I season it all over with a spice rub. The spice rub contains:
Mild (not smoked) paprika
dried rosemary
dried thyme
salt and freshly ground black pepper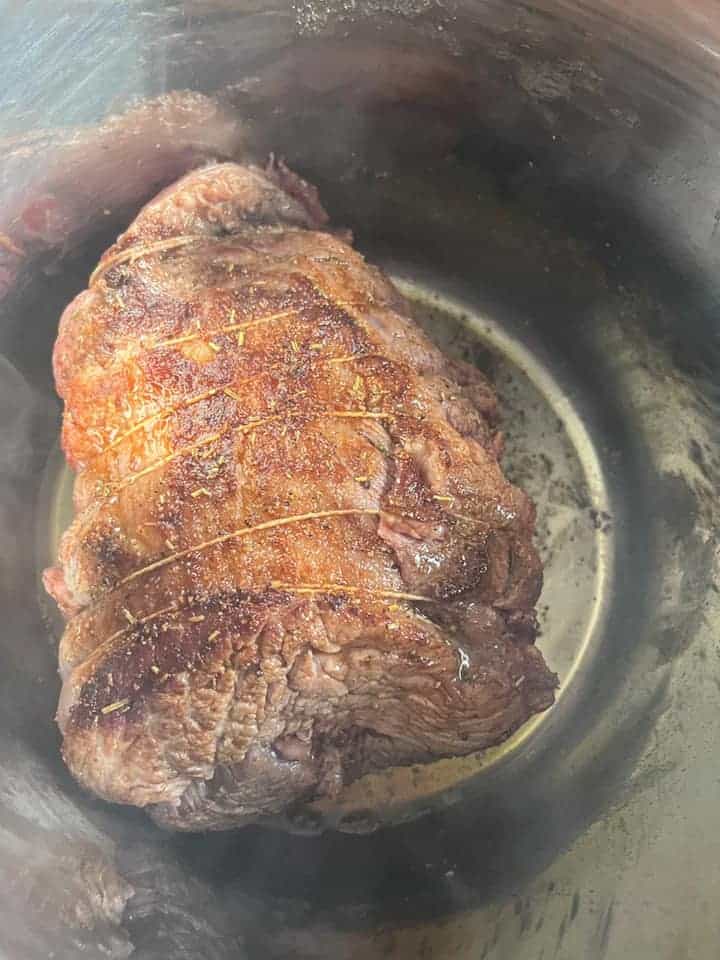 brown the beef
It's crucial to brown the brisket before cooking in the gravy. Searing for a few minutes per side will produce a lovely brown crust all over the meat, giving incredible flavour. I use the "saute" function on the Instant Pot to do this.
I cook the carrots with the gravy and beef in the pot – they add a natural sweetness to the gravy and become deliciously soft. If you're not a fan of carrots cooked this way, it's fine to leave them out.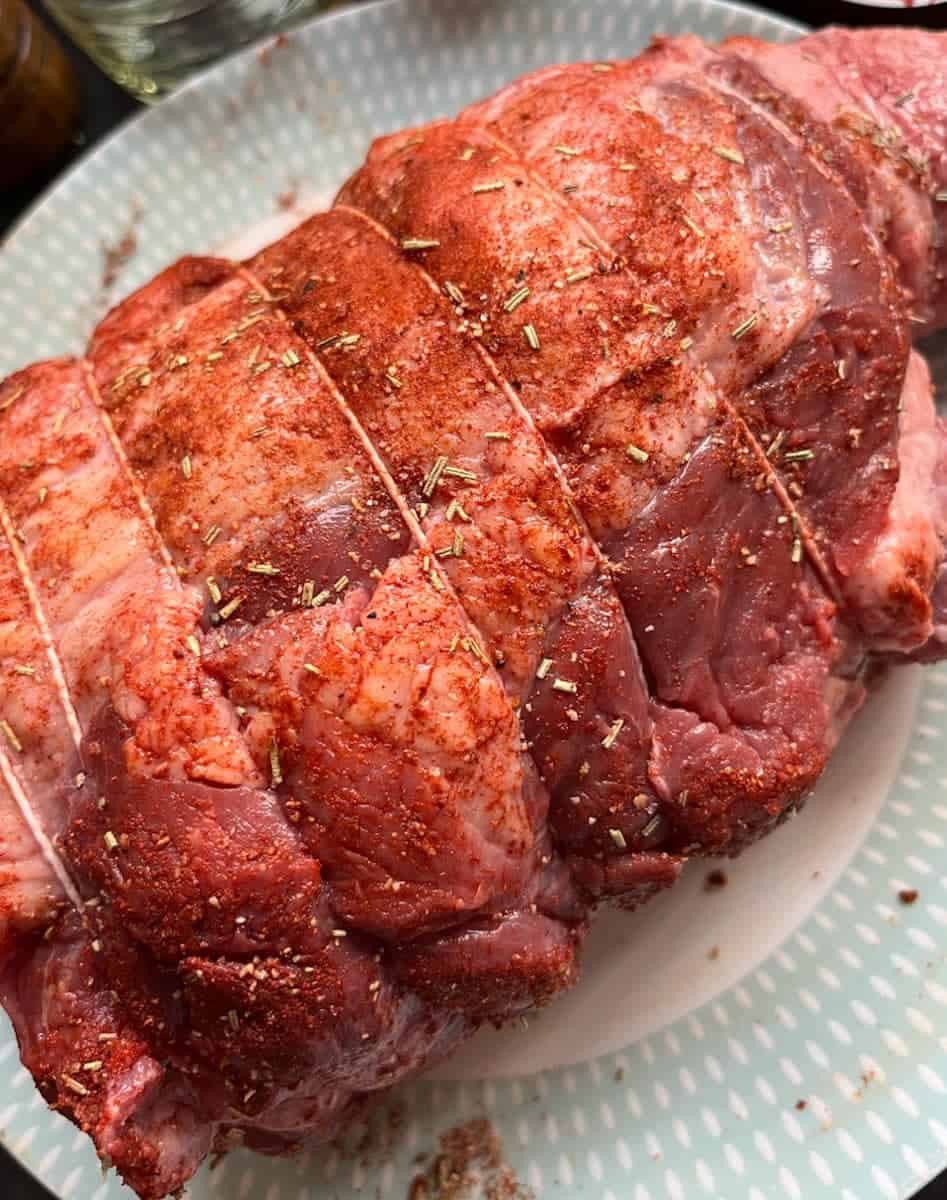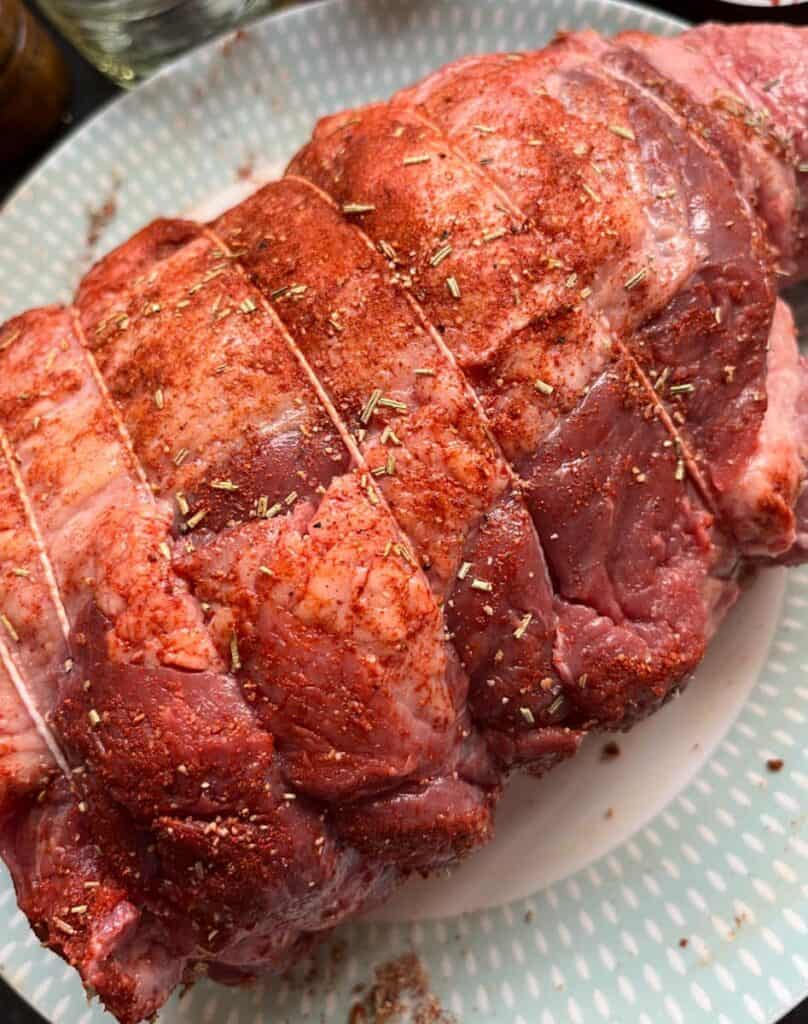 recipe tips
bring the brisket to room temperature before cooking
Remove the brisket from the fridge around an hour before you start cooking. This will take the chill off the meat. You always want to avoid placing fridge cold meat in a hot pan. The meat will lose all those lovely juices that make it nice and succulent .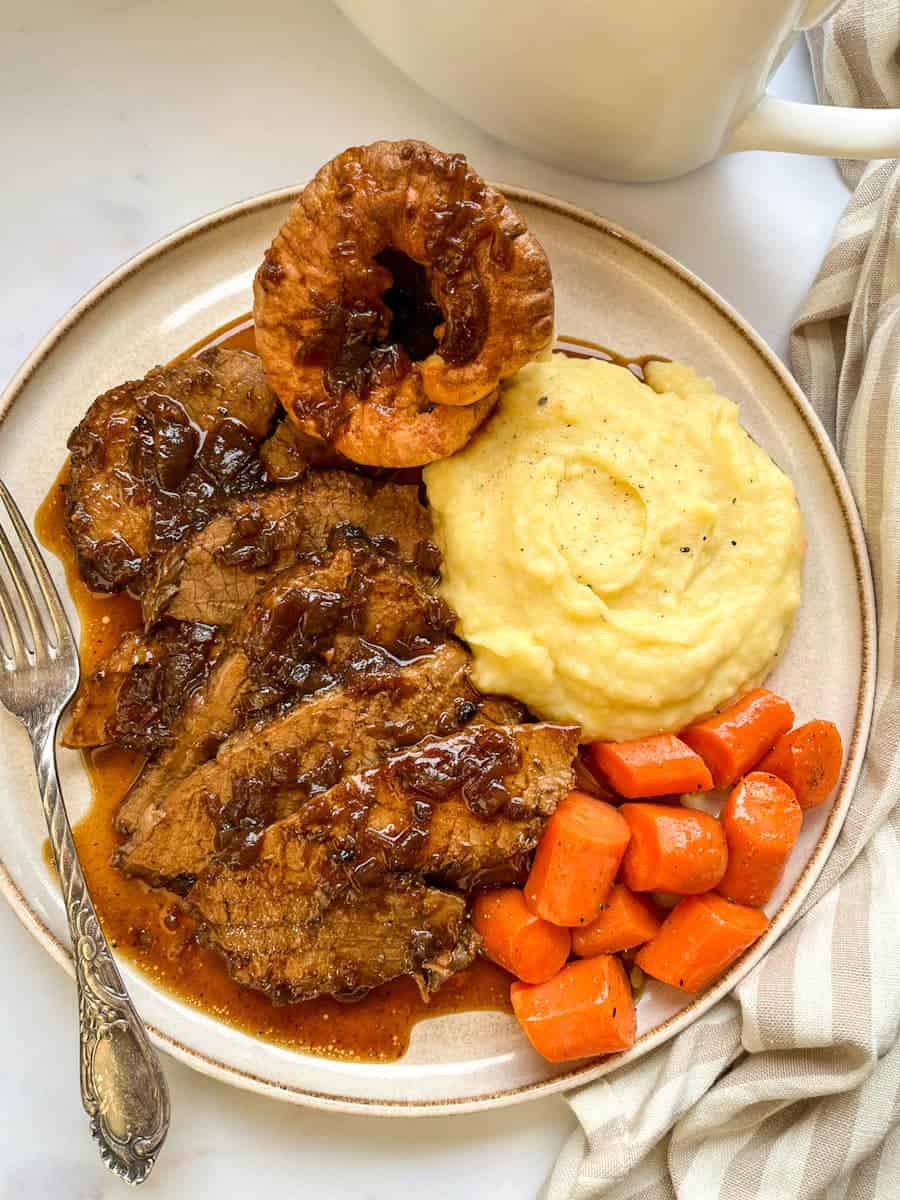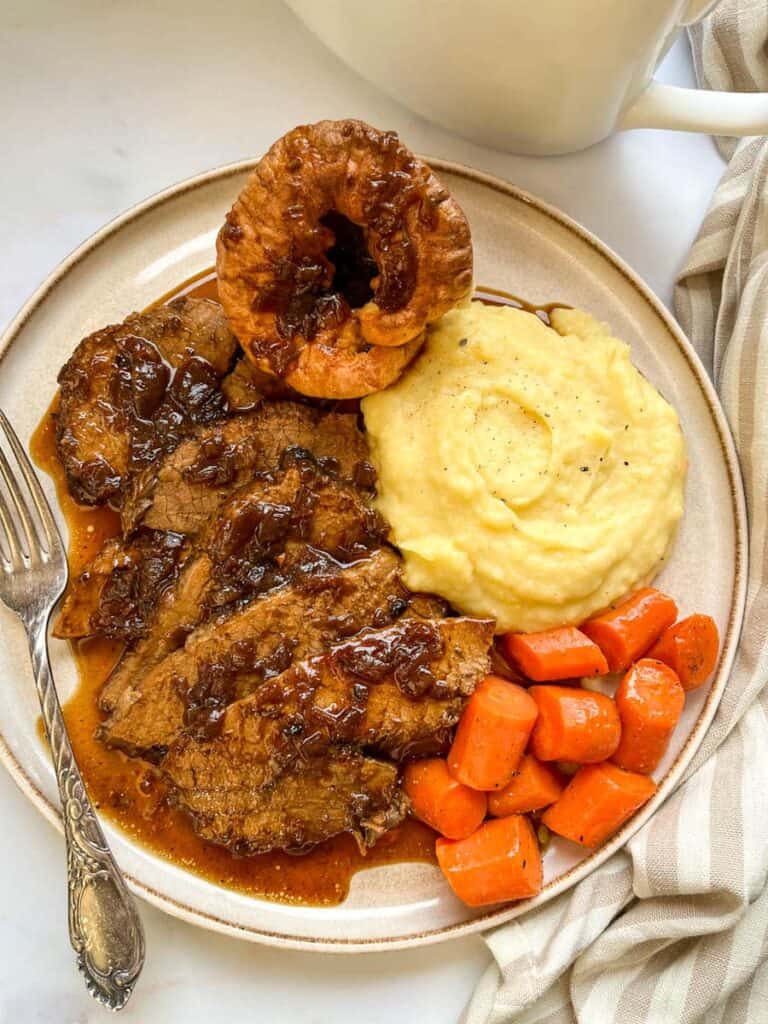 TAKE YOUR TIME COOKING THE ONIONS
Slowly cooking your onions will add so much flavour to your gravy. I try and gently cook them for at least 10 minutes or until they are really soft and light golden. You do need to stir them often to prevent them from sticking to the bottom of the Instant pot and getting a "burn" message.
thickening the gravy
You will need to thicken the gravy with some cornflour at the end of cooking time. Thankfully this is very easy – all you need to do is mix cornflour and water together to a smooth, runny paste and quickly whisk it into the gravy. Set the pot to "saute" and allow to reduce until the gravy has thickened.
not a fan of chunky onions? blitz the gravy
Does your family prefer a smooth gravy? No problem – I can relate! I have an onion hating son so I know what that's like. Simply whizz the gravy in a blender until smooth.
natural pressure release
When cooking meat in the Instant Pot, you must do a natural pressure release instead of manual. If you don't allow the pressure to release naturally when cooking a piece of meat in the Instant pot, it can become tough. Natural pressure can usually take between 10-20 minutes.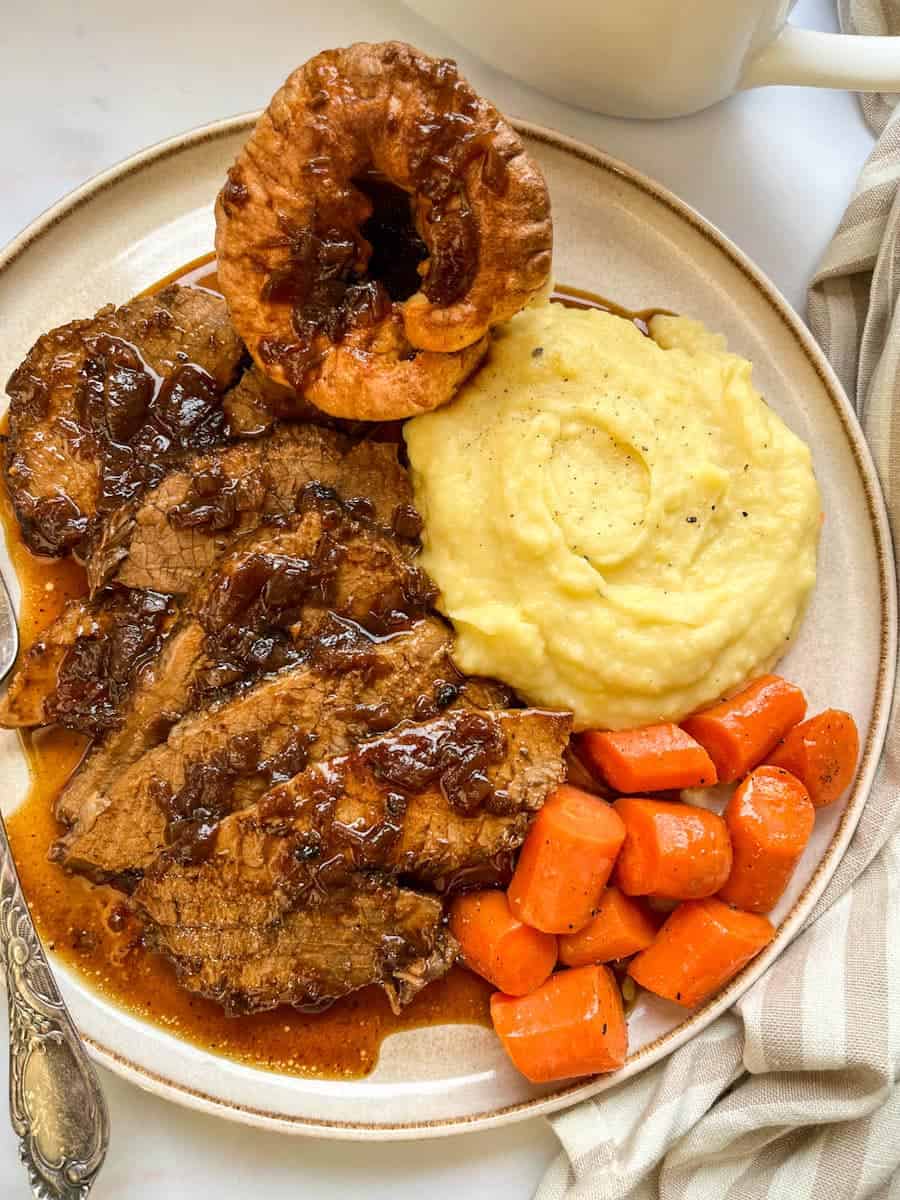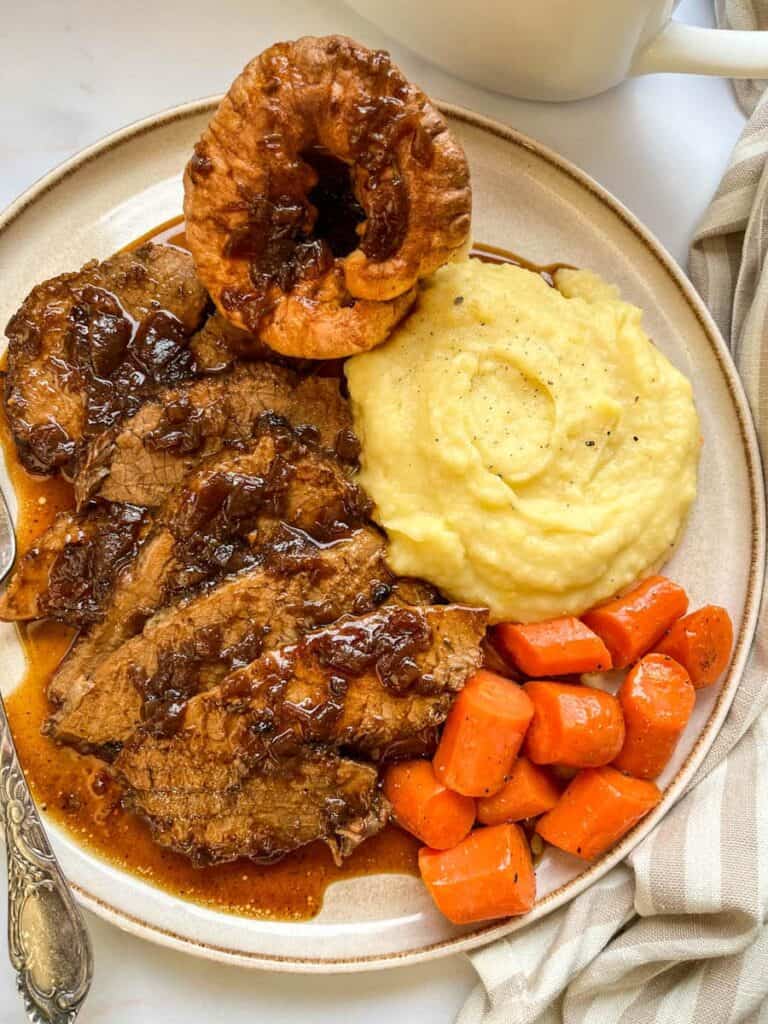 REHEATING INSTRUCTIONS
This brisket beef and gravy is delicious reheated the next day – I always relish leftovers! To reheat, place the beef slices and the gravy in an oven safe casserole or pyrex dish. Cook for around 25 minutes at 180C/160Fan/350F or until piping hot.
more ideas for leftover beef
You don't have to reheat leftover beef – it's also very good cold in sandwiches or make a Thai beef salad – yum!!
You could also replace the chicken with beef in my chicken fried rice recipe.
more instant pot recipes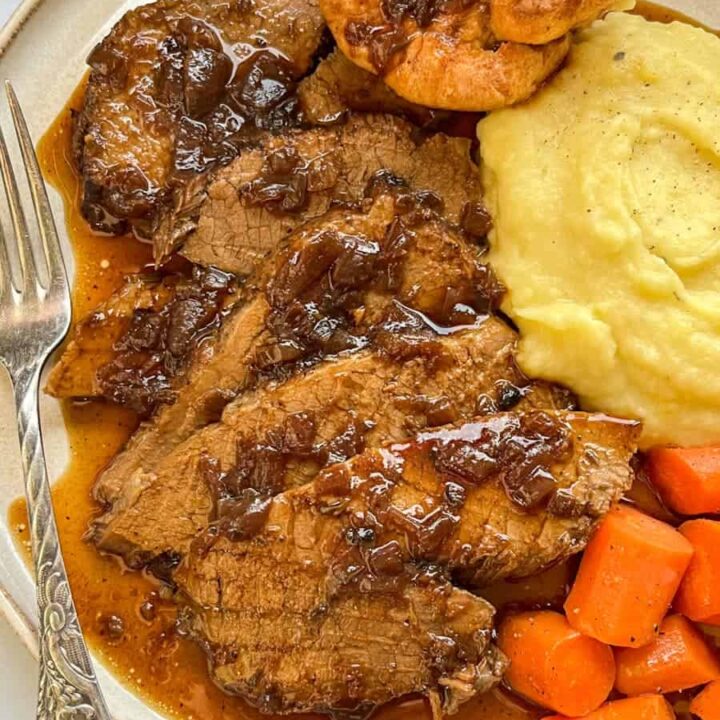 Instant Pot Beef Brisket Recipe
Total Time:
1 hour
10 minutes
Tender, fall apart with a fork beef brisket in just one hour? It's totally doable in the Instant Pot. Serve with potatoes and seasonal vegetables for a delicious plate of comfort!
Ingredients
1.5-2k boned and rolled beef brisket (mine weighed 1.8kg)
SEASONING
2 teaspoons mild paprika (not smoked)
2 teaspoons dried rosemary
2 teaspoons dried thyme
1 tsp sea salt flakes
½ freshly ground black pepper
1 tablespoon vegetable or sunflower oil
1 tablespoon vegetable or sunflower oil
1 tablespoon butter
Two large onions, peeled and sliced
2 cloves garlic, crushed (or 2 teaspoons garlic paste)
1 small stick of celery, finely chopped (optional)
3 carrots, peeled and cut into 2-3 cm chunks
½ cup (125ml) good quality beef stock
½ cup (125ml) red wine (or more beef stock)
Two tablespoons tomato purée (paste)
Two bay leaves
2 teaspoons soft light brown sugar
½ tablespoon red wine vinegar
1 tablespoon Worcestershire sauce
Salt and pepper to season
To thicken the gravy:
1 tablespoon cornflour (cornstarch) with with 1 tablespoon cold water
Instructions
First of all, make the seasoning for the beef brisket. Place the paprika, rosemary, thyme, salt and pepper in a large, shallow bowl (it should be large enough for the beef) and mix to combine. Stir in the one tablespoon of vegetable oil. You should have a runny paste.
Pat the brisket with paper towels to remove excess moisture. Roll the brisket in the seasoned oil, making sure all sides are lightly covered.
Place one tablespoon of oil in the instant pot and press "sauté" (high or "more" setting). Add the brisket and brown on all sides until golden brown, about 4 minutes per side. Remove the brisket with kitchen tongs and set aside.
Add the tablespoon of butter to the pot and turn the heat down to "normal" or "medium" by pressing the - button. As soon as the butter has melted, add the sliced onions to the pan and cook, stirring often until the onions are soft and starting to turn light golden. This process can take a good 10 minutes, but it's worth taking your time because the onions will impart so much flavour to the gravy. Don't turn your back on the pot - they can burn quickly.
When the onions are soft and golden, add the crushed garlic, celery if using and carrots, sprinkle with a little salt and pepper and cook for two or three minutes, stirring constantly.
Add the red wine if using, the beef stock, brown sugar, bay leaves, tomato purée, red wine vinegar and Worcestershire sauce. Turn the heat up and cook for 2-3 minutes, stirring with a wooden spoon or silicone scraper to scrape up all the caramelised bits stuck to the bottom of the pan (the good stuff!) This is called "deglazing".
Return the beef to the pot and cancel the "sauté" function. Set the vent to "sealing" and set the pot to pressure cook on manual for 45 minutes. Let the pressure release naturally for 20 minutes (it might not take this long).
Once the pot has released the pressure, lift the beef and carrots from the pot using tongs and transfer to a serving plate.
To thicken the gravy, mix one tablespoon of cornflour with one tablespoon of cold water until smooth. Press the "sauté" function and whisk the cornflour slurry into the pot, stirring constantly for 5 minutes until the gravy has thickened to your preferred consistency.
Slice the beef (it will be incredibly tender), and serve with the carrots, gravy and mashed potatoes.
Nutrition Information:
Yield:

8
Serving Size:

1
Amount Per Serving:
Calories:

118
Total Fat:

7g
Saturated Fat:

2g
Trans Fat:

0g
Unsaturated Fat:

5g
Cholesterol:

15mg
Sodium:

458mg
Carbohydrates:

8g
Fiber:

2g
Sugar:

4g
Protein:

4g
Calories and nutritional information are provided by a third party application and should be viewed as indicative figures only.