It's very easy to make hot cross buns – once you've mastered this recipe, you won't want to save them just for Easter time! These soft, fluffy hot cross buns are packed full of juicy dried fruit and mixed spice. They delicious fresh from the oven with butter and jam.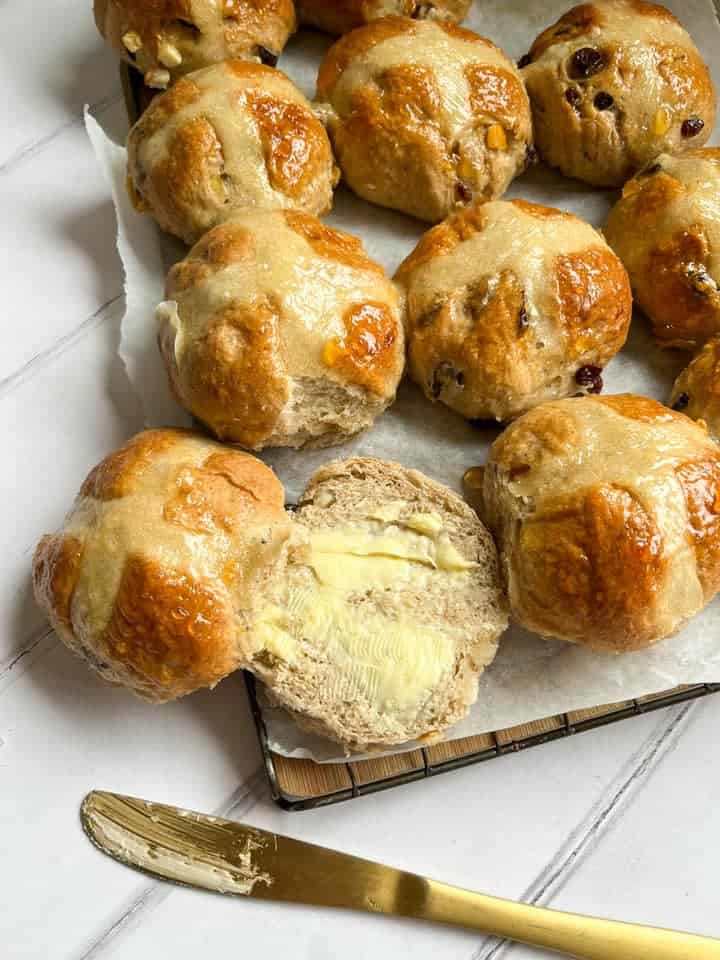 Some people are all about the chocolate at Easter time, but for me, the real treat is a hot cross bun. I love them.
I've shared chocolate orange hot cross bun and white chocolate and cranberry hot cross bun recipes already, but I hadn't published a traditional recipe. Shame on me! I actually prefer a proper hot cross bun.
Packed with plump dried fruit and generously brushed with sugar glaze (or marmalade for an easier option), split open and liberally spread with salted butter, there's simply nothing better on Easter weekend.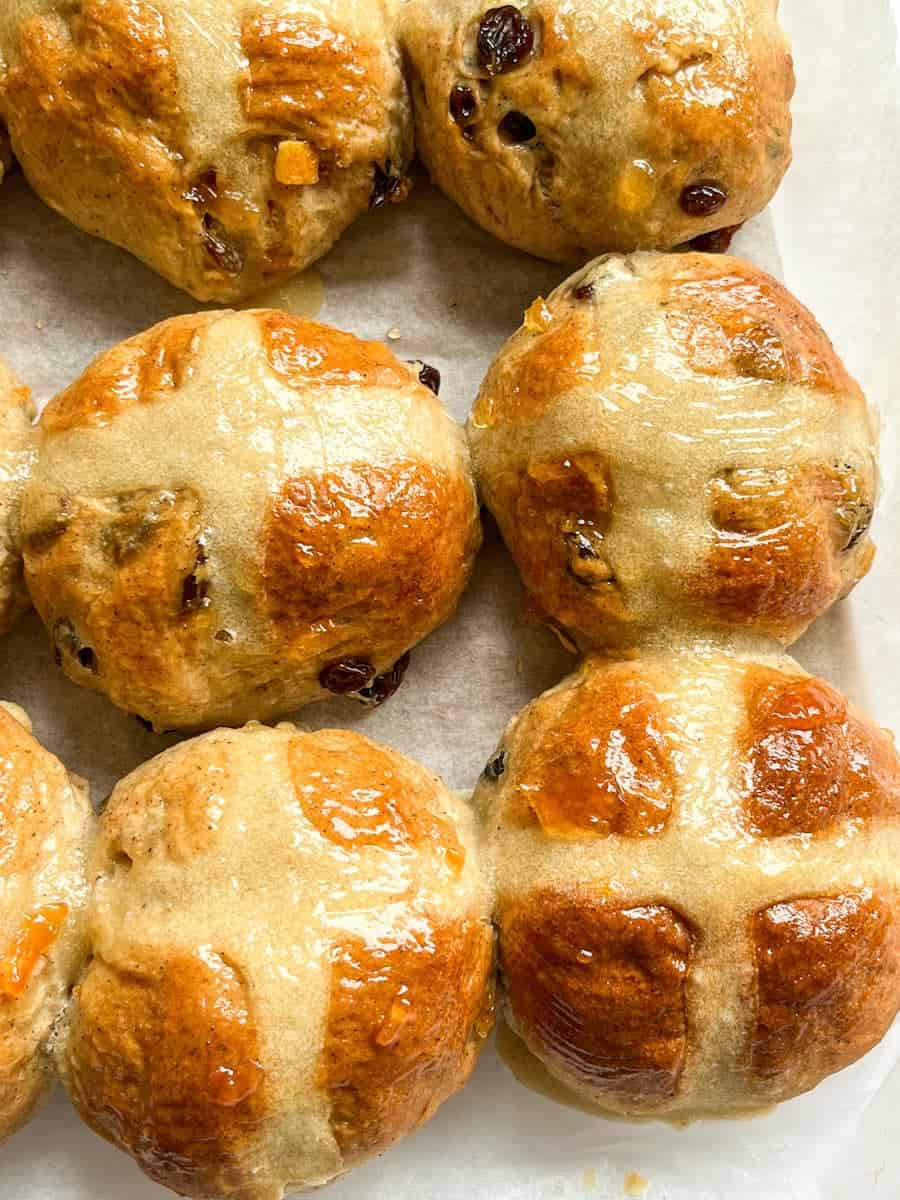 homemade hot cross bun recipe
You can buy perfectly nice hot cross buns in the supermarkets, but there is just nothing like homemade. Shop bought ones are often full of preservatives, palm fat and inverted sugar syrup. At least if you make your own, you know exactly what has gone into them!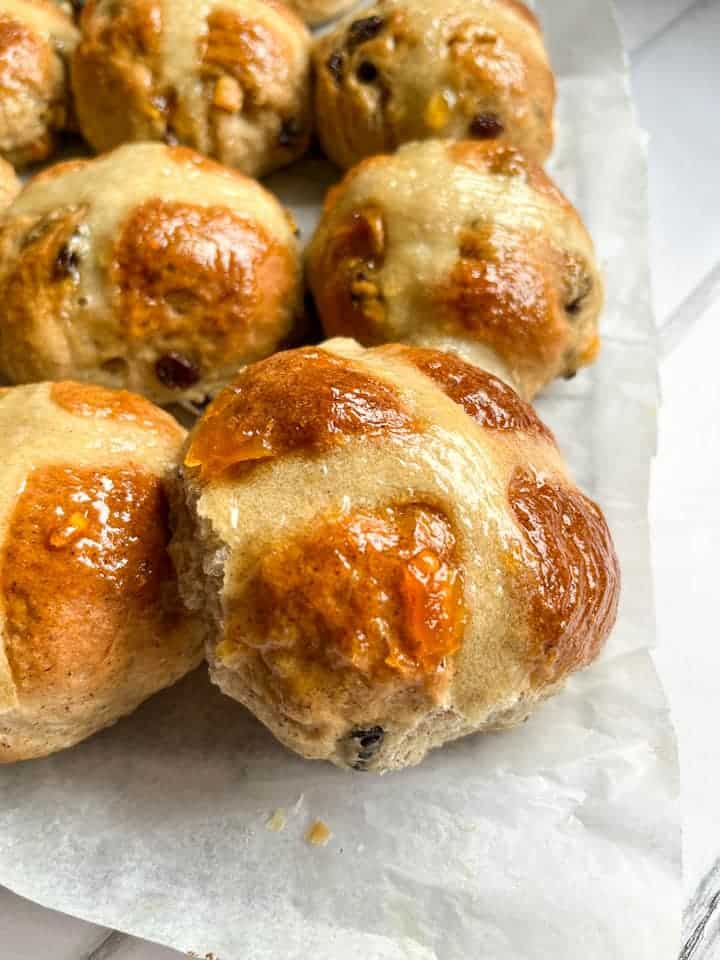 ingredients for hot cross buns
dry ingredients
I use strong white flour and a small amount of plain flour for soft, fluffier buns.
fast action (instant) yeast – 2x7g sachets.
fine salt
ground mixed spice and ground cinnamon
caster sugar or soft light brown sugar
wet ingredients
milk – ideally whole milk, but semi skimmed is ok.
one large egg
unsalted butter, softened
the fruit
raisins or sultanas
candied mixed peel. If you don't like mixed peel, you can swap it for chopped dried apricots.
finely grated zest of one orange
for the crosses
an equal amount of plain flour and water
a little caster sugar to make the crosses taste a little nicer.
the glaze
I brush the warm buns with orange marmalade, but you could use apricot jam, honey or maple syrup.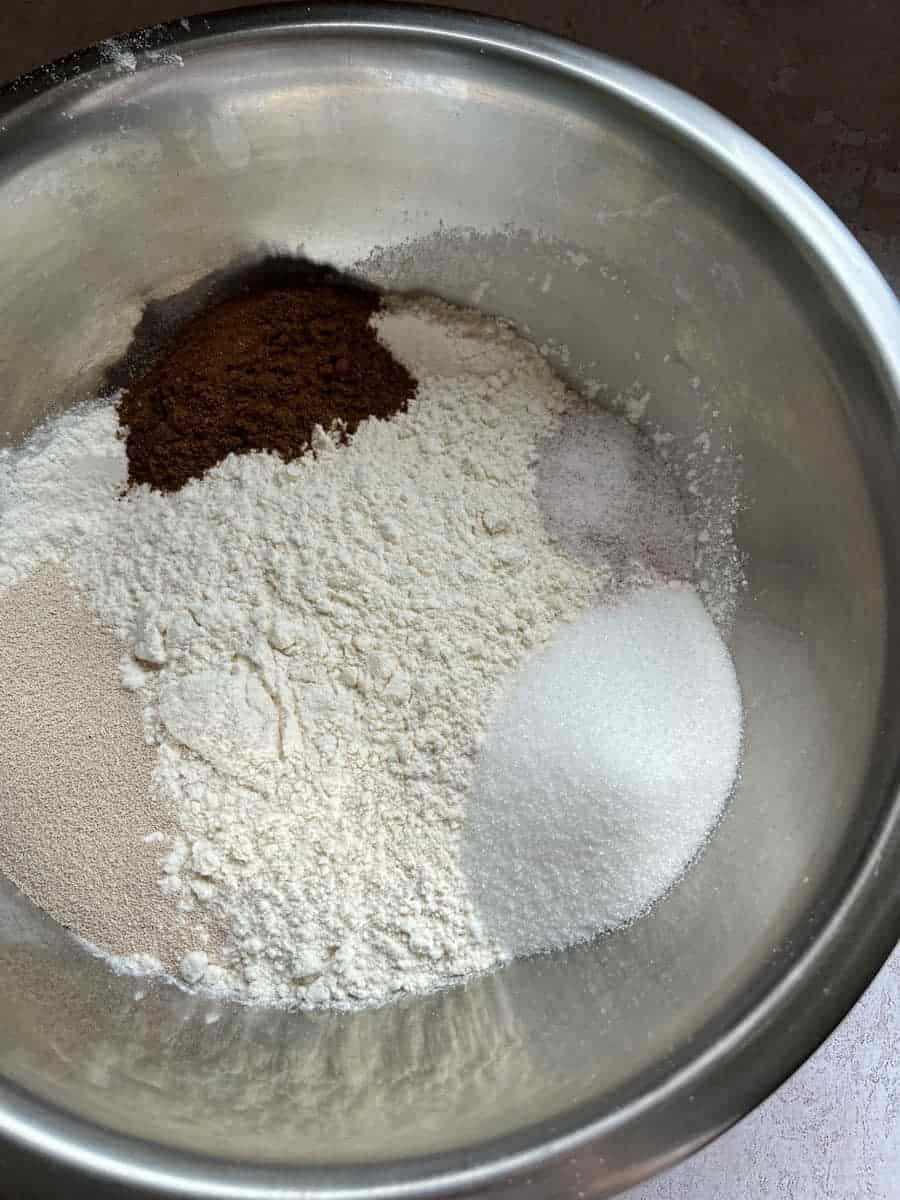 how to make hot cross buns
make the dough
You're going to start by warming up the milk in a saucepan over a low heat. This won't take long at all – just a minute or two. You don't want the milk hot or it will kill the yeast. Tepid, or "baby bath water temperature" is what you're looking for. Remove from the heat and set aside.
Now it's time to combine the dry ingredients. Place the flours, yeast, salt, (keeping the latter two separate), sugar and spices in a large mixing bowl. I use a freestanding mixer – it mixes up the dough in minutes. It's easy to mix by hand – it just takes longer and requires a bit of arm work.
add the liquid
Beat the egg into the warmish milk, then make a well in the dry ingredients.
Pour in the milk and mix to a rough dough, about one minute. Now add the butter, a little at a time while still kneading.
Once you've added all the butter, knead for 5 minutes in the mixer or 10 minutes by hand or until the dough is soft, smooth and bouncy. Now cover the dough with a clean tea towel and let it relax for a few minutes before adding the fruit.
BAKERS TIP If you're kneading by hand, the dough will be very slippery at first when you add the butter – keep going and don't be tempted to add more flour. The uncomfortable stage will pass and you'll soon have a beautiful dough!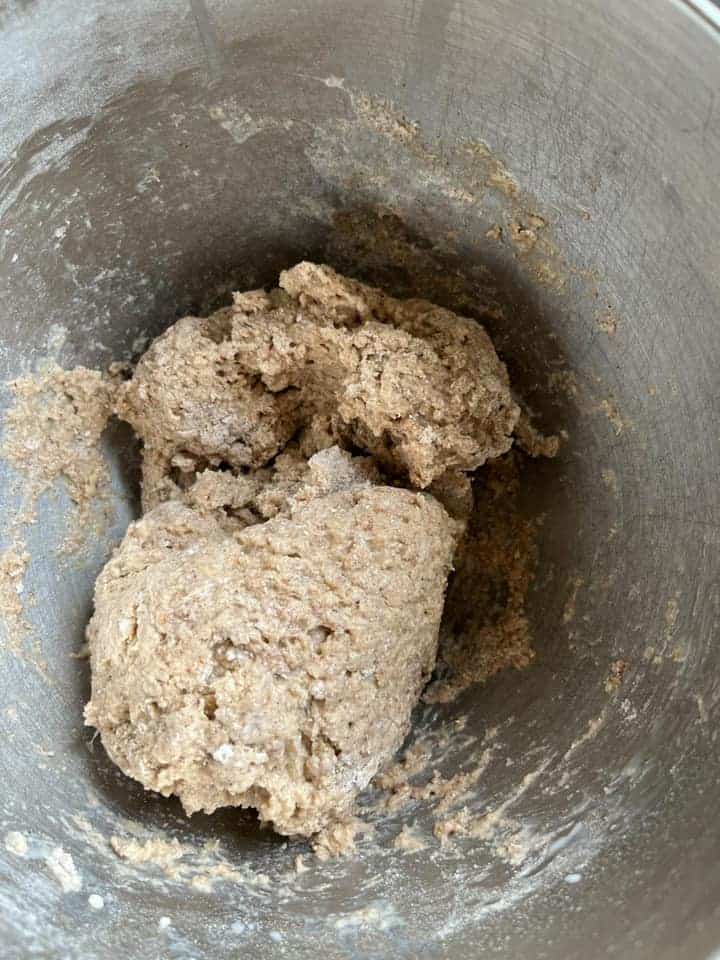 add the fruit
It's best to add the fruit after the intial kneading so the fruit doesn't tear the dough. I find it best to add the fruit to the dough in two stages rather than just tipping the whole lot on top.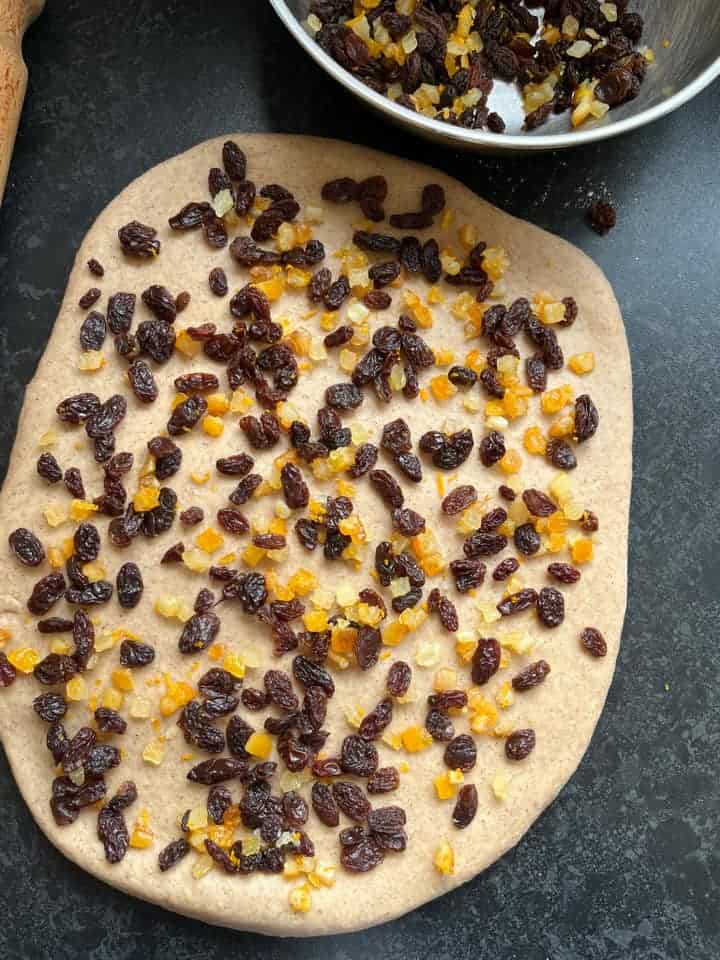 resting the dough
Place the dough in a large lightly buttered or oiled bowl. Cover with cling film, then leave in a warmish, draught free place for one-two hours or until the dough has doubled in size.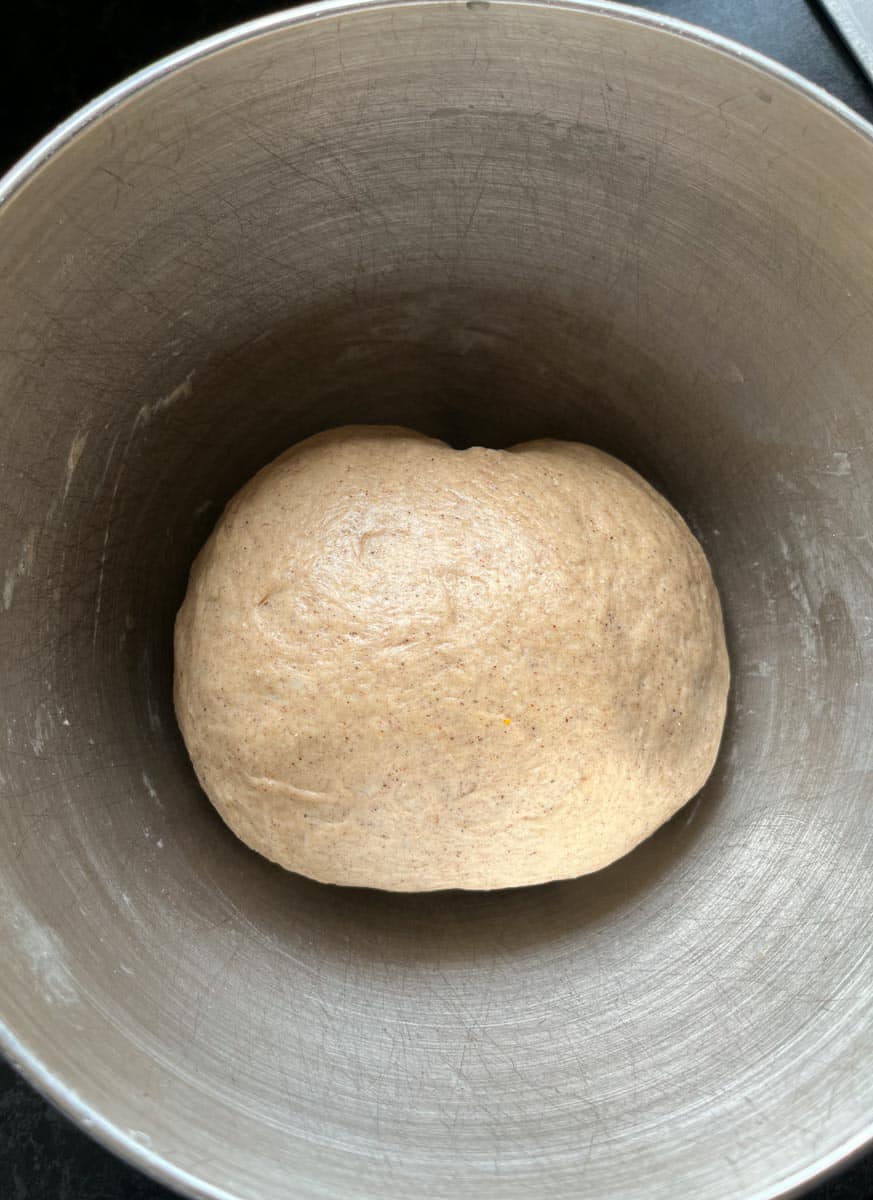 shaping the balls
Shape the risen dough into a long log and cut into twelve equal sized pieces. Weigh each piece of dough for accuracy – they should be 100g each.
Take a piece of the dough and start stretching the sides all around to create some tension – you'll feel the dough start to tighten up.
Roll the balls against the work surface until smooth – if they start to stick, add a very small amount of flour.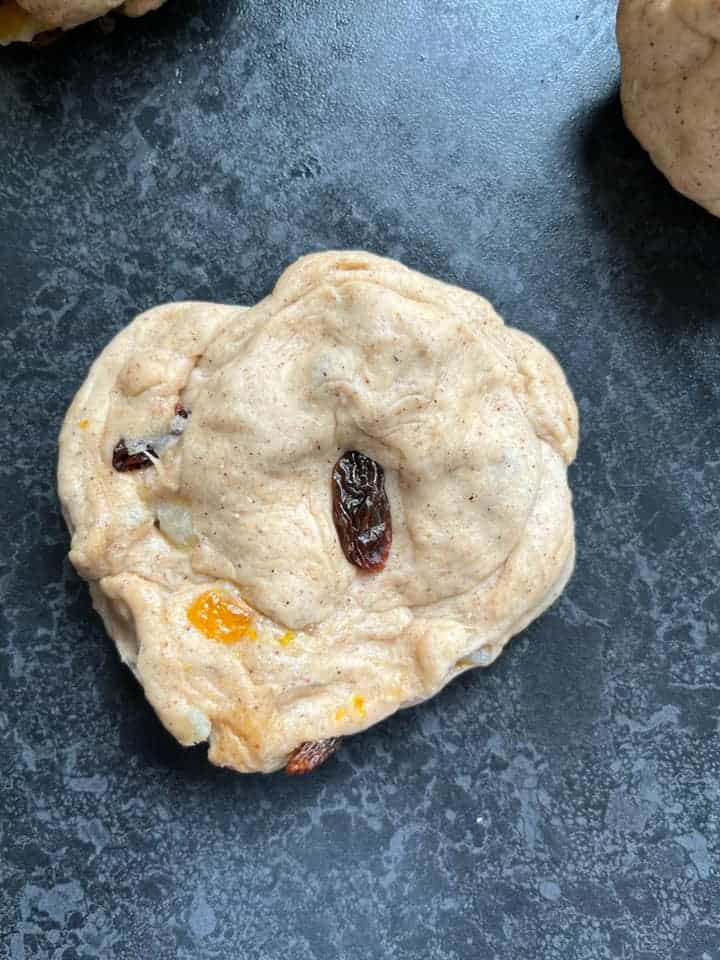 second rise
Place the pieces of dough on a large lined baking tin or tray with a little bit of space between them to allow them to rise and stick together.
Loosely cover with lightly oiled cling film, then leave for around one hour or until the buns have doubled in size.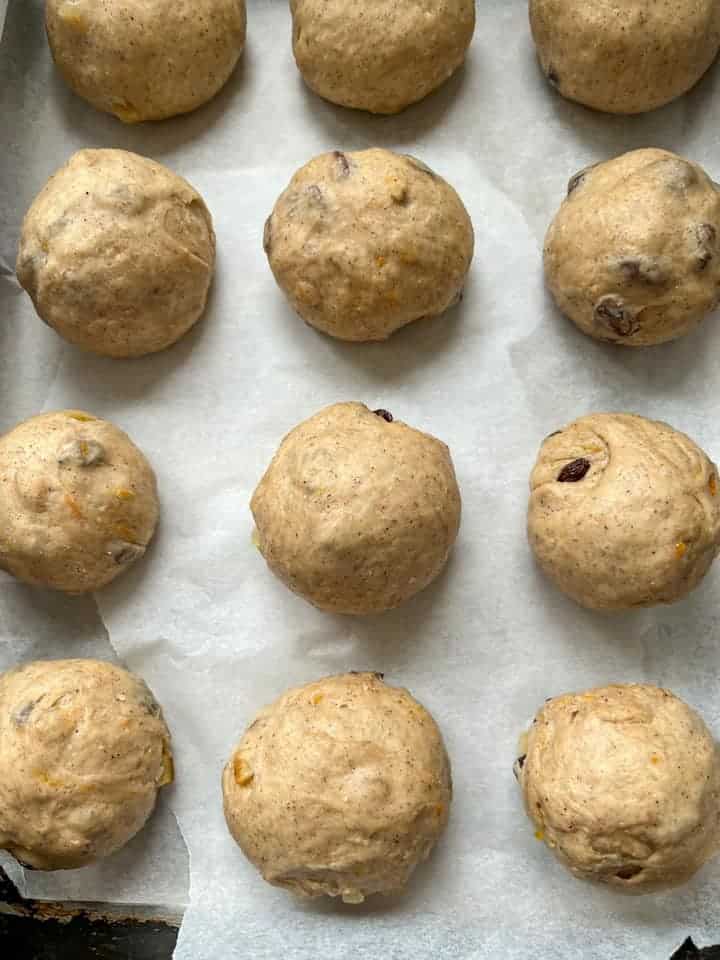 make the paste for the crosses
Mix together an equal amount of plain flour and water until smooth. You don't have to, but I like to add a little sugar to make the crosses a little more palatable.
BAKERS TIP It's worth bearing in mind that different brands of flour absorb water differently, so you might need to add a little more or less water depending on the flour you use.
You need the paste not too runny but not too thick – it must be pourable but thick enough not to drip all over the buns.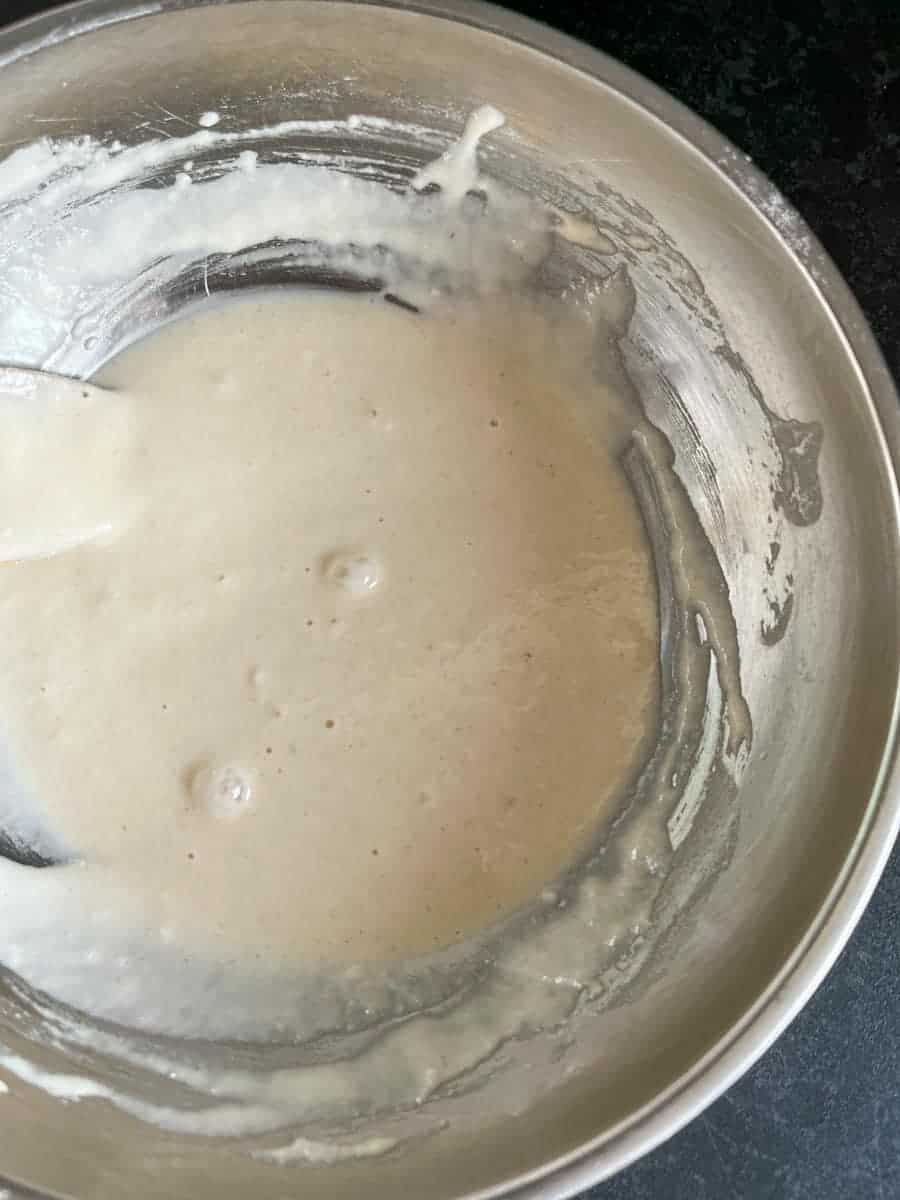 bake (at last!)
Bake the buns for 20-25 minutes at 180C/160Fan/350F or until golden brown and smelling wonderful.
*optional step before baking* – brush the top of the buns with beaten egg before baking for a gorgeous deep golden colour. I usually do this, but forgot on this occasion!
glaze the buns
The glaze gives the hot cross buns a beautiful sheen. I use orange marmalade, but you could use apricot jam, honey, maple syrup, or a simple sugar syrup made by boiling sugar and water together.
Place the buns on a wire rack without tearing them apart. They should lift easily off the baking paper on the tray. Place a piece of baking parchment underneath the wire rack, then generously brush the tops of the buns with your glaze of choice.
Now all that's left to do is enjoy the fruits of your labour….
serving hot cross buns
Hot cross buns are at their very best served fresh and warm from the oven with lots of salted butter, an assortment of jams or marmalade.
I also love them with lemon curd! If you're eating them a day or two after baking, they are best toasted.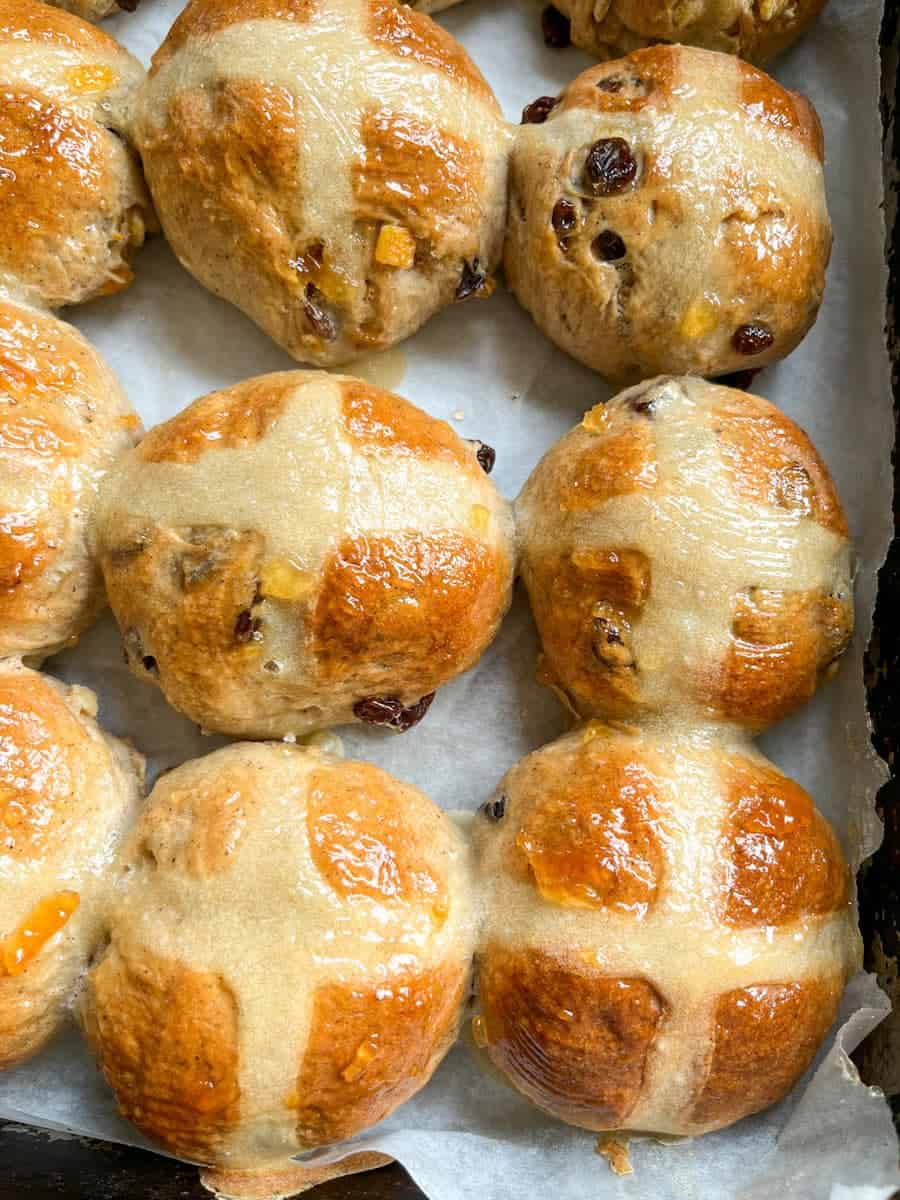 STORING HOT CROSS BUNS
Hot cross buns will keep in a tin or box for a few days. Because there are additives or preservatives in homemade hot cross buns, they do go stale quite quickly. They are still good to eat though.
CAN YOU FREEZE HOMEMADE HOT CROSS BUNS?
Yes, you can freeze hot cross buns for up to three months. Defrost at room temperature.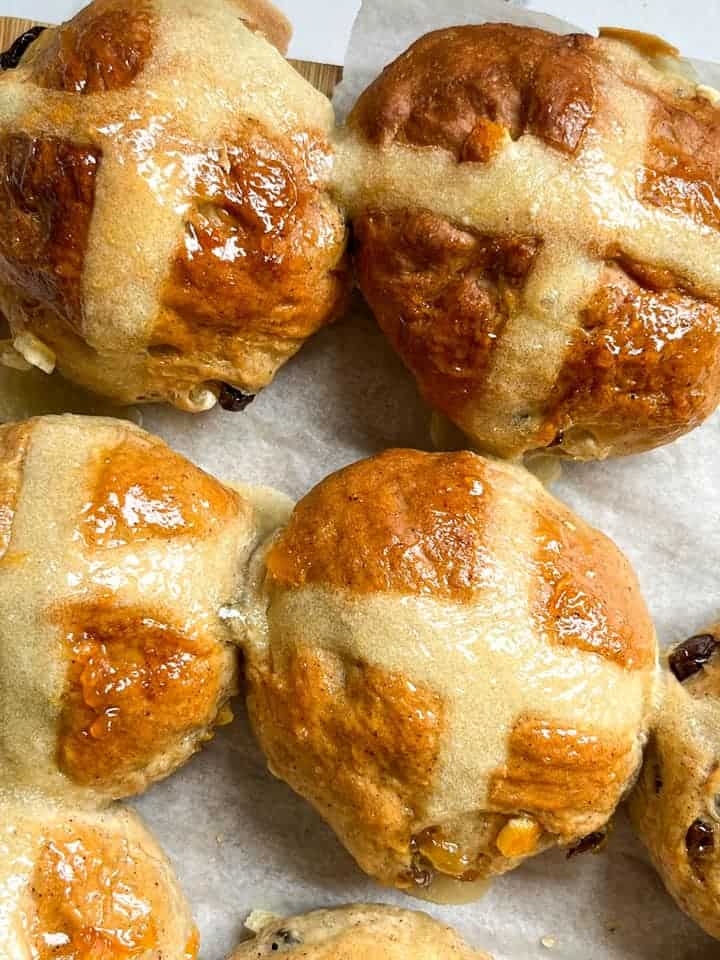 Looking for More easter recipes?
Check out my Easter archives for lots of recipes perfect for celebrating Easter weekend!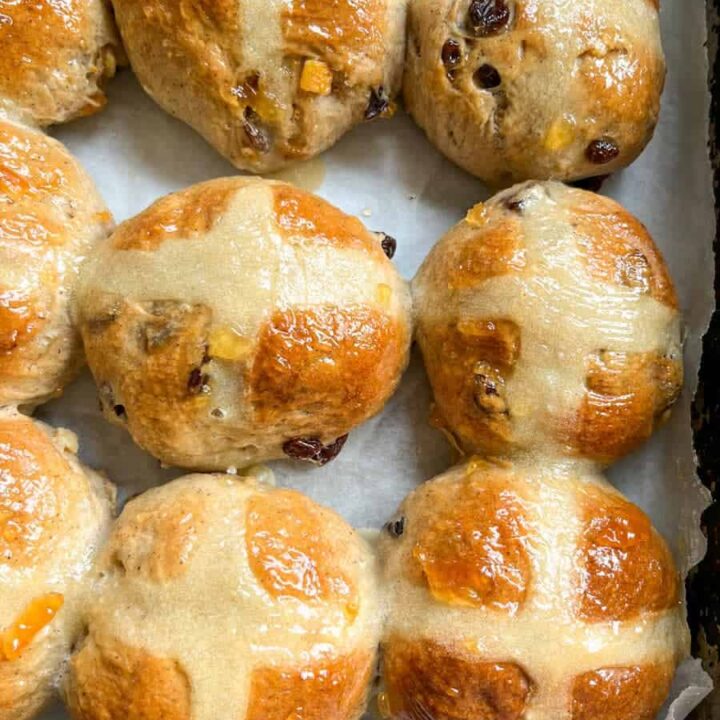 Hot Cross Buns Recipe
Additional Time:
2 hours
3 seconds
Total Time:
2 hours
55 minutes
3 seconds
Ingredients
265g whole milk
One large egg (about 63-65g weight without shell)
400g strong white flour
100g plain flour
60g caster sugar
14g fast action instant yeast
10g fine salt
2 teaspoons ground mixed spice
1 teaspoon ground cinnamon
50g unsalted butter, softened
150g raisins or sultanas
75g mixed candied peel
Finely grated zest of one orange
FOR THE CROSSES
50g plain flour
50g water
1 teaspoon caster sugar
FOR THE GLAZE
50g orange marmalade or apricot jam
Instructions
Place the milk in a small saucepan and warm over a low heat. Remove the pan from heat when the milk is just warm to touch (if you tested with a thermometer it should be about 25C.). Crack in the egg and give it a stir.
In a large mixing bowl (I use my freestanding mixer but you can easily make the dough with no machinery) combine the flours, caster sugar, yeast, salt, (don't place the yeast and salt next to each other or the salt could stop the yeast from working) mixed spice and cinnamon. Make a well in the middle of the dry ingredients and pour in the milk and egg. Switch on the mixer and knead for a minute. If you're kneading by hand, the dough will be sticky and messy right now. Keep going! When you have a very rough looking lumpy "dough", stop mixing, cover the bowl with a tea towel and leave for 5-10 minutes to allow the dough to "autolyse" - or in non baker terms, "breathe".
Start adding the butter, a little at a time until incorporated. Knead for about 5 minutes if using a mixer or 10 if kneading by hand. If doing the latter, The mixture will be quite sticky for a while. This is what you want. Please resist the temptation of sprinkling the dough and work surface with flour. The dough will absorb it and will affect the texture of your buns, making them dry and heavy. Whether you're using a mixer or your hands, knead the dough until it is smooth, shiny and elastic. You should be able to pick up a piece of the dough and Stretch it out thin.
ADD THE FRUIT When the dough is smooth and elastic, cover it with an upturned bowl (or if using a mixer, cover the bowl with a tea towel) and leave for 5 minutes or so. When the 5 minutes is up, turn the dough out on a very lightly oiled work surface. Pat the dough out into a rough circle, then scatter over half of the dried fruit, lightly pressing and working it into the dough. Fold the top and bottom ends of the dough over then pat out again using your hands.
Sprinkle the remaining fruit all over the dough, lightly pressing it down once again. Shape the dough into a ball, then place in a large lightly buttered bowl.
REST THE DOUGH Cover with cling film or a clean shower cap, then leave in a draught free place for 1-1/2 hours or until at least doubled in size.
SHAPING THE BUNS Line a large baking tray with baking parchment (I used a 38x 28xroasting tin. Dust the work surface very lightly with flour, then turn out the risen dough. Give it a very gentle knead for a moment, then cut it into 12 pieces weighing about 100g each. Roll each piece of dough into a ball, rolling each piece on the work surface to create tension. Ideally you want to "trap" the fruit on the inside of the bun.
SECOND RISE Place each bun on the tray with a little space between them so they join together as they rise. Cover the tray loosely with lightly oiled cling film and leave in a warmish place for about 1-2 hours or until the buns have doubled in size.
MAKE THE PASTE FOR THE CROSSES Mix together 50g plain flour, 50g water and 1 teaspoon of caster sugar until smooth. Place in a piping bag.
BAKE Preheat the oven to 180C/160Fan/350F. For really golden buns, brush them with a beaten egg (I forgot to do this!) Snip a little piece from the end of the piping bag and pipe a cross on the buns. It's best to do this quite slowly and in one fluid movement. Bake for 20 minutes or until golden and smelling amazing. Remove from the oven.
BRUSH WITH THE GLAZE Brush the buns with the marmalade or apricot jam (you can also use honey or maple syrup.) Enjoy warm with salted butter and jam, or more marmalade.
Nutrition Information:
Yield:

12
Serving Size:

1
Amount Per Serving:
Calories:

345
Total Fat:

5g
Saturated Fat:

3g
Trans Fat:

0g
Unsaturated Fat:

2g
Cholesterol:

27mg
Sodium:

347mg
Carbohydrates:

69g
Fiber:

3g
Sugar:

28g
Protein:

7g
Calories and nutritional information are provided by a third party application and should be viewed as indicative figures only.