Celebrate Spring by making this delicious spring vegetable risotto! Leeks, Asparagus, Broad beans, courgettes and peas are the star ingredients in this dish, as well as a generous handful of parmesan cheese and lemon to add a little zing.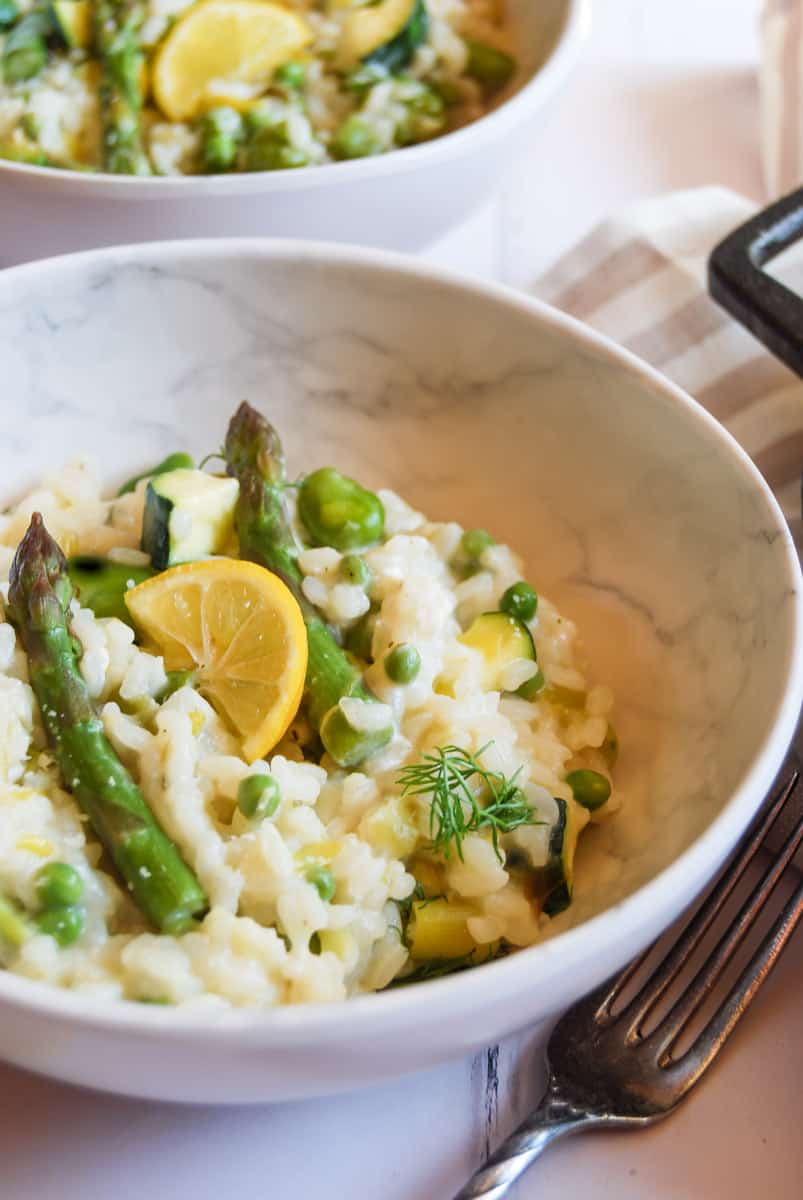 Spring has sprung and I couldn't be happier about it. This Winter seemed to be extra long for some reason.
Spring always feels like a promising time of year – people seem much happier with the prospect of a little sunshine on the horizon and it's so nice to finally pack those heavy Winter coats away – IF the weather plays nicely!
But we all know how unpredictable Scottish weather can be, so I don't think my Summer dresses will be seeing the light of day for some time yet sadly…
It's time to say goodbye to earthy Winter flavours and embrace all of the lighter tastes of Spring – I've been foraging for wild garlic, making dishes like this roasted pepper orzo salad to go along with cold meat. I'm also less in the mood for heavier desserts and choosing a lighter option, such as lemon posset.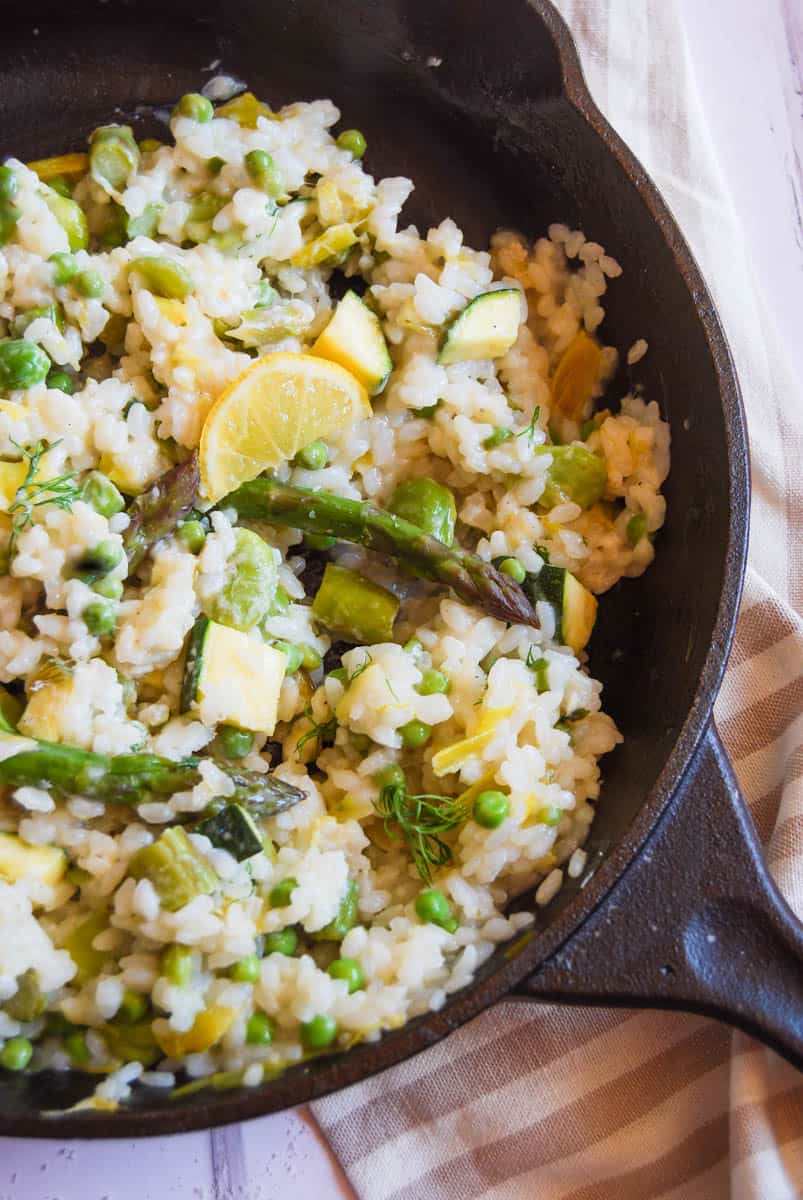 spring vegetable risotto
I've always enjoyed making risotto. It's not something you can walk away from – you have to keep stirring it, but I find the process quite relaxing, especially after a long, hard day. Risotto doesn't take any longer than 30 minutes and it's all made in one pan, making it a not to strenuous dinner choice for any day of the week.
The recipe I'm sharing today is a simple but delicious risotto recipe. It's packed full of asparagus, broad beans, courgettes, peas and fresh herbs. A handful of parmesan cheese and a squeeze of lemon really lifts the flavour of the risotto, so please don't be tempted to leave it out.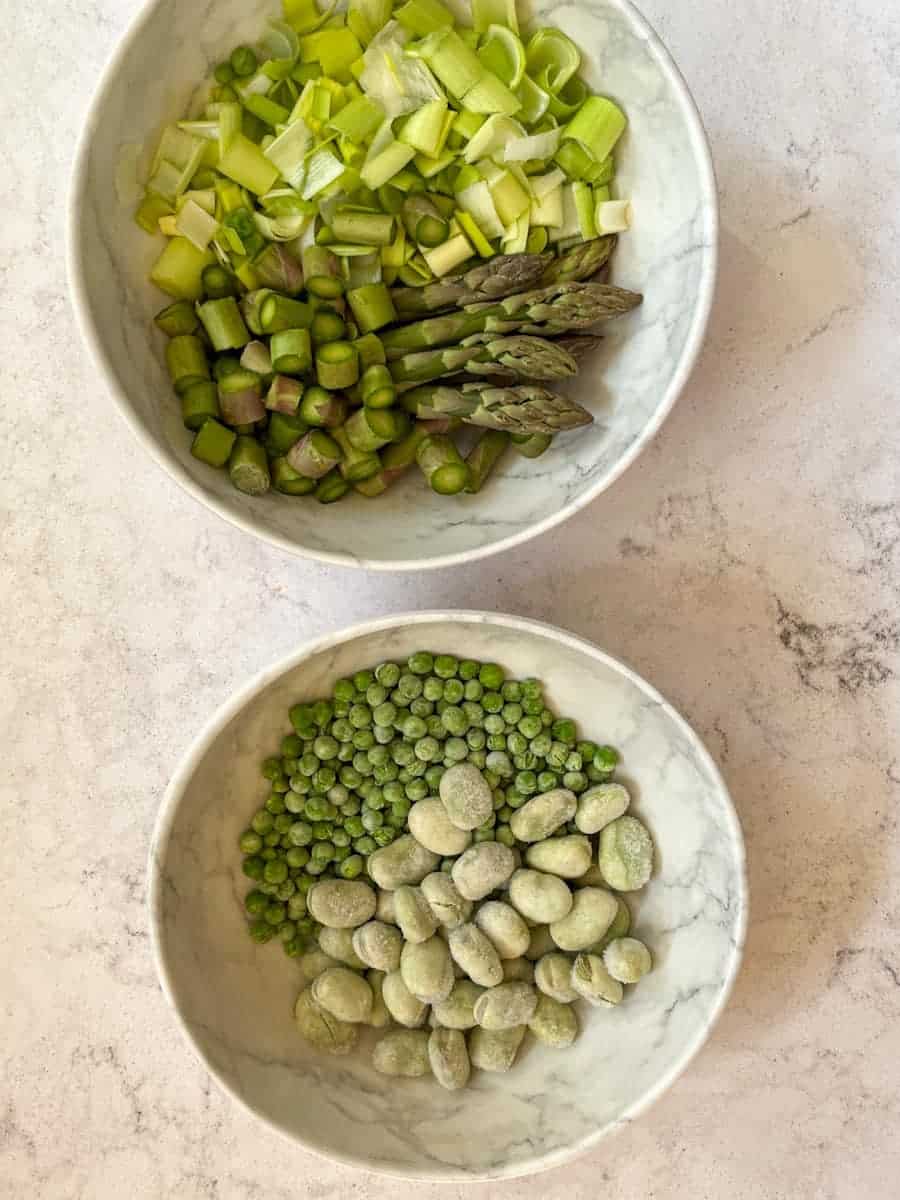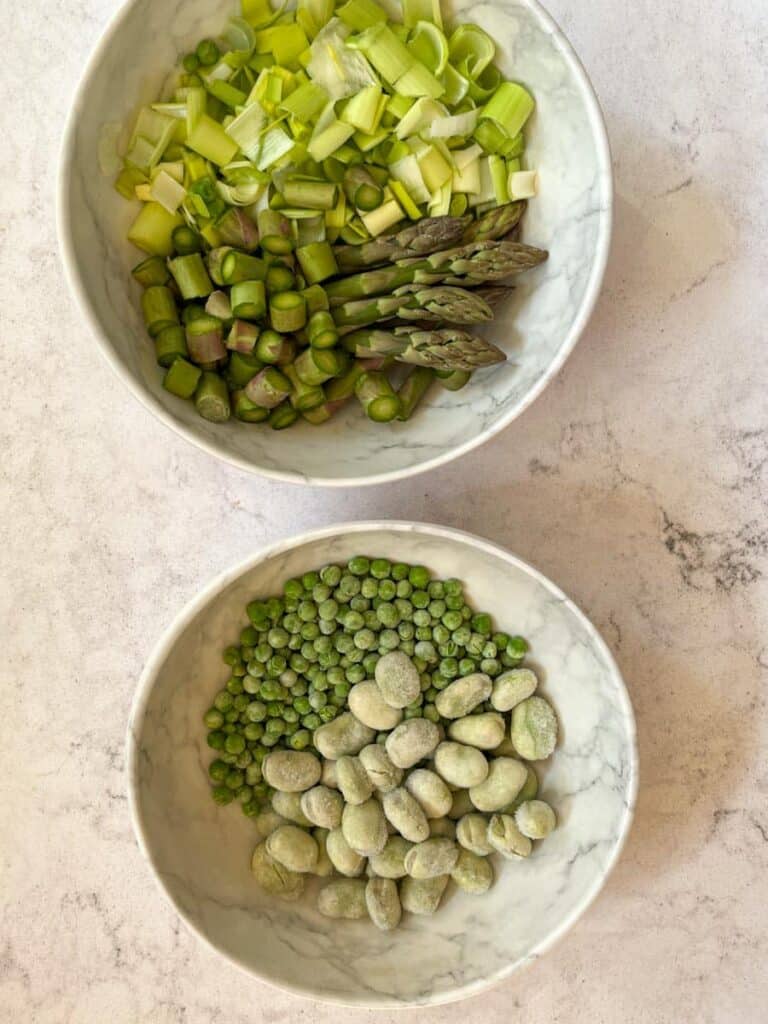 recipe notes
I must confess to using frozen peas and broad beans as fresh weren't available and anyway, there's absolutely nothing wrong with using frozen vegetables! But if you can get your hands on fresh beans and peas, then of course it's only natural that you would want to use them instead.
If you need this risotto to be vegetarian friendly, you'll obviously need to use vegetarian parmesan cheese.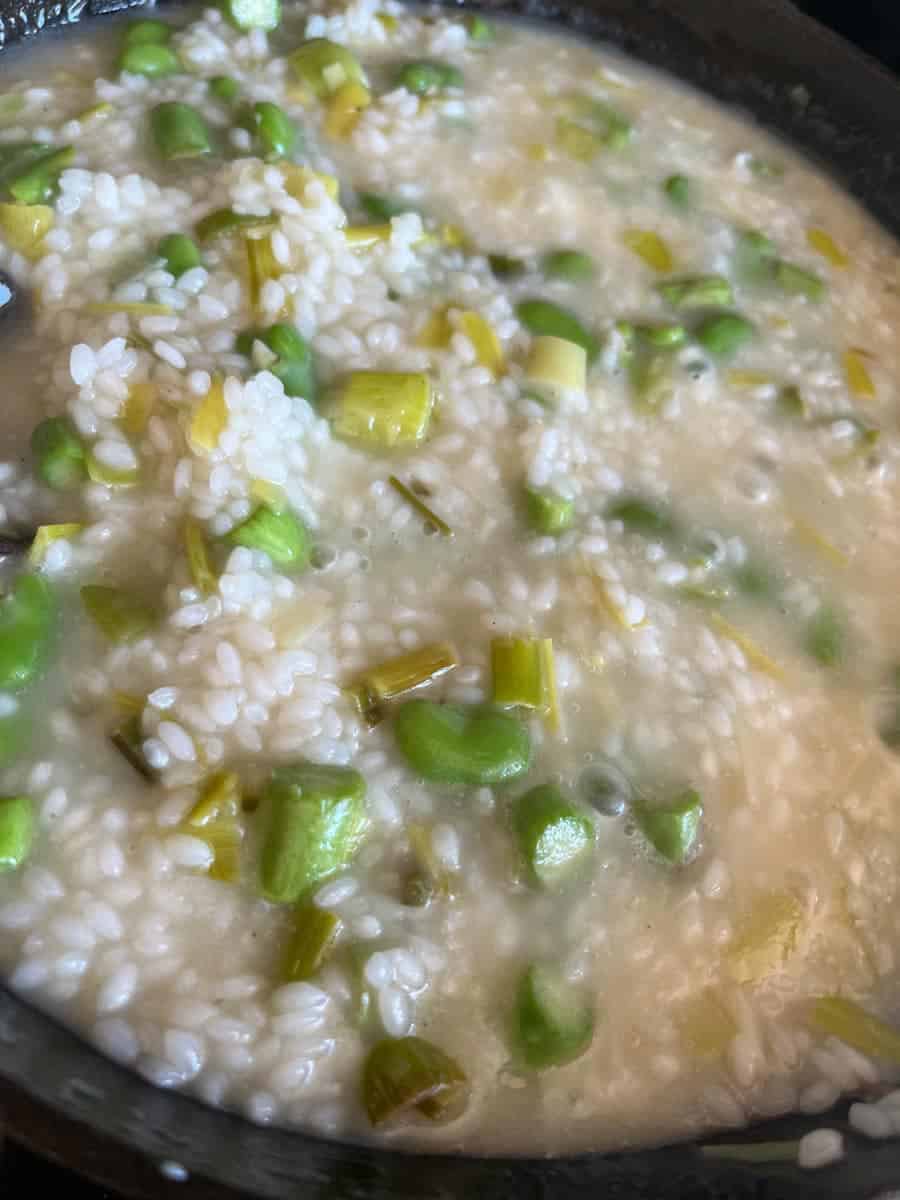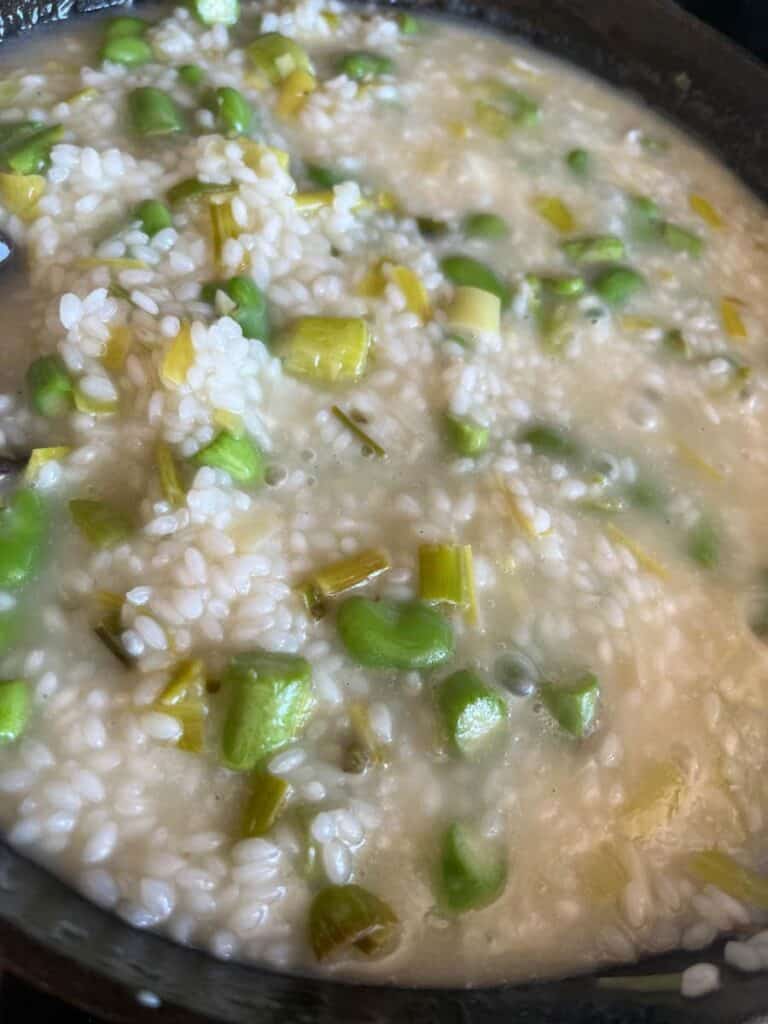 Not keen on dill or parsley? You can just swap them for another herb – mint or basil add a different but lovely flavour.
If you aren't keen on broad beans but love courgettes, feel free to omit and add more of the vegetables you like.
I melt a little herb cream cheese into the risotto just before serving – it's not essential, but adds richness to the risotto. You could also use mascarpone or butter if you don't have cream cheese.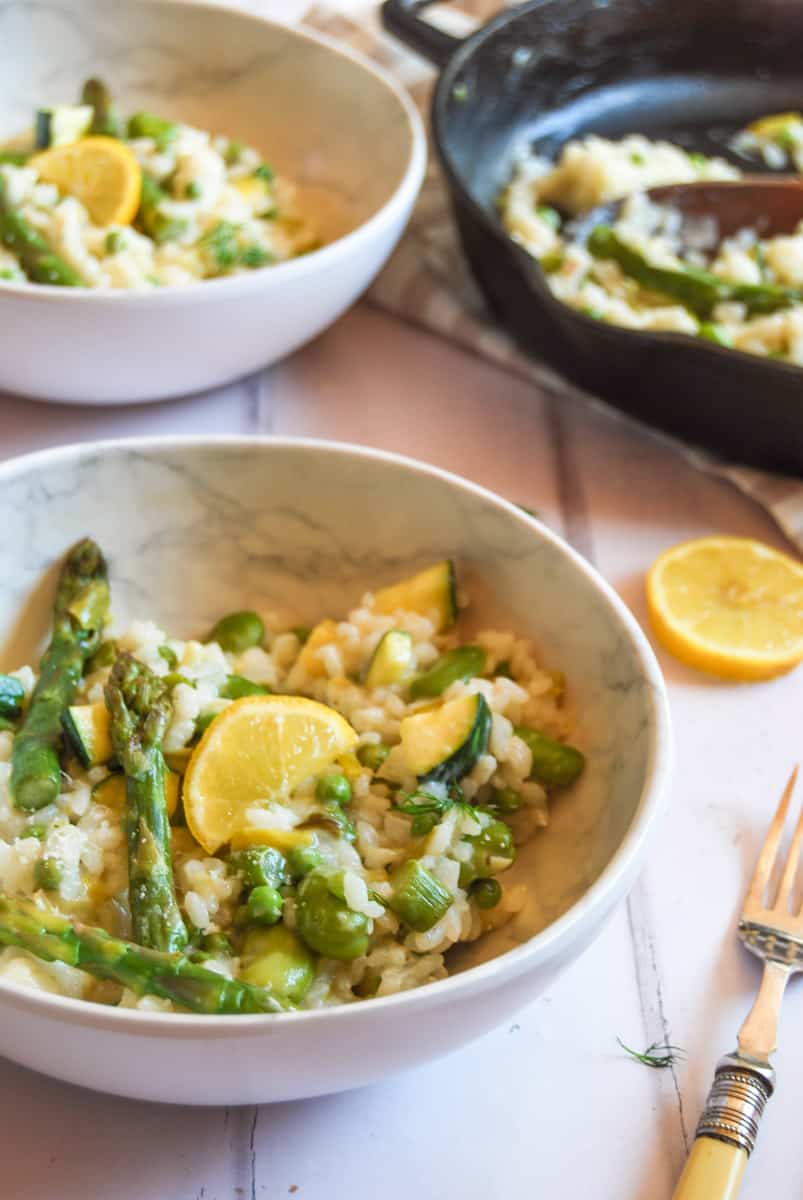 storing risotto and leftovers
Leftover risotto should be stored in a container and once it has fully cooled, store in the fridge for up to three days.
You might need to add a little stock when reheating the risotto to loosen the texture, but don't add too much or the risotto could become stodgy.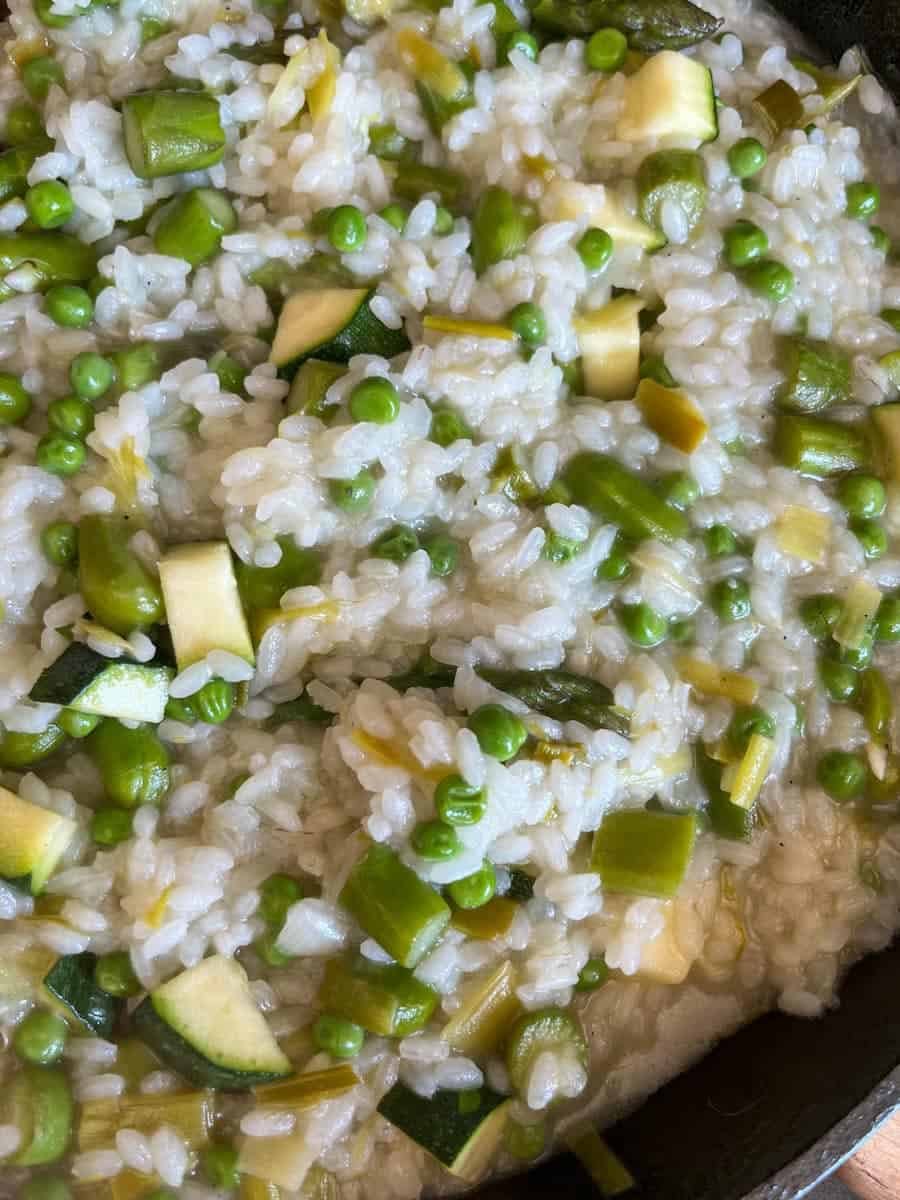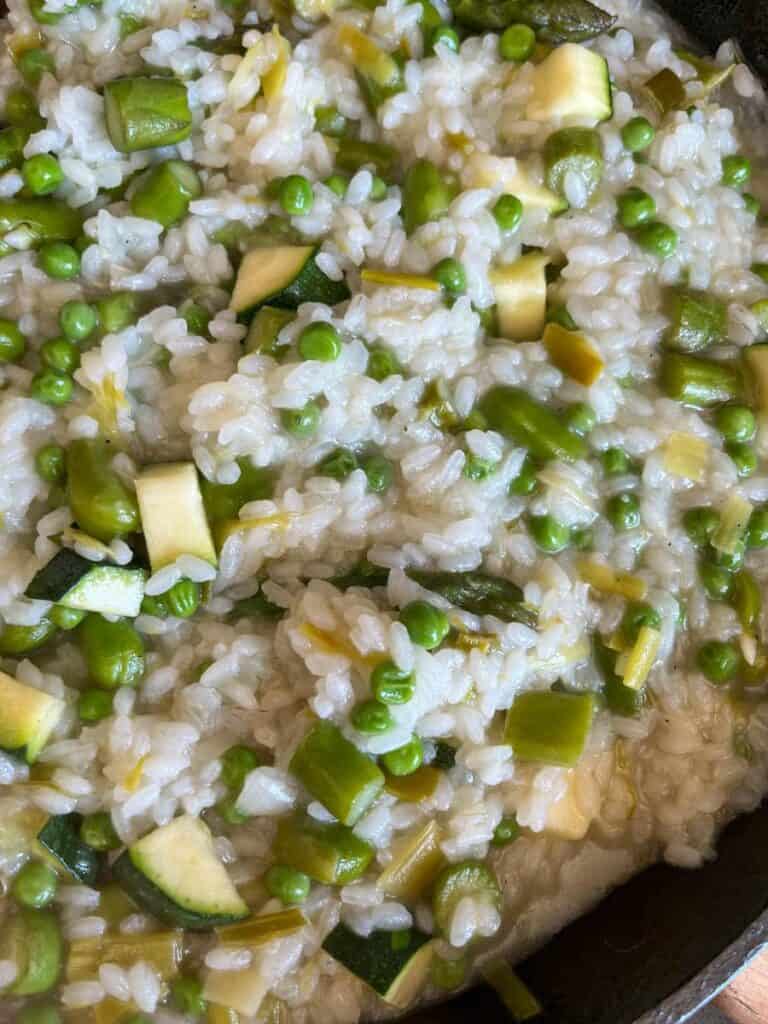 more recipes perfect for spring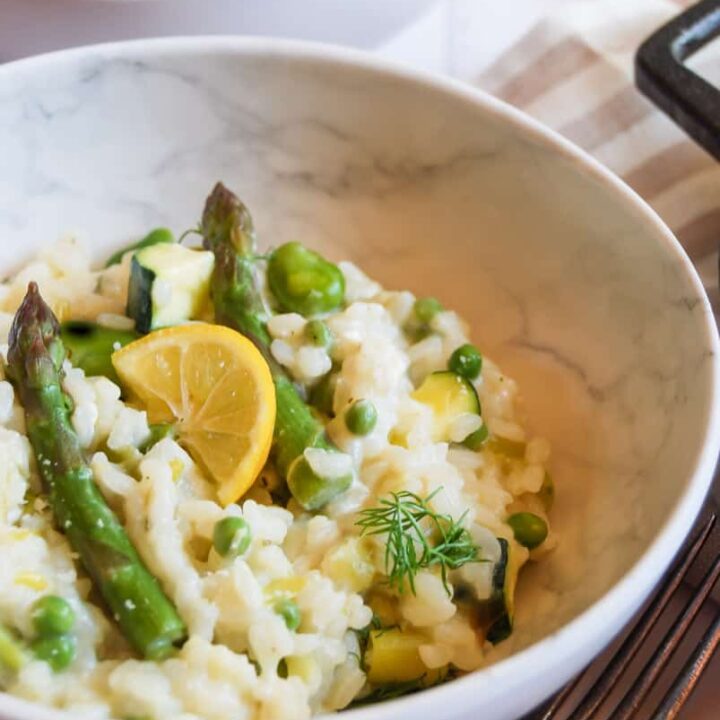 Spring Vegetable Risotto
Make the most of all the delicious produce Spring has to offer by making this easy Spring Vegetable Risotto. It's light, creamy and packed full of healthy vegetables. Adding the vegetables at different times ensures they don't turn mushy or too soft.
Ingredients
1 tablespoon olive oil
1 tablespoon butter
one leek, finely sliced
2 garlic cloves, crushed
300g risotto rice
80ml dry white wine (optional)
2 pints hot vegetable stock
100g frozen broad beans, thawed and shelled
125g asparagus, sliced
75g courgette (zucchini), thinly sliced
150g frozen peas or petis pois, thawed
zest and juice of one small lemon
50g freshly grated vegetarian parmesan
sea salt and freshly ground black pepper
75g herb cream cheese (optional)
2 tablespoons freshly chopped herbs (I used parsley and dill), optional
Instructions
Pour the hot vegetable stock in a pan, place on the hob and let it simmer very, very gently. Heat the oil and butter over a low heat in a large heavy bottomed saucepan. Add the sliced leek and saute for a few minutes until soft and translucent. Add the garlic and cook for a further one-two minutes. Don't let it turn brown or it will taste bitter.
Stir in the risotto rice, making sure all the grains are covered in oil/butter. Add the wine if using and let it reduce down. Add a ladleful of the hot stock and stir constantly with a wooden spoon until the liquid has been absorbed. Keep adding a ladelful of stock as soon as the liquid has absorbed - if you let the pan get too dry, the rice will begin to stick so you must keep a close eye on it.
Add the broad beans and the thicker pieces of the asparagus (not the spears, they take less time) after about 10 minutes, then add the asparagus, courgettes and peas after 15 minutes. Continue adding the stock until the rice is tender but still a little firm in the middle. Timings depend on your heat source but it doesn't usually take longer than 25 minutes.
Remove the pan from the heat and stir in the lemon zest, juice, half the parmesan cheese and the cream cheese if using. Place a lid on the pan and allow the risotto to rest for a minute. Season to taste with salt and pepper, stir in the herbs if using and serve with the remaining parmesan.
Nutrition Information:
Yield:

4
Serving Size:

1
Amount Per Serving:
Calories:

359
Total Fat:

14g
Saturated Fat:

6g
Trans Fat:

0g
Unsaturated Fat:

6g
Cholesterol:

26mg
Sodium:

1109mg
Carbohydrates:

46g
Fiber:

6g
Sugar:

5g
Protein:

13g
Calories and nutritional information are provided by a third party application and should be viewed as indicative figures only.