These chocolate beetroot brownies are intensely chocolately, moist and delicious – and you would never guess they contain beetroot!
These super fudgy beetroot brownies are simple to make and are a great sweet treat to use up beetroot.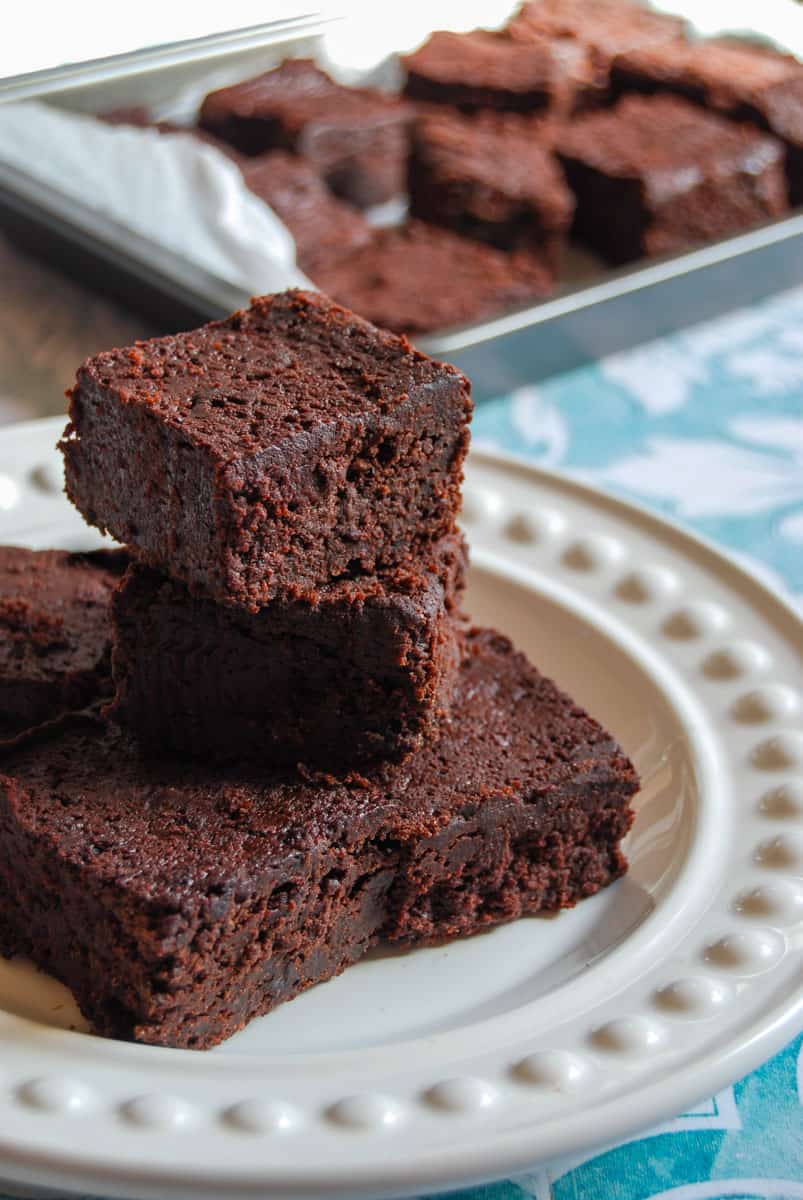 Chocolate and beetroot might sound like an odd pairing, but they work so well together.
I've been smitten with the pairing ever since I made Nigel Slater's amazing "Incredibly moist chocolate beetroot cake" from Tender volume 1, which has become my go to cookery book whenever I need some new inspiration for cooking with vegetables.
Of course, using vegetables in baking is hardly groundbreaking – we have the ever popular carrot cake and courgette (zucchini) cake, but you might not have tried a beetroot cake.
Just like most root vegetables, beetroot adds incredible texture and moisture to baked goods. These squidgy chocolate beetroot brownies have the added bonus of being extremely damp, rich and chocolatey, yet contain slightly less calories than your average chocolate brownie.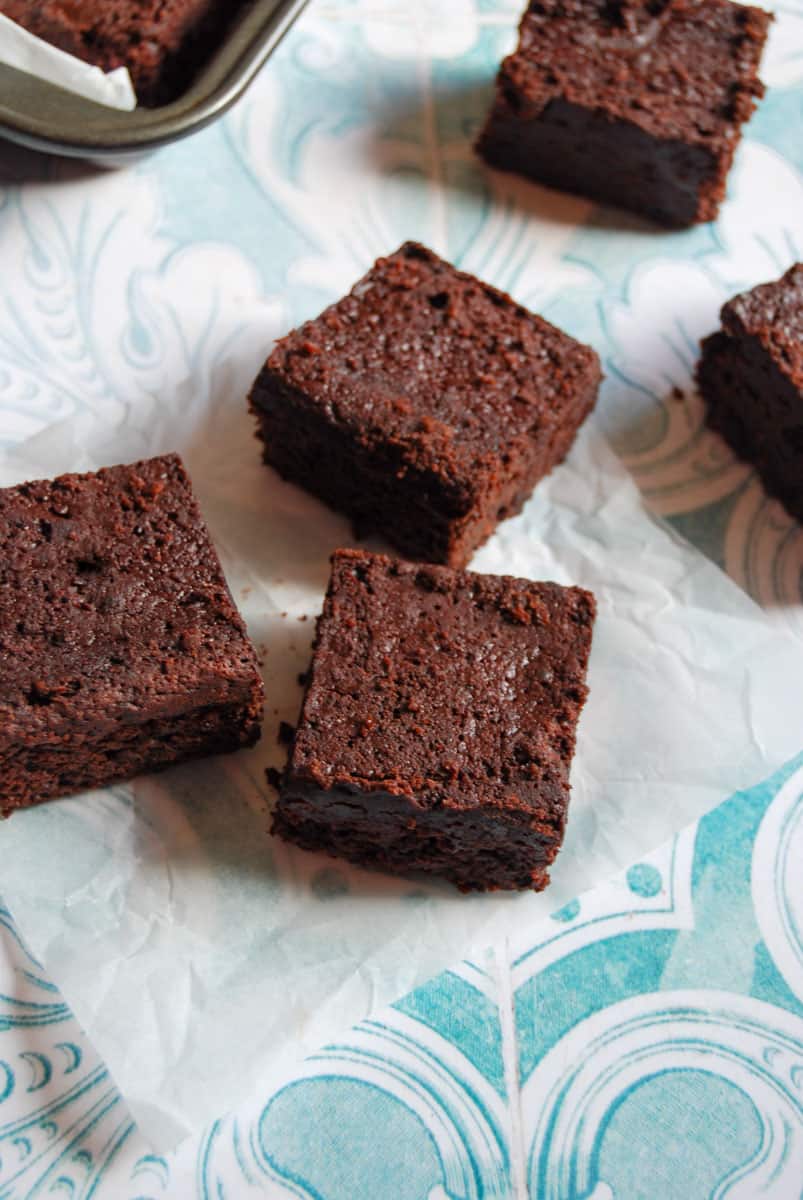 This recipe calls for cooked beetroot. If I have the oven on anyway for a casserole or cake, it makes sense to cook the beetroot at the same time. To roast beetroot in the oven, I loosely wrap each one in tin foil and pop them straight in a moderate (180C) oven for around an hour.
If I don't have the oven on, I'll cook the beetroot in the microwave. It's fast, energy efficient and does the job perfectly for this recipe.
how to cook beetroot in the microwave
Cut the leafy stalks and the little tail from the beetroot, then peel. If you don't want Lady Macbeth hands, wear some gloves. Roughly chop the beetroot, making sure the pieces are the same size. You need 250g of beetroot for this recipe. Place the beetroot in a large bowl, add a little splash of water, cover with cling film and microwave for 12-15 minutes or until tender.
Allow the beetroot to cool down before blitzing in a food processor. You can do this a few days in advance if it's easier for you. The cooked beetroot will keep in the fridge for up to five days.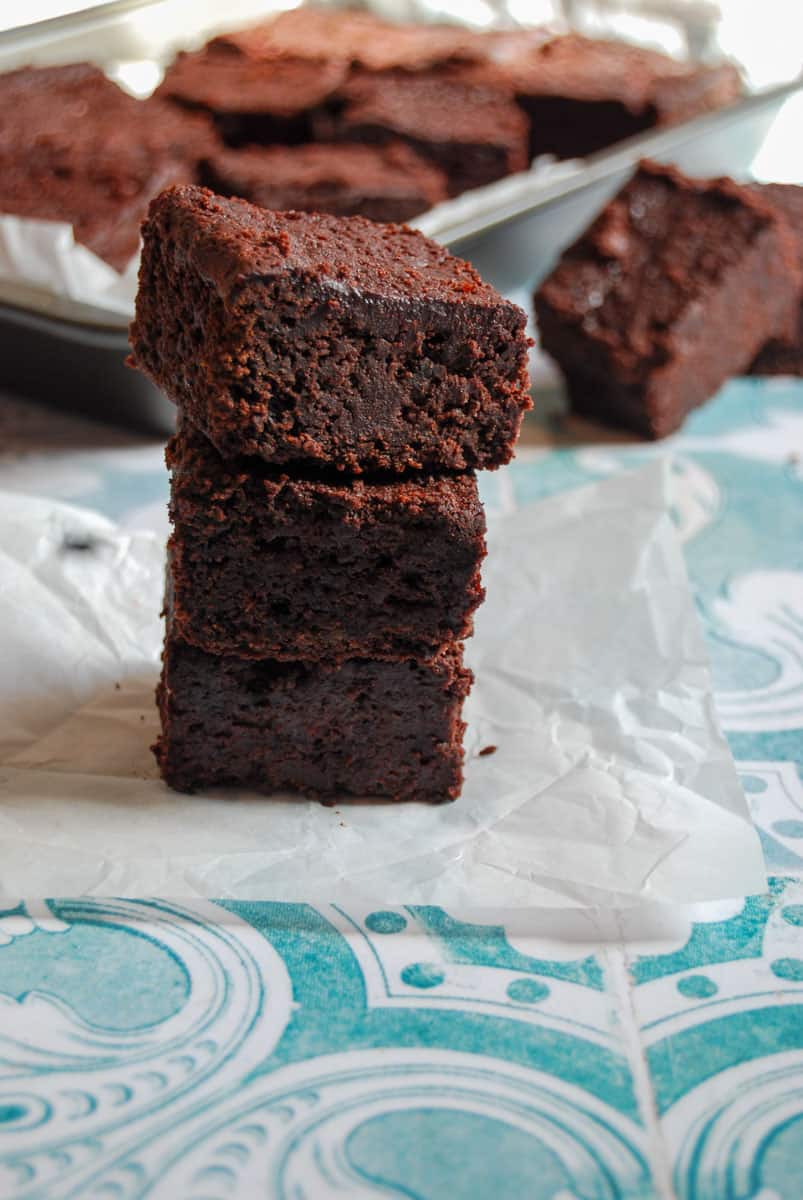 ingredient list for chocolate beetroot brownies
(keep scrolling to the bottom of the post to find recipe card with ingredient amounts and detailed instructions)
cooked beetroot. You can cook the beetroot yourself or buy ready cooked beetroot that often comes vacum packed. Please, whatever you do, do NOT use beetroot in vinegar! That would be awful.
dark chocolate with a minimum of 52% cocoa solids.
caster sugar. If you have no caster sugar, granulated is fine to use instead. It will just take a little longer for the sugar crystals to dissolve when whisking the eggs.
vanilla extract – I can't make brownies without adding some vanilla!
cocoa powder. please don't use drinking chocolate – you really need proper cocoa powder.
plain (all purpose) flour. See my recipe notes below for substitutions.
ground almonds adds moisture to the brownies and a squidgy, light texture.
a little fine salt and instant espresso powder to enhance the chocolate flavour. If you don't like coffee, don't worry – the brownies won't taste of coffee. It's there to boost the chocolate flavour.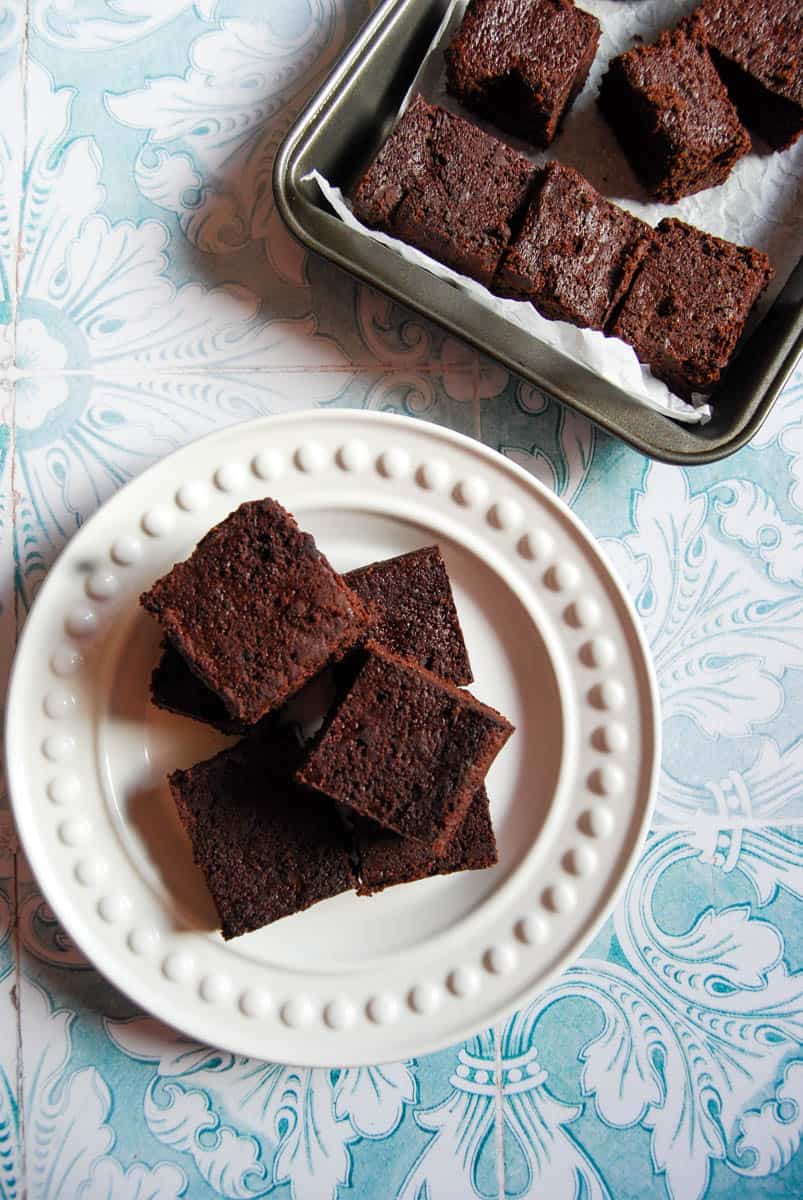 how to make chocolate beetroot brownies
melt the chocolate and butter
Melt the chocolate and butter together in a small saucepan over a very low heat. Don't be tempted to turn the heat up or the chocolate could burn. Once the mixture has melted, remove from the heat and set aside.
I used to melt the chocolate and butter in a heatproof bowl set over a pan over barely simmering water, but after following a BBC Good Food recipe one day, I adopted this easier method for all brownie recipes. As long as you keep a close eye on it and stir every now and then, it works great (not to mention you have one less bowl to clean!)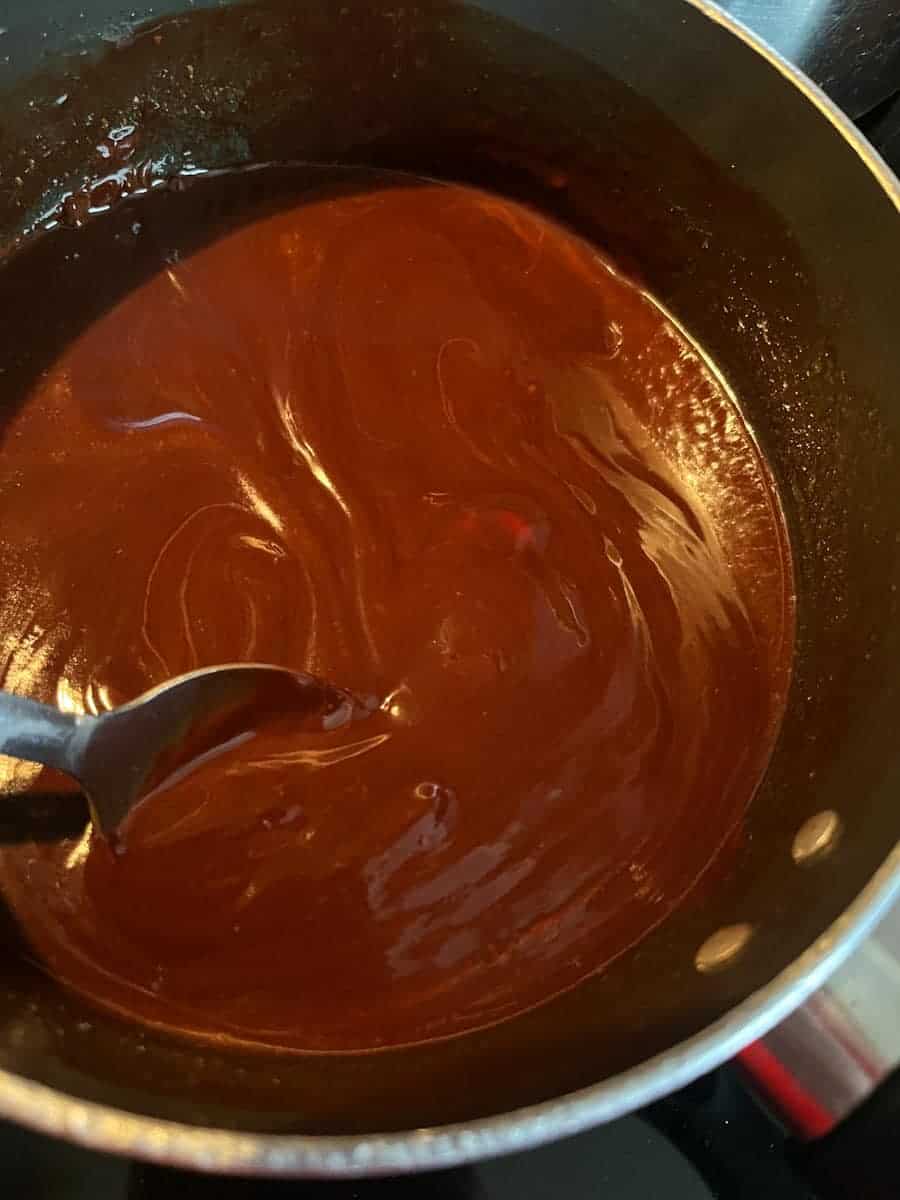 puree the beetroot
Place the cooled cooked beetroot in the bowl of a food processor and blitz until you have a nubbly sort of puree – it won't be completely smooth at this stage.
While the motor is still running add the eggs, one at a time. Remove the lid, scrape down the sides of the bowl with a spatula and add the sugar and vanilla extract. Place the lid back on and blitz once more until the mixture is smooth and well combined.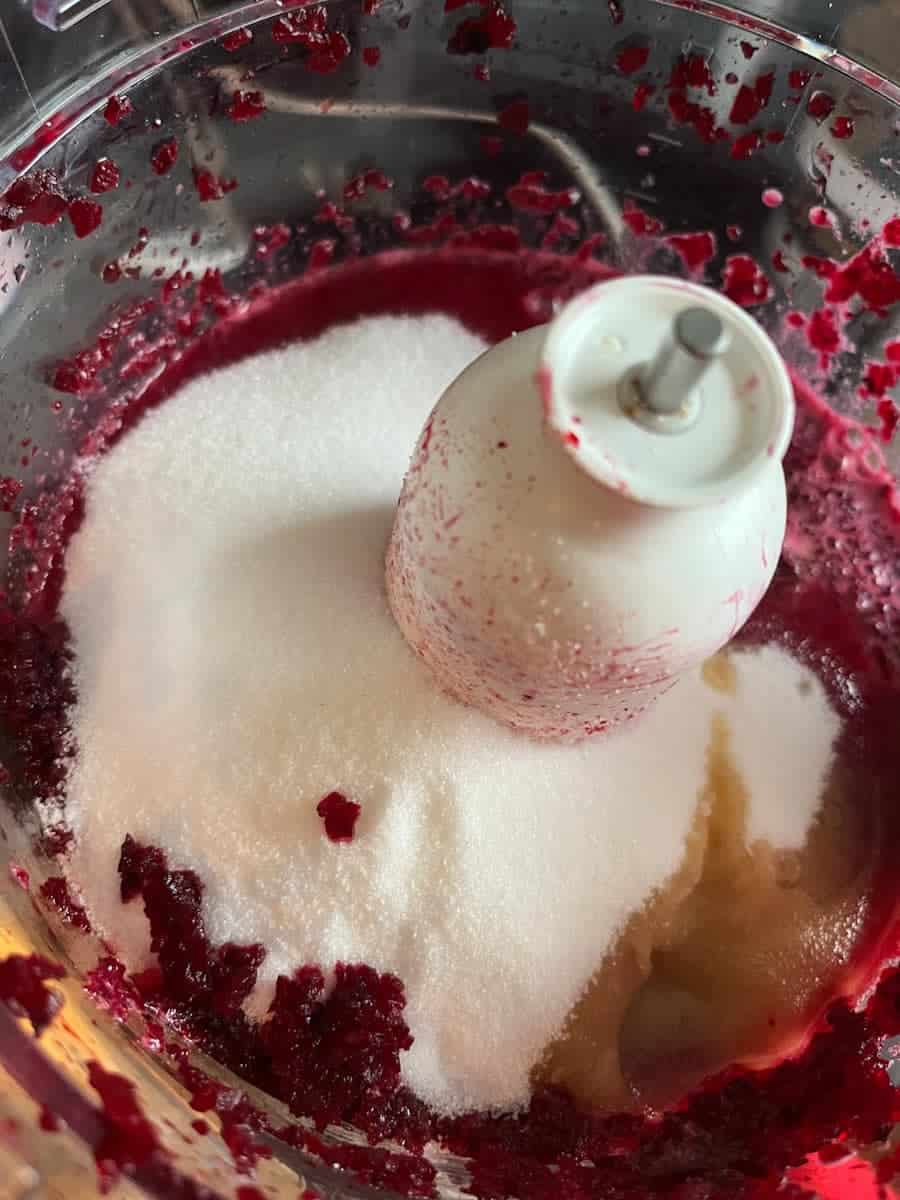 mix the dry ingredients together
Place the flour, cocoa powder, ground almonds, baking powder, salt and espresso powder (if using) in a large bowl and stir together to combine.
combine the wet and dry ingredients together
Pour the beetroot puree into the melted chocolate mixture and stir well until the mixture is smooth. Don't forget to take a moment and marvel at that stunning Barbie pink colour!
Lightly stir in the flour mixture until you have a smooth, shiny chocolate batter.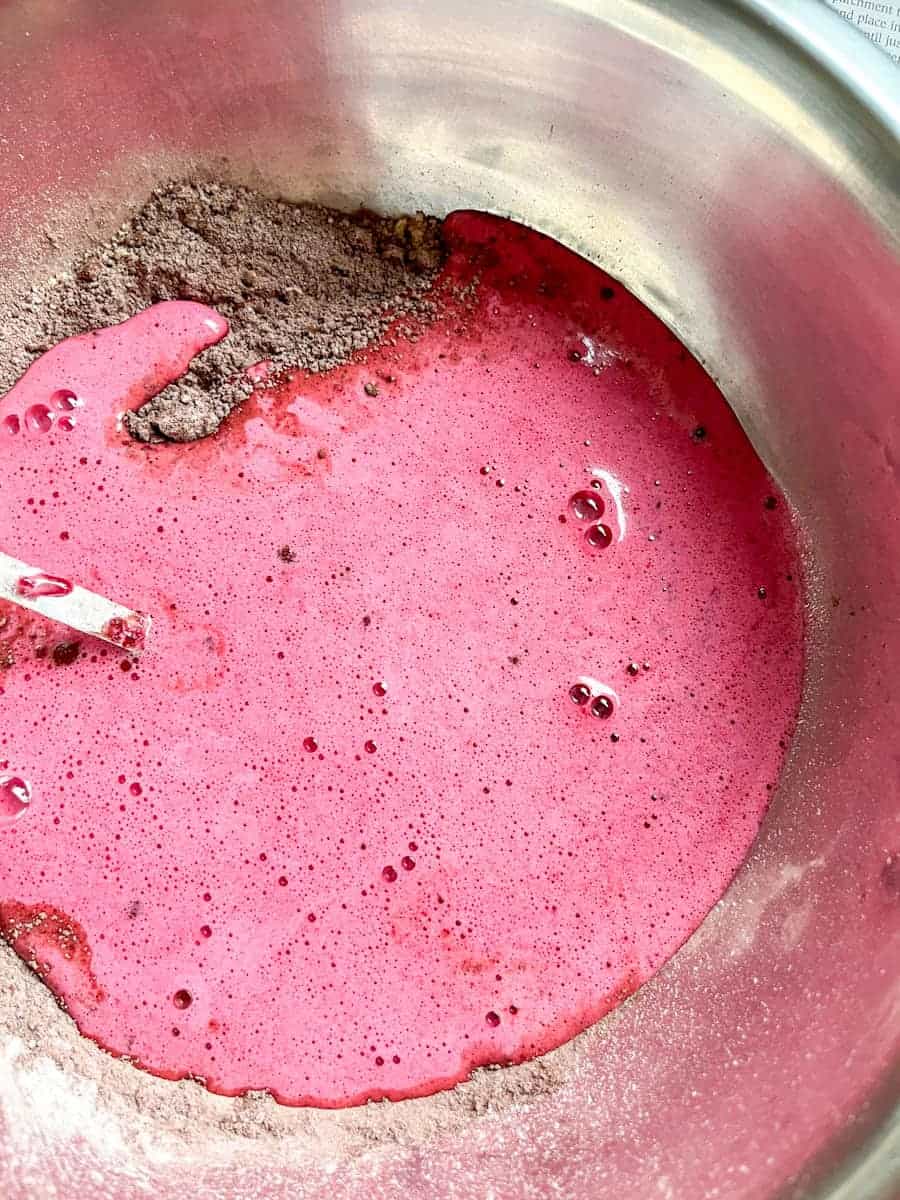 pour into the tin and bake
Pour the batter into the lined baking tin. Bake for 30-35 minutes or until the top of the brownie looks set. It will still be quite wobbly in the centre.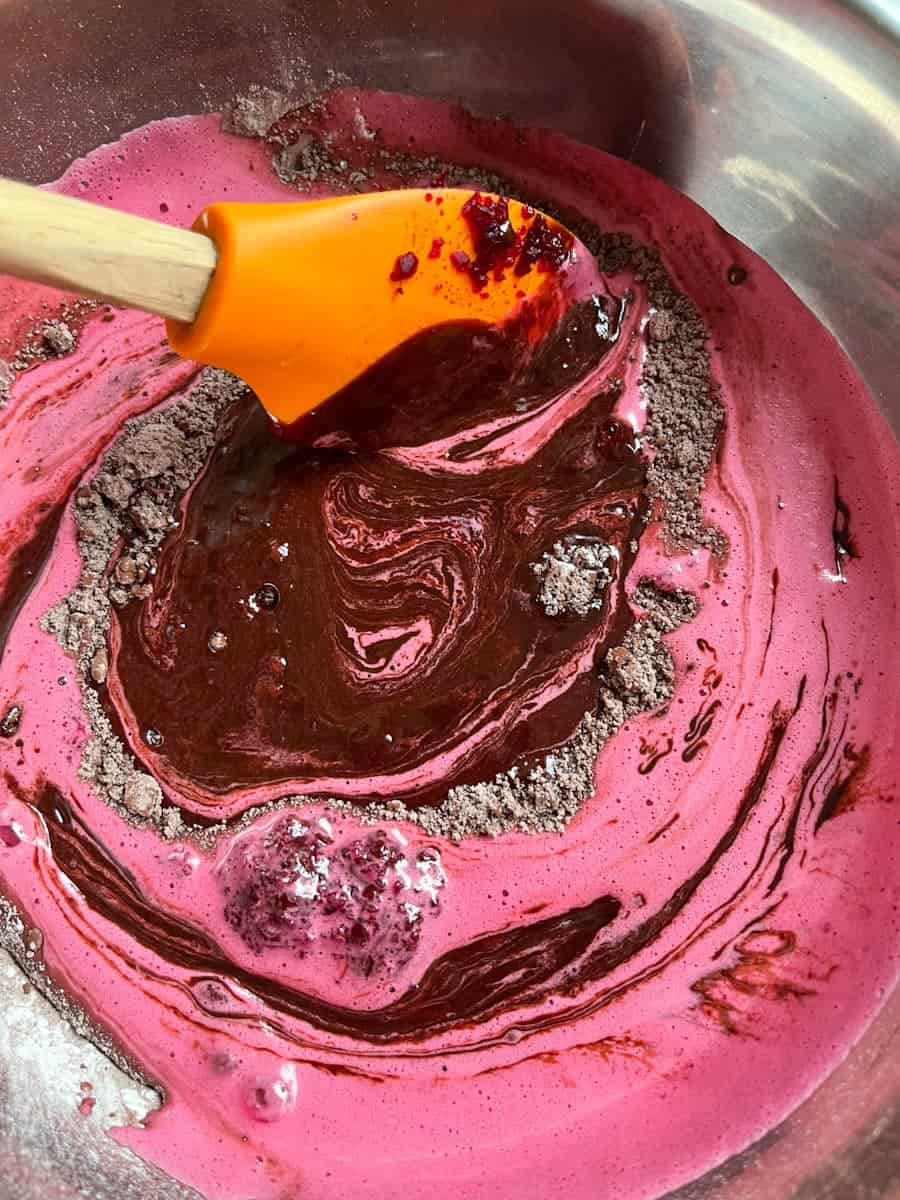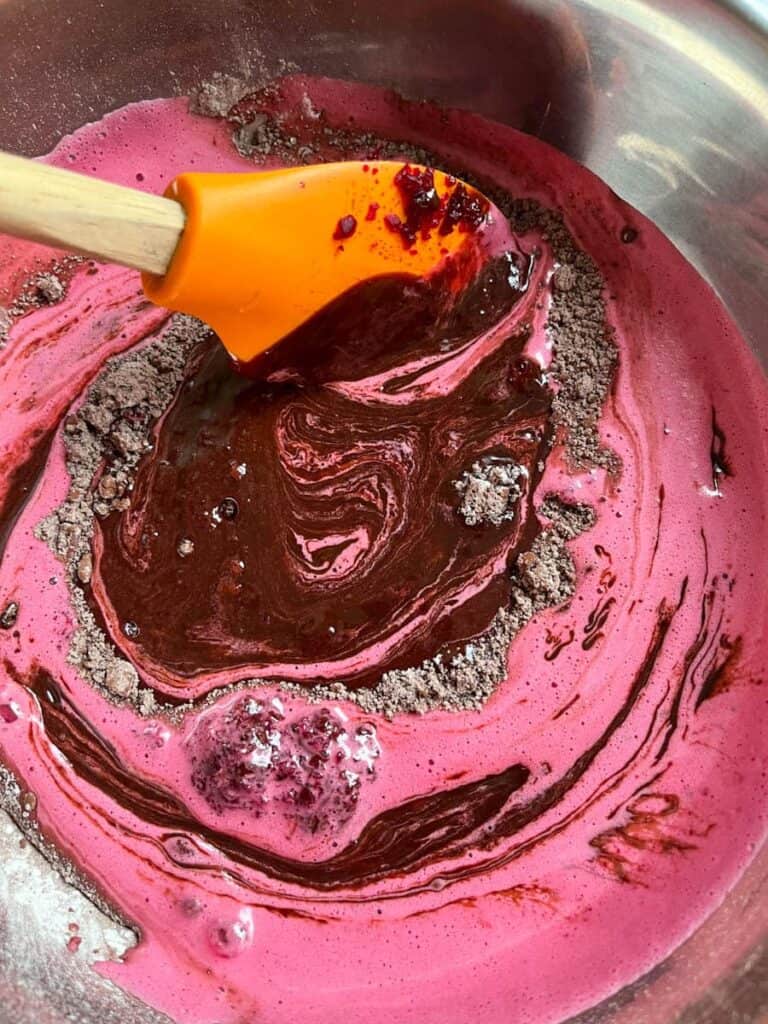 time to chill!
Allow the brownie to cool completely in the tin. I leave it to cool for a few hours before transferring to the fridge for at least another 3-4 hours.
baker's tip
If a brownie recipe ever tells you a skewer inserted in the middle should emerge clean, please don't pay any attention. A brownie should be squidgy and gooey, especially when you remove it from the oven.
It takes several hours for a brownie to firm up completely and as long as it hasn't been overbaked, should have a fudgy, gooey interior.
RECIPE NOTES
For the very best texture, I highly recommend chilling the brownies overnight. I find most brownie recipes benefit from an overnight stay in the fridge – they are much easier to cut once properly chilled and they become beautifully fudgy – exactly how a good chocolate brownie should be.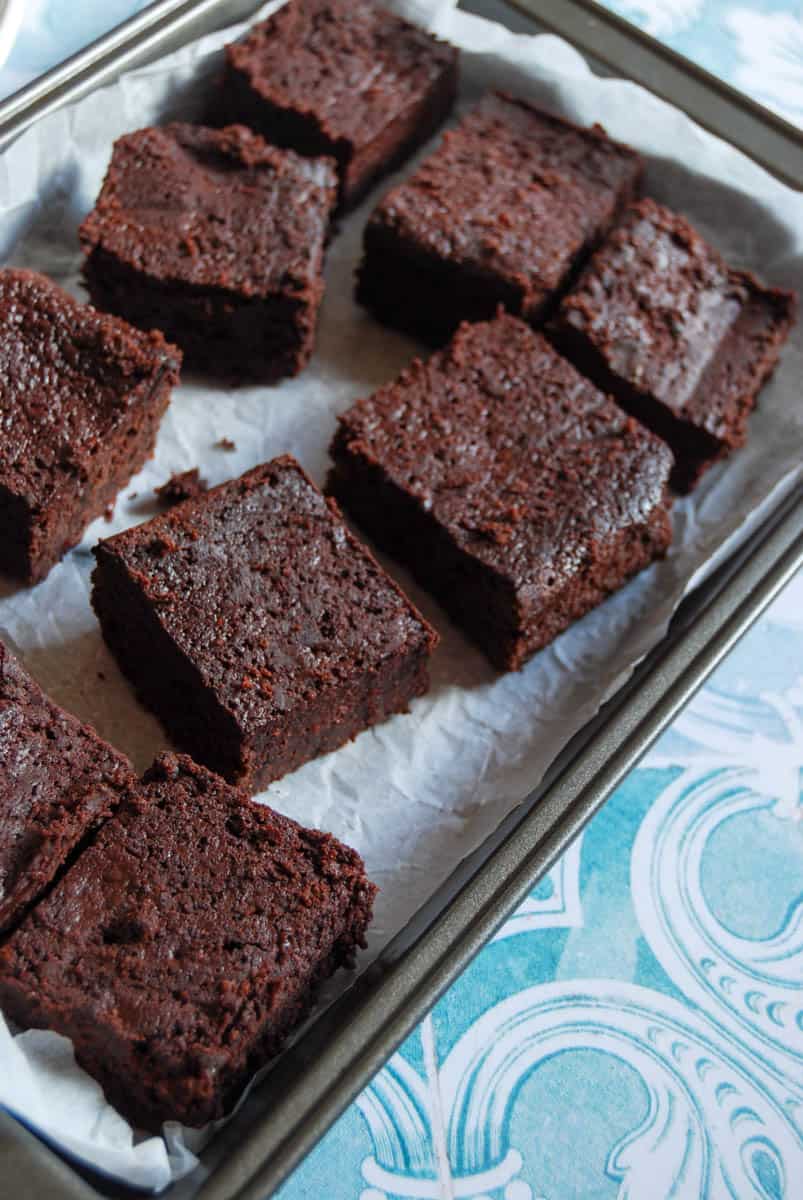 make them gluten free
To make gluten free beetroot brownies, swap the plain flour for rice flour. Most baking powder is gluten free, but you should always check the label just in case.
storage
Due to the moisture content, these brownies are very soft and squidgy. They are best kept refrigerated. They will keep in a tupperware box or container in the fridge for 4-5 days. They actually taste better for being chilled overnight, so it's definitely worth doing.
freezing
Store the brownies in a freezer safe container and freeze for up to three months. Defrost at room temperature before serving.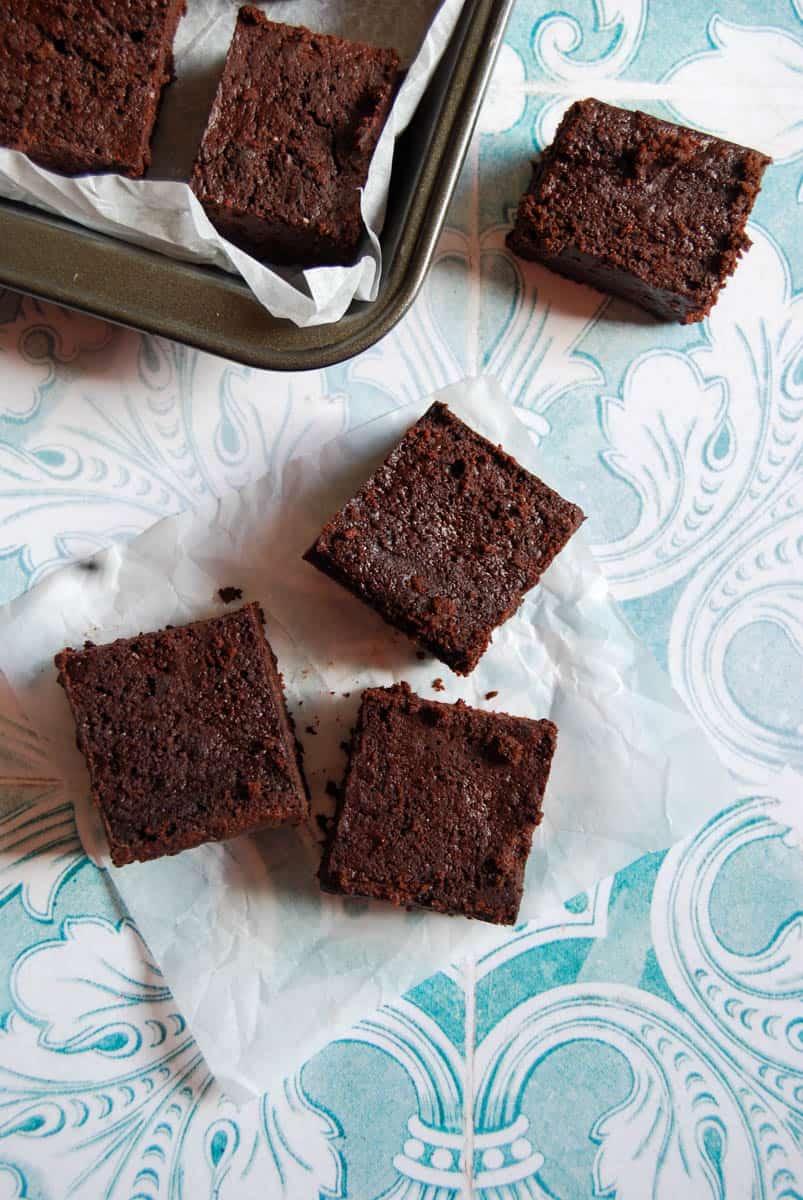 more brownie recipes to try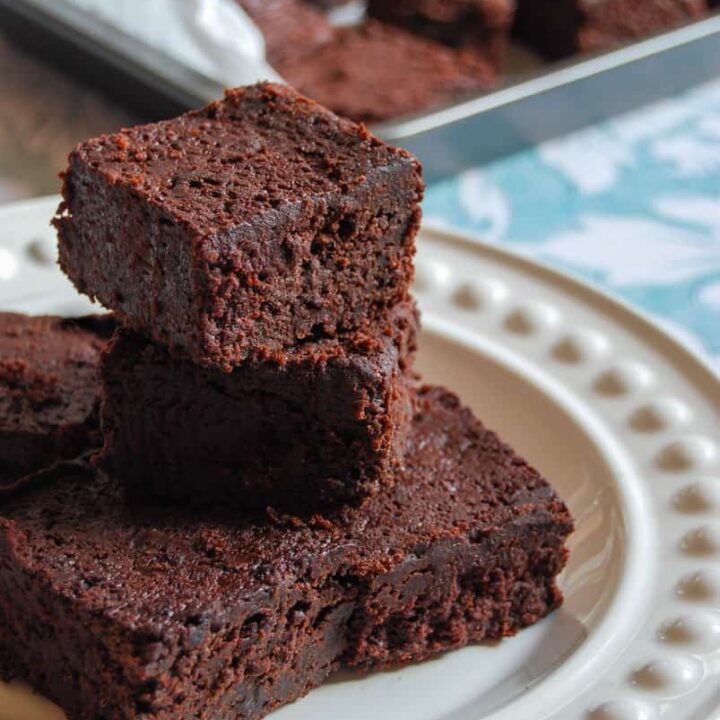 Chocolate Beetroot Brownies
Ingredients
250g dark chocolate
200g unsalted butter
250g cooked beetroot
3 medium eggs
1 teaspoon vanilla extract
250g caster sugar
50g cocoa powder
50g plain flour
½ teaspoon fine salt
1 teaspoon baking powder
1 teaspoon instant espresso powder (or something like Nescafe Azera)
100g ground almonds
Instructions
Preheat the oven to 180C/160Fan/Gas mark 4. Grease and line a 28x18cm baking tin.
Place the chocolate and butter in a large saucepan and melt over a low heat, stirring occasionally until completely melted and smooth.
Purée the cooked beetroot in a food processor. While the motor is running, add the eggs one at a time, then turn the machine off, take off the lid and scrape down the sides of the bowl with a spatula. Place the lid back on, then add the vanilla and sugar and blitz once more until the mixture is smooth.
Place the cocoa powder, flour, salt, baking powder and ground almonds in a medium bowl and stir to combine.
Stir the puréed (very vibrant pink!) beetroot mixture in the melted chocolate. Lightly stir in the dry ingredients. You should have a smooth, shiny batter.
Pour the brownie batter into the lined tin. Bake for 30-35 minutes or until the brownie has set on top. It should still be a little wobbly in the centre, but will firm up as it cools. Leave to cool completely in the tin (I usually leave brownies in the fridge overnight) before cutting into squares.
Nutrition Information:
Yield:

16
Serving Size:

1
Amount Per Serving:
Calories:

318
Total Fat:

20g
Saturated Fat:

10g
Trans Fat:

0g
Unsaturated Fat:

8g
Cholesterol:

63mg
Sodium:

158mg
Carbohydrates:

33g
Fiber:

3g
Sugar:

25g
Protein:

5g
Calories and nutritional information are provided by a third party application and should be viewed as indicative figures only.