If you love Creme eggs, these Creme egg stuffed cookies will be the ultimate Easter sweet treat!
Yes, I went there. After the roaring success of these Biscoff stuffed cookies, I've been filling cookies with delicious things like Nutella, marshmallow creme and peanut butter.
If you're a creme egg fan, you'll also love these Creme egg brownies, creme egg cupcakes, no bake chocolate Easter fridge cake and these fabulous creme egg chocolate brownie cookies! I've got you covered for ALL your Easter baking needs!
Now I do understand that this recipe won't be for everyone. If you're saying to yourself "I can't stand creme eggs, they are far too sweet" – I am with you! I used to love them, but I just can't eat them anymore. I much prefer the Cadbury caramel eggs – if you like them too, you might be interested in my Cadbury caramel egg brownie recipe.
And in case you're wondering, YES I did try these cookies stuffed with the caramel eggs and they were amazing! A little bit of caramel ran out of the cookies while they were in the oven, but it was no bad thing at all. So if you like the idea of this recipe but don't like creme eggs, I highly recommend giving it a go with the caramel filled eggs instead.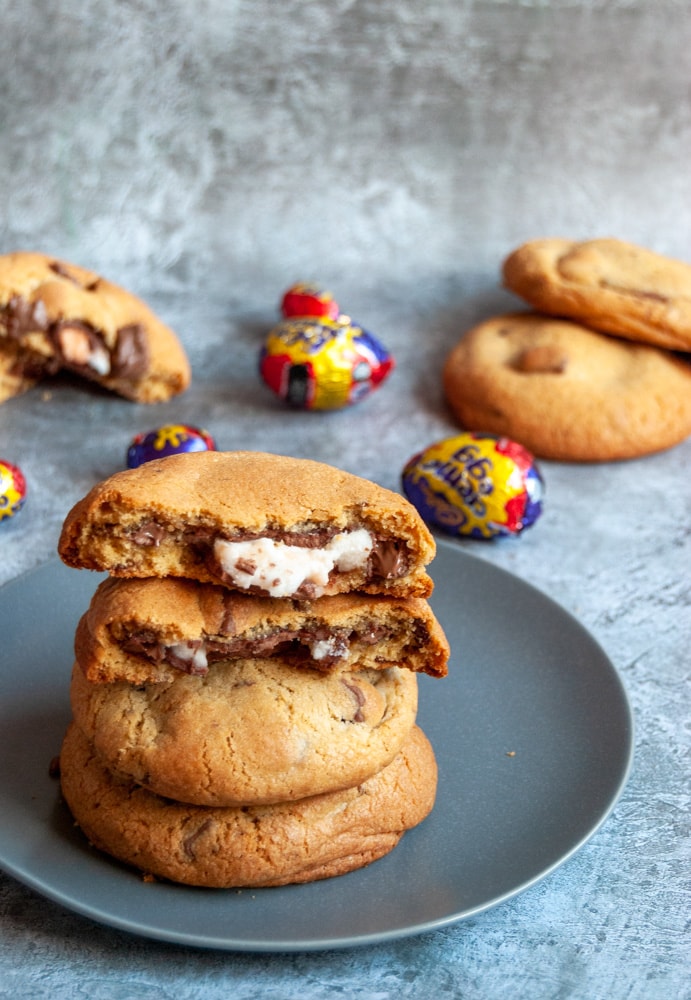 I attempted to make these cookies with mini creme eggs and while they were delicious, they weren't quite what I wanted to achieve – there isn't much fondant filling in a mini creme egg, so I made the cookies larger and stuffed them with a whole creme egg instead!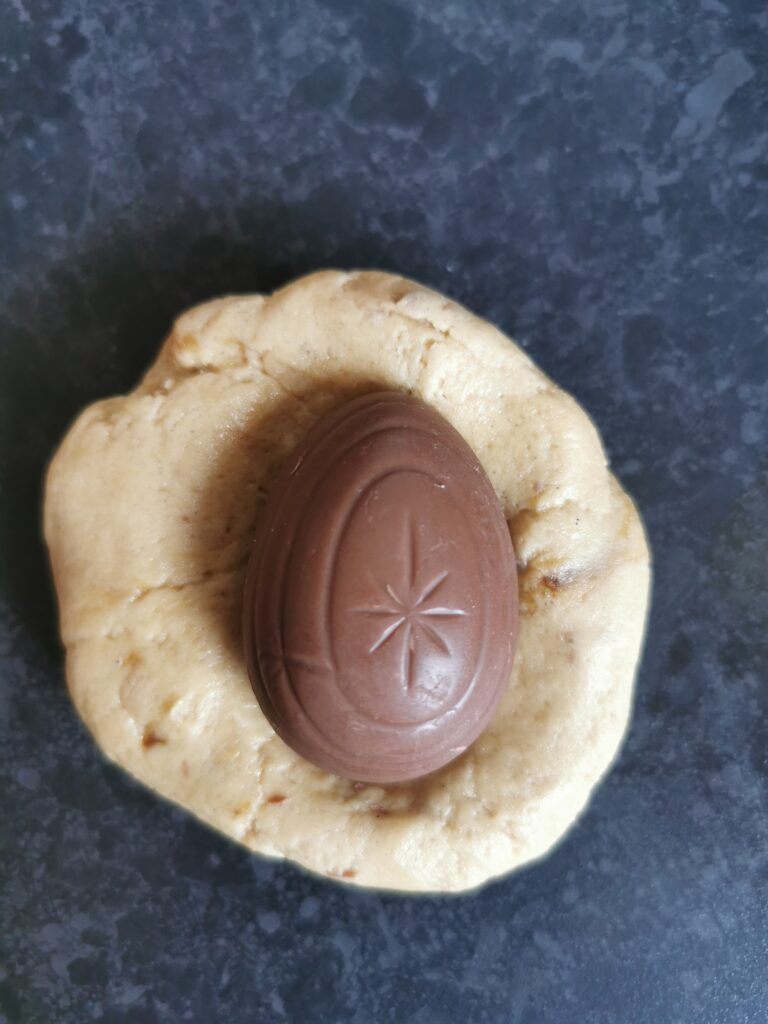 tips for making this creme egg stuffed cookie recipe a success
First of all, you need to make sure that your creme eggs are very cold. I kept them in the fridge for a good two hours before I began to make the cookies. I'm sure freezing them would also work well.
These cookies are LARGE! You need to weigh the cookie dough – each piece of dough should be 100g.
I could only fit two cookies at a time on my baking sheet, so unless you have a massive oven and baking tray, you'll probably need to do the same.
It's worth taking the time to completely enclose the creme egg inside the cookie dough. Make sure you can't see any of the creme egg peeking out, or they might explode in the oven!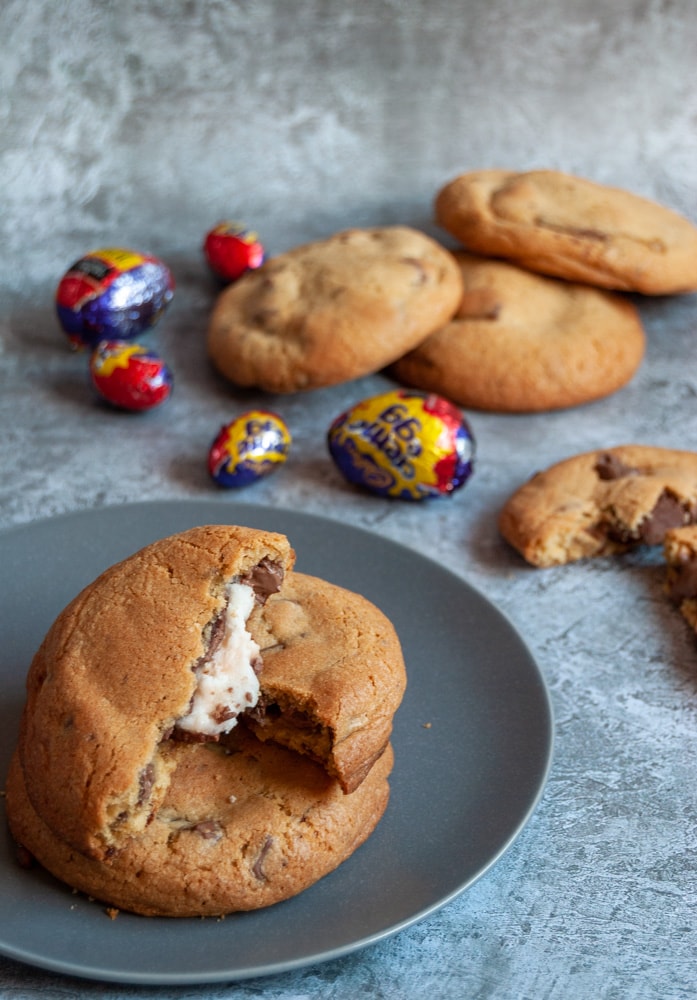 how to serve these cookies
These gooey cookies are at their most delicious eaten still warm while the creme egg filling is still molten. However, I would definitely recommend leaving them to cool very slightly for about 30 minutes before eating – a burnt tongue is never a fun experience!
more easter bakes to try
If you love Easter desserts as much as I do, you might like my No bake Easter Cheesecake, Mini Egg Blondies, Mini Egg Cookies, Leftover Easter chocolate cookies, Galaxy Enchanted egg cookie cake, and this dreamy White Chocolate Mini Egg Rocky Road!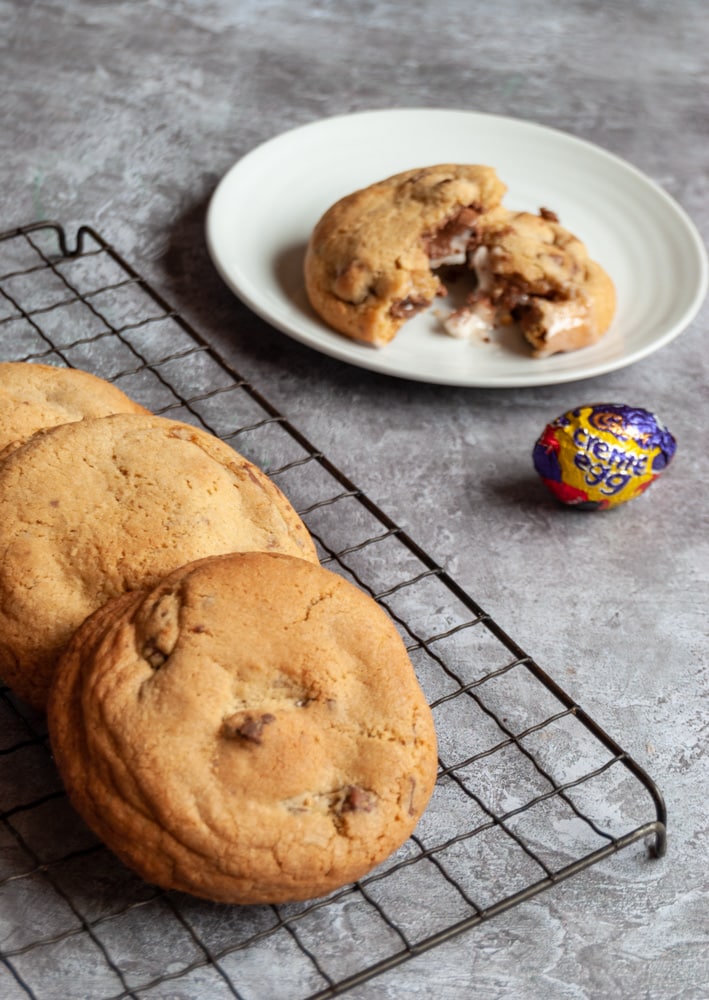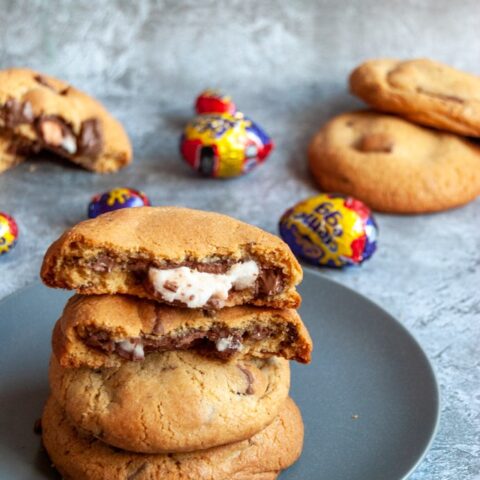 Creme Egg Stuffed Cookies
Yield:
makes 8 large cookies
These Creme Egg stuffed cookies are an epic Easter sweet treat! Large thick and chewy chocolate chunk cookies stuffed with a gooey creme egg!
Ingredients
8 creme eggs, chilled for at least or hour or frozen
400g Plain (all purpose) Flour
2 teaspoons baking powder
1/2 teaspoon fine salt
200g room temperature butter, cut into small cubes
150g soft light brown sugar
125g caster sugar
2 medium eggs, beaten
1 teaspoon pure vanilla extract
150g milk chocolate chunks (I used a bar of Cadbury Dairy Milk)
Instructions
Preheat the oven to 180C/160Fan/350F/Gas mark 4. Grease and line a couple of baking sheets with baking paper. Please note that you'll only be able to bake two cookies at a time - they are super sized!
Place the flour, baking powder and salt in a medium bowl and mix with a fork to areate the ingredients. Set aside.
Using a free standing mixer or in a large mixing bowl with an electric hand whisk, cream the butter and both sugars together until very light and creamy. This should take about 4-5 minutes.
Gradually add the beaten egg, a little at a time until well incorporated and the mixture is smooth. Stir in the vanilla extract.
Stir in the dry ingredients in two batches, mixing until you have a fairly thick cookie dough. Stir in the chopped chocolate. At this stage you can either bake the cookies straight away or chill the dough for up to one day.
Divide the dough into roughly 8 100g pieces. I made two cookies at a time. Slightly flatten each piece of cookie dough, then place a cold creme egg right in the middle of each one. Wrap the dough around the creme egg, creating a round ball of dough. Make sure the creme eggs are completely enclosed. Place the cookies on the lined baking sheet with about 4-5cm of space between each one - they will spread out a little and this will prevent them from merging together. Don't flatten the cookies - they will look big, but that's how they are meant to be.
Bake the cookies for 17-18 minutes or until puffy and golden brown around the edges. They will still be soft in the middle, so leave them on the baking sheet for a good 10 minutes before carefully transferring to a wire rack. If you try to remove them any sooner, they will probably fall apart!
Nutrition Information:
Yield:

8
Serving Size:

1
Amount Per Serving:
Calories:

501
Total Fat:

32g
Saturated Fat:

18g
Trans Fat:

1g
Unsaturated Fat:

11g
Cholesterol:

285mg
Sodium:

522mg
Carbohydrates:

46g
Fiber:

1g
Sugar:

44g
Protein:

9g
Calories and nutritional information are provided by a third party application and should be viewed as indicative figures only.