Scone Dough Pizza couldn't be easier to make – pile on your favourite toppings! A very simple hassle free recipe that everyone will love.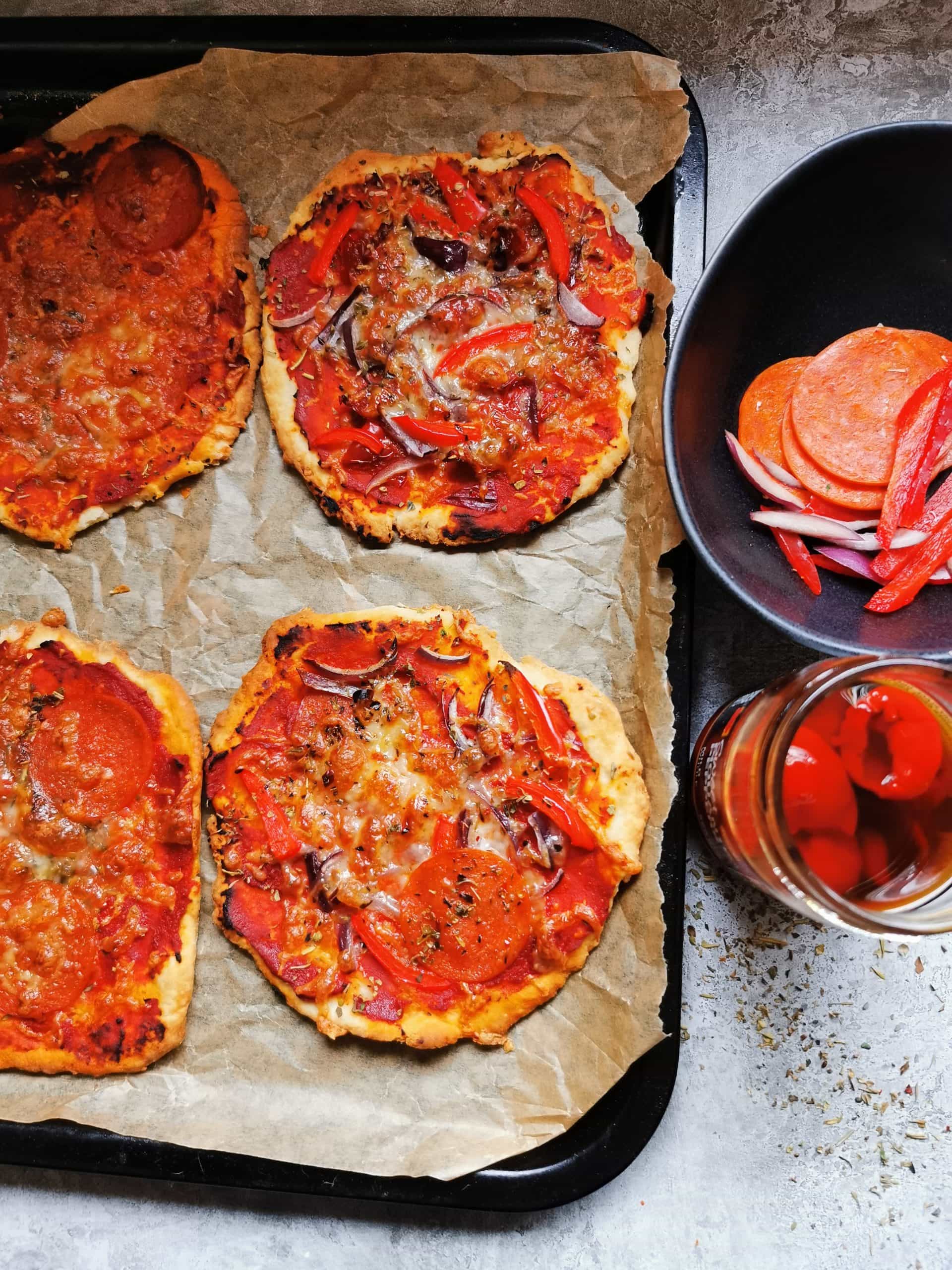 Scone Dough Pizza is a fantastic recipe for those days when you're really pushed for time.
It is literally made and on the table in 20 minutes.
Perfect for when your kids are suddenly struck down with a craving for pizza and you don't want to wait around for dough to rise!
OK, this may not be a real deal pizza and I apologise if this offends any Italians, but quick, instant recipes like this are a life saver on a busy week day when you're up against the clock.
You don't need any yeast to make this recipe – and you can use the dough straight away.
Ingredients you will need:
Self Raising Flour.
Fine Salt.
Cold butter.
Yoghurt. You can use either Greek or plain yoghurt (preferably full fat)
Pizza toppings. This one I'll leave up to you – use whatever you have to hand. Tinned sweetcorn, cold meats such as ham, pepperoni, chorizo slices, cooked bacon, mushrooms, onions, peppers…the only limit is your imagination.
TIPS for making scone dough pizza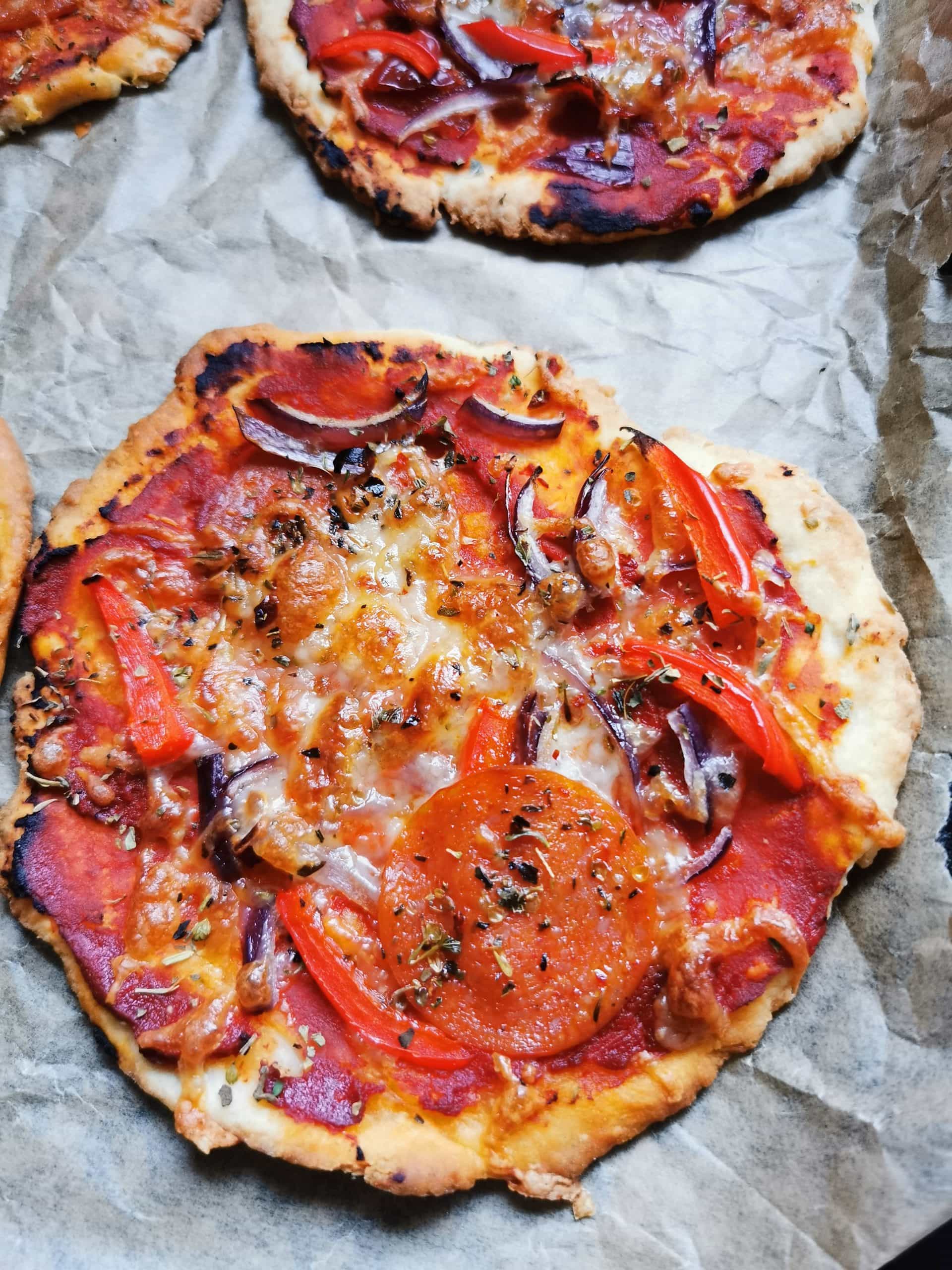 You can use pretty much any toppings you like. Any leftover meat/veg you have in the fridge would be great, but don't weigh the pizzas down with too much toppings or the base wont cook properly on the bottom and will go quite soggy.
The thinner you roll out the dough, the quicker the pizzas wil take to cook. I try and roll them out to around the thickness of a 50p piece.
HOW to make scone dough pizza
(scroll to the bottom of the post to find printable recipe)
Place self raising flour and a pinch of salt in a bowl. Add cubed cold butter and rub in until the mixture resembles breadcrumbs.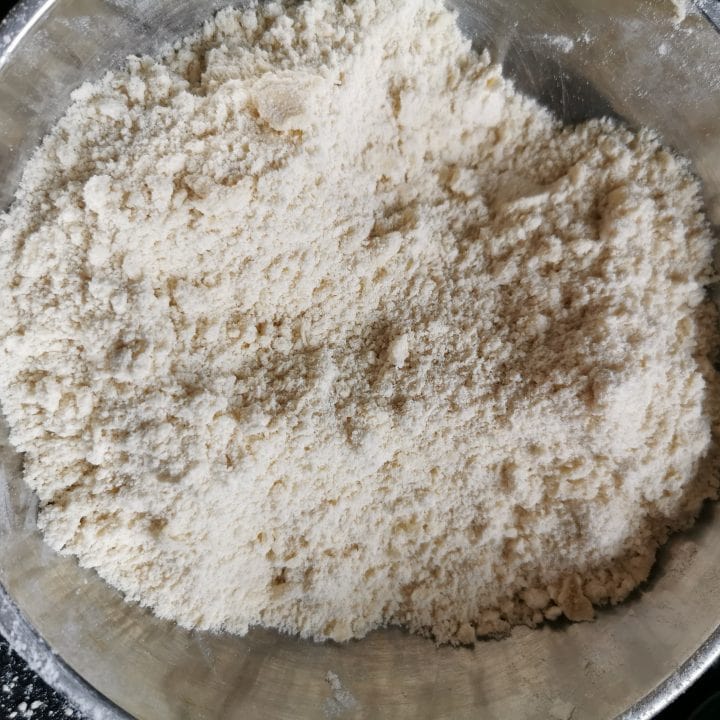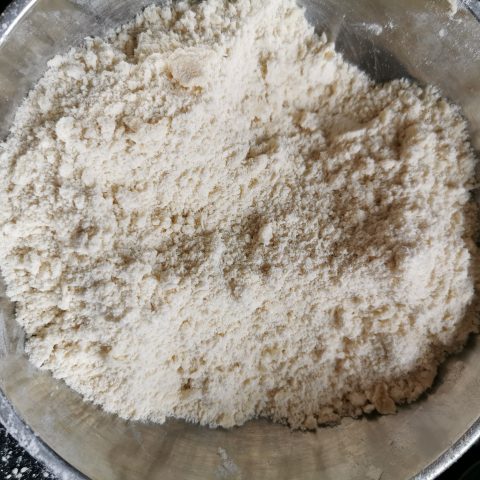 Pour In the yoghurt and lightly mix in until you have a soft, slightly sticky dough. It takes a minute or two to come together.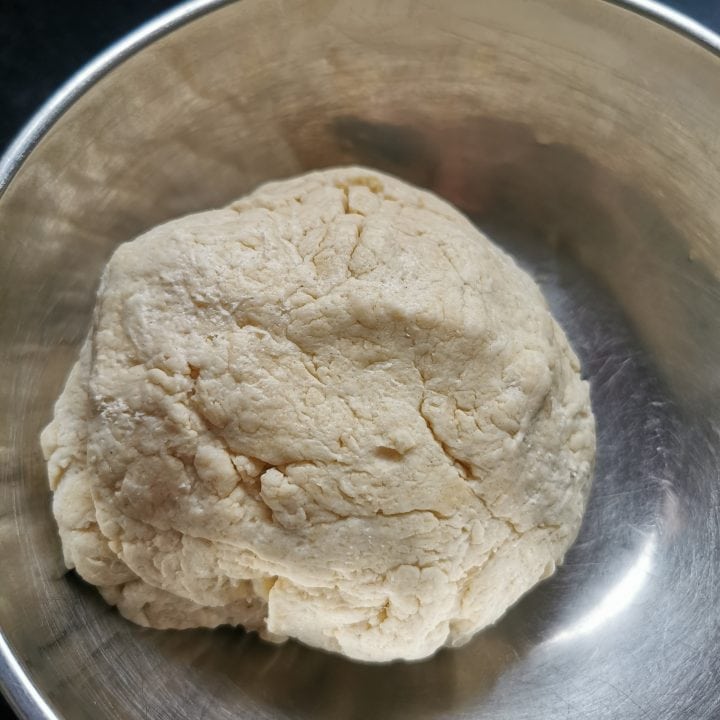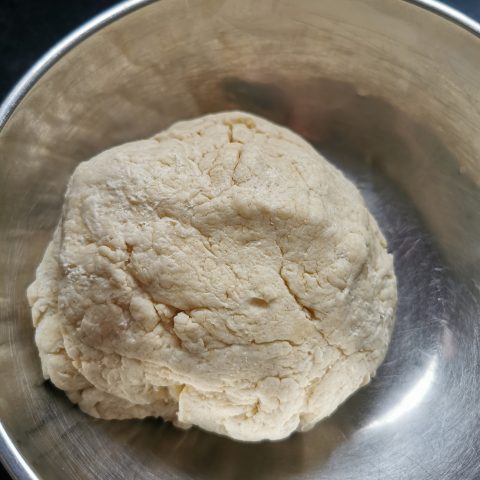 Cut the dough into 8 pieces. Dust a work surface with flour and roll each piece out into mini pizza sizes.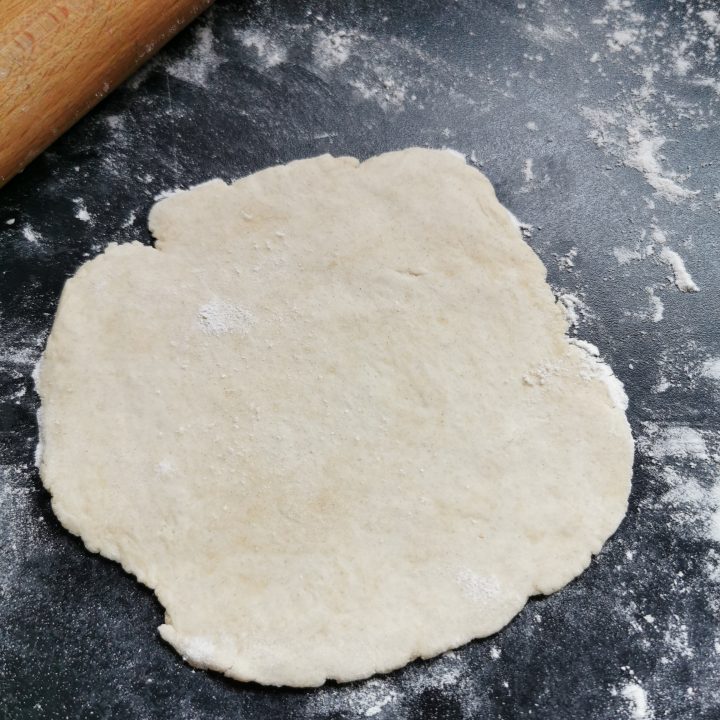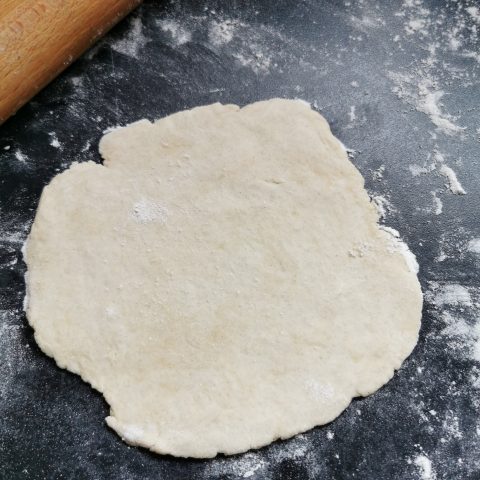 Spread with tomato sauce and top with your desired toppings! Sprinkle with some dried mixed herbs or oregano and lightly drizzle each pizza with olive oil.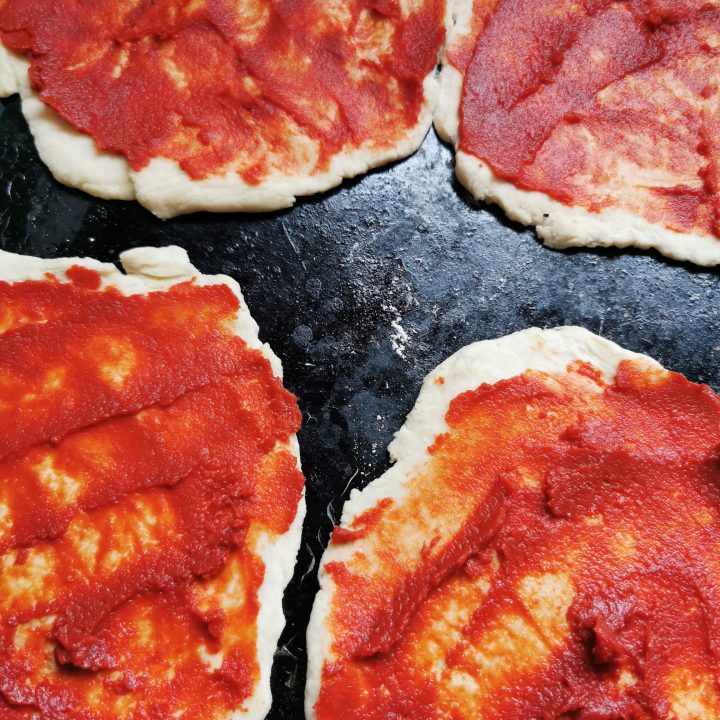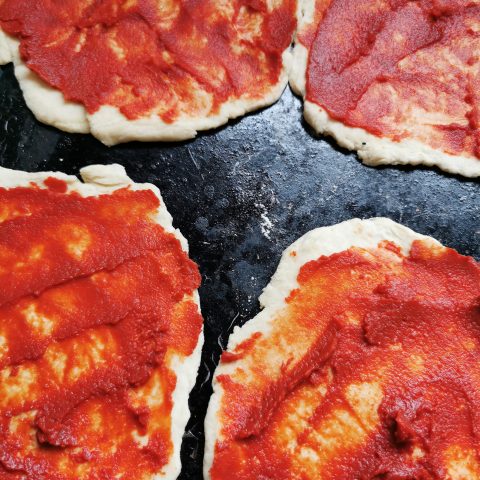 Remember the more toppings you use, the longer the pizzas will take to cook.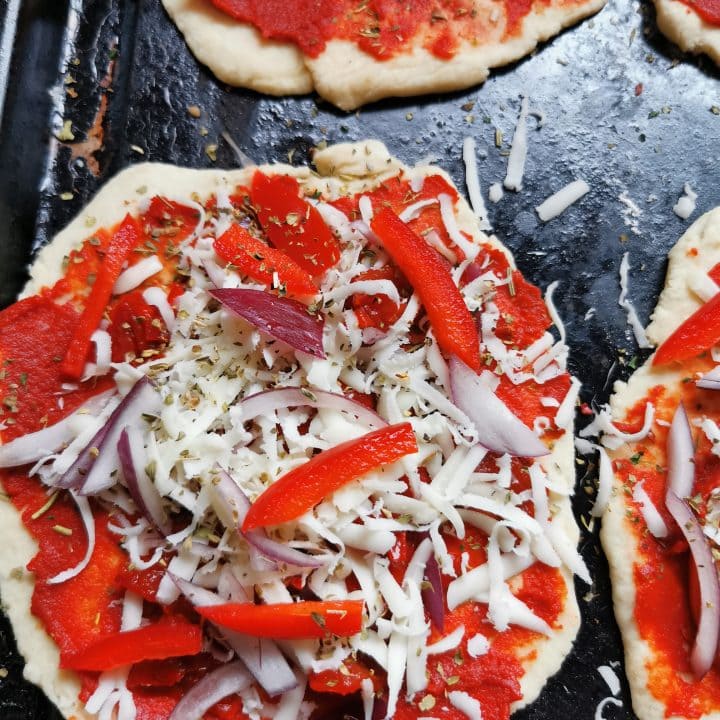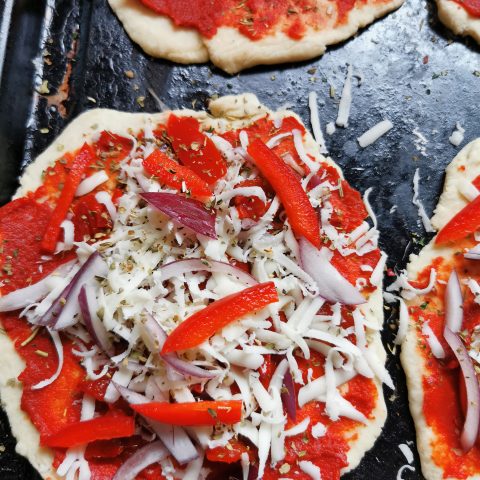 Cook for 10-12 minutes or until golden and cooked through. The cooking time will depend on how thick the bases are, so they may take a few minutes longer to cook right through.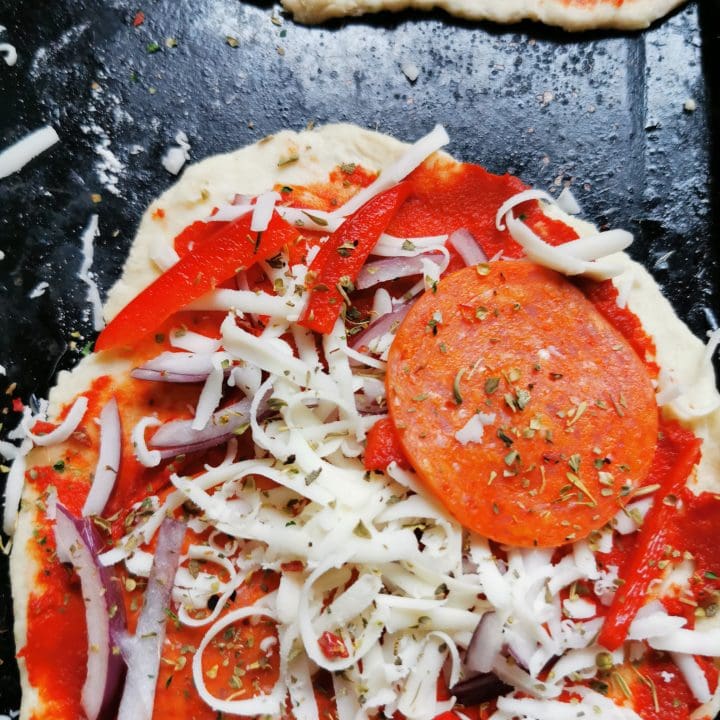 I really hope you enjoy this yeast free pizza recipe! Let me know what you thought by leaving a comment and rating the recipe by clicking on the stars in the recipe card.
More easy store cupboard recipes
One pot chorizo and red pepper rice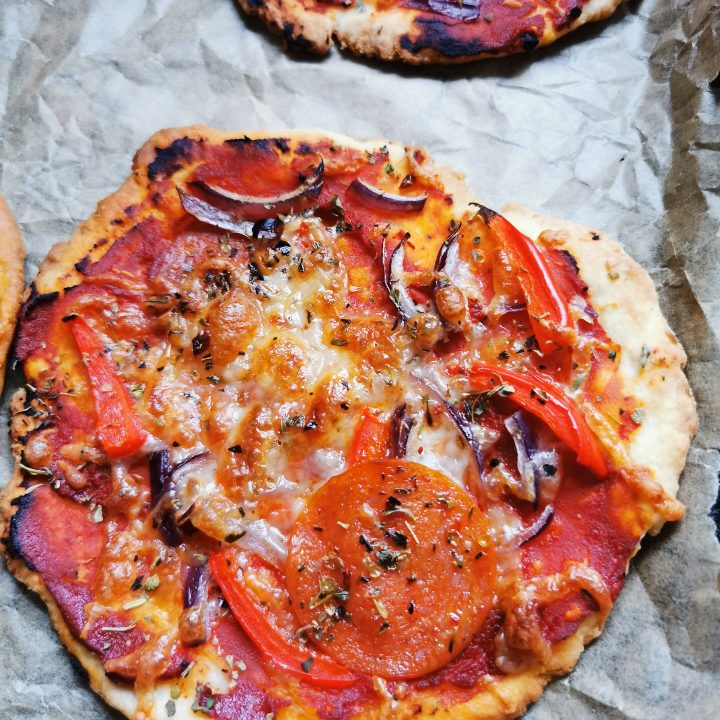 Scone Dough Pizza
This yeast free scone dough pizza recipe is ready in 15 minutes - serve with salad and potato wedges or chips for a really easy meal!
Ingredients
250g self raising flour
1/2 tsp salt
50g cold cubed butter
125ml Milk/buttermilk/plain yoghurt
75-100g of your favourite tomato sauce
various toppings of your choice - ham, sweetcorn, grated cheese, pepperoni/chorizo slices, mushrooms, the list is endless!
Dried mixed herbs
1-2 tsp olive oil
Instructions
Preheat oven 220C/200fan.
Place the flour and salt in a bowl and stir together. Add the butter and rub into the flour with your fingertips until the mixture is like breadcrumbs. Pour in the milk/buttermilk/plain yoghurt and stir with a table knife until the mixture just comes together. Tip out onto a floured surface and very lightly knead the dough for a few seconds, but don't overwork it. It should be quite easy to roll out but have a slightly wet consistency. If it is too wet to roll out sprinkle a little flour on top of the dough.
Cut the dough into 8 pieces. Roll out on a lightly floured work surface. Spread with the tomato sauce and add toppings of your choice.
Place pizzas in oven and cook for 10-15 minutes or until golden and cooked through.

Nutrition Information
Yield

8
Serving Size

1
Amount Per Serving
Calories

259
Total Fat

10g
Saturated Fat

5g
Trans Fat

0g
Unsaturated Fat

4g
Cholesterol

35mg
Sodium

877mg
Carbohydrates

31g
Fiber

1g
Sugar

4g
Protein

12g