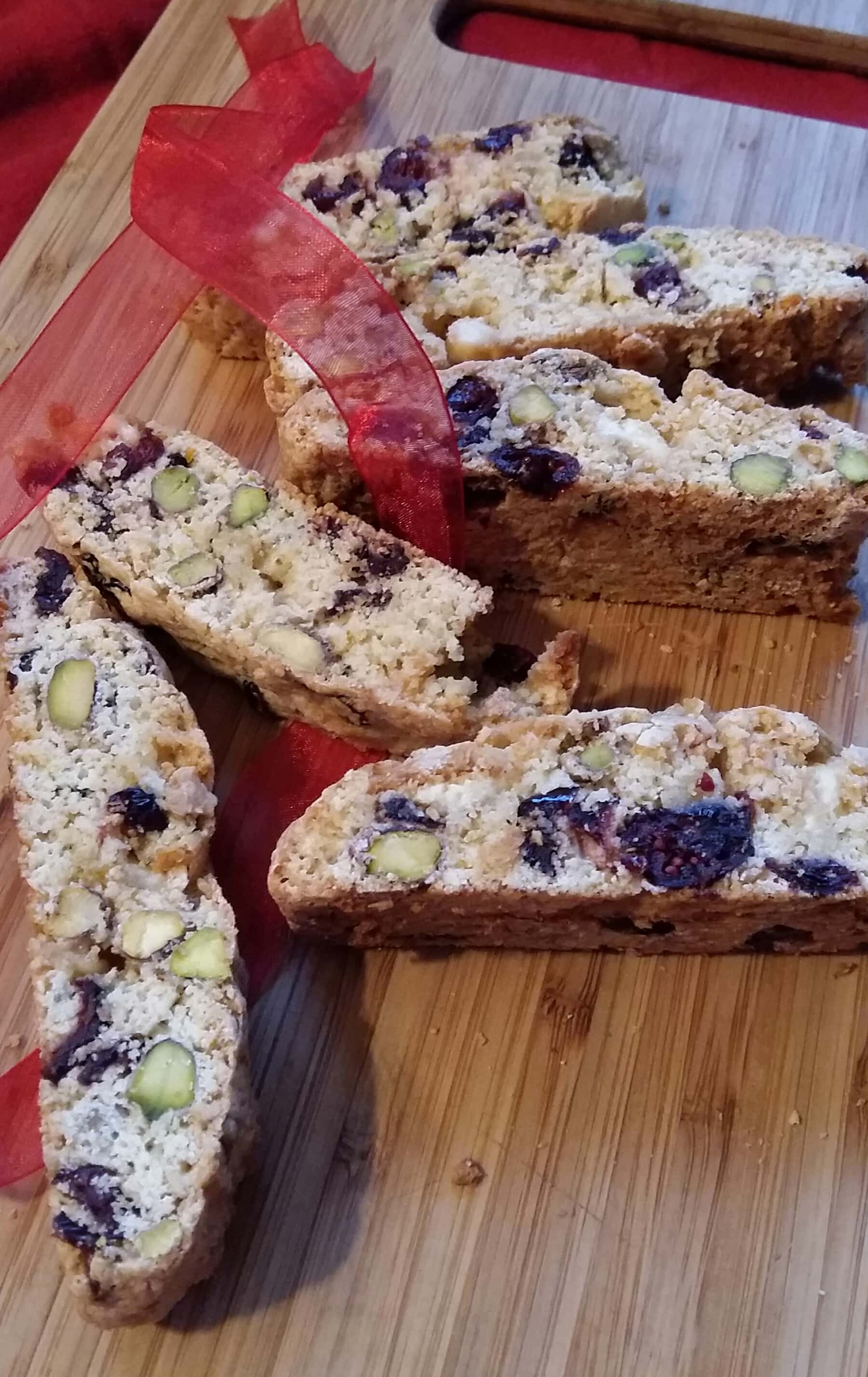 This delicious pistachio, cranberry and white chocolate biscotti is packed full of Christmas flavour! 
I can't believe it's only one month until Christmas.
I don't think I've ever been so unorganised. I have bought and tucked away a few small gifts but that's about it. At least I have plenty of wrapping paper – my local supermarket were selling it off for 2p a roll back in January! I can never resist a bargain.
I'm telling myself it will somehow all fall into place the way it always does…
In the meantime, I'm officially declaring it the run up to the festive season over here. Foodie wise, at least. I can't help but get completely caught up it in all – bring on the gingerbread lattes, clementines, those beautiful boxes of jewel like shiny fruit and nuts, panettone, marzipan filled stollen, and gingerbread reindeers.
This cranberry studded, orange scented biscotti would make a gorgeous gift, wrapped up in Christmassy cellophane. The lucky recipients favourite coffee or hot chocolate to enjoy with the biscotti would be perfect.
Let the festive baking begin!
Pistachio, cranberry and white chocolate biscotti
Servings
25
small biscotti
Ingredients
250

g

plain flour

150

g

caster sugar

Zest of two clementines or one large orange

100

g

dried cranberries

75

g

pistachio nuts

100

g

white chocolate chunks or chips

2

medium eggs

2

tbsp

milk

1/2

tsp

orange blossom water

optional
Instructions
Preheat the oven to 180C/350F/Gas mark 4.

Place the flour, sugar, orange zest, cranberries, pistachios and white chocolate chunks in a large bowl. Beat the egg, milk and orange blossom water (if using) together and pour over the dry ingredients. Mix together until you have a soft dough (I use my stand mixer but I've done this with my hands.) When the dough has come together, cut it in half.

Line two baking trays with parchment. Place it on your work surface and tip one half of the dough out on top of the paper. Pat it out into a log shape, about 25cm long. Flatten to about 3cm thick.

Repeat with the other half of the dough. Bake the logs for 20-25 minutes or until lightly browned. Remove from the oven and transfer to a cutter board. Turn down the oven to 150C. Using a serrated knife, carefully cut into 2-3cm slices. Return to the baking tray, cut side up and bake for 10-15 minutes.
Notes
Makes about 25 little biscotti.