These gruesome Black Velvet Eyeball Cupcakes are sure to be a hit at your Halloween party! These strawberry jam filled cupcakes have the same flavour as the classic Red Velvet, but with black colouring instead for a gory but delicious twist!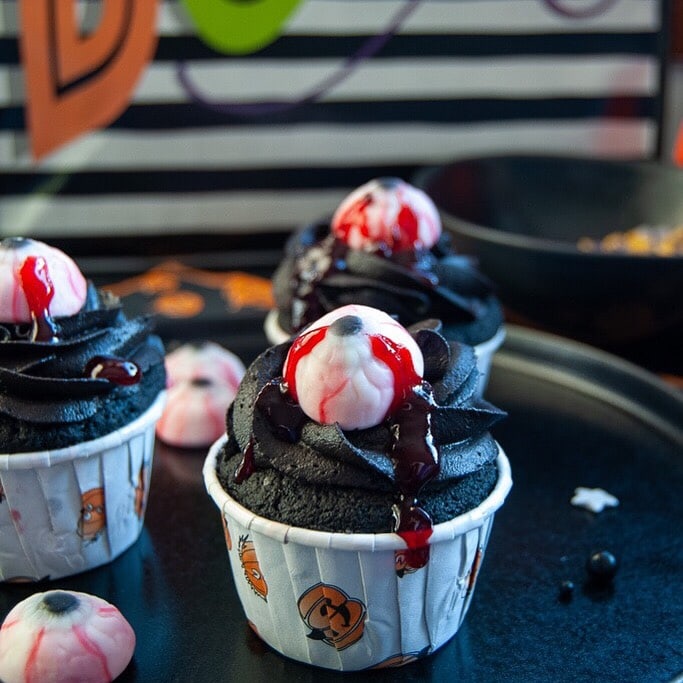 Have I mentioned how much I love Halloween? I get so excited for it!
I've definitely leaned toward the cuter side of Halloween treats in recent years – my gingerbread mummies and spooky spider cookies are a perfect example.
These eyeball cupcakes are without a doubt the most gruesome recipe I've shared! They look so effective but are actually very easy to make.
The sponge is basically your classic Red Velvet cake recipe, but with black food colouring to make them more appropriate for Halloween.
what kind of food colouring should i use?
I highly recommend a food colour gel/paste – not the liquid. The gel is concentrated and will give you much better results. I like the Wilton or Sugarflair brands. I used Sugarflair Licqorice black concentrated paste for these cupcakes
Black Extra would also be perfect, but you probably won't need to use as much because it's super dark!
The cupcakes are filled with strawberry jam, made to resemble blood with the help of a little red food colour paste.
If you're hosting or going to a Halloween party this week, why not give them a try? They can't fail to be a hit! If anyone says "ewwwww, how gross are these cupcakes?" take it as a compliment!
Gruesome Halloween baking – mission accomplished!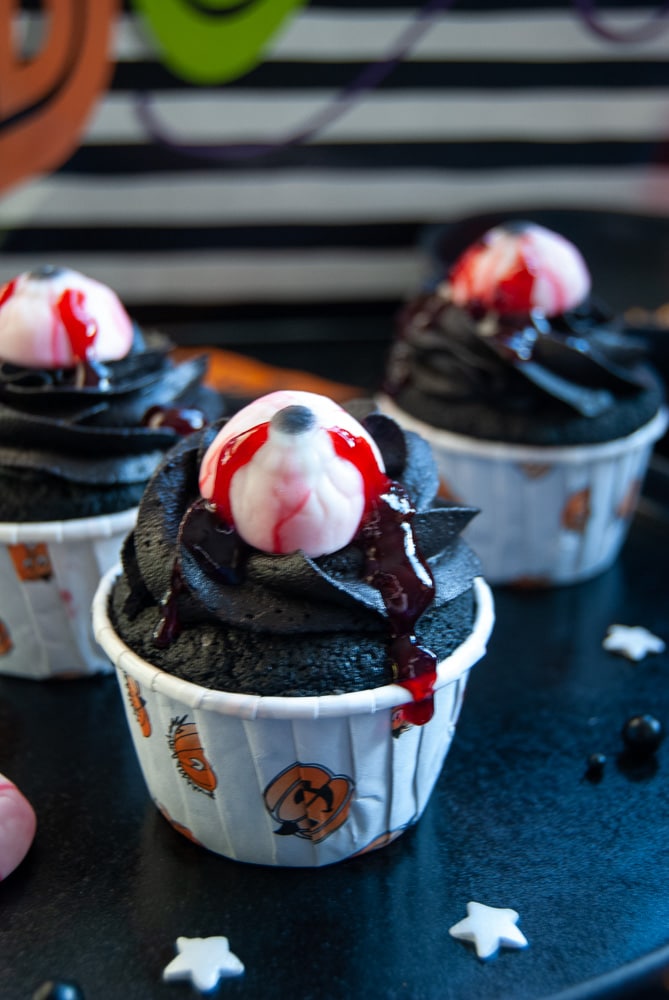 how to make black velvet eyeball cupcakes
(scroll to the bottom of the post to find ingredient amounts and detailed instructions!)
To make the black velvet cupcakes, combine plain flour, baking powder, bicarbonate of soda, cocoa powder and a little salt in a medium bowl.
Cream together soft butter and caster sugar together until light and fluffy. Stir in vanilla extract and black food colour paste.
Gradually add beaten egg to the creamed mixture, then when the mixture is well combined, sift in your dry ingredients.
Finally, stir in buttermilk and vinegar – stop mixing as soon as the mixture is combined .
Quickly spoon the cupcake batter into cupcake cases and bake at 180C/160Fan/350F for 20-25 minutes, or until the cupcakes are well risen and spring back when lightly pressed.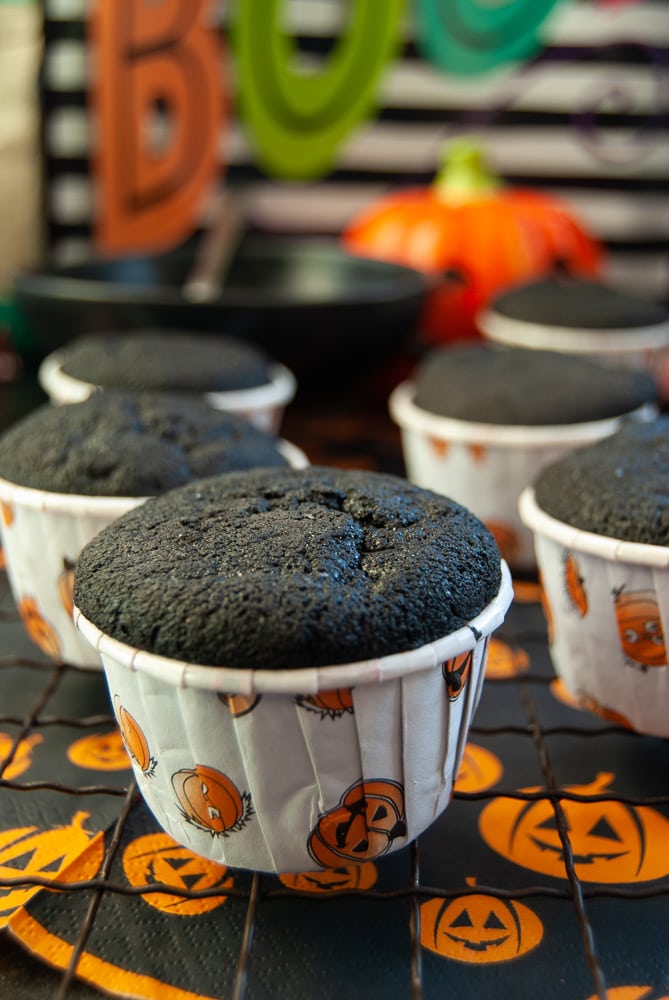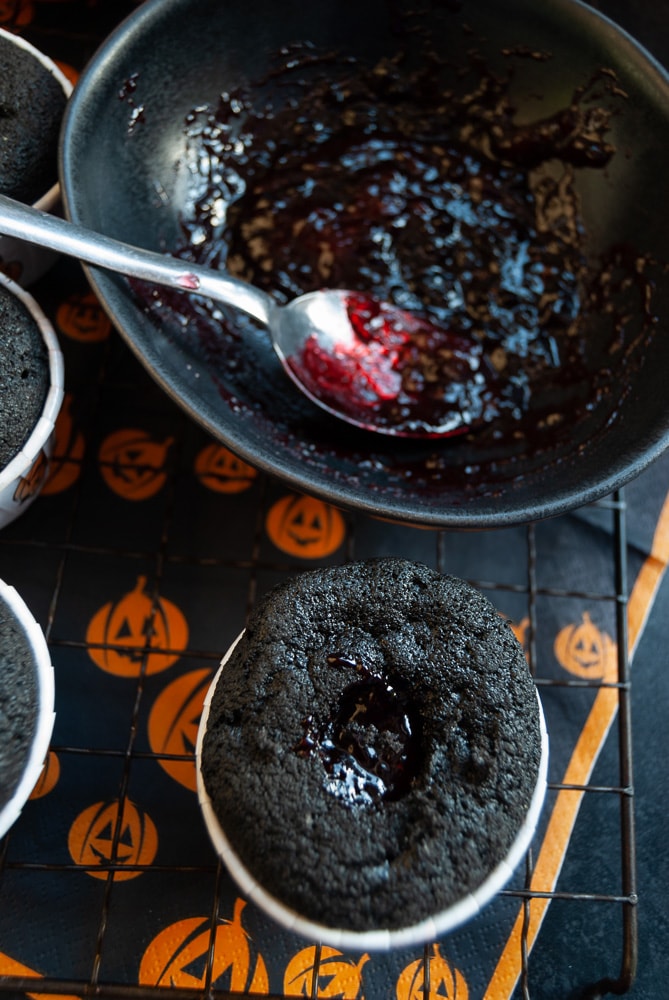 Make the buttercream by mixing soft butter and icing sugar together until very light and fluffy. Add cocoa powder, vanilla extract, black food colour paste and milk and continue to beat until you have a very light and fluffy buttercream.
If you've added a lot of colouring to the buttercream but it just doesn't look black enough, leave it for an hour or so. You might not need to add any more if you leave it to settle for a while – the colour will deepen. If the buttercream is still not black enough after an hour or so, add more food colour paste until you're happy with the shade.
Now it's time for the fun part – decorating!
When the cupcakes have completely cooled, cut a hole from the middle (I use an apple corer) and fill the hole with strawberry jam. I added a small amount of red food colouring to the jam to make it even more vibrant and blood like.
Decorate the cupcakes with swirls of black buttercream – I used an Wilton 1M open star tip.
Top the cupcakes with a jelly eyeball sweet and using a spoon or a small piping bag, drizzle the blood red strawberry jam down the eyes. Super gross and perfect for Halloween!
want to see more halloween recipes?
Did you make these eyeball cupcakes? I would LOVE to see your take on them! Tag me on Instagram #sweetsavouryblog
Let me know what you thought of the recipe by leaving a comment below and if you would rate the recipe out of 5 by leaving a comment, I'd really appreciate it. Thanks!
Happy halloween!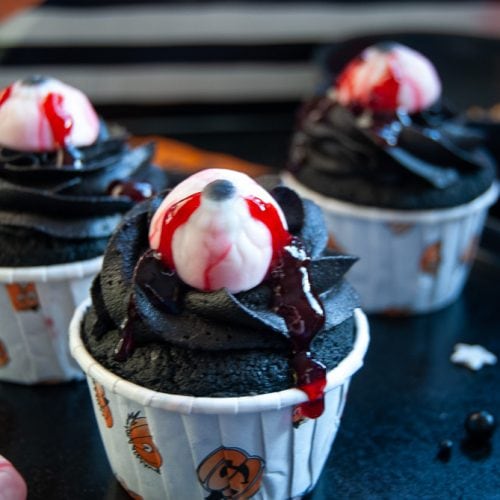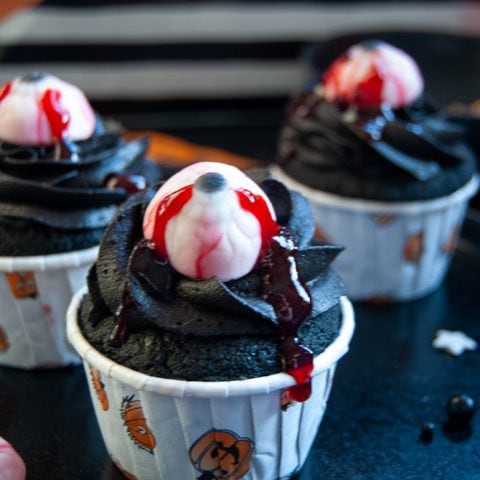 Black Velvet Eyeball Cupcakes
Total Time:
1 hour
5 minutes
These creepy black velvet eyeball cupcakes will be the talk of your Halloween party! They might look gross but they are delicious! Light and fluffy red velvet flavour sponge filled with strawberry jam and topped with black chocolate buttercream swirls. They are topped with a jelly eyeball sweet and jam for a dripping blood effect!
Ingredients
250g Plain Flour
2 Tablespoons Cocoa Powder (Not drinking chocolate)
2 Teaspoons Baking Powder
1/2 Teaspoons Bicarbonate of soda
1/4 Teaspoon Fine Salt
100g Soft Butter
200G Caster (super fine) Sugar
1 Tablespoon (15ml) Black food colouring paste
2 Teaspoons good quality Vanilla Extract
2 Large Eggs, beaten
175ml Buttermilk
1 Teaspoon white wine or cider vinegar
FOR THE CHOCOLATE BUTTERCREAM
250G soft unsalted butter
400G Icing (Confectioner's) Sugar, sifted
50G Cocoa Powder, Sifted
1 Teaspoon Vanilla Extract
1/2-1 Tablespoons of Black food colouring gel paste
1-2 Tablespoons Whole Milk
For the Cupcake Filling and topping:
250G Strawberry Jam (about half a jar)
Scant 1/4 Teaspoon of Red Food Colouring Paste
24 Jelly Eyeball Sweets
Instructions
Preheat the oven to 180C/160Fan/350F. Line two muffin tins with muffin cases.
Sift the plain flour, cocoa powder, baking powder, bicarbonate of soda and salt into a medium bowl.
In a separate bowl, cream together the butter and caster sugar until light and fluffy. Beat in the food colouring paste and the vanilla extract.
Slowly begin to add the beaten egg, a little at a time until well incorporated. If the mixture looks like it's starting to curdle, add 1 tablespoon of the dry ingredients.
Fold in the dry ingredients, then finally fold in the buttermilk and vinegar until you have a smooth cake batter. The vinegar will start to react with the bicarbonate of soda and cocoa powder immediately, so working quickly, spoon the cake batter into the cupcake cases, filling them no more than two thirds full.
Bake the cupcakes for 20-25 minutes or until well risen and they spring back when lightly pressed. Transfer to a wire rack and allow to cool completely before decorating.
FOR THE CHOCOLATE BUTTERCREAM:
Using either a free standing mixer or hand mixer, cream the soft butter and half the sieved icing sugar together for a few minutes until light and fluffy. Add the remaining icing sugar, sieved cocoa powder, vanilla extract, the black colouring paste and 1 tablespoon of whole milk and beat on a high speed for at least 5 minutes until the mixture is very light and fluffy.
TO DECORATE THE CUPCAKES:

Mix the strawberry jam with a scant 1/4 Teaspoon of Red Food coouring paste.
Once the cupcakes are completely cold, remove a piece of cake from the middle of the cupcake using an apple corer or a sharp knife. Fill the hole with the strawberry jam.
Fill a piping bag fitted with a 1M open star nozzle with the buttercream. Pipe the buttercream on the cupcakes, top with a jelly eyeball sweet and using a spoon or small piping bag, drizzle any remaining strawberry jam down the eyes to create a dripping blood effect.



Notes
I used SugarFlair Licqorice colour paste for the sponge and buttercream - you will need two 15ml tubs for this recipe!
Nutrition Information:
Yield:

24
Serving Size:

1
Amount Per Serving:
Calories:

257
Total Fat:

13g
Saturated Fat:

8g
Trans Fat:

0g
Unsaturated Fat:

4g
Cholesterol:

48mg
Sodium:

122mg
Carbohydrates:

33g
Net Carbohydrates:

0g
Fiber:

1g
Sugar:

17g
Sugar Alcohols:

0g
Protein:

3g