This Halloween Chocolate Drip Cake is a perfect showstopping cake for a Halloween party – four layers of rich Devil's Chocolate sponge cake with vanilla buttercream and topped with a shiny chocolate ganache glaze. It can't fail to wow your trick or treaters!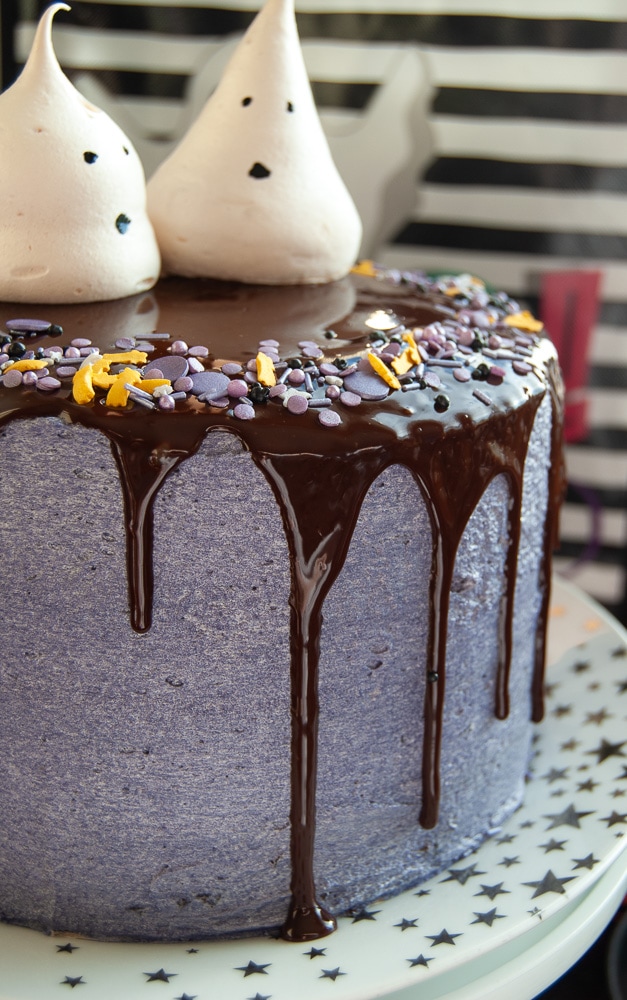 I didn't plan to post the recipe for this cake, but it turned out so well I couldn't resist sharing it with you for Halloween week!
My sister threw a Halloween party this weekend for the family and asked if someone would bring a cake.
I was actually thinking of making a Halloween cake a couple of weeks ago, but I had felt so rotten with a bad cold virus thingy I just didn't have time.
So yesterday morning I raided my baking cupboard and pulled out my food colouring paste set. I was thinking of going with a chocolate cake with bright orange buttercream, but I had no orange colouring.
I couldn't be bothered mixing colours, so I decided to go with purple.
I'm glad I did because it gave me an opportunity to use these gorgeous Wizard sprinkles I found in Lakeland a few months ago! I think they look suitably Halloween-ish, don't you?
I've made meringue ghosts every Halloween since my boys were very little. It's kind of become a tradition in my house.
I love making them different sizes and shapes – they look so cute! So obviously, I had to adorn my cake with a couple of spooky ghosts!
If you're wondering how I made the meringue ghosts, I'll be sharing my recipe tomorrow!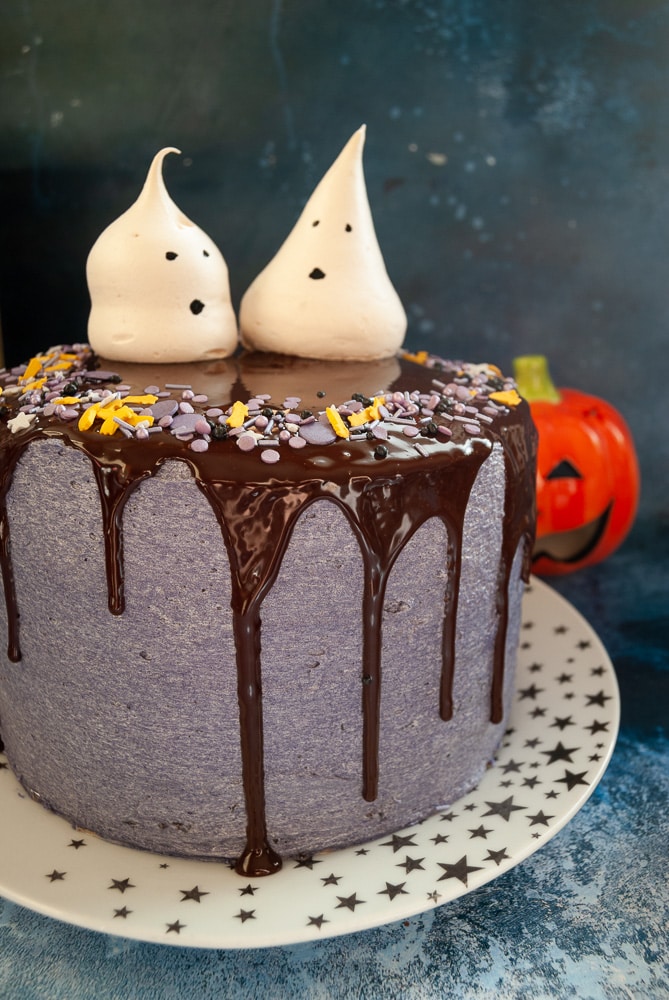 Chocolate drip cakes become huge around 2016. I have to admit I was to scared to attempt one for a long time, but I now know that there was absolutely no need to be scared – it's so easy to do!
I think it looks so stunning and turns any cake into a real showstopper.
want to see the first drip cake I ever made? Check out my chocolate cherry drip cake
how to make a halloween chocolate drip cake
Make 4 layers of

Chocolate

Devil's Food Cake – you'll find the ingredient amounts and detailed instructions in the recipe card at the bottom of the post. The cake is rich, dark and moist. I've adapted the recipe from Nigella Lawson's Devil's Food Cake.
Please note that if you don't have a huge oven like me, you will have to halve the ingredient amounts for the sponges and bake two at a time.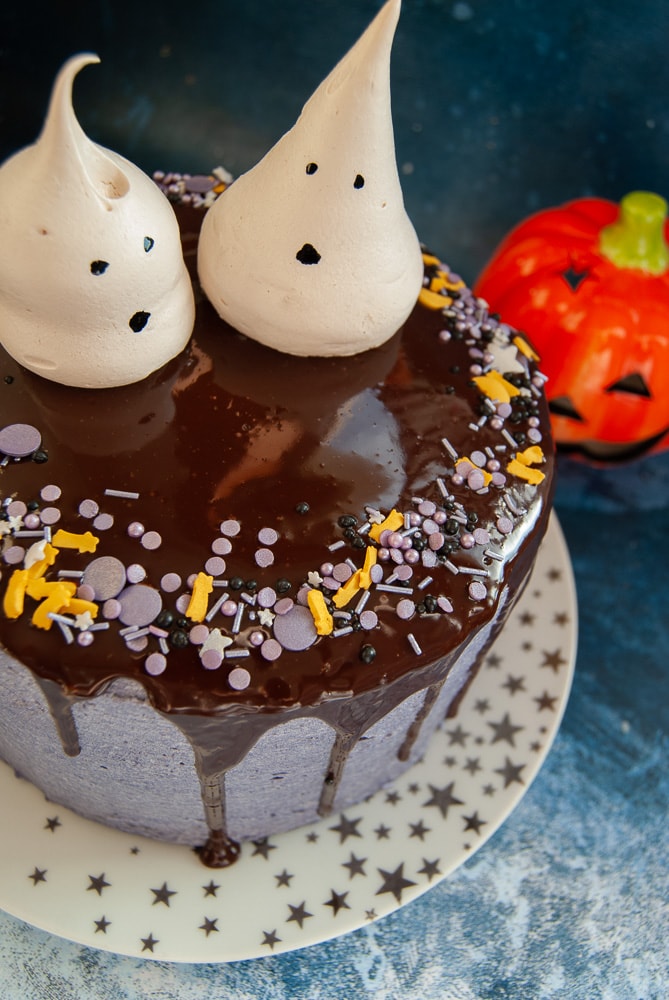 Sandwich the cold cakes together with purple tinted vanilla buttercream, then apply a crumb coat of buttercream to the cake and pop the cake in the fridge for a little while to firm up.
Remove the cake from the fridge, apply a thin second coat of buttercream then put it back in the fridge while you get on with the chocolate ganache drip.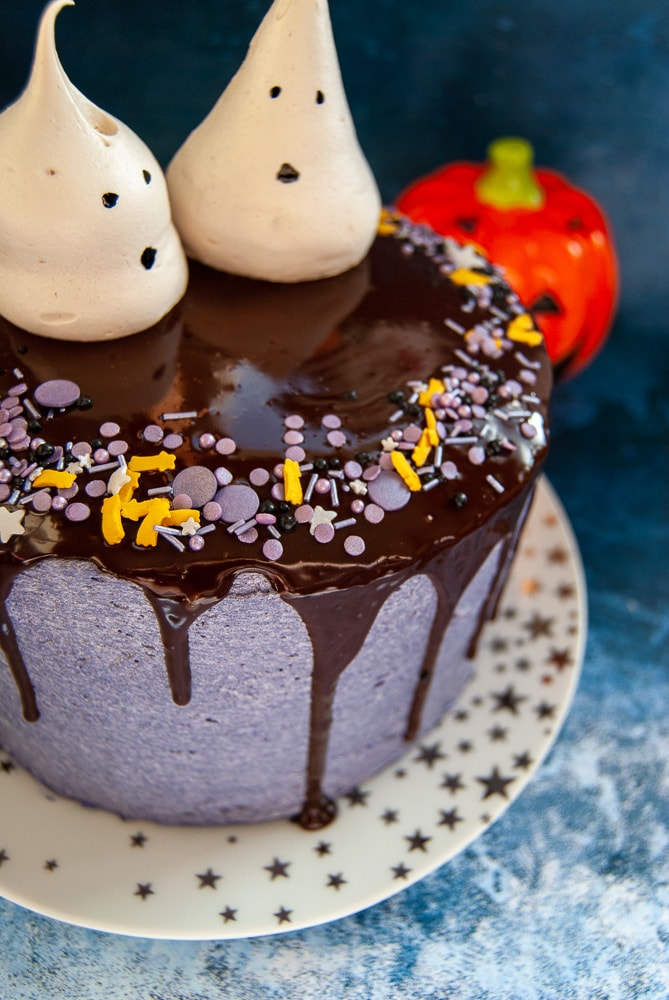 Make the chocolate ganache by adding finely chopped dark chocolate to hot double (heavy) cream. For an ultra shiny ganache, stir in some liquid glucose.
Pour the warm ganache into a small jug, remove the cake from the fridge and pour the ganache all around the edges of the cake, allowing the drips to form naturally. Pour the remaining ganache over the top of the cake, smoothing it out with a small spatula. I don't mess with it too much at all – I let the drips fall where they want to!
Decorate the cake with sprinkles and whatever Halloween sweets you like – let your imagination run wild!
more halloween baking inspiration….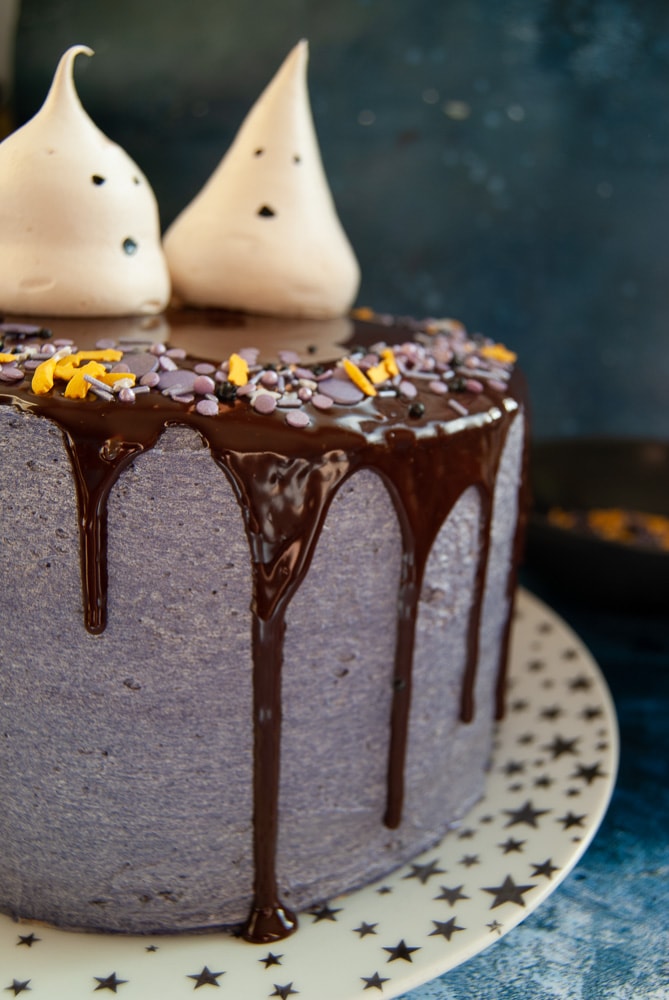 Did you make this Halloween Drip Cake? I would love to see your take on it! Tag me on Instagram #sweetsavouryblog
Let me know what you thought of the recipe by leaving a comment below and rate the recipe out of 5 by clicking on the stars in the recipe card. Thanks!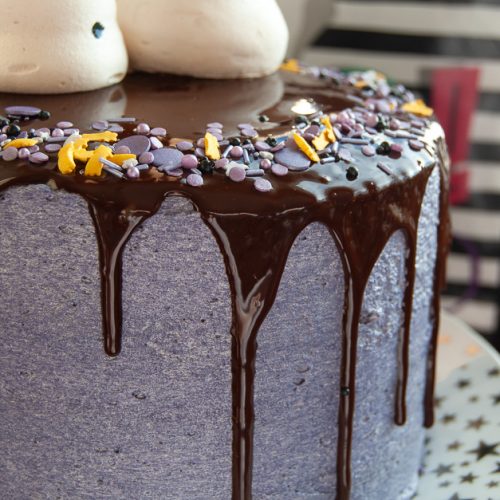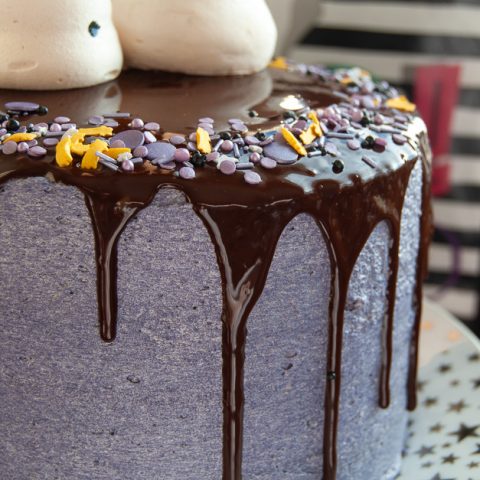 Halloween Chocolate Drip Cake
Total Time:
1 hour
30 minutes
Ingredients
FOR THE CHOCOLATE SPONGES
500ml Boiling Water
200G Dark Muscavado Sugar
100G Good Quality Cocoa Powder, sifted (Not Drinking Chocolate)
250G Soft Butter
300G Caster Sugar
450G Plain Flour
1 Teaspoon Baking Powder
1 Teaspoon Bicarbonate of Soda
1/2 Teaspoon Fine Salt
1 Tablespoon Instant Espresso Powder
4 Teaspoons Vanilla Extract or Bean Paste
4 Large Eggs, beaten
FOR THE BUTTERCREAM
500G Icing Sugar, Sieved
250G Unsalted Butter, softened
1 Teaspoon Vanilla Extract 
1-2 Tablespoons Whole Milk
1/2-1 Teaspoon Purple Food Colouring Paste/Gel
FOR THE CHOCOLATE DRIP
100G Good Quality Dark Chocolate, chopped into small pieces 
100ml Double (Heavy) Cream
2 Tablespoons Liquid Glucose
FOR DECORATION
Halloween Sprinkles or Sweets
Meringue Ghosts, optional
Instructions
1. Preheat the oven to 180C/160Fan/350F. Grease and Line 4 20cm round loose bottomed sandwich tins with baking parchment.
2. Place the dark brown sugar and the cocoa powder in a large jug or bowl and pour over the boiling water. Whisk well until the mixture is smooth and lump free.
3. Sift the Flour, baking powder, bicarbonate of soda, salt and espresso powder into a separate bowl. Set aside.
4. Cream the butter and caster sugar together until light and fluffy. Slowly add the beaten eggs, a little at a time until they are well incorporated. Stir in the vanilla extract.
5. Lightly fold in the dry ingredients until the mixture is well combined. Don't overmix. The batter will be quite liquid.
6. Divide the cake batter between the 4 tins (if you're baking them all at once, see my notes below if you would prefer to bake them two at a time) and bake for about 30 minutes or until the cakes have risen and a cake tester inserted in the middle of the cake come out clean with no wet crumbs sticking to it. The cakes should also spring back when lightly pressed.
FOR THE BUTTERCREAM
Cream together the butter and half the icing sugar for about 5 minutes untill lightly and fluffy. Add the remaing Icing sugar, the vanilla extract, one tablespoon of milk and the purple food colour paste. Beat on high speed for several minutes until very light and fluffy, adding the extra tablespoon of milk if the buttercream is too thick.

HOW TO MAKE THE CHOCOLATE DRIP AND DECORATE THE CAKE
To decorate the cake, place one sponge on a serving plate or 20cm round cake board. Spread with some of the buttercream icing. Repeat with the other sponges. Apply a crumb coat of icing to the whole cake, smoothing it out with a cake scraper. Place the cake in the fridge for about 30 minutes or so to firm up.
Remove the cake from the fridge and apply a second thin layer of buttercream, smoothing it out with a cake scraper. Pop the cake back in the fridge for about 30-60 minutes to firm up.
While the cake is in the fridge, make the chocolate drip. Heat the cream and when it's almost coming to the boil, remove quickly from the heat. Add the chopped chocolate to the cream and stir to melt (but don't stir too much because you'll lose some of the shine on the ganache.) Stir in the liquid glucose and transfer to a small jug. I used to use a piping bag for doing chocolate drips, but I find you get much better control using a jug.
Remove the cake from the fridge and place on a cake turntable (you don't have to do this but it makes your life much easier!) Pour the warm chocolate ganache all over the edges of the cake, turning the turntable at the same time. When the edges of the cake are done, pour the rest of the ganache over the top of the cake, spreading it out with a small spatula. I tend to let the drips fall naturally! There are some great tutorials on Youtube that show you how to create the perfect chocolate drip.
Decorate with your choice of Halloween sprinkles or sweets. Let your imagination run wild!
Notes
Obviously if you don't fancy a purple cake then you can go with whatever colour you fancy - Green or Orange would be perfect for Halloween!
Let your imagination run riot with the decoration if you want to do something different - there are tons of Halloween sweets out there to choose from.
Nutrition Information:
Yield:

20
Serving Size:

1
Amount Per Serving:
Calories:

560
Total Fat:

24g
Saturated Fat:

14g
Trans Fat:

0g
Unsaturated Fat:

8g
Cholesterol:

92mg
Sodium:

205mg
Carbohydrates:

82g
Net Carbohydrates:

0g
Fiber:

3g
Sugar:

58g
Sugar Alcohols:

0g
Protein:

6g