This beautiful, vibrant blood orange curd is gorgeous spread over hot crumpets or toast!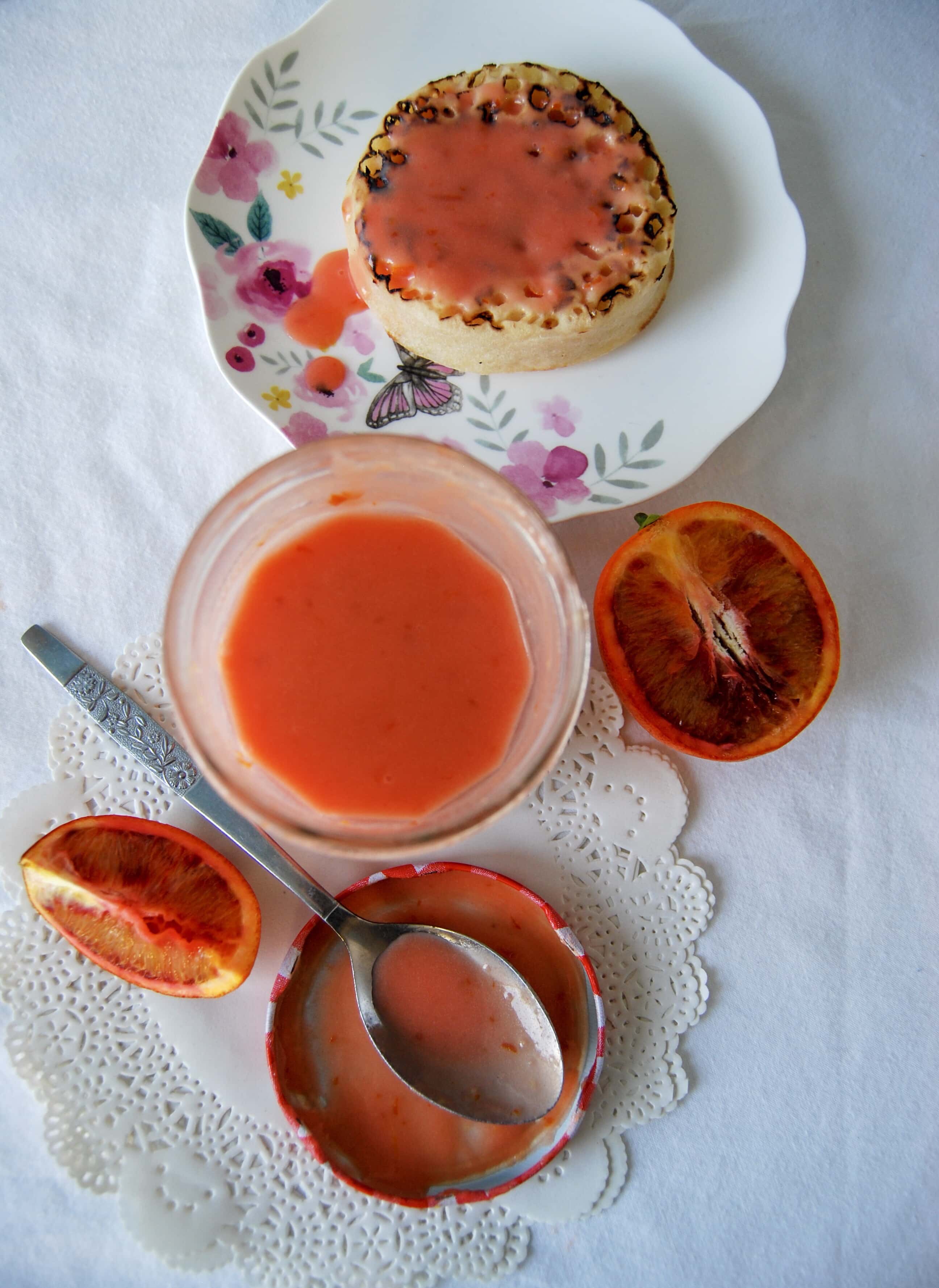 My favourite Winter fruit has to be blood oranges. Their beautiful ruby colour draws me in, but I also love the taste – they have a slightly sour edge that is not dissimilar to pink grapefruit.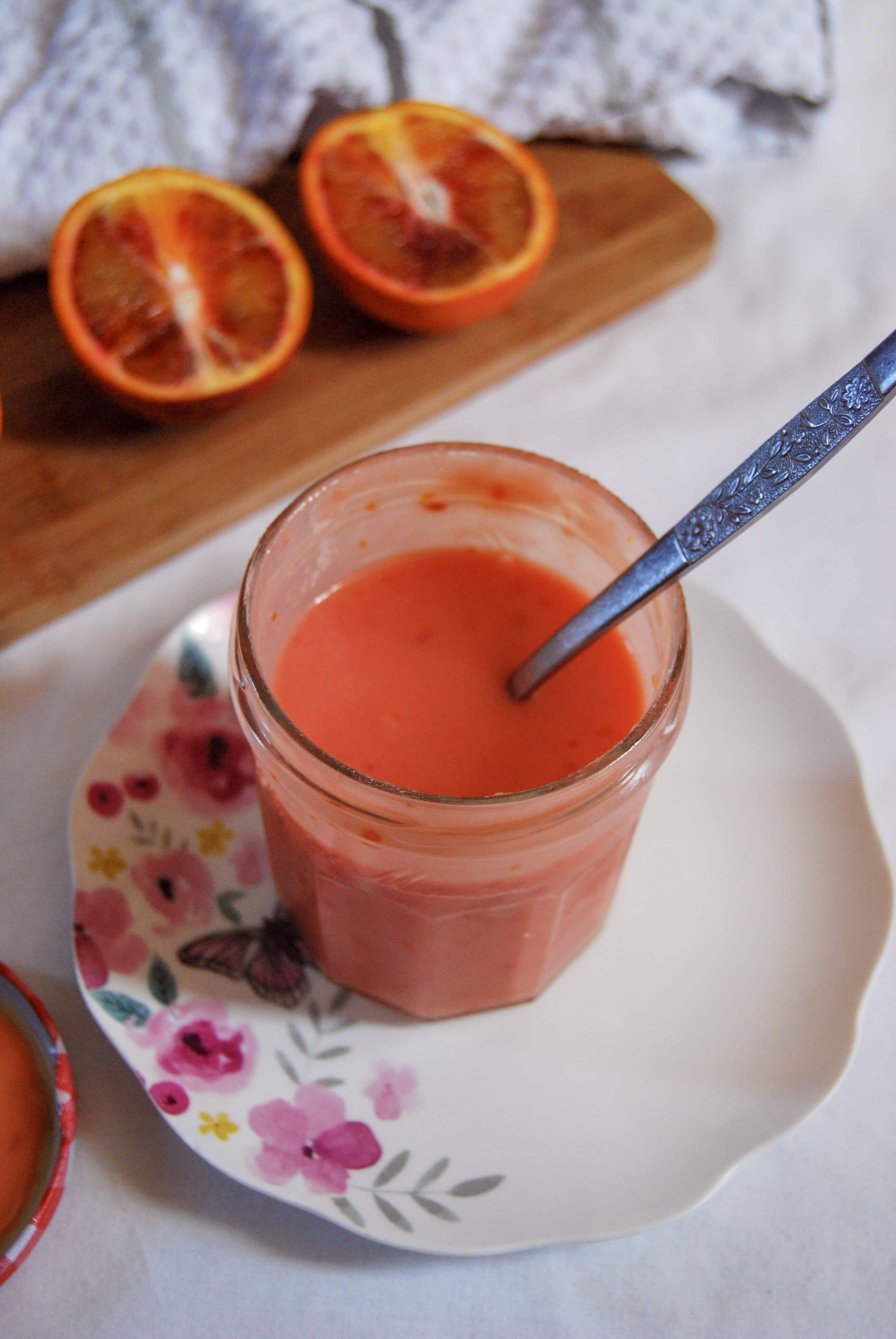 They are especially lovely in fruit salads. Or simply on their own with some Greek yoghurt and a drizzling of honey.
The vibrancy of your curd will very much depend on the colour of your blood oranges, so please don't be sad if your curd turns out paler than you anticipated.
If you manage to get your hands on some really gorgeous, crimson blood oranges then please…do yourself a favour and make some curd! Your morning toast/pancake/crumpet/scone will thank you for it.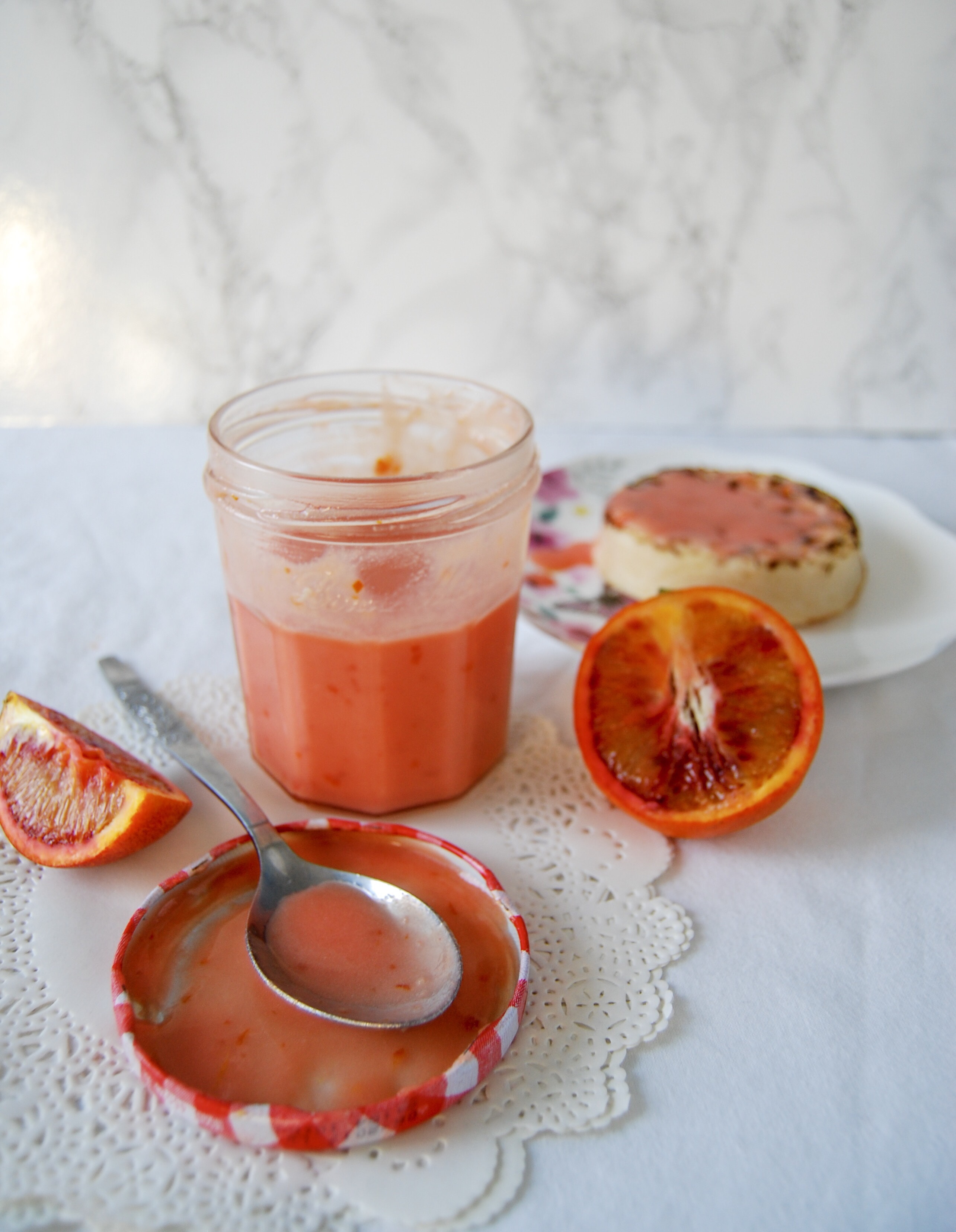 This recipe is super easy, I promise. No double boiling or straining required!
How many jars of curd will this recipe make?
This recipe will give you two medium (385ml) jars of curd. I don't recommend making bigger batches of curd simply because it doesn't have the same keeping quality as other preserves, like jam for instance.
How long will the curd keep for?
The curd will keep well for up to one week in the fridge.
Do I need to sterilise the jars when making fruit curd?
100% yes!
To sterilize the jars, all I do is wash them (and the lids) in very hot soapy water. Give them a good scrub, rinse them, shake off the excess water and place them in a very low oven (110C) to dry. Alternatively, you can put them in the dishwasher, then dry them off in a low oven (110C).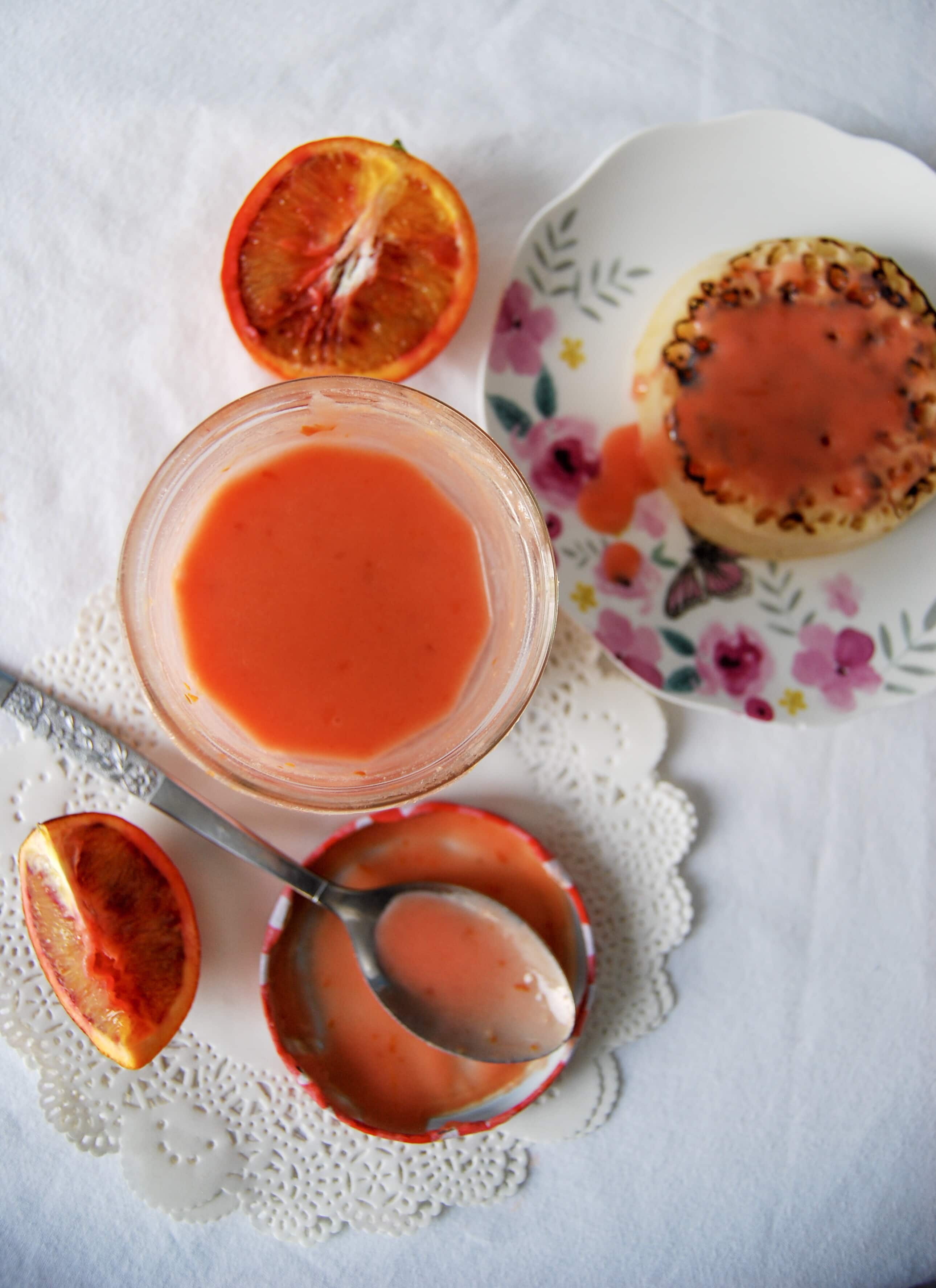 Looking for more blood orange recipes?
Blood orange blossom and pomegranate cake
Mini baked vanilla donuts with blood orange glaze
want to see More fruit curd recipes?
Pin this blood orange curd recipe for later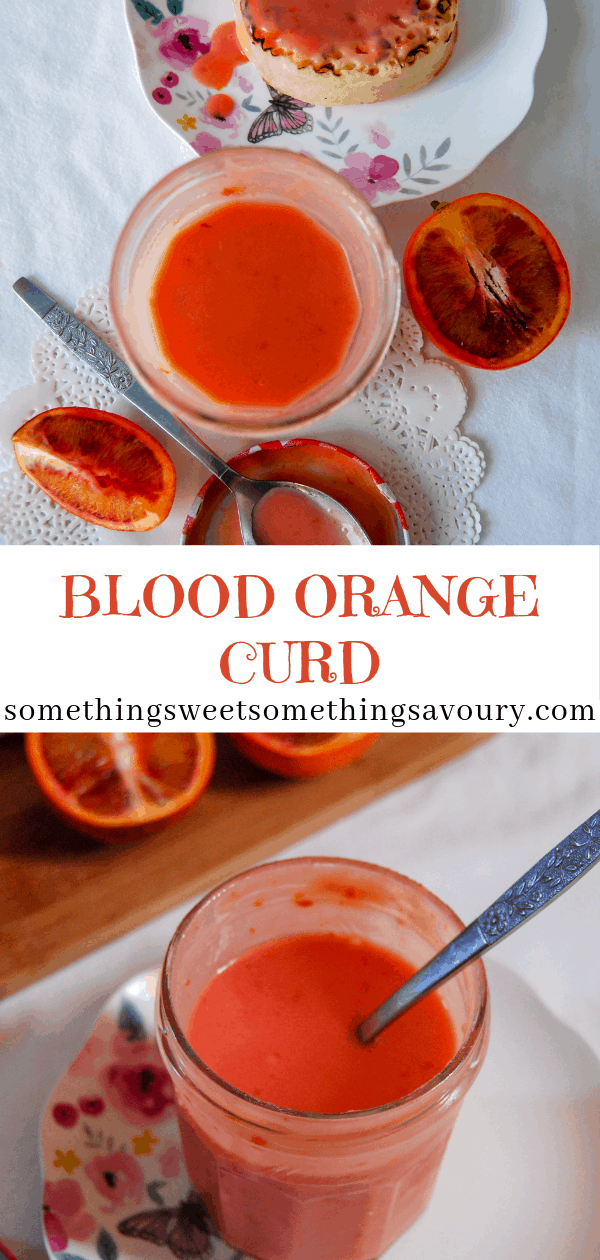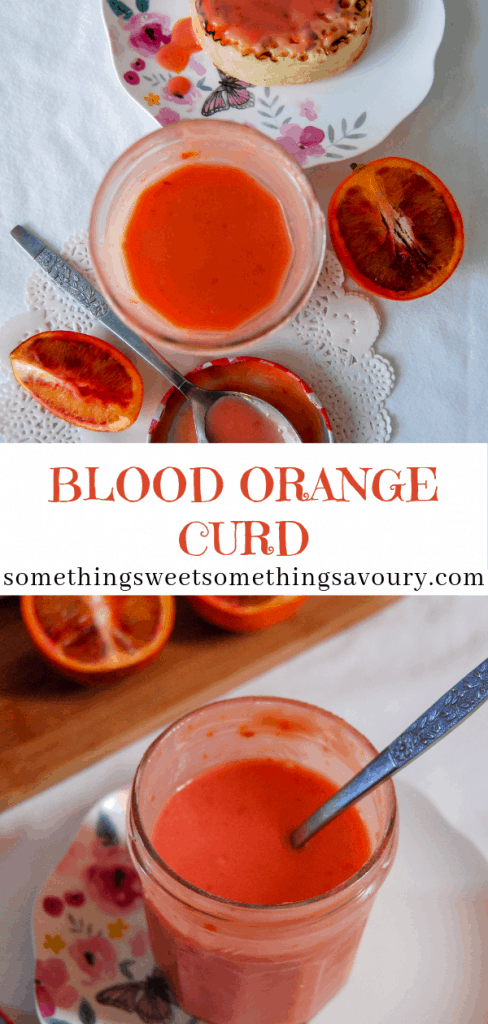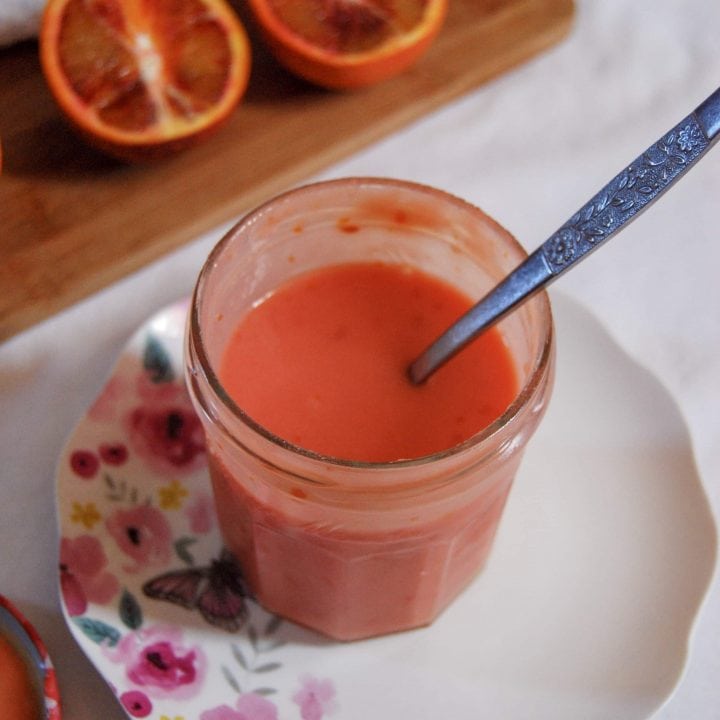 Blood Orange Curd
Yield:
Makes 2X385ml Jars
Spreading this vibrant, tangy blood orange curd on fresh bread, crumpets or whatever you feel like will lift your spirits on a cold, grey Winters morning.
Ingredients
The zest and juice of three blood oranges
200 g caster sugar
3 large eggs, beaten
115 g unsalted butter, cubed
Instructions
Zest the oranges and squeeze the juice from them. You should get around 200ml of juice from the 3 oranges.
Finely chop the zest.
Place the orange zest and juice, sugar and butter in a heavy bottomed saucepan. Melt over a low heat until all the butter has melted and everything is smooth.
Very slowly add the beaten egg, a little at a time, stirring the whole time. Make sure the heat isn't too high - the last thing you want is orange flavoured scrambled eggs!
Once all the egg has been added, continue to stir over a low-medium heat until the curd thickens. How long it takes depends on the heat of your hob - mine took about 8 minutes.
You'll know it's ready when the mixture easily coats the back of a spoon without running down.
At this stage, take the curd off the heat immediately and pour into your your sterilized jars. The curd will thicken a little more as it cools.
Nutrition Information:
Yield:

25
Serving Size:

1
Amount Per Serving:
Calories:

86
Total Fat:

4g
Saturated Fat:

3g
Trans Fat:

0g
Unsaturated Fat:

2g
Cholesterol:

32mg
Sodium:

15mg
Carbohydrates:

11g
Fiber:

0g
Sugar:

11g
Protein:

1g
Calories and Nutritional information are calculated by a third party application and should be used as a rough guide only.