Scared of cooking a whole turkey? Don't be – it's just like cooking a very large chicken!
My easy roast turkey recipe with herby citrus butter is delicious, juicy and flavoursome. Follow my tips for cooking a perfect roast turkey and you won't go wrong. Let's do this!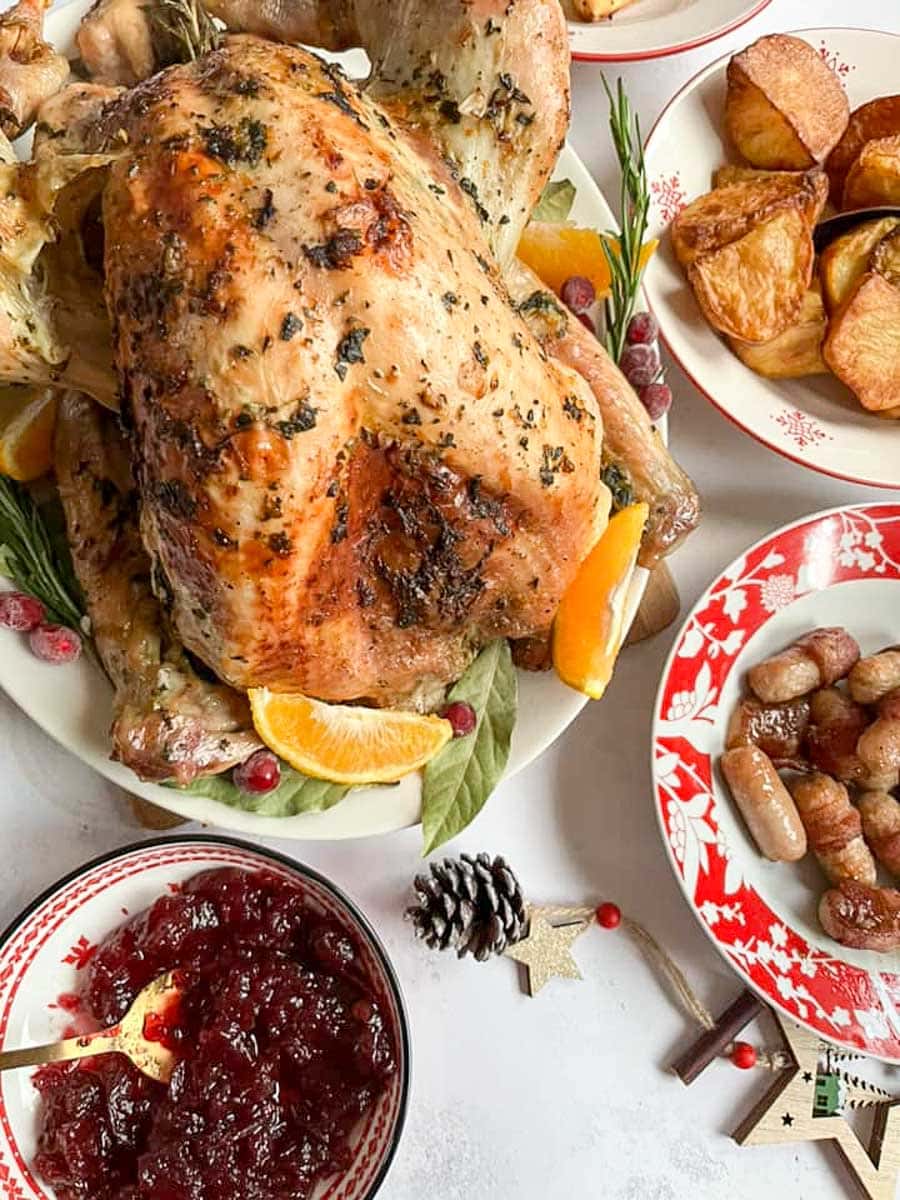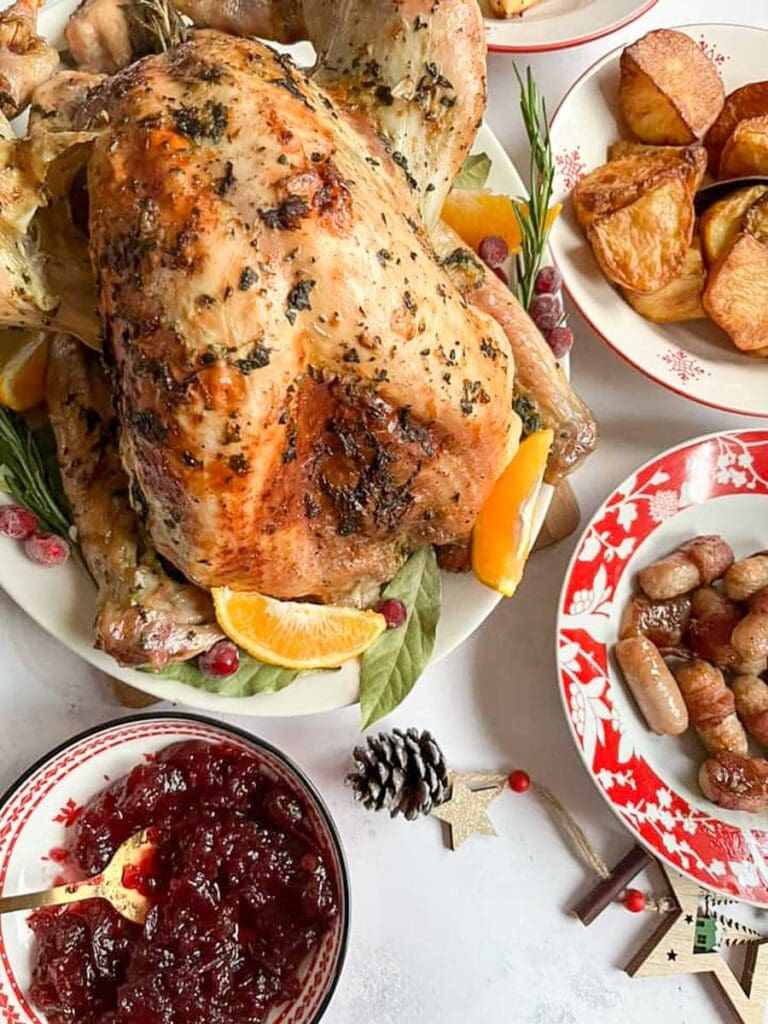 The thought of cooking a large turkey can be quite daunting. But I promise you, it's easy.
My recipe for perfect roast turkey is stress free!

For more festive food inspiration, check out my Christmas dinner mains archive!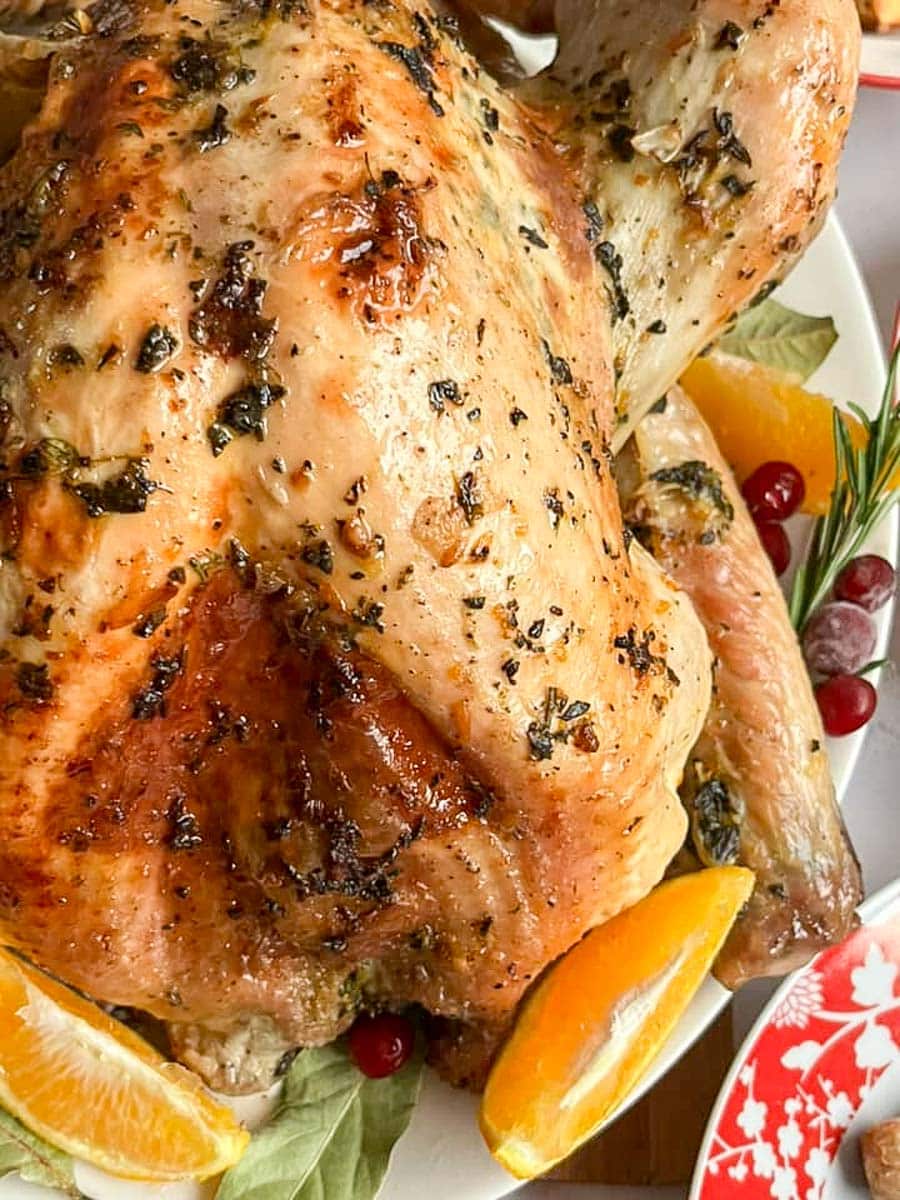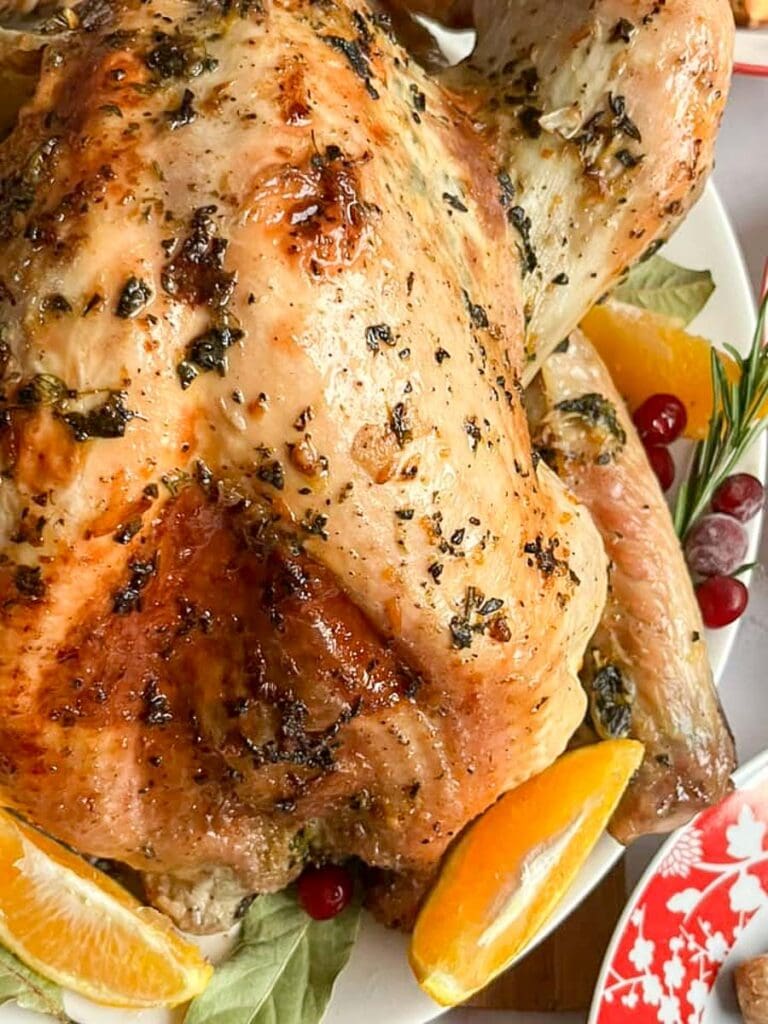 How to cook a perfect Roast turkey
Here's some tips and handy advice for cooking a whole turkey….
make sure the turkey is fully defrosted (if frozen)
If your turkey is frozen, you need to make sure you give yourself plenty of time to defrost it. It can take much longer than you think – a large turkey can take up to 4 whole days to fully defrost in the fridge!

You'l find more information about turkey defrosting times according to size and a handy calculator on The British Turkey information service website.

Remove the giblets before cooking the turkey.

Your turkey might come with a bag of giblets. You'll need to remove these from the inside of the turkey before you cook it.
Giblets are the turkey neck, liver, heart and kidneys. Depending on where you bought your turkey from, you may get all of the above or the turkey neck only.
Flavoured butter
I make a citrus herb butter to rub all over the turkey and under the skin. I was inspired to do this years ago watching a Jamie Oliver Christmas show.
This flavoured butter adds amazing flavour and helps keep the turkey moist. I have to admit i don't skimp on the butter. I use 200g – almost a whole pack! Well, it is a special occasion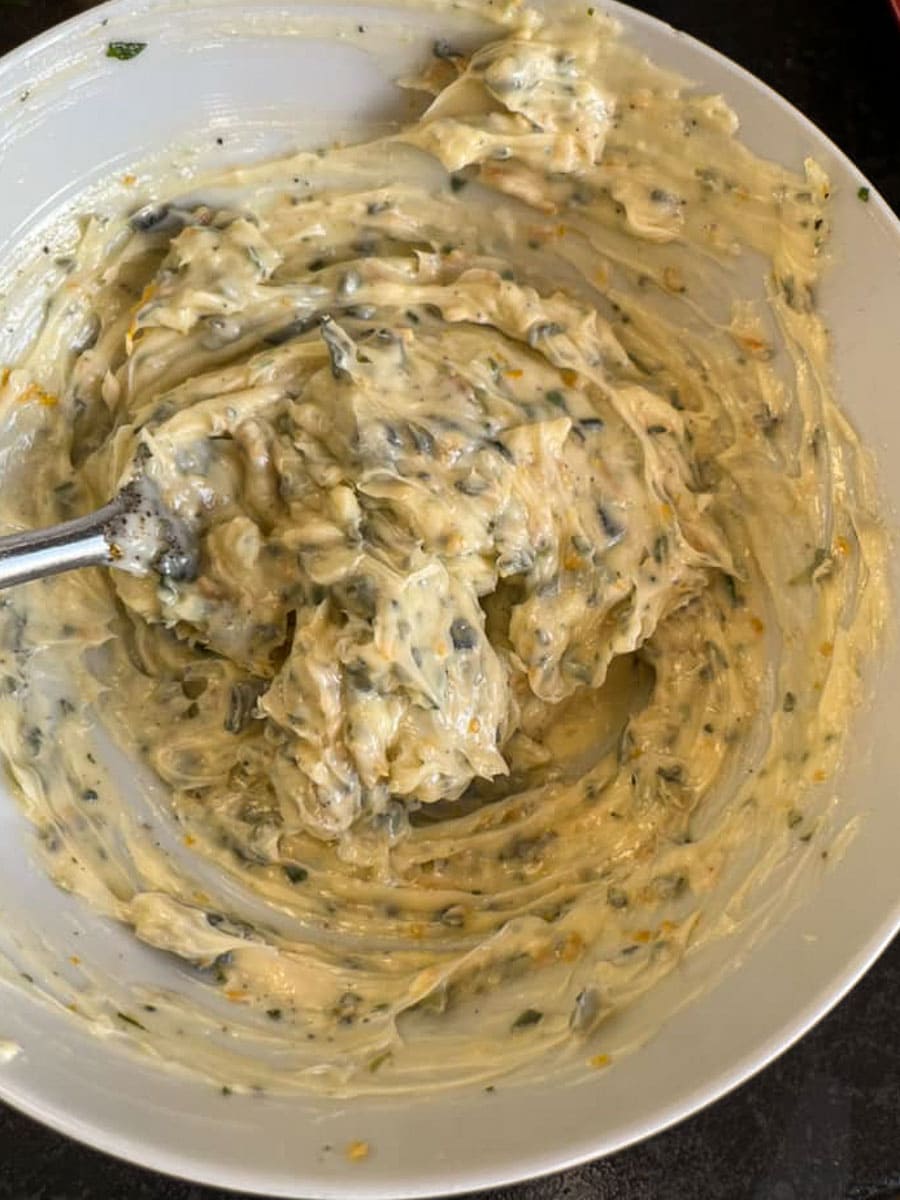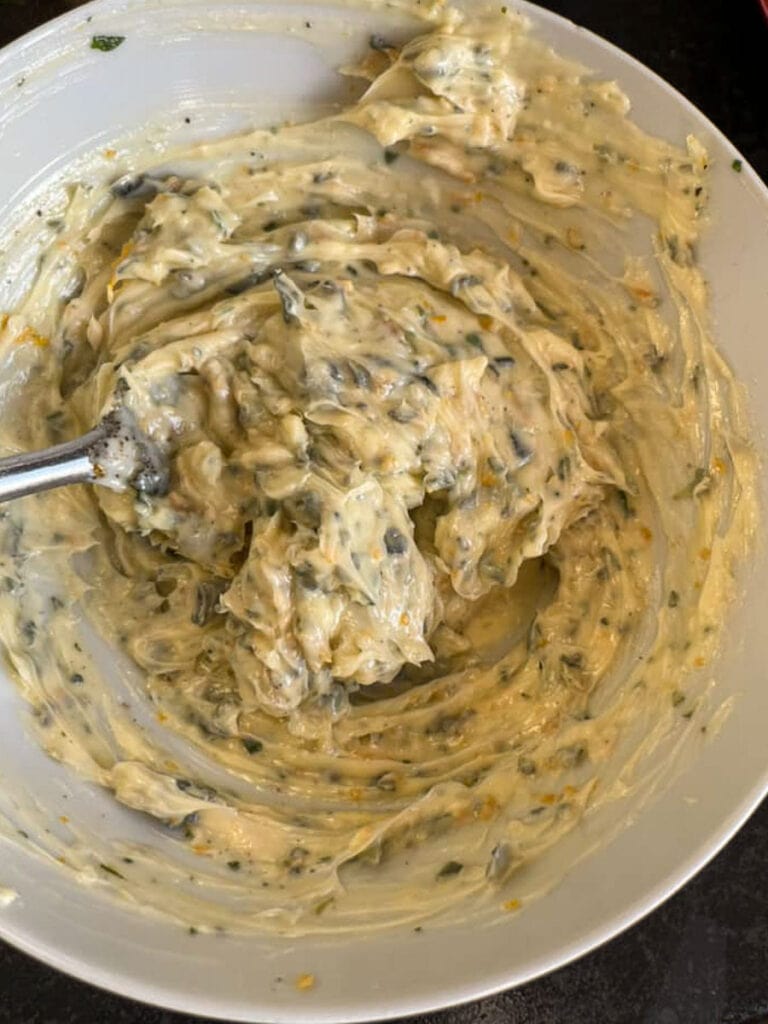 allow the turkey to come to room temperature
Remove the turkey from the fridge (about an hour, but no longer) before cooking to allow it to come to room temperature. It will cook much quicker if it's not fridge cold.

Not a fan of herbs? Keep it nice and simpLe

If your family isn't keen on fresh herbs or you don't want the extra expense, there's nothing wrong with a simple seasoning of freshly ground sea salt and pepper instead. But I do urge you to try the orange/lemon zest.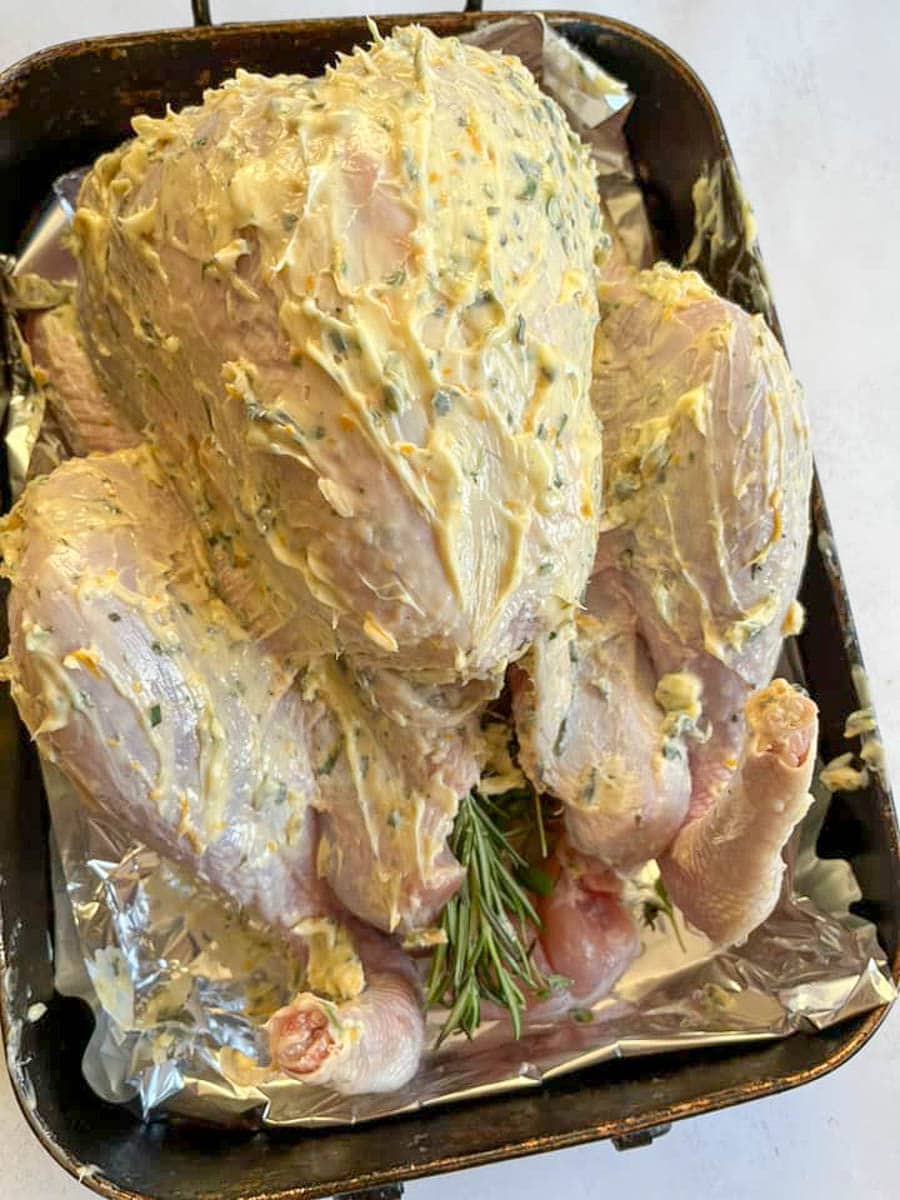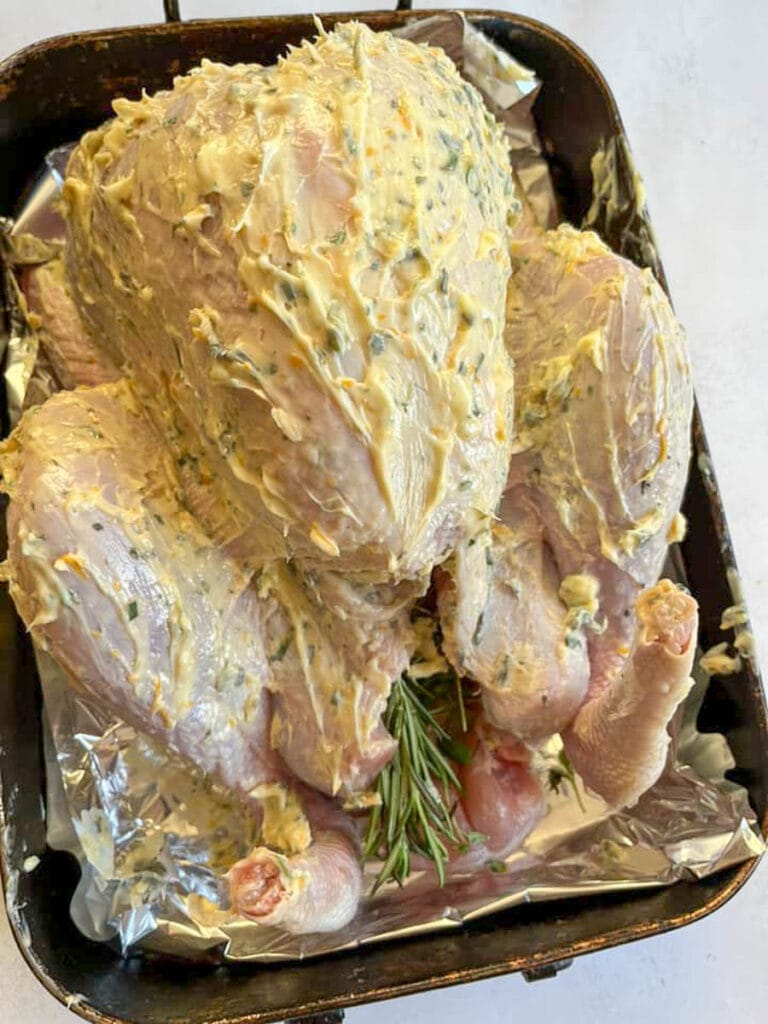 baste the turkey
Baste the turkey regularly. I know some people think this is extra faff, but I really believe it makes all the difference. Basting is simply spooning the turkey juices all over the turkey.
how often should i baste a turkey?
I tend to baste every 40 minutes or so. You need to be mindful not to open the oven door too often and for too long – you don't want all the heat escaping as this will affect the cooking time. This may sound obvious, but during basting I remove the turkey from the oven, shut the door, baste then pop it back in asap so the oven loses as little heat as possible.
Add some liquid to the bottom of the roasting tin
Add some water, stock or wine to the bottom of the tray – this helps create a little steam and stops the meat from turning dry.
Should i stuff the turkey?
Personally, I choose to cook my stuffing separately. It's much less risky that way. A stuffed turkey can take much longer to cook, running the risk of food poisoning.

This rolled turkey breast with apricot and cranberry stuffing is an exception to the rule and a perfect option for a smaller family.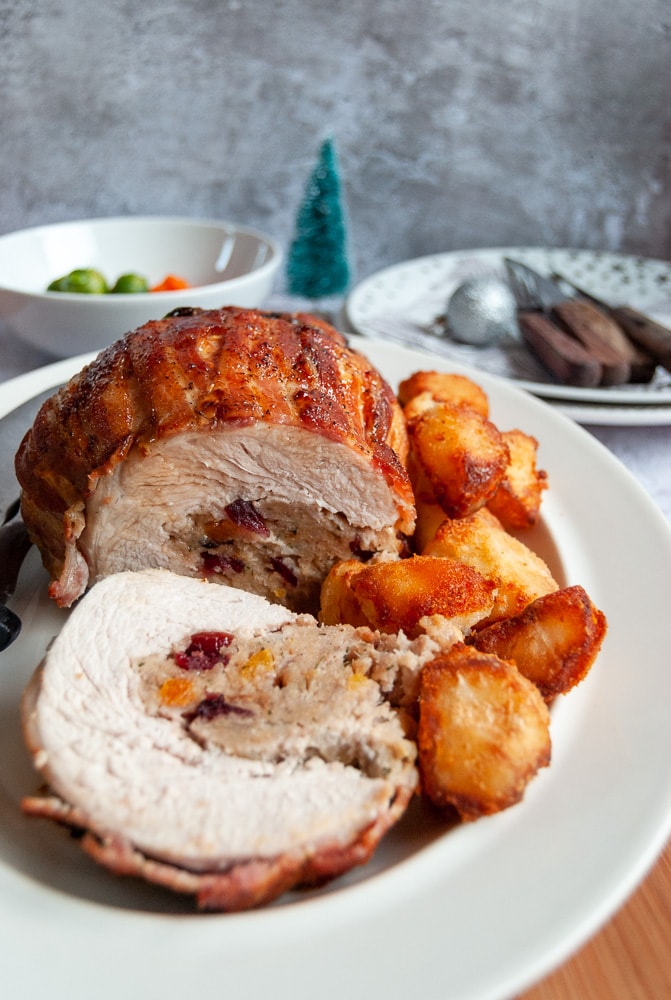 COOKING TEMPERATURE
180C (160Fan) is the best temperature for cooking a turkey. I used to whack the heat right up to 220C for the first 30 minutes to crisp up the skin, but these days I cover the turkey in buttered foil then remove it for the final hour to get the skin crispy and golden. I find this works a treat.

If the skin just isn't browning/crisping enough to your liking during the final half hour of cooking time, you could always turn the temperature up to 200C.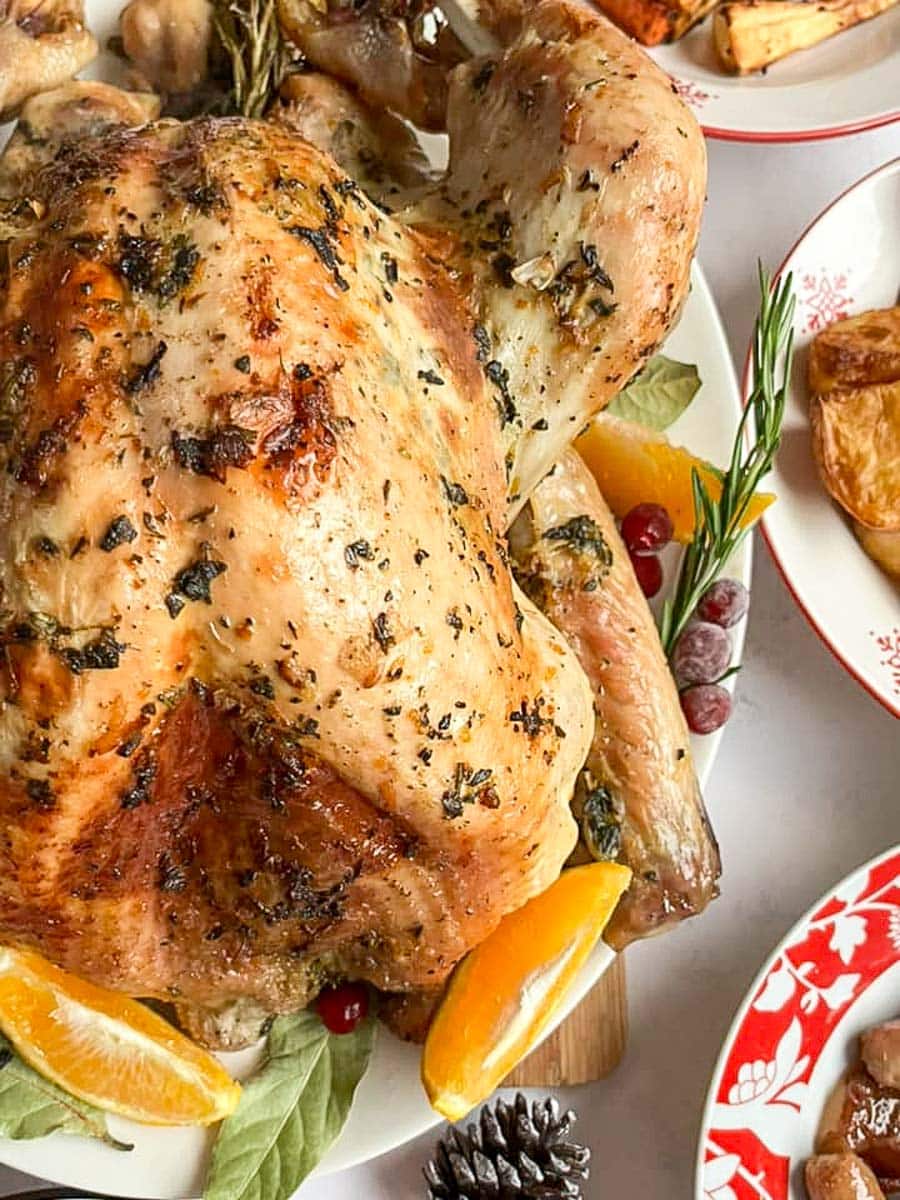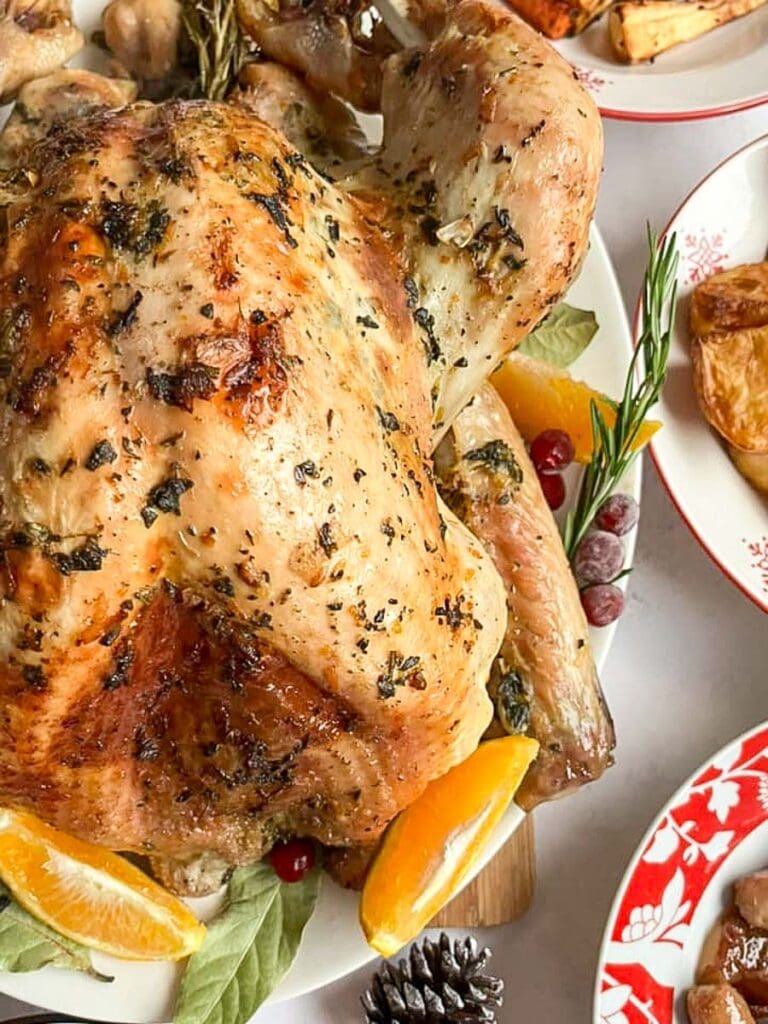 How lOng shOuld you roast a turkey for?
Cooking time depends on your own oven, the size of the turkey and what kind of turkey you have – for instance, a free range turkey will cook faster than a "standard" turkey.

Brining the turkey (see my post on how to brine a turkey crown) can also make it cook a little faster.
Always refer to the packet instructions, but if there aren't any the latest advice from the British Turkey information service is as follows:
For a bird over 4kg – 20 minutes per kilo PLUS an extra 90 minutes.

For a bird under 4kg – 20 minutes per kilo PLUS an extra 70 minutes.

How To tell If turkey Is CooKed
Using a meat thermometer is without the most reliable way to tell if a turkey is cooked. They are 100% worth the (small) investment. Insert the probe in the thickest part of the bird (usually the thigh or thickest part of the breast).
It should read at either:
70C for 2 minutes
75C for 30 seconds
A fully cooked turkey should be steaming hot with golden and crispy skin. The juices should run clear with no traces of pink or blood.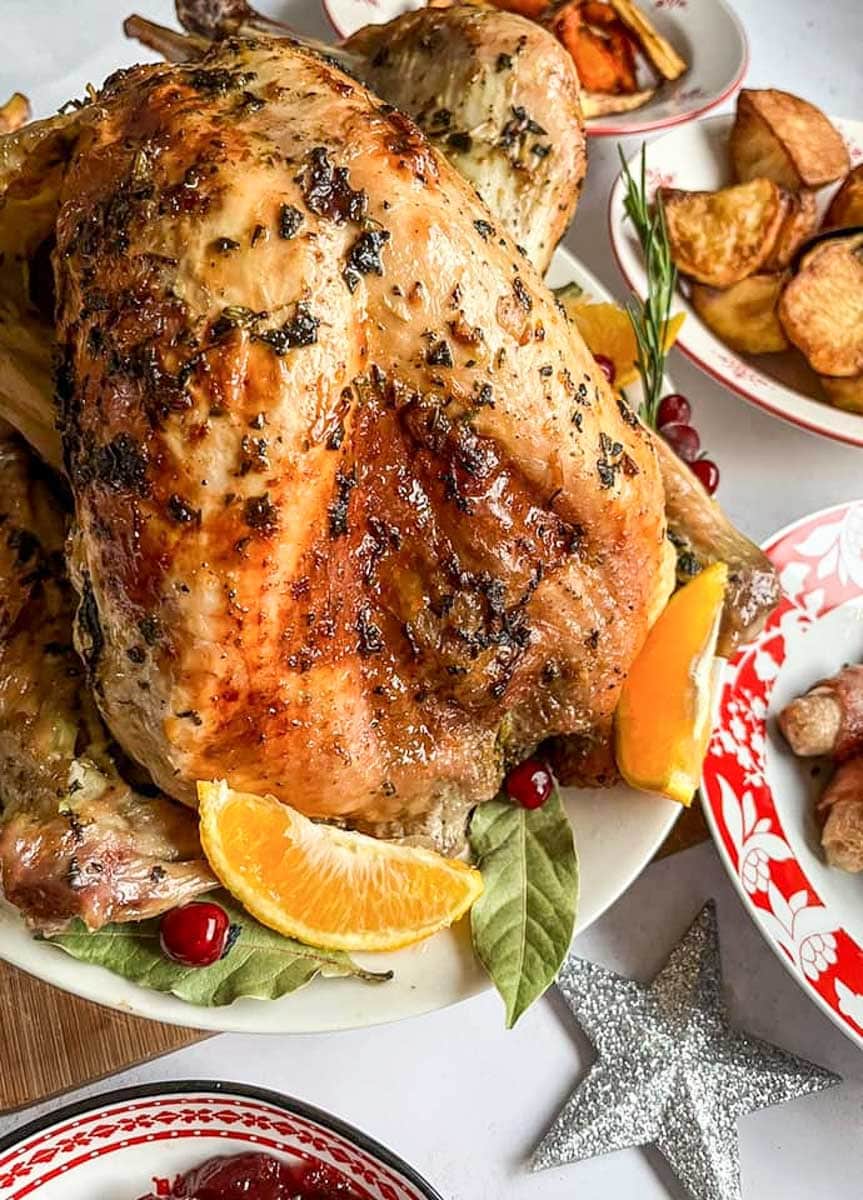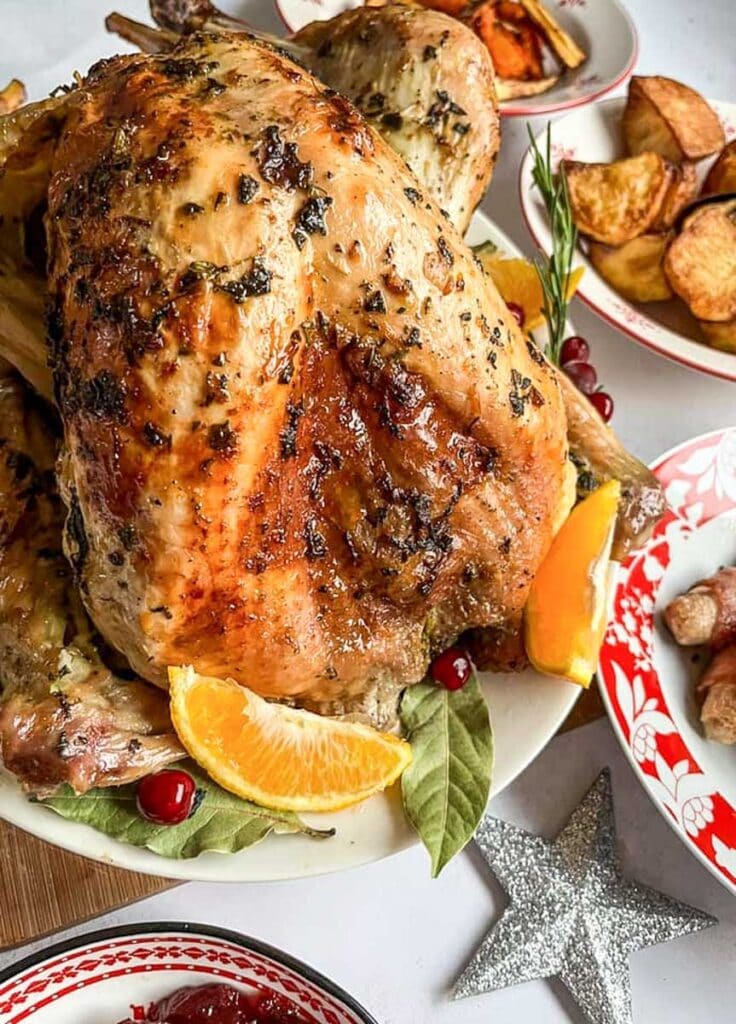 Rest the tuRkey
it's absolutely essential to rest the turkey after removing it from the oven (obviously after ensuring it is fully cooked!) This allows the juices to flow back into the turkey, which means tender, succulent, juicy meat.
Cover the cooked turkey with foil and allow to rest (not near an open window) for a minimum of 30 minutes and no longer than one hour. This extra time will give you oven space for your roast potatoes, pigs in blankets and stuffing.
For more recipes browse my Christmas side dishes collection!
How long can you keep TUrkey leftovers?
Any leftover turkey can be kept in the fridge for up to three days. Here's a few simple but delicious recipes to use them up:
Can turkey leftovers be fRozen?
Yes! if you don't want to be eating turkey over the next few days after Christmas (personally I LOVE a leftover turkey sandwich) you can freeze the meat for up to two months.
SToRing tuRkey lefTovers
Whether you're storing leftover turkey in the fridge or freezer, please make sure the turkey is completely cold and is stored away in the fridge/freezer within a couple of hours. Not doing this is risky – you don't want a bout of food poisoning over the festivities!

I divide the leftover turkey into roughly 350g portions for freezing – this makes life much easier when planning meals.
did you make this recipe?

I hope you loved it! let me know what you thought by leaving a comment and rate the recipe by clicking on the stars in the recipe card.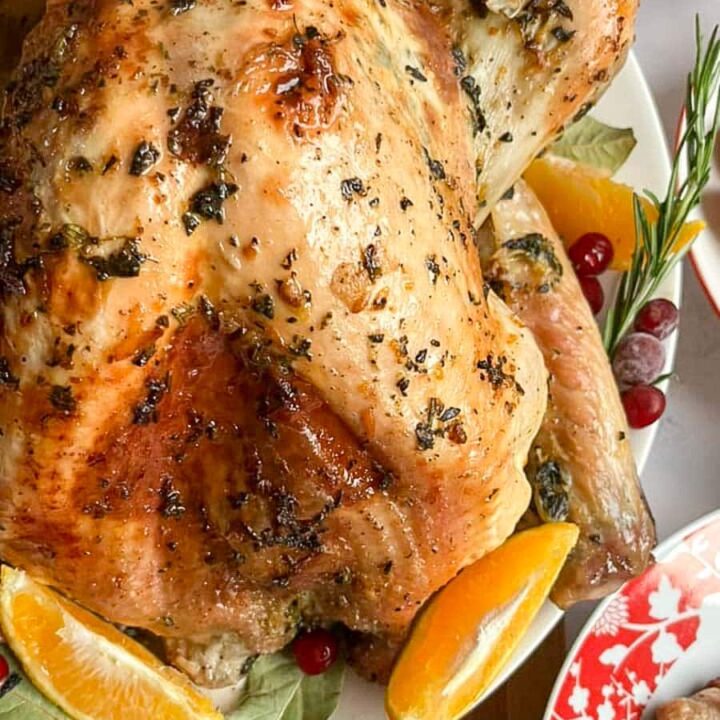 Easy Roast Turkey Recipe with citrus butter
Yield:
serves 10-12 people
Cook Time:
3 hours
10 minutes
Total Time:
3 hours
25 minutes
There's no need to stress over cooking a turkey at Christmas time. My easy roast turkey recipe with citrus butter is very simple and stress free to make.
Ingredients
5 kg whole turkey
200g soft butter
3 cloves of garlic, peeled and crushed (optional)
1 tablespoon freshly chopped rosemary leaves (or 1 teaspoon dried)
2 tablespoons freshly chopped sage leaves (or 2 teaspoons dried(
2 tablespoons freshly chopped thyme leaves (or 2 teaspoons dried)
finely grated zest of one large orange
finely grated zest of one large lemon
sea salt and freshly ground black pepper)
200ml wine, water or chicken stock
225g pack of streaky bacon (optional)
Instructions
Preheat the oven to 180C/160Fan/350F. If you haven't removed the turkey from the fridge yet, please do it now to allow the bird to come to room temperature.
To make the citrus herb butter, place the soft butter in a medium bowl and add the crushed garlic if using, orange and lemon zest, chopped fresh herbs and a pinch of salt/grinding of black pepper. Mix together until well combined.
Remove the giblets from the turkey cavity (if you haven't already). Place the turkey in a roasting tin. Pat the turkey dry with tea towels. Season the inside of the turkey then stuff with the zested lemon and oranges (cut them in halves or quarters).
Using your hands loosen the skin on the turkey around the neck. Turkey skin is pretty tough, but if you have long nails be careful not to puncture it. Carefully slide your fingers under the skin and very, very gently lift it away from the meat.
Place a good amount (about half) of the herb butter underneath the skin, pushing it slightly with your hands until the whole breast is covered with butter. Repeat on the other side. Rub the remaining butter all over the top of the turkey, including the legs and wings. Season the turkey with salt and pepper. If you're covering the turkey in bacon, place it on top, overlapping the slices. Cover the turkey loosely with a large buttered sheet of tin foil.
Place the turkey in the oven, pour in the water, stock or wine and roast for 20 minutes per kg PLUS 90 minutes. So a 5kg turkey would take approximately 190 minutes (3 hours and 10 minutes). Baste the turkey every 40 minutes or so. Remove the tin foil for the final hour of cooking to brown the skin. If the skin isn't browning or crisping, turn the heat up to 200C.
To check if the turkey is fully cooked, insert a knife into the thickest part of the meat (usually the thigh or thickest part of the breast.) The juices should run clear with no trace of pink or blood at all. A meat themometer (inserted into the thickest part of the breast near the bone) should read 70C for 2 minutes or 75C for 30 seconds.
When you're confident the turkey is fully cooked through, remove from the oven, cover with foil and allow to rest in a draught free place while you get on with the Christmas dinner sides.
Nutrition Information:
Yield:

24
Serving Size:

1
Amount Per Serving:
Calories:

514
Total Fat:

26g
Saturated Fat:

10g
Trans Fat:

1g
Unsaturated Fat:

14g
Cholesterol:

255mg
Sodium:

466mg
Carbohydrates:

3g
Fiber:

0g
Sugar:

1g
Protein:

63g
Calories and nutritional information are provided by a third party application and should be viewed as indicative figures only.