The best Marry me chicken recipe! A dreamy marriage of tender chicken in a creamy sun dried tomato, parmesan cheese sauce. Some claim it's so good it will make whoever you make it for fall in love with your cooking and ask for your hand in marriage!
**Disclaimer…..marriage proposal is not 100% guaranteed!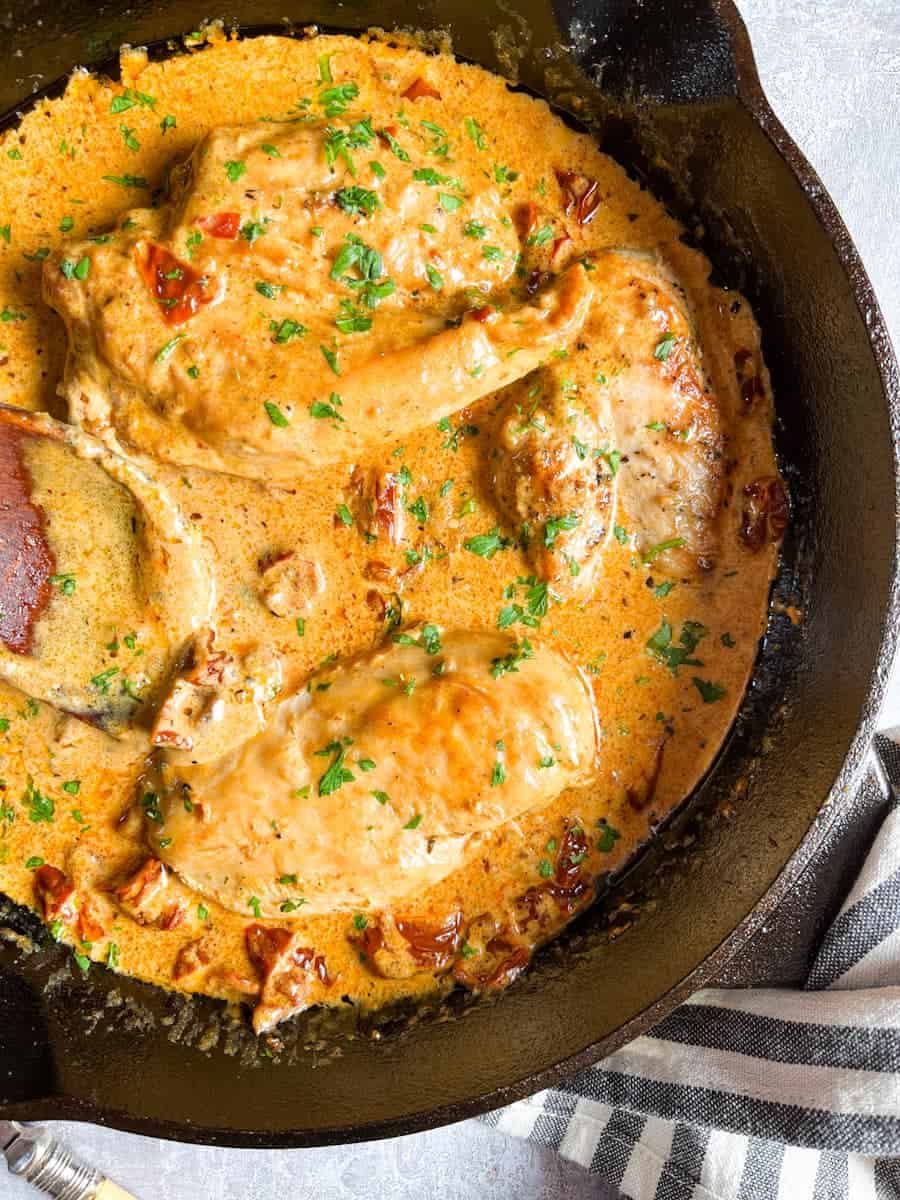 A viral recipe
If there's one dish known for melting hearts and winning people over, it's the irresistible "Marry me chicken."
This stunning dish combines sauteed, golden chicken breasts with a herby, creamy sun dried tomato sauce that's just so good, it might just inspire someone to pop the question!
Marry me chicken is all over the internet right now. It went viral on Tik Tok, Pinterest and Instagram. I've no idea where the original recipe came from. All I know is it makes a fabulous dinner that feels like a "treat" but is actually very simple to make.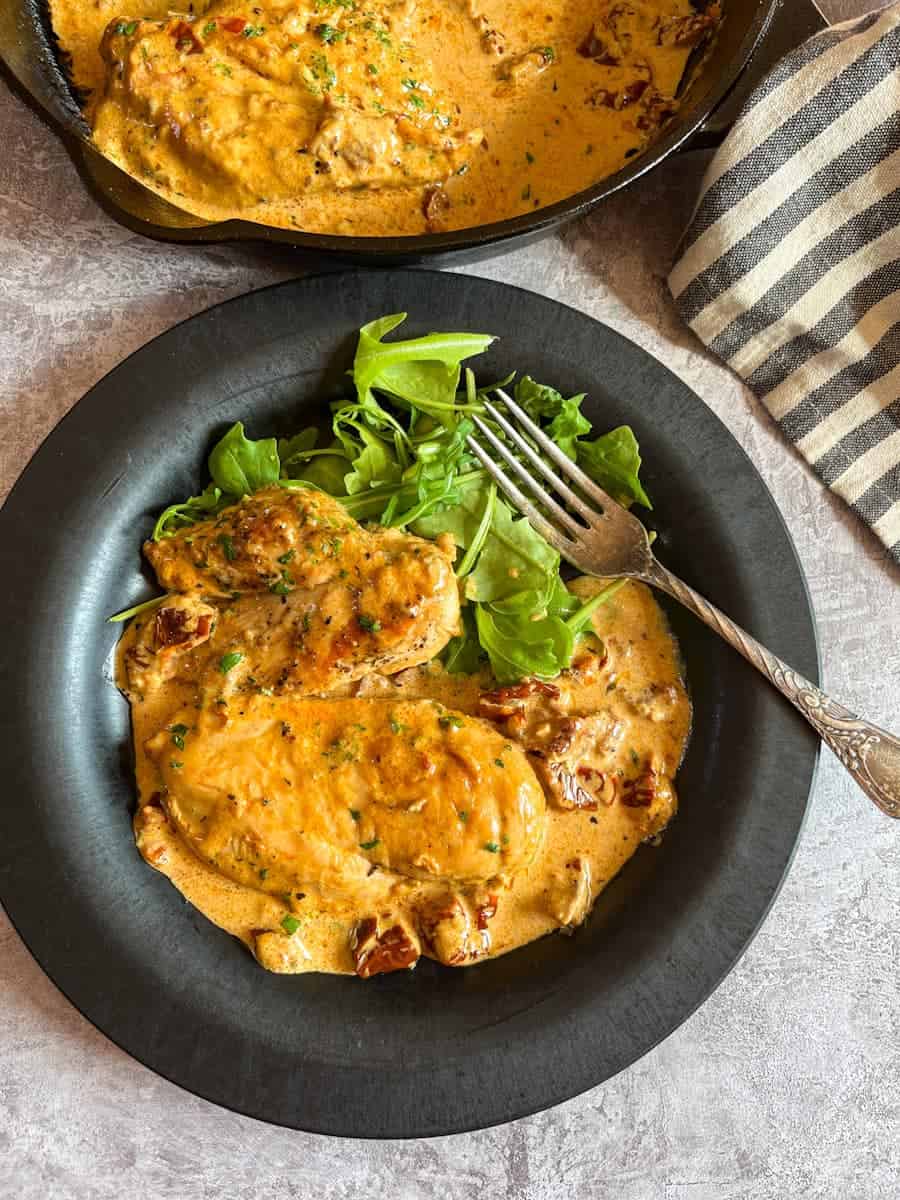 Isn't marry me chicken the same as Tuscan chicken?
They are very, very similar, but there are a few small differences. Tuscan chicken typically contains onions, peppers, white wine (although there's nothing to stop you from adding a little wine to deglaze the pan in this recipe) and spinach.
I think of Marry me chicken as a slightly simplified version of Tuscan chicken. It's essentially a creamy and flavourful chicken dish with paprika, sundried tomatoes, garlic and herbs.
Why is it called marry me chicken?
Apparently, it is because the flavours in this chicken dish are so delicious that they could potentially lead to a marriage proposal! How one feels about that entirely depends on their views on marriage….
No-one really seems to know where the name actually originated from, but it's probably just a playful and fun way to express how irresistibly tasty the recipe is. It could come from the fact that the "marriage" of the chicken, tomatoes, garlic and cream are a match made in heaven!
Now I can't promise you'll receive a marriage proposal after making this for the object of your affections…but what I can guarantee you is a relatively stress free, delicious meal that everyone will love.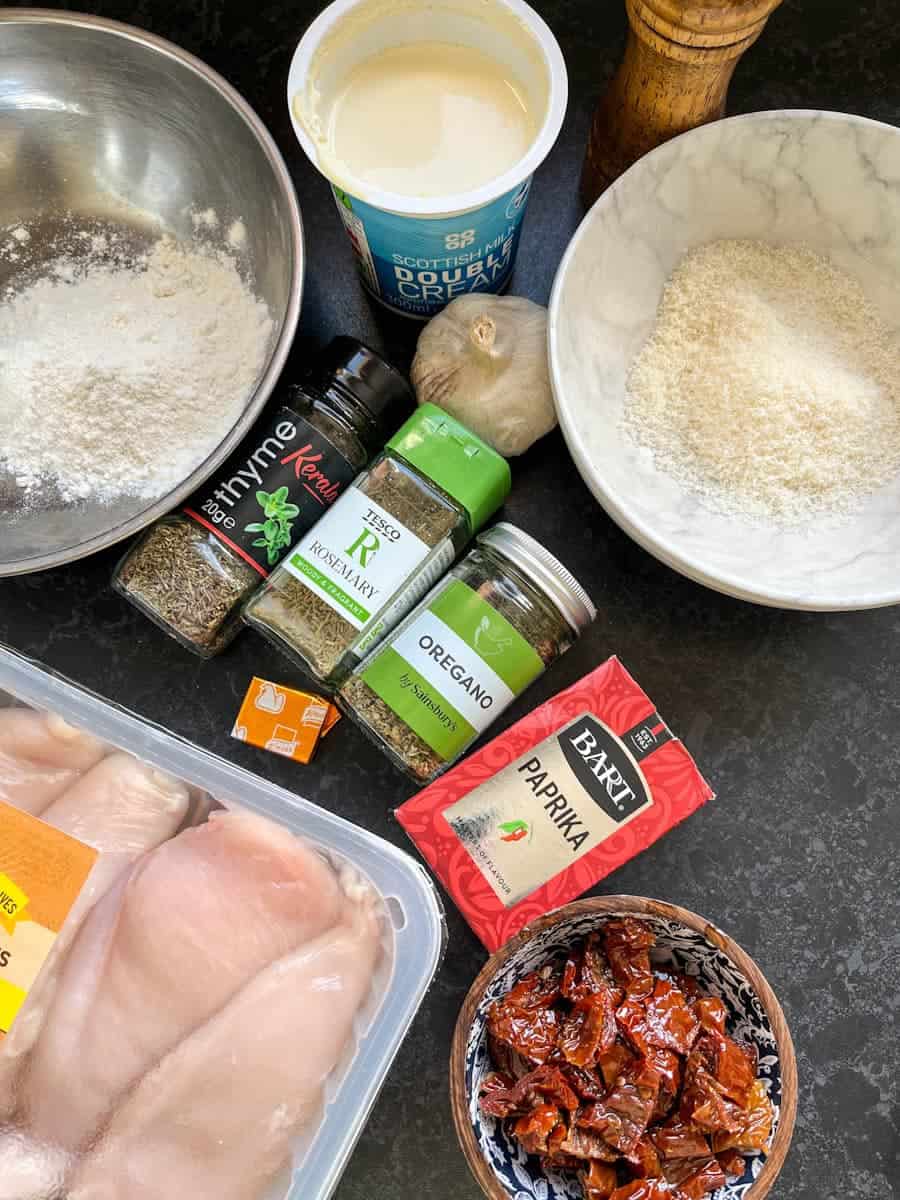 ingredient list
Scroll to the bottom of the post to find printable recipe card with ingredient amounts and detailed instructions
Skinless, boneless chicken breasts. If the chicken fillets are quite thick, I like to slice them in half through the middle to make thinner cutlets. This will cut down the cooking time quite dramatically.
Plain (all purpose) flour for dredging the chicken.
Dried herbs – oregano, rosemary and thyme. You'll combine these herbs with the flour to create a tasty coating for the chicken.
Salt and pepper, to season
Butter to enrich the sauce
Chicken stock – I use a cube or a stock pot, depending on what I have in the cupboard
Lemon juice adds a touch of zing to the sauce. Cream sauces can also be quite heavy and rich, so adding a spritz of lemon lightens it up a tad.
Mild Paprika (not smoked)
Chopped fresh parsley adds colour to the sauce, but if you don't have any it's not essential.
how to make marry me chicken
prepare the chicken
Dredge the chicken in seasoned flour and shake off any excess. You need a nice, thin, even coating. Transfer the chicken to a plate.
Melt the oil and butter together in a large saucepan or skillet over a medium-high heat.
Brown the chicken for about 5 minutes on each side until golden brown. It won't be cooked through yet, but will continue cooking in the sauce. Place the seared chicken on a plate.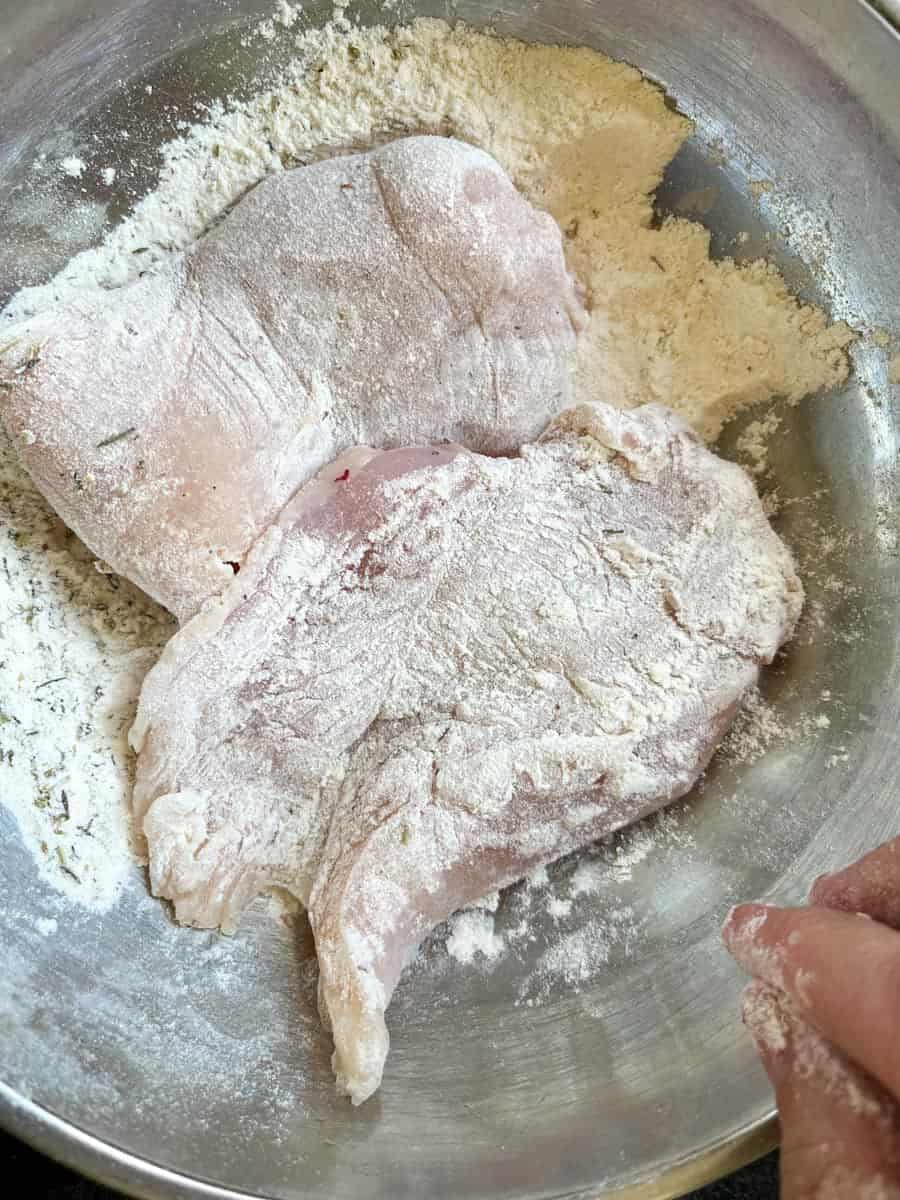 make the sauce
Add the crushed garlic to the pan and saute for a couple of minutes until you can smell it. Don't allow it too burn or turn too brown or it will make the sauce bitter.
Add the paprika, chicken stock and sun dried tomatoes and deglaze the pan with scraping the bottom with a wooden spoon. Simmer gently on a low-medium heat for a couple of minutes.
Stir in the grated parmesan cheese and cream. Season with salt and freshly ground black pepper, add some lemon juice, then return the chicken to the pan. Cover with a lid and simmer gently on a low heat for about 10 minutes, turning the chicken halfway through.
Check the chicken is cooked thoroughly by either using a meat thermometer (which should read 74C/165F) or cutting a chicken breast in half. It should be tender and juicy with no traces of pink meat.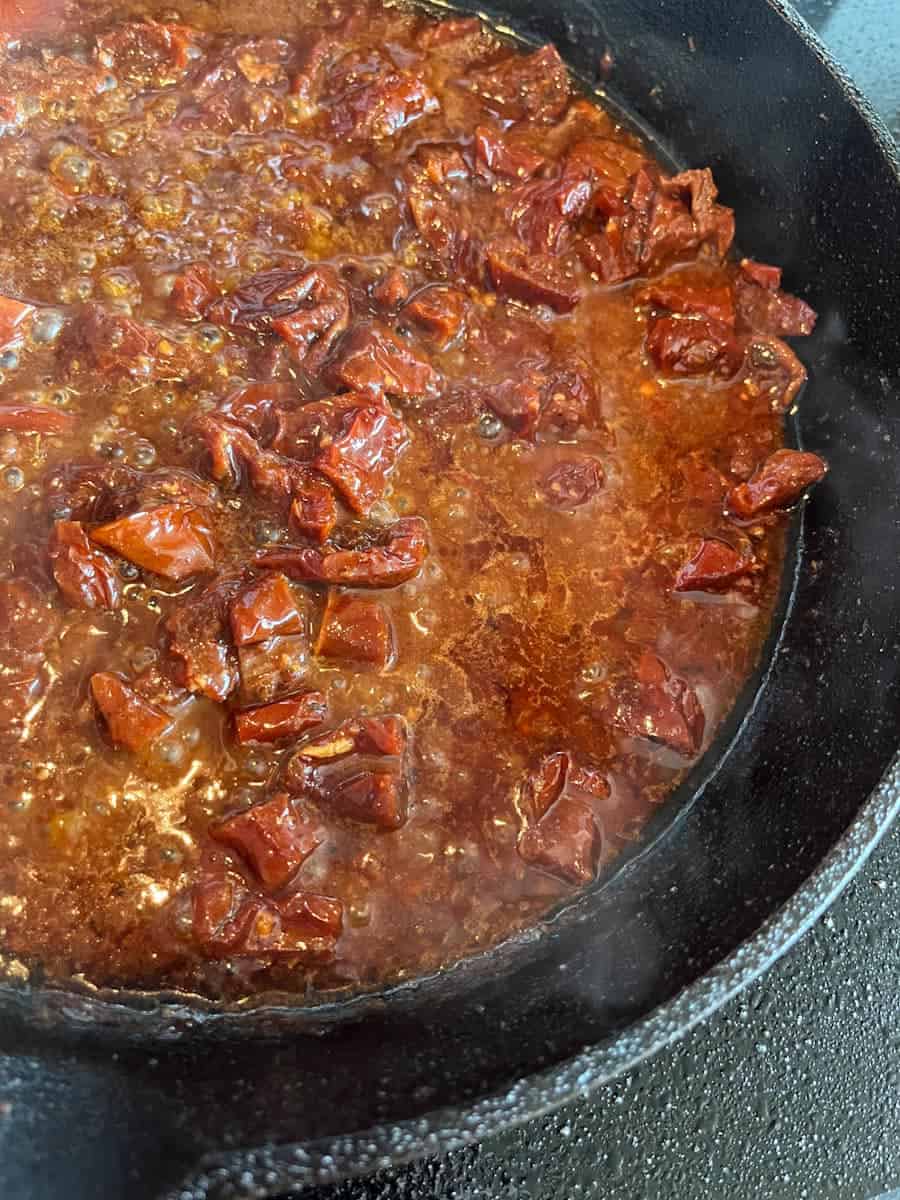 tips for recipe success
I've made marry me chicken several times and it's become a family favourite. I've picked up a few tips along the way for recipe perfection!
Instead of using regular olive oil to brown the chicken, I use some of the the oil from the jar of sun dried tomatoes. That oil is absolutely packed full of flavour, so it would be a shame to waste it!
Take care not to brown the garlic. If it burns, then it will taint the sauce and ruin the dish.
Adding a squeeze of lemon juice lifts the sauce and prevents it from becoming too heavy. Cream sauces always benefit from this nifty little trick – just like my leftover roast chicken pasta recipe.
My final but very important tip is not to overcook the chicken or it will become dry and tough.
IMPORTANT – Do bear in mind that cooking time may vary depending on the thickness of the chicken breasts. To cut down the cooking time, slice the chicken in half to make thinner cutlets.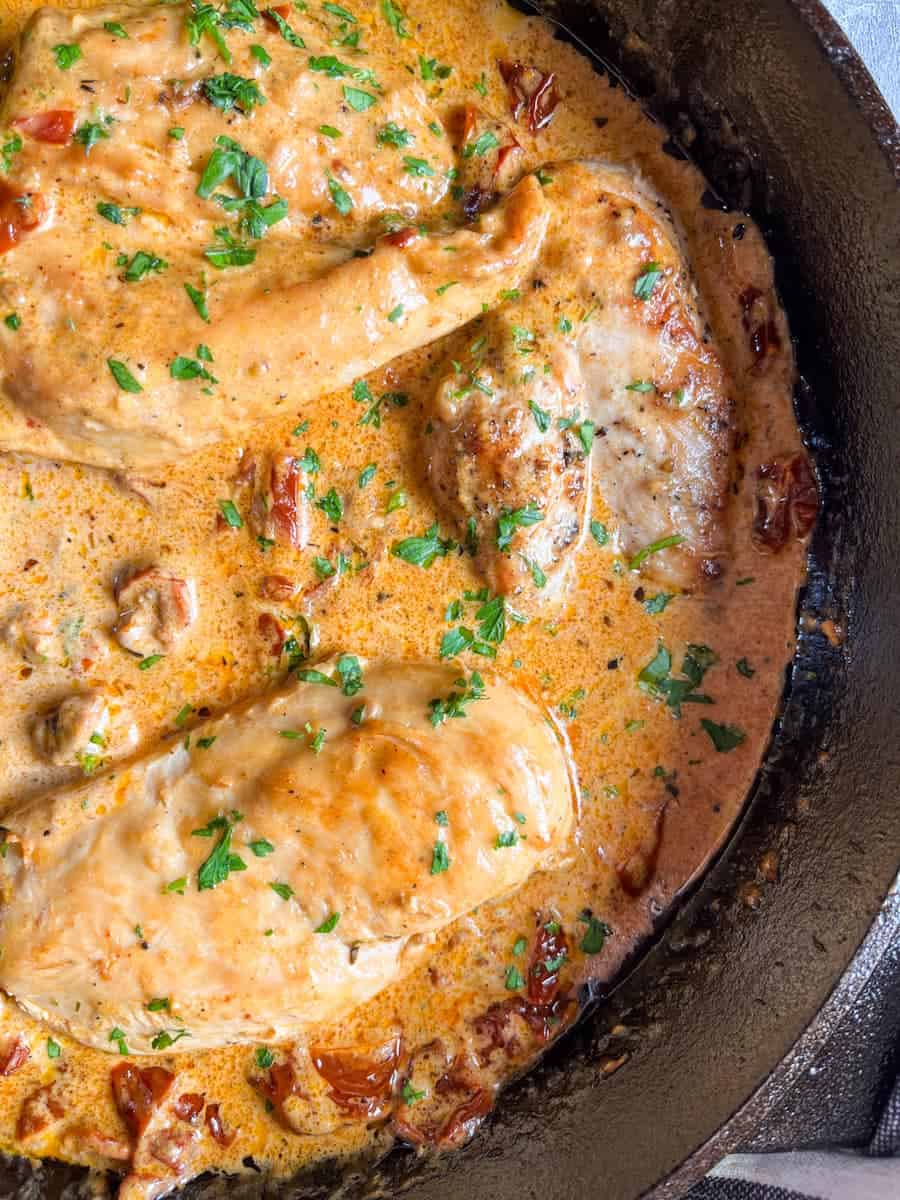 SIDE DISHES TO SERVE WITH MARRY ME CHICKEN
This creamy sun dried tomato chicken dish pairs very well with a variety of side dishes. Here are a few suggestions:
Basmati or long grain rice is an economical side dish that goes perfectly with marry me chicken
A simple green salad provides a fresh, crunchy contrast to the rich cream sauce. It also adds a pleasing pop of colour to the plate.
steamed vegetables such as broccoli or green beans are a perfect pairing.
A plate of freshly baked garlic bread always goes down well!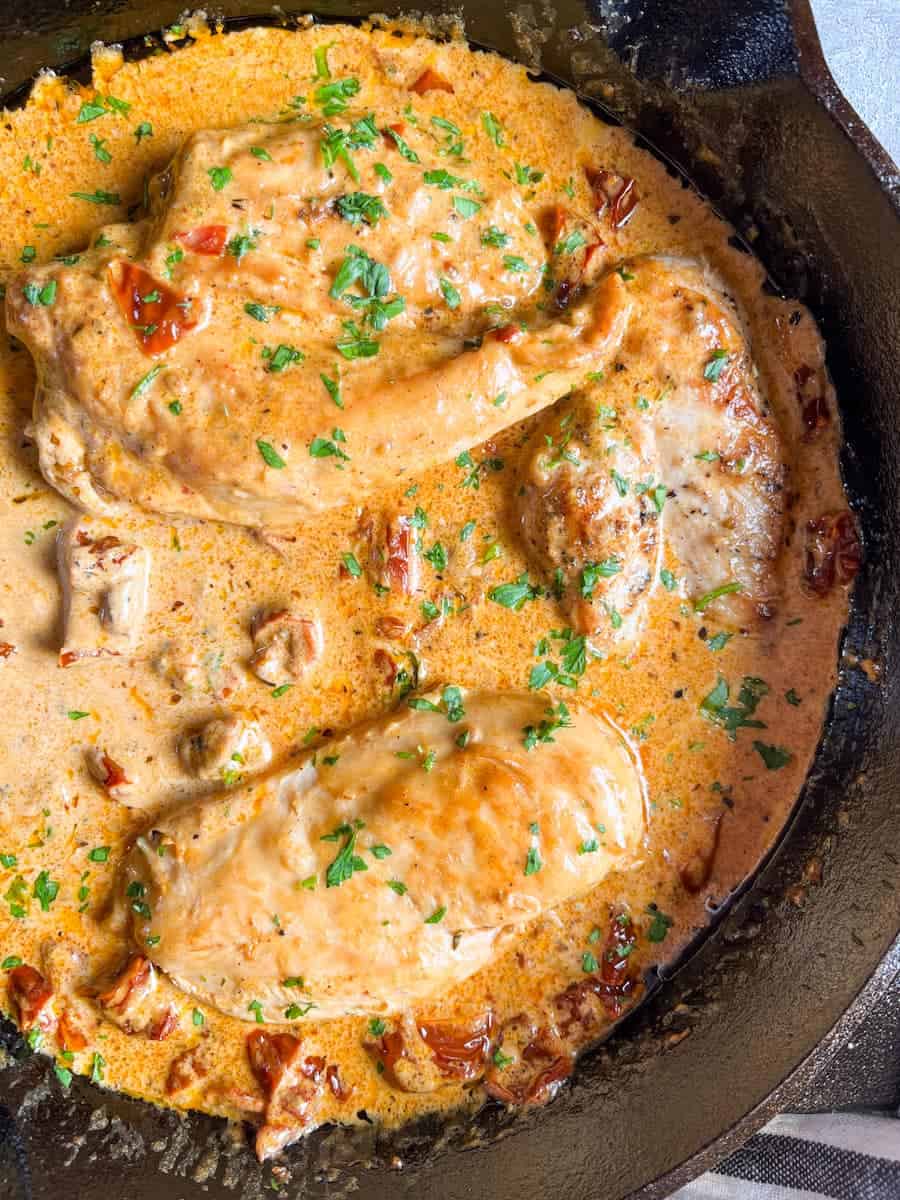 storing leftovers
Any leftover chicken and sauce should be cooled down as soon as possible and stored in the fridge for up to two days. Reheat in the oven at 180C/160Fan until the chicken is piping hot all the way through.
more chicken recipes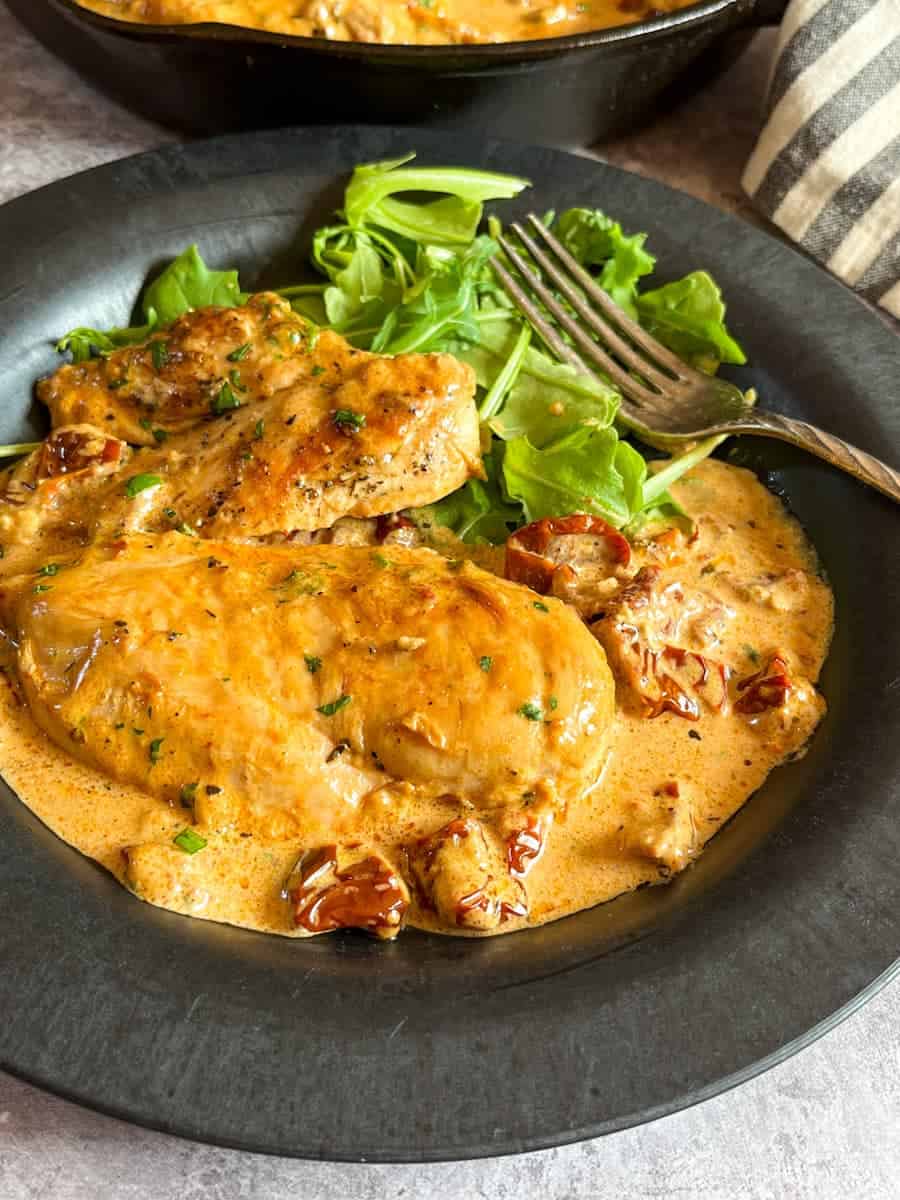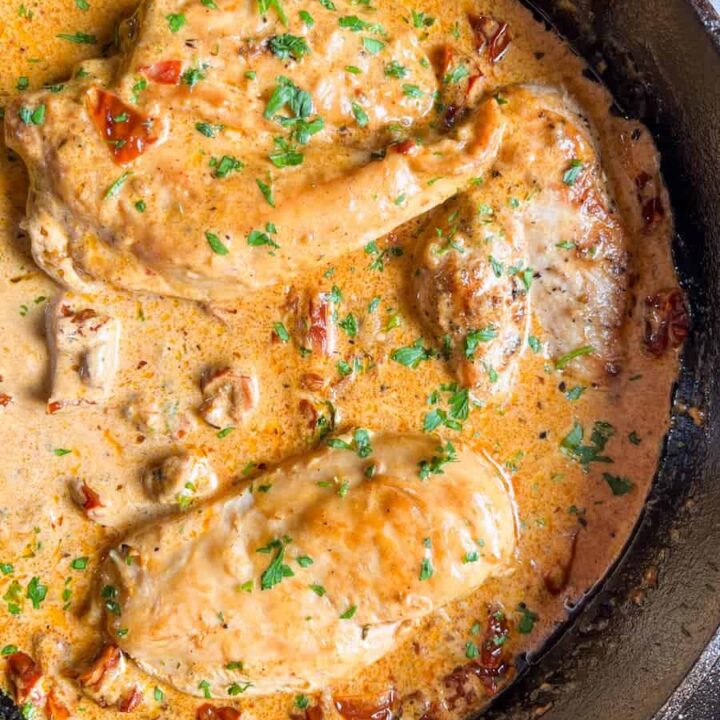 Best Marry Me Chicken Recipe
Marry Me Chicken - the dish so good, it may inspire a proposal! A perfect marriage of tender, golden chicken breasts, sun dried tomatoes, garlic, herbs and cream. A one pan meal that makes a simple dinner for a busy weeknight and elegant enough for a special occasion.
Ingredients
4 large chicken breasts, cut in half through the middle to make thin cutlets
50g plain (all purpose) flour
¼ tsp dried rosemary
½ tsp dried oregano
½ tsp dried thyme
1/2 teaspoon fine sea salt
1/4 teaspoon freshly ground black pepper
1 tablespoon of oil from the jar of sundried tomatoes
1 tablespoon butter
3 garlic cloves, crushed
2 teaspoon mild paprika
75g sundried tomatoes in oil, drained and cut into small pieces
180ml chicken stock
150ml double cream
50g grated Parmesan cheese
Juice of half a lemon
2 tablespoons chopped fresh parsley (to serve)
Instructions
Place the plain flour, dried rosemary, oregano and thyme and the salt and pepper in a large shallow bowl and stir together.
Place the chicken pieces inside the bowl to coat them evenly in the seasoned flour. Place the floured chicken on a plate.
Melt the oil from the sun dried tomato jar and butter in a large saucepan or skillet over a medium high heat. Working in batches, place the chicken pieces in the pan and sear for 5 minutes or until golden brown. Flip the chicken over and fry for a further 5 minutes until golden. Remove the seared chicken from the pan and transfer to a plate. The chicken won't be cooked all the way through yet, but it will finish cooking in the sauce.
Add the crushed garlic to the warm pan and cook for a couple of minutes, stirring often so it doesn't burn and ruin the flavour of the dish. (If it does, I'm afraid you will have to start again with new garlic).
Add the paprika, chicken stock, sundried tomatoes to the pan and cook on medium heat for 2-3 minutes, then stir in the cream and parmesan cheese. Season with salt and pepper and stir in the lemon juice.
Return the chicken pieces to the pan, cover with a lid and cook for about 5 minutes on a low-medium heat, then turn the chicken and cook for a further 5 minutes. To check if the chicken has cooked thoroughly, remove a piece from the pan and cut in half. It should be tender with no traces of pink meat.
Check the seasoning and add some more lemon juice if necessary. Scatter with freshly chopped parsley before serving.
Notes
I like to cut the chicken breasts in half through the middle so they cook faster- a really thick chicken breast can usually take at least 20 minutes to cook through.
Nutrition Information:
Yield:

4
Serving Size:

1
Amount Per Serving:
Calories:

605
Total Fat:

33g
Saturated Fat:

15g
Trans Fat:

1g
Unsaturated Fat:

15g
Cholesterol:

201mg
Sodium:

813mg
Carbohydrates:

24g
Fiber:

2g
Sugar:

10g
Protein:

52g
Calories and nutritional information are provided by a third party application and should be viewed as indicative figures only.