This gingered peach and blackberry compote is the perfect way to make the most of late Summer soft fruit. The delicious trio of peach, blackberry and fresh ginger comes together in less than 15 minutes to create a fruity compote that is bursting with vibrant colour and flavour.
Spoon over plain yoghurt, porridge, French toast or serve with ice cream for an irresistible treat that can be enjoyed any time of day!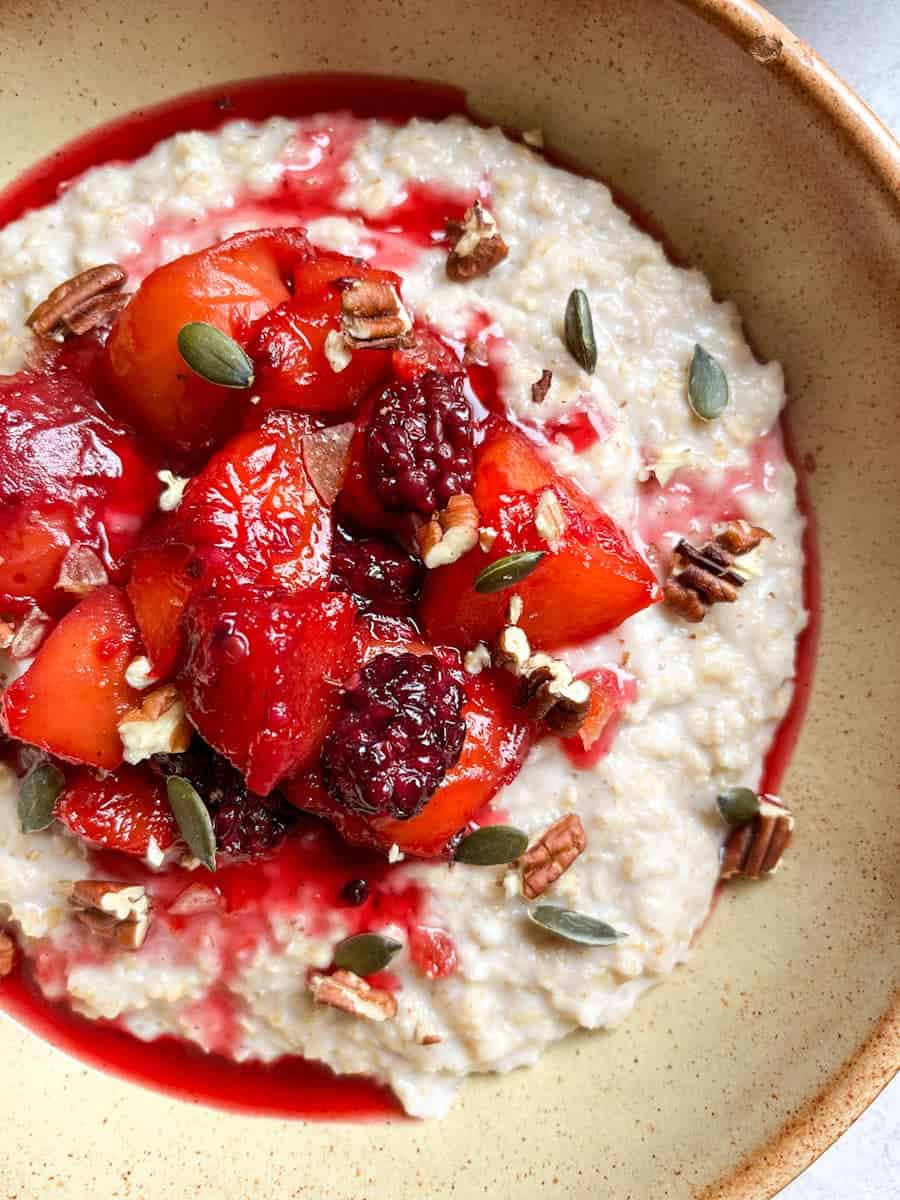 The pairing of sweet, ripe peaches and slightly tart blackberries is a classic choice for many desserts, but I like to keep things nice and simple and turn them into a fruit compote.

I've made this recipe several times over the past few weeks. I can't tell you how good it is with granola, Greek yoghurt and nuts.
A couple of spoonfuls of this stunning peach blackberry compote takes a plain old bowl of porridge to a whole new level!
Fresh ginger adds a lovely warmth to the compote, giving it an Autumn/Fall feel. I hope you give the recipe a try and love it as much as I do!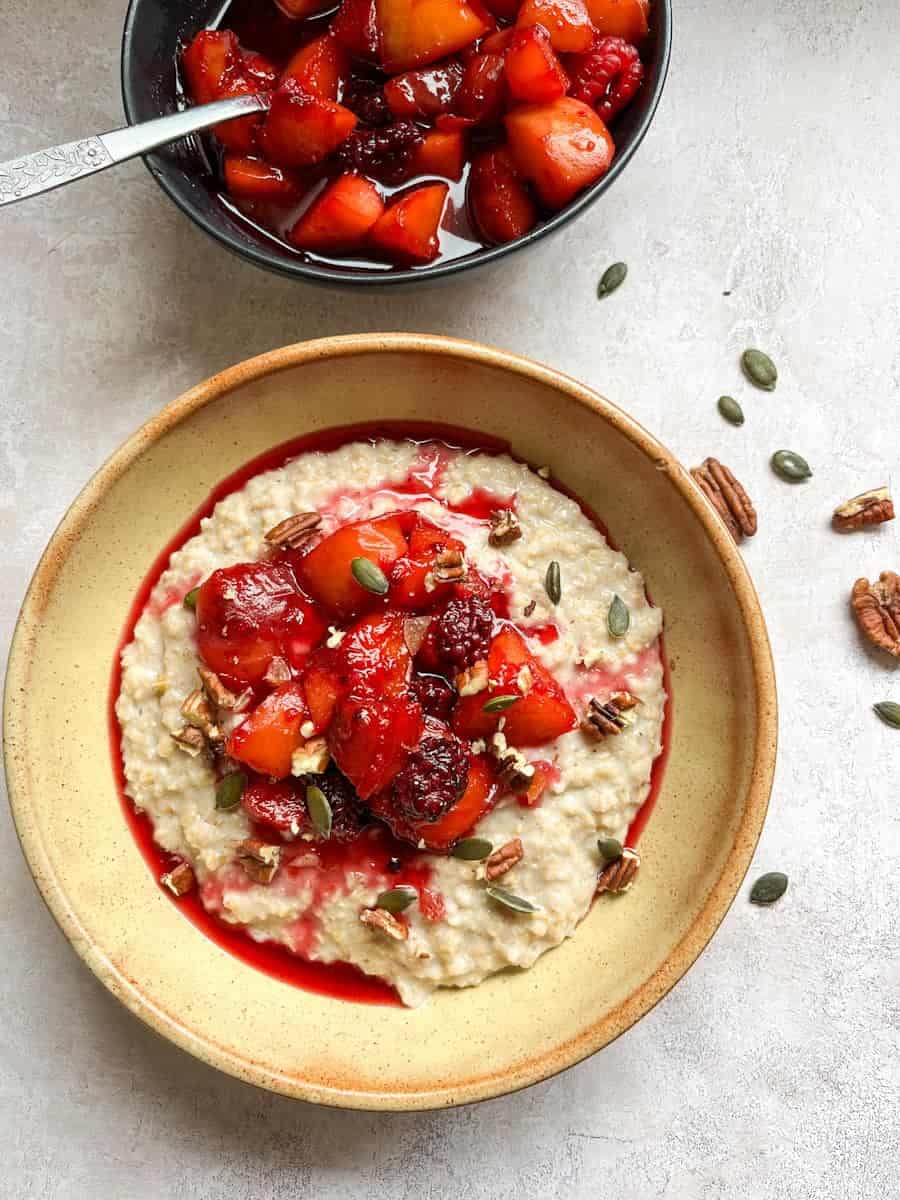 why you'll love this recipe
Simple ingredients: This recipe uses easy to find ingredients such as fresh fruit, sugar, vanilla and lemon juice, making it accessible and easy to make.
No artificial preservatives: Making your own fruit compote allows you to control the amount of sugar to suit your own taste.
Versatile: This peach compote can be served in so many ways – from spooning over fluffy pancakes, scones or waffles to serving with a bowl of oatmeal, crunchy granola or yoghurt for breakfast.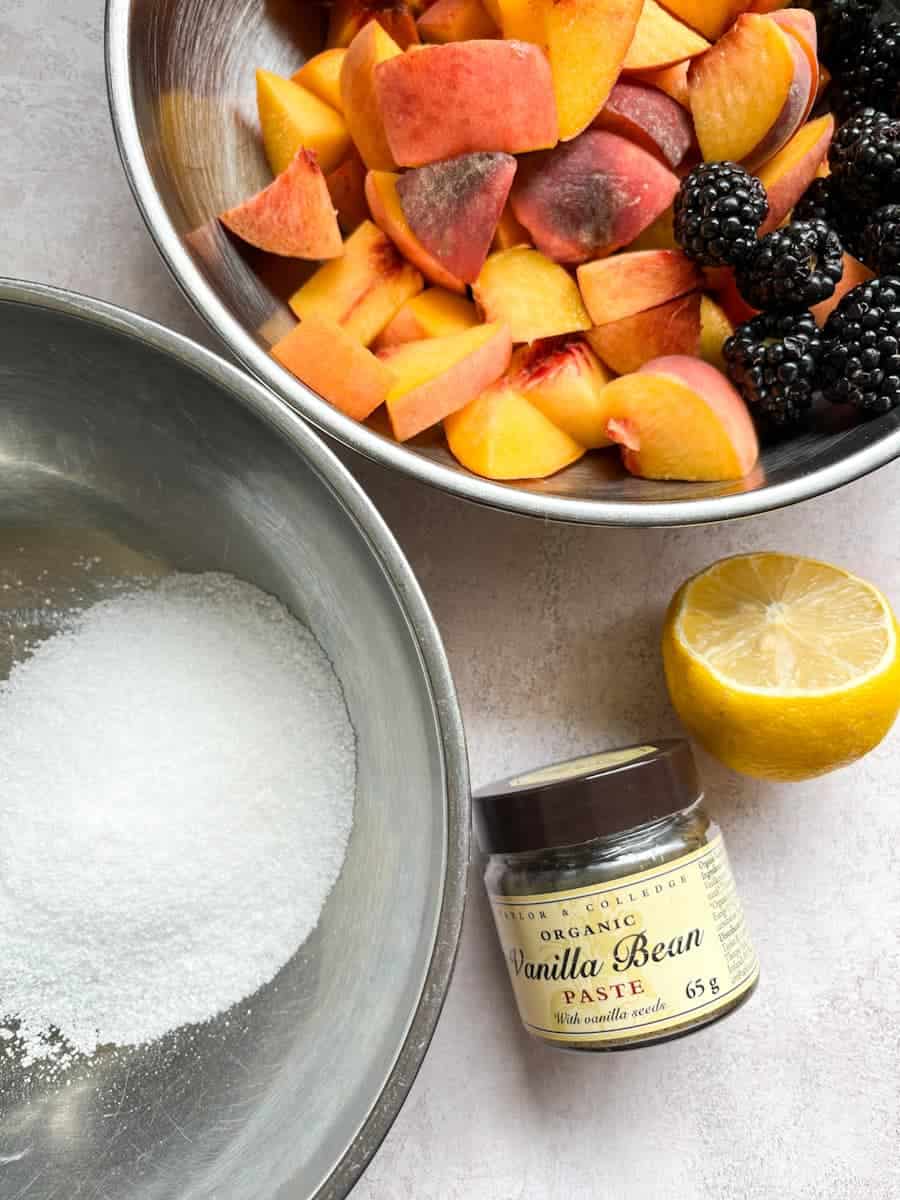 ingredient list for peach-blackberry compote
Fresh peaches and blackberries. Ensure they are ripe for the best flavour.
white granulated or caster sugar to sweeten the compote. You can adjust the amount based on your personal taste and the sweetness of the fruit.
Lemon juice provides acidity and balances the sweetness. Lime juice could also be used.
Freshly grated ginger adds a lovely warmth to the compote and pairs perfectly with the peaches and blackberries. If you don't like ginger, it can be omitted.
Vanilla bean paste or extract
how to make it
It couldn't be easier to make this compote. It will take no more than 15 minutes of your time.
Step one: Place the chopped peaches and blackberries, grated ginger, sugar, lemon juice and vanilla bean paste in a saucepan over a medium heat, stirring occasionally.
Step two: Once the sugar has dissolved, turn the heat up and bring to a boil, then turn the heat down again to low-medium, cover the pan with a lid and simmer for about 10 minutes or until the fruit is soft and is surrounded by a thick fruit sauce.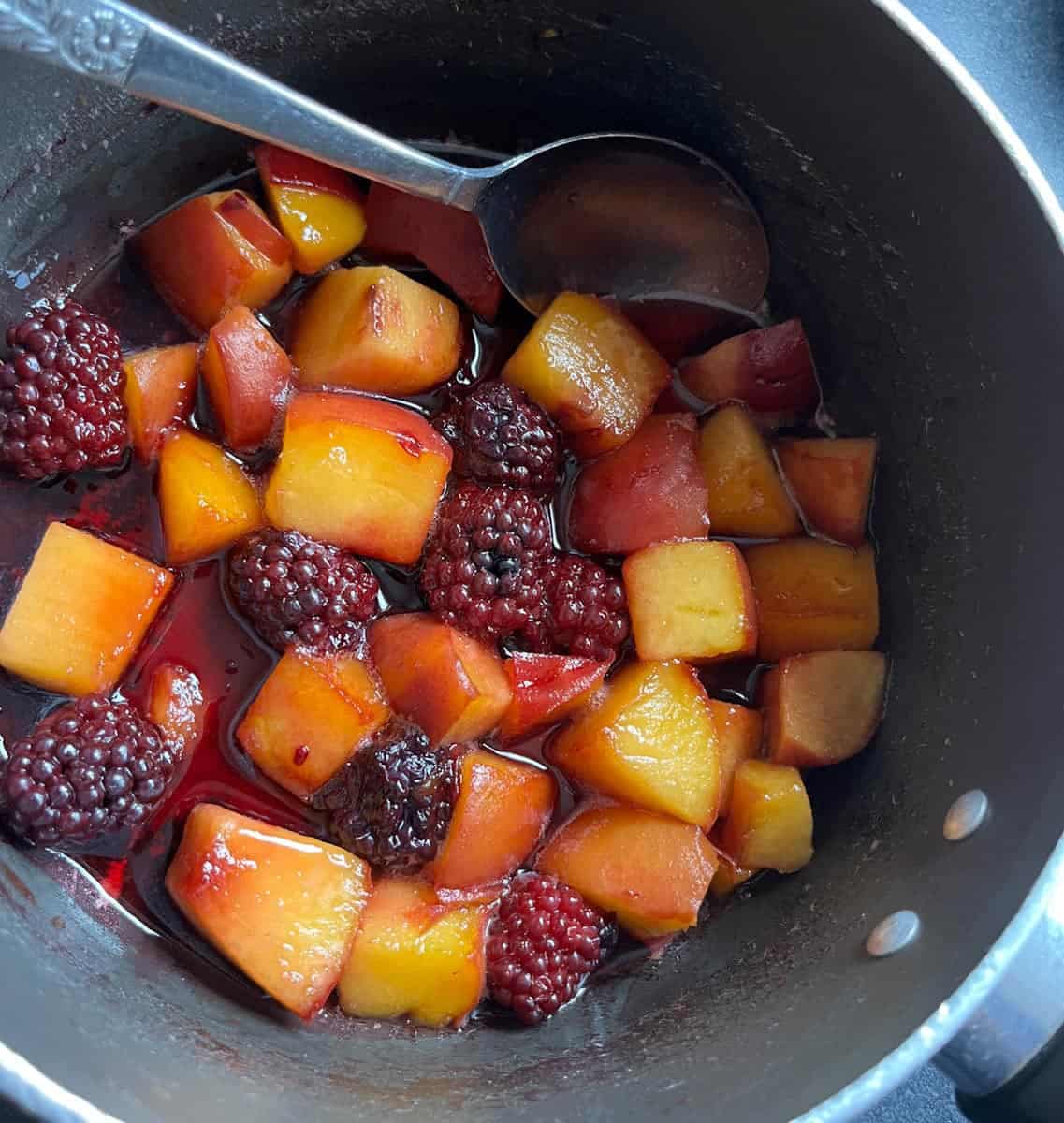 Step three: Remove the pan from the heat and transfer the compote to a heat proof dish. It will thicken slightly as it cools down.
Allow the compote to cool for at least 10 minutes before serving.
can i use frozen fruit to make compote?
Absolutely! Frozen fruit can be a convenient option when fresh fruits are not in season or readily available.
You can use the fruit directly from the freezer, but do bear in mind that frozen fruit releases more liquid. You may need to adjust the sugar and lemon juice accordingly to reach the desired flavour.
Storing peach compote
Fruit compote will keep in the fridge for up for 4-5 days. Store in an airtight container.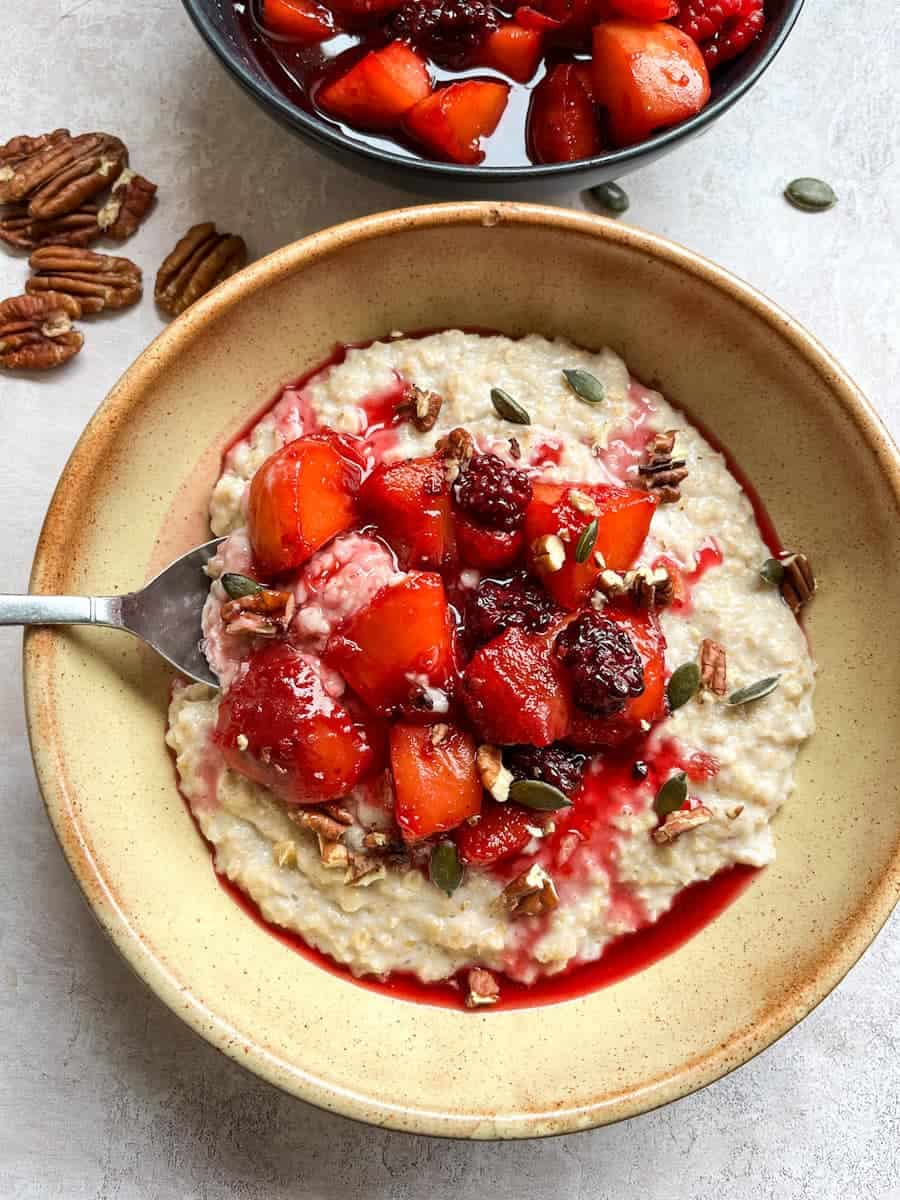 more recipes using blackberries
looking for more recipes to use up fresh peaches?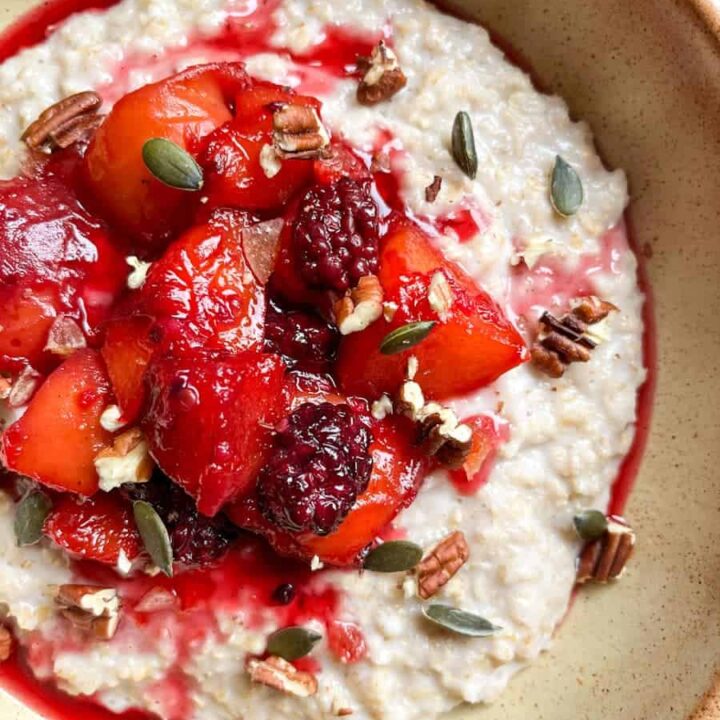 Gingered Peach and Blackberry Compote
This gingered peach and blackberry compote takes less than 15 minutes to make! It's perfect with granola, porridge, or spooning over French toast or ice cream.
Ingredients
400g fresh peaches
150g fresh blackberries
1 tablespoon freshly grated ginger
juice of one small lemon
1 teaspoon vanilla bean paste or extract
70g granulated or caster sugar
Instructions
Prepare the Fruit: Start by washing and patting dry the blackberries. Chop the peaches into bite-sized pieces. I don't peel them, but do as you wish.
Combine Ingredients: In a large saucepan, combine the chopped peaches, blackberries, grated ginger, granulated sugar, lemon juice, and vanilla extract. Gently stir to ensure all the ingredients are well mixed.
Simmer: Place the saucepan over medium heat and bring the mixture to a gentle boil. Allow it to cook for about 10 minutes, stirring occasionally. This will help the fruit break down and meld together, creating a luscious compote.

Let it cool: Remove the pan from the heat and allow the compote to cool slightly before serving.
Nutrition Information:
Yield:

4
Serving Size:

1
Amount Per Serving:
Calories:

130
Total Fat:

0g
Saturated Fat:

0g
Trans Fat:

0g
Unsaturated Fat:

0g
Cholesterol:

0mg
Sodium:

1mg
Carbohydrates:

32g
Fiber:

4g
Sugar:

28g
Protein:

2g
Calories and nutritional information are provided by a third party application and should be viewed as indicative figures only.