This Cinnamon Pecan Monkey Bread is sweet, sticky and filled with a brown sugar cinnamon swirl and chopped pecans. It makes an amazingly indulgent breakfast treat that you won't be able to resist!
I've wanted to make monkey bread for many years now and I honestly have no idea why I waited so long…it really is one of the most delicious things I have ever had the pleasure of eating.
If you like cinnamon rolls, then you will LOVE this monkey bread. Soft, sweet, fluffy, vanilla scented dough balls are dipped in melted butter and cinnamon sugar, sprinkled with pecans then baked in a Bundt pan until golden and the final flourish…..drizzled with a maple syrup icing glaze. It's nothing short of spectacular.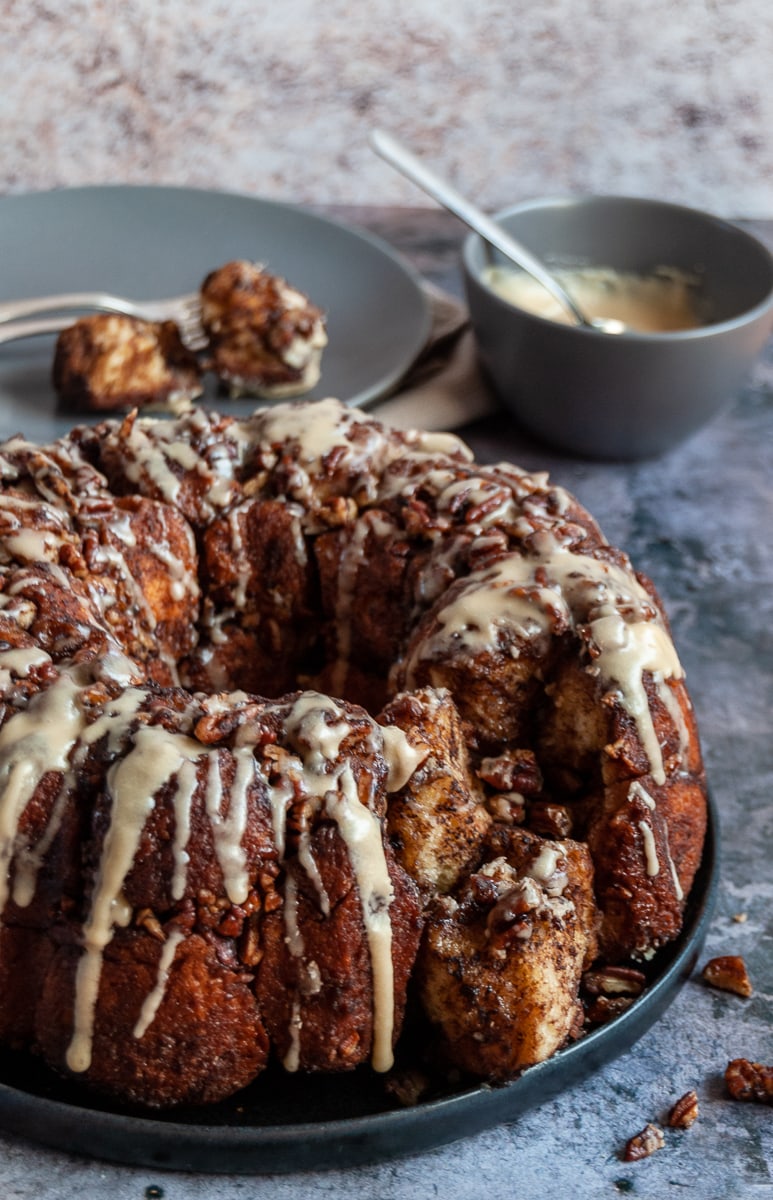 What is monkey bread?
If you don't live in America, you might not have heard of money bread before.
Monkey Bread is a soft, sticky sweet bread usually loaded with sugar, cinnamon and nuts but other variations can include delights such as caramel, chocolate or caramelised apples.
I've also come across savoury versions with ham and cheese which look just as good.
It is also known as Bubble bread, which of course is pretty appropriate given the shape!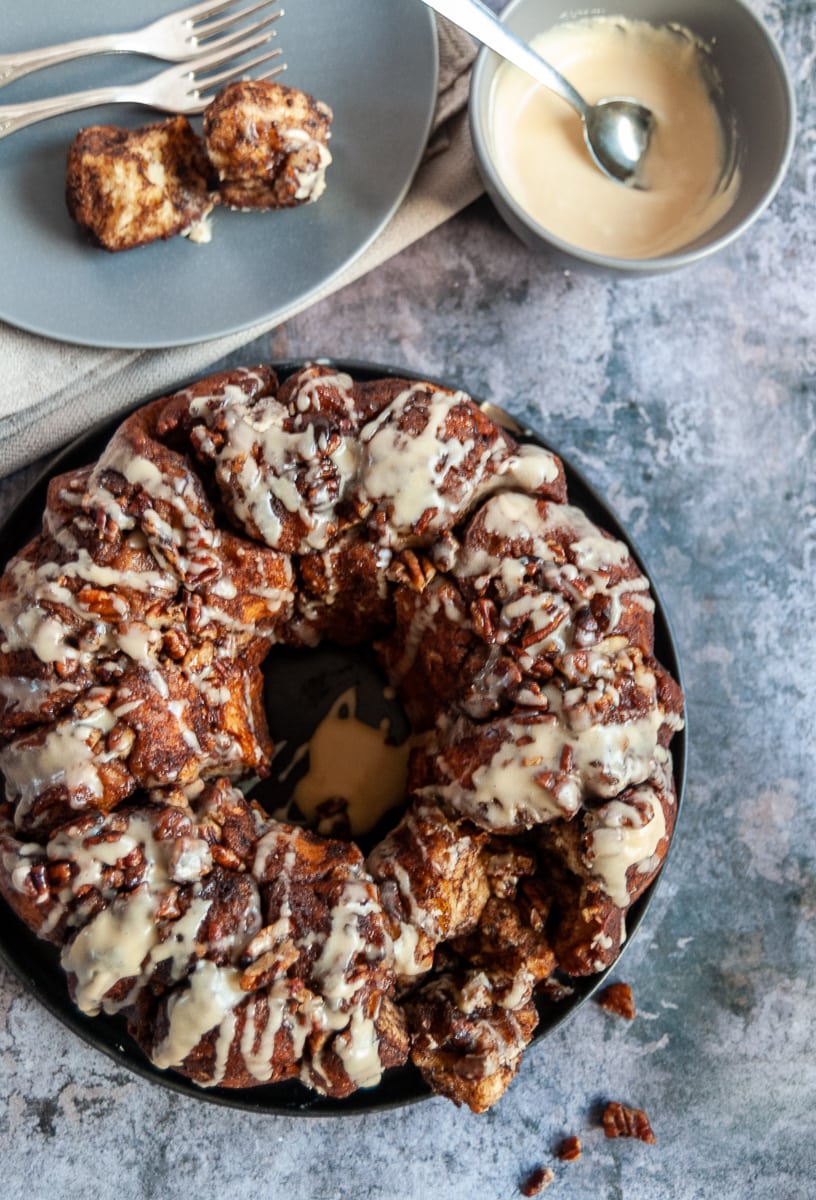 An easier version of Monkey bread is often made with refrigerated biscuit dough in the USA, but because biscuit dough isn't available in the UK, I make my Monkey bread from scratch.
The good news is, it is very easy to make. You just need to have a little patience while waiting for the dough to rise and when rolling the dough into little balls.
But I'll tell you what – it is SO therapeutic dipping the little dough balls into the melted butter and cinnamon sugar!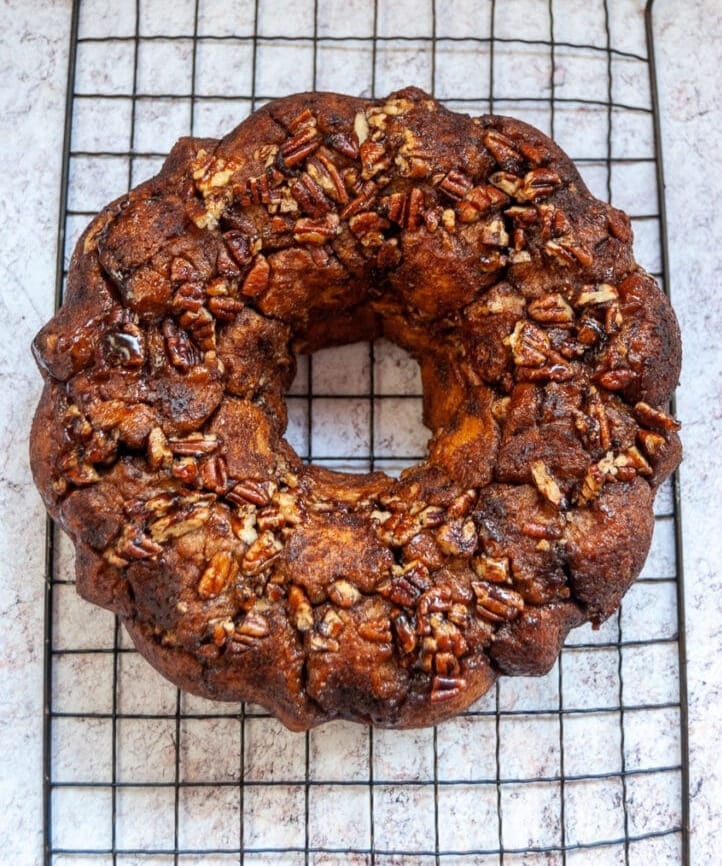 how do you make monkey bread from scratch?
Make the encriched bread dough
Making monkey bread from scratch begins with making an enriched bread dough. All you need to do is combine strong white bread flour, yeast, a little sugar and salt with a mixture of milk, eggs and butter.
Then you leave the dough for an hour or two to do its thing and slowly rise until it has doubled in size.
toast the pecans and make the spiced sugar
While you're waiting for the dough to rise, mix brown sugar, cinnamon and a little nutmeg together in a small bowl and toast the pecans in a dry frying pan for a couple of minutes – don't walk away from them! Nuts turn from perfectly golden and toasted to burnt in less than a second. Finely chop the toasted pecans.
melt some butter and shape and coat the dough balls
Melt some butter in a small pan. Tear the risen dough into about 65-70 small pieces and roll into balls. Dip the balls into the melted butter and roll in the cinnamon sugar.
Place the buttered cinnamon-sugar balls in a generously buttered Bundt tin and keep going until you have a layer of the dough balls in the tin. Sprinkle with the chopped toasted pecans and repeat until you've used all the dough balls up. If you have any leftover butter, sugar or pecans, pour them on top.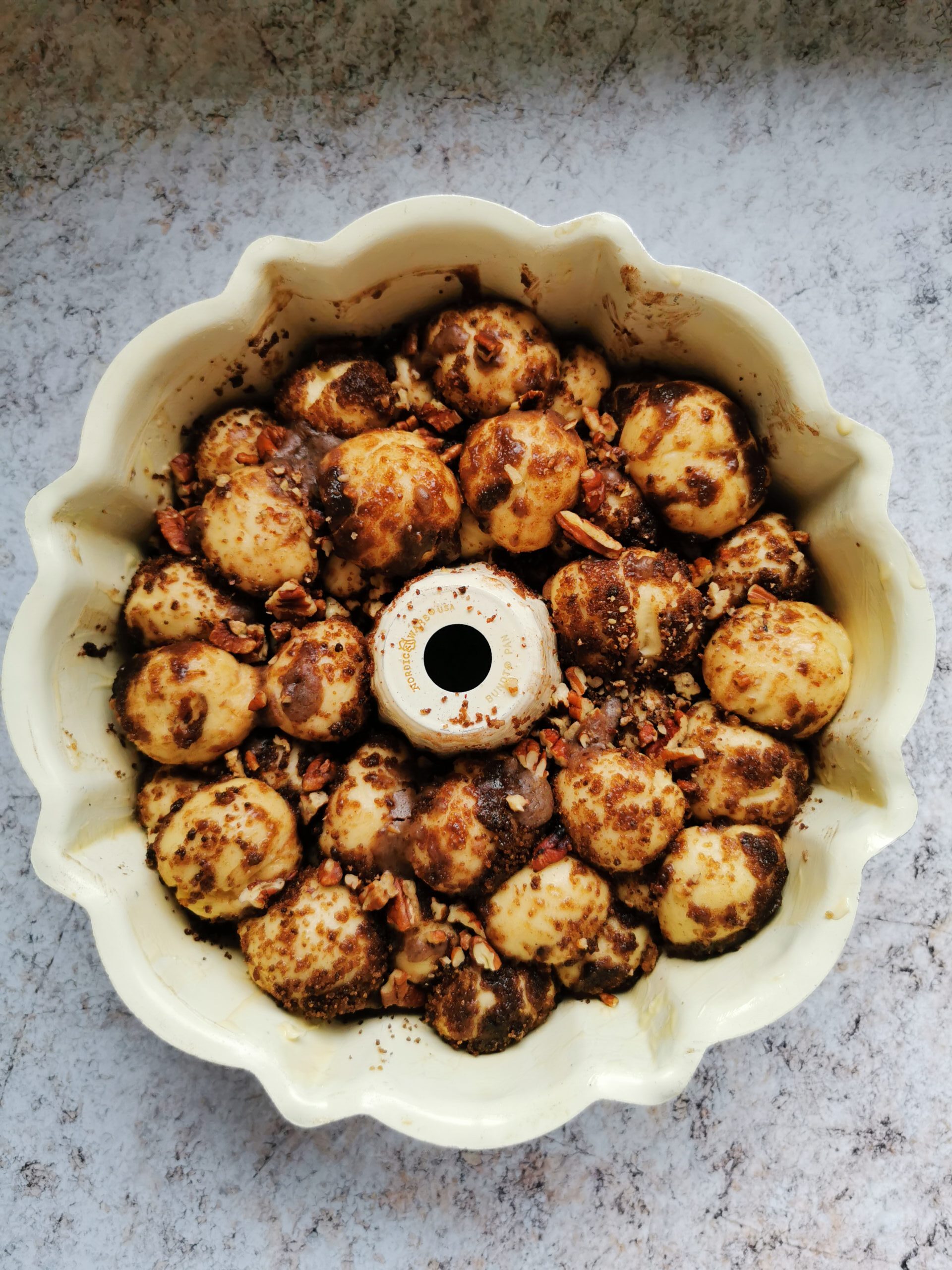 leave for the final rise
Then leave the dough for around an hour for a final rise until the dough has risen and doesn't spring back immediately when you press it.
Bake
Bake for 35-40 minutes or until the Monkey bread is golden, burnished and sticky. Leave in the tin for about 5 minutes before turning out onto a serving plate or board.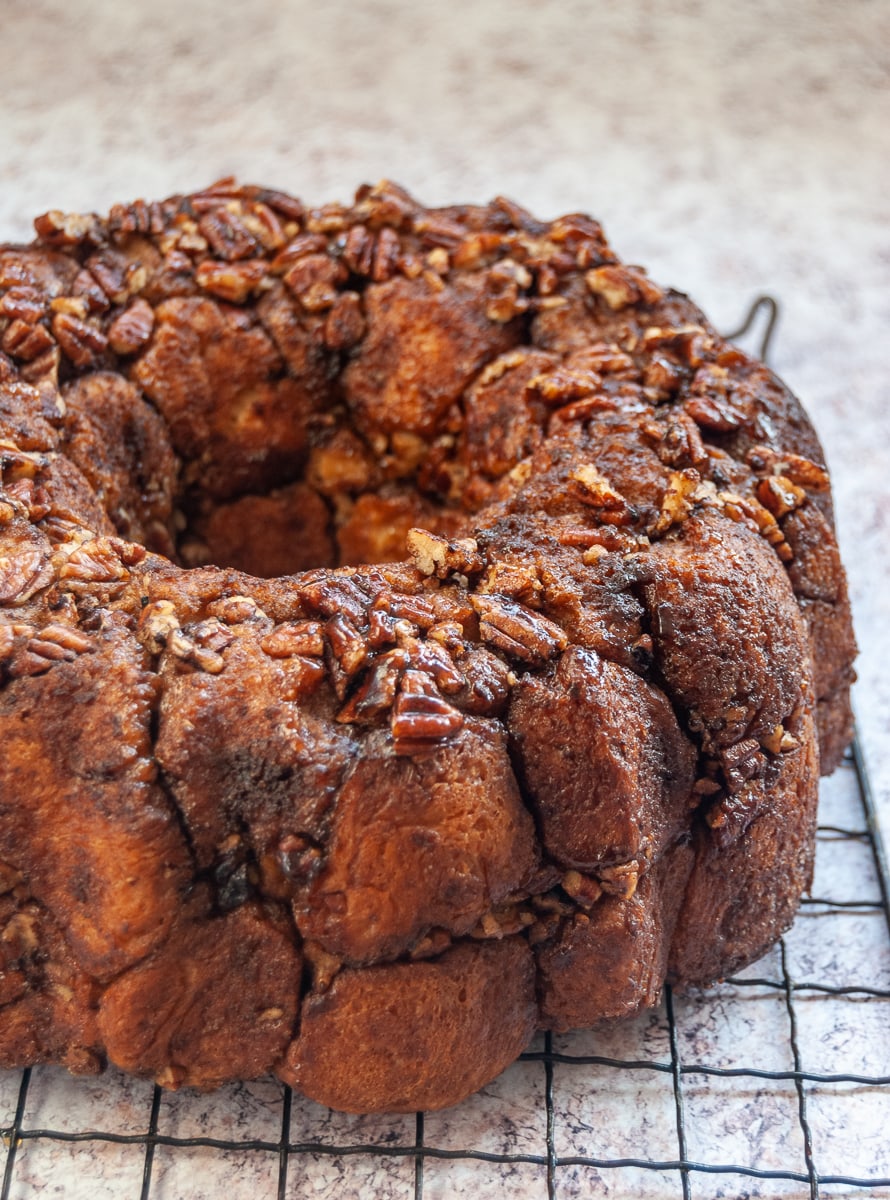 how to Release the monkey bread from the pan
Monkey bread can have a habit of sticking to the pan, but hopefully if you greased the pan well you shouldn't have any trouble. I found the best way to release the bread was by flipping the Bundt pan onto a serving plate or board and give a couple of sharp raps with my hand. Carefully and slowly, start to lift the tin away. With a little luck, your Monkey bread should come out in one piece!
Make the maple glaze
While the Monkey bread is still a little warm from the oven, stir togther icing sugar, maple syrup and vanilla extract until you have a smooth icing. Drizzle this over the Monkey bread while it's still a little warm.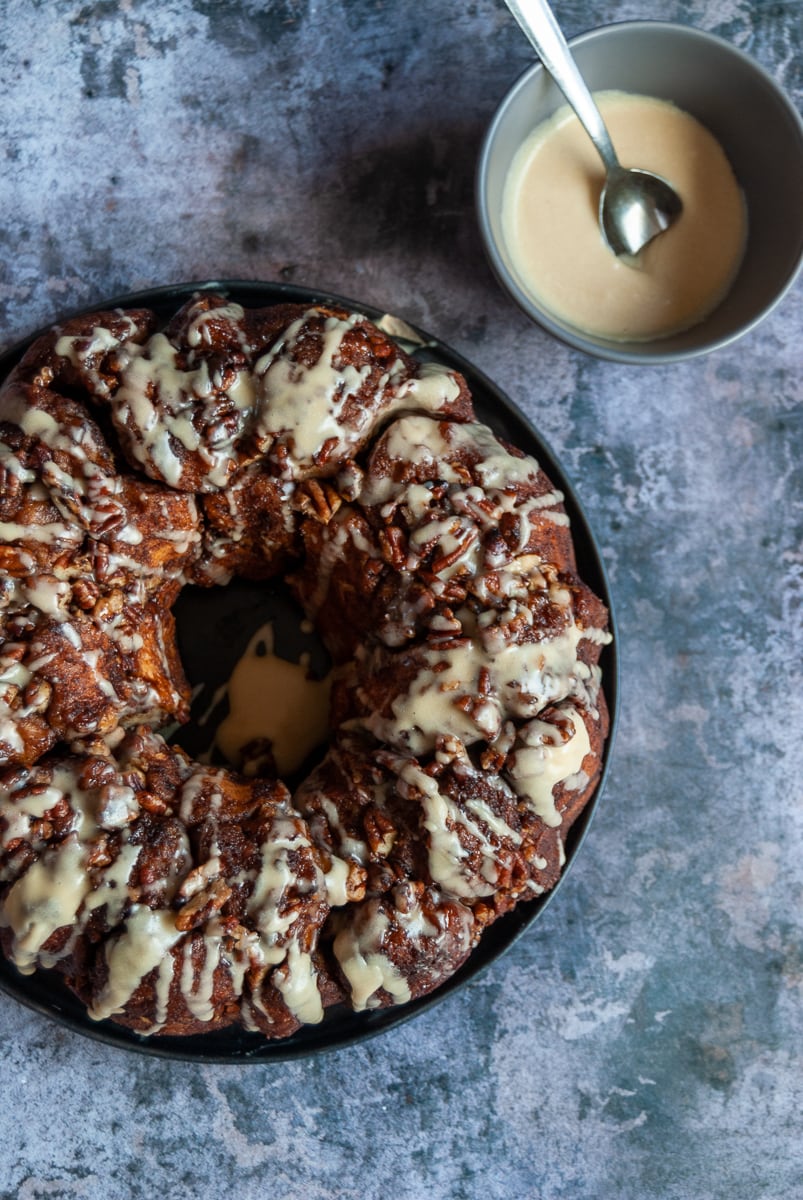 All that's left to do now is dig in and enjoy……
Did you make this recipe?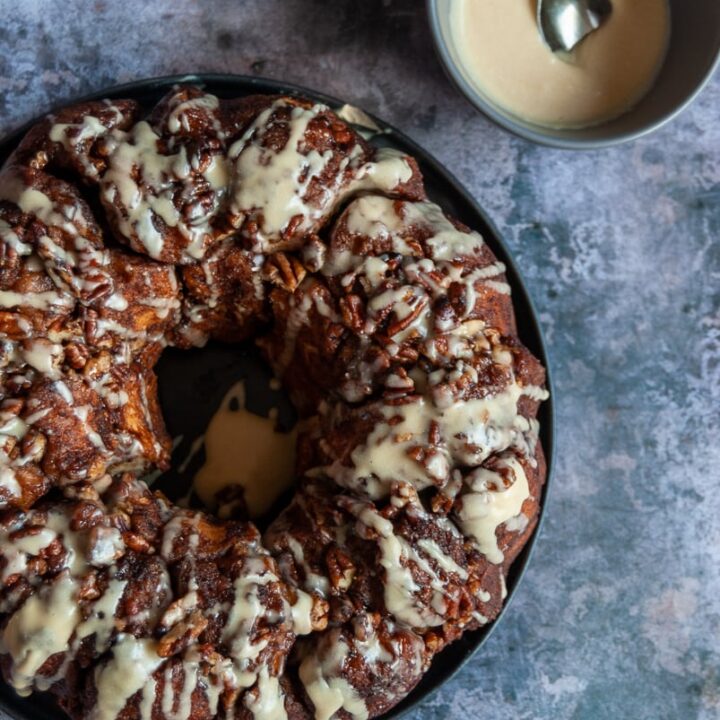 Cinnamon Pecan Monkey Bread
Additional Time:
2 hours
45 minutes
Total Time:
3 hours
55 minutes
This indulgent Cinnamon Pecan Monkey Bread is sweet, sticky and filled with a brown sugar cinnamon swirl and chopped pecan nuts!
Ingredients
FOR THE DOUGH:
200ml milk
85g butter
1 teaspoon vanilla extract
2 large eggs
550g strong white bread flour
1 teaspoon fine salt
2 1/2 teaspoons fast action dried yeast
50g caster sugar
FOR THE FILLING:
150g finely chopped pecans
150g butter
250g soft light brown sugar
2 tablespoons ground cinnamon
1/2 teaspoon freshly grated nutmeg (optional)
FOR THE MAPLE GLAZE:
125g icing (confectioners') sugar, sifted
2 tablespoons maple syrup
1/2 teaspoon vanilla extract
a few drops of water (you might not need this if the glaze is the right consistency)
Instructions
Start by making the sweet bread dough. Place and milk and butter in a medium saucepan and heat gently until the butter has melted. Don't allow the mixture to become too hot. Allow to cool for a few minutes (you don't want the eggs to scramble) before beating in the eggs and vanilla extract.
Place the flour, salt, yeast and caster sugar in a large bowl (I used a stand mixer). Make sure to keep the yeast and salt separate or the salt could stop the yeast from working. Pour in the (barely warm) milk mixture and stir until you have a sticky, messy dough. Knead for 5-10 minutes until the dough is smooth, shiny and elastic. Lightly grease a large bowl with butter and place the dough inside. Cover the bowl with cling film or a warm tea towel and leave until the dough has doubled in size, about 1-2 hours.
Generously grease a 26cm Bundt tin with butter. Toast the pecan nuts in a dry frying pan over a medium heat for 1-2 minutes or until the nuts are golden. Remove the nuts from the heat and finely chop. Melt the 150g butter in a small pan. In a separate bowl, mix together the brown sugar, nutmeg if using and ground cinnamon.
Spoon 3 tablespoons each of the melted butter, brown sugar mix and the chopped pecans in the bottom of the greased bundt tin.
Now here comes the fun part! Pull the risen dough into around 65-70 small pieces and roll them into little balls. Dip the balls into the melted butter, then the cinnamon sugar, rolling to coat them evenly. Place the buttery, spiced dough balls into the tin, not worrying too much about following a pattern. Once a have pretty much a full layer of dough balls in the tin, scatter with a few chopped pecans. Repeat this process until all the dough balls are in the tin. Scatter any remaining nuts, melted butter and sugar on top.
Cover the top of the tin with lightly oiled cling film and leave to rise for about 45 minutes-1 hour until risen and the dough doesn't spring back immediately when you press it.
Preheat the oven to 180C/160Fan/350F/Gas mark 4. Place the monkey bread in the oven and bake for 35-40 minutes or until golden brown. It will smell unreal! Remove from the oven and leave in the tin for 5 minutes or so before turning out on a serving plate or board, giving it a few good knocks to dislodge any parts that might have stuck.
To make the maple glaze, stir together the icing sugar, maple syrup and vanilla extract, adding a few drops of water if the glaze seems too thick. Drizzle over the monkey bread while it is still a little warm. Serve and prepare to swoon!
Nutrition Information:
Yield:

12
Serving Size:

1
Amount Per Serving:
Calories:

508
Total Fat:

27g
Saturated Fat:

11g
Trans Fat:

1g
Unsaturated Fat:

13g
Cholesterol:

74mg
Sodium:

331mg
Carbohydrates:

61g
Fiber:

3g
Sugar:

27g
Protein:

8g
Calories and Nutritional information are provided by a third party application and should be viewed as indicative figures only.