My version of the official Coronation quiche recipe created by The Royal Family chefs to commemorate the Coronation of King Charles III.
Just like the official recipe my quiche contains broad beans, but you can easily swap these for peas. I've also added sauteed leeks, extra cheese and swapped the tarragon for fresh chives. This delicious quiche is perfect for a Spring lunch or picnic.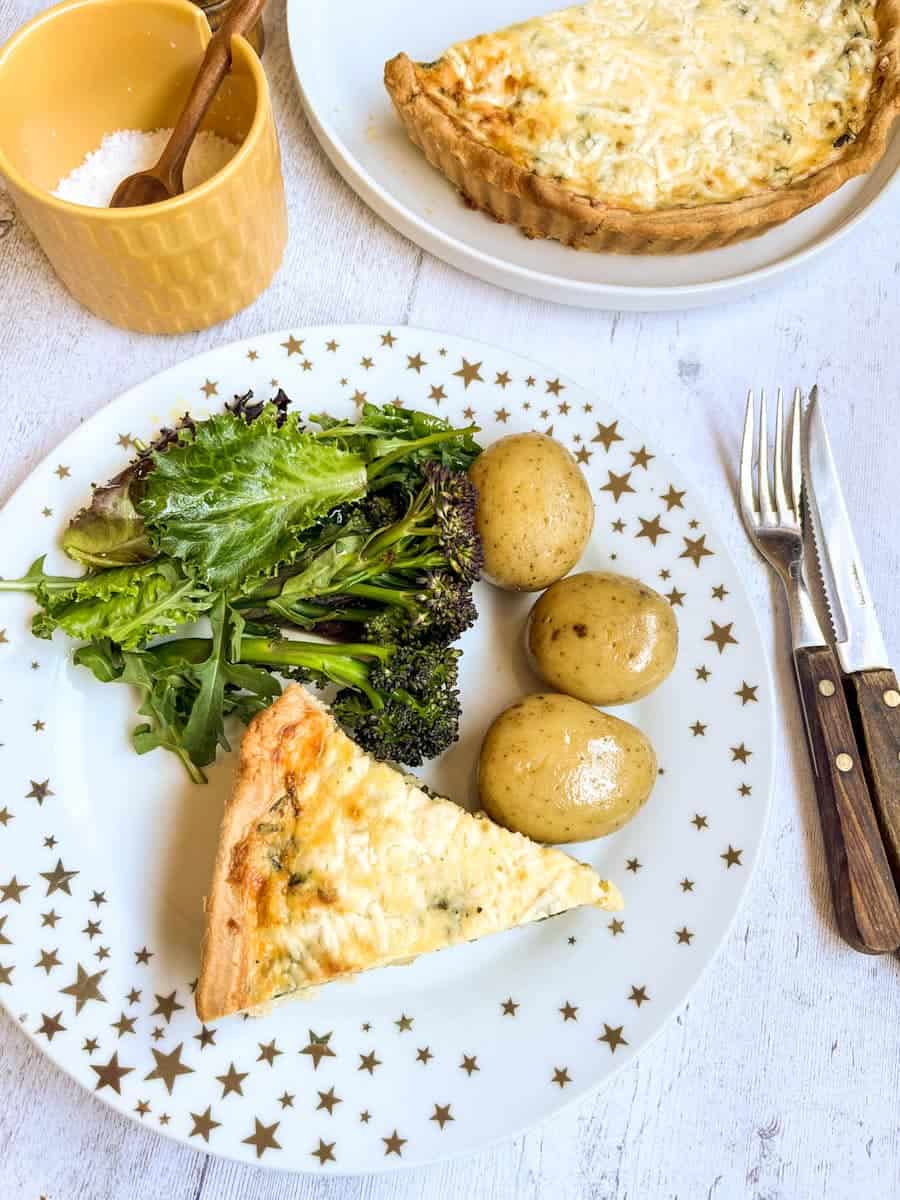 coronation quiche (my version)
I do love a slice of quiche, but it must be homemade. A shop bought version just cannot compare. I always think quiche is easy to make, but it's not so easy to make a really good one.
My Ratatouille quiche is a little bit different to your typical quiche – it's always popular during the Summer months.
When the Royal Family released the official "Coronation Quiche Recipe" I knew I would have to make my own version. While scanning the ingredient list, it became very clear to me that I would need to make a few changes to make it suitable for my family. I'm not a big fan of tarragon at all – in fact it's probably my least favourite herb – so I've swapped that for freshly chopped chives and parsley.
I wasn't sure about the heavy amount of spinach in the recipe and I was even less convinced about broad beans, but since I had a packet in the freezer I thought it would be silly not to use up what I already had in stock.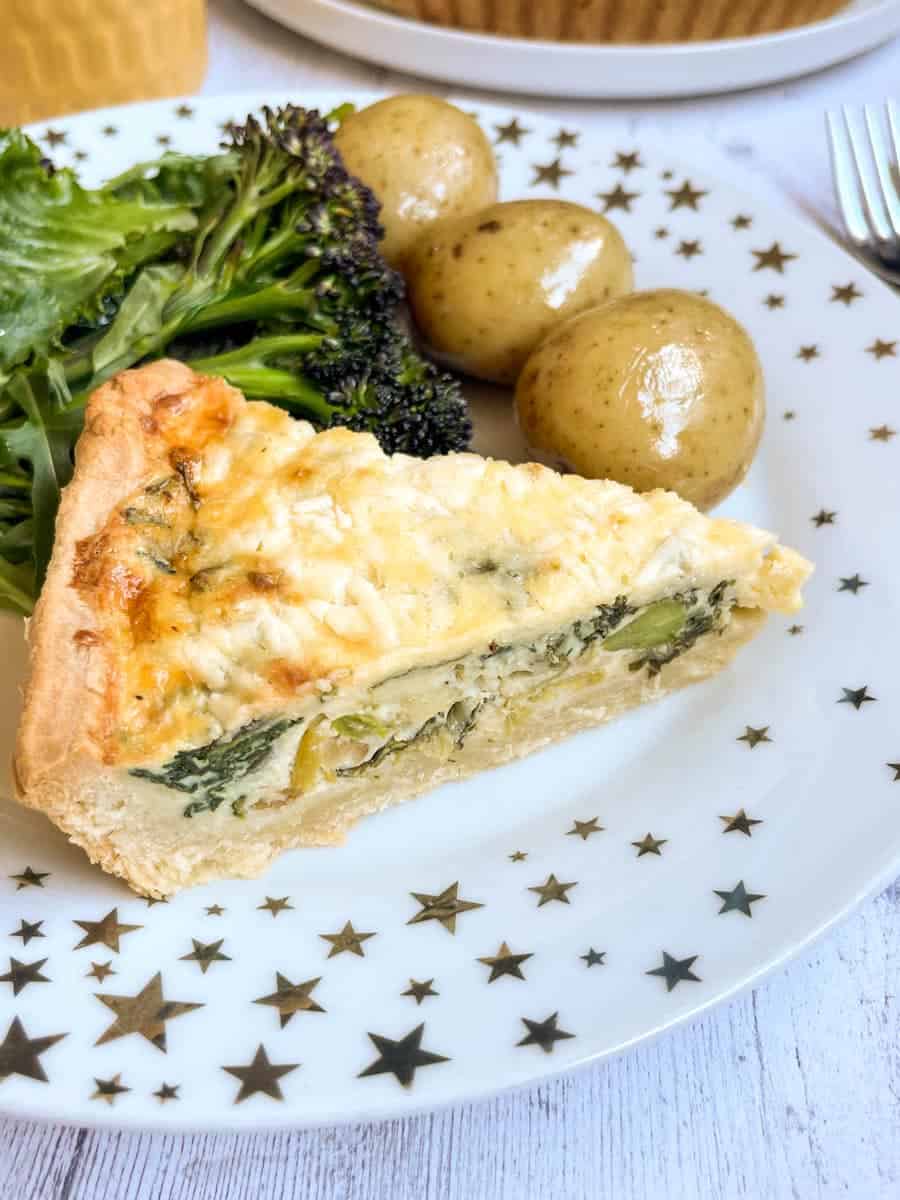 main ingredients in this coronation quiche recipe
shortcrust pastry
leeks
broad beans
spinach
eggs
milk
double cream
grated cheddar cheese
chopped chives and parsley
shortcrust pastry
I used an easy, foolproof recipe for homemade shortcrust pastry. If you're short on time, you can absolutely use a ready made block of pastry. It won't taste quite as nice, but it certainly does the job if you don't have time to make your own.
The pastry recipe used in the official Coronation quiche recipe would not have been large enough to fit my 23cm tart tin.
Leeks
I felt that the recipe was crying out for a little softened onion or leek – I LOVE a cheese and onion quiche. Since I had a huge leek to use up, I opted for that. I sauteed the sliced leeks in a little oil and butter for a few minutes until softened. It was a good call.
I used the white and green part of the leek, but the green leaves at the very top of the leek were actually a little tough. I'm never wasteful though, so I cut them off and saved them to make a pan of tattie soup.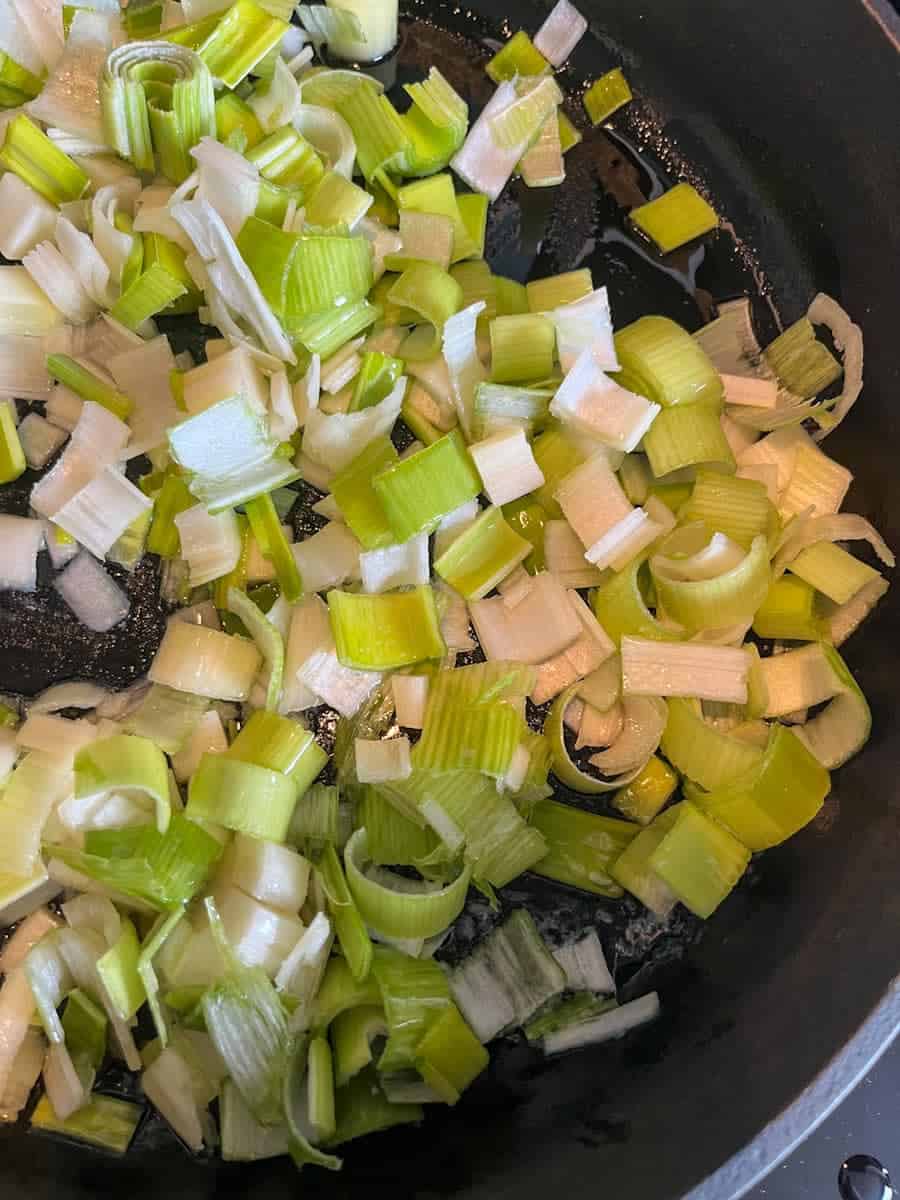 broad beans
As I mentined above, I was a little skeptical about using broad beans in quiche. But I'm a frugal girl and believe in using up what you've got, so I just went for it.
I used frozen beans which were super easy to prepare – you cover them in boiling water, leave for a minute, then remove from the water and slip the beans out of their skins. They should come out really easily. I found this part rather therapeutic. If you don't like broad beans, you can use peas instead.
spinach
I love spinach and use it all the time, but I don't think I've ever had it in a quiche before. I definitely would not recommend using frozen spinach in this recipe – I didn't attempt this, but I can imagine it would be almost impossible to get all the water out. I didn't use as much spinach as the official recipe calls for and I'm quite glad I didn't – I felt 120g was more than enough.
It's very quick and simple to prepare the spinach for the quiche – you just need to wilt it in a hot pan. This takes less than an minute. Oh, I also seasoned the spinach with a little bit of salt, pepper and freshly grated nutmeg.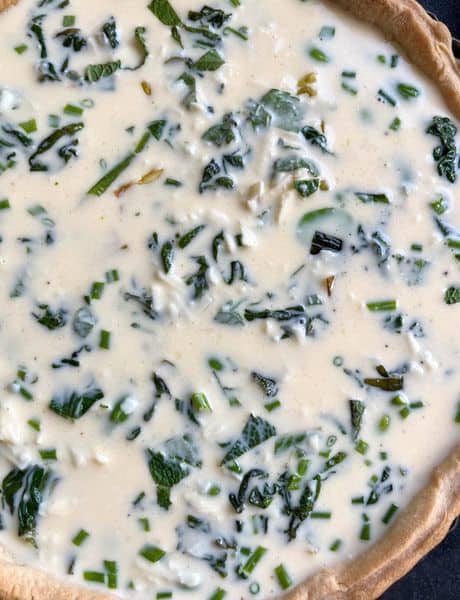 eggs
I use three large free range eggs, but if you only have medium eggs, please don't feel you need to rush out and buy large just for this recipe. It won't make much difference at all.
milk
I used semi skimmed milk as that's what I usually tend to have in the fridge at most times, but you can use whole milk instead. I've never made quiche with skimmed milk so I can't comment on how it would turn out.
double cream
Using a little double cream makes the filling more luxurious. I'm not a big fan of a quiche made with just cream – it's a little to heavy for my taste. I find a ratio of 50/50 milk to cream is perfect but I appreciate everyone has different taste.
cheddar cheese
I don't think you can ever go wrong with a good British cheddar cheese – I think a mature cheddar is essential for the best flavour. I used good old Cathedral City which I always use in my cauliflower cheese recipe, but another favourite of mine, the Cornish cruncher would also be a fantastic choice. I used 150g grated cheddar cheese for this recipe. You'll add half of the cheese to the eggs/milk mixture and sprinkle the remaining half on top before baking.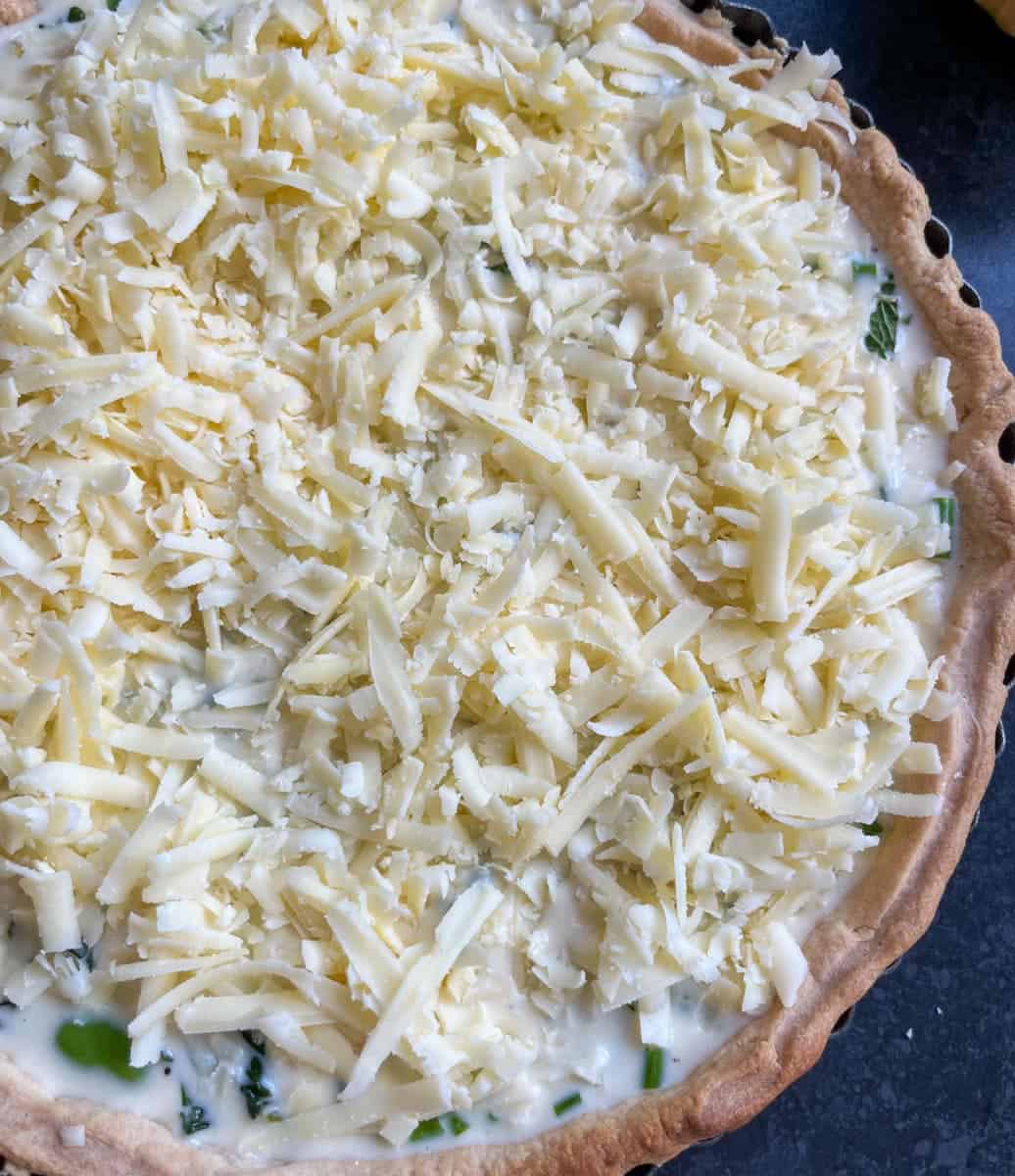 herbs
There was no way fresh tarragon was going into a quiche from my kitchen! I used a mixture of chopped chives and parsley. If you like tarragon, please go ahead and use it. I have been told it's very difficult to find in my small town.
salt and pepper
Seasoning is so important in a quiche – if it's under seasoned it can taste bland, but if you're over generous and add too much it can ruin it completely. I always use freshly ground black pepper and sea salt flakes that you crush between your fingers. I like Maldon or Cornish sea salt.
serving coronation quiche
The Palace suggests serving the Coronation quiche hot or cold with boiled new potatoes and a green salad which I am totally on board with. It's a classic, simple Spring suitable lunch/light dinner that will fill you up without leaving you feeling too full or bloated. My recipe for Spring greens with lemon and mustard dressing would also make a really nice side dish.
I do feel a quiche is much nicer served warm rather than piping hot – it's difficult to cut straight from the oven anyway – believe me I've tried and I don't advise it! Try and leave the quiche to sit for about 30 minutes before slicing and serving.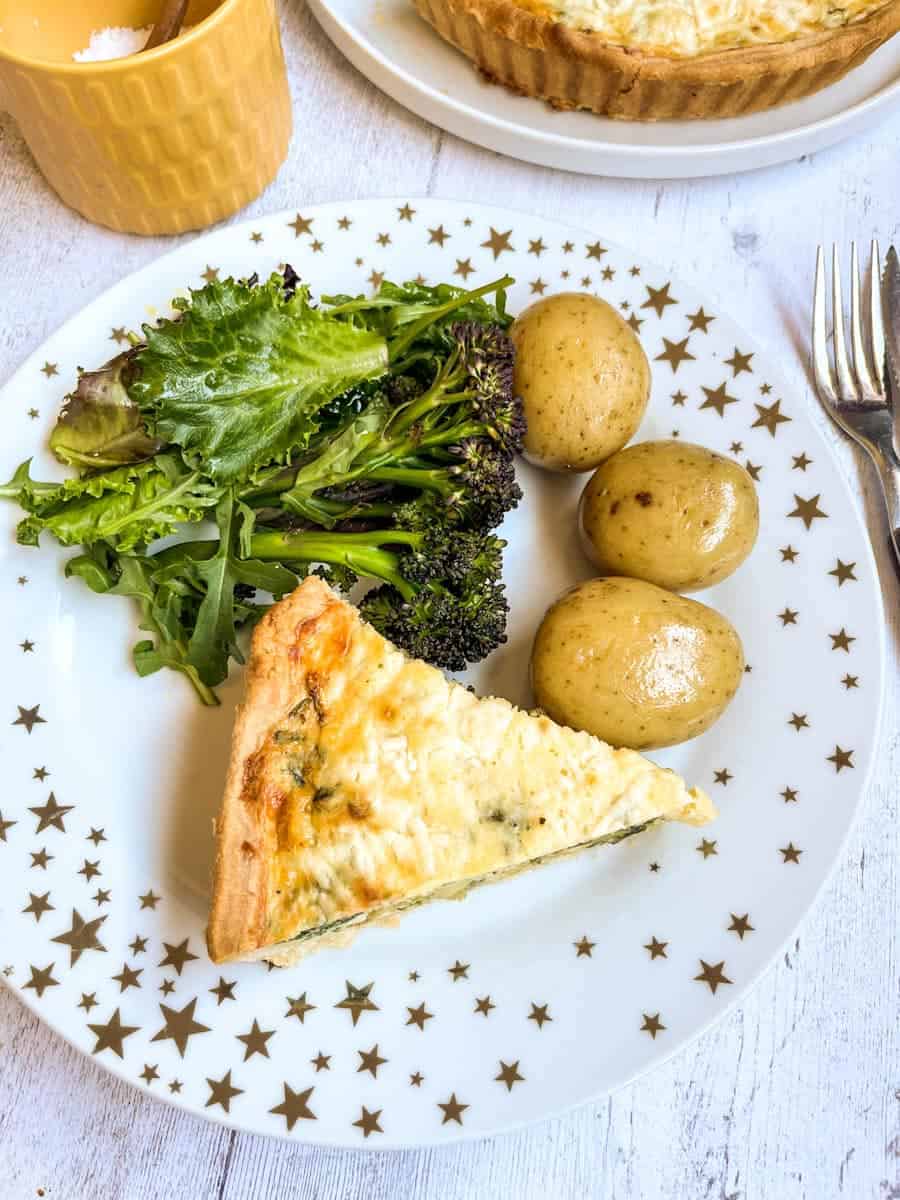 serving coronation quiche as part of a buffet
Of course a quiche is also ideal for serving with a buffet with a potato salad, creamy coleslaw and maybe a batch of homemade sausage rolls.
Since it's the Coronation, it would be perfectly fitting to make a batch of The Queen's favourite chocolate biscuit cake to enjoy with a cup of tea – it's rich, indulgent and quite impossible to resist. I can see why our late Queen loved it so much.
is this coronation quiche suitable for vegetarians?
The official recipe calls for lard in the pastry, therefore it is not suitable for vegetarians. However, since I've used all butter in my pastry this version is veggie friendly!
adapting coronation quiche recipe
Luckily, a quiche is something that can be adapted to your own personal choice – this is exactly why The Royal Family suggested making a quiche for the Coronation weekend. This is a great base recipe to play with and add your own twist. Here are a few suggestions:
Don't like broad beans or can't find any? Frozen or fresh peas work beautifully instead
add a different herb – the chives work very well, but you could use fresh basil instead.
make an asparagus quiche – asparagus is in season right now and would be a delicious addition. Lightly steam the asparagus spears for 2 minutes, then place on top of the quiche in a decorative fashion before baking.
Add chopped cooked bacon or ham
Replace the leeks with finely chopped onions – they will take at least 10 minutes longer to cook – you'll need to cook them over a low heat for a good while until soft, golden and caramelised.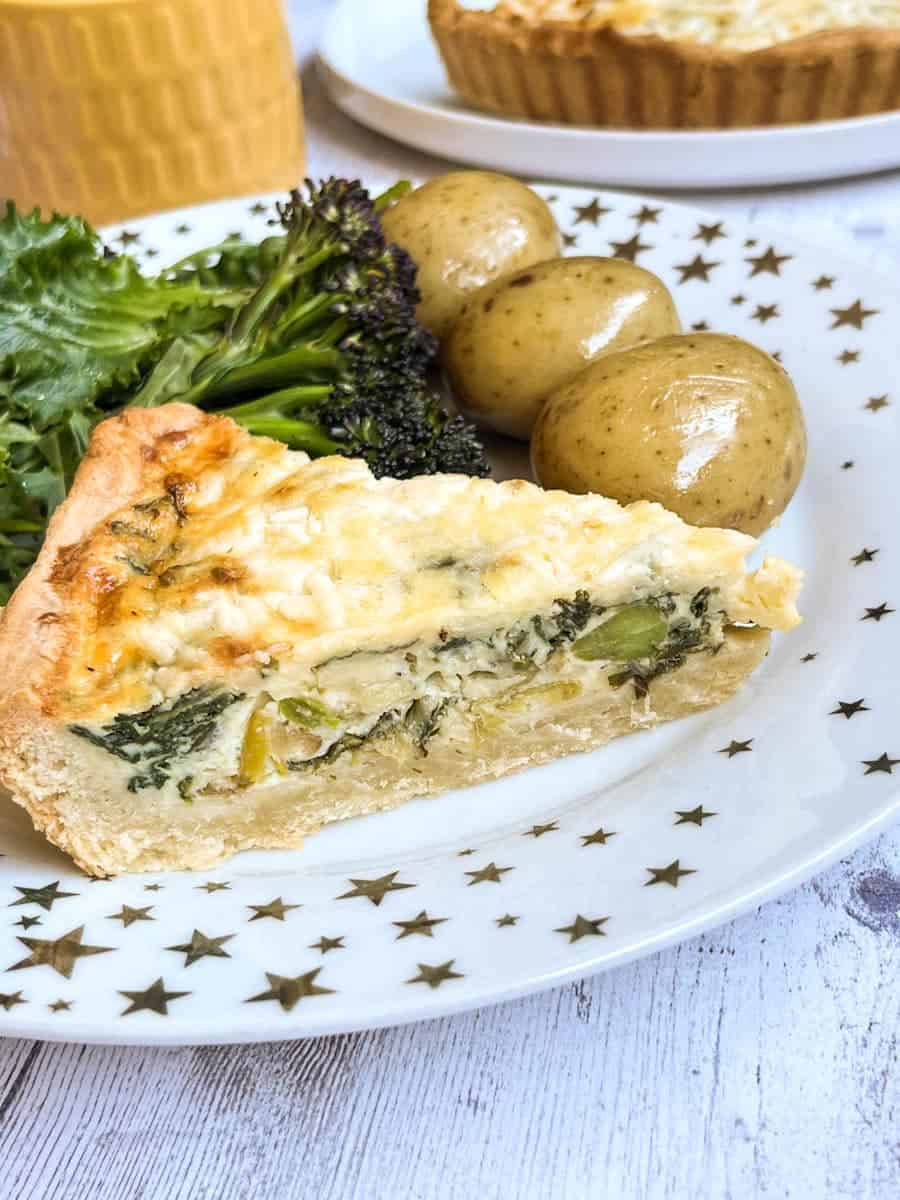 did you make this recipe?
If you did, I would really love to know what you thought of it! Let me know by leaving a comment below – I always value any feedback, as long as it's done in a polite manner!
Alternatively, if you have any questions about the recipe, please just ask and I'll do my best to help you.
more quiche recipes to try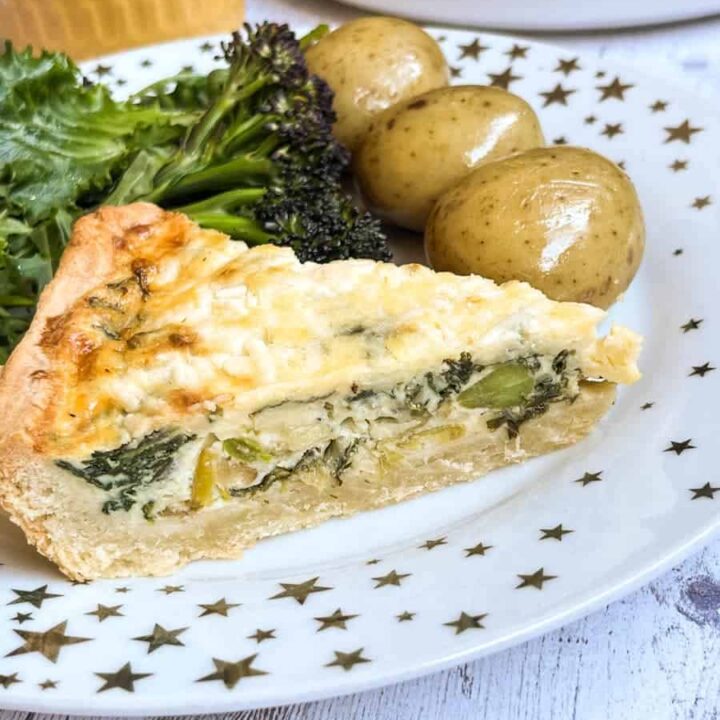 Coronation Quiche
Additional Time:
30 minutes
Total Time:
1 hour
30 minutes
My adapted version of the Coronation Quiche, created by the Royal chefs to celebrate the Coronation of King Charles III. A delicious quiche with buttery shortcrust pastry, sauteed leeks, broad beans, fresh spinach, mature cheddar cheese and fresh herbs.
Ingredients
FOR THE SHORTCRUST PASTRY
200g plain (all purpose) flour
1/4 teaspoon fine salt
100g very cold butter, cut into small cubes
1 medium egg yolk, beaten
roughly 3 tablespoons ice cold water
FOR THE QUICHE FILLING
One small leek, finely sliced - I use the white and green parts but if the green leaves on the top of the leek are very tough I would save them and use in soup instead)
Salt and freshly ground black pepper
3 large eggs
100ml while or semi skimmed milk
100ml double (heavy) cream
75g Broad beans or peas
120g fresh spinach
salt and freshly ground black pepper to season the spinach
freshly grated nutmeg (optional)
150g mature cheddar cheese
1 tablespoon freshly chopped chives
1 tablespoon freshly chopped parsley
Instructions
MAKE THE PASTRY Place the flour and salt into a large mixing bowl and stir to combine. Add the cold butter cubes and using your fingertips and thumbs, lightly rub the butter into the flour until the mixture resembles breadcrumbs.
Add the beaten egg yolk and 2 tablespoons of the water and using a table knife, combine the ingredients together until it starts to come together. If there are lots of dry crumbs remaining (the pastry should be moist but not too sticky to handle), add the remaining tablespoon of cold water. Gently gather the dough together with your hands to make a ball. Try not to handle the dough too much - the less you work it, the lighter the pastry will be. Wrap the dough in clingfilm and chill for a least 30 minutes before using. To make the pastry in the food processor, please see notes below.
PREHEAT THE OVEN to 180C/160Fan/Gas mark 6. You'll need a 22cm tart tin. Roll out the pastry out evenly on a lightly floured work surface to about 25cm (this allows for shrinkage when baking blind) then place on top of the tart tin. Try not to pull or stretch the pastry while doing this or it could shrink while baking. Gently press the dough into the edges of the tin. You'll have a little overhang but you'll be cutting this off later. Place a large piece of baking parchment in the tin and fill with baking beans or dried pulses. Bake the pastry case for 15 minutes, then remove the beans and parchment and bake for a further 5-10 minutes or until the pastry is crisp and light golden all over. Remove from the oven and set aside to cool down.
COOK THE LEEKS Heat the oil and butter over a low-medium heat in a large saucepan. Add the leeks, sprinkle with a little salt and pepper and gently saute for about 5 minutes or until the leeks have softed but are not coloured. Remove from the heat and allow to cool slightly before adding to the cooled pastry case.
PREP THE FROZEN BROAD BEANS Place the beans in a bowl of boiling water and leave for one minute, then remove and pop the beans for their skins. This is very satisfying work, at least it is to me.
WILT THE SPINACH Give the pan you cooked the leeks in a wipe with kitchen towel, add the spinach and season with a little salt and pepper and just a little grated nutmeg. Wilt the spinach over a very low heat. This will just take a minute. When the spinach has wilted down, remove from the pan and transfer to a sieve. Give the spinach a gentle squeeze to remove any water, then chop it up (if the leaves are very large) and transfer to the pastry case with the leeks.
MAKE THE CUSTARD FILLING Beat the eggs, milk and cream together. Stir in half of the grated cheese and season with salt and pepper, then add the chopped chives and parsley. Pour the filling into the pastry case.
TIME TO BAKE Transfer to the oven and bake for 30-35 minutes or until the filling is puffed up, golden and set in the middle. Alllow to cool for about 30 minutes before slicing and serving.
Notes
To make the pastry in a food processor, place the flour, salt and cold butter cubes in the bowl and pulse until the mixture resembles breadcrumbs. Add the egg yolk and 2 tablespoons of the cold water, then pulse again until the mixture begins to form a dough, adding the 3rd tablespoon of water if it seems dry. The dough needs to be moist and fairly pliable, but not sticky. Remove the dough from the processor, form into a disc, wrap in clingfilm and chill for 30 minutes before using.
For a slightly lighter quiche, you could omit the double cream and use all milk instead.
Nutrition Information:
Yield:

8
Serving Size:

1
Amount Per Serving:
Calories:

195
Total Fat:

18g
Saturated Fat:

10g
Trans Fat:

0g
Unsaturated Fat:

6g
Cholesterol:

76mg
Sodium:

304mg
Carbohydrates:

6g
Fiber:

0g
Sugar:

2g
Protein:

3g
Calories and nutritional information are provided by a third party application and should be viewed as indicative figures only.