If you're looking for an easy Coronation chicken recipe, look no further. Perfect for serving with a salad, on top of a baked potato or as a delicious sandwich filling. A British lunchtime classic!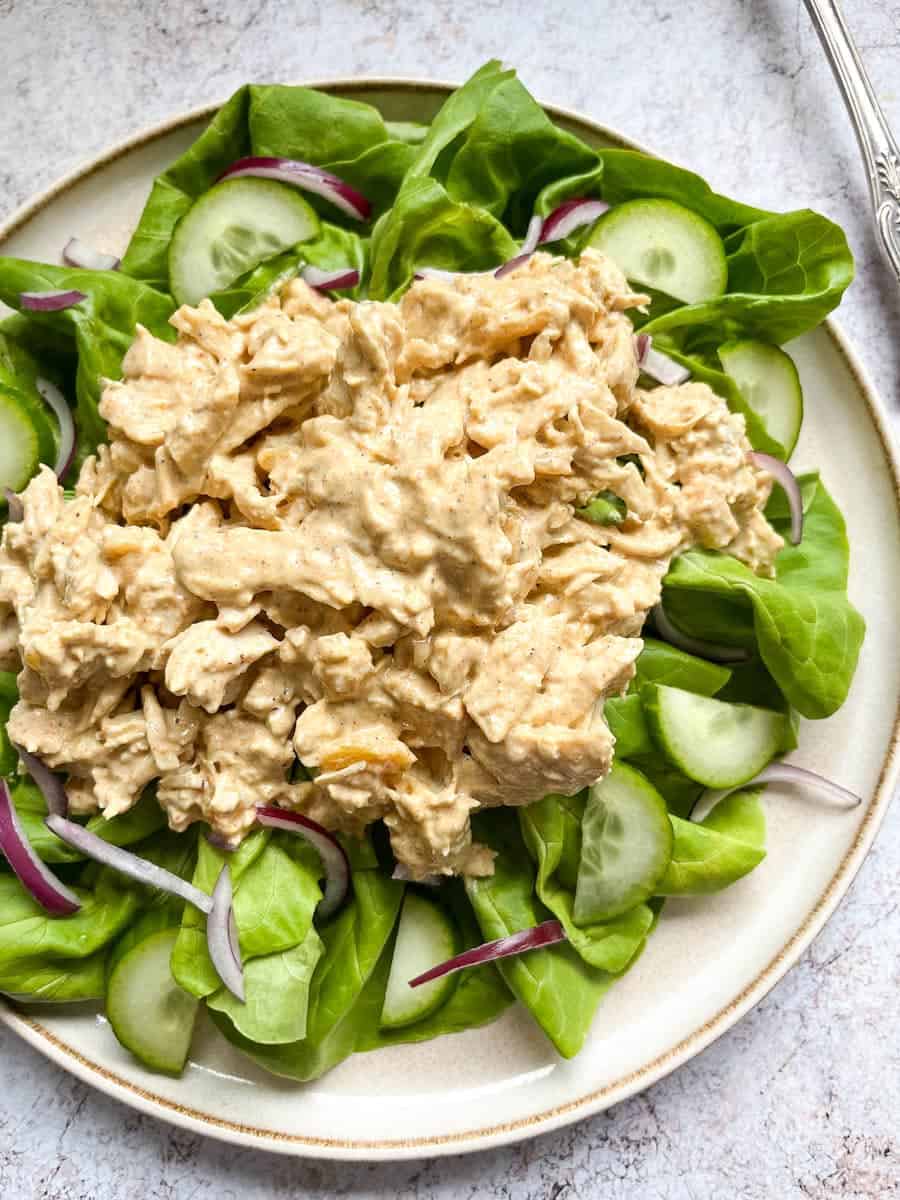 what is coronation chicken?
Coronation chicken is a cold, curried chicken salad. It was created in 1953 by Rosemary Hume and Constance Spry at Le Cordon Bleu cookery school in London. On 2nd June 1953, 350 foreign dignitaries enjoyed the cold curried chicken dish at the Coronation Luncheon after Queen Elizabeth was crowned.
In this day and age it might be hard to believe that "Poulet Reine Elizabeth" or Coronation chicken as we all know it as, was a very fancy, unsual dish all those years ago. Curry was practically unheard of in the UK and, as a Country still suffering from the effects of rationing, chicken was considered a huge treat. Spiced chicken in a creamy, curried sauce would have been very exotic!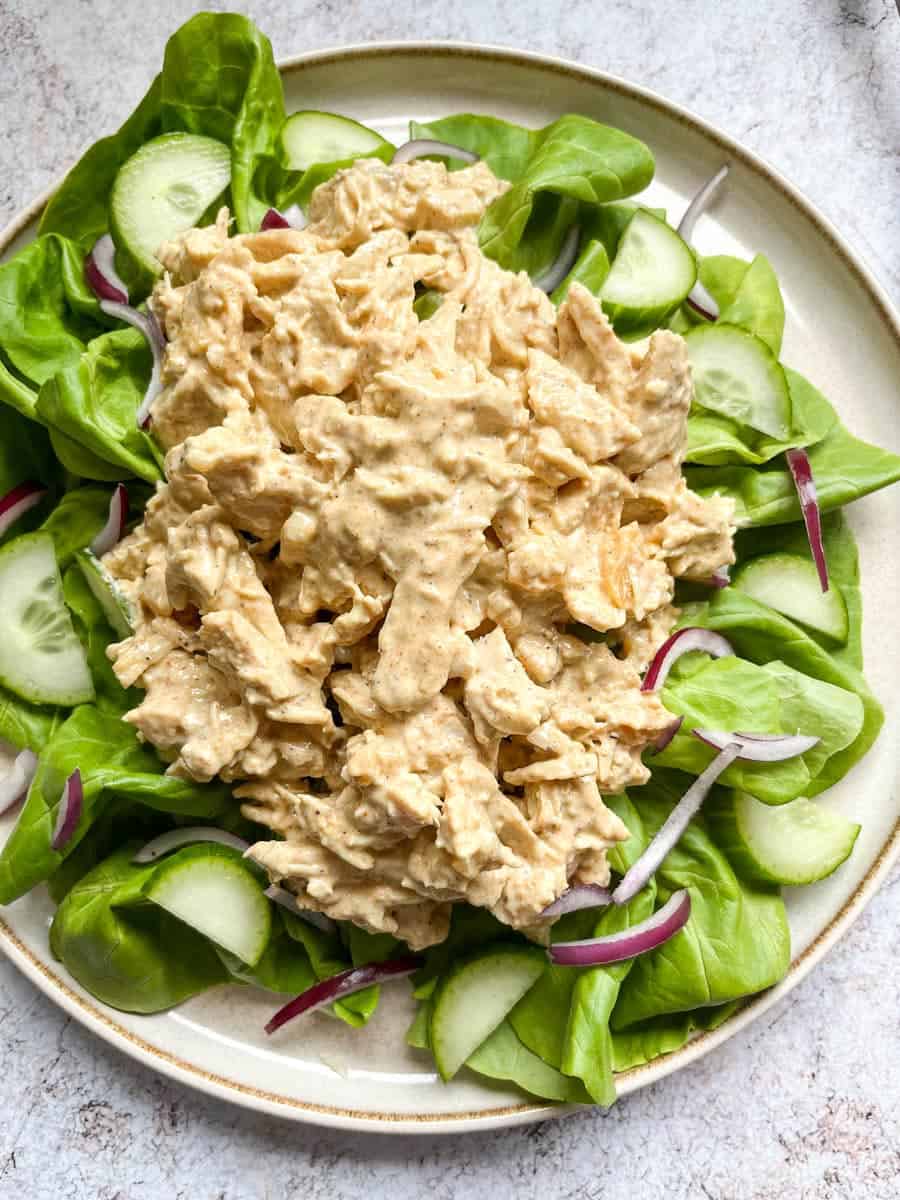 The original dish involved poaching a whole chicken in water, wine and aromatics such as bay leaves, thyme, peppercorns and parsley. The sauce was made with curry powder, onion, tomato puree, red wine, lemon, apricot puree and cream.
It wasn't exactly a complicated recipe, but it definitely become a lot easier for the home cook over the years! Most modern recipes for Coronation chicken won't start by instructing you to poach a chicken. All you need is some cooked cold chicken and you're halfway there. I often make Coronation chicken with leftover roast chicken.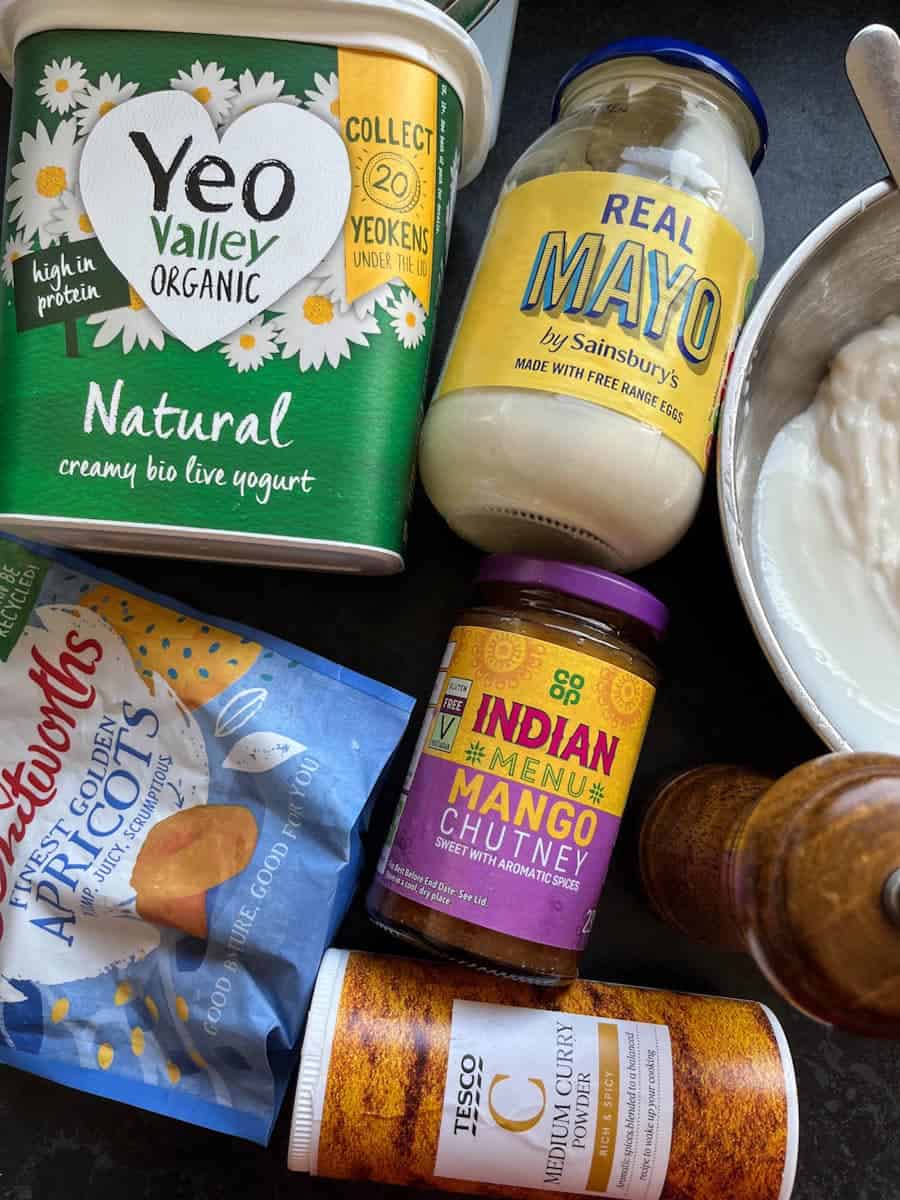 ingredient list
cold cooked chicken. I prefer to use chicken breast to make this recipe.
Mayonnaise. It's best to use full fat here – and no, I don't make my own mayo! I like the Hellmann's brand.
Plain yoghurt. I find a sauce made with all mayo quite heavy, so I always use 50/50 mayo and yoghurt.
curry powder. I used 1/2 tablespoon medium curry powder which gives a nice kick without being too overpowering, but it really depends on how strong your curry powder is.
RECIPE TIP I would suggest adding two teaspoons of curry powder first, then have a taste and see if you want to add more. It's all about personal preference. If you're using mild curry powder, you might need to start with a tablespoon. You can also use curry paste to make Coronation chicken.
mango chutney isn't an original ingredient in Coronation chicken, but it's a delicious addition. It adds a tangy sweetness to the sauce.
soft dried chopped apricots or sultanas also add sweetness and texture to the creamy sauce.
a squeeze of lemon juice really brightens the flavours of the sauce – it makes such a difference. You won't need much, I find just under half a lemon is enough.
Don't forget to season the sauce to taste with salt and freshly ground black pepper.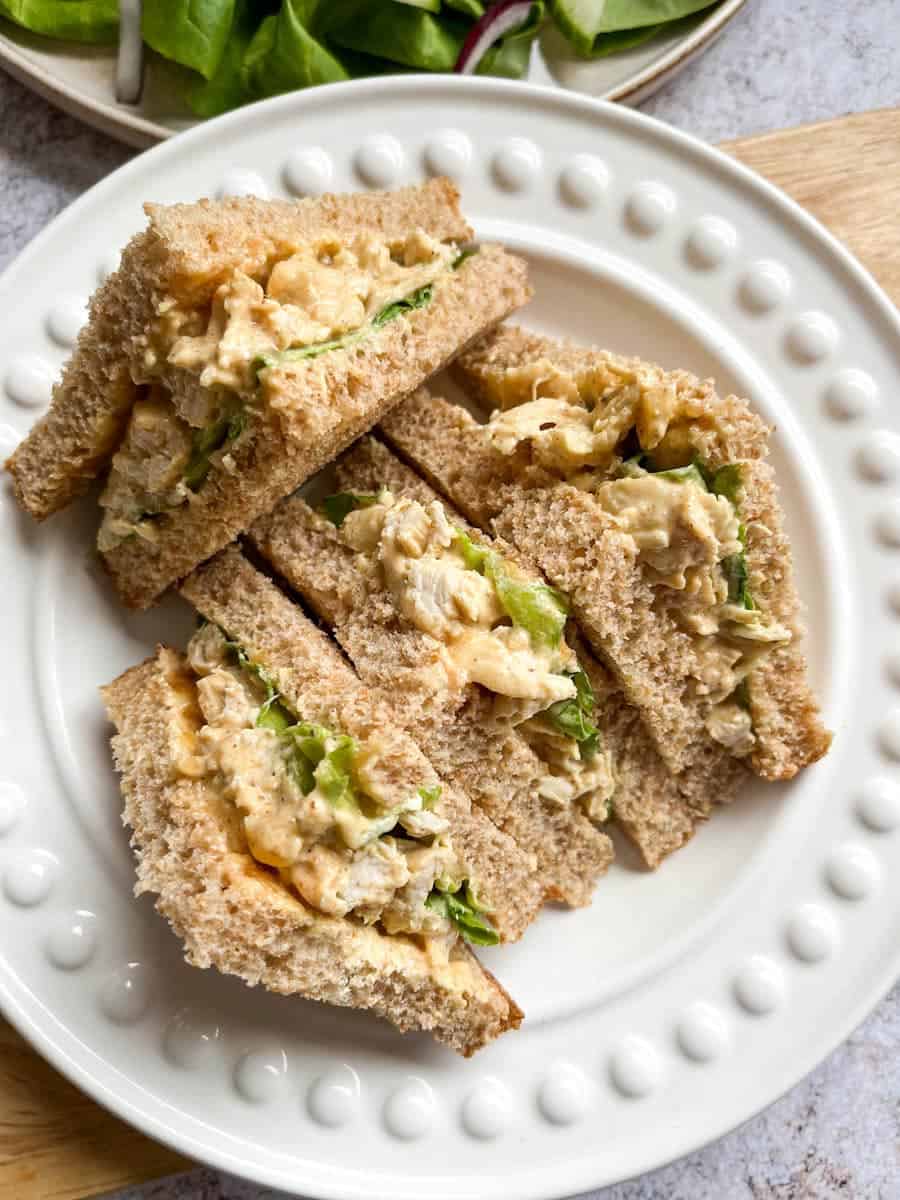 How to make Coronation chicken
Step one – make the sauce
Place the mayo, yoghurt, curry powder and mango chutney in a bowl and give it a stir until smooth and all the ingredients are well combined. Stir in the apricots or sultanas. Squeeze in the lemon juice, then season to taste with salt and pepper.
step two – add the chicken
Stir in the cold cooked chicken until it's thoroughly coated in the sauce. Your Coronation chicken is ready to serve!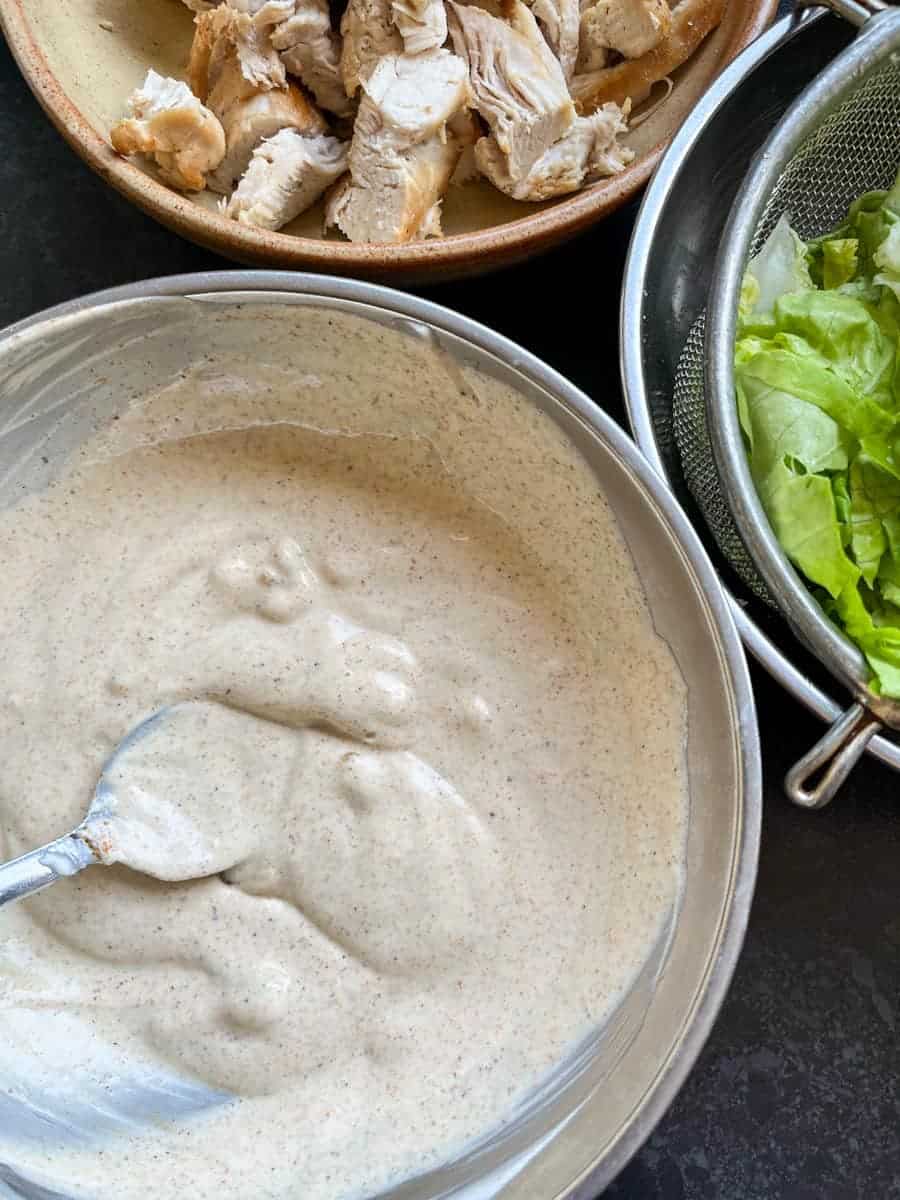 how to serve coronation chicken
Creamy Coronation chicken is of course perfect in a sandwich, roll or baguette with some crunchy lettuce. It's a lunch I could never, ever grow tired of.
If you're into making your own bread, then my soft white sandwich loaf would make THE perfect sandwich. I'm also very fond of a Tiger bread sandwich as well….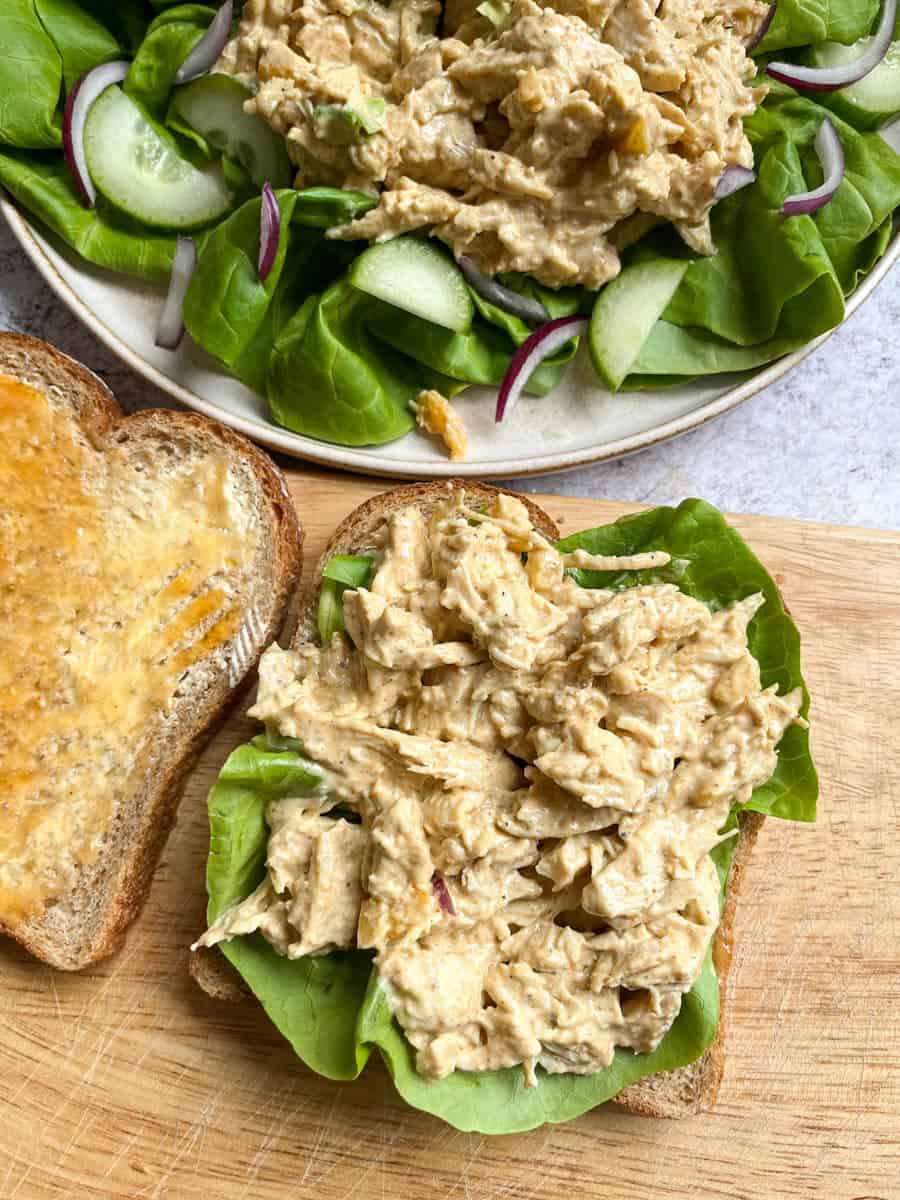 And as far as I'm concerned, there is no better filling for a baked potato than Coronation chicken. Apart from maybe cheesy beans……
It would also make a lovely addition to a buffet along with some creamy potato egg salad and maybe even a good old British quiche.
what is a substitute for mango chutney in coronation chicken?
If you don't have any mango chutney, you could use apricot jam instead. This is actually more in keeping with the original Coronation chicken recipe. I only use mango chutney because I always have a jar in my fridge, but I don't tend to have apricot jam very often.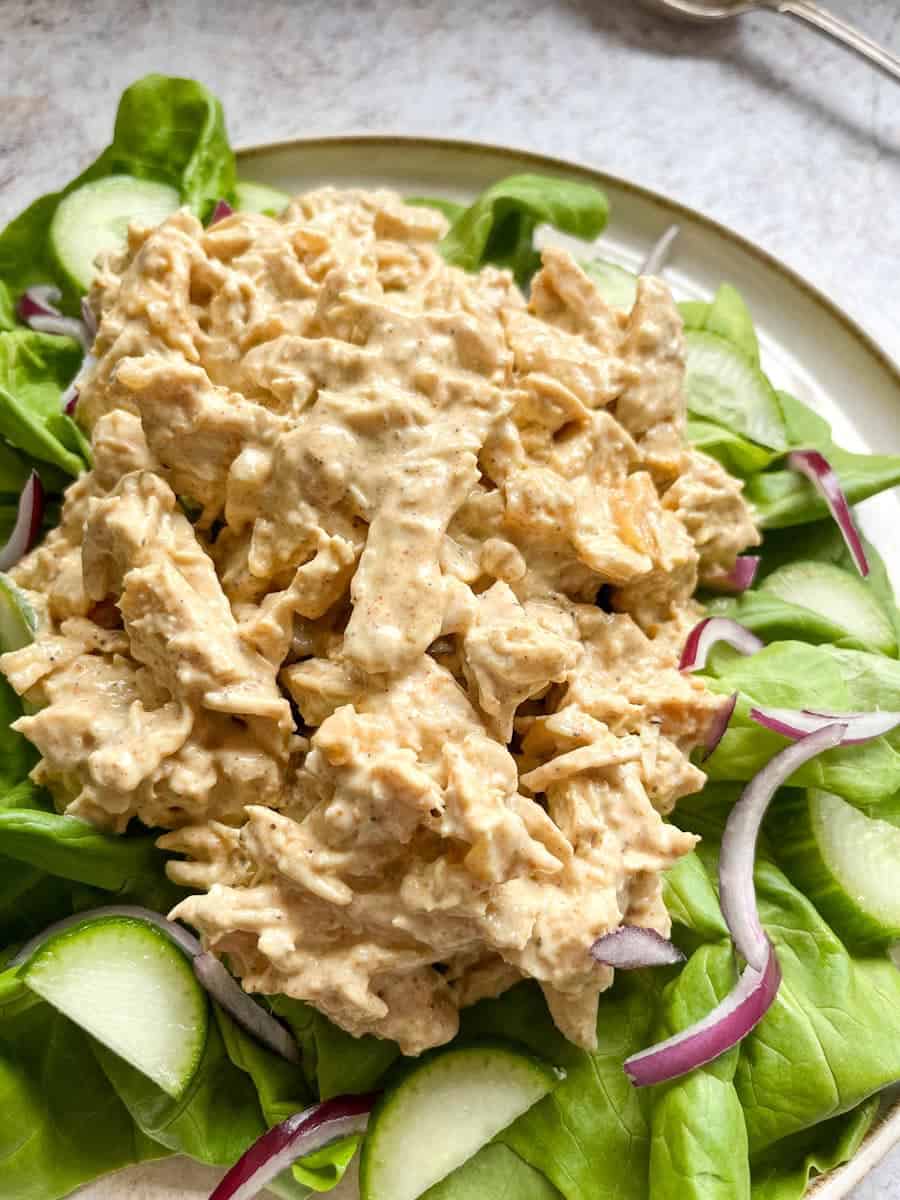 Can I make Coronation chicken ahead of time?
Yes and it's actually so much better if you do. Making Coronation chicken at least a couple of hours in advance will allow all the flavours to develop and mature.
How long does Coronation chicken last in the fridge?
If you've cooked the chicken on the same day, Coronation chicken will keep for about three days. If you're using leftover chicken that was cooked a day or two before, then it should be eaten within 24 hours.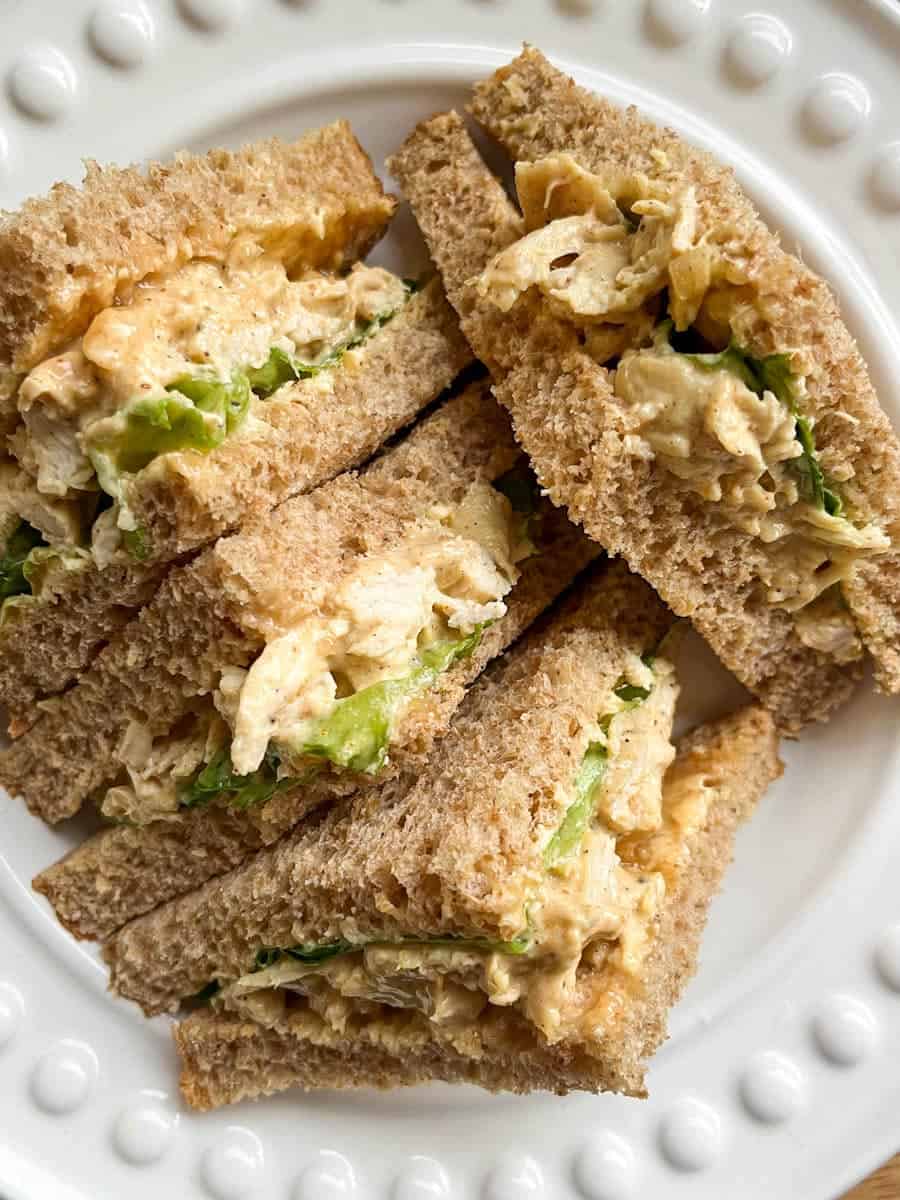 did you make this recipe?
I really hope you loved it! Let me know what you thought by leaving a comment below and don't forget to rate the recipe by clicking on the stars in the recipe card.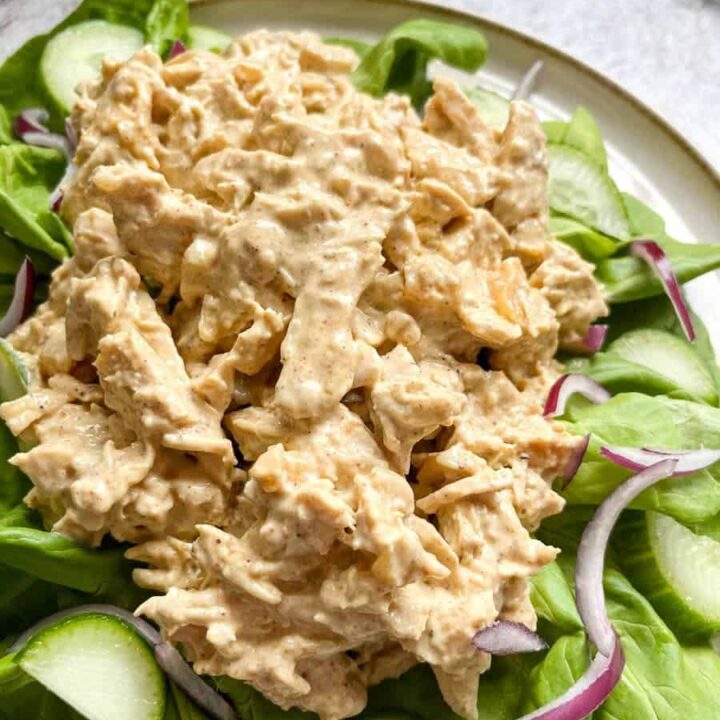 Easy Coronation Chicken Recipe
This easy Coronation Chicken recipe makes such a delicious sandwich filling! Alternatively, pile on top of a baked potato or serve with a crisp green salad. A British classic!
Ingredients
105g (7 tablespoons) full fat mayonnaise
105g (7 tablespoons) plain or Greek yoghurt, preferably full fat
1/2 tablespoon medium curry powder (see recipe notes)
3 tablespoons mango chutney
Juice of half a small Lemon
sea salt and freshly ground black pepper
50g soft dried chopped apricots or sultanas
300g cold cooked chicken breast, chopped or shredded
Instructions
To make the sauce, combine the mayo, yoghurt, curry powder, mango chutney and lemon juice. Season with salt and pepper to taste.
Stir in the diced chicken and chopped apricots or sultanas, mixing well until everything is well combined.
Serve as a sandwich or baguette filling, pile on top of a hot baked potato or serve with a green salad and finely sliced red onion.
Notes
If you have mild curry powder, you might need to add a tablespoon, or even more if you want your sauce to pack a punch!
Nutrition Information:
Yield:

4
Serving Size:

1
Amount Per Serving:
Calories:

352
Total Fat:

6g
Saturated Fat:

2g
Trans Fat:

0g
Unsaturated Fat:

4g
Cholesterol:

68mg
Sodium:

228mg
Carbohydrates:

49g
Fiber:

3g
Sugar:

39g
Protein:

27g
Calories and nutritional information are provided by a third party application and should be viewed as indicative figures only.