Looking for an easy slow cooker chicken curry recipe? This is the one! A creamy chicken curry with coconut milk that's mild, creamy and delicious. Prefer a hot curry? Feel free to spice it up with hot curry powder or paste.
What makes this slow cooker chicken curry recipe so easy? You don't need to brown the chicken! You just add all the ingredients to the slow cooker and leave it alone for a few hours. Just what you need on a busy week night when you're busy juggling about 10 different plates.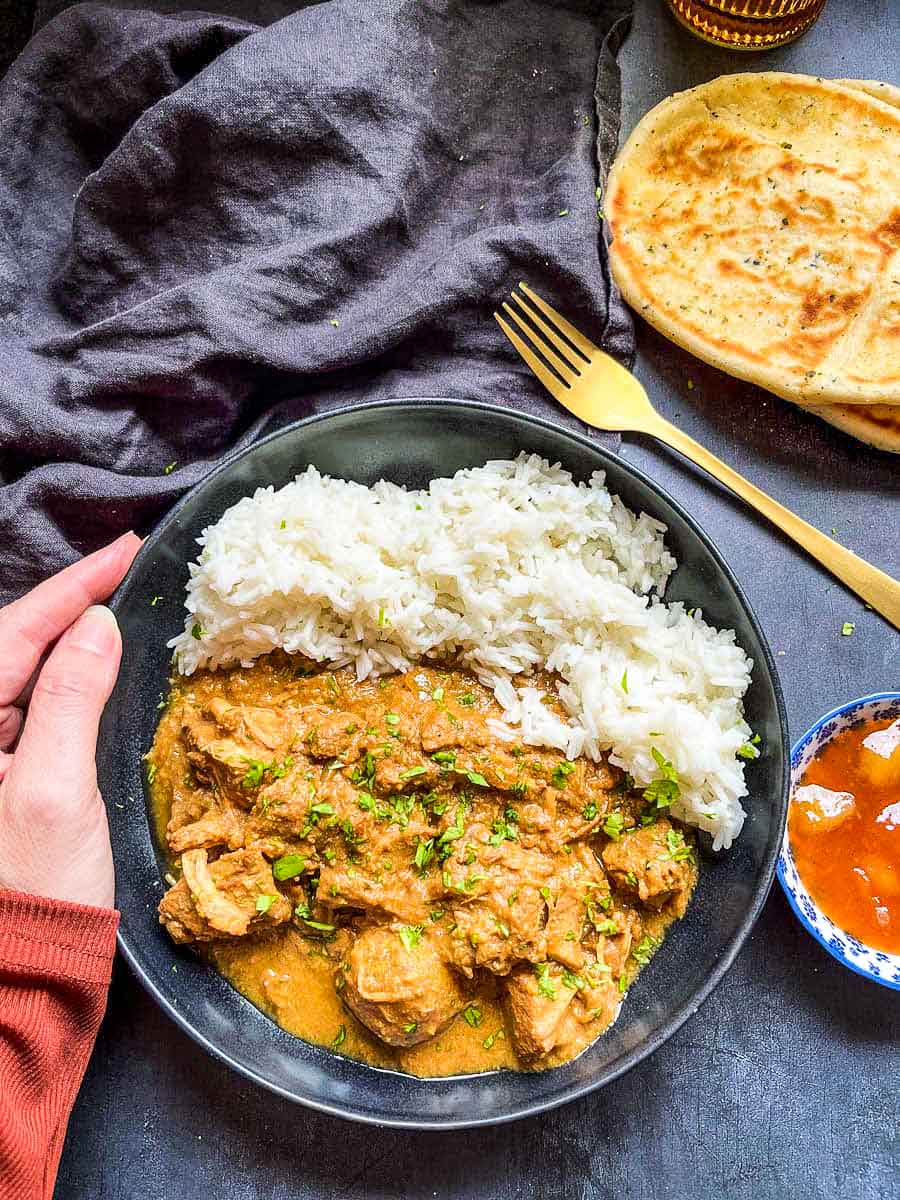 Hello! I'm back with a recipe that's been a huge hit in my house over the past few weeks – a classic slow cooker chicken curry that the whole family is sure to love!
When I say it's ridiculously easy to make, I really mean it. There's no need to brown the chicken! Just pop everything in the slow cooker/crock pot and let the machine work its magic. 
easy slow cooker chicken curry recipe
My boys really love this recipe. My eldest son said it's the best curry I've ever made!! Now I'm not making any claims this is an Authentic Indian curry at all, but I'll happily accept that compliment!
This is seriously good comfort food for the Winter months ahead. There's no fancy ingredients here – you should find all of them in most supermarkets.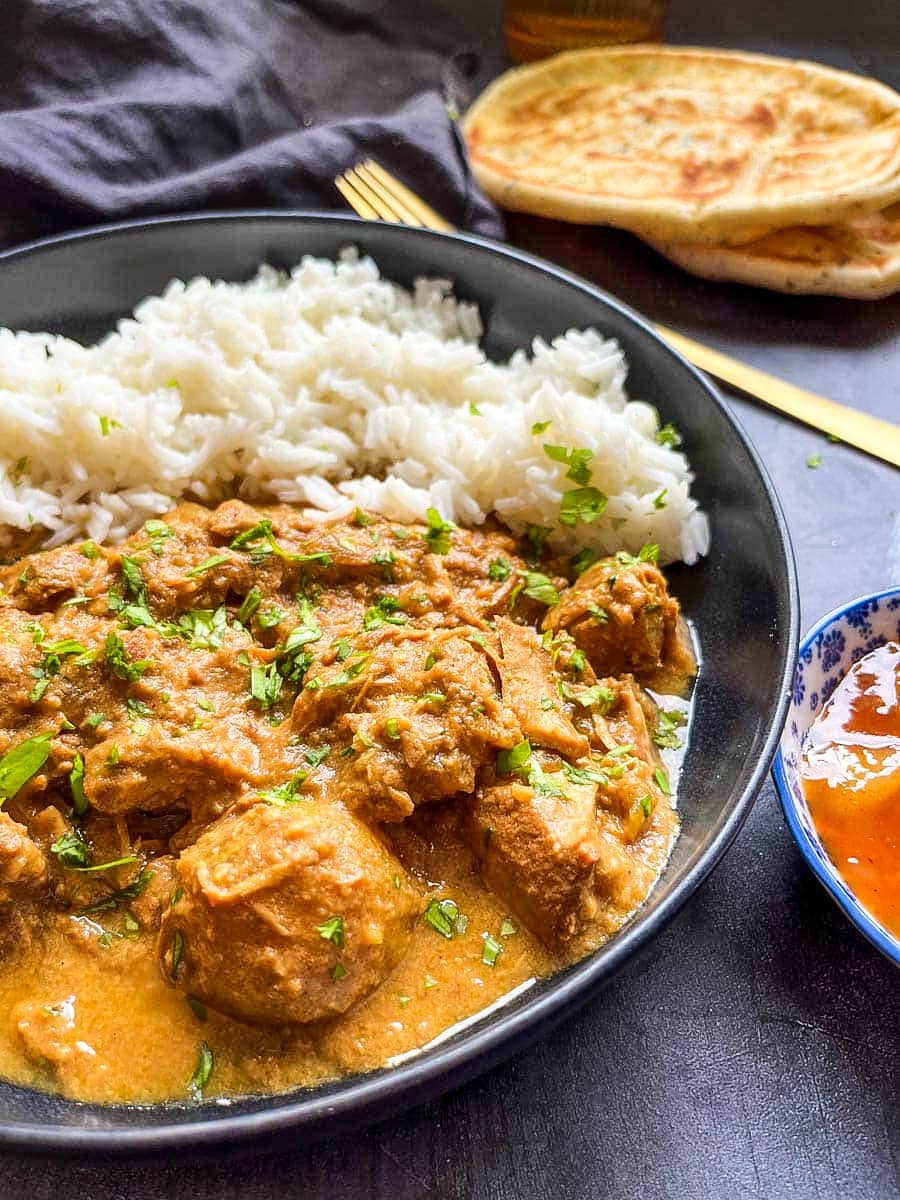 ingredient list
boneless, skinless chicken breasts/chicken fillets. If you wanted to use boneless chicken thighs, that would also work great.
garlic and ginger paste. I can't be without these handy pastes in my fridge – they are such a great timesaver. Of course if you prefer, you can use fresh garlic and ginger instead.
coconut milk. I try and use the full fat if I can, but I usually use Maggi coconut milk powder which is a great store cupboard ingredient. If you're looking for a quick curry recipe with coconut milk, try this super easy Red Thai prawn curry.
chicken stock – I use a stock cube for this recipe.
spices – ground cumin, ground coriander, turmeric, chilli powder, salt, freshly ground black pepper and Garam masala. If you want to omit the chilli powder, that's fine.
tomato puree adds a nice depth of flavour to the sauce.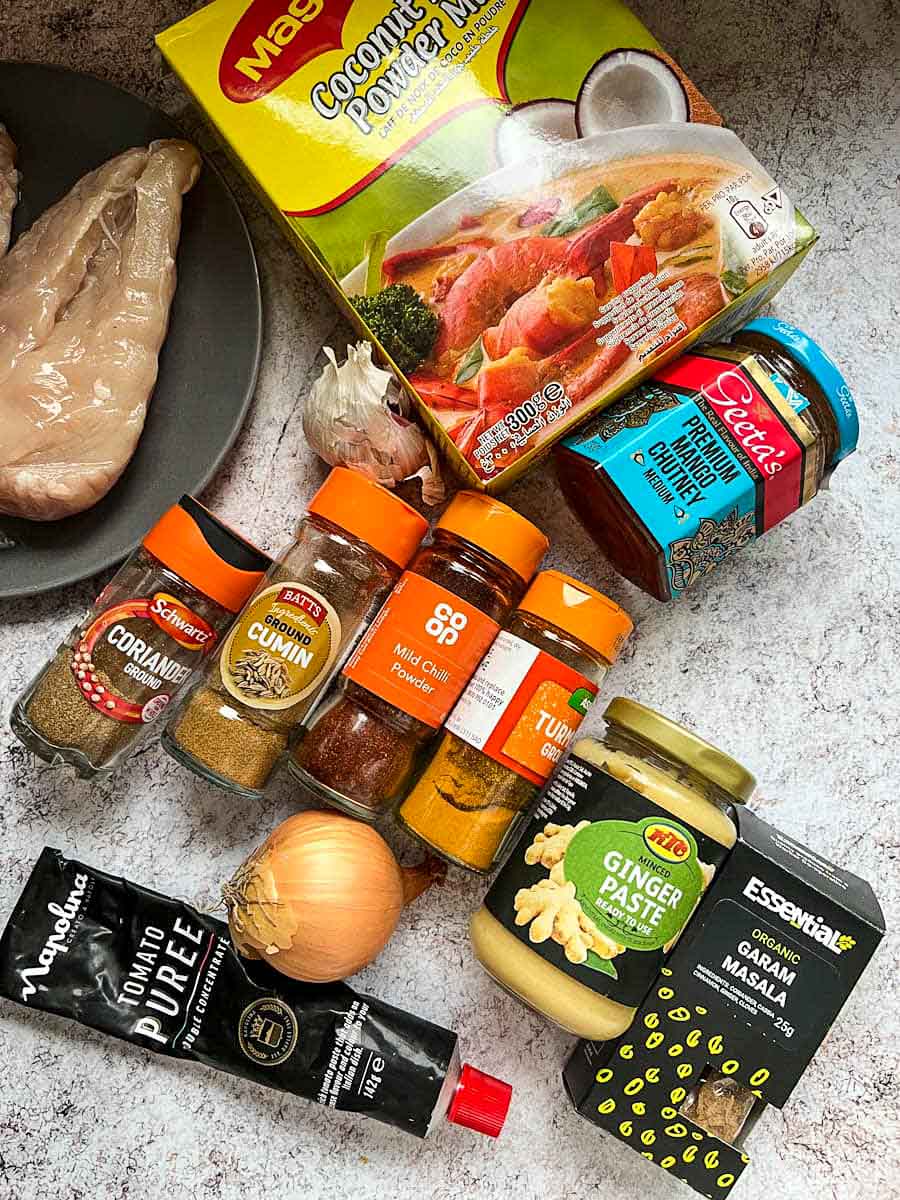 equipment
I love my slow cooker. It's not an expensive brand with lots of bells and whistles, but it does the job perfectly. I have this red Crock pot with hinged lid. It's one of my most used pieces of kitchen kit.
I recommend a set of measuring spoons to measure out your spices. I use these magnetic measuring spoons from Lakeland.
how to make slow cooker chicken curry
You're going to love how simple the method is!
Preheat your slow cooker. Place all of the ingredients APART from the Garam Masala inside the slow cooker.
Cook on HIGH for 4-5 hours or LOW for 6-7 hours.
When the curry is ready, the chicken will break up and shred very easily at the touch of a fork.
I find if you cook this curry on the LOW setting for 6 or 7 hours, the chicken becomes very, very soft and falls apart at the touch of a fork. If you would prefer to keep the chicken in larger pieces, I would recommend cooking on HIGH for about 5 hours. This of course will depend on your own slow cooker, so please make sure the chicken is fully cooked before you serve it.
Just before you're ready to serve the curry, stir in the Garam Masala. This will really give the curry a "lift" in flavour. You might also need to add a little more salt.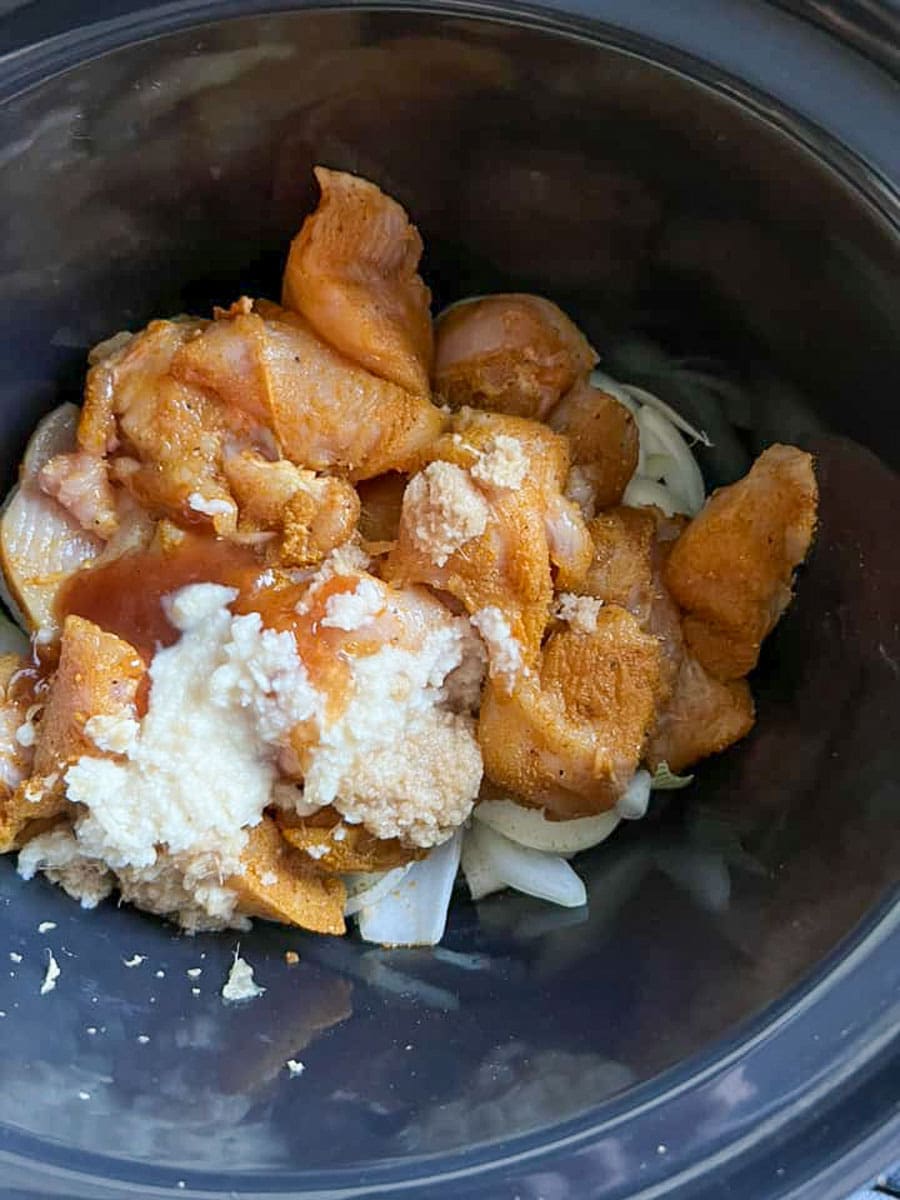 recipe troubleshooting and handy tips
can you put raw chicken in slow cooker? 
Yes, you actually can place raw chicken directly in a slow cooker. I'm normally a big believer of browning meat before slow cooking to add flavour to the finished dish (I do for my slow cooker beef and chorizo casserole) but for this recipe there is really no need to do so. 
There are so many flavoursome ingredients packed into this curry that browning the chicken wouldn't make any difference whatsoever. I'm all for convenience and ease and this recipe couldn't get any easier. 
I love the fact that I can literally throw all the ingredients in the slow cooker, walk away and a few hours later, dinner is ready!
the sauce is too thin!
If the sauce is a little too thin for your liking, you can thicken it with a cornflour slurry.
Mix a tablespoon of cornflour and a tablespoon of cold water together until smooth, then pour into the slow cooker, stirring. This will thicken the sauce slightly.
cook the curry with the lid off for a while
Leaving the lid off the slow cooker for the last hour of cooking time will also thicken the sauce up.
should i cut chicken for slow cooker?
The first couple of times I made this curry, I cut each chicken breast into four pieces. I was in such a hurry last time I made it I didn't even bother to cut them.
You can choose to either cut the chicken or leave them whole – it doesn't make much difference at all. If you decide to cut the chicken, don't make the pieces too small or they could end up drying out. If your chicken breasts are very large (like supremes) I would cut them into three or four pieces.
WHAT TO SERVE WITH SLOW COOKER CHICKEN CURRY
You don't need me to tell you that chicken curry is amazing served with Naan bread, rice, poppadoms and more mango chutney on the side of your plate. Oops, I just did.
It's not exactly traditional, also pretty fond of pilling this curry and the delicious sauce over a baked potato!
more easy curry recipes
If you're cooking this in advance for a family curry night or get together, you could make this slow cooker beef curry to go along with it. This green Thai vegetable curry would be perfect for non meat eaters!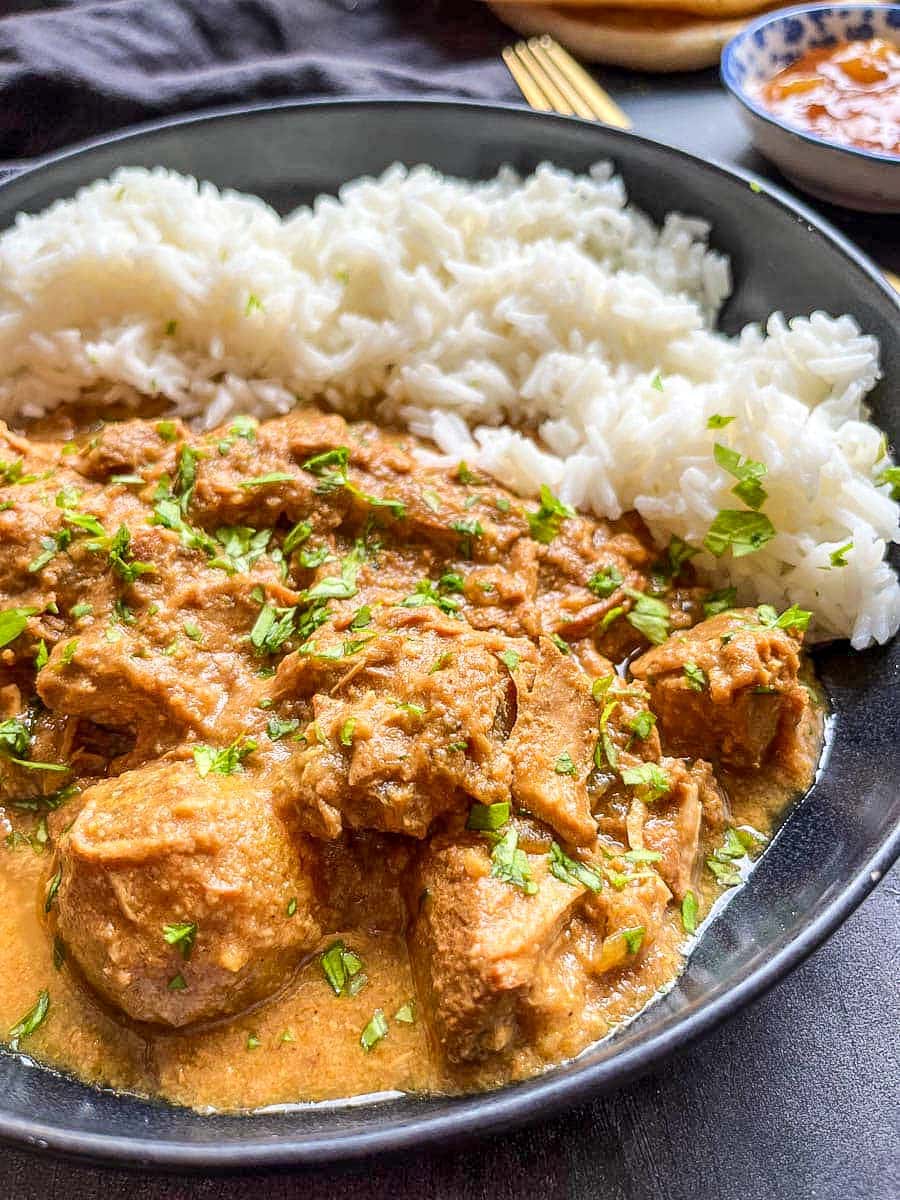 Storage instructions
Store the completely cooled chicken curry in a tupperware container and keep in the fridge for up to four days. 
reheating
Reheat the curry in a saucepan on a hob (medium heat) for at least 10 minutes or until piping hot. This curry is quite "saucy" so you shouldn't need to add any liquid on reheating, but if it does seem a bit dry add a little splash of water.
Can I freeze chicken curry?
Yes! Chicken curry is perfect for freezing. Store portions of the curry in freezer safe containers for up to three months. 
Defrost in the fridge overnight before reheating. I find it best to reheat the curry on the hob. The chicken soaks all the sauce up and it will be less "saucy" while reheating, so you will probably need to add a little water or stock.  Sometimes I add a little more coconut milk instead.
variations
I often make a chicken and sweet potato curry by adding a whole chopped sweet potato to the ingredients. Don't chop the potato too small – it needs to be quite chunky or it tends to disappear into the sauce.
Add some vegetables for added goodess and to stretch the meal further – sliced peppers, mushrooms and baby corn are all good for this recipe.
more slow cooker meaLs
did you make this recipe?
I really hope you enjoyed! Let me know how you got on by leaving a comment below. If you loved it, don't forget to come back and rate the recipe!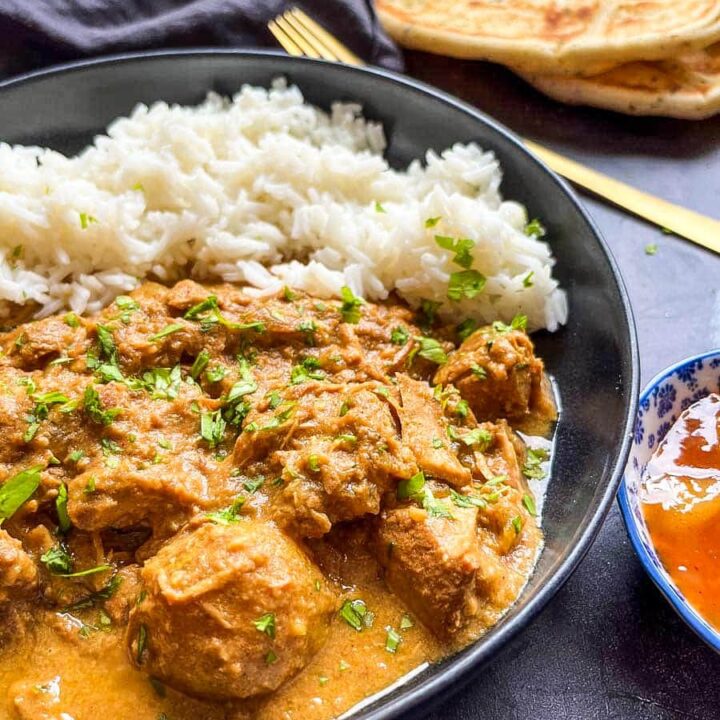 Easy slow cooker chicken curry
Total Time:
5 hours
5 minutes
Once you've tried this easy slow cooker chicken curry with coconut milk, it will become a family favourite! Simply place all the ingredients in the slow cooker, leave it to do its thing for a few hours and dinner is served.
Ingredients
3 large boneless skinless chicken breasts
One large onion, peeled and finely chopped
4 teaspoons garlic paste
2 teaspoons ginger paste
2 teaspoons ground cumin
2 teaspoons ground coriander
2 teaspoons ground turmeric
1 teaspoon mild chilli powder
1 teaspoon fine salt
1/2 teaspoon freshly ground black pepper
4 tablespoons mango chutney
400ml coconut milk
150ml chicken stock
2 tablespoons tomato purée
1-2 teaspoons garam masala
Instructions
Place everything apart from the garam masala in the preheated slow cooker. Cover and cook on High for 4-5 hours or LOW for 6-7 hours. If you're cooking on low for 6-7 hours, the chicken will be very soft and break apart easily with two forks.
Just before you're ready to serve the curry, open the lid and stir in the Garam Masala. Taste the curry to see if you want to add more salt.
If the curry sauce is too thin for your liking, you can either cook the curry on high with the lid off for about 30 minutes or thicken the sauce with cornflour. Stir together one tablespoon of cornflour with one tablespoon of cold water until smooth, then stir this into the curry. You should see the sauce start to thicken slightly.
Notes
serve the curry with rice, Naan bread, poppadoms and mango chutney/Indian pickles.
You can swap the chicken breasts for skinless boneless chicken thighs if you like.
Nutrition Information:
Yield:

4
Serving Size:

1
Amount Per Serving:
Calories:

456
Total Fat:

28g
Saturated Fat:

20g
Trans Fat:

0g
Unsaturated Fat:

6g
Cholesterol:

78mg
Sodium:

867mg
Carbohydrates:

21g
Fiber:

2g
Sugar:

11g
Protein:

33g
Calories and nutritional information are provided by a third party application and should be viewed as indicative figures only.