This Greek Orzo Salad with feta and olives is packed with flavour! it's great for a Summer picnic or light meal. It also makes a perfect side dish to serve alongside grilled chicken, fish, vegetables and so much more!
I love a Greek salad – they are so fresh and light to eat during the Summer months. When I want to make the salad a little more substantial, I add orzo pasta.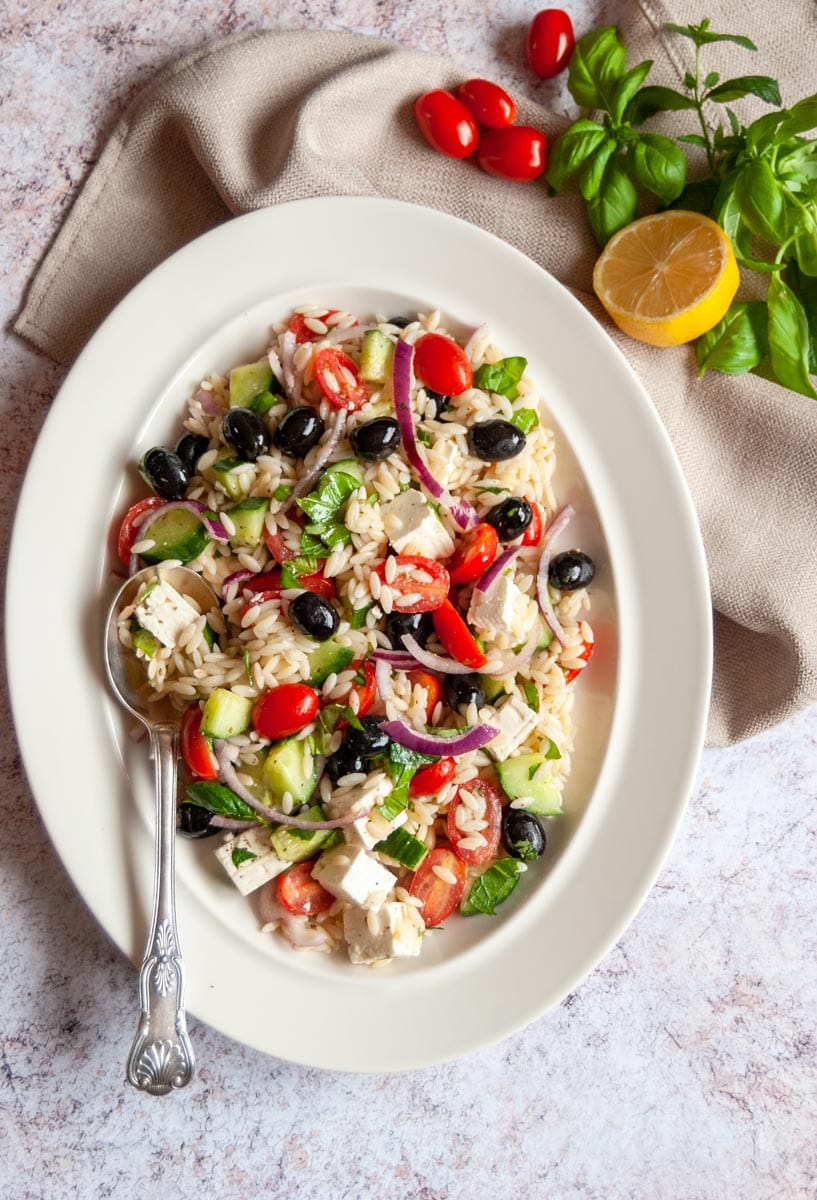 what is orzo?
Orzo, Italian for barley, is a small rice shaped pasta made from durum wheat. It is perfect for adding to soups and salads because of its small, neat size. It also makes a very simple but delicious side dish – cook the grains in stock until tender, drain, season and grate over some parmesan cheese.
I also use orzo pasta in my roasted pepper orzo salad – it's one of my favourite salad recipes!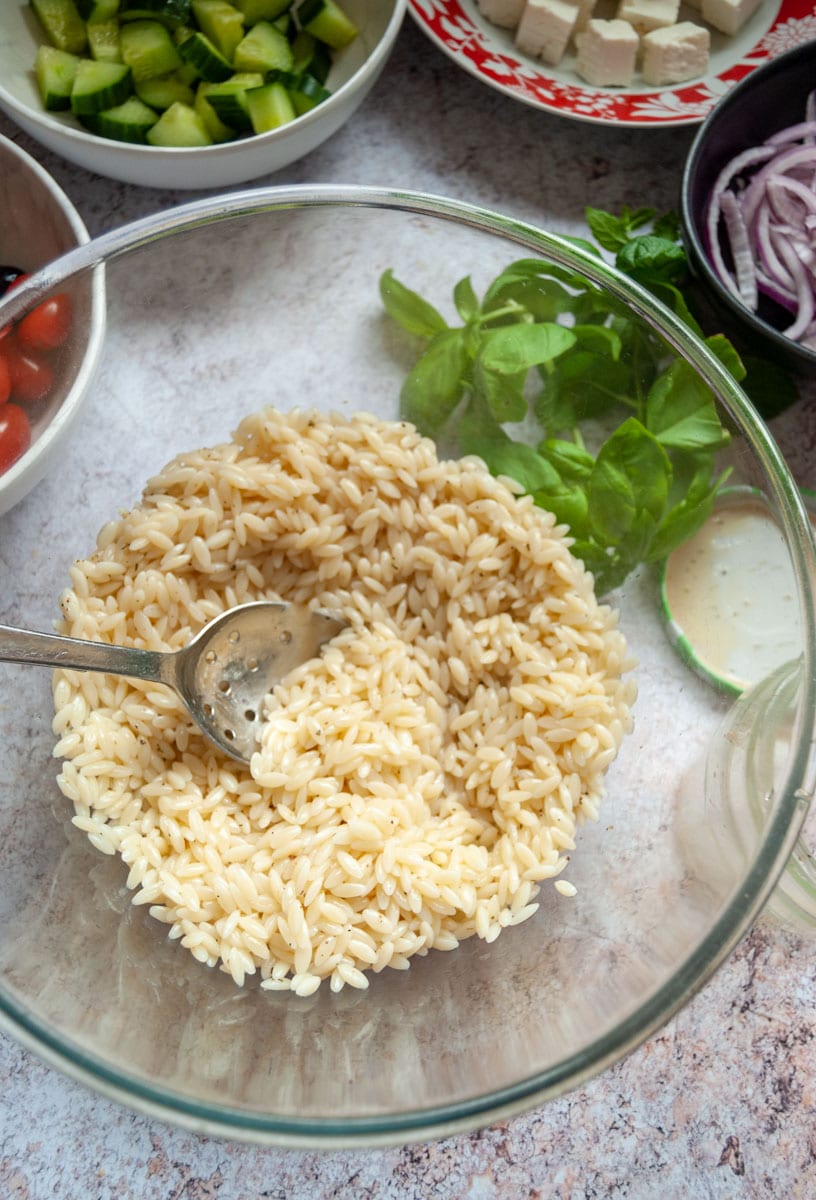 ingredient list FOR GREEK ORZO SALAD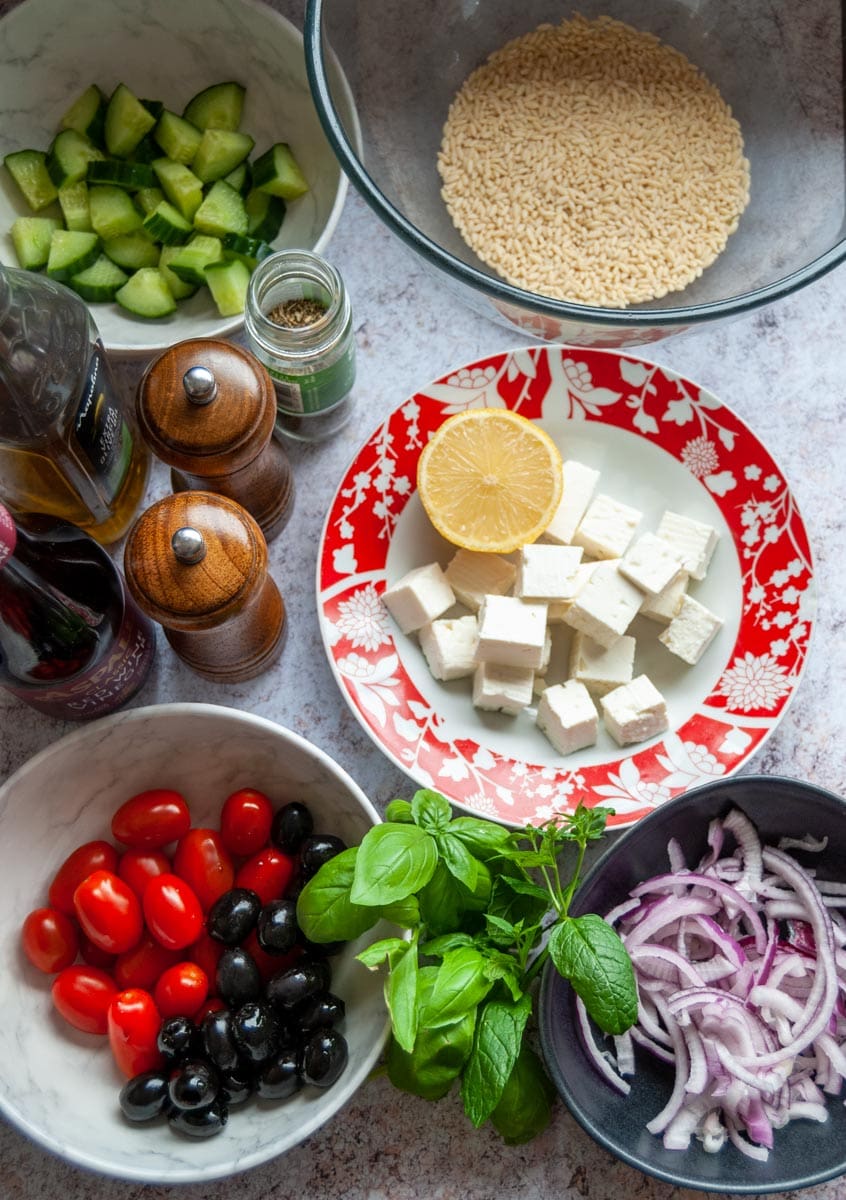 Orzo pasta, obviously! If you've never tried orzo in a salad before, you're in for a treat.
sliced red onion. I don't like big thick chunks of onion in my salad, so I slice it as thinly as I can.
Cherry tomatoes are perfect in this salad because of their small shape. Try and choose the sweetest, ripest tomatoes for the best possible flavour.
Black olives. I love the salty, briny flavour they bring to this salad. Kalamata olives are the best variety to use here.
Capers. I am a huge fan of capers and hate to run out of them. They add a briny pop of flavour to so many dishes. If you aren't a fan, you can leave them out.
Feta cheese. Proper feta is best here – try and avoid anything labelled "Greek style cheese". It might be cheaper, but it's nowhere near as good.
Cucumber adds a cooling, pleasant crunch to the salad. Do bear in mind that if you're making this salad in advance to serve a day or two later the cucumber will leak water into the salad, making it a little soggier. I don't really mind this, but if that's something you would rather avoid it might be better to add them on the day you intend to eat the salad.
Fresh herbs aren't typically added to a traditional Greek salad, but they add so much flavour I can't resist using them in abundance. I love to add fresh mint and basil.
tips for making the best greek orzo salad
Many pasta salad recipes require you to wait until the pasta is cold before you add the dressing. In this recipe I pour over the dressing while the pasta is still quite hot. The little grains of orzo will soak up all the flavours of the dressing much faster.
Be careful not to overcook the orzo. You don't want to to turn mushy. A little over "al dente" is just right. Be guided by the packet instructions.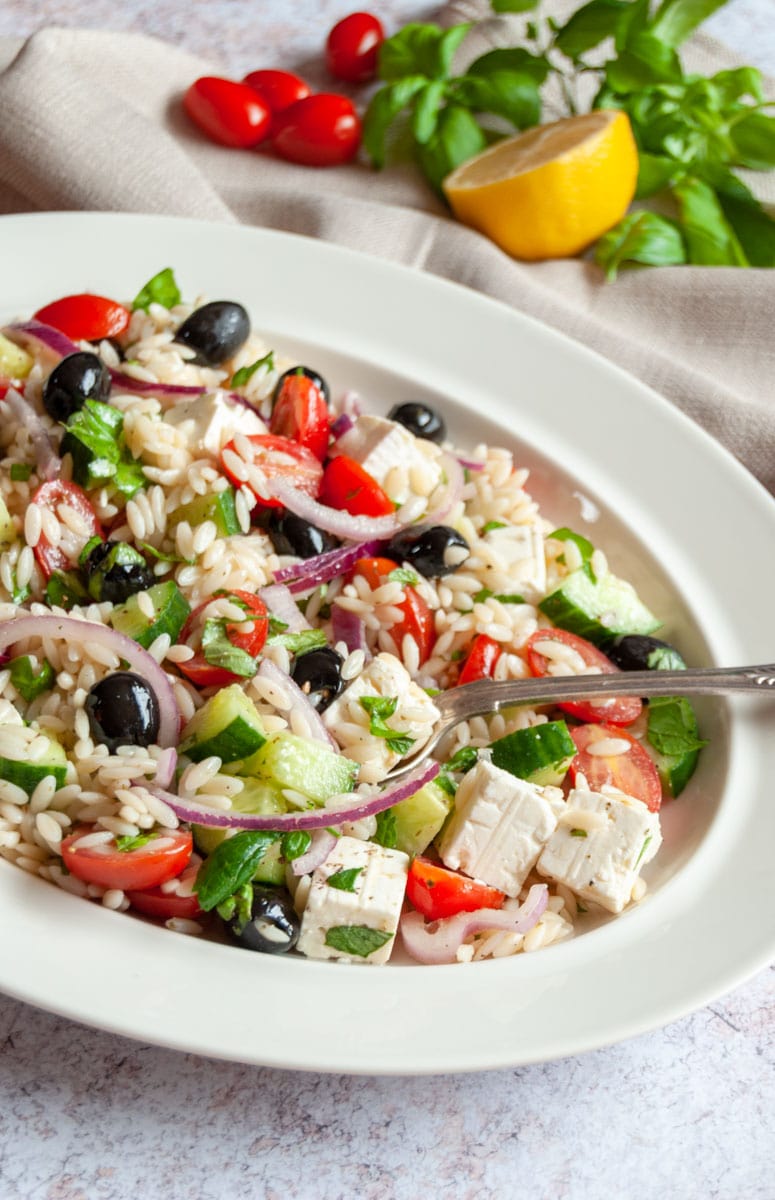 For the best Greek salad, make sure that your ingredients are the best quailty possible. The ripest, juiciest tomatoes, the crunchiest cucumbers and the best quailty feta cheese you can find will really make all the difference to this salad.
I've added fresh basil and mint to the salad, but feel free to change the herbs to something you like. Fresh dill would also be really good. If you can get your hands on fresh oregano, that would be an amazing addition.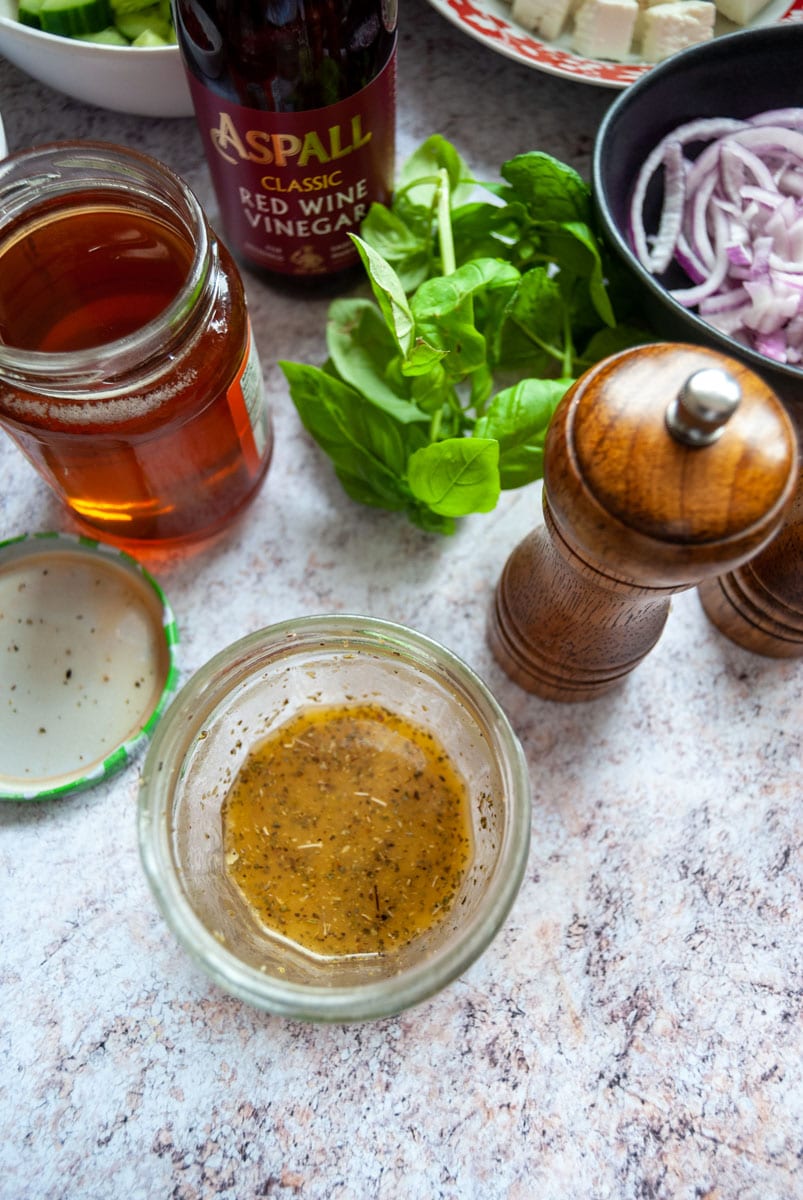 the salad dressing
I make up a salad dressing using olive oil, red wine vinegar, a little dried oregano, fresh lemon juice, salt and freshly ground black pepper and a little honey to take the edge off the sharpness.
The slightly sweet-sharp balance of flavours in the dressing goes perfectly with all the ingredients in the salad, making it quite addictive to eat.
Don't forget to season the dressing with sea salt and freshly ground black pepper, adding a little and tasting as you go so you don't over season.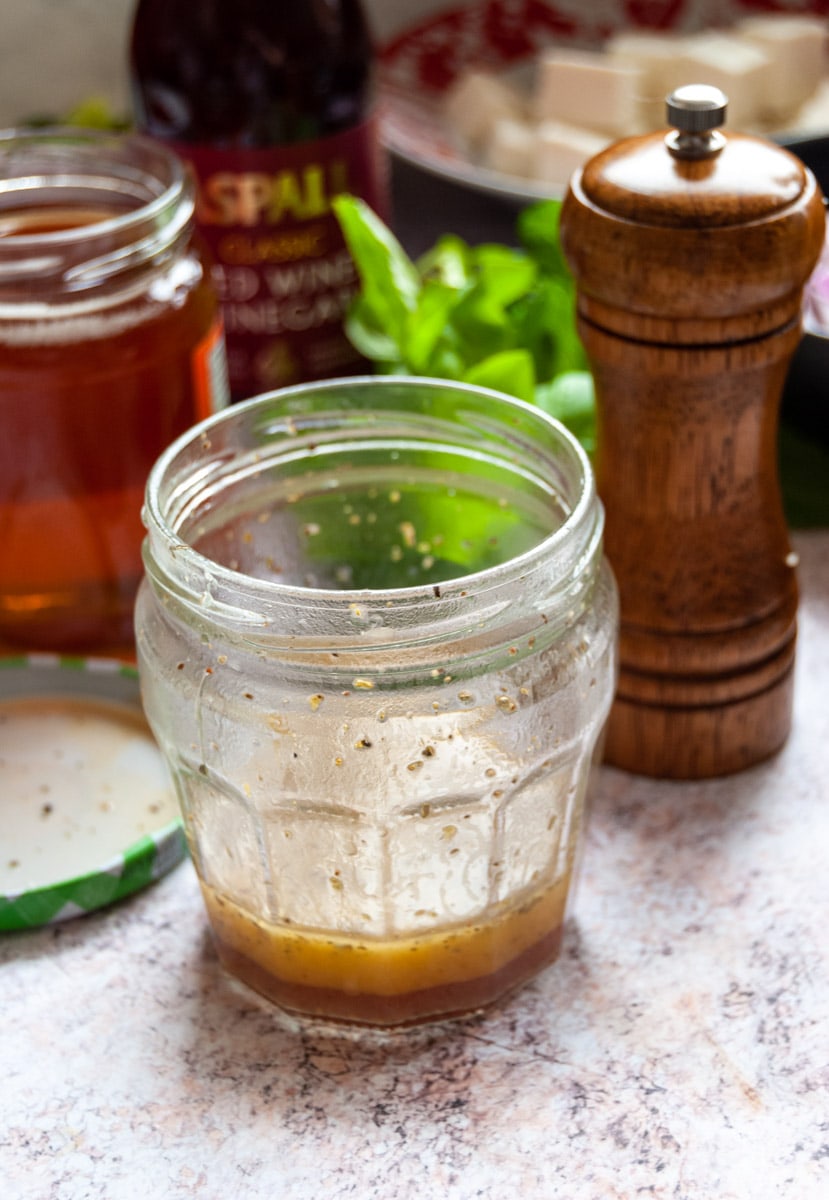 storing leftovers
This orzo salad will last for up to four days in the fridge. Store in an airtight container. Please see my notes above regarding the cucumber.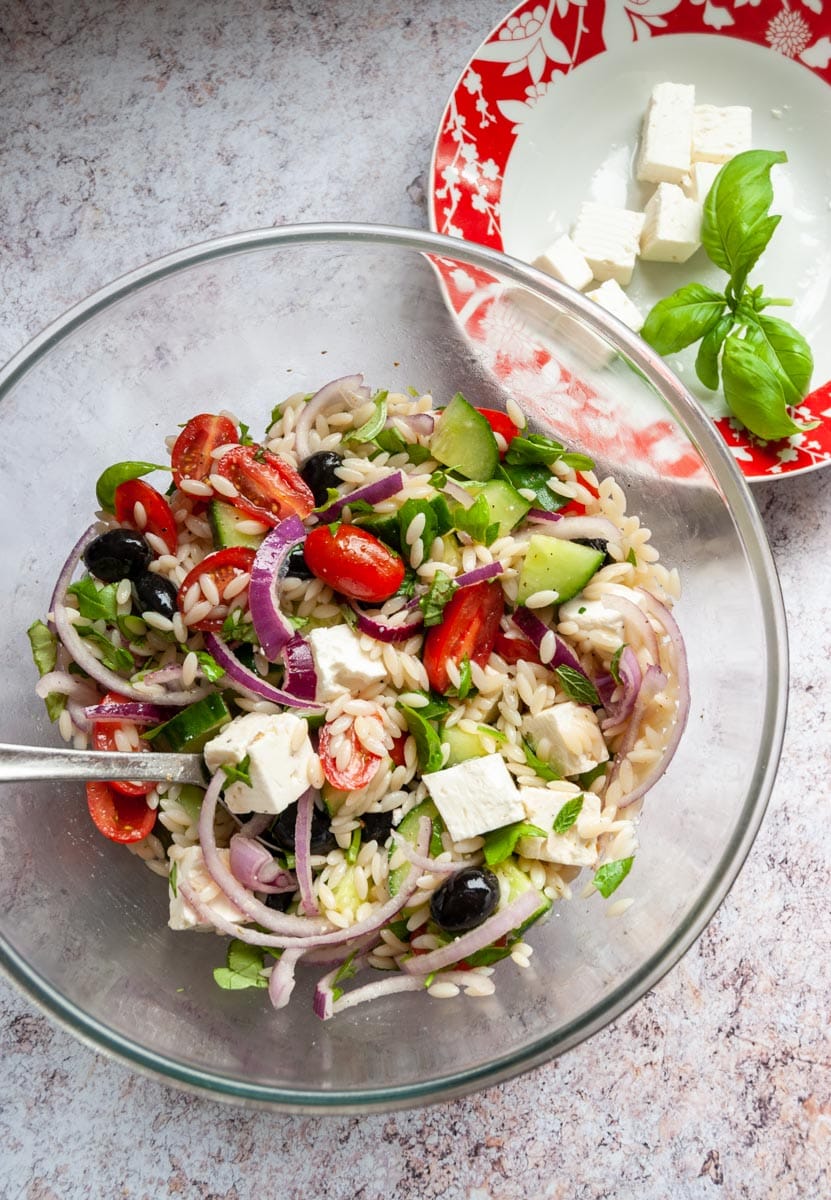 serving greek orzo salad
This salad is perfect on its own as a light meal when it's scorching hot outside, but it's also delicious as a side dish with roast chicken, salmon or any grilled meat or vegetables. It's perfect for packed lunches too!
It would also be great with a Summery quiche like this roasted Ratatouille quiche
did you make this recipe?
I really hope you loved it as much as we do! Leave your thoughts below and if you need any help with the recipe, don't hesitate to get in touch.
If you would take the time to rate the recipe by clicking on the stars in the recipe card, I would be most grateful. Thanks!
more Summer salad recipes to try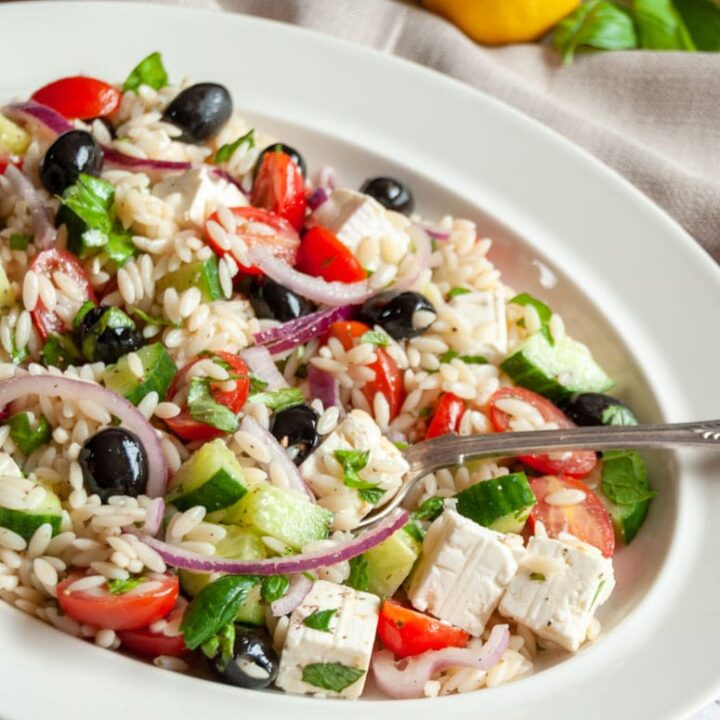 Greek Orzo Salad
Additional Time:
20 minutes
This Greek Orzo Salad is super delicious and packed full of Mediterranean flavour! Orzo grains coated in a sharp-sweet lemony dressing with cooling cucumber, sweet tomatoes, black olives, sliced red onion, black olives, feta cheese and lots of fresh herbs.
Ingredients
150g orzo
half a large cucumber, roughly diced into small cubes
One small red onion, thinly sliced
75g black Kalamata olives
200g feta cheese, cut into cubes
150g cherry plum tomatoes, sliced in half
50g capers, drained
Generous Handful freshly chopped basil or mint (or dill/oregano)
FOR THE DRESSING:
3 Tablespoons olive oil
1 Tablespoon red wine vinegar
¼ tsp dried oregano
Juice of half a lemon
1 tsp honey
Sea salt and freshly ground black pepper
Instructions
Cook the orzo in salted boiling water according to the packet instructions. While the orzo is cooking, make the dressing so it's ready to pour over the hot orzo.
Place all the ingredients for the dressing apart from the salt and pepper in a jam jar. Screw the lid on tightly and shake vigorously until the ingredients are well combined. Add salt and pepper to taste.
When the orzo is ready, drain well and place in a large serving bowl. Pour the dressing and stir well to coat the grains in the dressing. Leave to stand for about 20 minutes until you add the rest of the ingredients.
Add the diced cucumber, sliced red onion, olives, feta cheese, cherry tomatoes, drained capers and fresh herbs. Using a large spoon, give the salad a good mix. Your Greek orzo salad is now ready to serve!
Notes
Storage instructions: store any leftover in an airtight container. The salad will keep in the fridge for up to 4 days. Please see my notes in the main post regarding the cucumber.
Nutrition Information:
Yield:

4
Serving Size:

1
Amount Per Serving:
Calories:

434
Total Fat:

26g
Saturated Fat:

10g
Trans Fat:

0g
Unsaturated Fat:

15g
Cholesterol:

45mg
Sodium:

987mg
Carbohydrates:

41g
Fiber:

4g
Sugar:

18g
Protein:

12g
Calories and nutritional information are provided by a third party application and should be viewed as indicative figures only.